Spark 2017: Transformation & Trust
Welcoming representatives from the UK media industry to Magnetic's third annual Spark event, Sue Todd, the chief executive, made it clear that the magazine business, and broader media industry, face two significant challenges: "There are no bigger themes from the last 12 months than 'the two Ts', transformation and trust," she told delegates.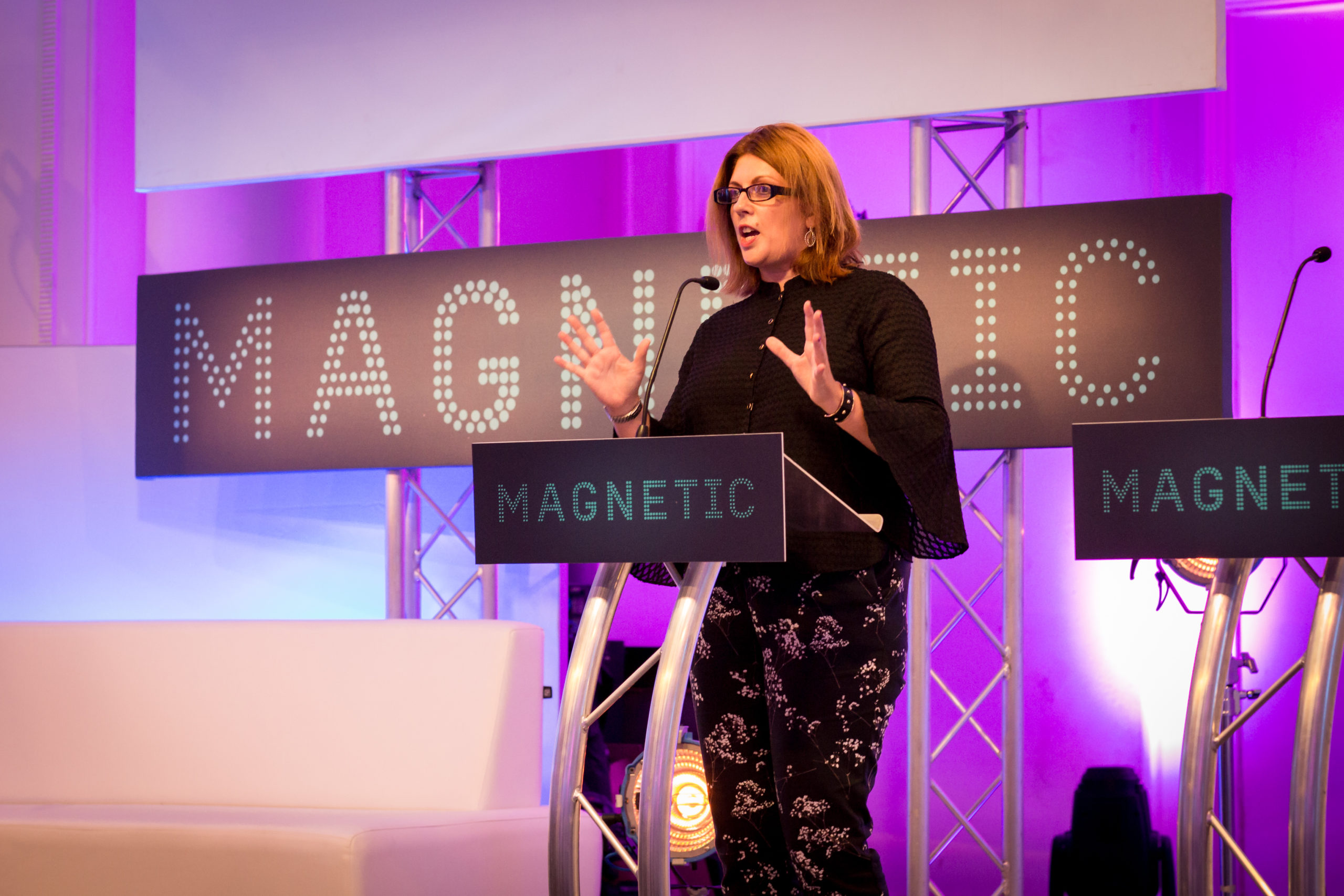 The opening and closing keynote sessions focused on business transformation, providing insight and stories on the lessons learned. Trust, which has escalated into a crisis on a global level in terms of fake news and brand safety, formed the basis of a new research initiative presented at Spark, alongside further discussion and analysis of the theme.
Spark#1 Digital Disruption & The Evolution of Publishing
Lindsay Pattison, who recently added the title of Chief Transformation Officer, Group M, to her responsibilities as global CEO of media network Maxus, interviewed Tom Bureau, the chief executive of Immediate Media, and Mark Frith, the new editorial director of Immediate's Radio Times, about the challenges and rewards of business transformation.
The background to the session was a successful journey for Immediate Media since it was created in 2011, following the acquisition of BBC Magazines by private equity investment, and its subsequent purchase by Hubert Burda Media.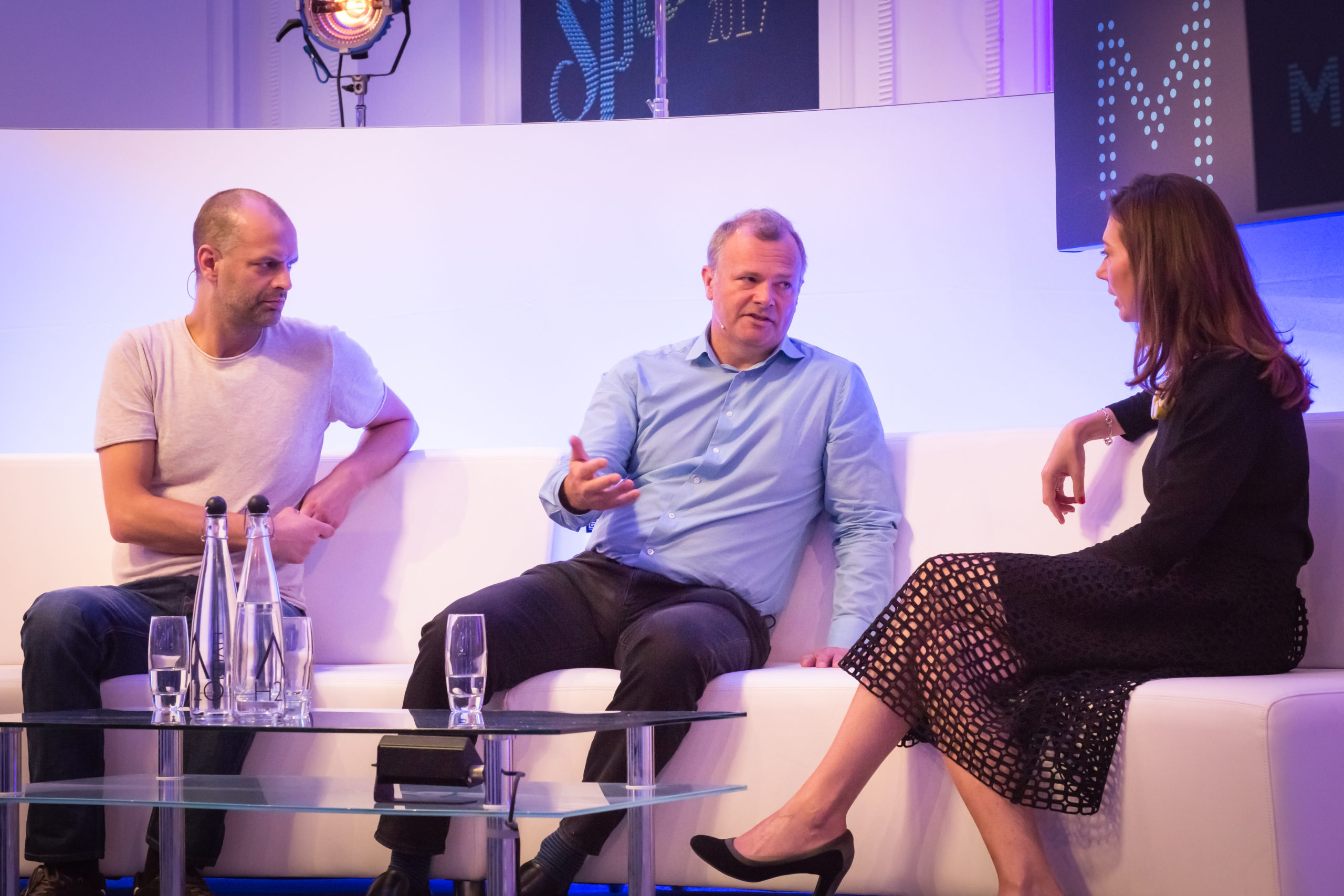 Tom Bureau: "We started with a solid, static, magazine business, went on a journey of investment and transformation, and we're now twice as big, with twice as many staff. We still love magazines but in many more platforms. The vision before the deal was to be the specialist interest content company, only investing around people's passions. Beyond a good strategy, transformation has been about two elements: culture and people, and investment in technology. "
"Magazines in TV listings, children's, and current affairs, are all in robust health and growing. Our business in print has grown, in the right sectors, due to strong brands and brilliant people. But we take time to understand our incredible relationships with consumers, and then there are lots of investment opportunities."
"We look for scale markets, there's no point looking for niche. Cycling is a scaled market, craft is much bigger. But the opportunity of selling craft content is relatively small, around £60m and we have half of it. That's alright but then the transactional opportunity in craft is massive, it's £5bn. So we've acquired companies to drive people into transactions, through TV and social networking. We're driving value from a very large market. "
"Really what we are is a consumer-facing business. We sell either content or, increasingly, invest in transactions – marketplace, TV shopping, and digital. This provides a very interesting platform for advertisers because we're obsessed with deep engagement with consumers."
Mark Frith: "I heard about Immediate's passion for content and they came from a slightly different world, of asking 'why can't we do it like this?' We want to be in a position where to get to the TV and radio, people have to go through Radio Times. It's a lofty aim but we want to own a market as much as possible, and you have to take the point of view of how to be in the position where people need you to get to that world, they have to go to the brand, and its iterations wherever they turn."
Spark#2 Is Trust Contagious? The theme of the event then shifted to trust. Sue Todd introduced the next session with insight from PR network Edelman that showed consumer trust for companies and all institutions is at an all-time low. In this context, Ian Leslie, the consultant and author of books including Born Liars, tackled the issue of how environments and communities influence trust.
Opening with the observation that "brands and the environments that they are in is under-studied", Leslie said that trust is a function of environment and is potentially impacted more significantly by where we are and who we're with than by who we are.
He pointed out that our levels of trust are not universal and that culture and society are big factors. Trust also exists in a feedback loop where environment and context determine the degree to which we trust people. Leslie then compared "high context" versus "low context" cultures and methods of communication. High context relating to high levels of implicit expression and emotional and sensitive understanding of relationships. This contrasts to low context, which involves more explicit expression, and a "cards on the table", shallower approach indicative of lower levels of trust.
This also related to the media environment, said Leslie: "Face-to-face is the ultimate high context environment, providing rich information from expressions. Low context tends to be more confrontational, less based on relationships, and more likely to result in rows. We all have to work a lot harder as people and brands to build and nurture trust because it's harder in low context environments."
Spark #3 A Matter of Trust
Spark continued on the trust theme, Magnetic unveiling its new 'A Matter of Trust' research, conducted in association with MediaCom, which explores the brand rub effect between advertiser and media environment.
Sue Todd introduced the session, asking what the trust crisis means for marketing, media, and brands: "Despite macro changes, surveys say there is an incredibly strong link between how trusted a brand is and other important KPIs."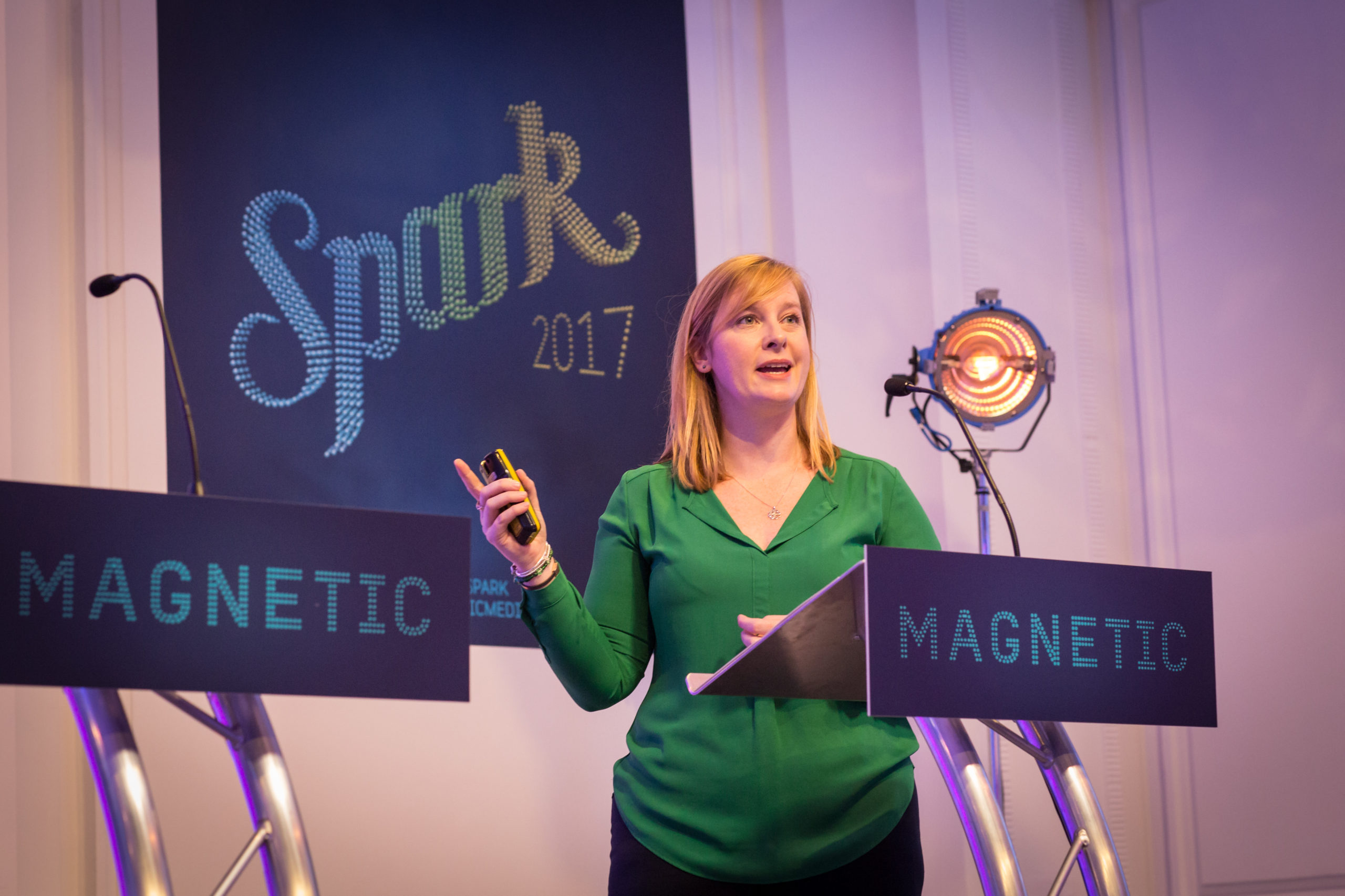 Ffion Turner, the business science director at MediaCom, then took to the stage to talk through the findings of the new insight study. It focuses on the differences in trust levels that both planners and consumers have towards magazines and social media.
The key findings include:
Trust is in decline but the number of brands focusing on it in briefs is increasing. However, this is often articulated, according to agency planners, with associated words such as "credible", "authentic", "experts", and "heritage" more than the trust itself. And planners default to TV and social media to answer these trust-related briefs.
In terms of explicit perceptions, magazines media is more trusted by people than social media – 70% trusting magazines, 30% social media. Among people under 35, it's a similar pattern, albeit with social media being more trusted – 65% to 35% in favour of magazine media.
Magnetic and MediaCom also set-out to quantify a "t-score", a more nuanced assessment of the constituents of trust. Magazine media scores highly on key measures including reliability and ethics, meaning and experience.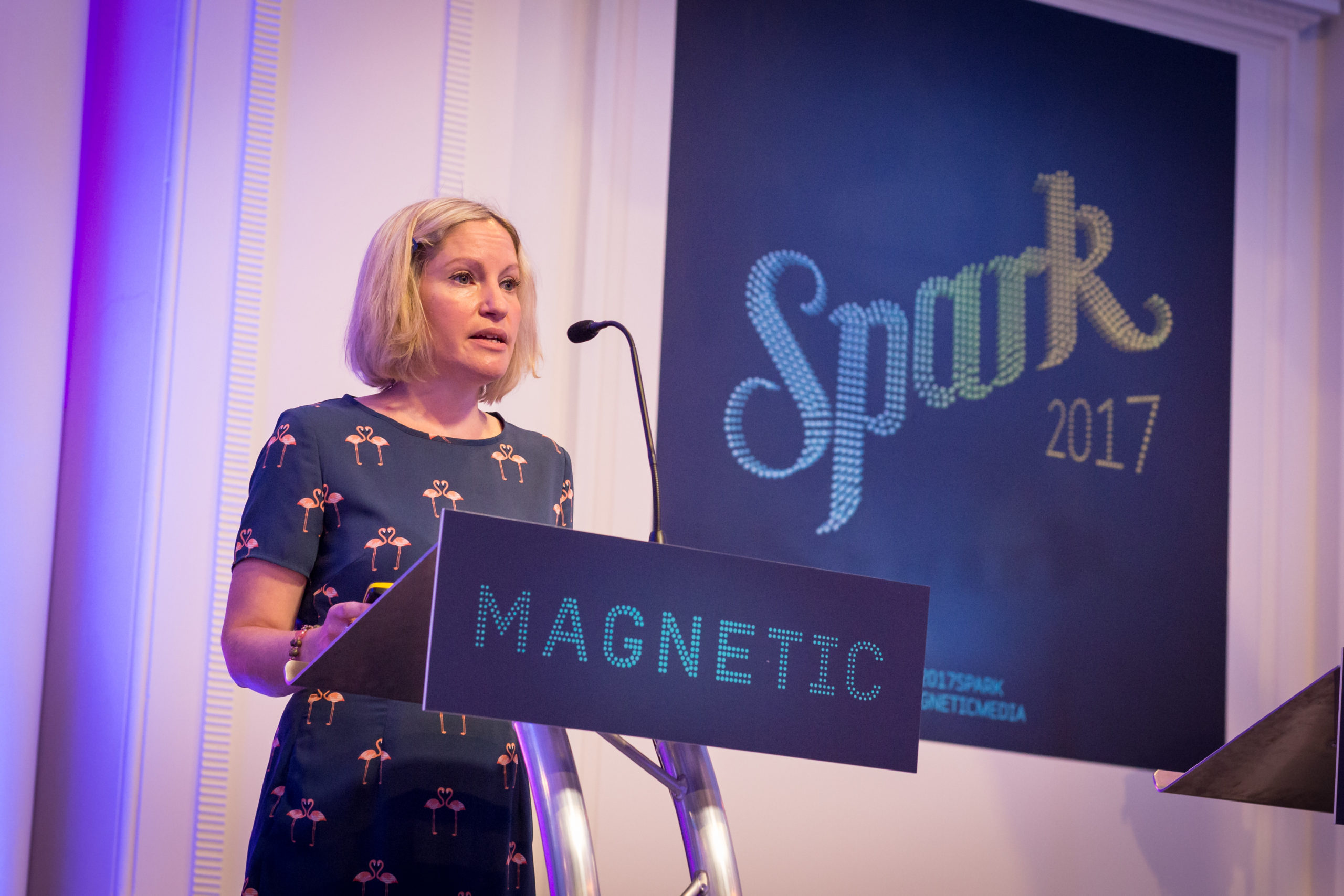 Anna Sampson, Magnetic's head of insight, then focused on trust and "the rub effect" – could the research prove that advertisers which partner with magazine brands benefit from perceptions of trustworthiness?
The findings include:
Magazine brands deliver significant rub effect on perception of trust. Ranging from 64% to 94% across brands including Tesco, Pearl Drops, and ghd.
This increase can be delivered through display, print, online, even social activity. It's about the magazine brand not the platform.
Combining magazines and social media enhanced that rub effect.
Spark #4 Navigating Trust in a Post-Truth Era
Gideon Spanier, Campaign's head of media, was the moderator for a panel discussion that debated the findings of the Magnetic/MediaCom 'A Matter of Trust' research. He was joined on stage by Robert Ffitch, chief strategy officer, Hearst; Lucie Cave, editorial director, commercial partnerships, Bauer; Becky Hardman, advertising campaign manager at Very.co.uk; and Chris Broadbent, chief operating officer, MediaCom North.
Spanier and the panel explored themes including magazine media outscoring social media on trust metrics, brand safety and the value of context, and the issue of short-termism in marketing. On magazines as trusted brand partners: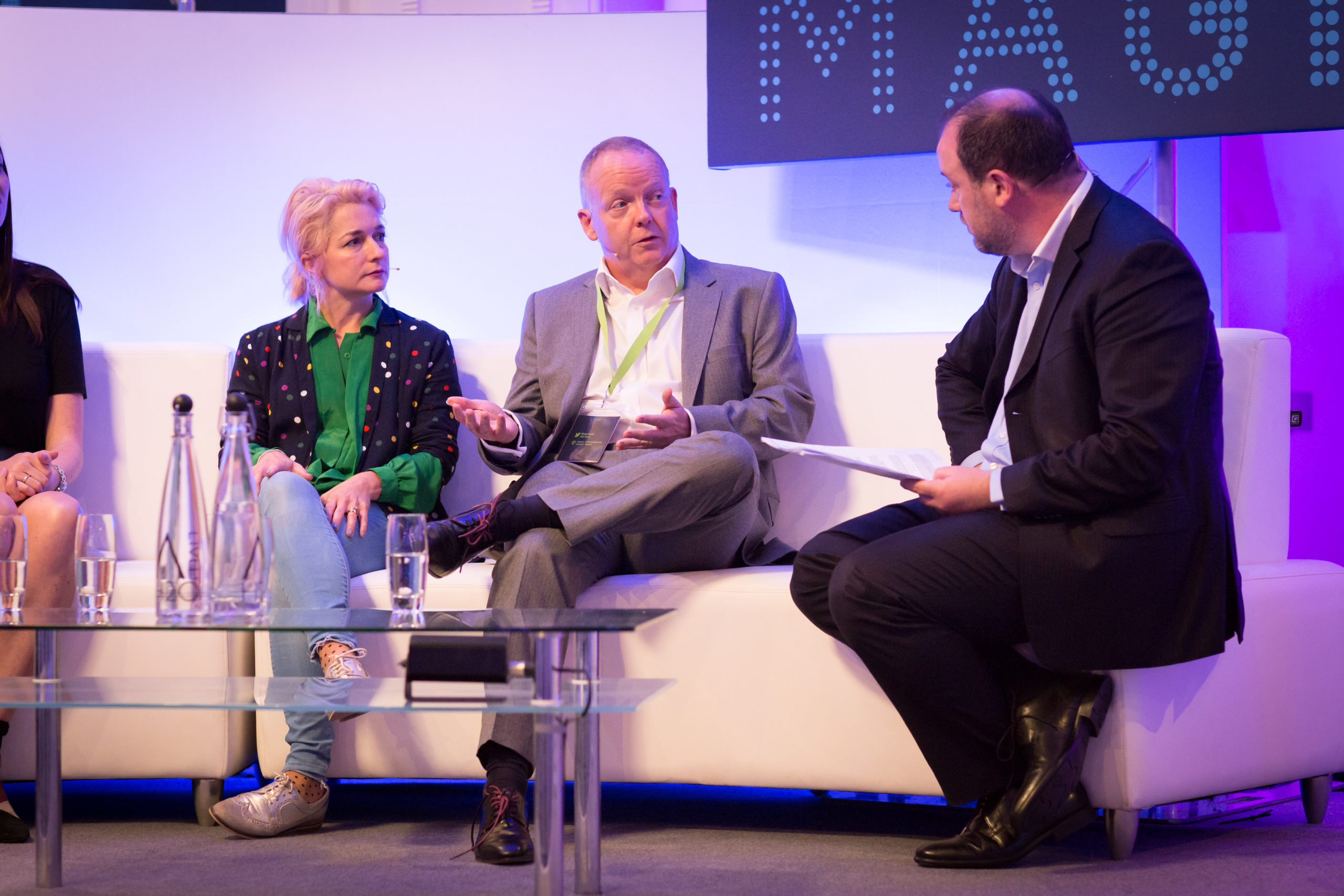 Robert Ffitch: "When children play football they follow it everywhere, some marketers have a tendency to do the same and follow the shiny and the new. Innovation drives real interest, which is good but takes people away from traditional media.
What magazines do is offer a relationship in a moment in time that no other media can deliver. That trusted time is unique in the craziness of the world we live in."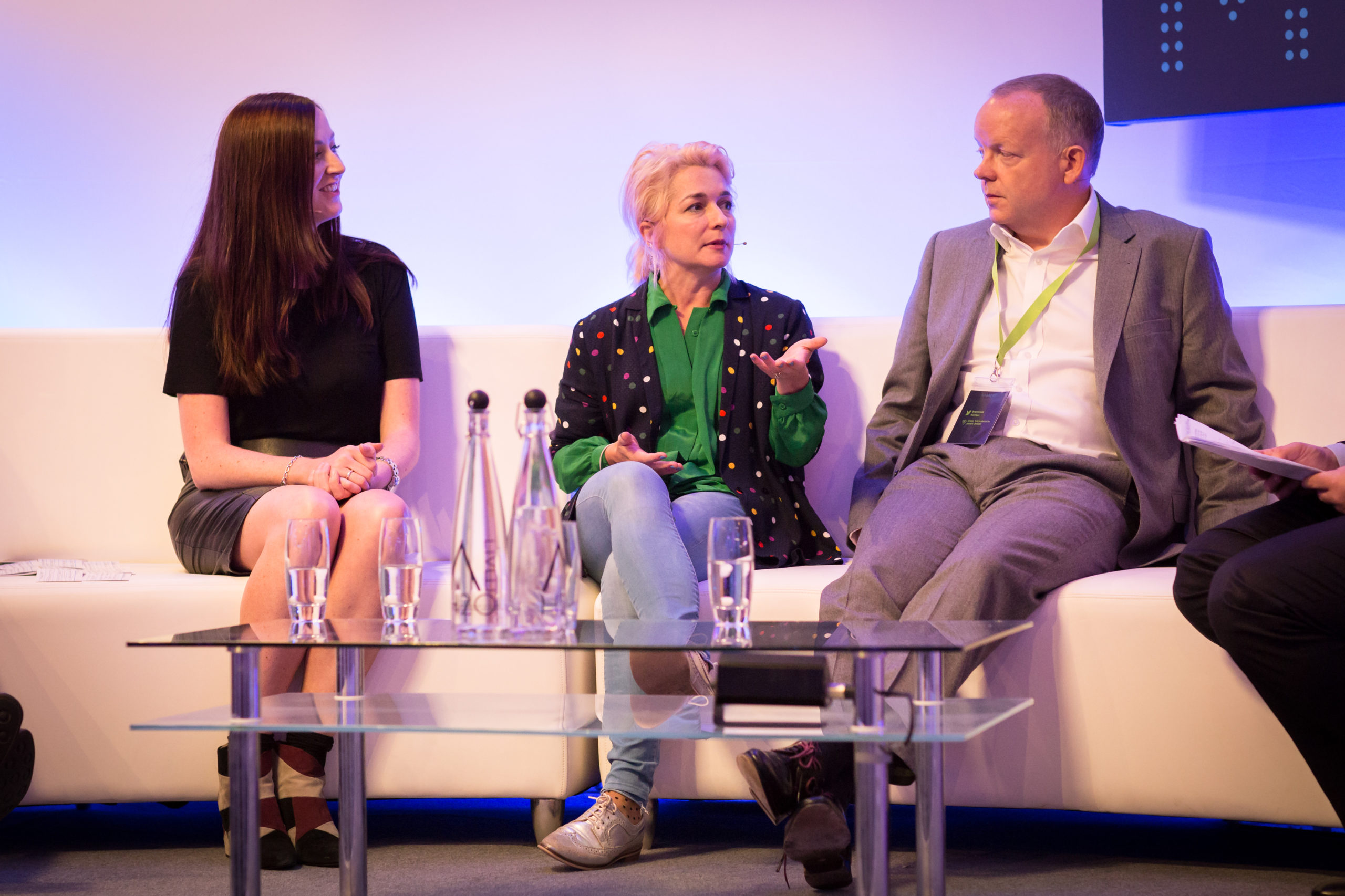 Lucie Cave: "Our work with Shop Direct shows relevancy embedded in our print brands, and their authority, together with social media. For us, it's about looking at what magazine brands and ambassadors do for that audience and then how we can experiment with, and play with, other channels.
But it's important that the brand you work with has a fit with your editorial brands. The editorial team are guardians of a brand, and we'd never agree for Grazia's shopping editor or style editor to be part of a campaign unless it's right."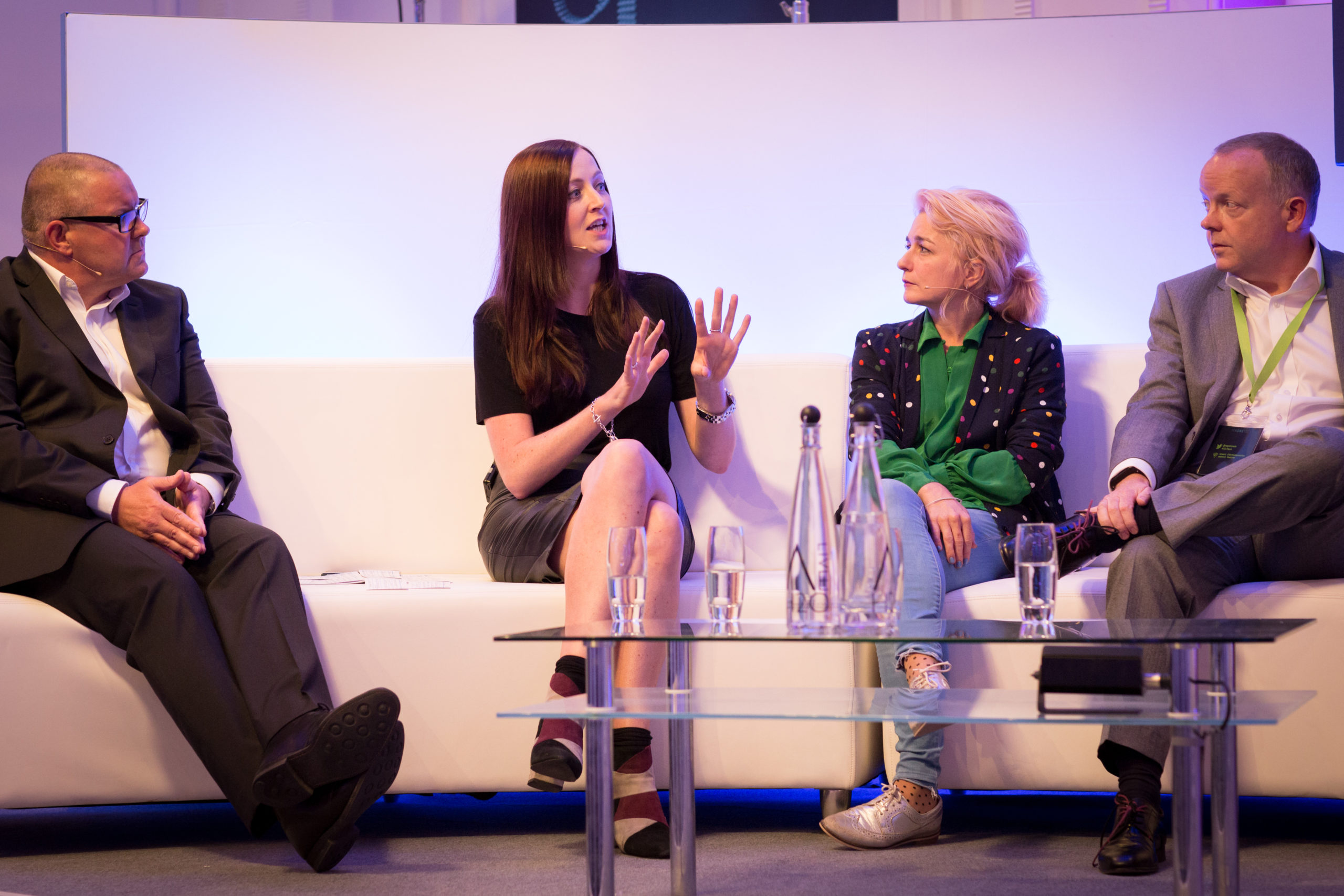 Becky Hardman: "[The research results are] not surprising, Shop Direct is keen to track results, and we've known for a long time that magazines and magazine brand partnerships deliver against trust metrics.
As important as the targeted nature of social media is, working with a magazine brand brings social media together with trusted print products."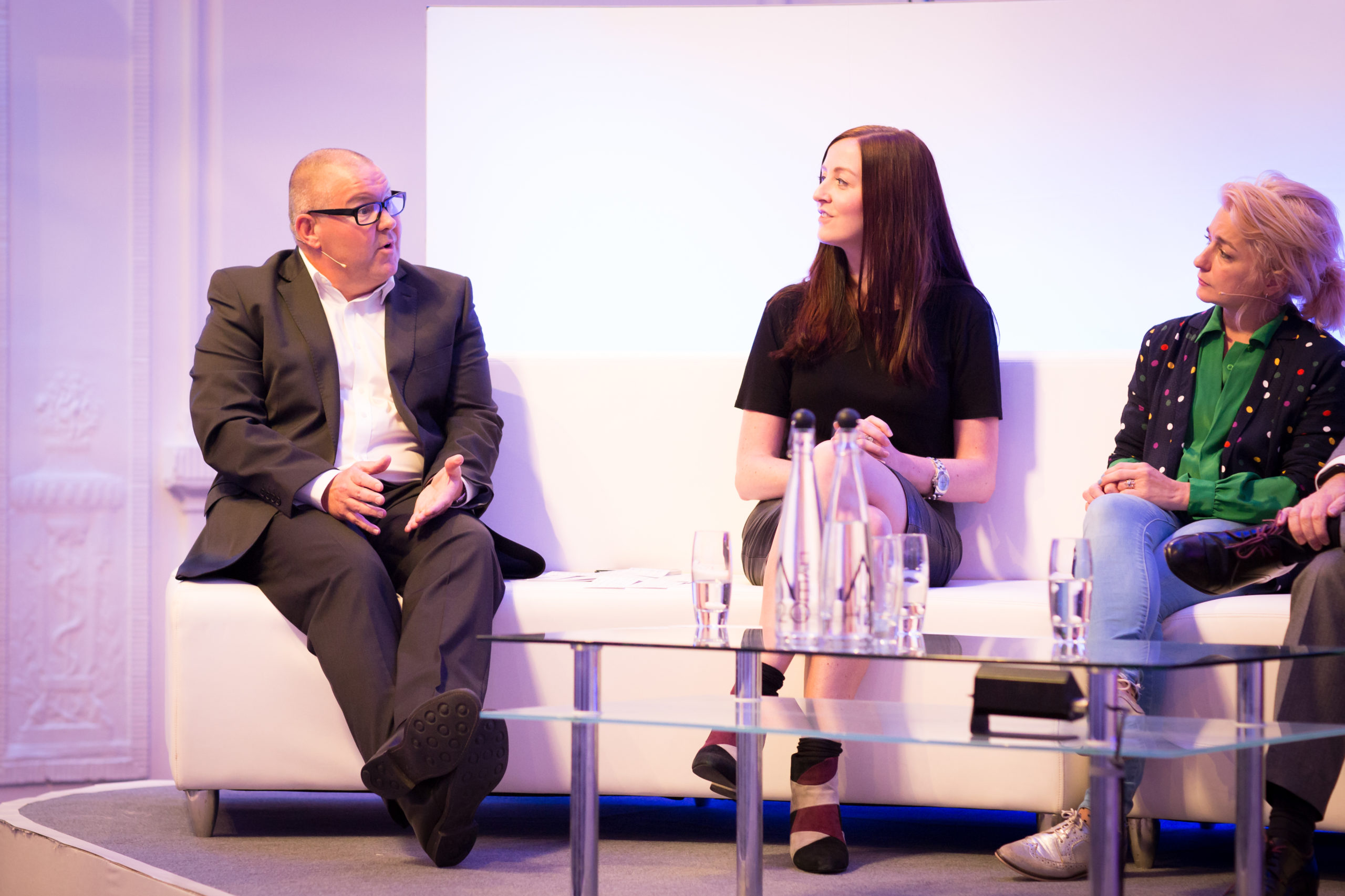 Chris Broadbent: "Planners and other agency people should be thinking about the business benefits and wider partnerships and not just about print – magazines have growing mobile and other facets.
We should be making more use of magazines but in a different way. There is the push towards shiny things which bring pressure but there are lots of opportunities if magazines can show what they have as a USP."
On brand trust:
Robert Ffitch: "The digital ecosystem around the world is fundamentally corrupt and fraudulent, yet 65% of media money is spent in the digital environment. Some 34% is spent with Facebook and Google, and this pair are still riddled with issues. It's great that P&G and Unilever are coming out with strategic frameworks to address this. Trusted brands with real audiences and human experiences should benefit but we're not seeing this yet as so much inventory is bought programmatically and content is too often secondary. We will get there but there is not enough evidence to see it's turning yet."
Spark#5 Brand Building in a Digital Age
The event concluded with a return to the theme of transformation with a keynote from Jon Goldstone, the former Unilever, Premier Foods, and PepsiCo marketer, who is now the global managing partner at consultancy The Brand Gym.
Goldstone spoke about the significant disruption faced by the traditional Consumer Packaged Goods (CPG) companies. He identified three reasons
Massive consumer disruption in the shape of a move to supposed healthier and craft alternatives.
A squeeze from the major grocers responding to pressurised customers with price cuts.
Lower return on investment.
And the new digital media economy is not helping to improve this ROI. Goldstone said: "With the duopoly of Facebook and Google, nobody knows if they are getting ROI. It's like throwing your money into a wishing well and hoping something will happen."
With CPG's struggling for growth and facing declining margins, the private equity companies are circling. So is this leading to marketers looking to be
"super-strategic and visionary"?
Not according to The Brand Gym's research. It asked 100 UK marketers if brand strategy is being overlooked. Some 62 per cent agreed. And when asked for their key driver to use social media, 62 per cent said, "to keep up with latest trends". Just 23 per cent identified "tangible business impact".
Goldstone identified "the doom loop" and the danger that CPG brands are entering an inexorable cycle of lower investment, poor brand health, and sales decline. The good news is that media brands can help by providing three assets:
Authority: "Nobody searches online for brands like Flora. Ten out of ten will go for BBC Good Foodwhen looking for a recipe. That's the power of your brands. Of the incredibly powerful equity and trust that many consumer brands don't have."
Ideas: "I'm not talking about little tactical ideas but really big strategic ideas."
Data: "Show me the money. When I see metrics – where's the sales impact? How many more packs did you sell as a result of this activity? Unless you can prove your activity sells more stuff then the brand won't return. It's hard to understand the sales effect with CPG brands because the shopper journey is complicated, but until you figure this out you're not going to convince the accountants to invest in your media."
Sue Todd rounded off the event with two charts to show how magazine media is getting to grips with the needs of brands in a transforming world. The first demonstrated that magazine media is now more effective than previously: "The IPA databank shows we're becoming more effective not less, probably because of the integrated nature of our channels and that we're working harder on proof points."
The second slide looked forward to a new, more robust audience system for magazine media via PAMCo and AMP – "offering robust, multi-platform, de-duplicated data to help plan multi-channel campaigns in a much more effective way."
To view all of the pictures from Spark 2017 please check our event gallery.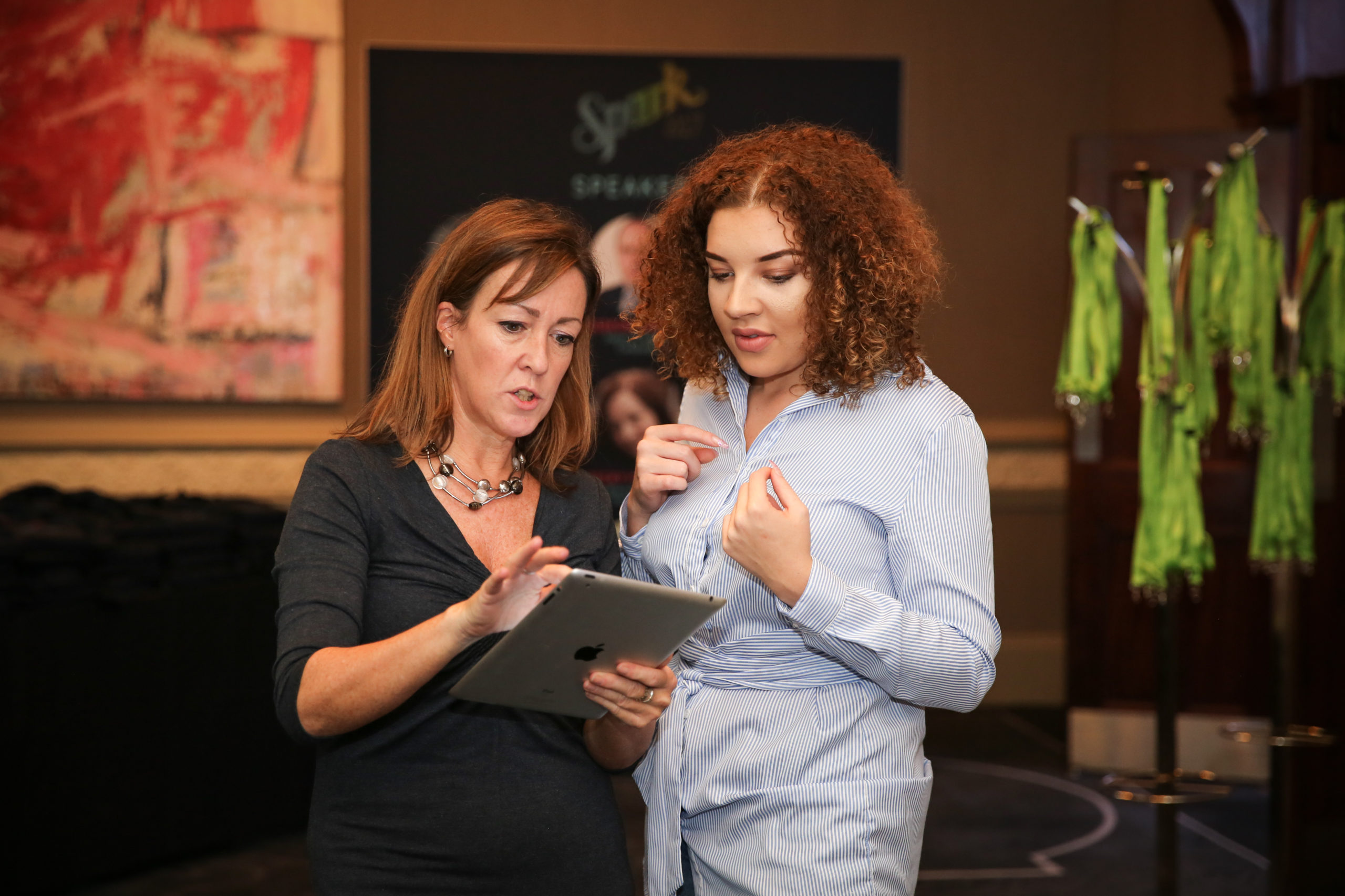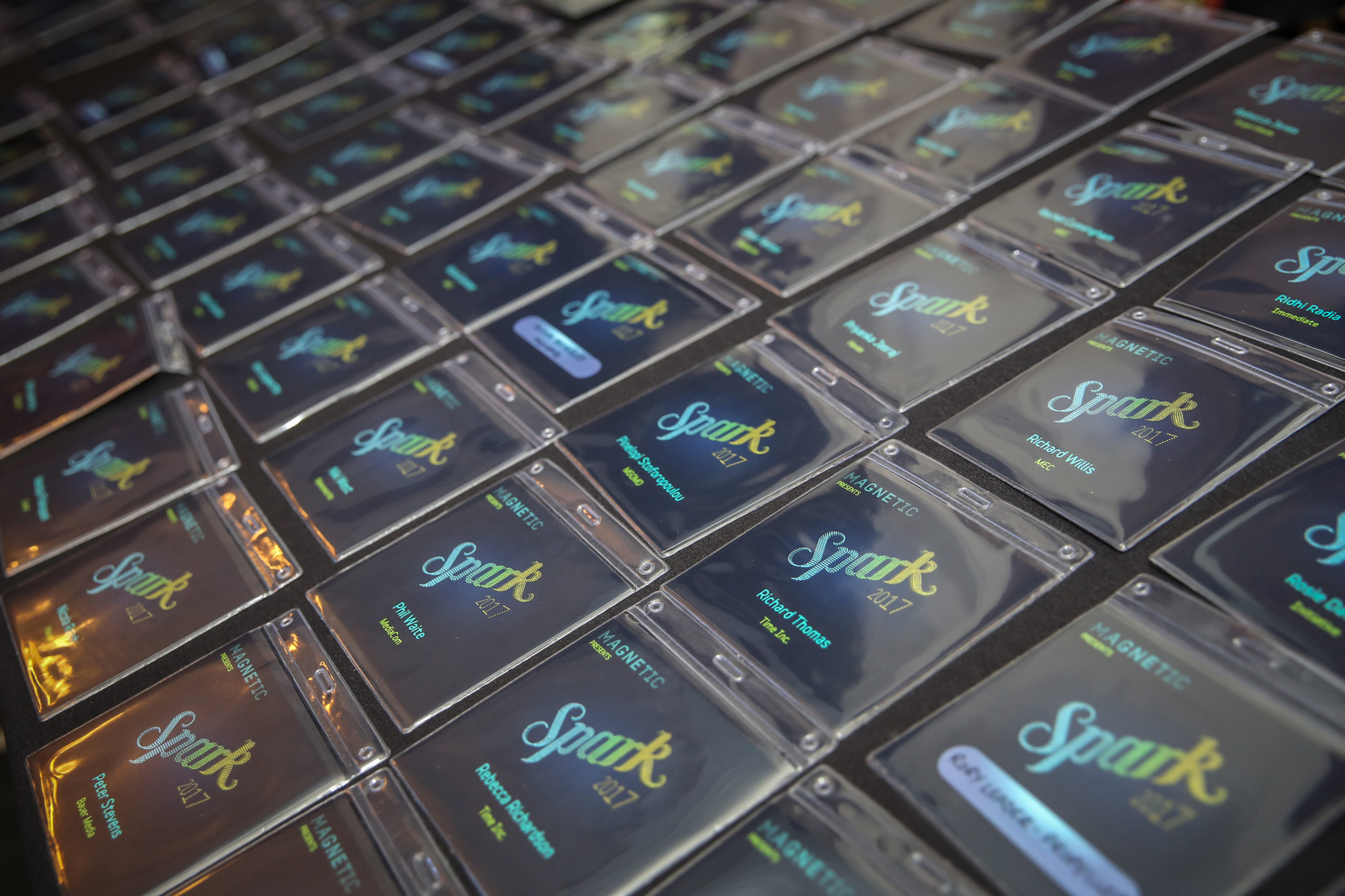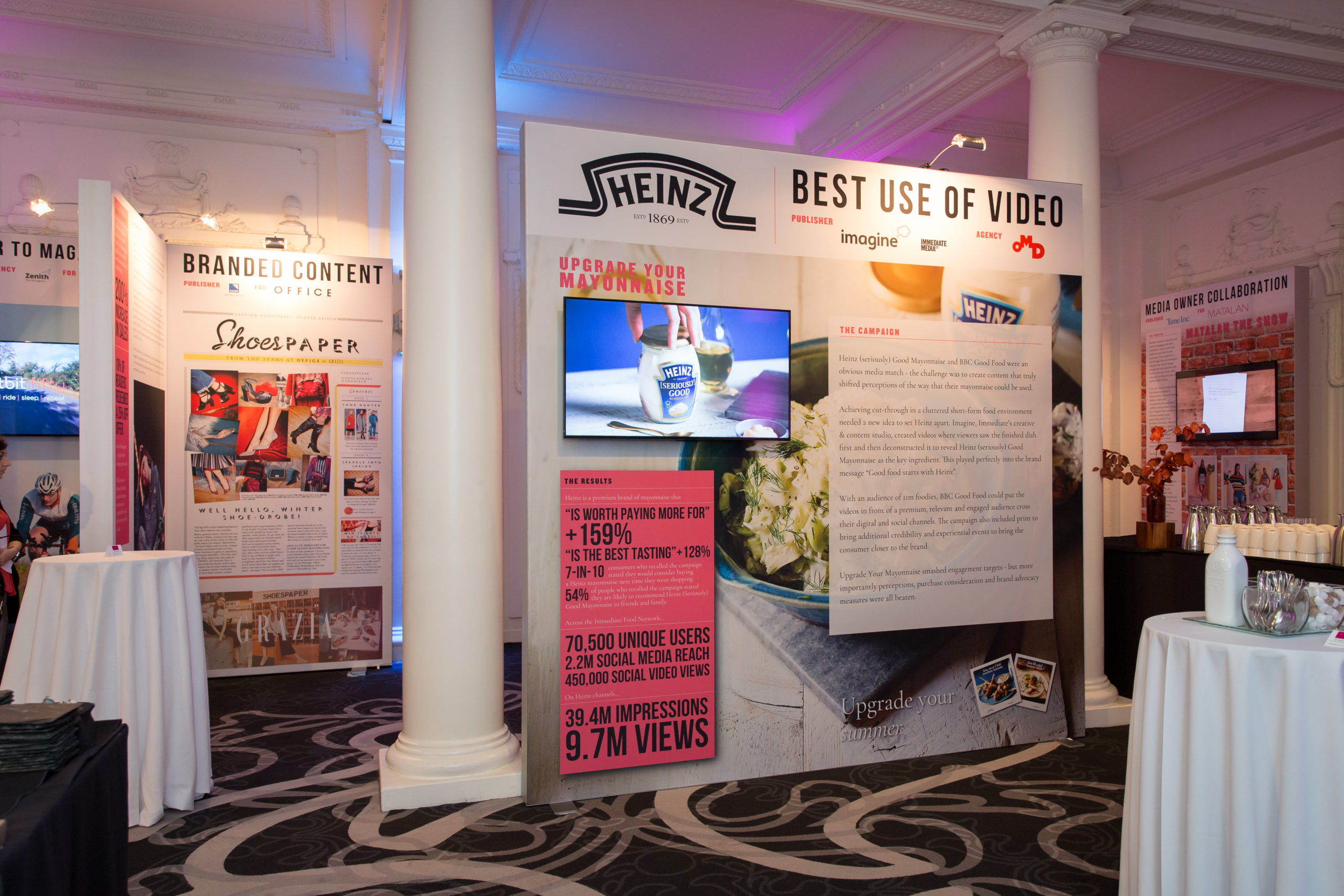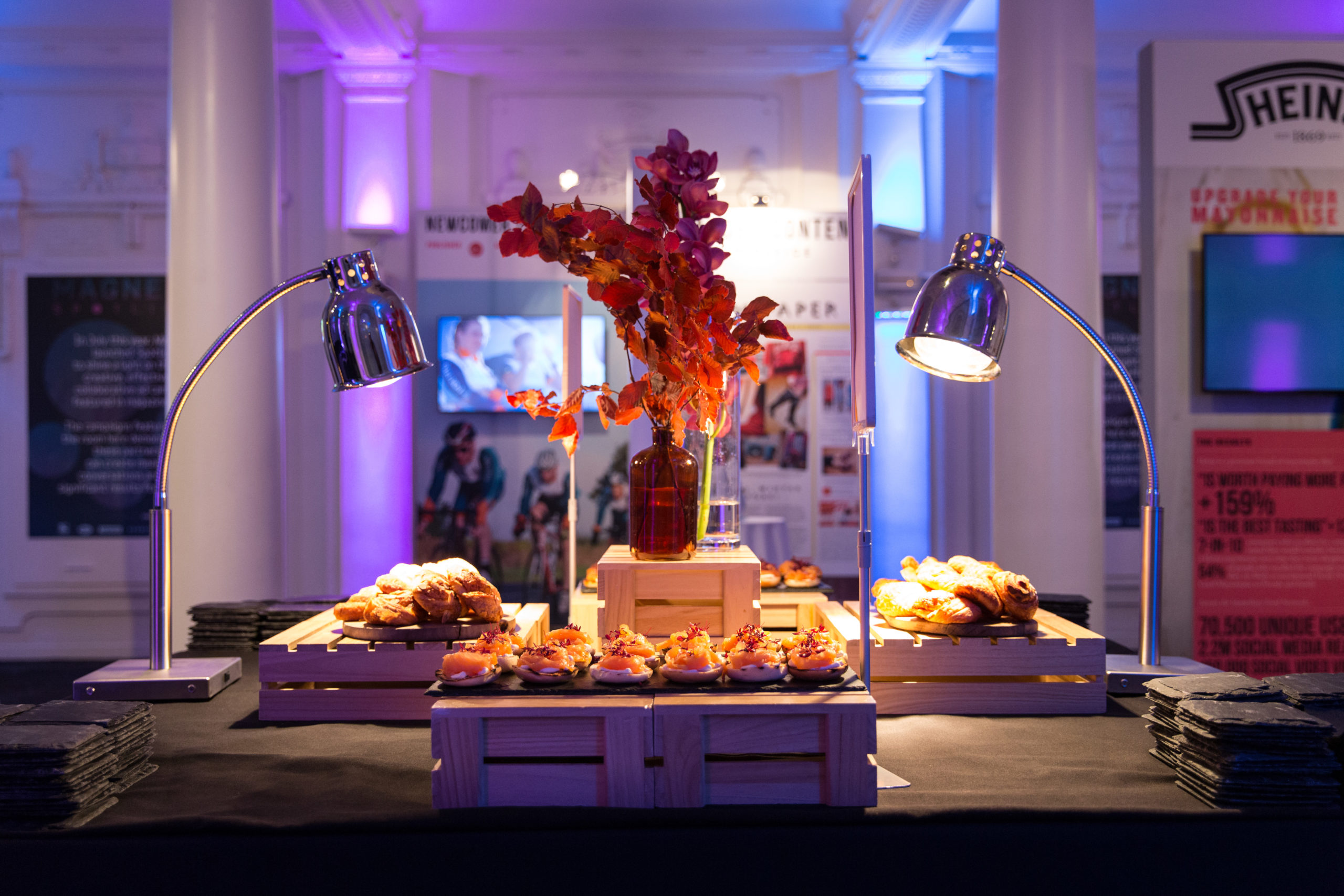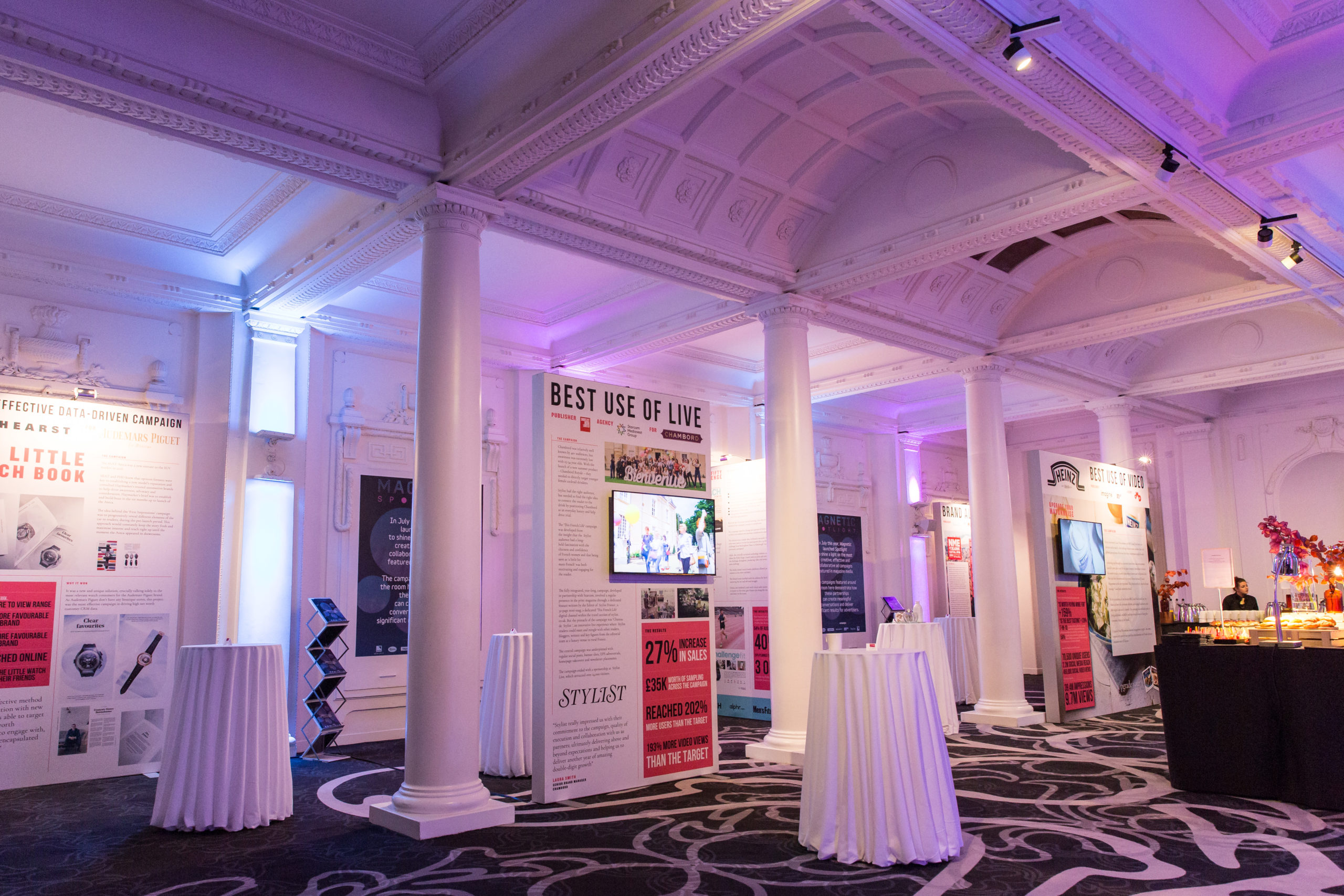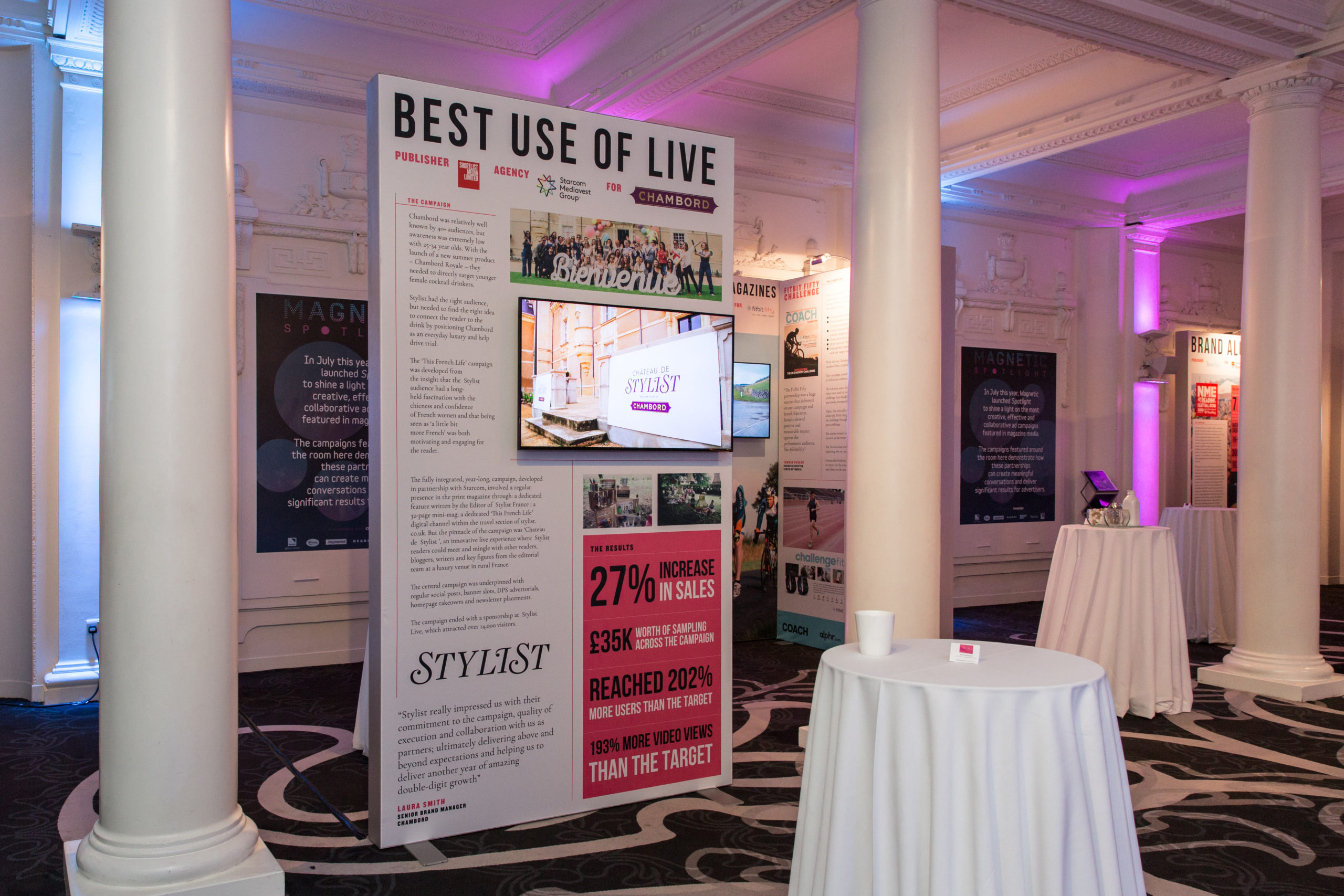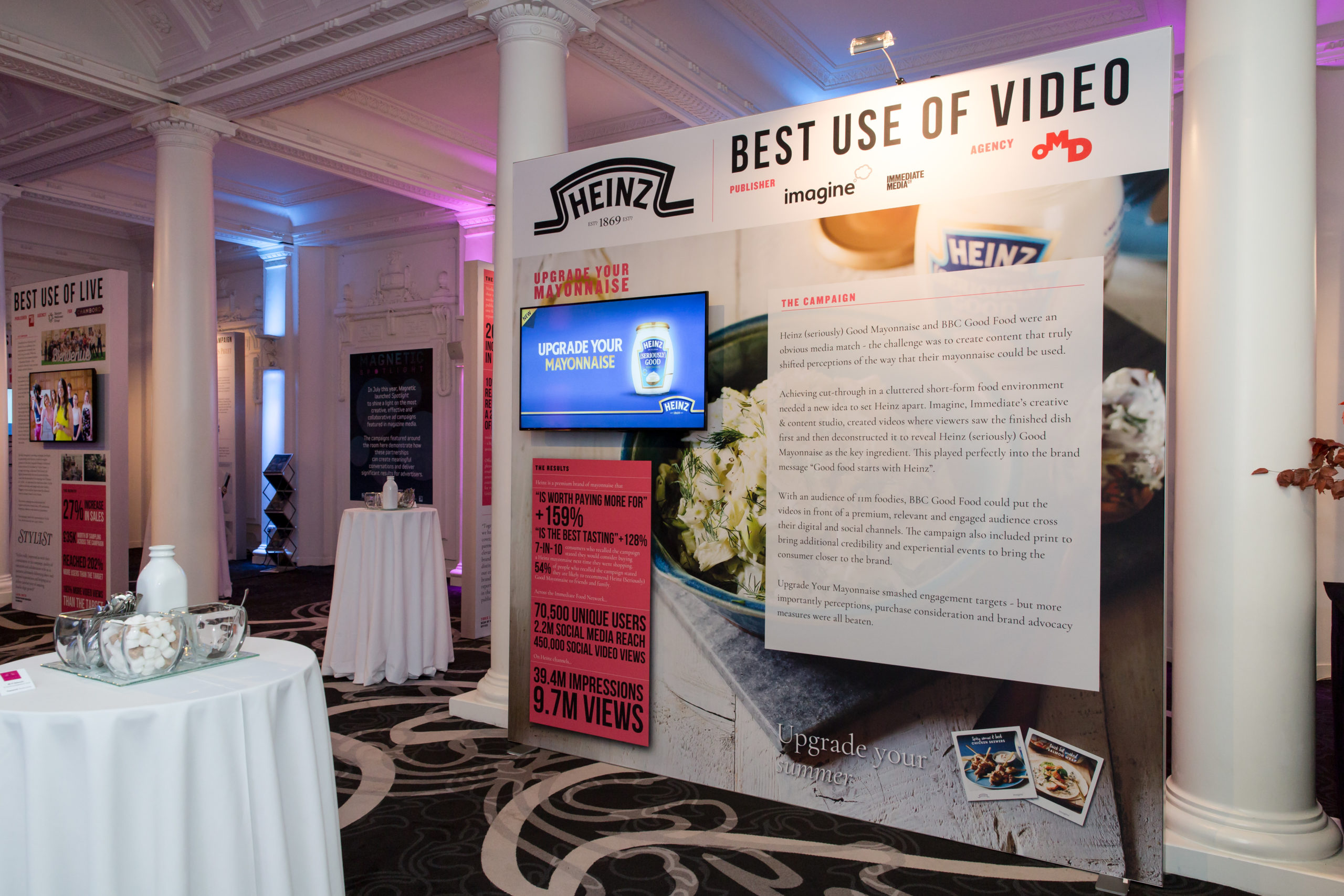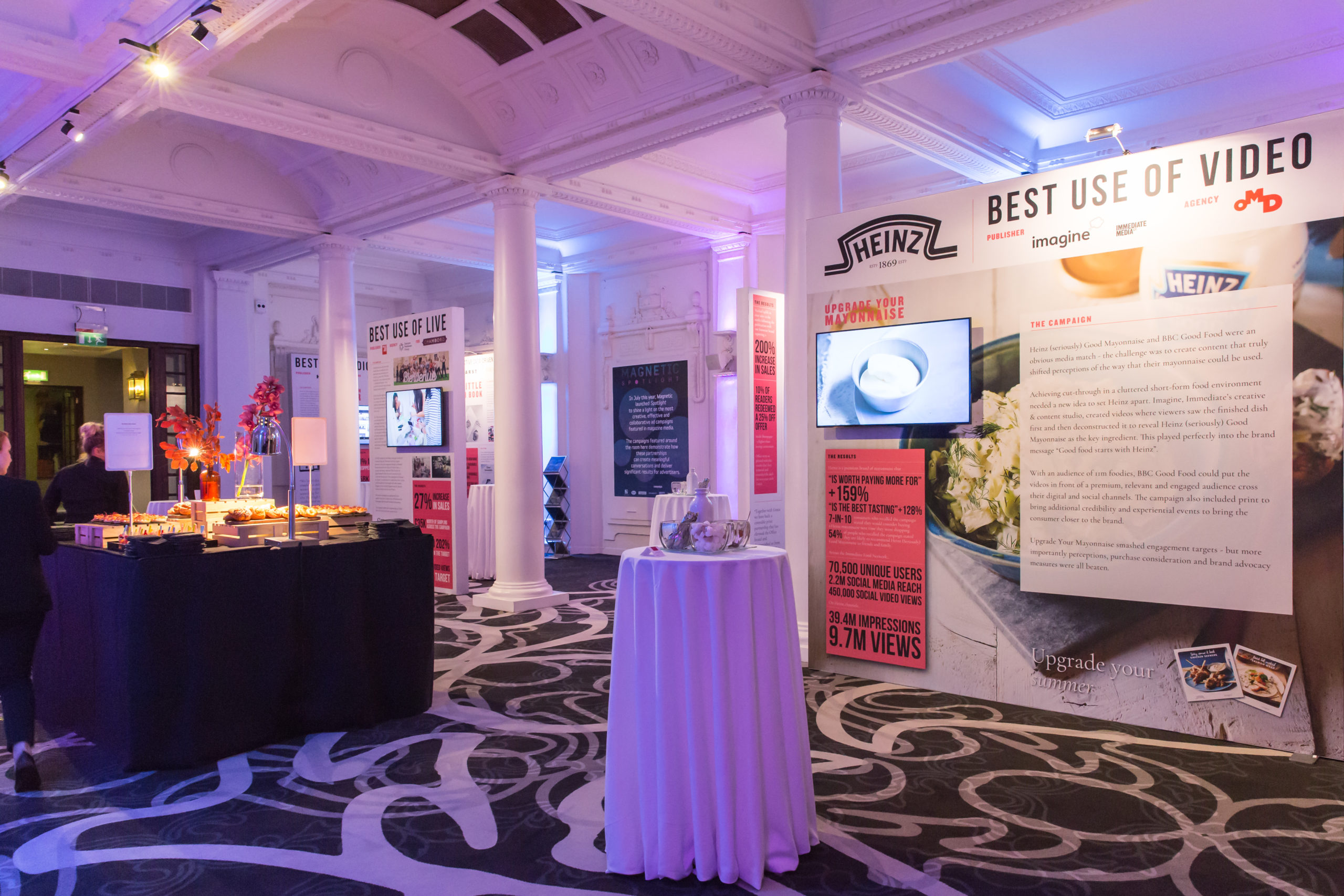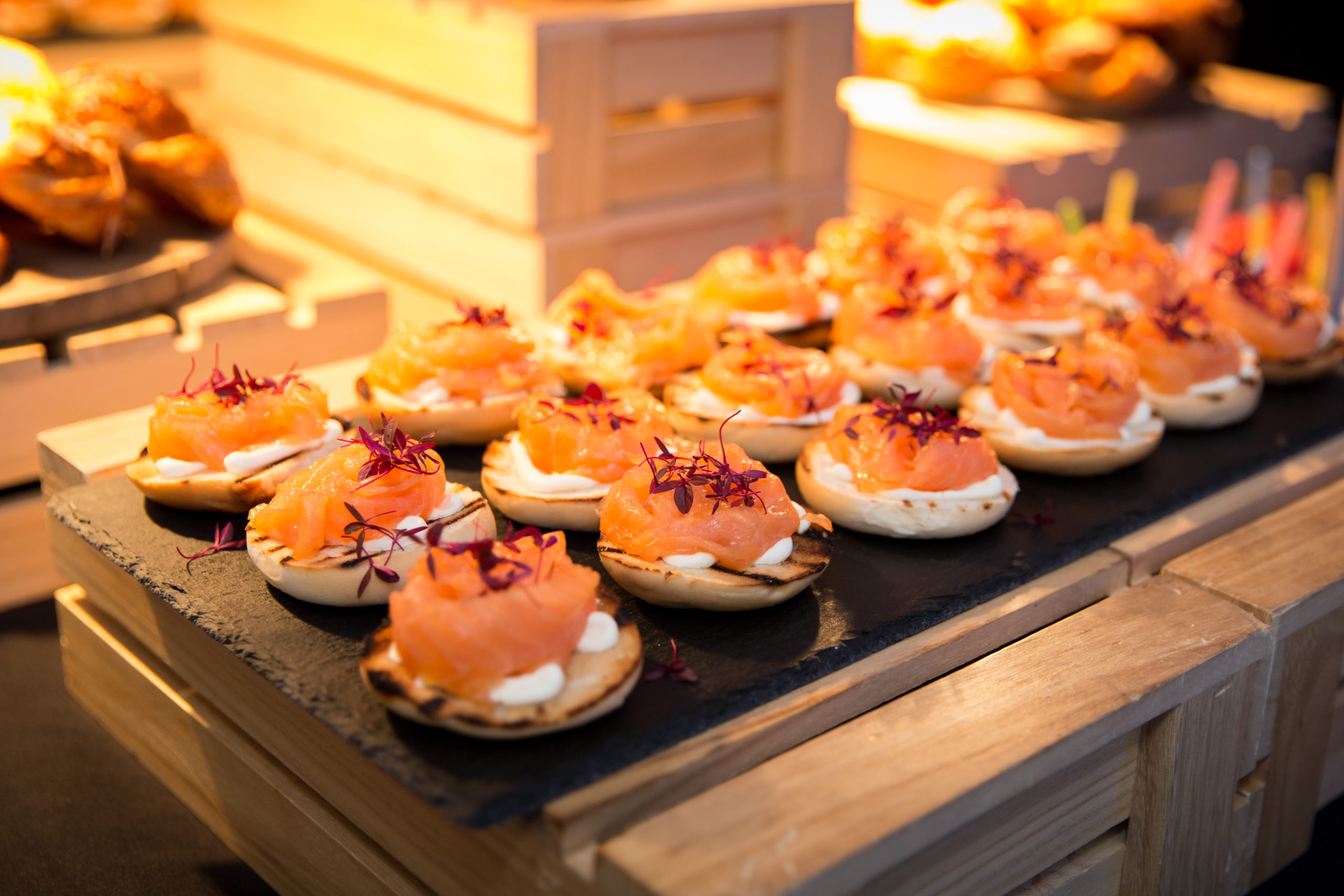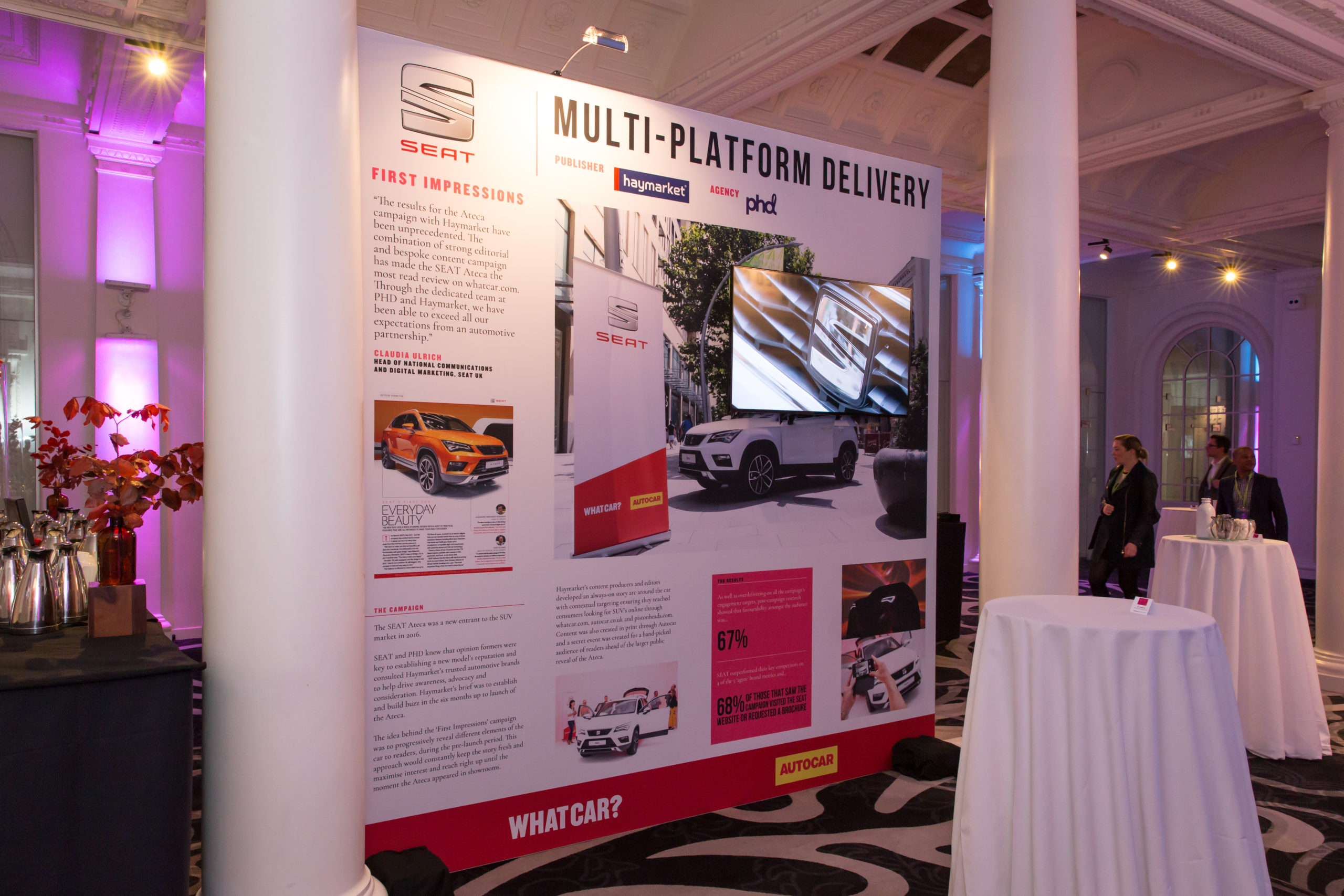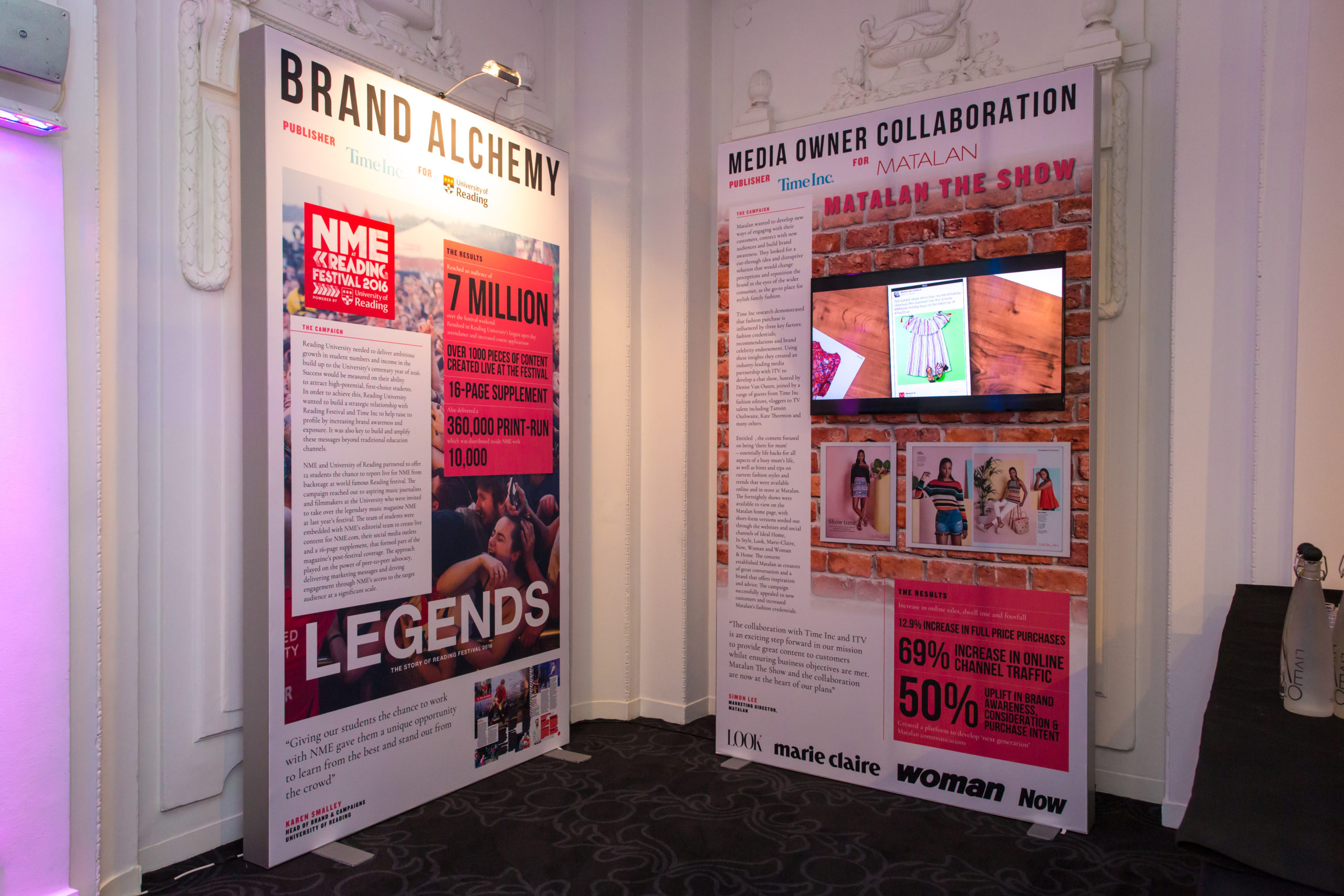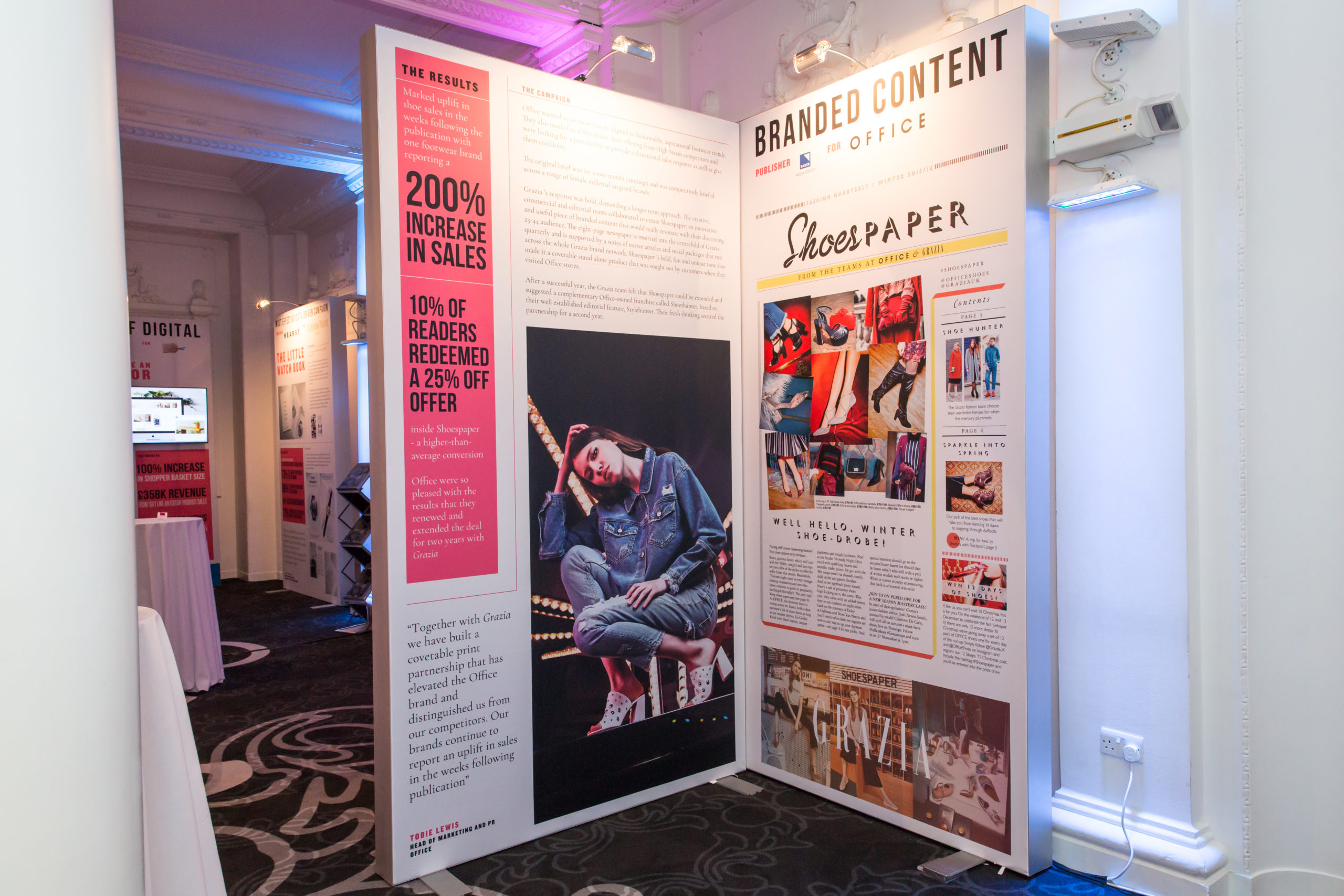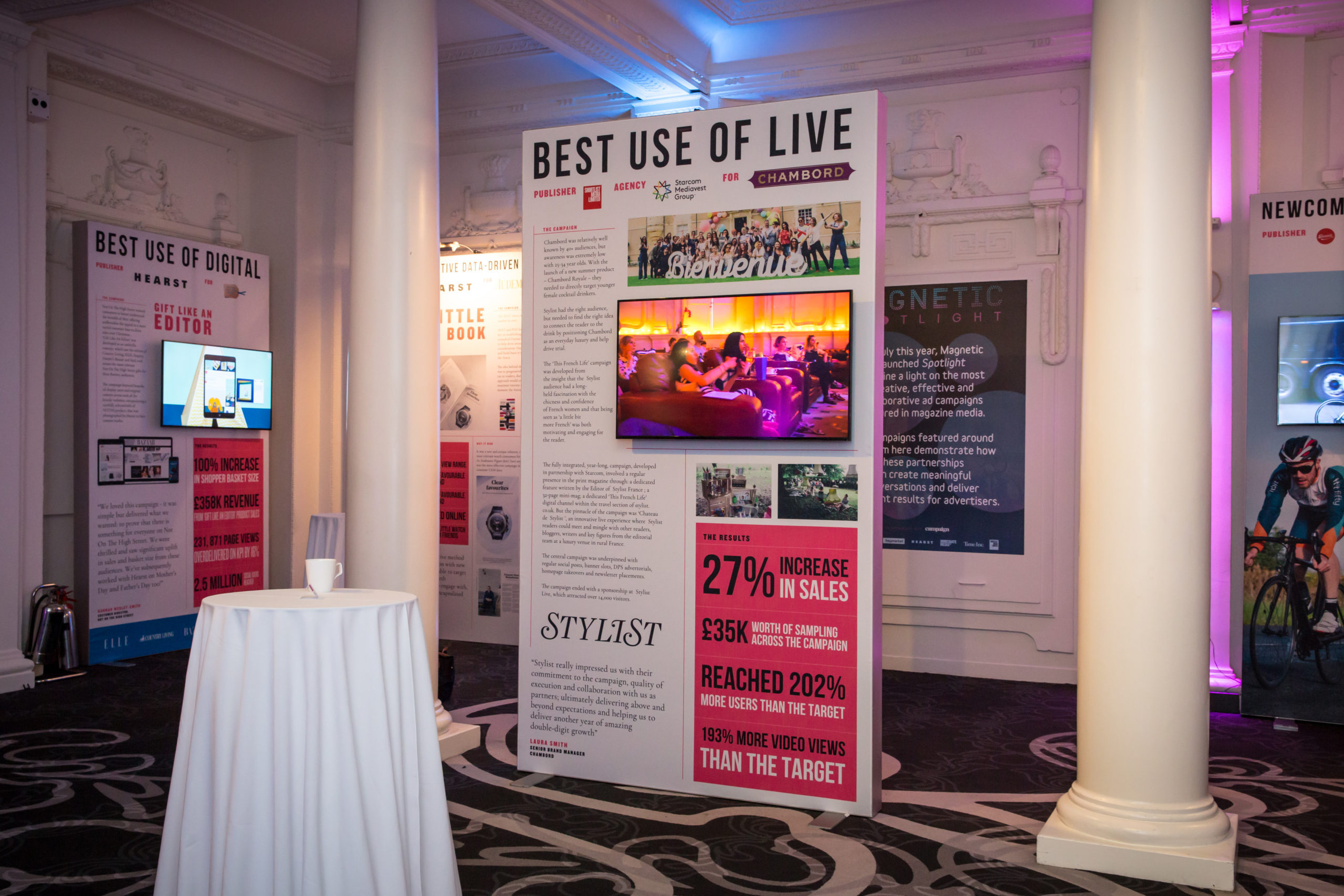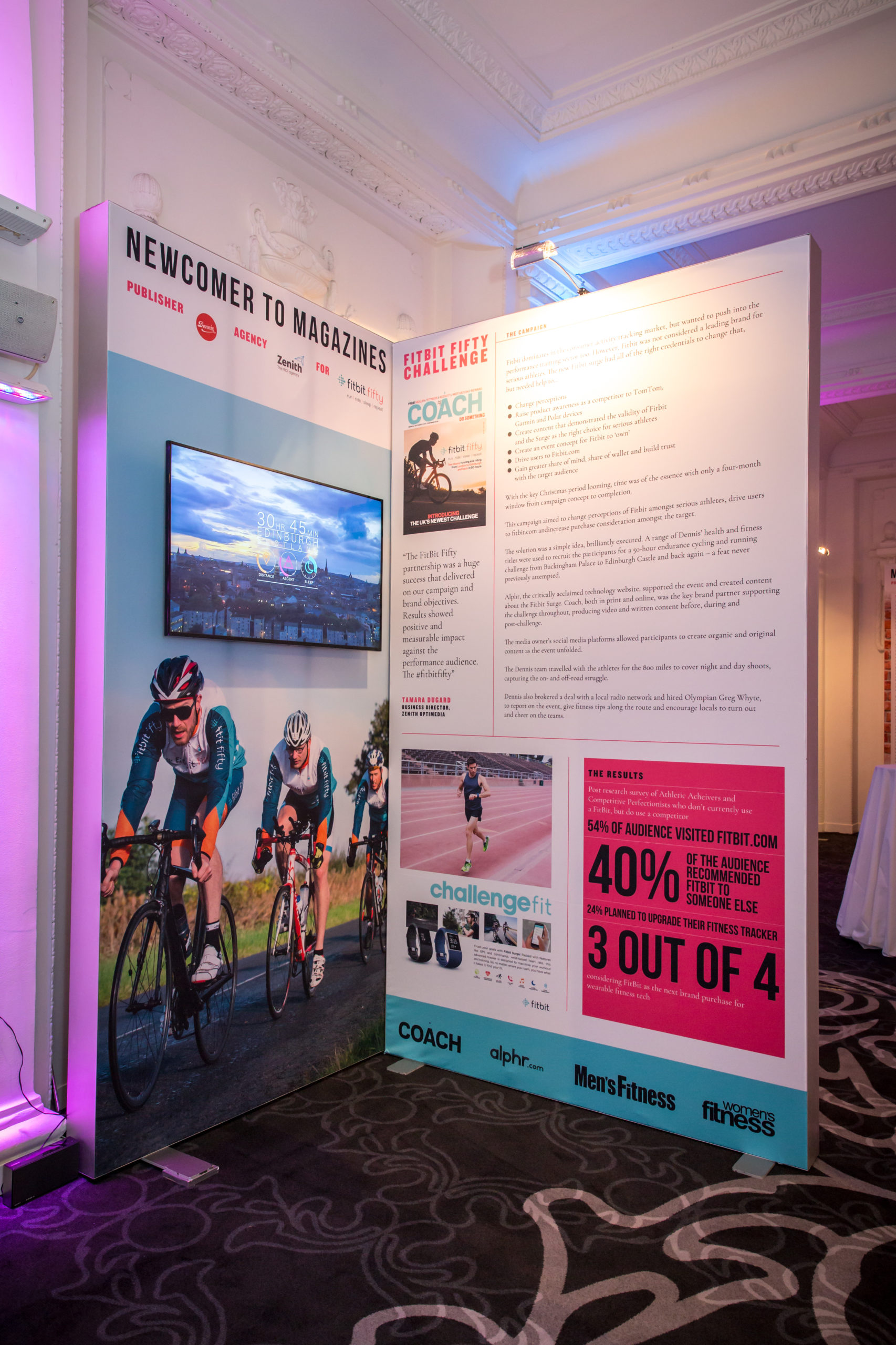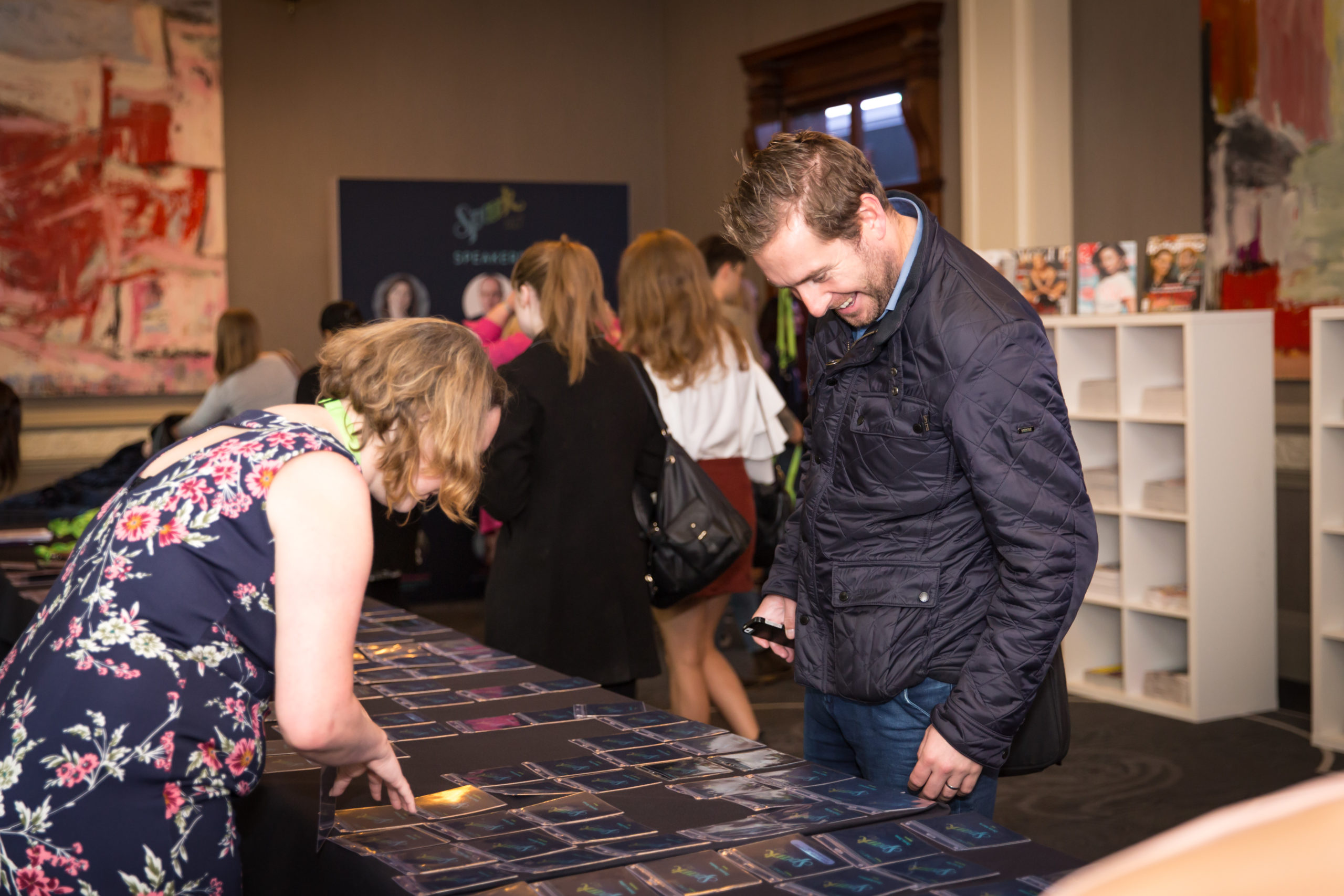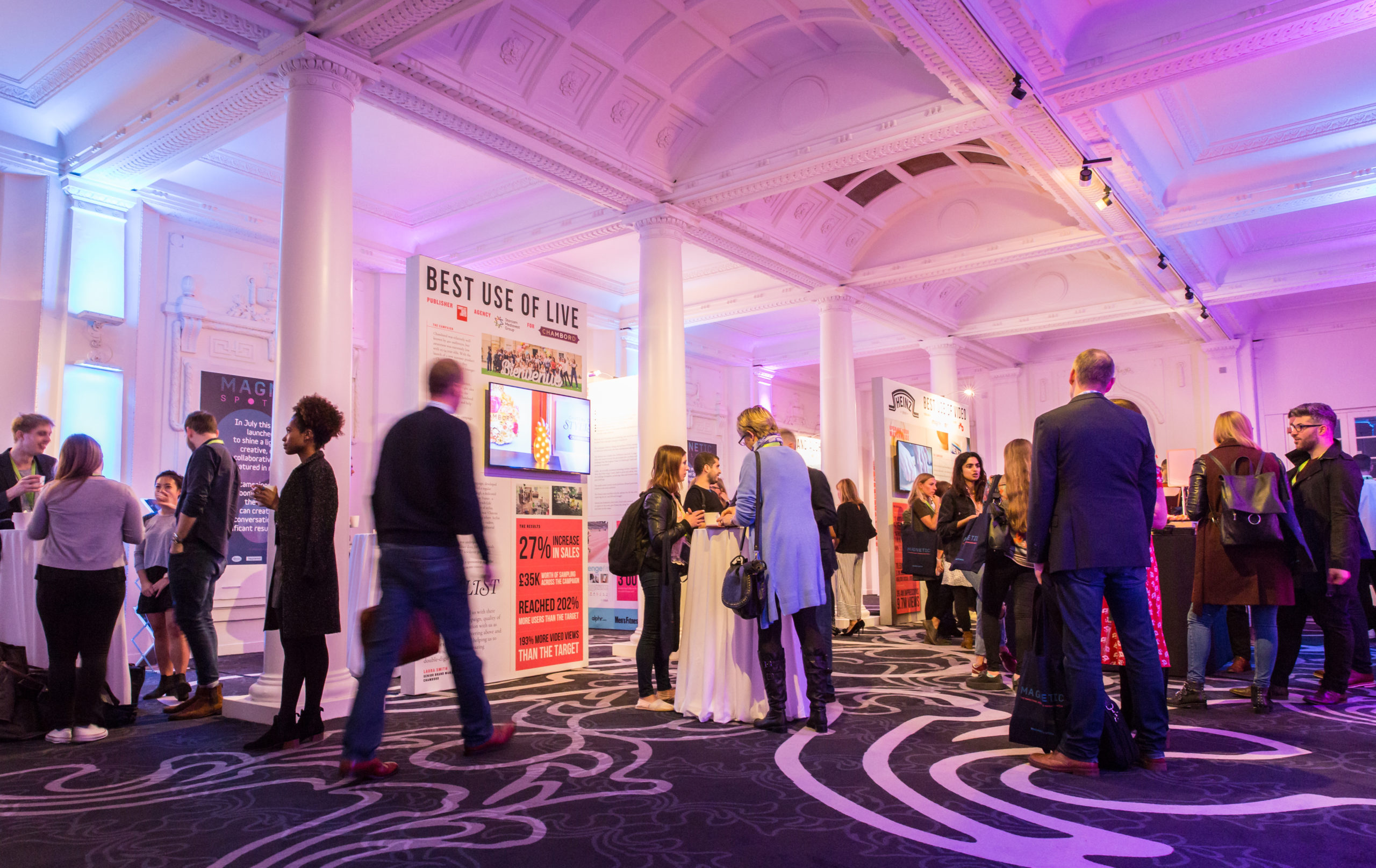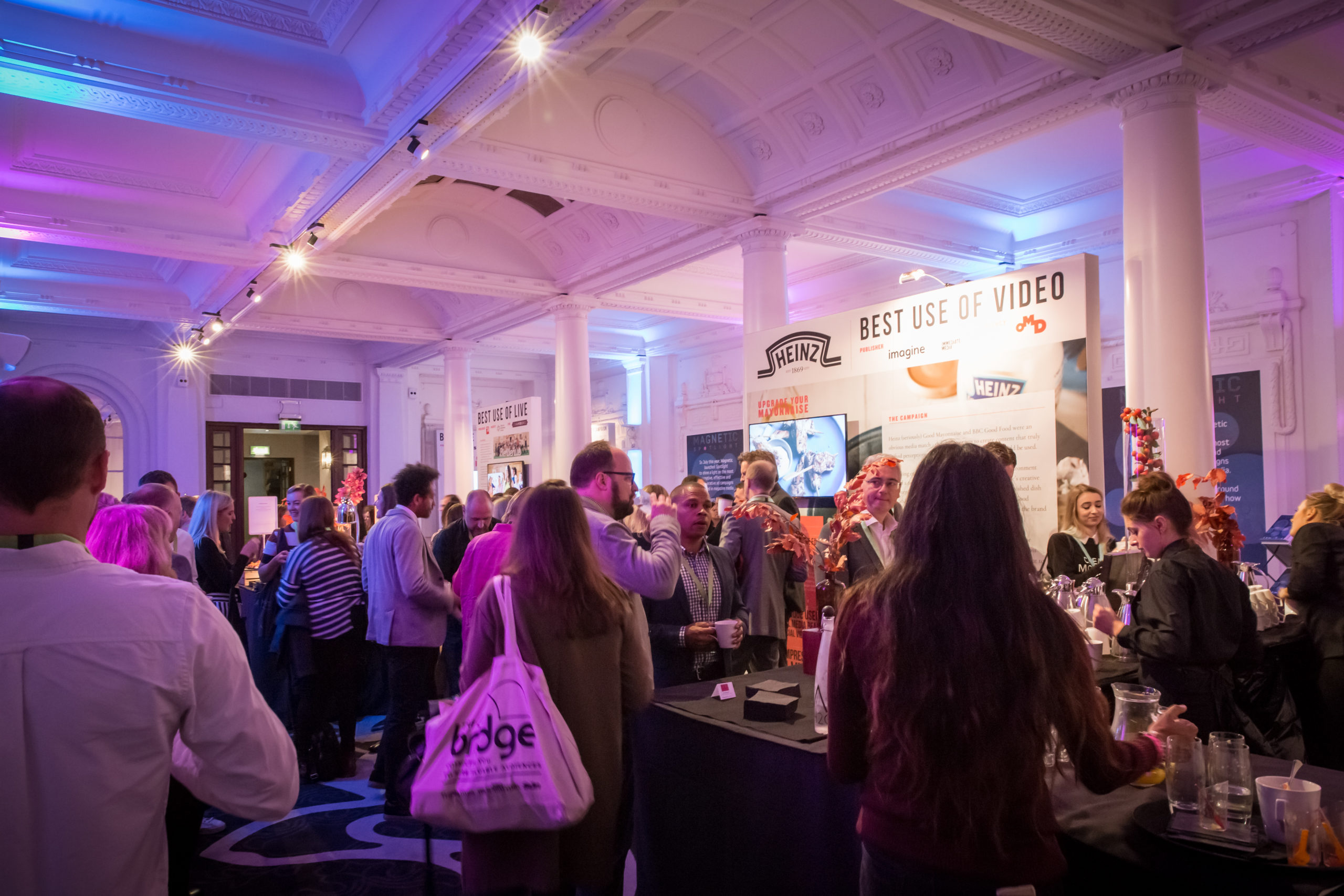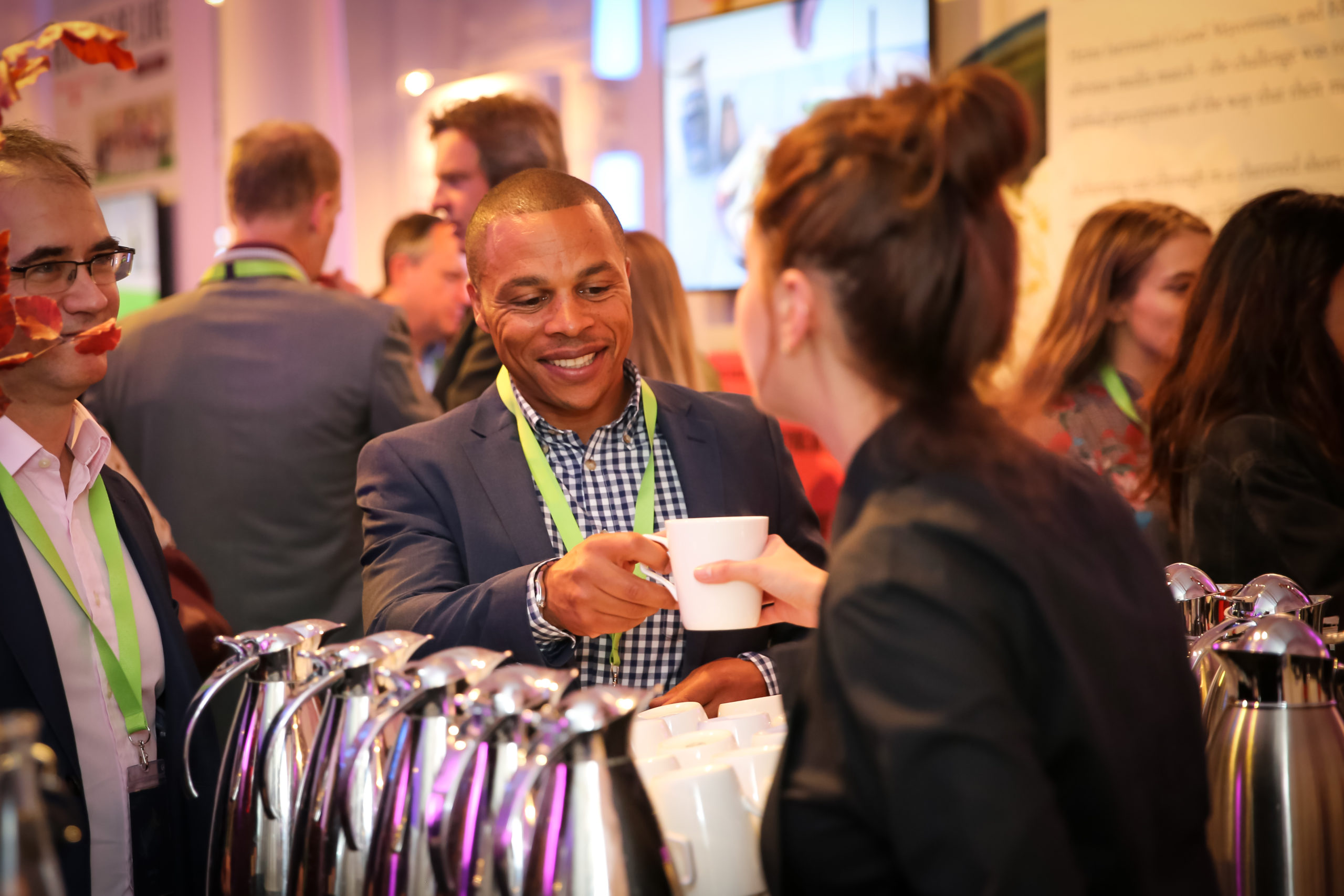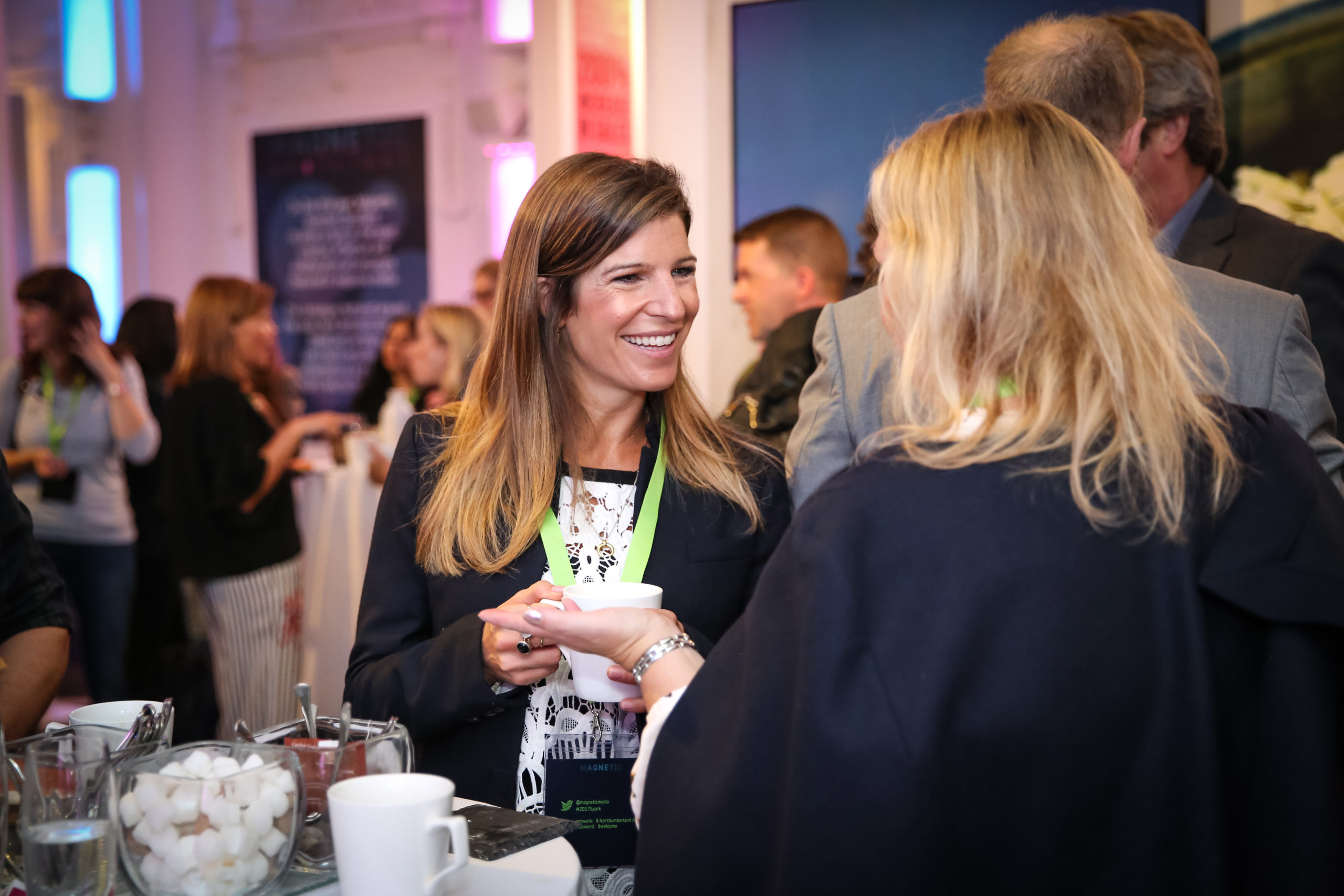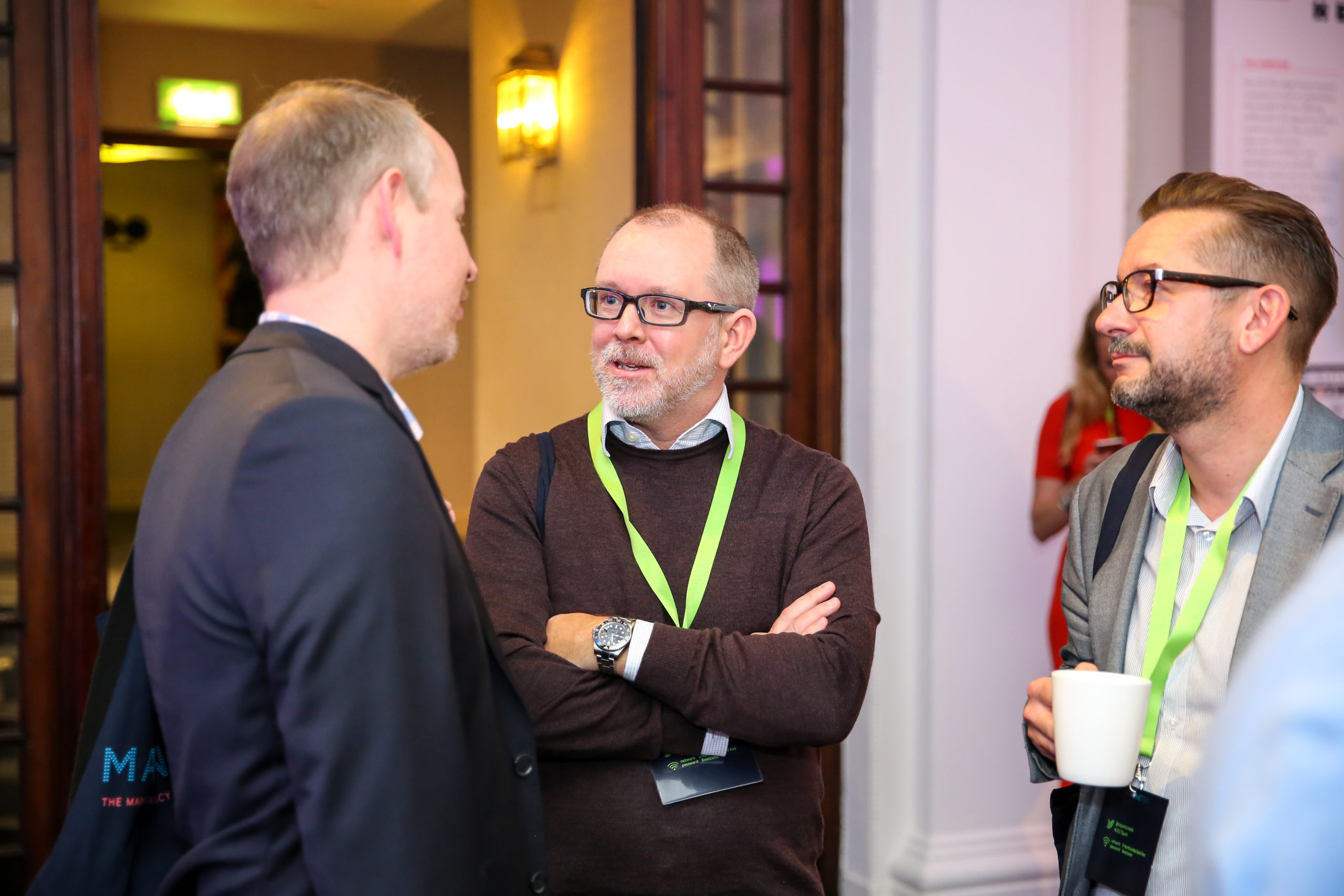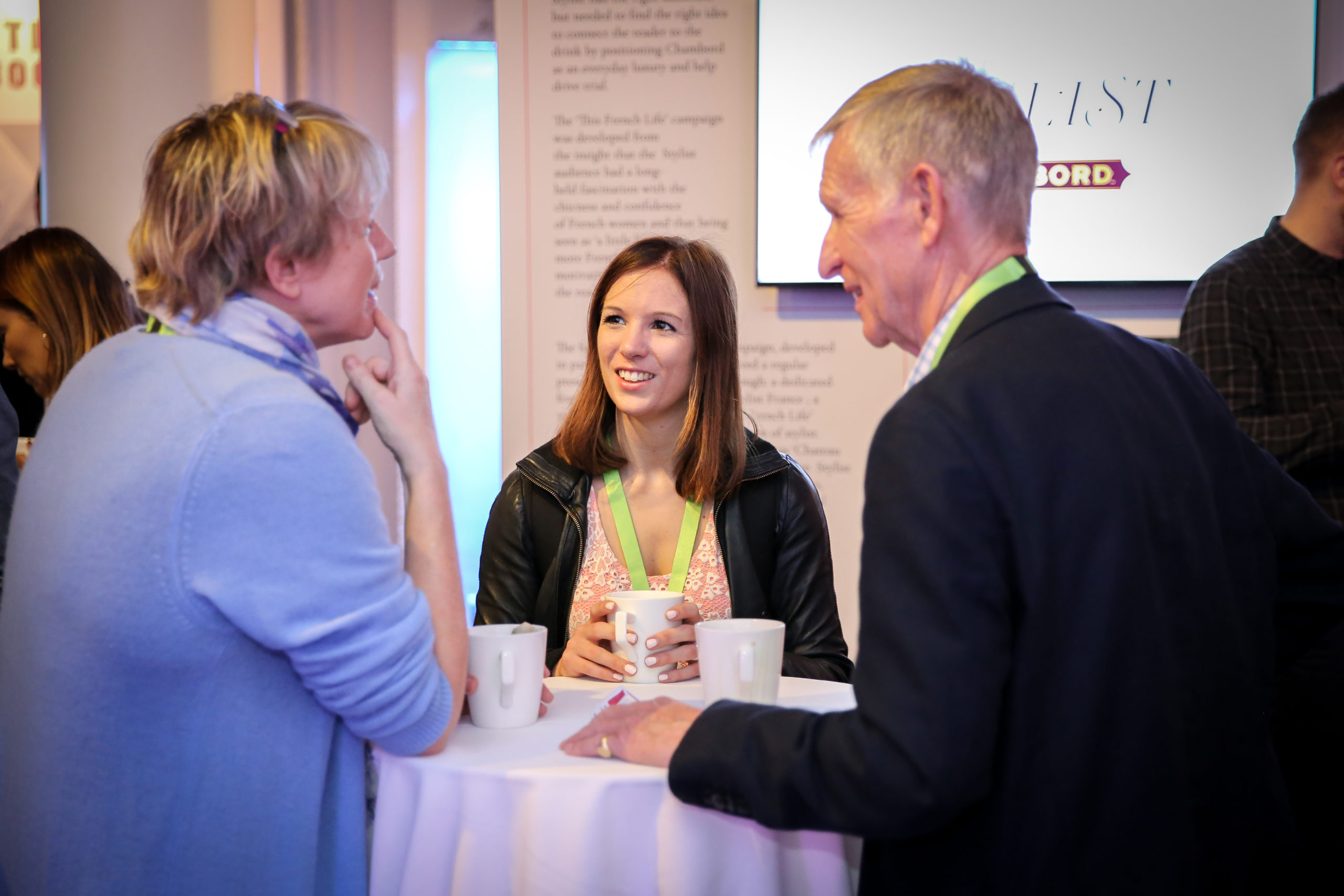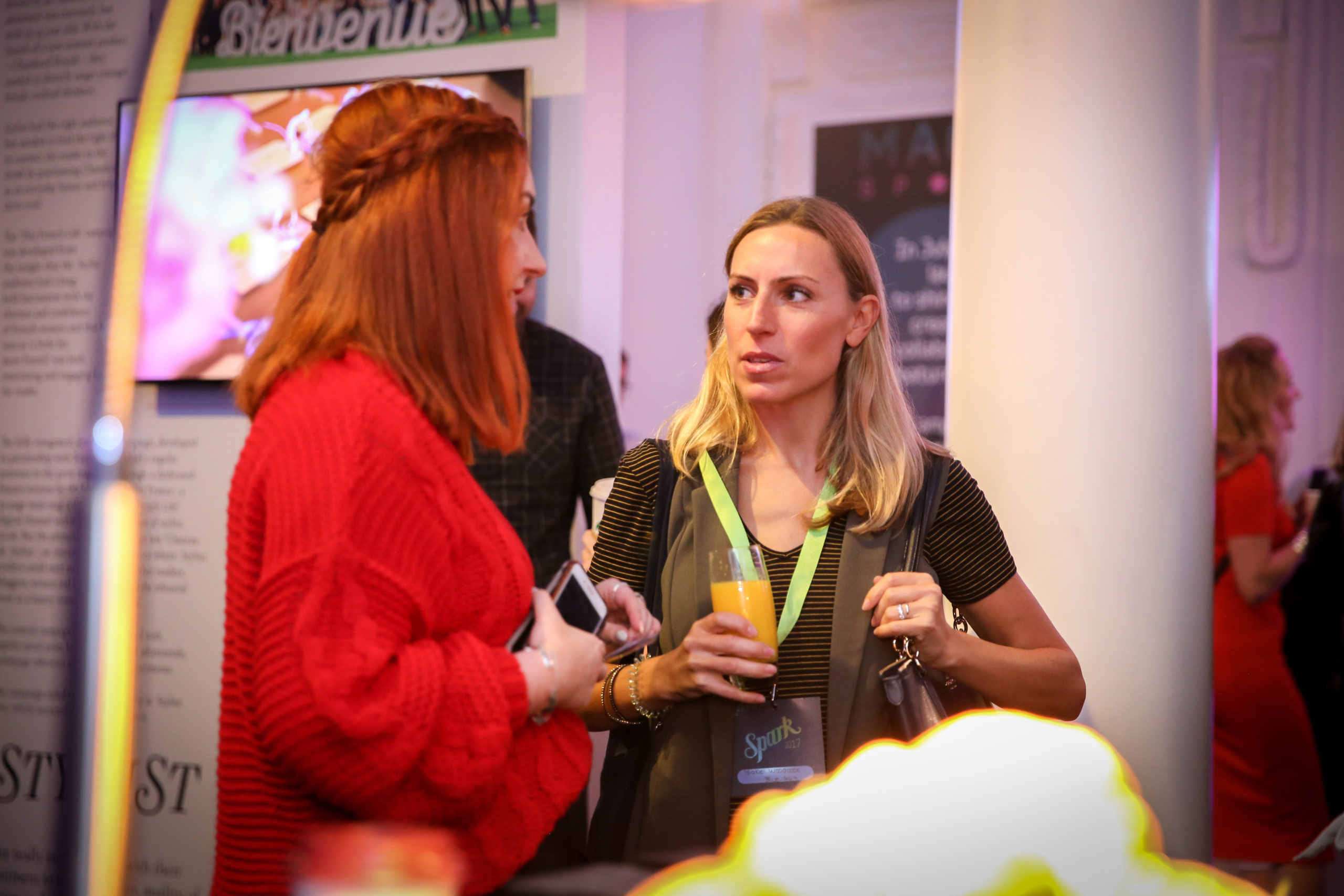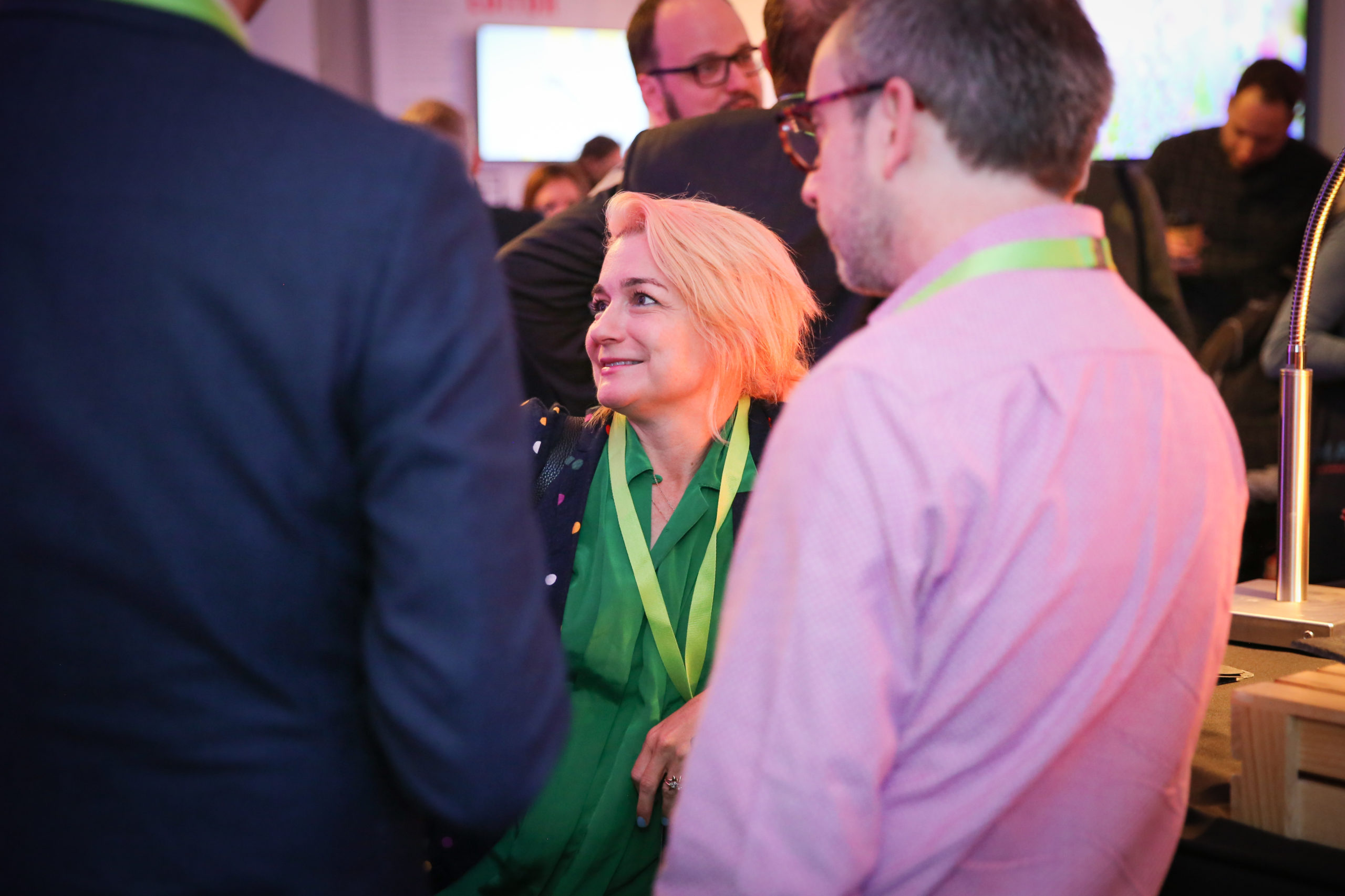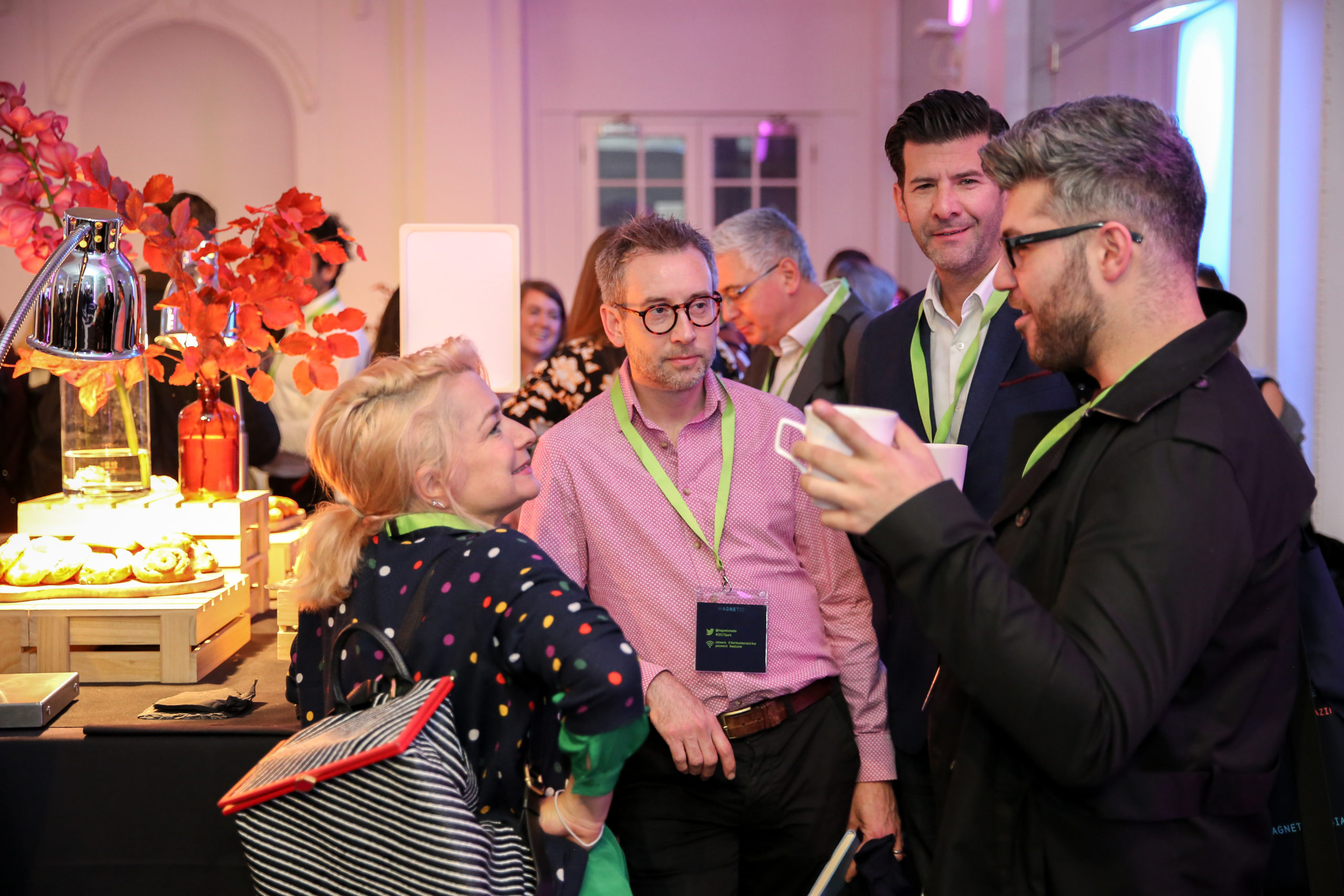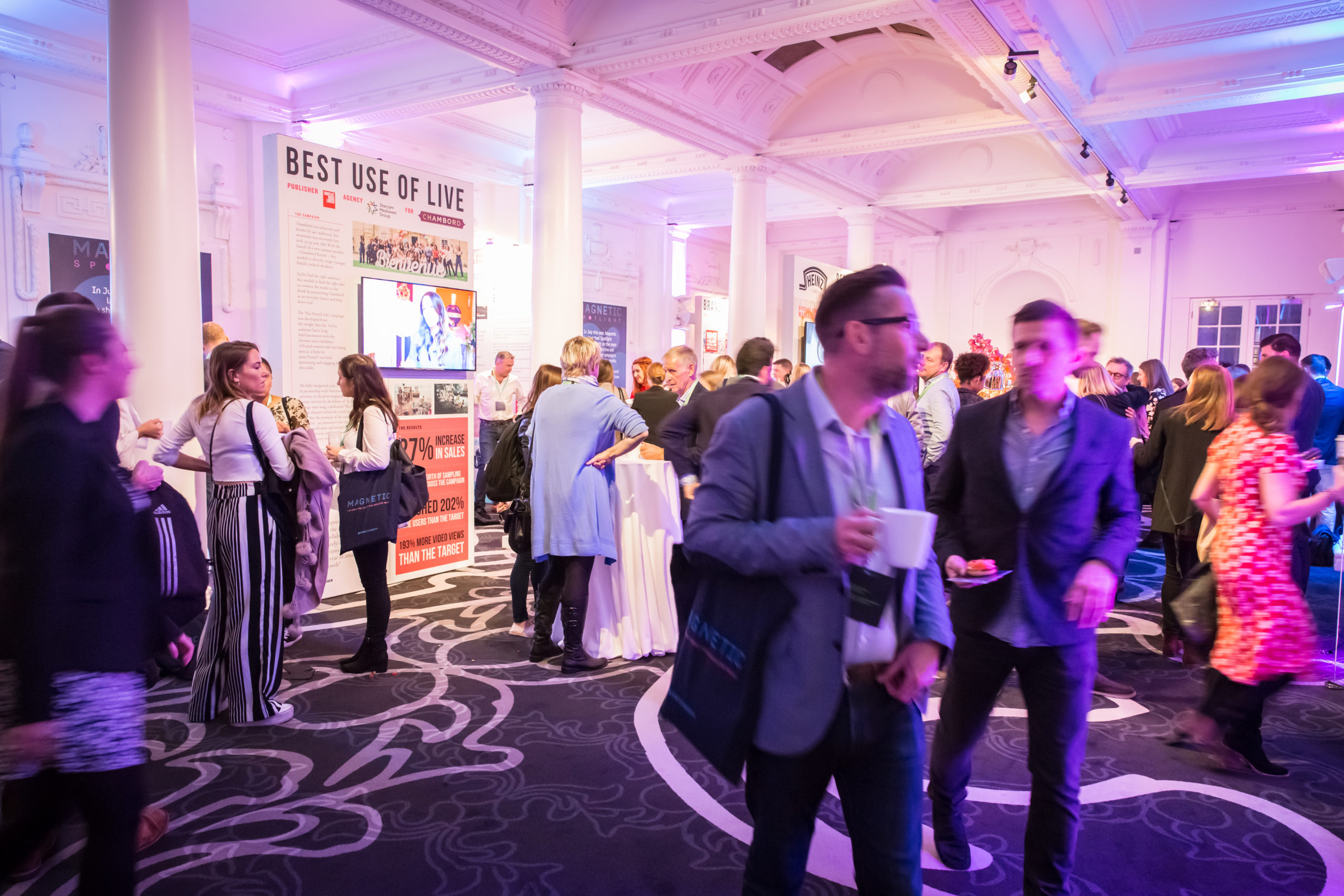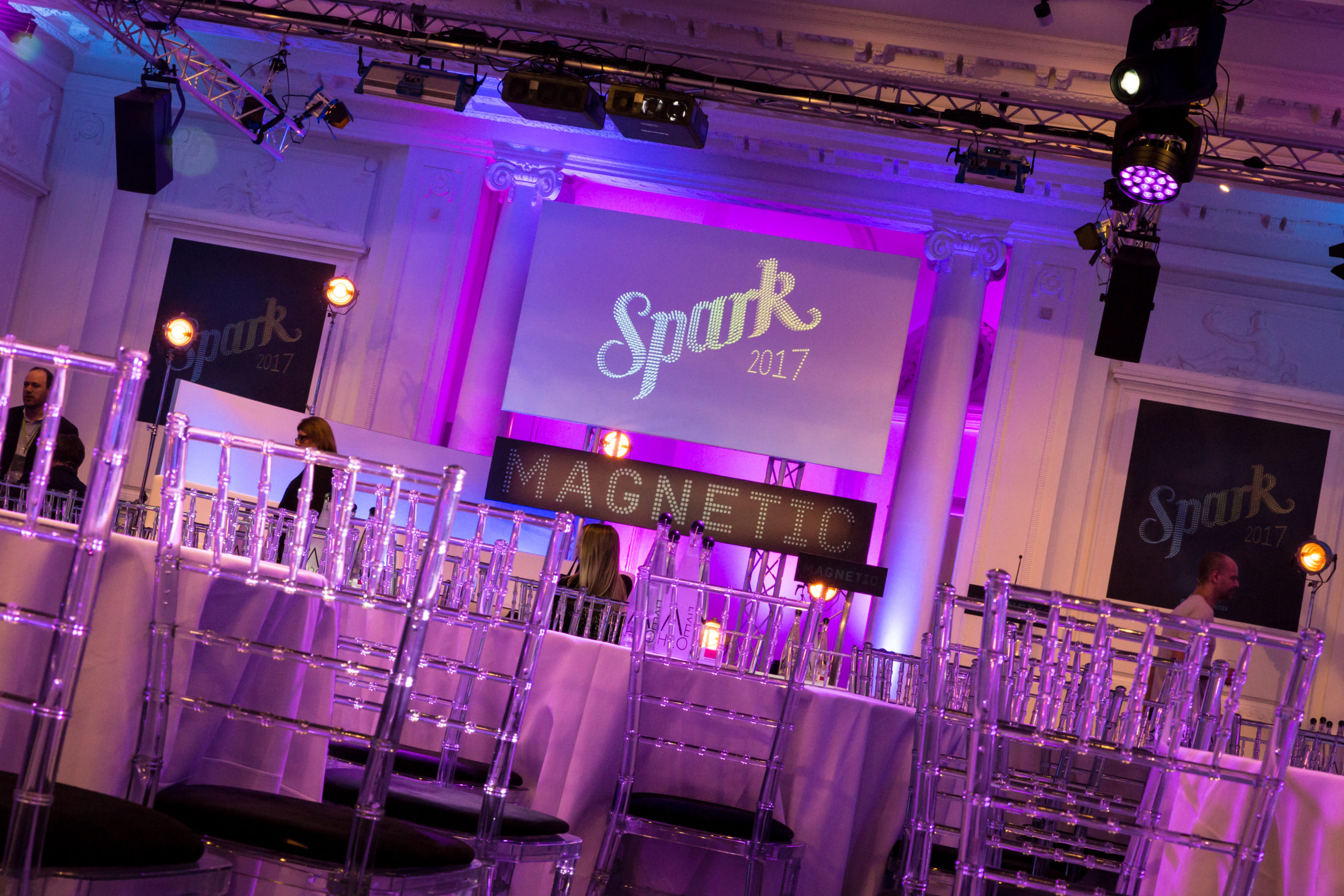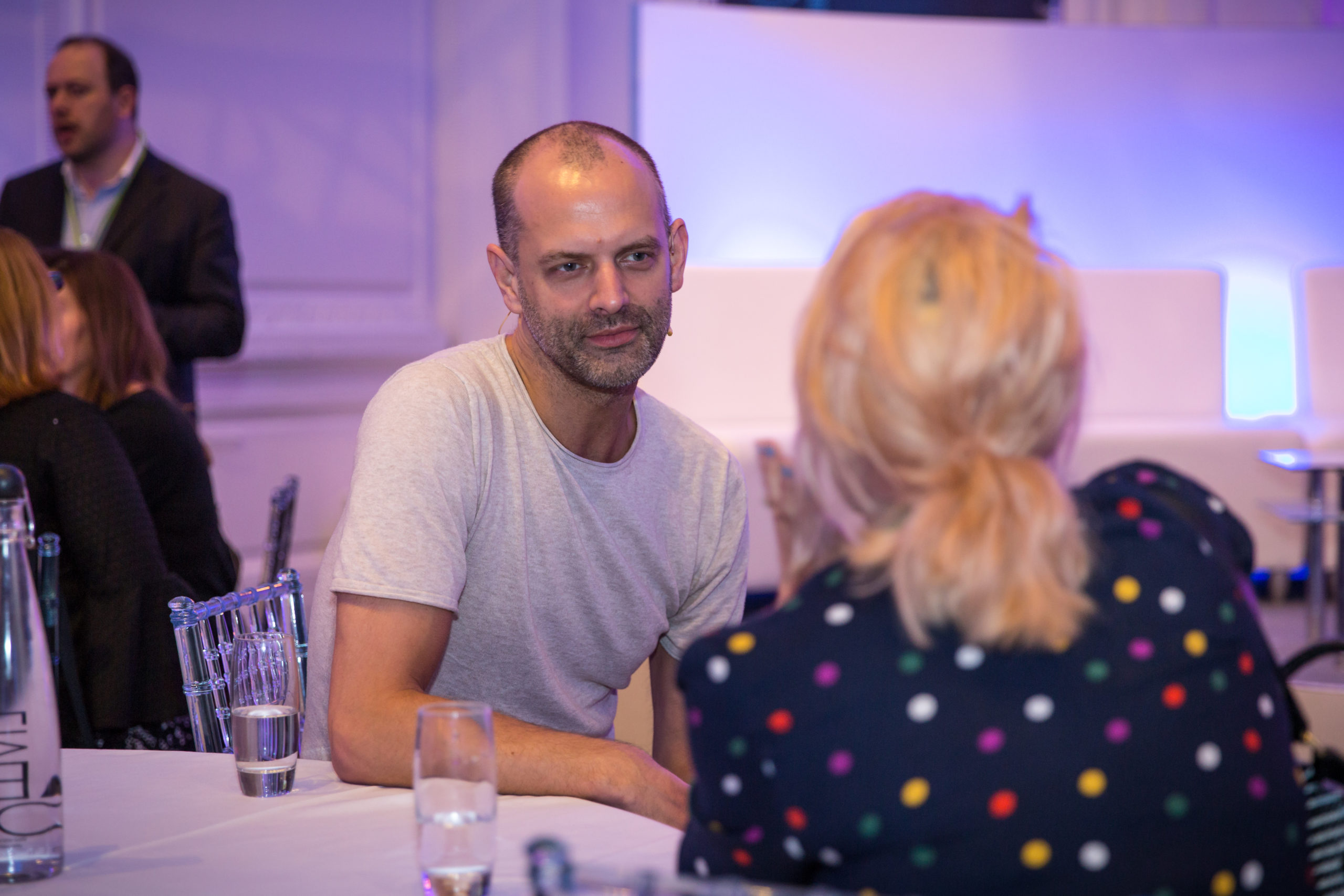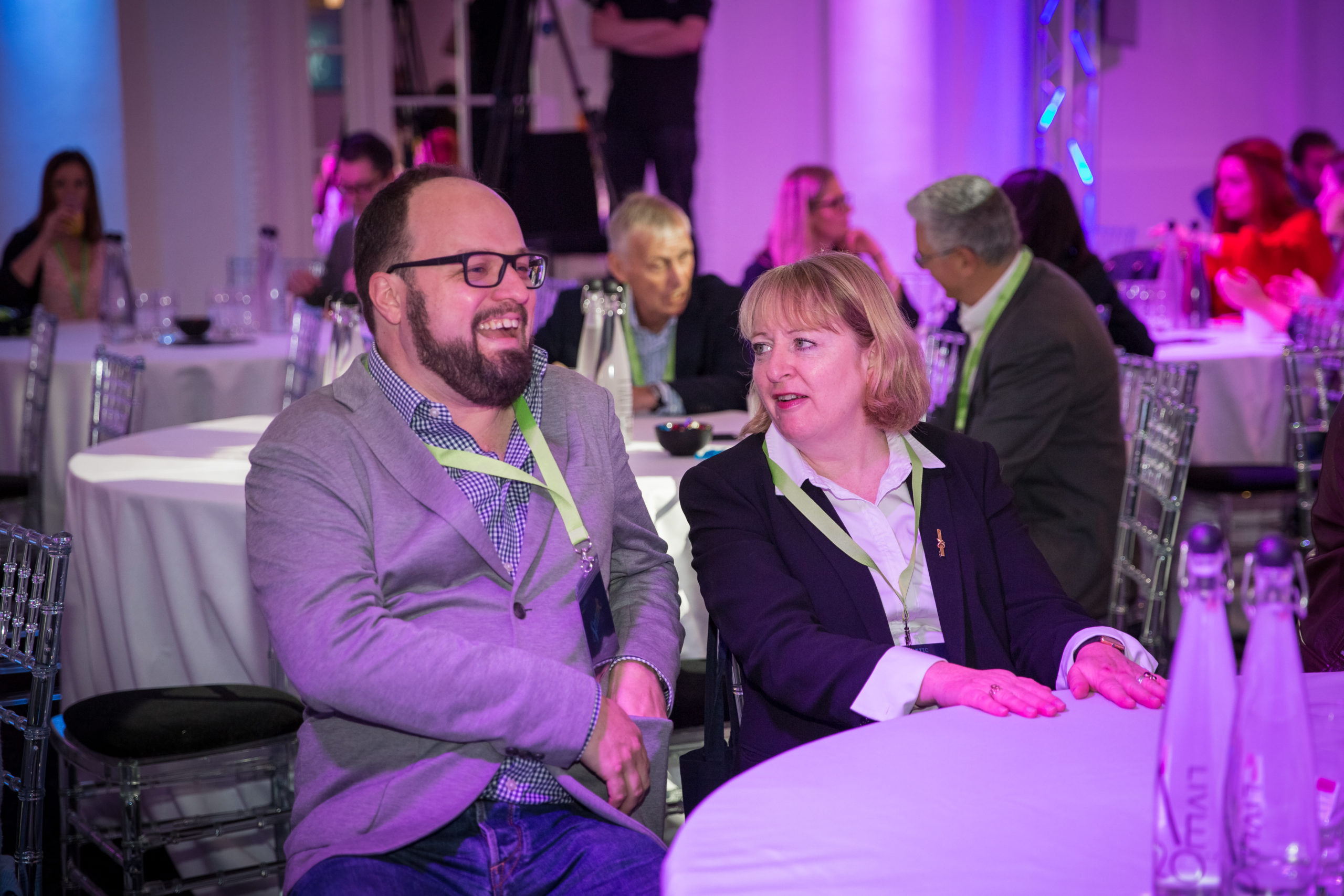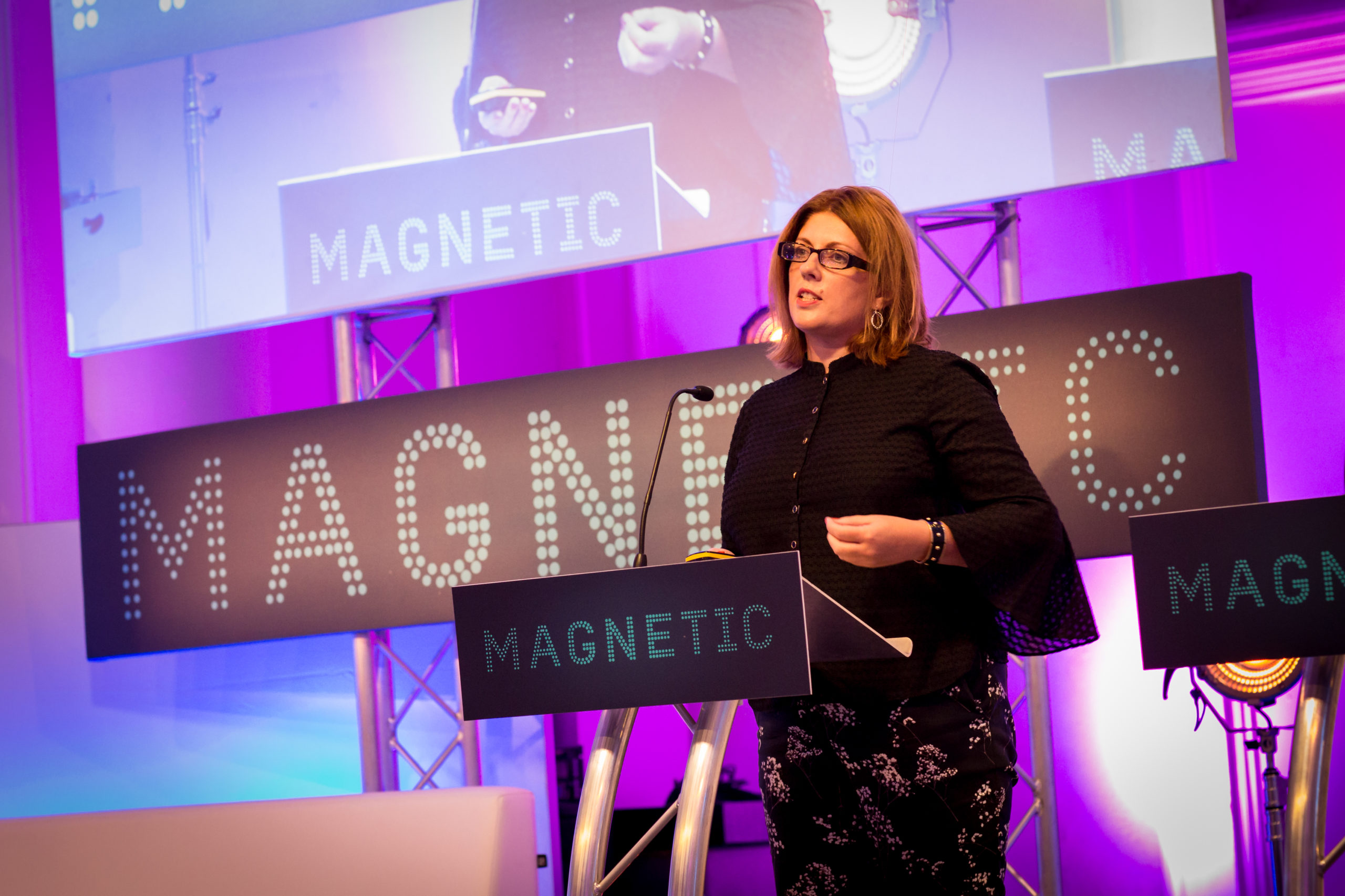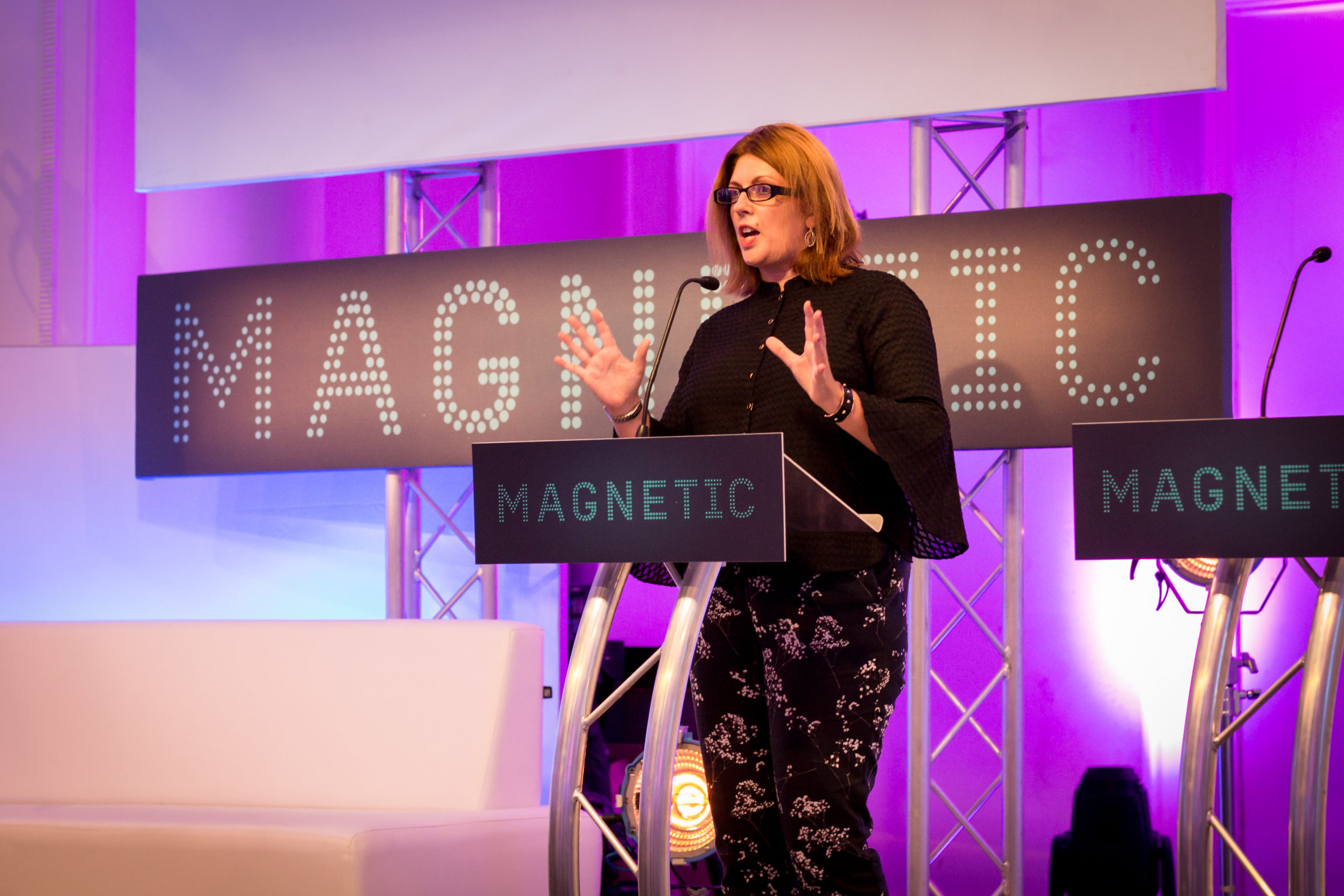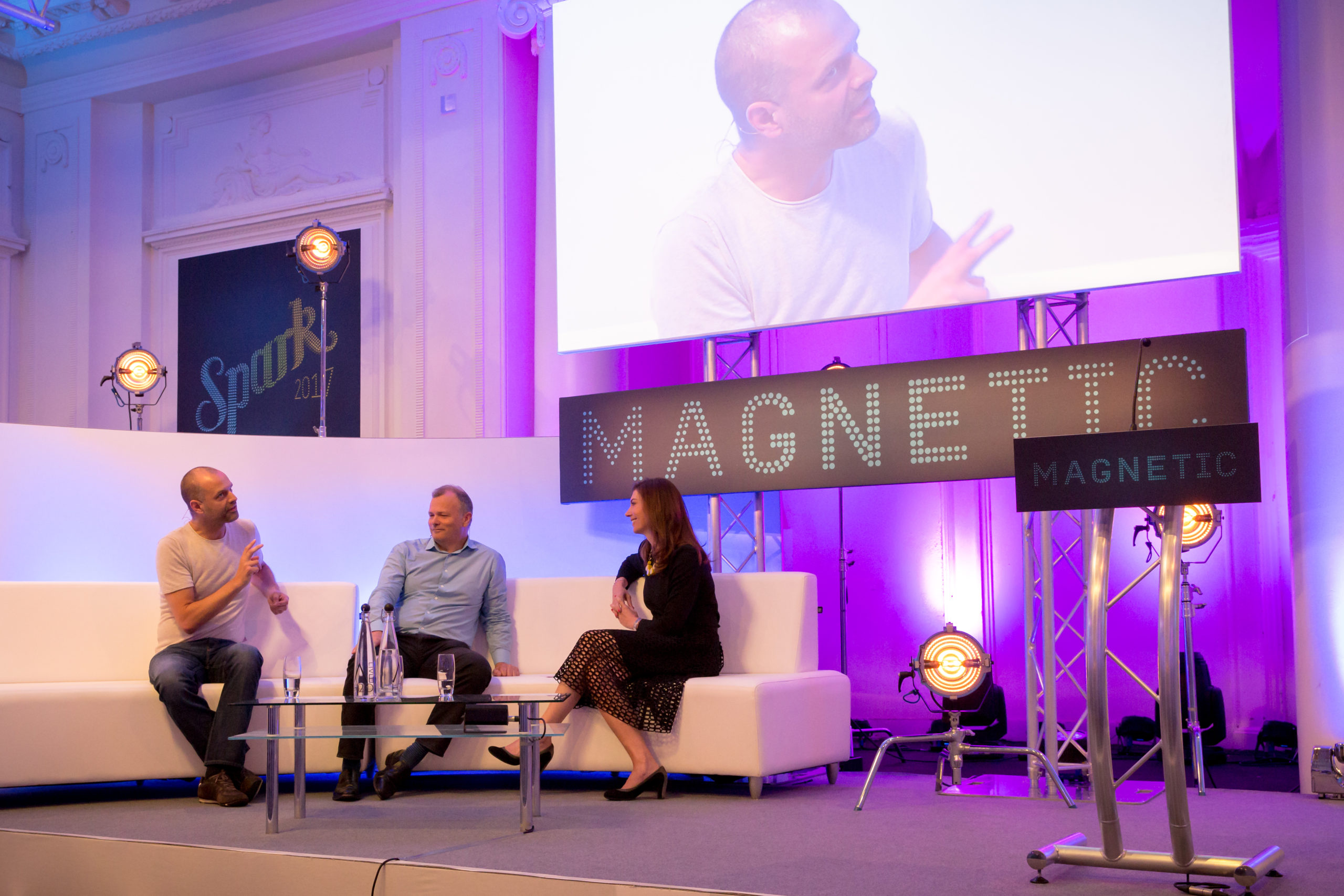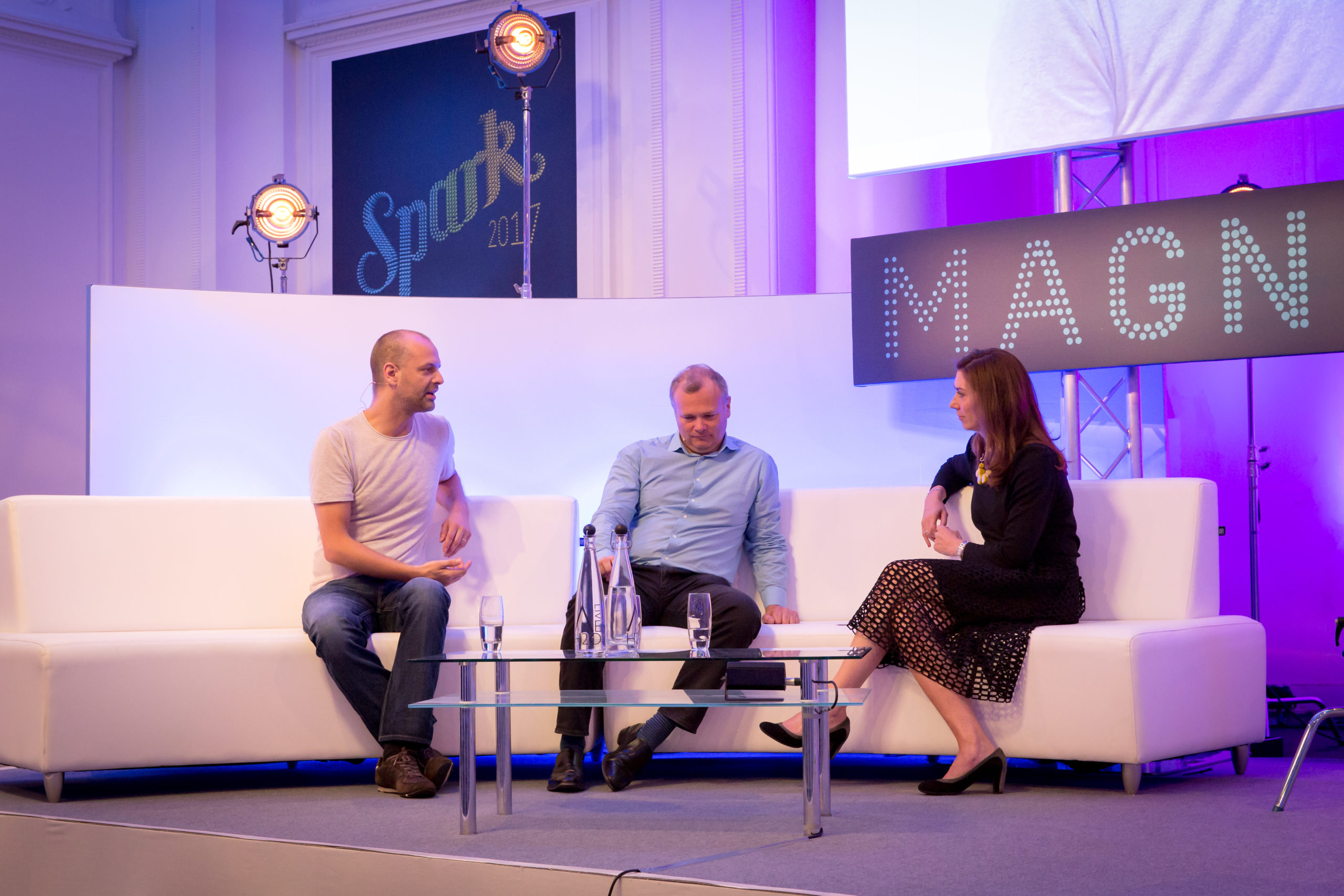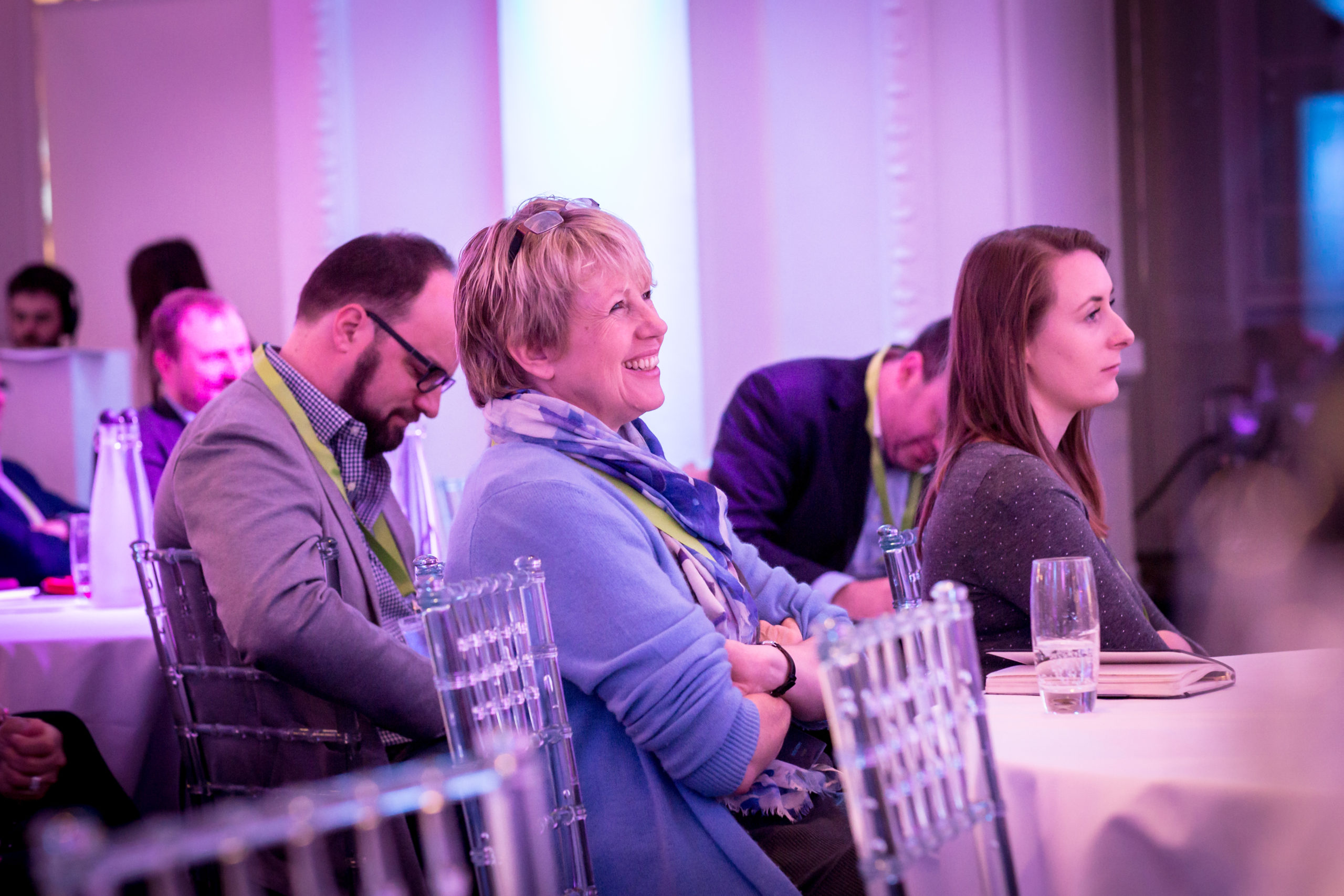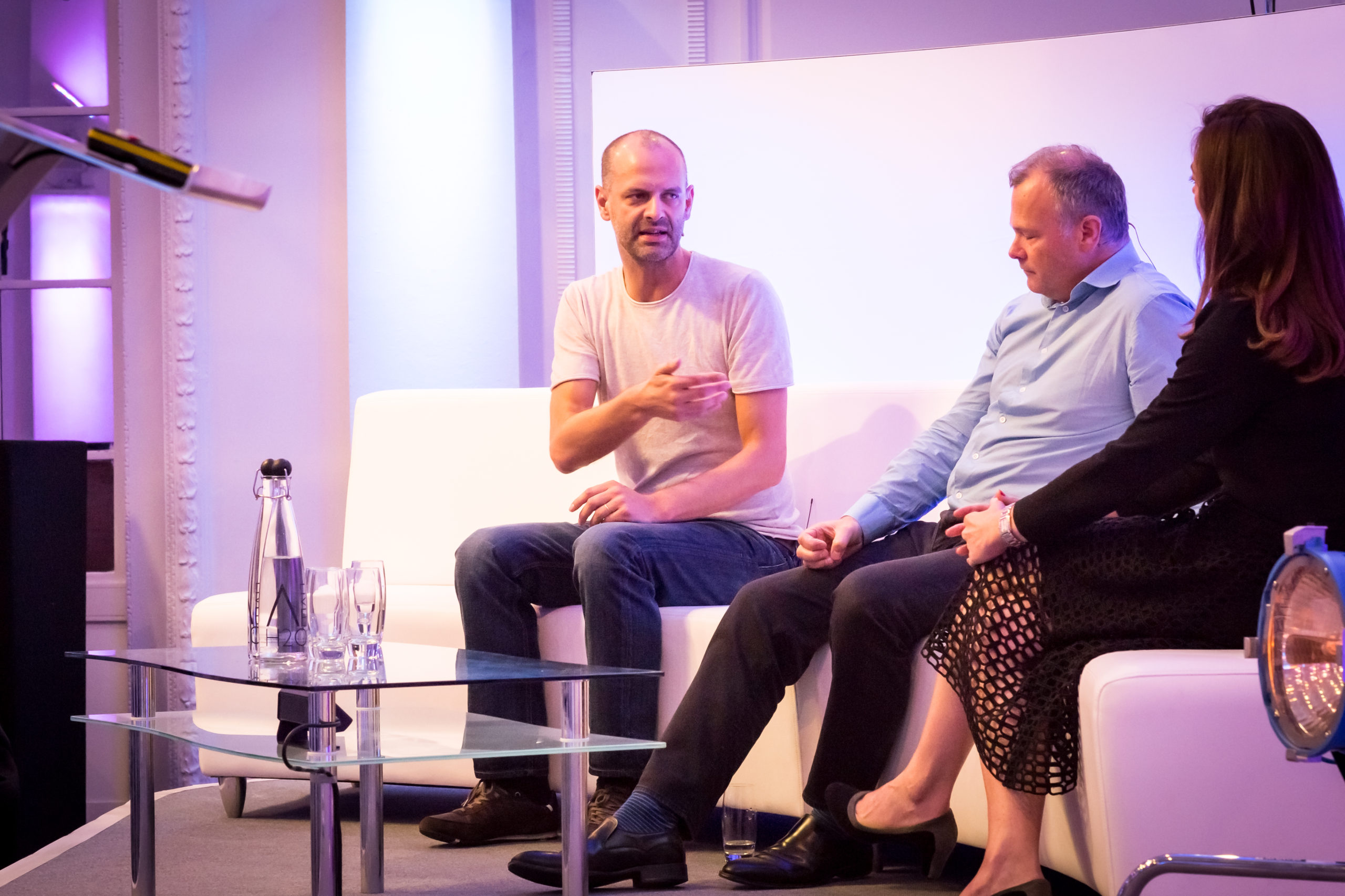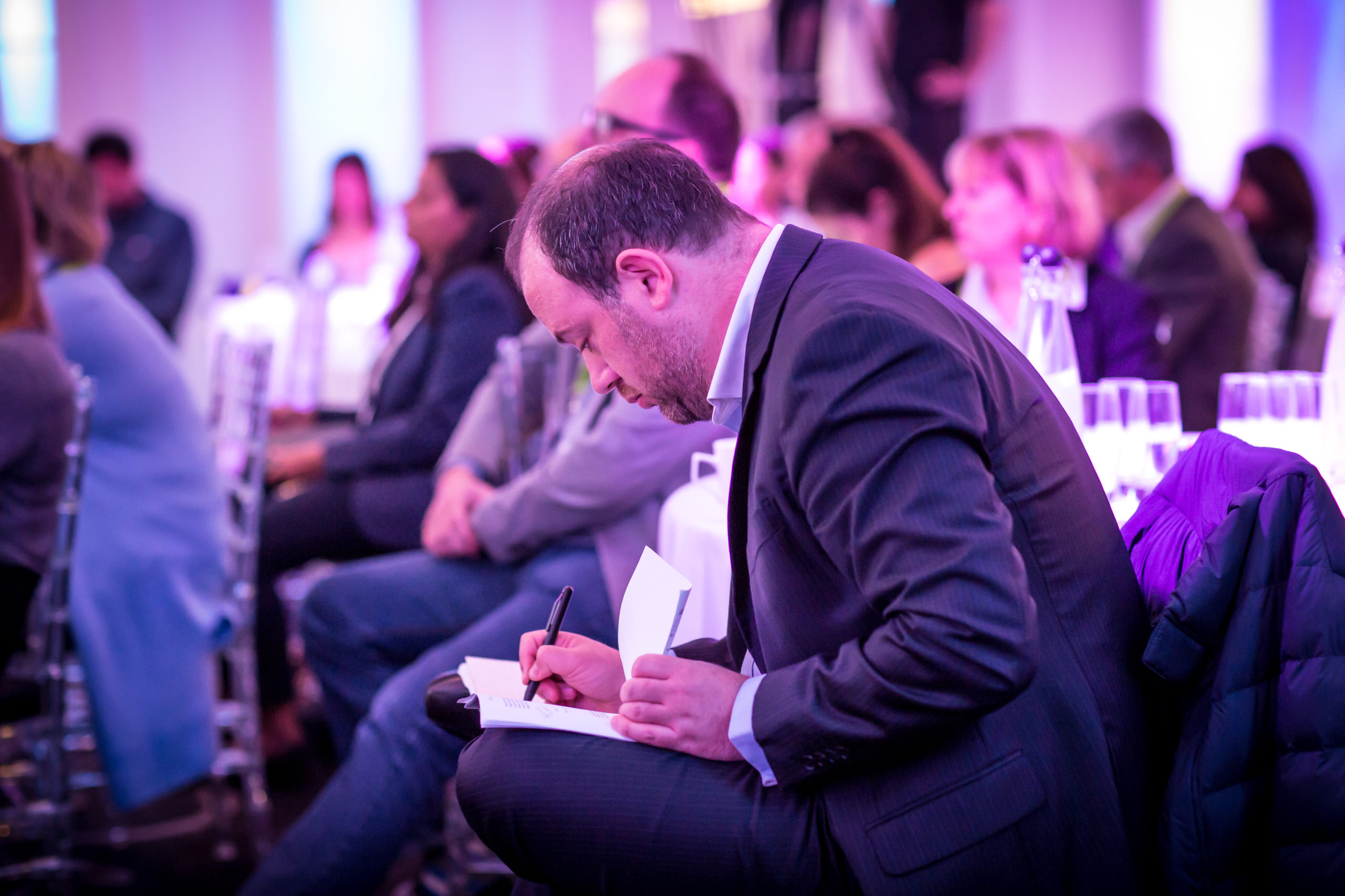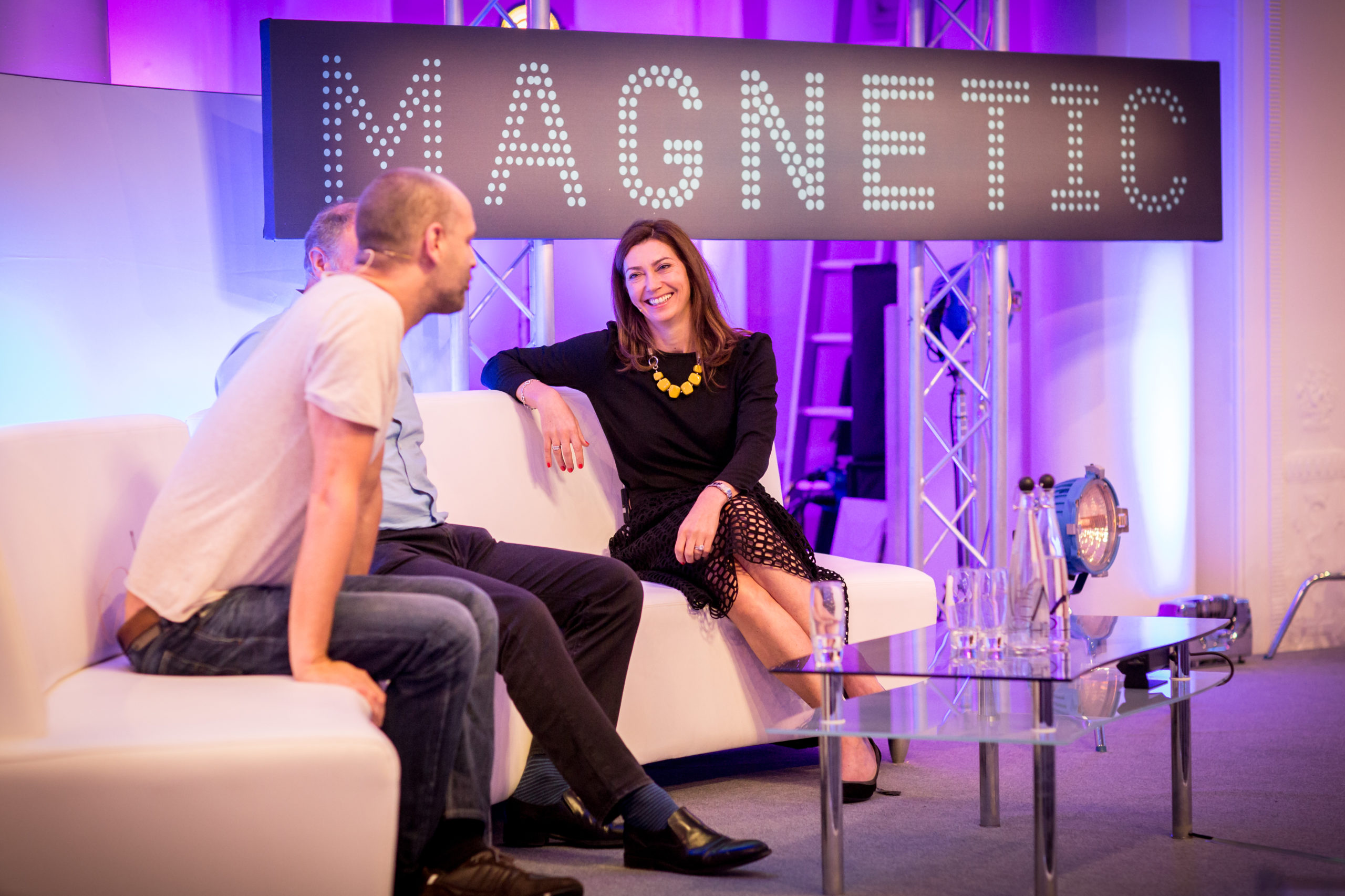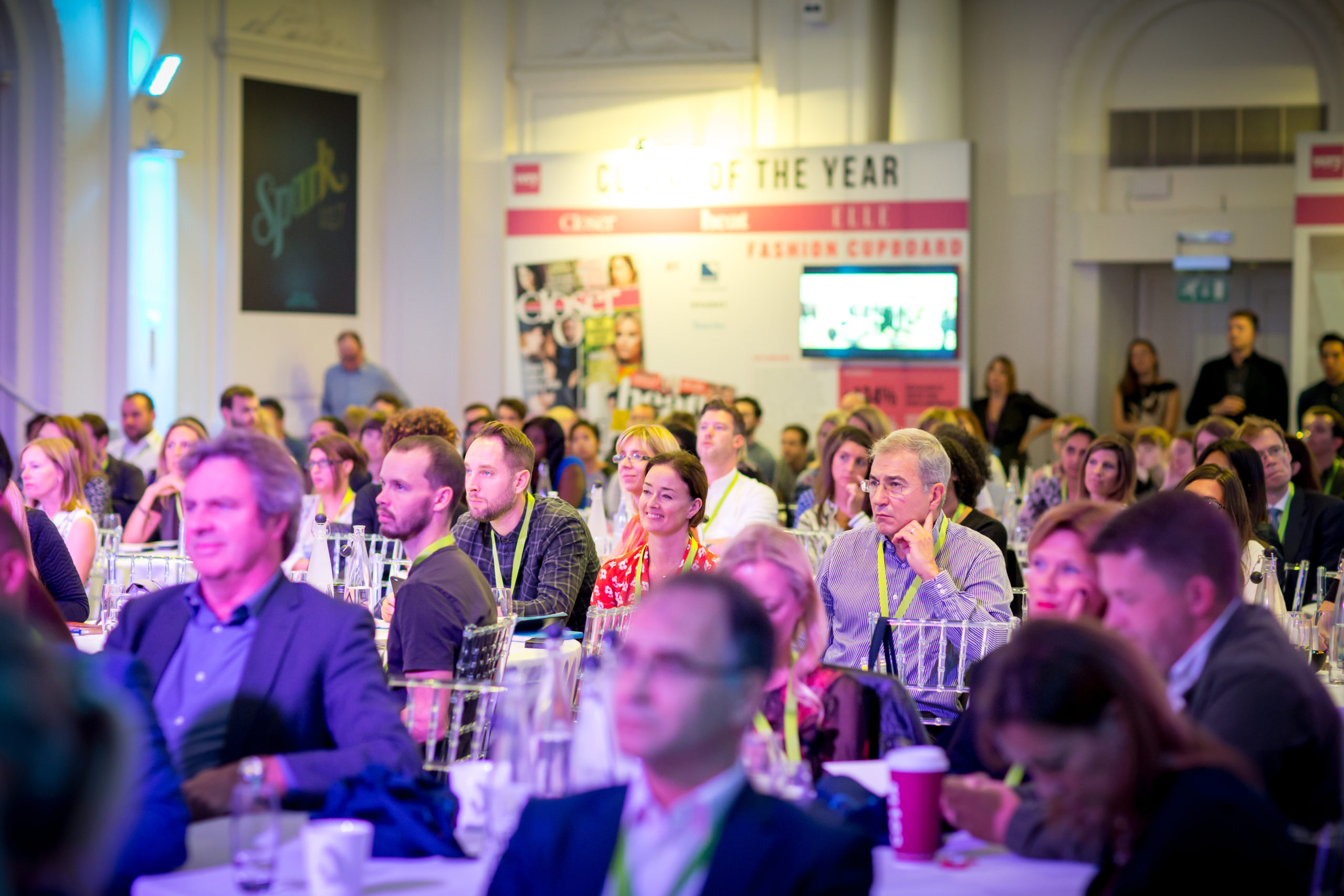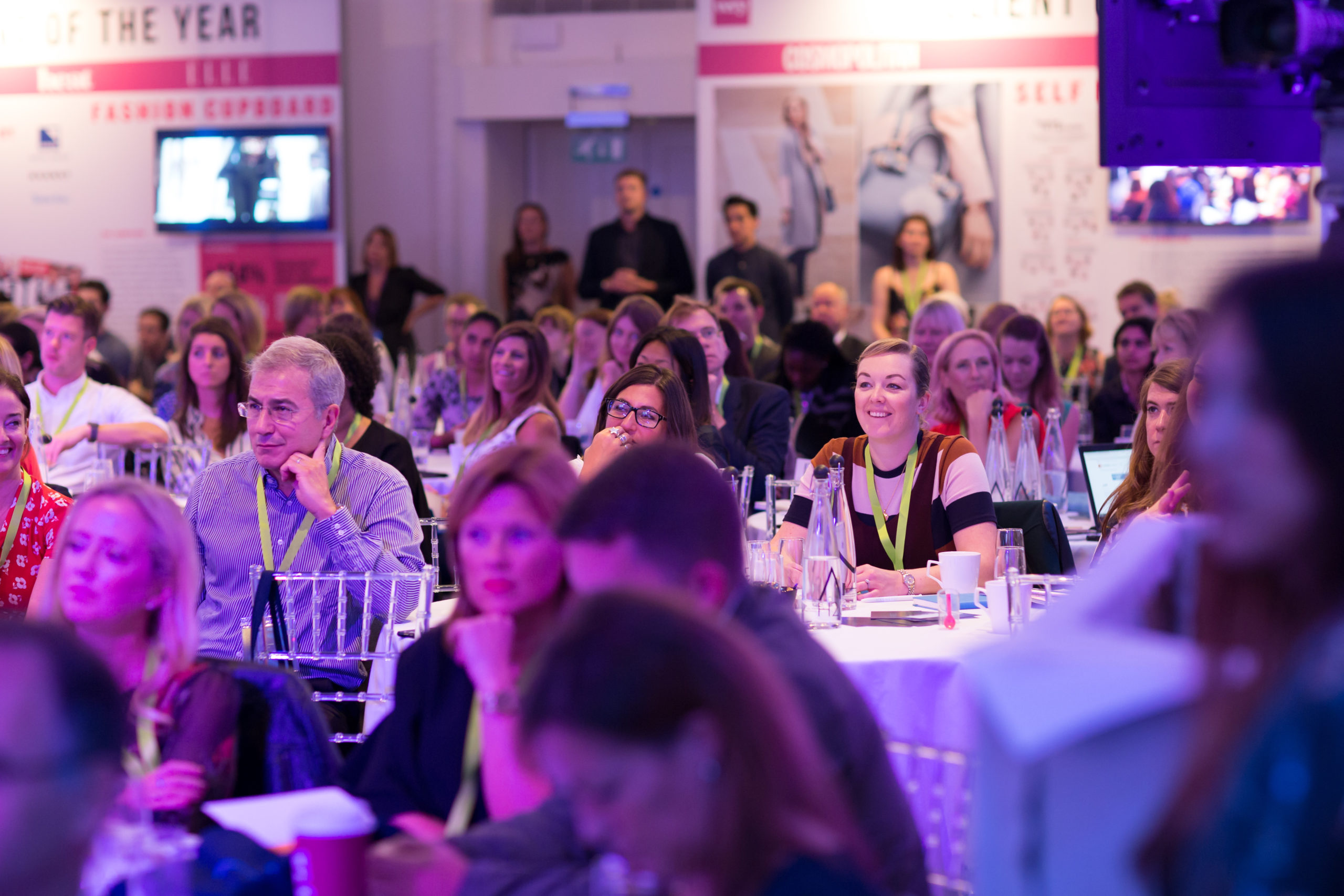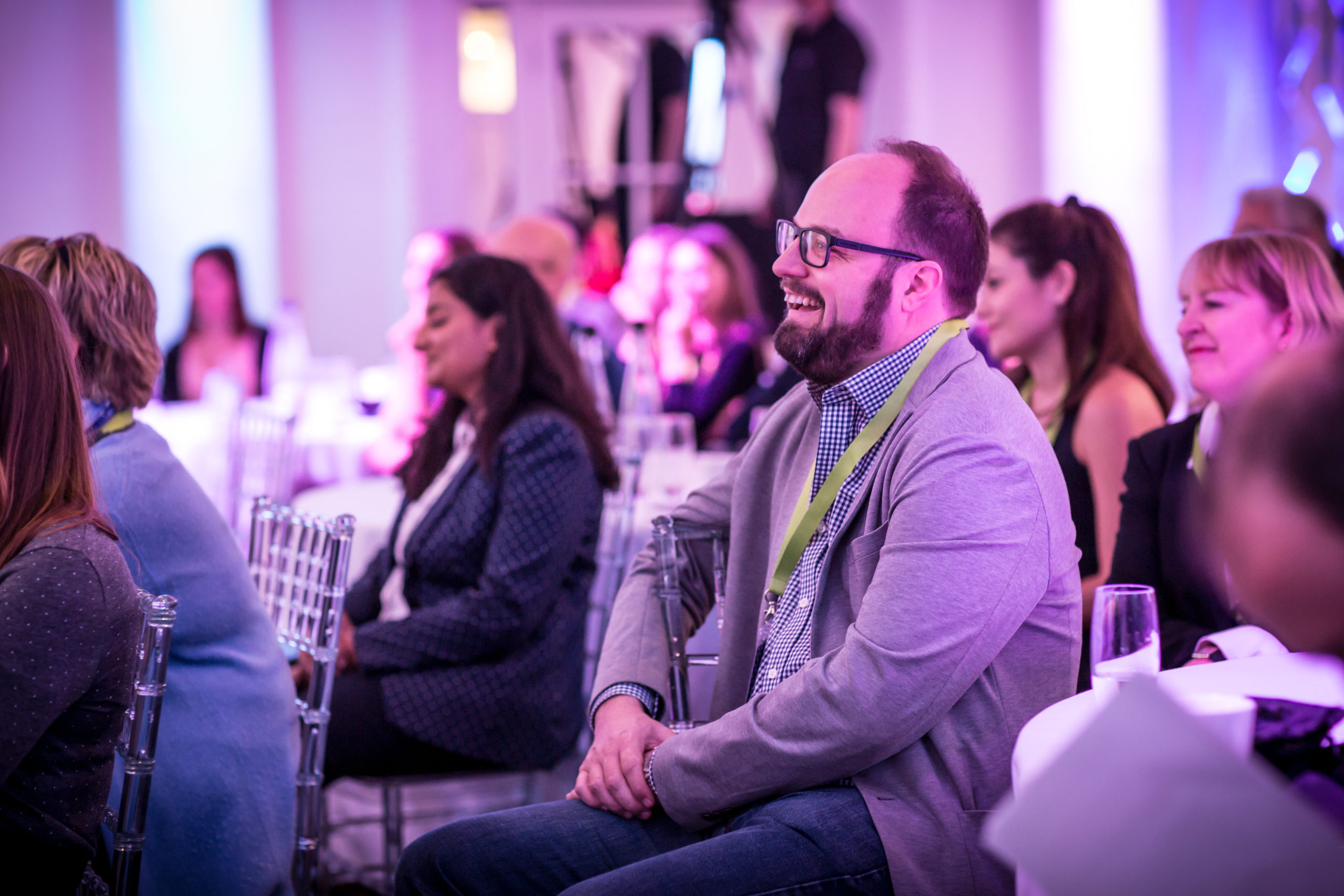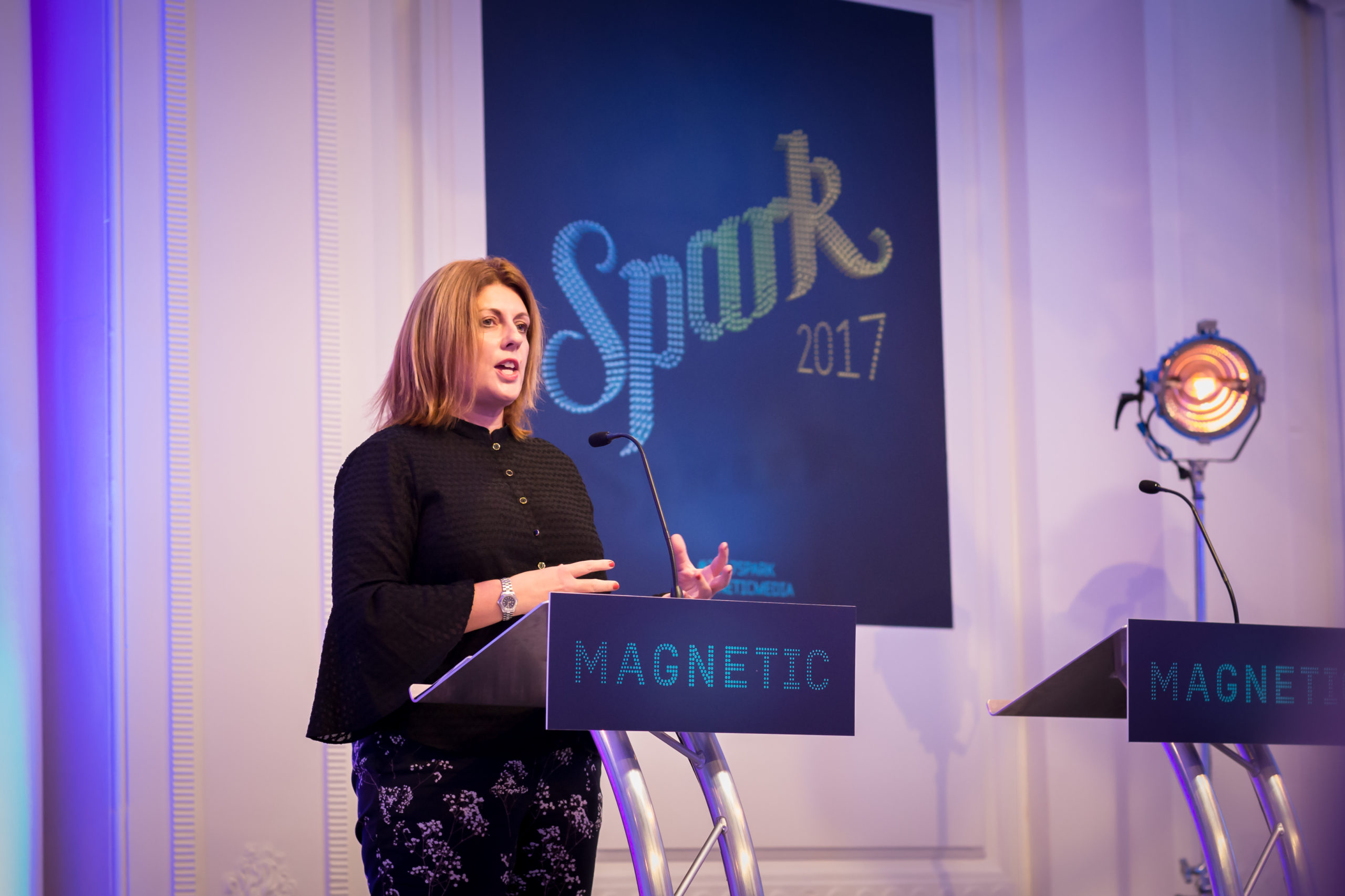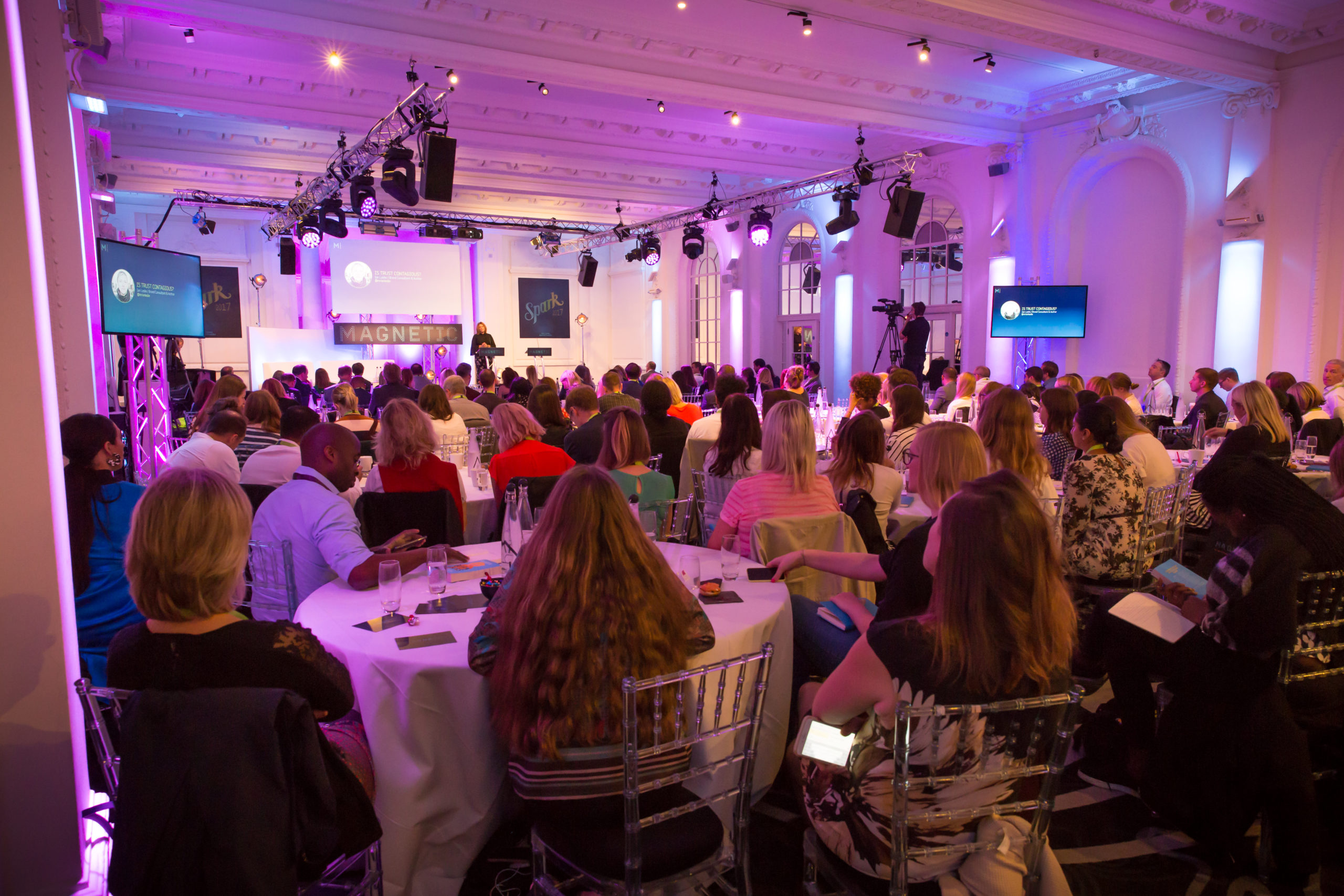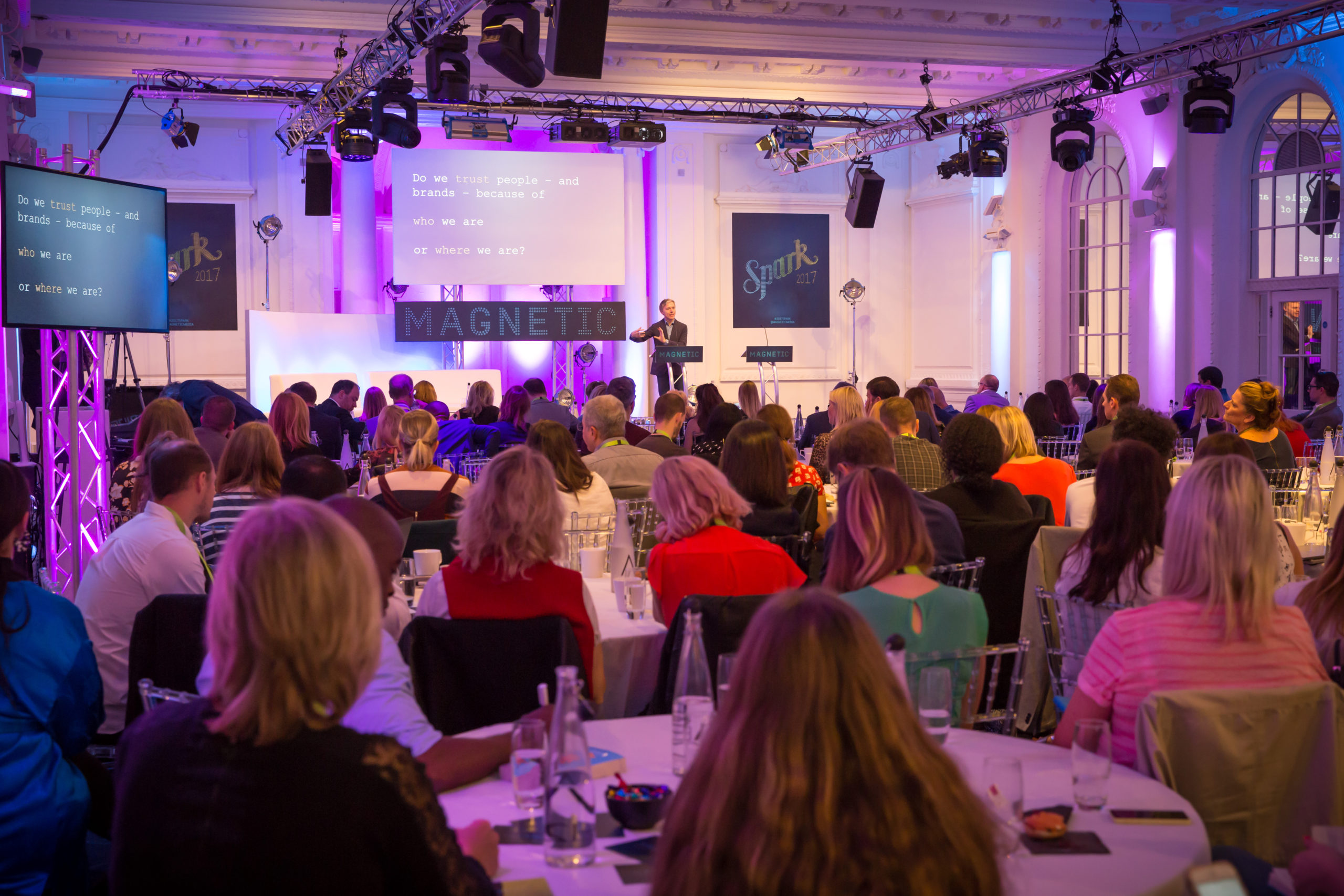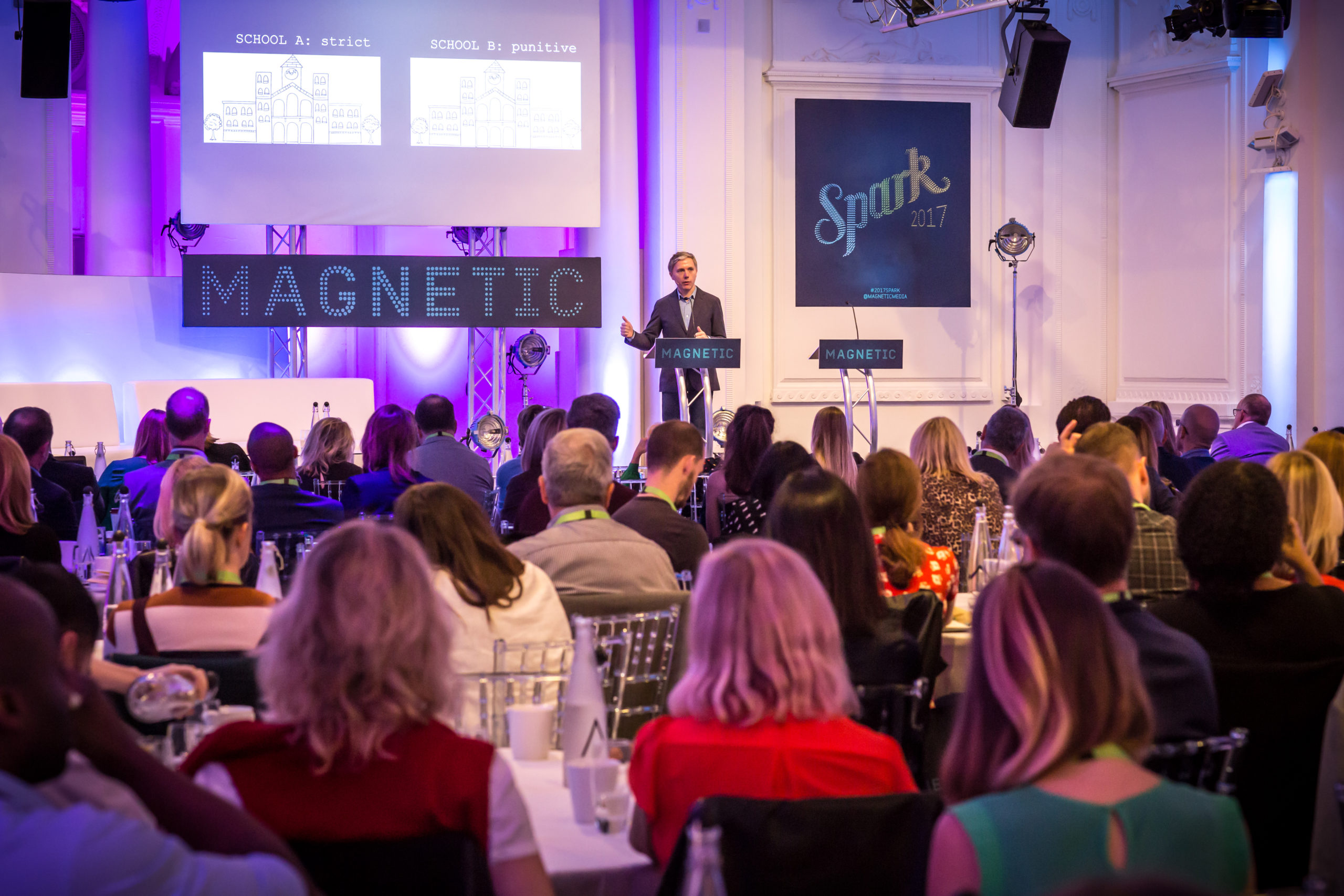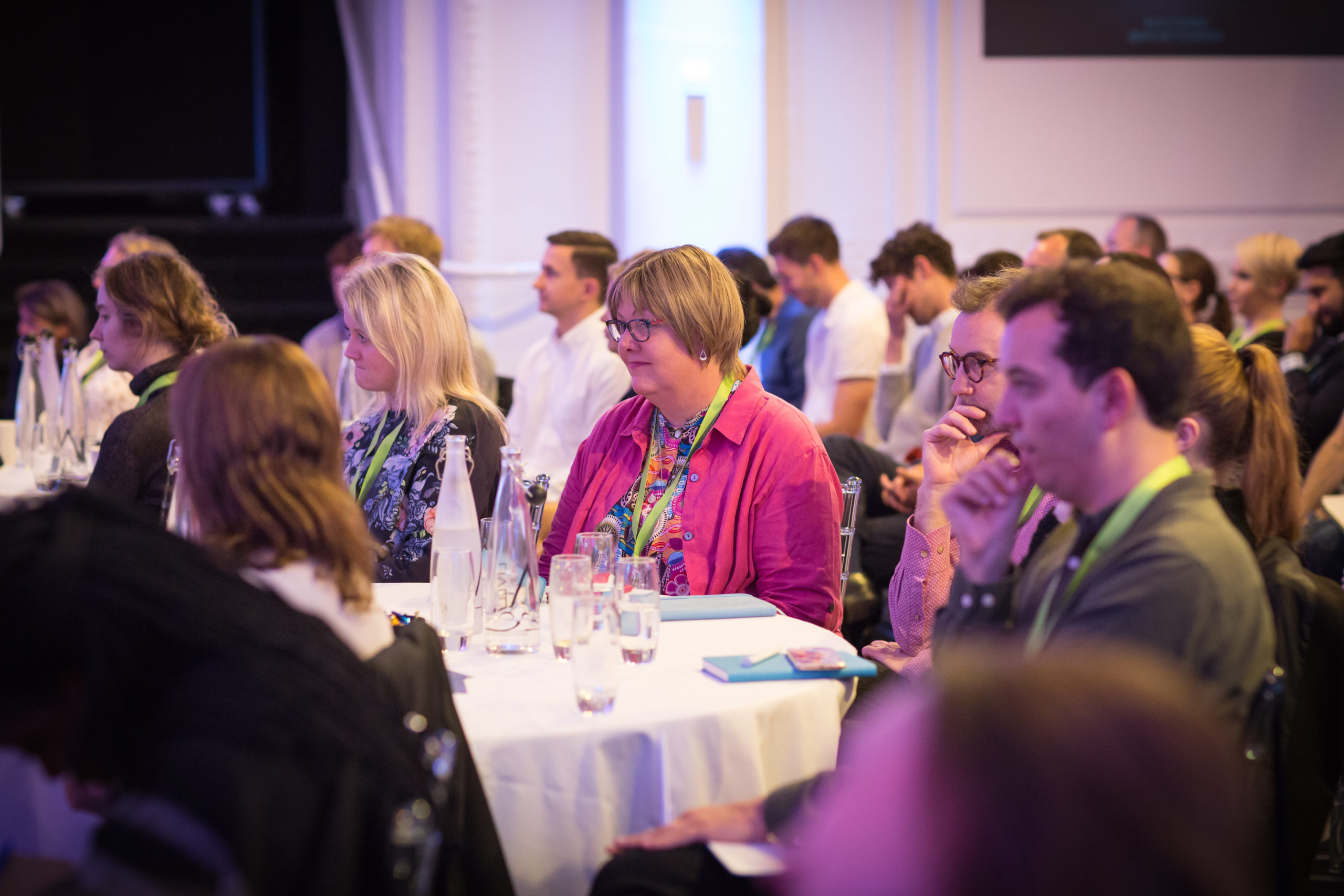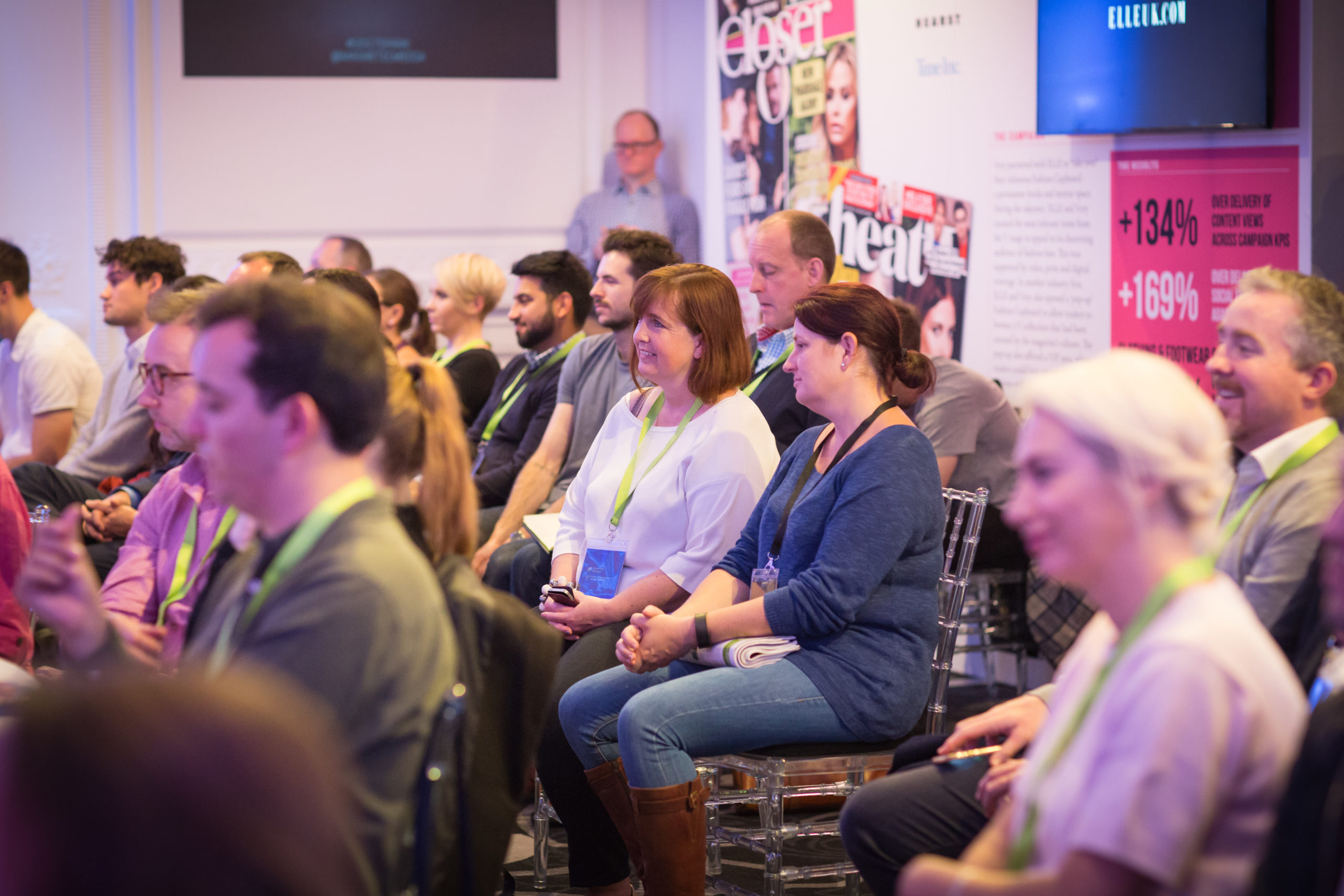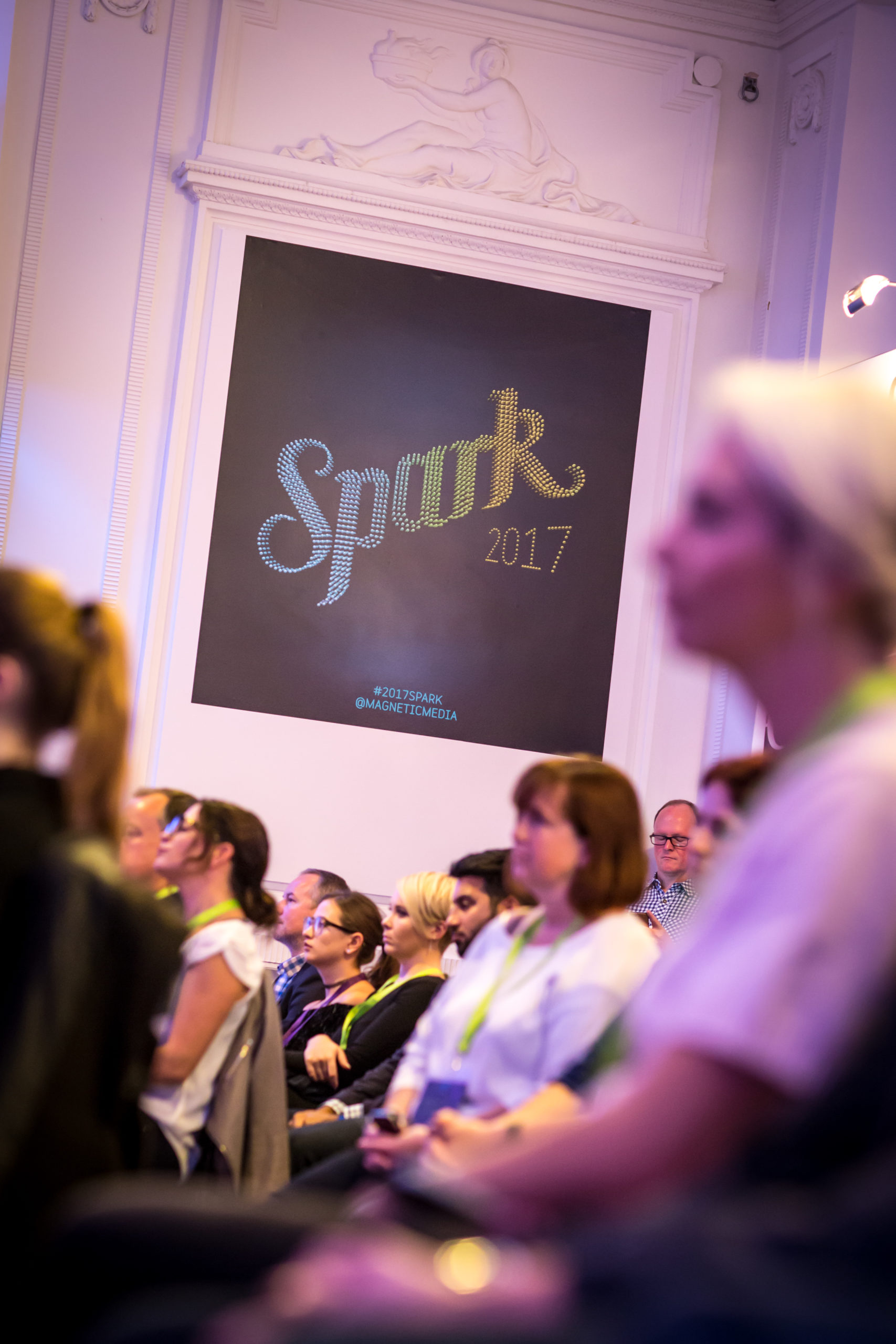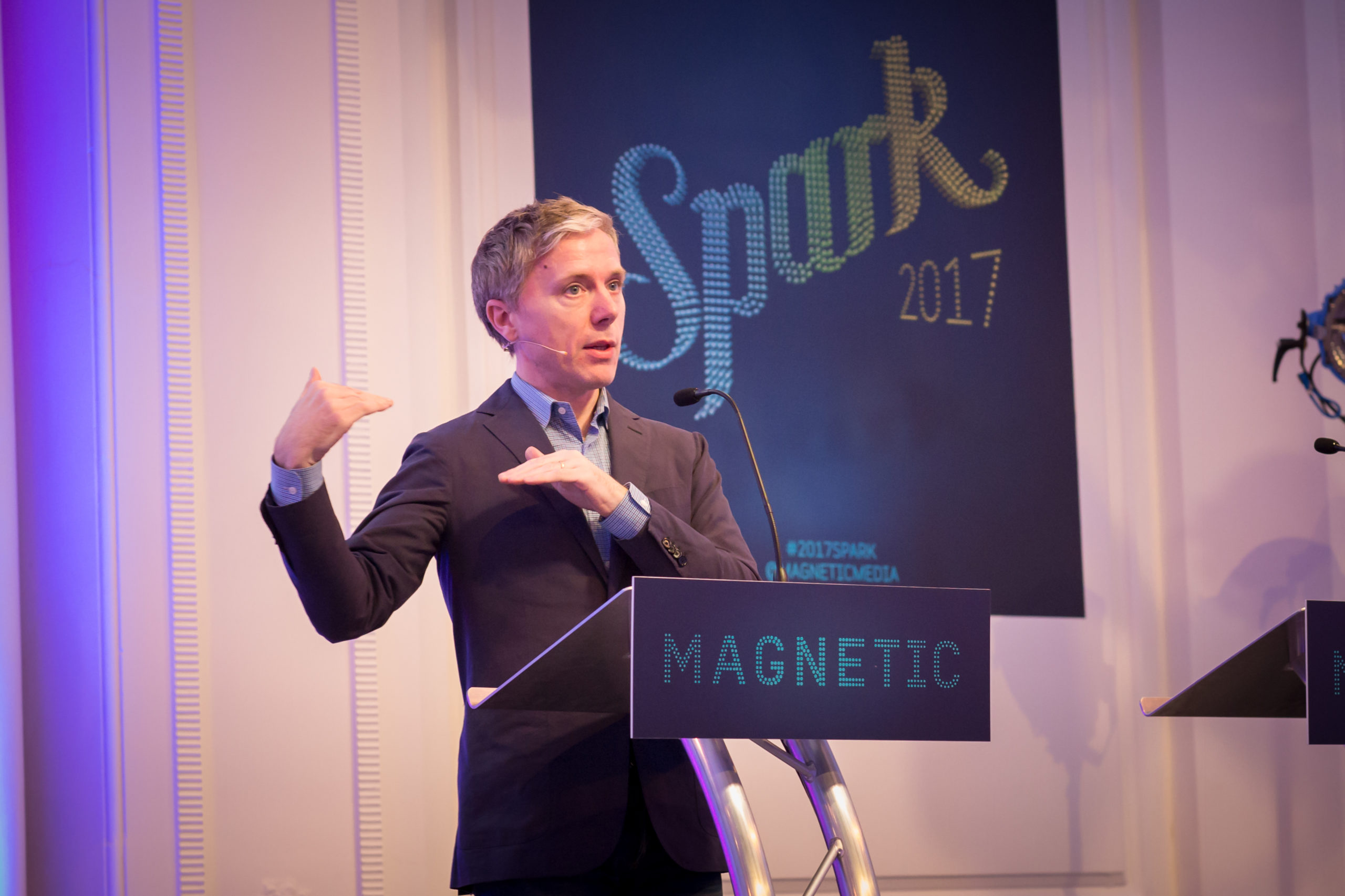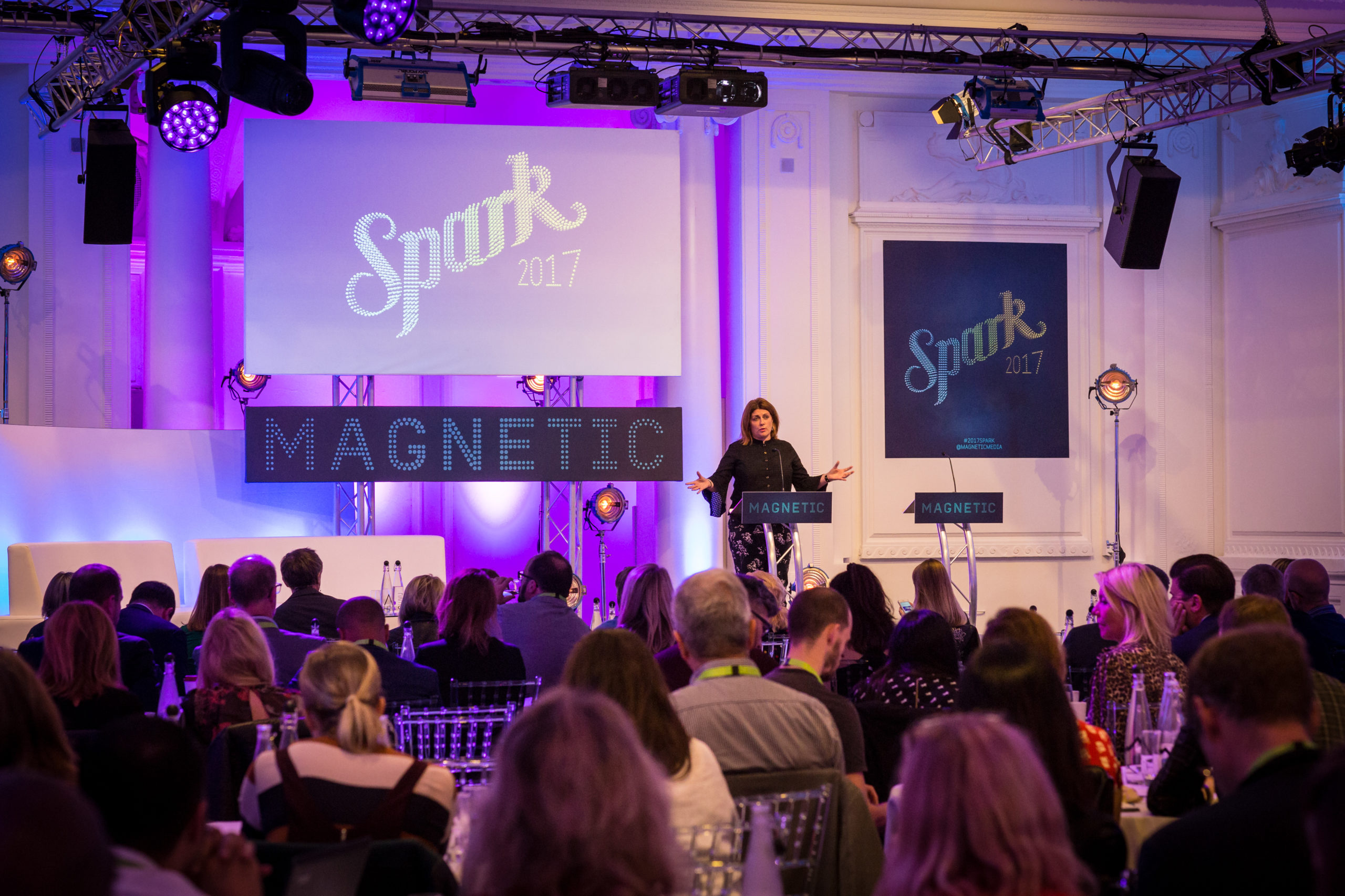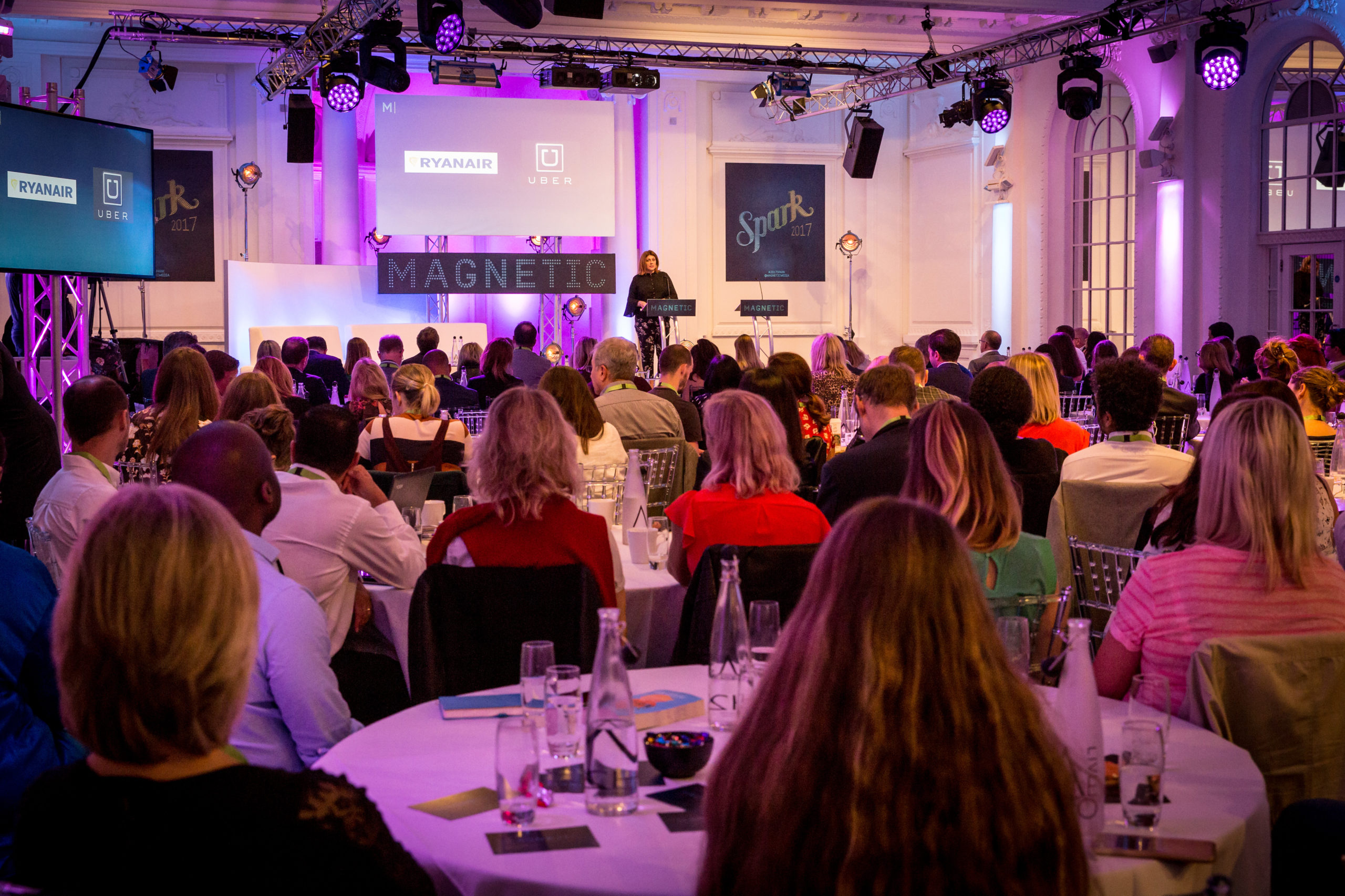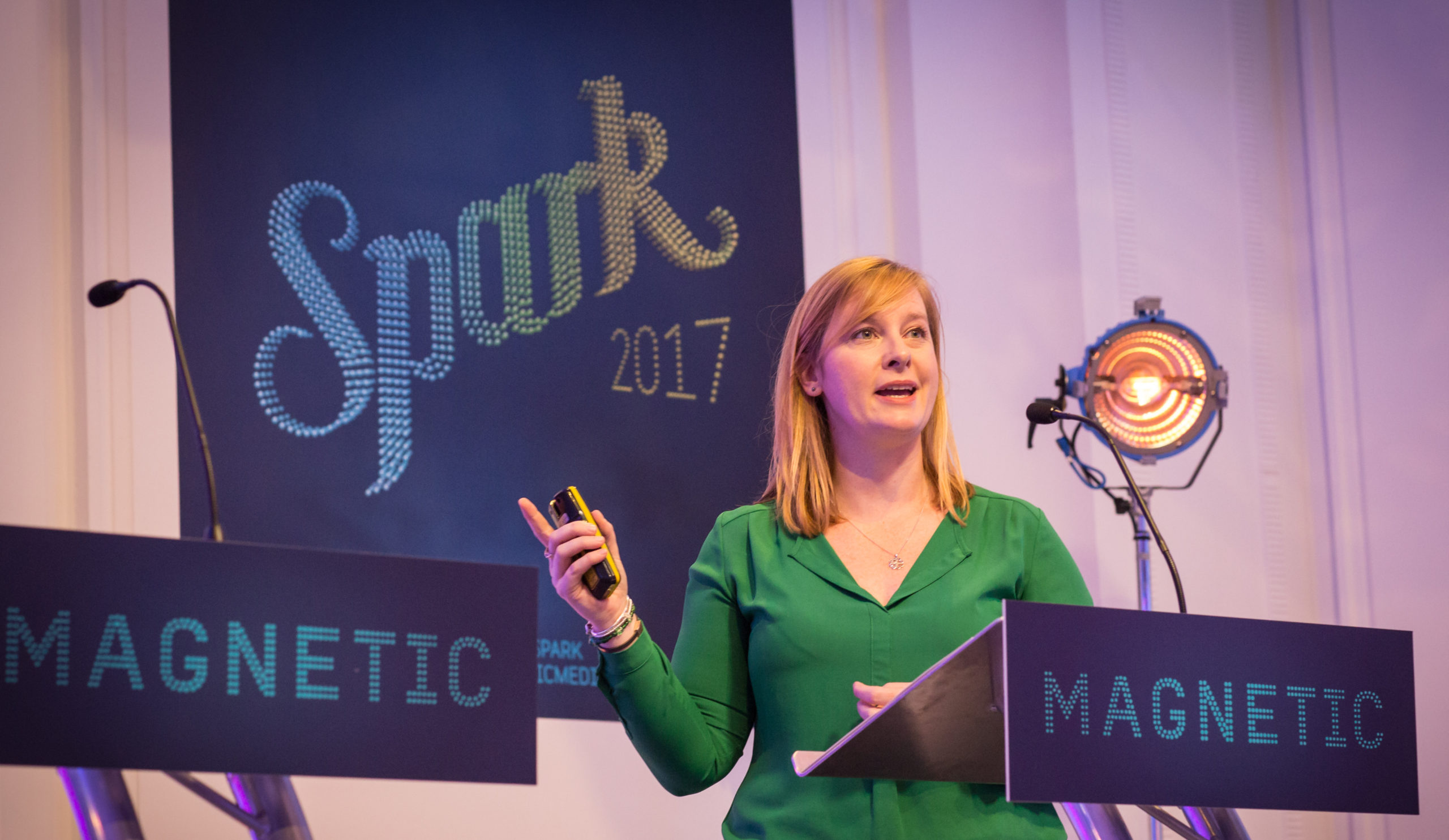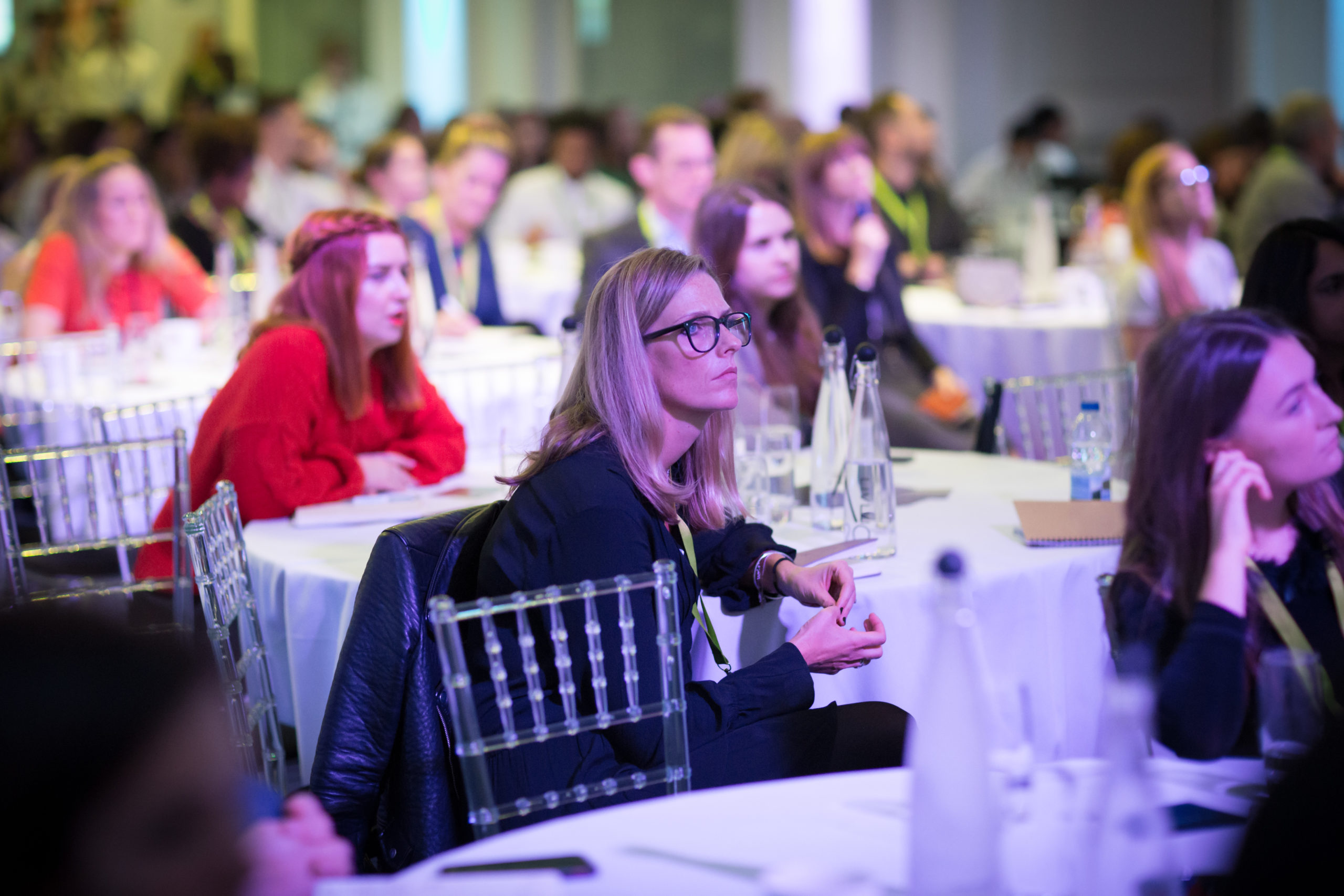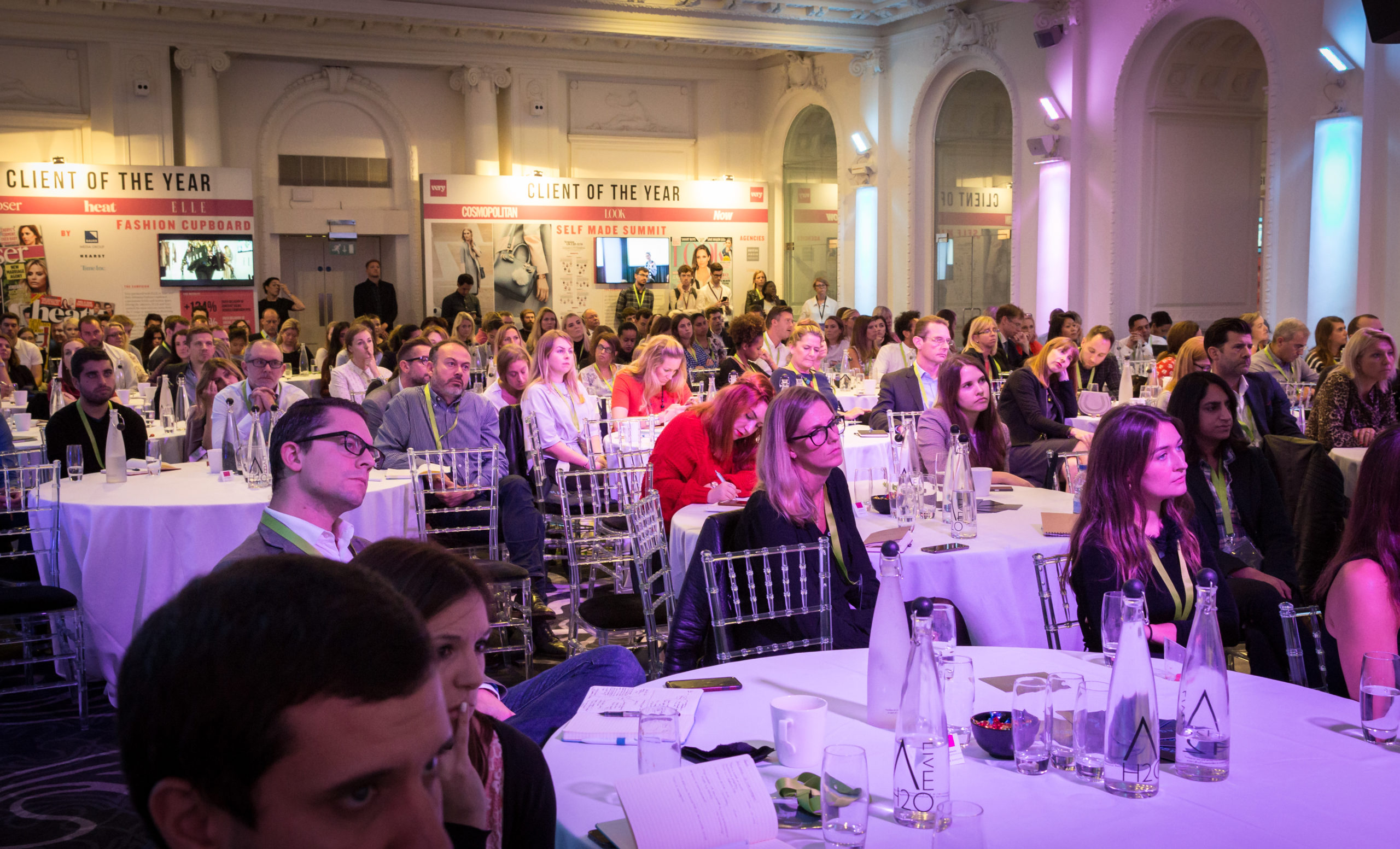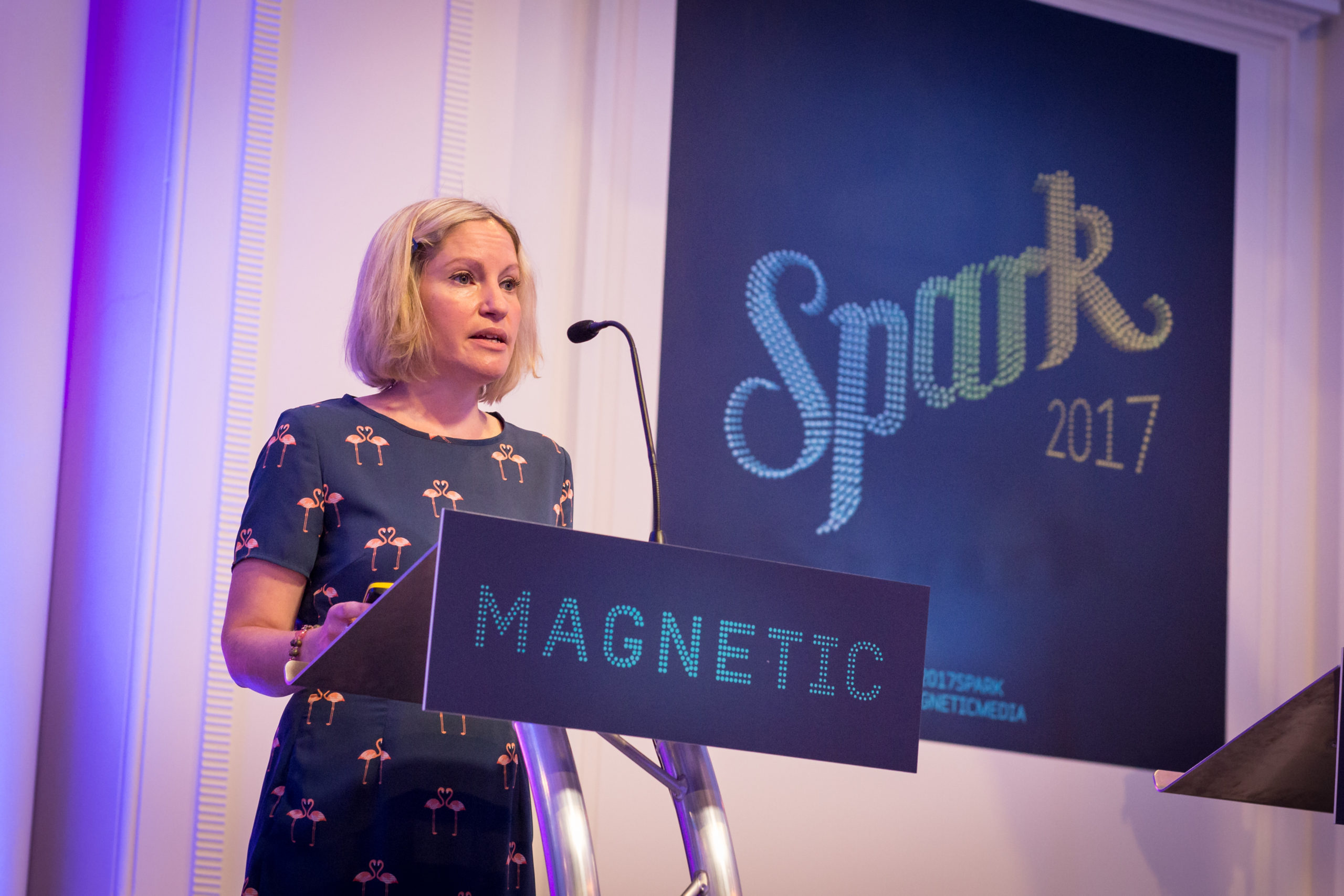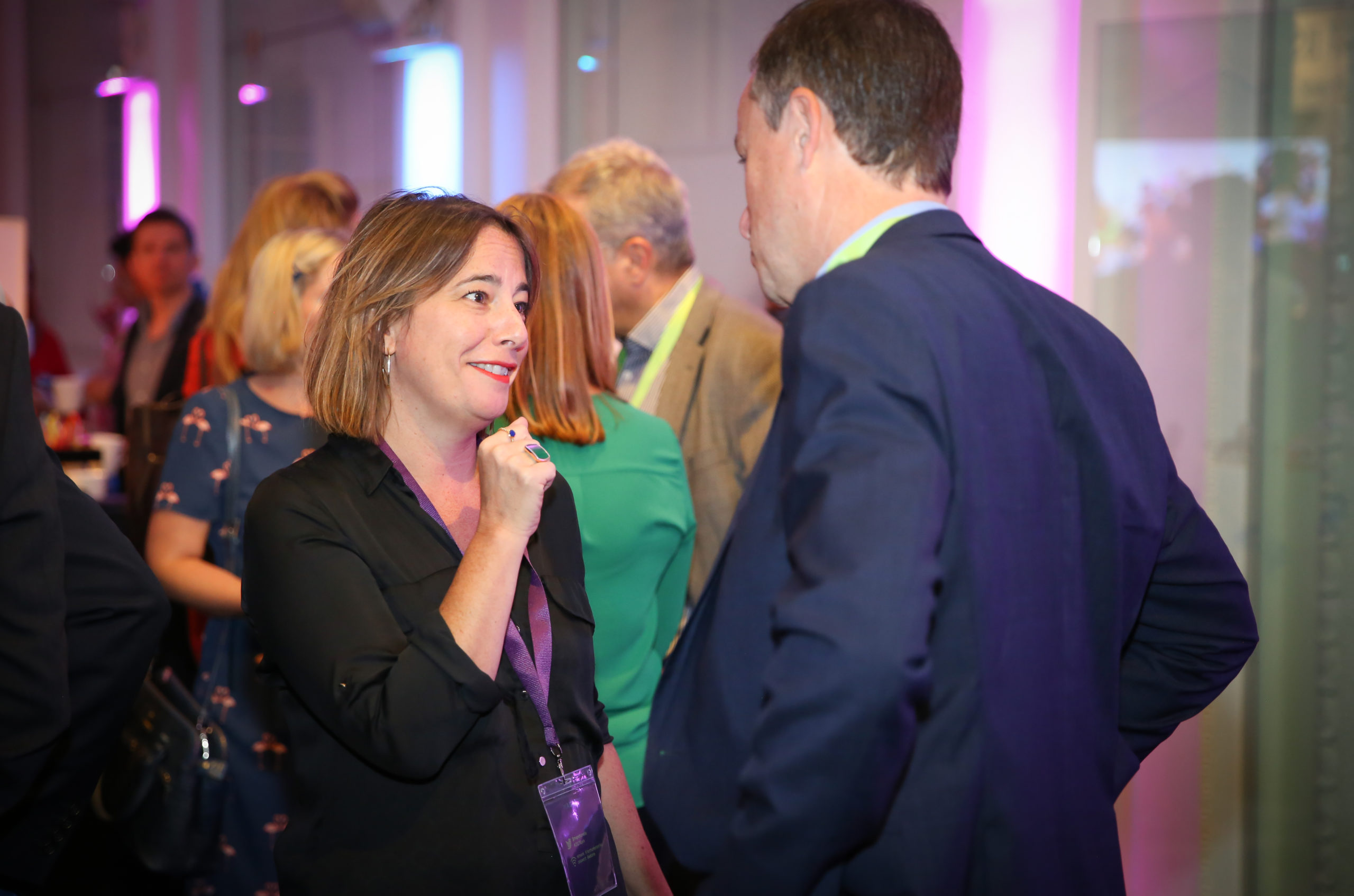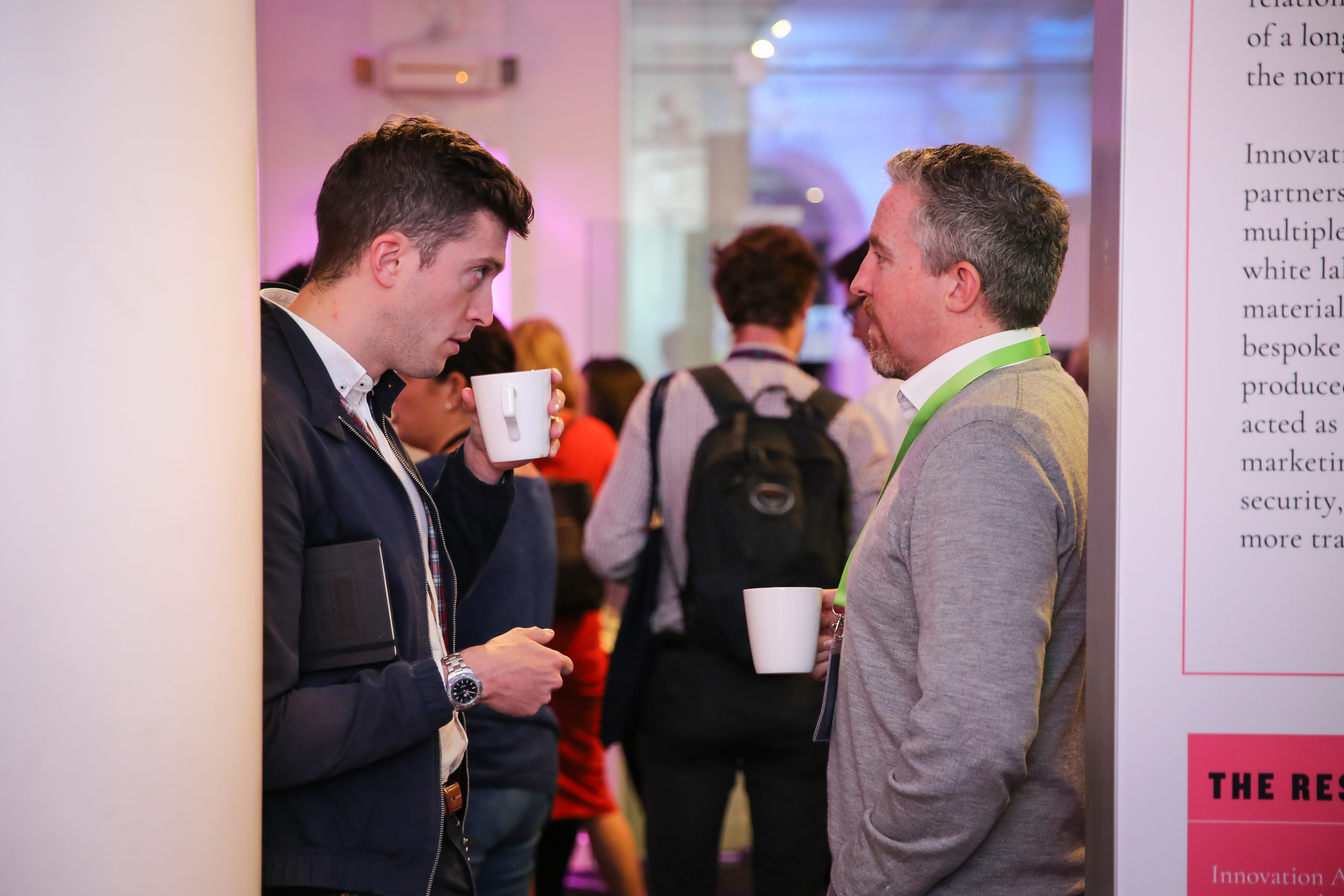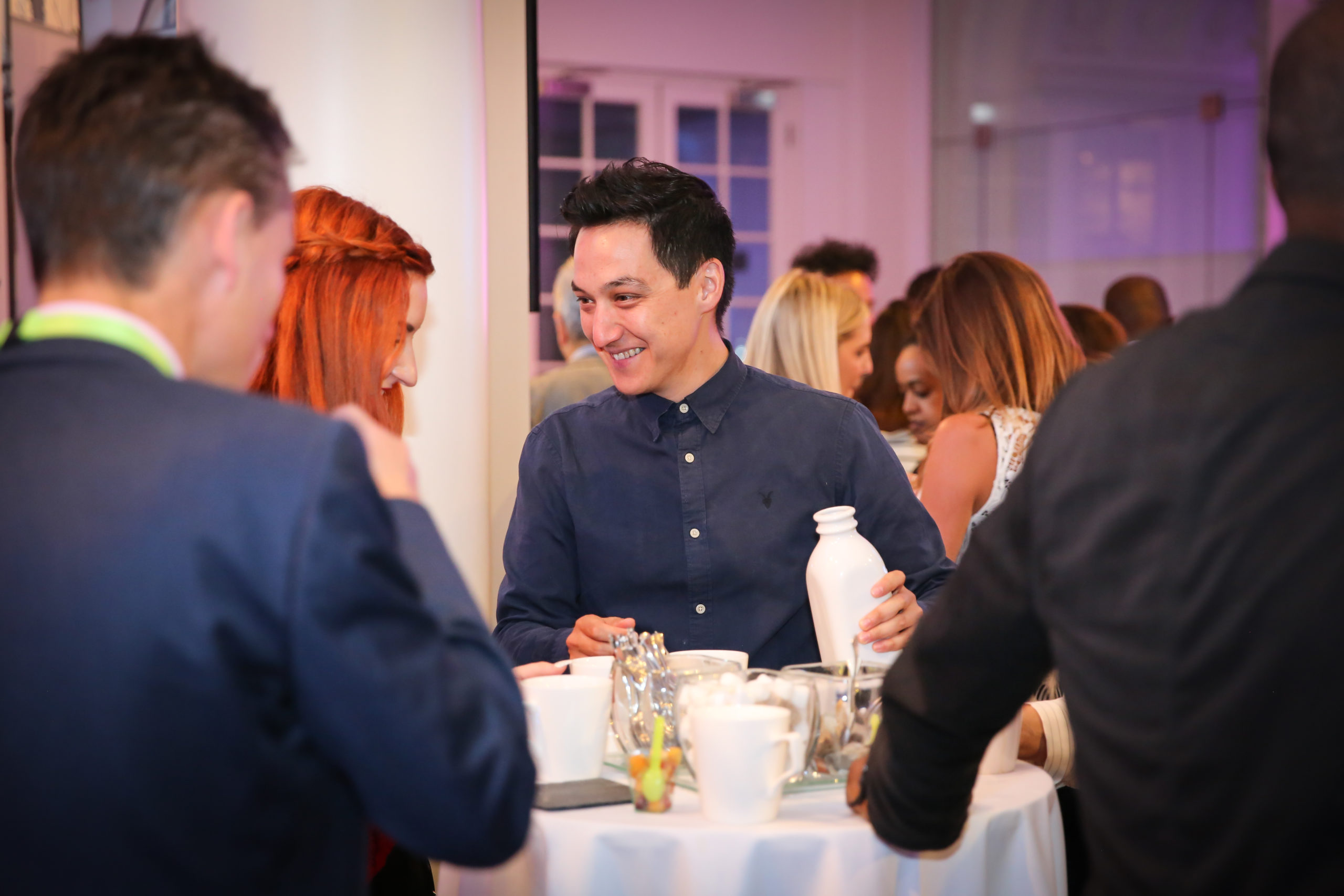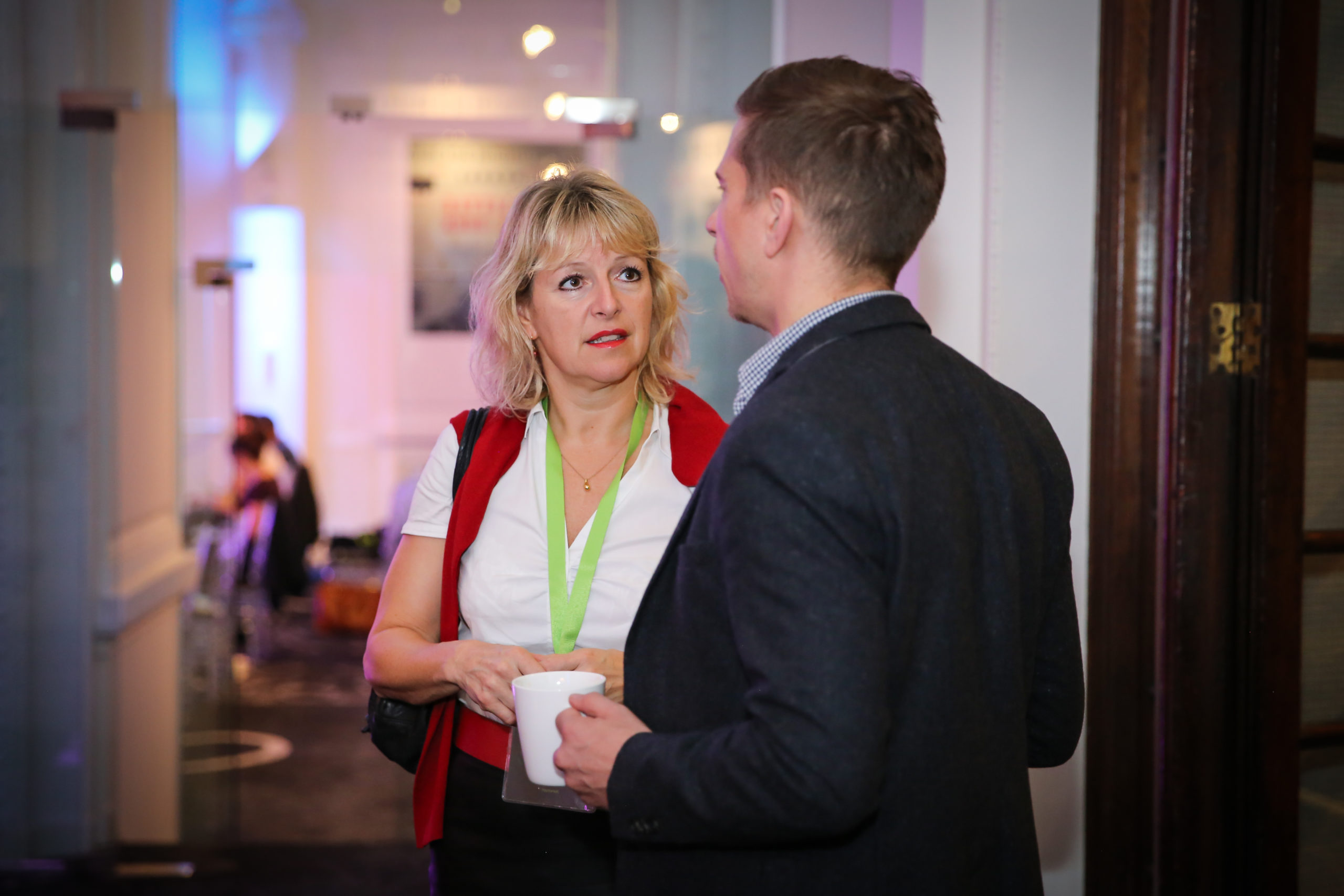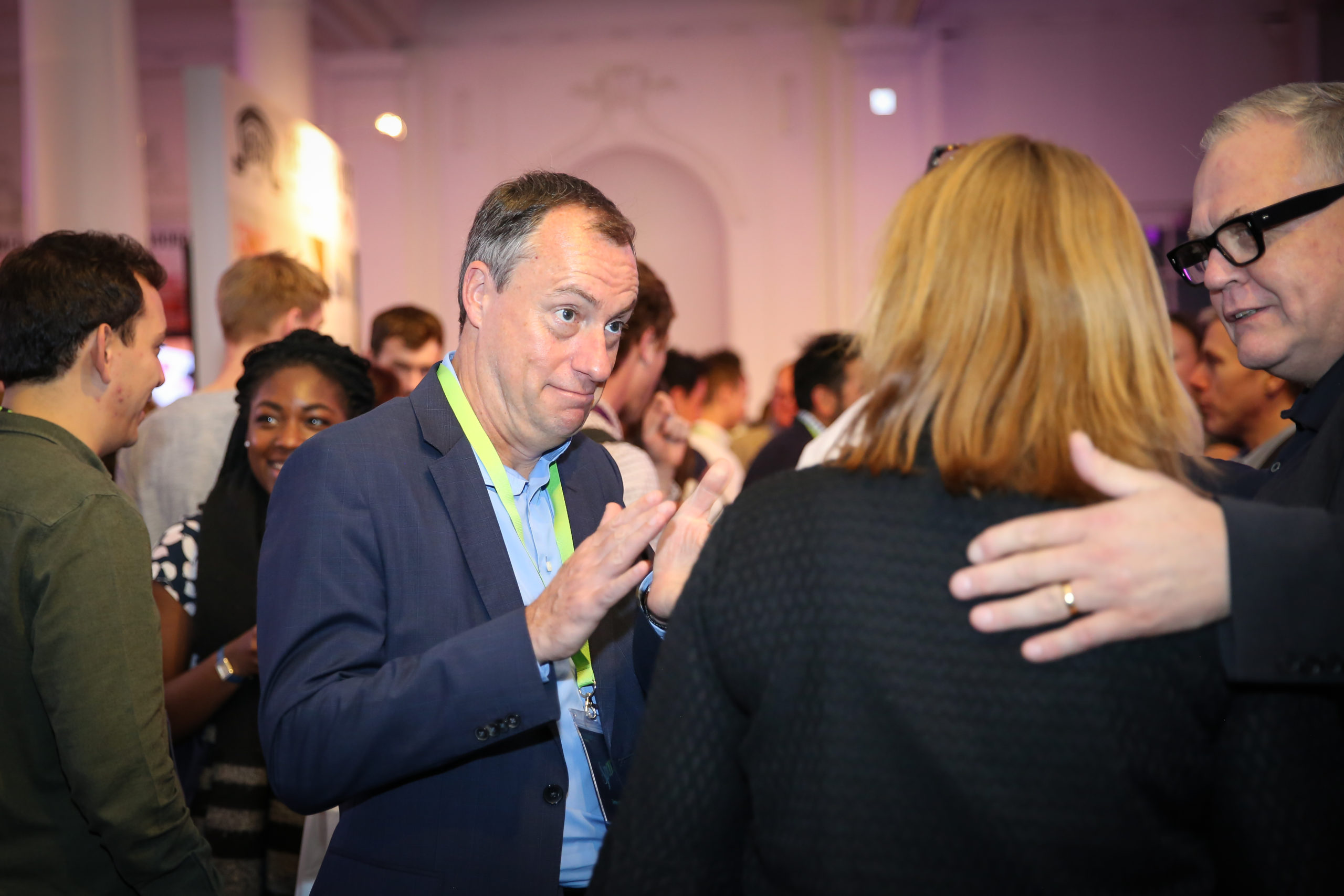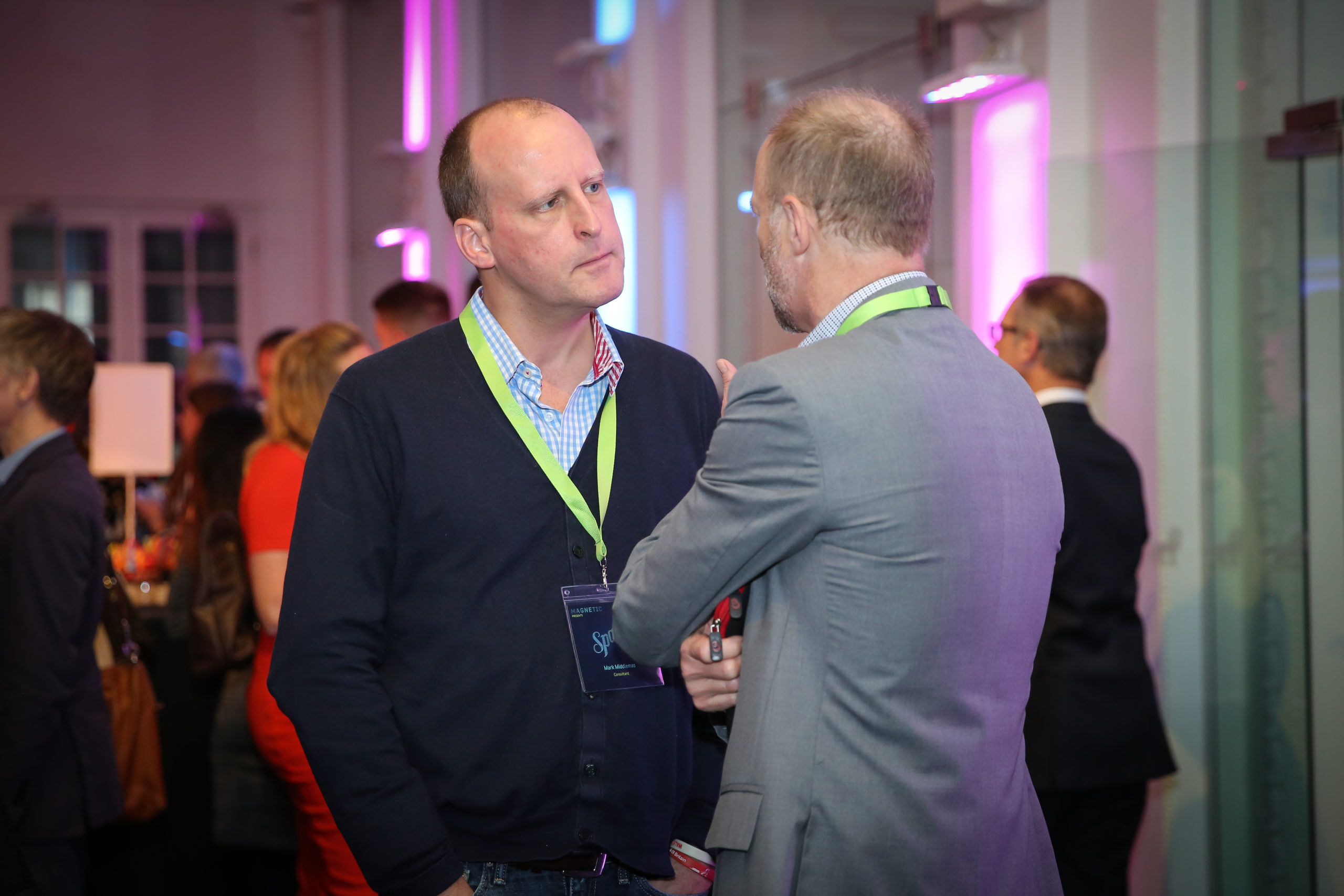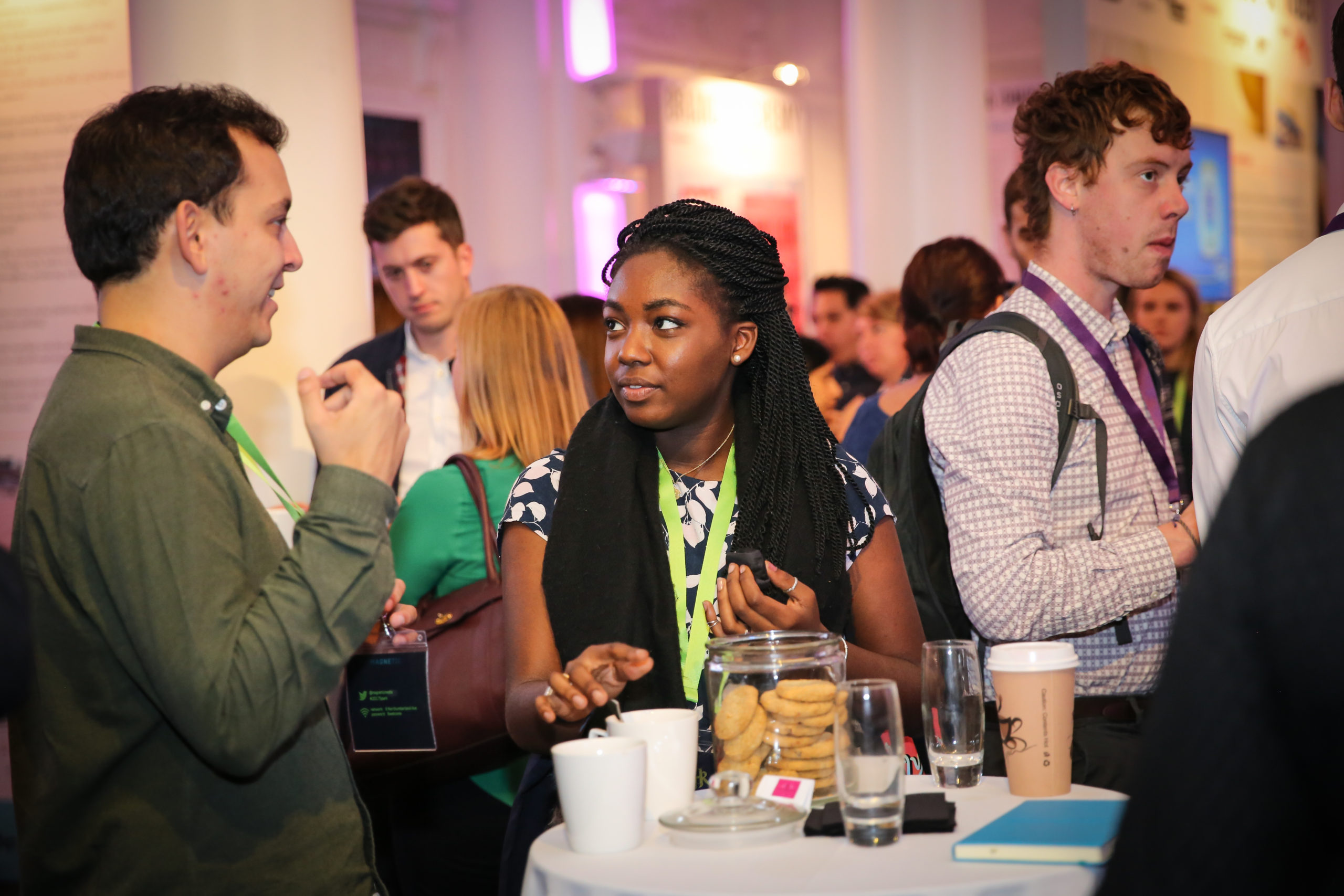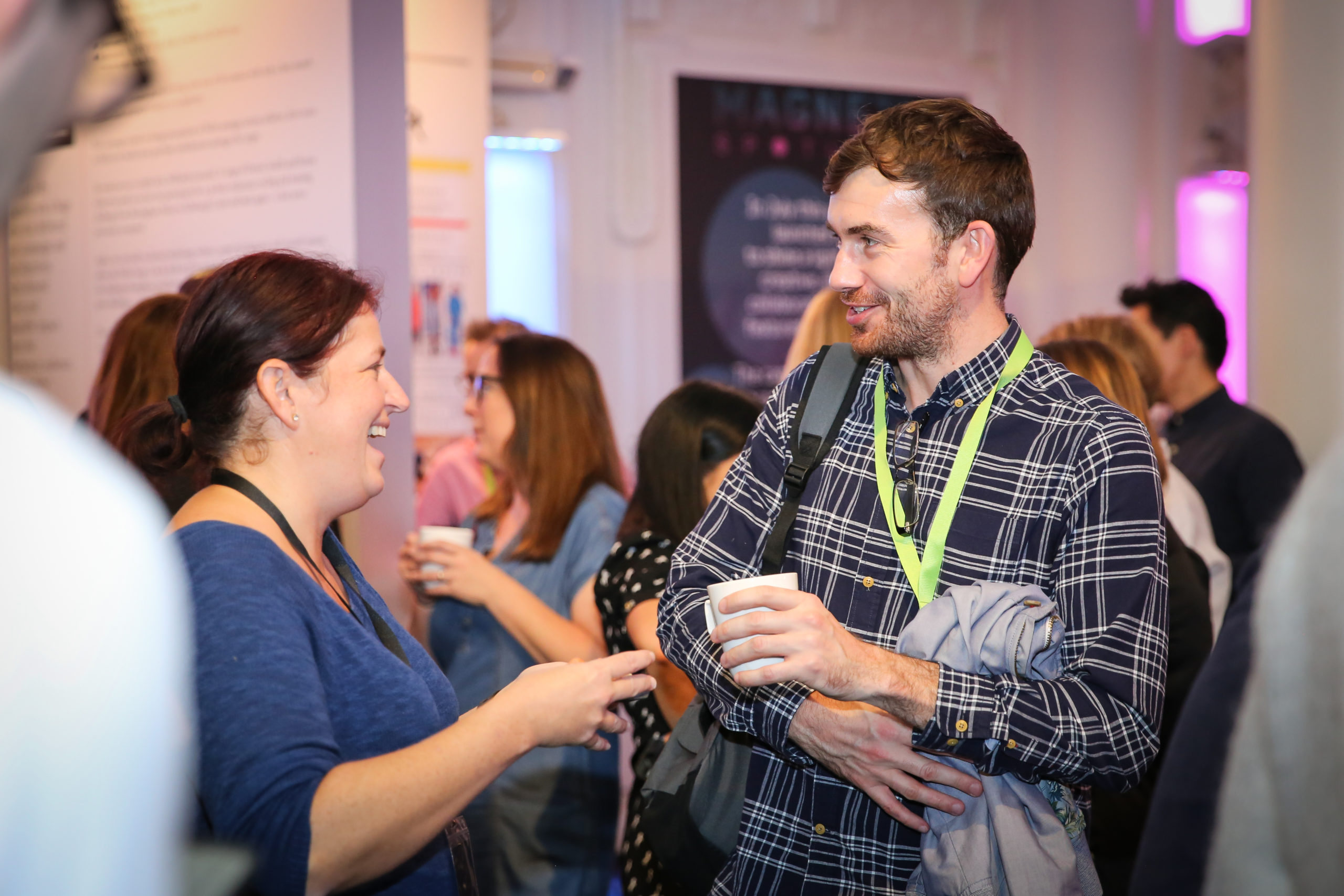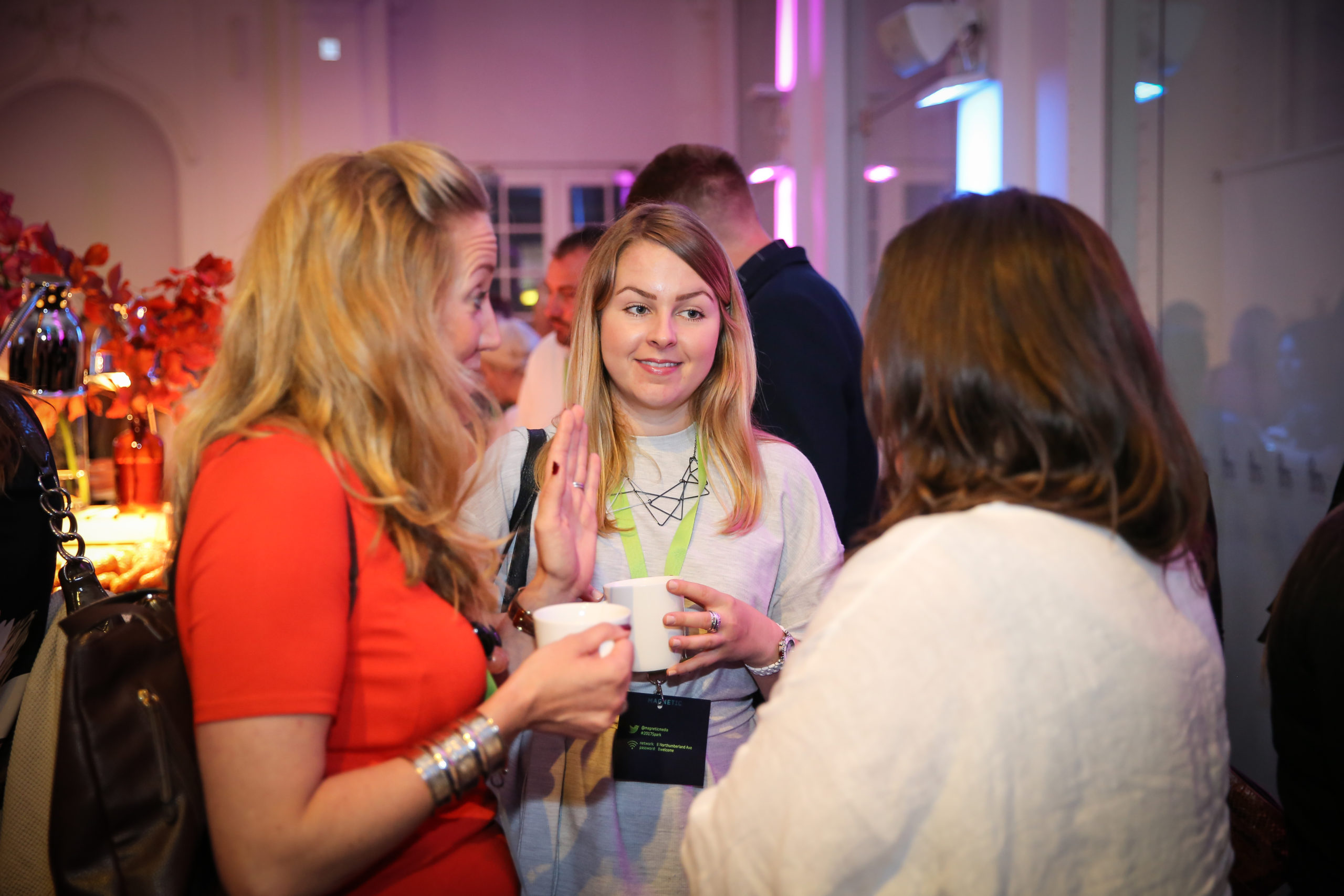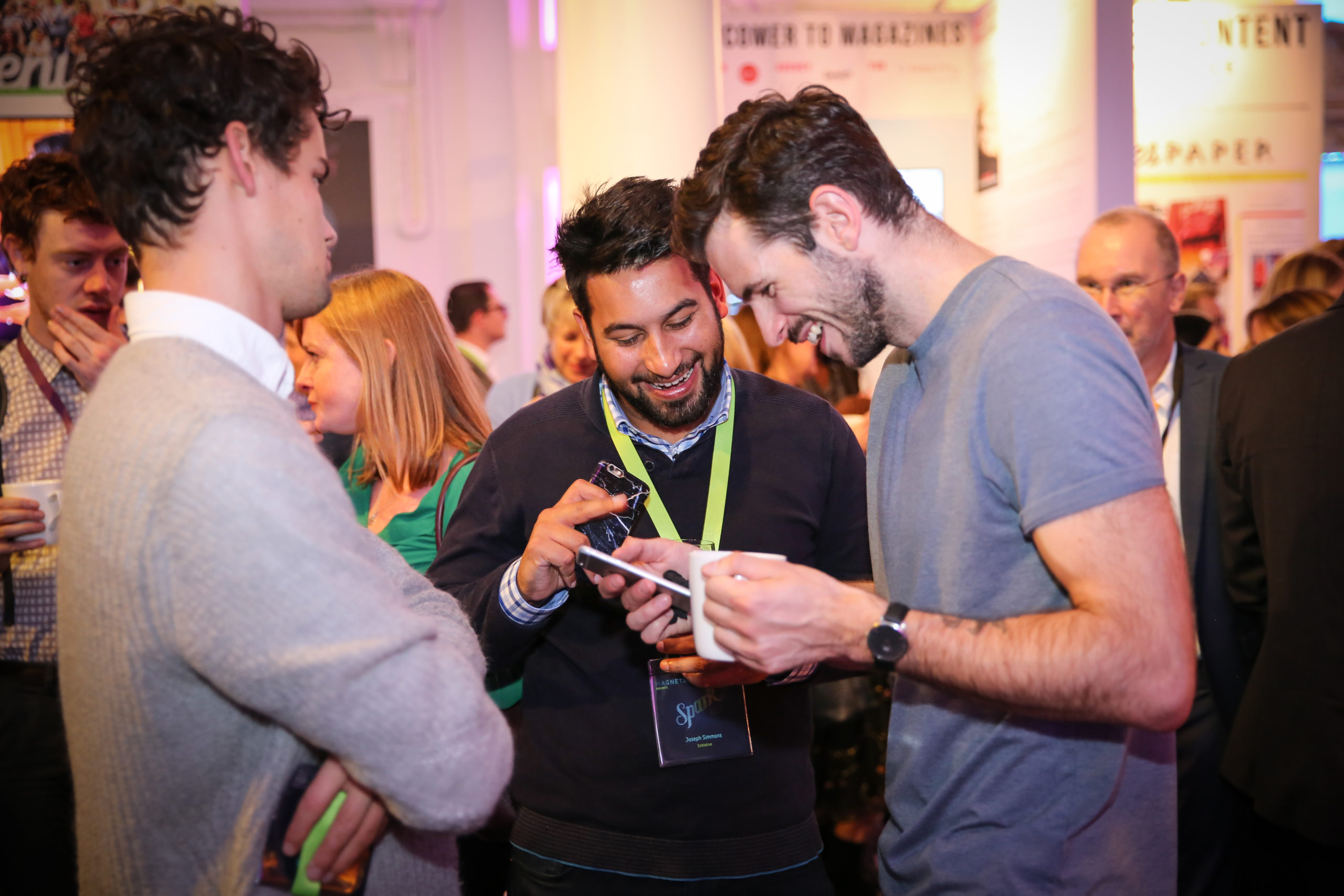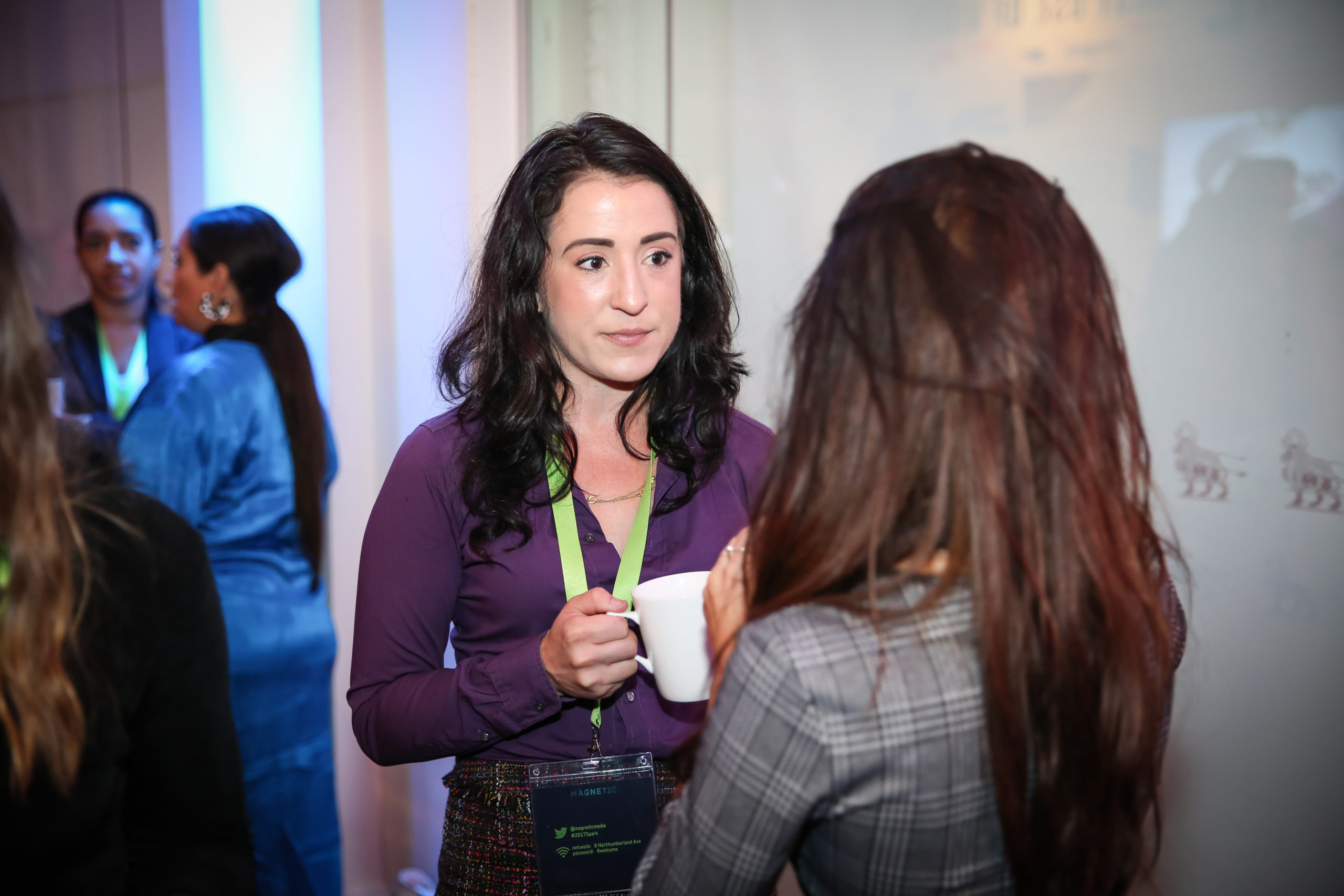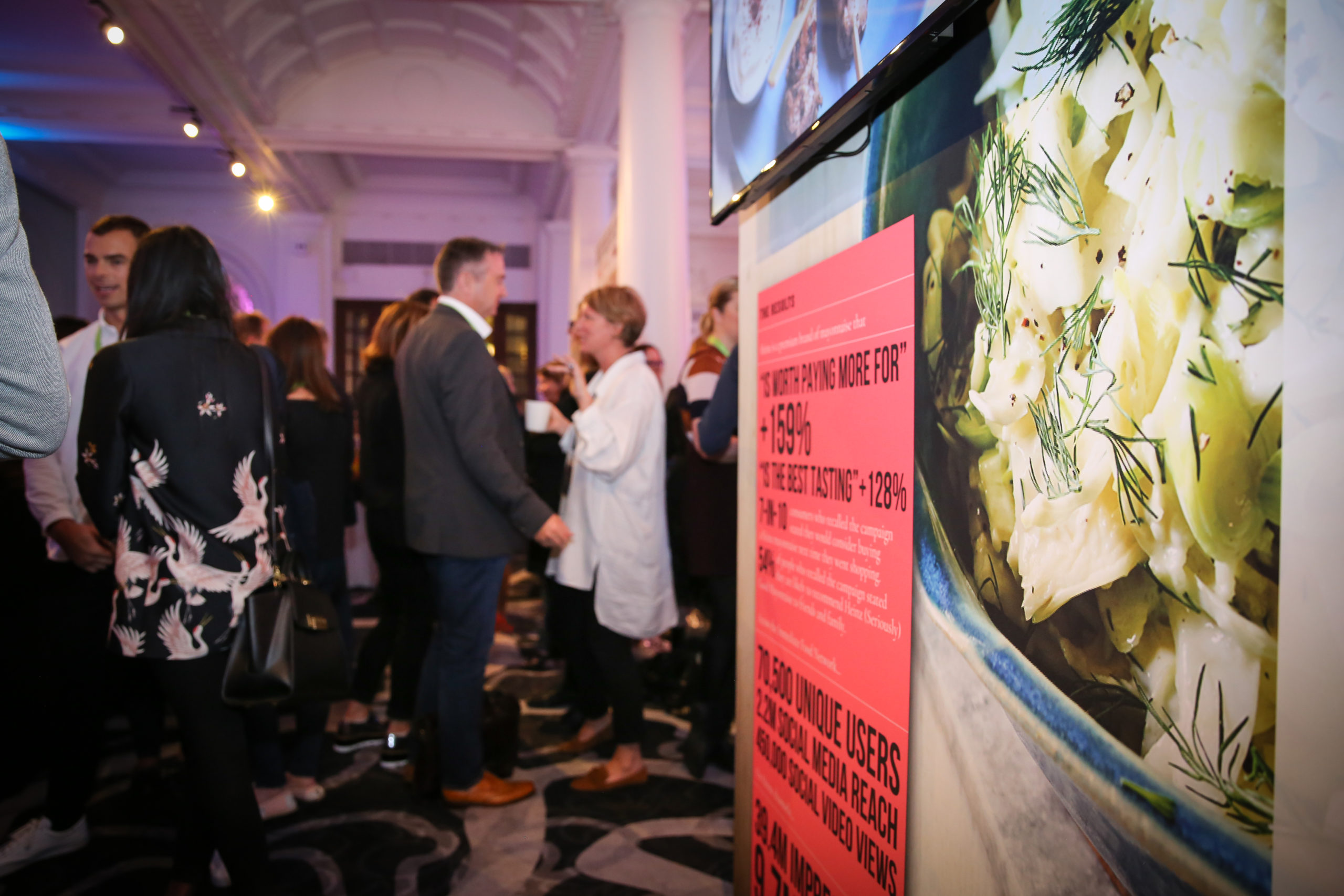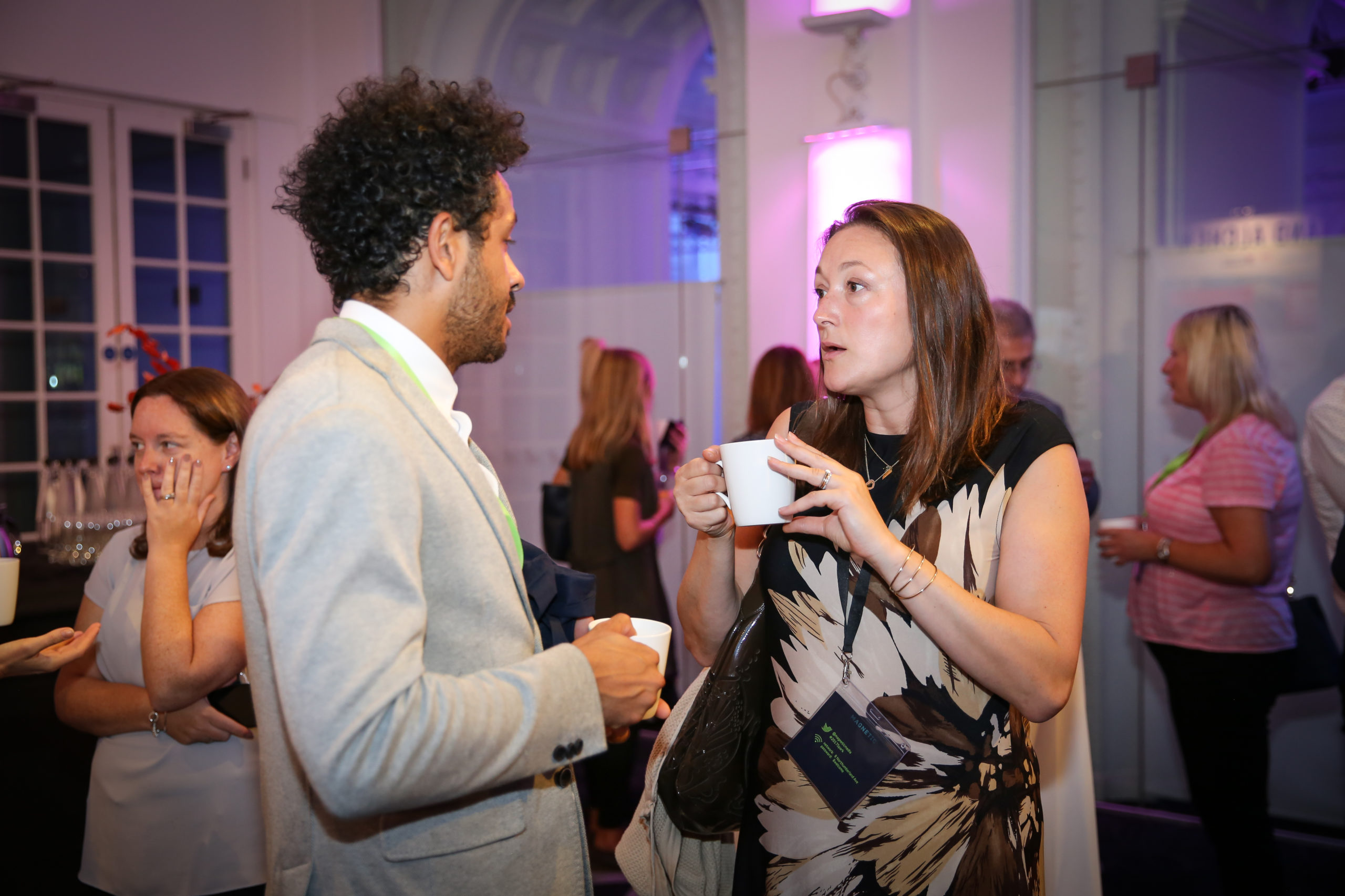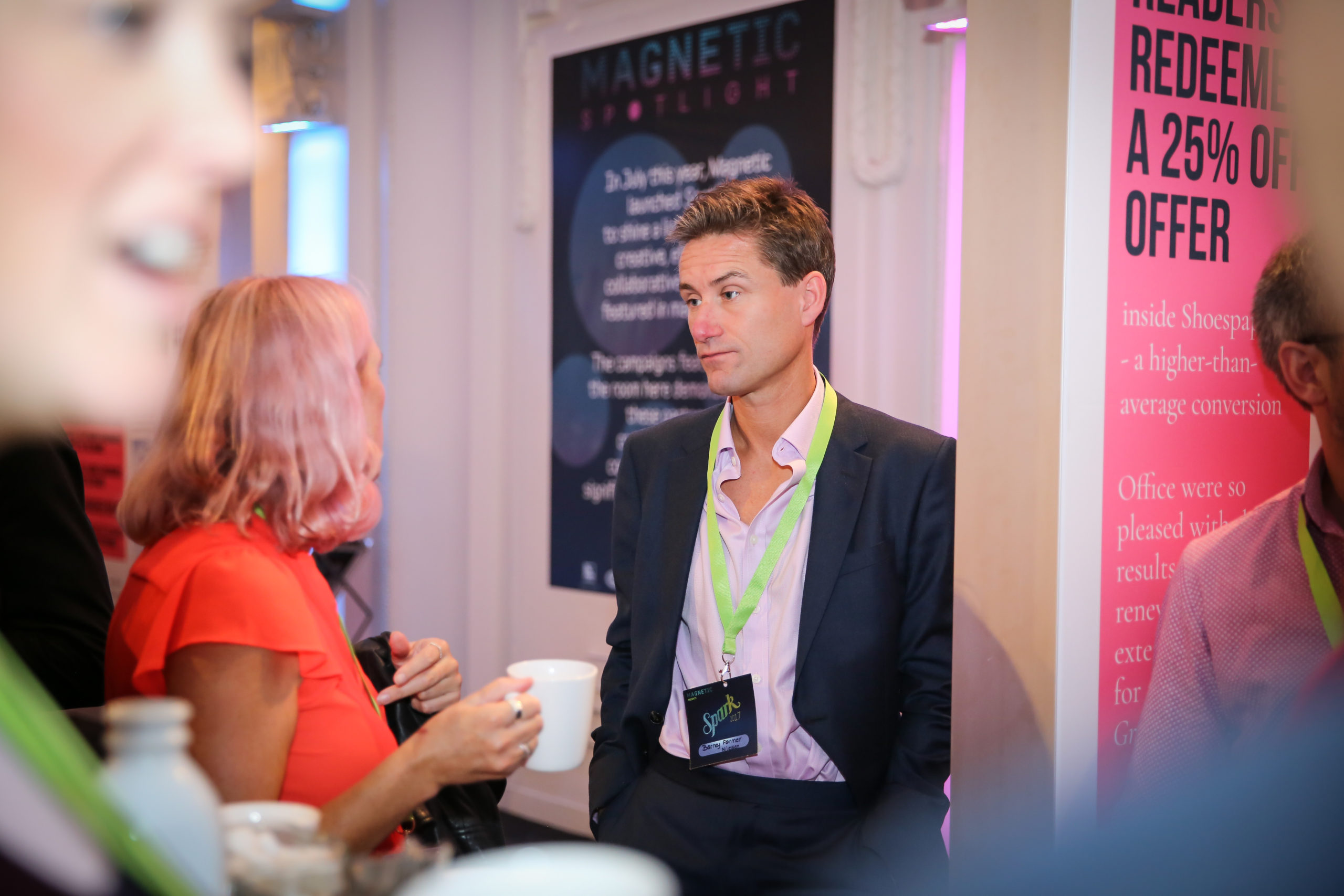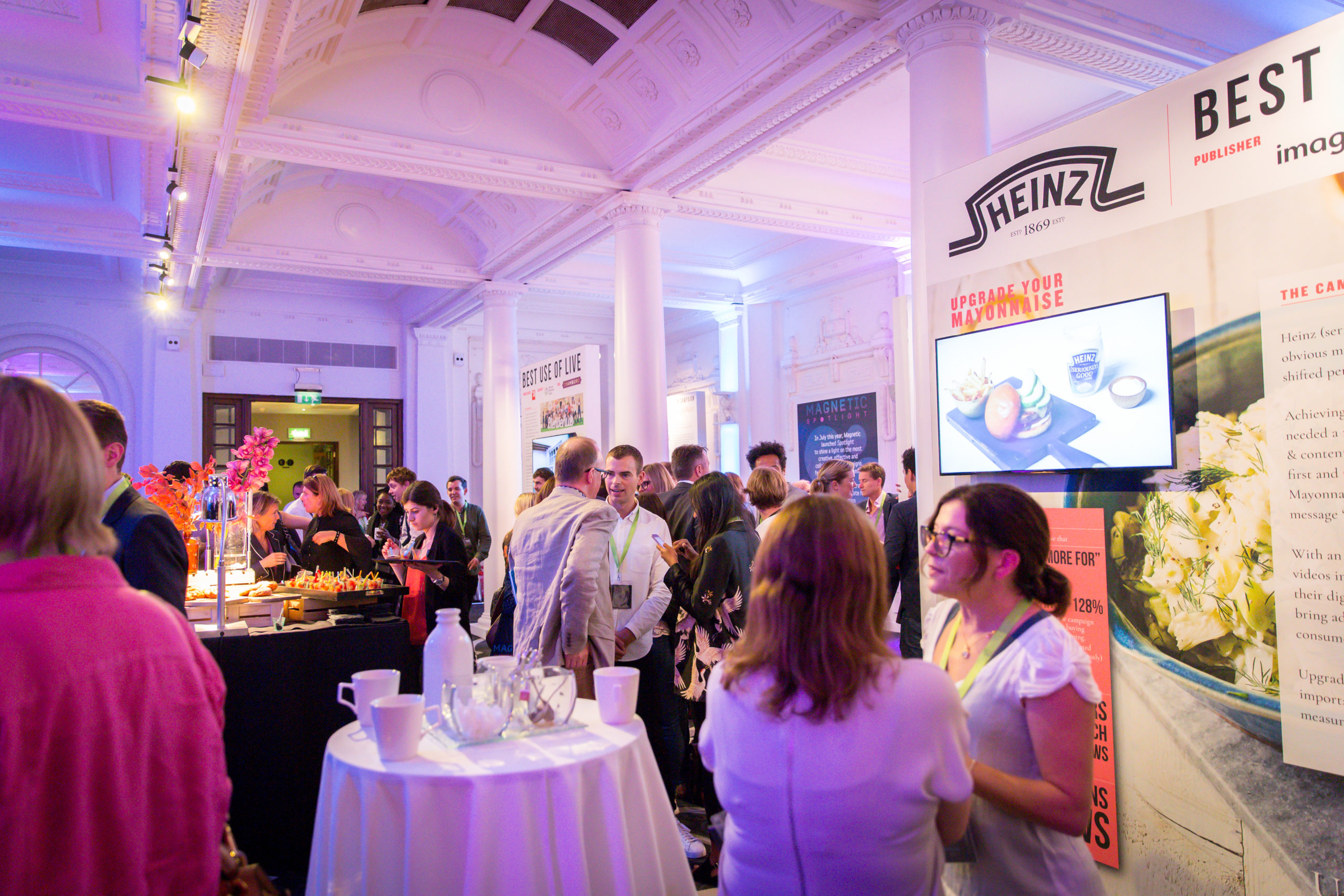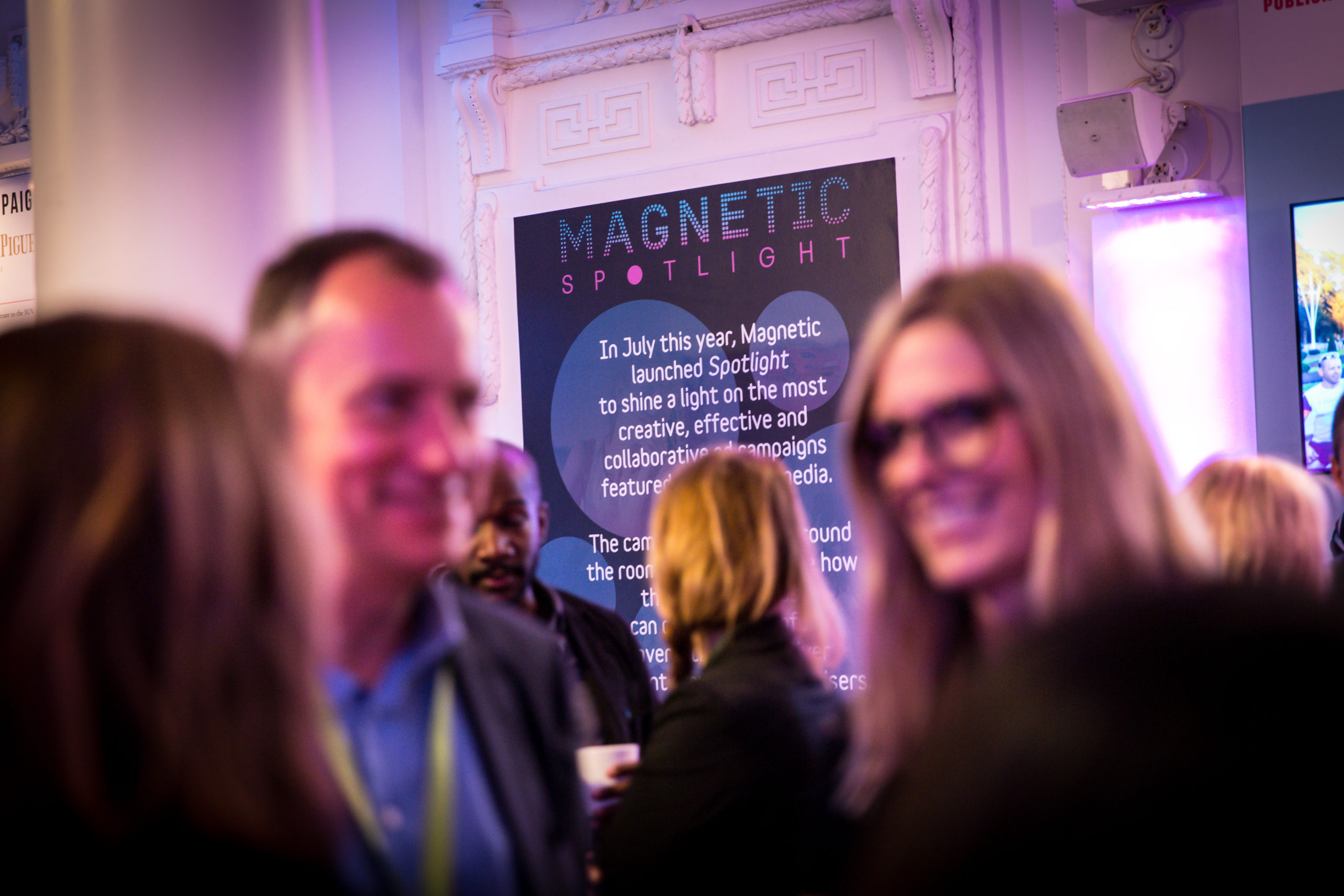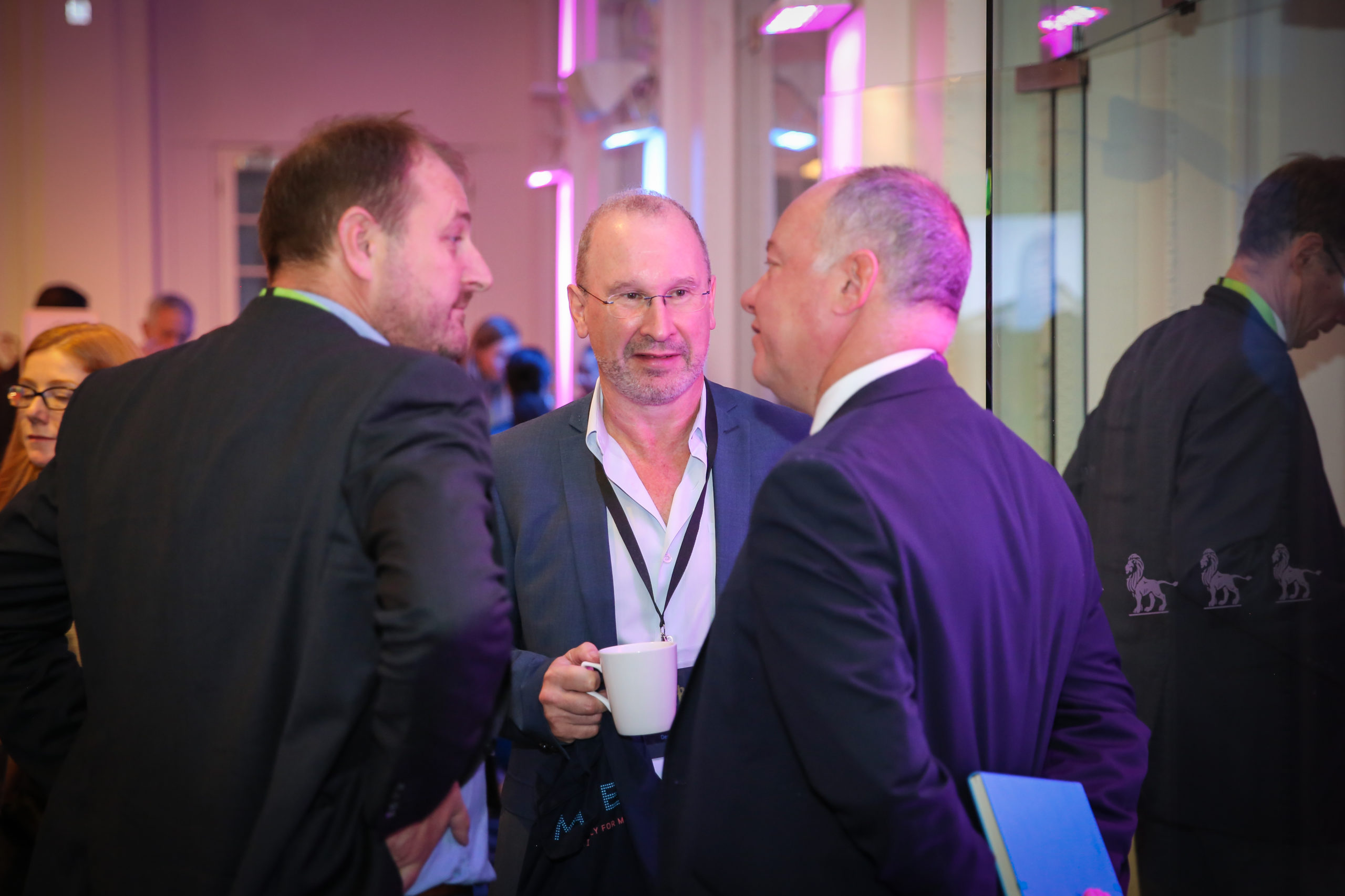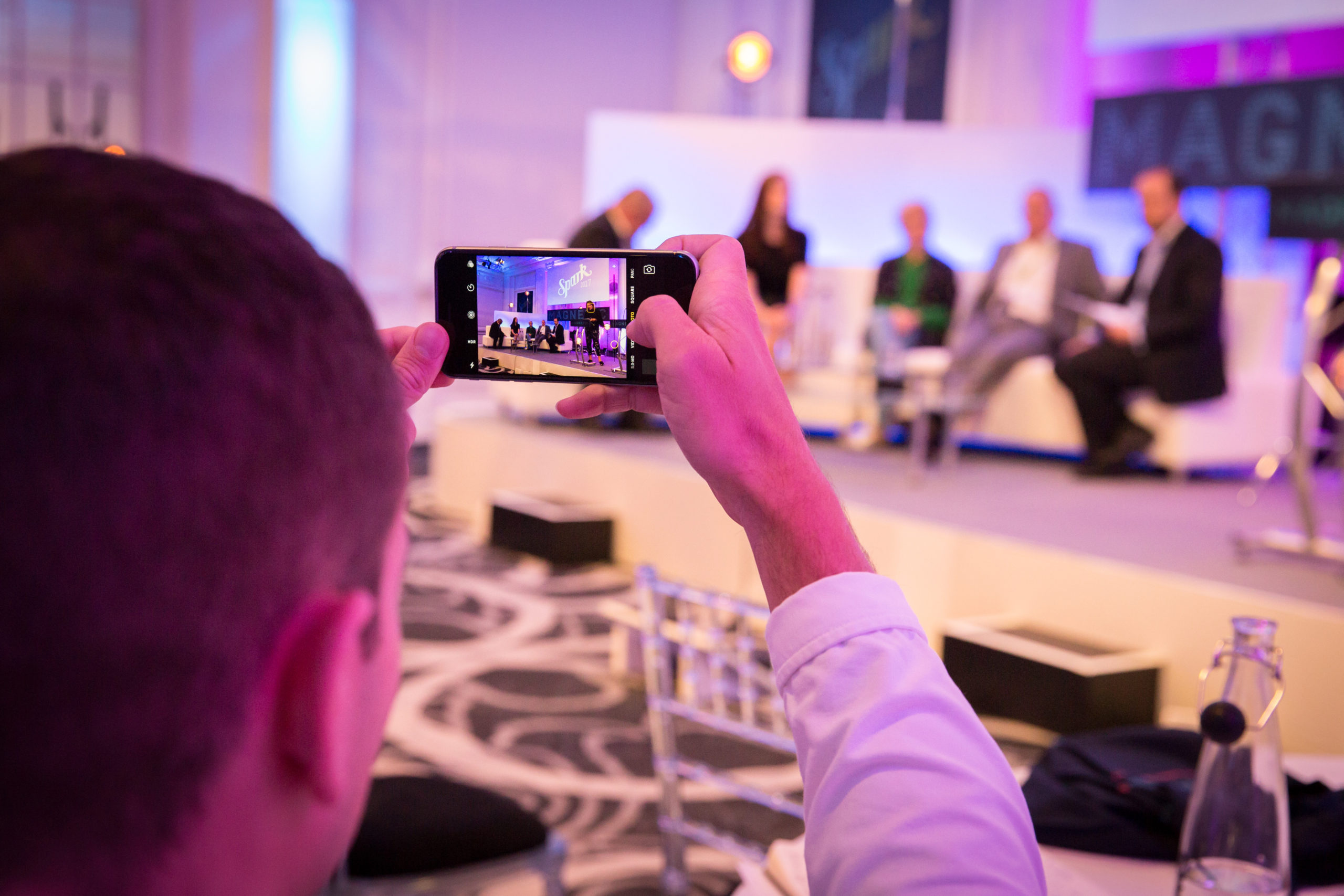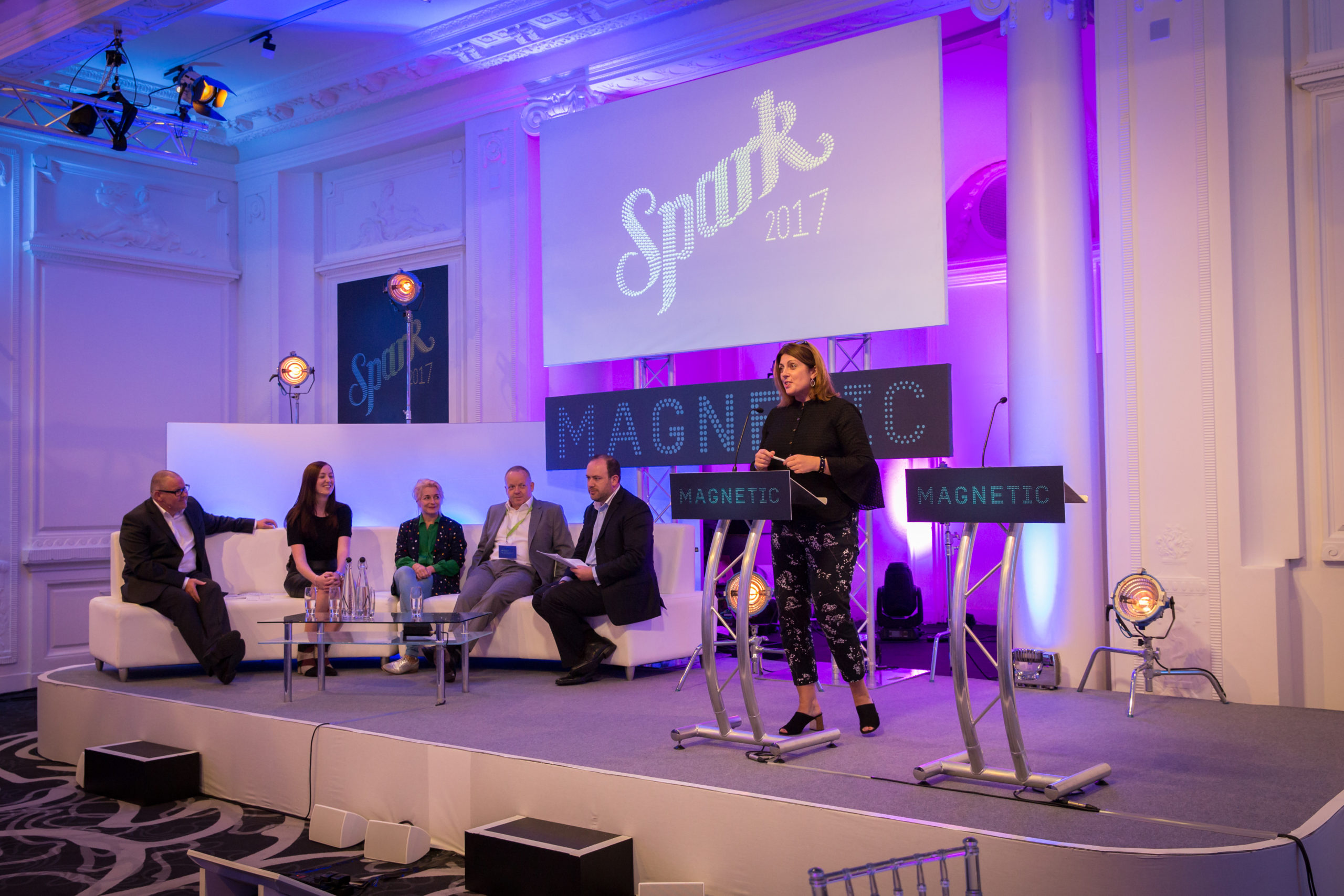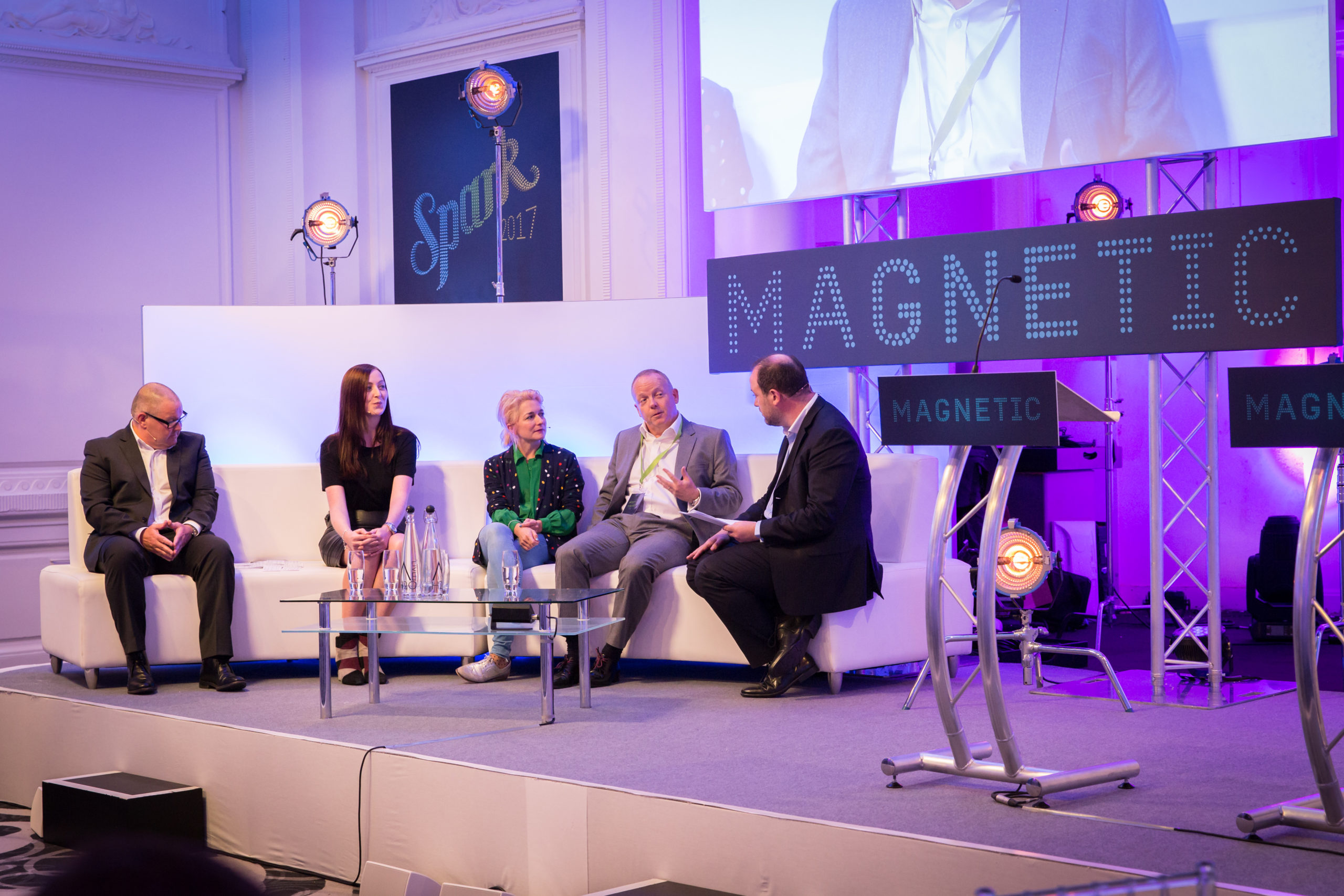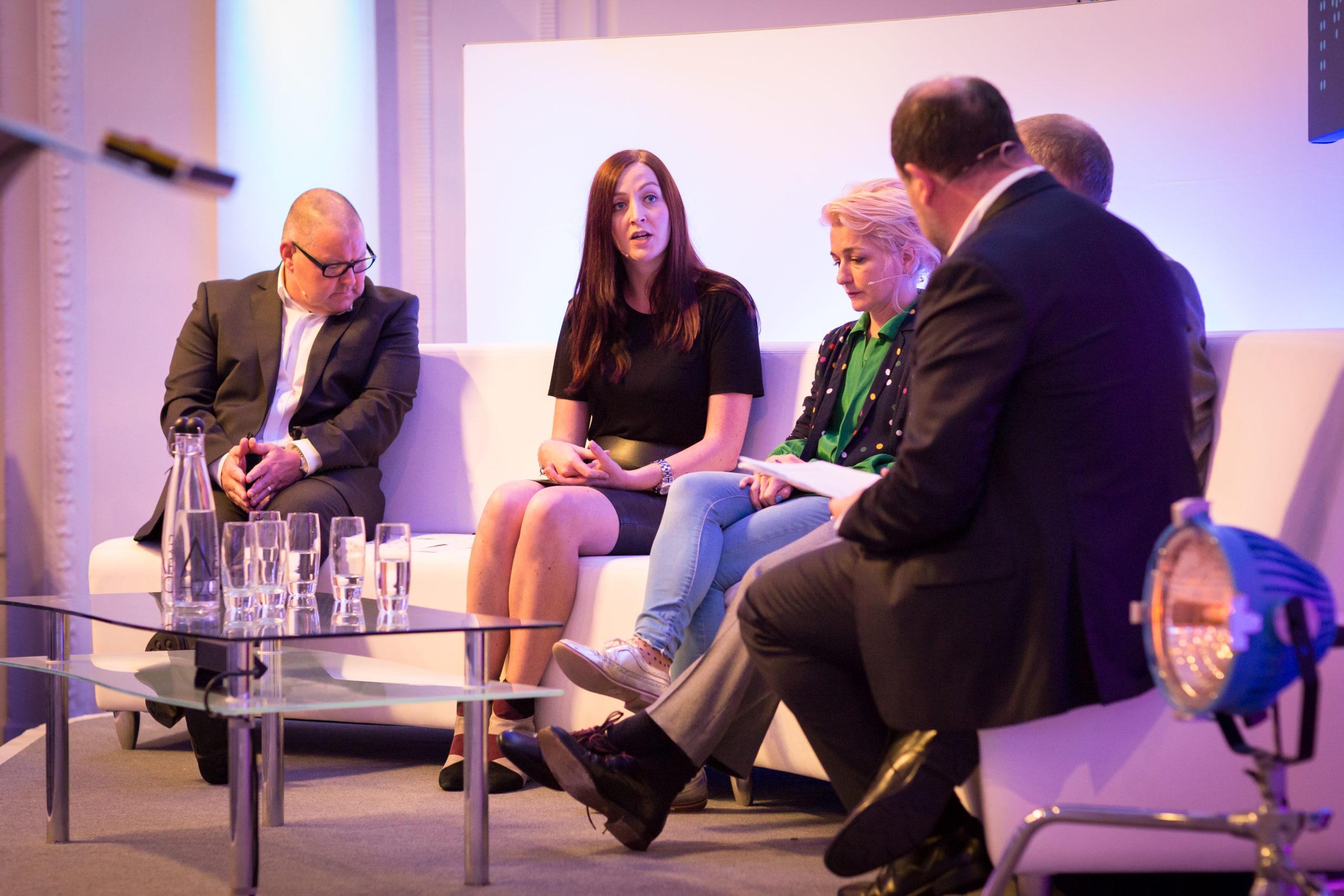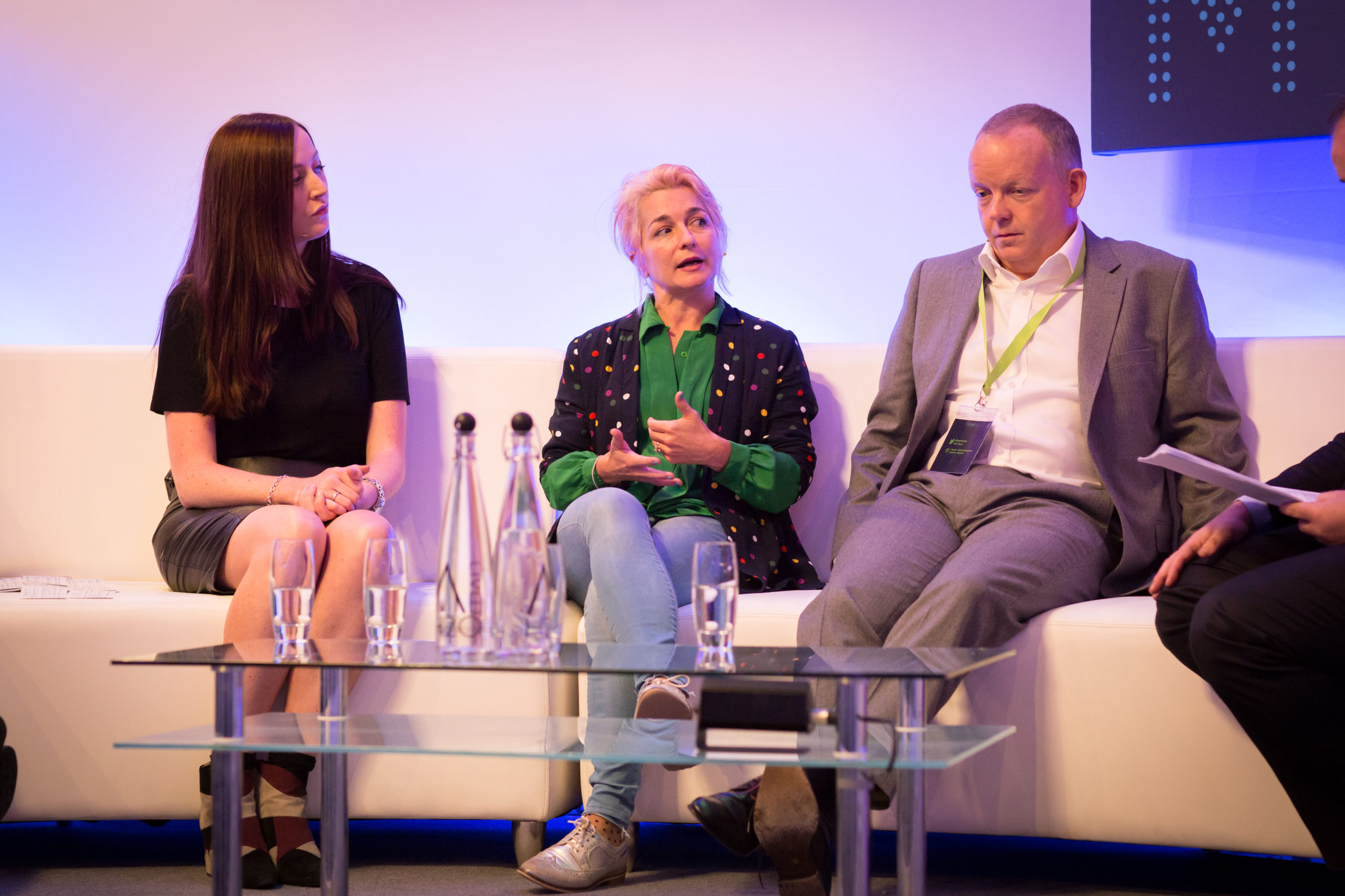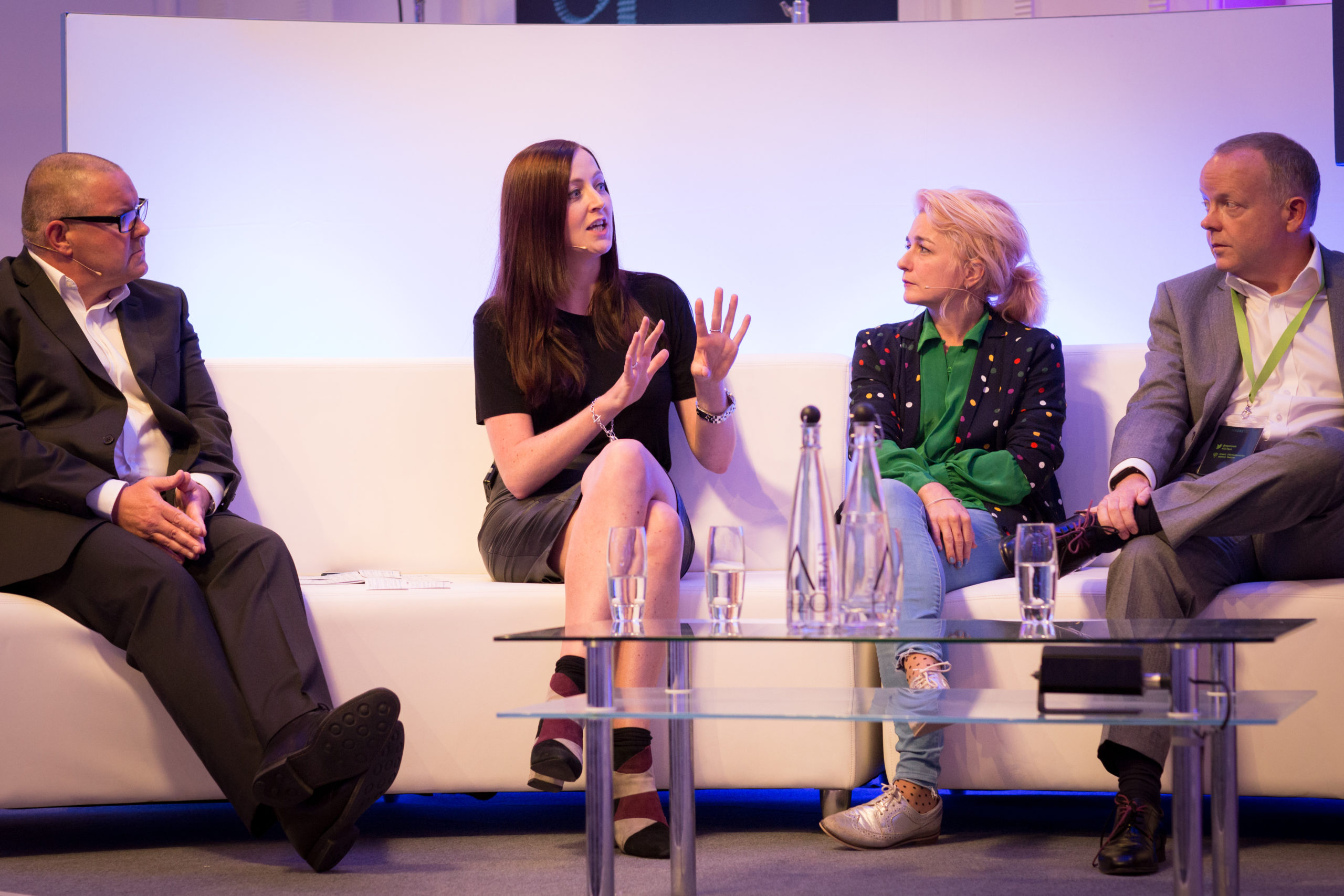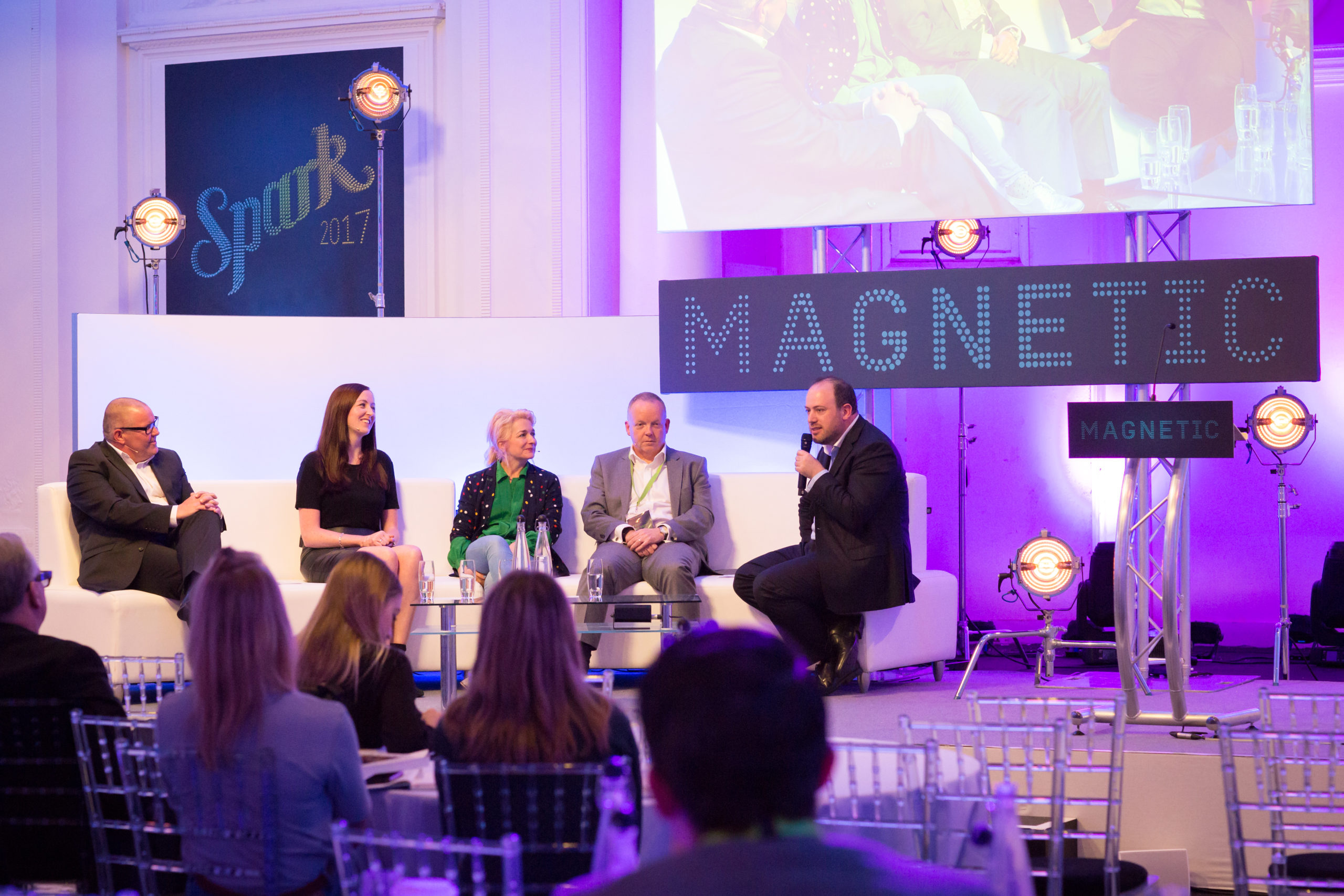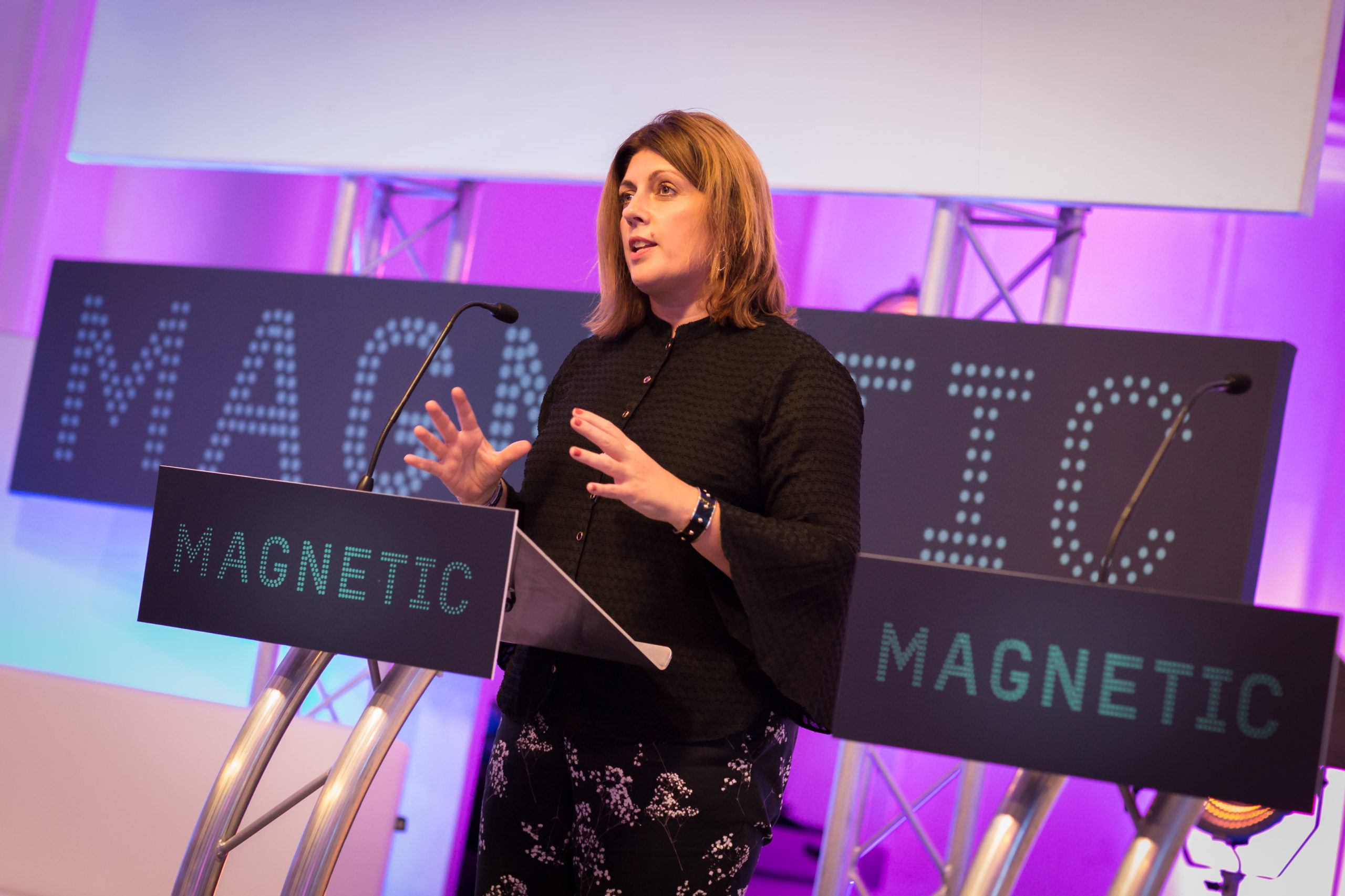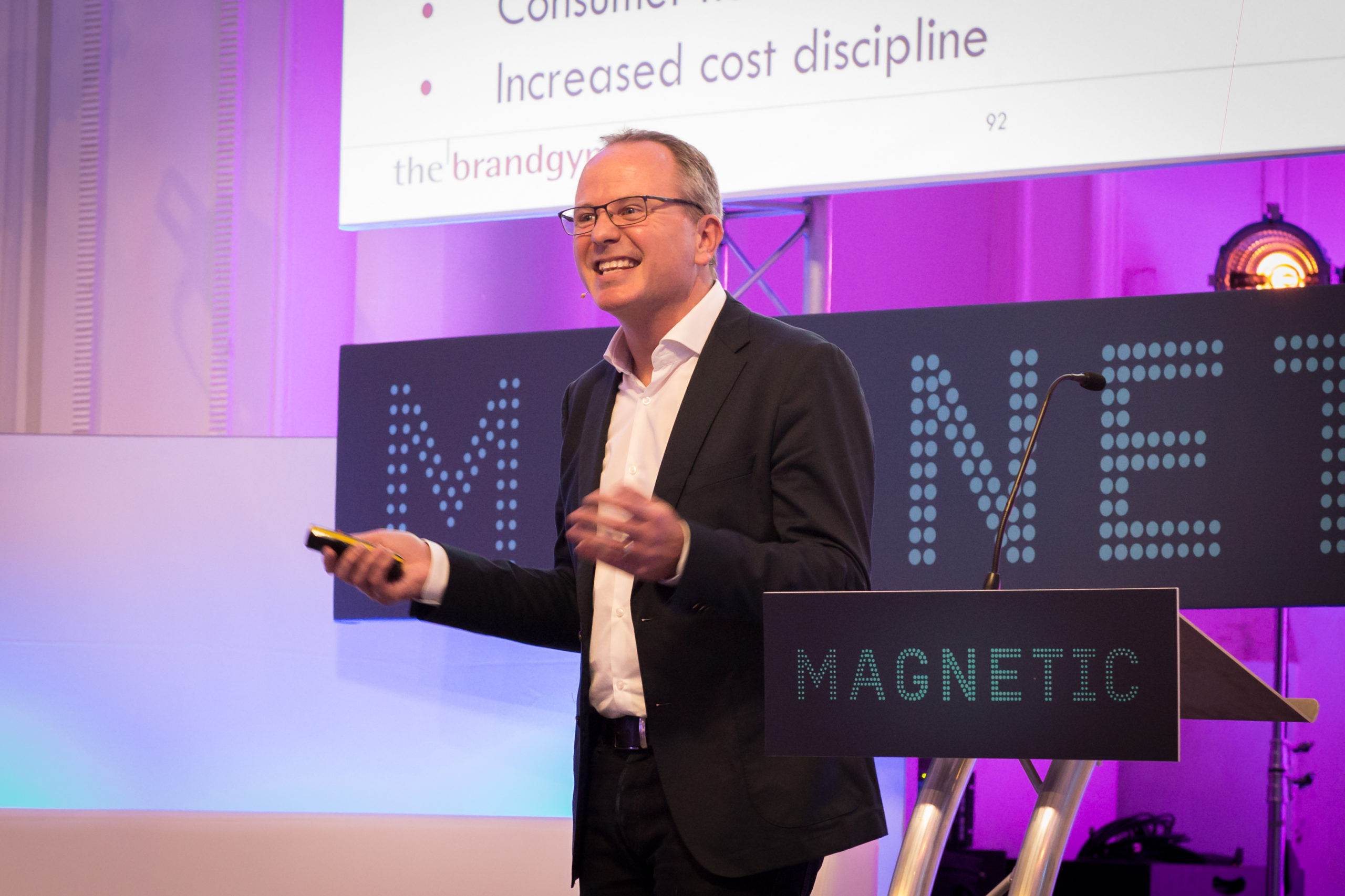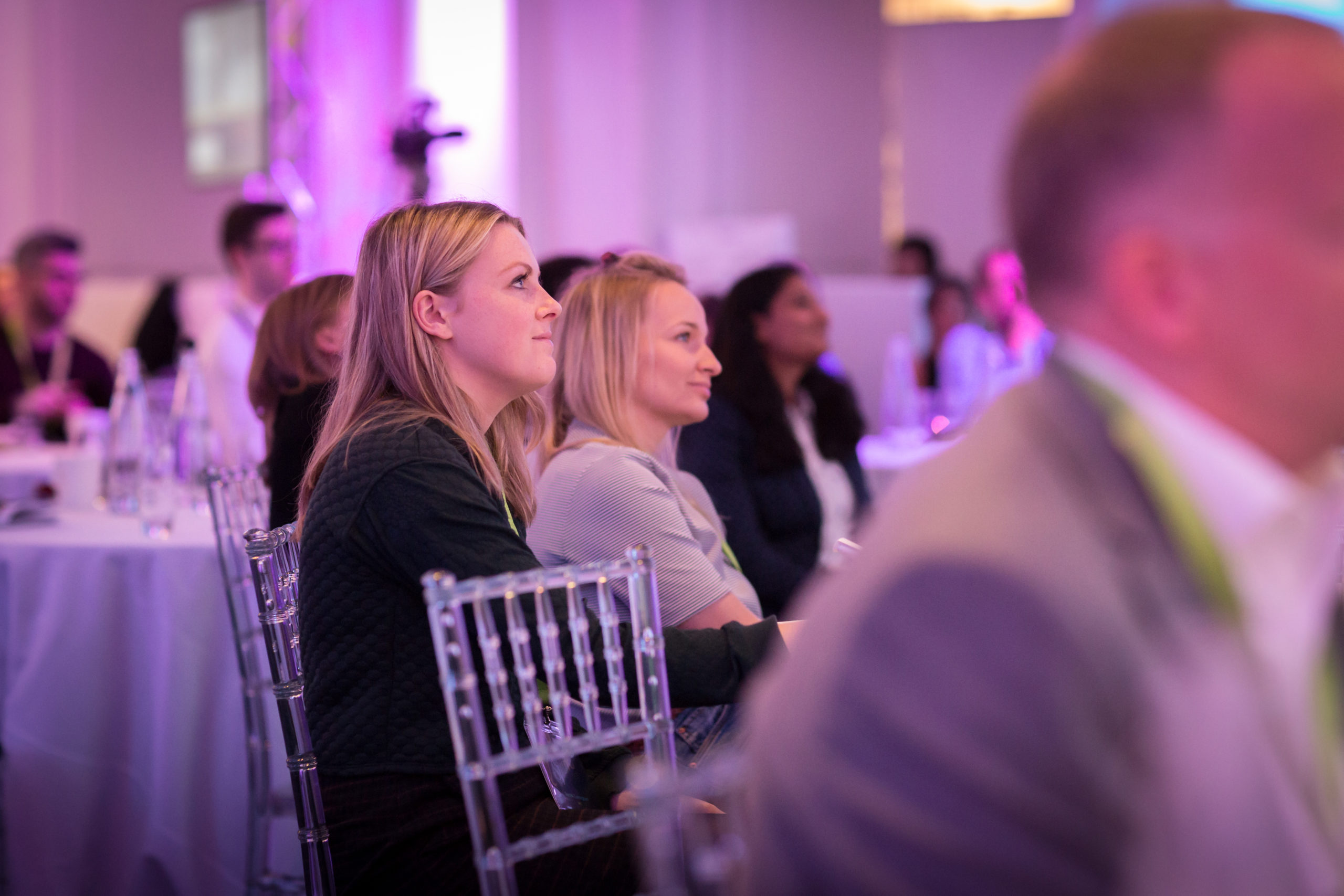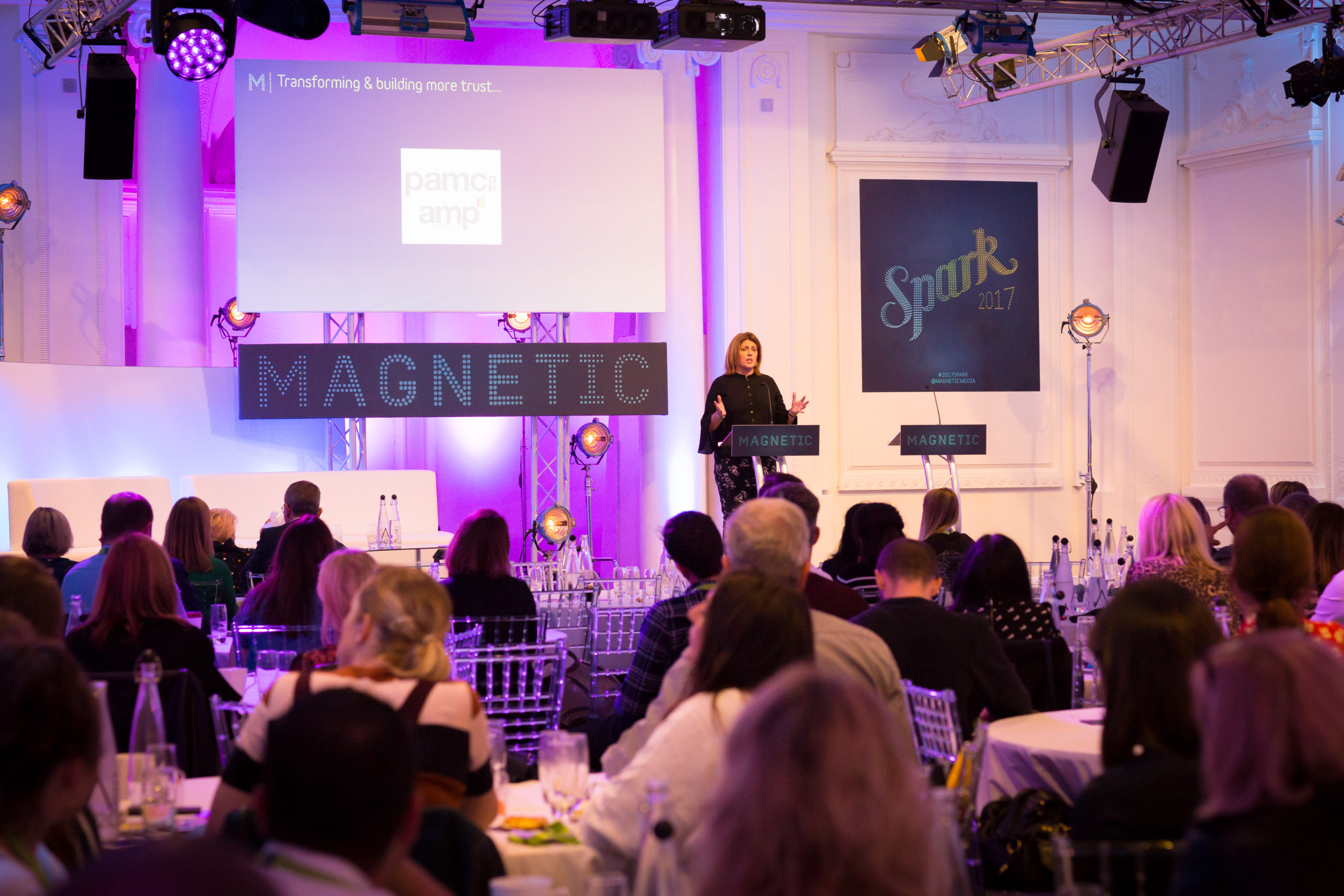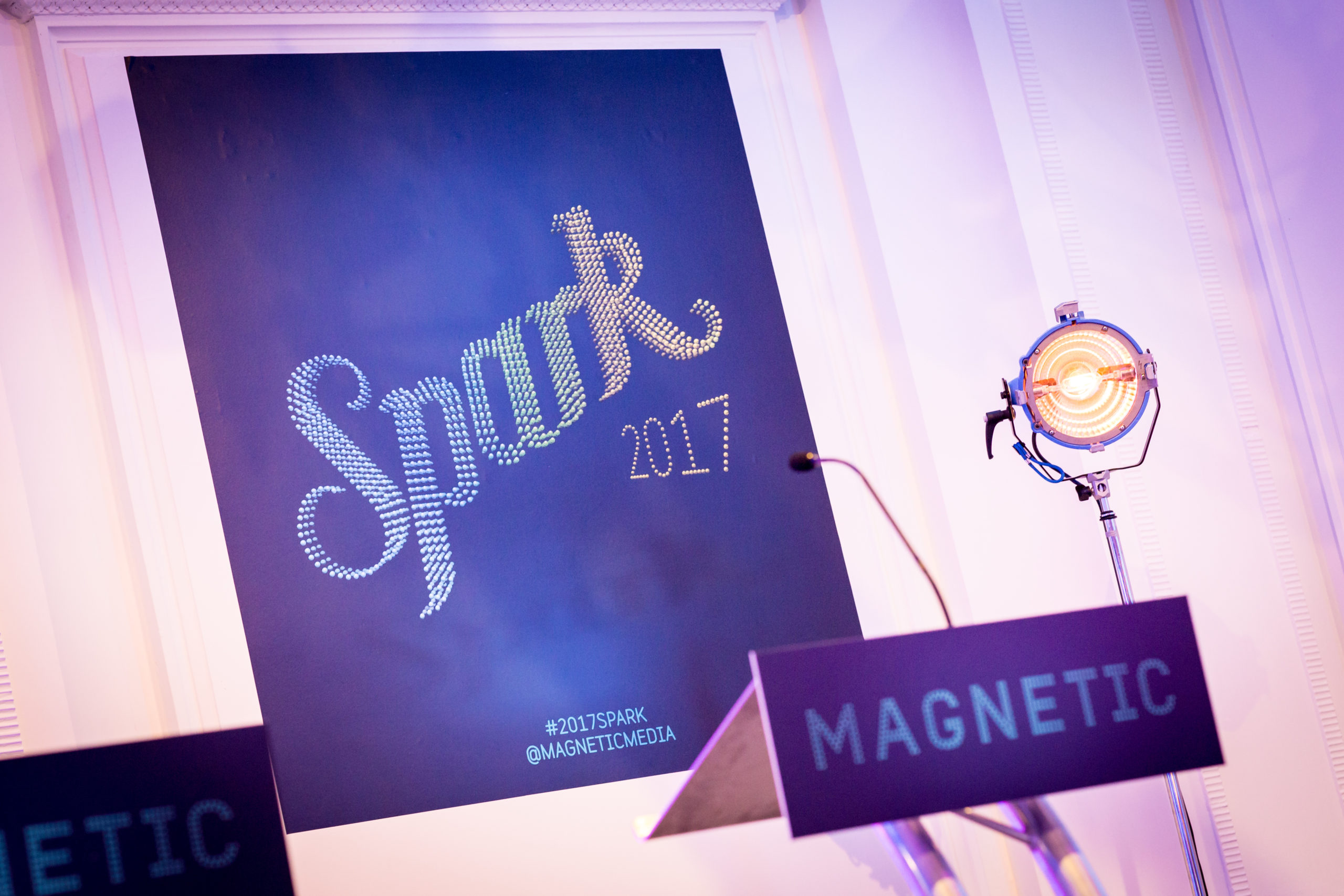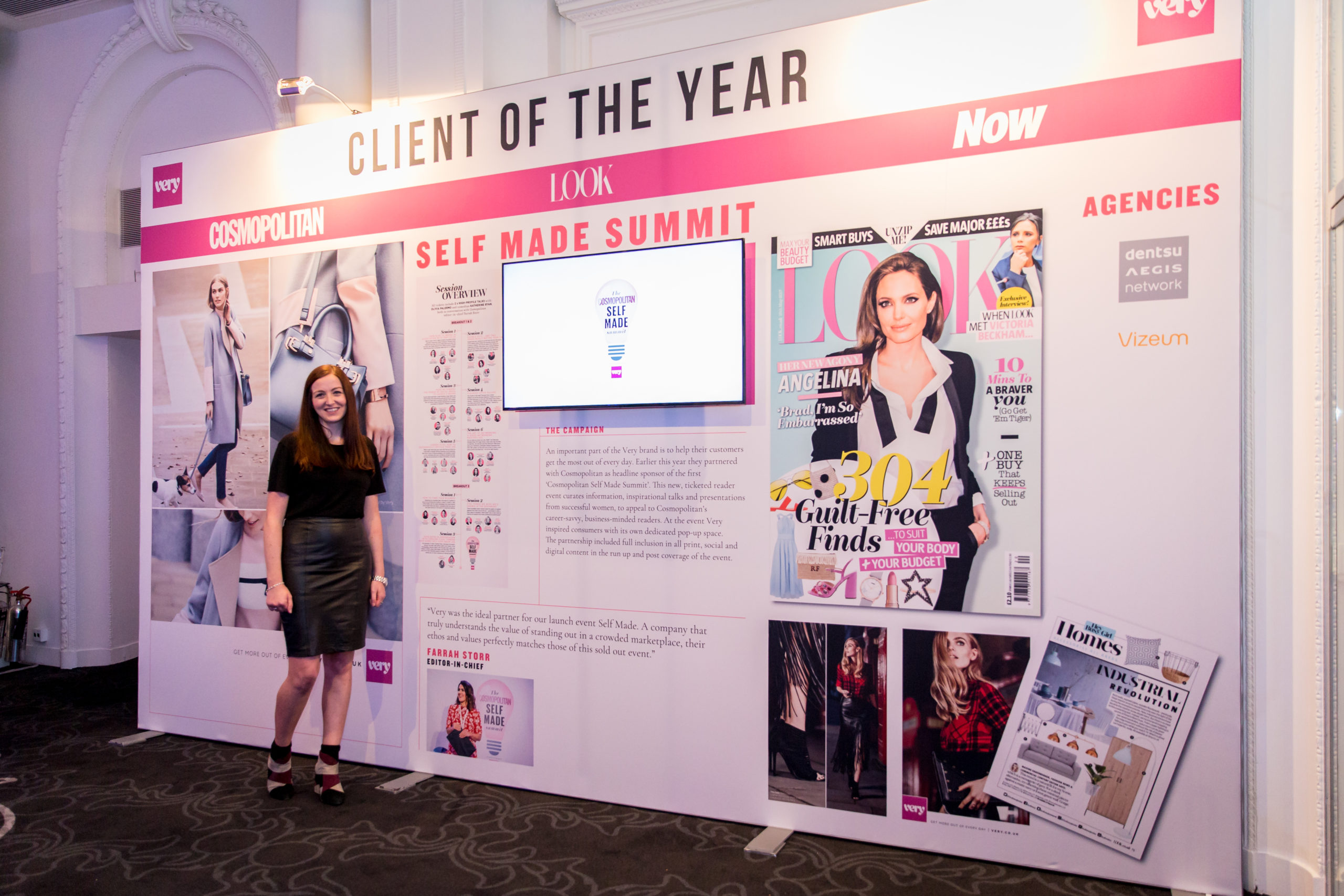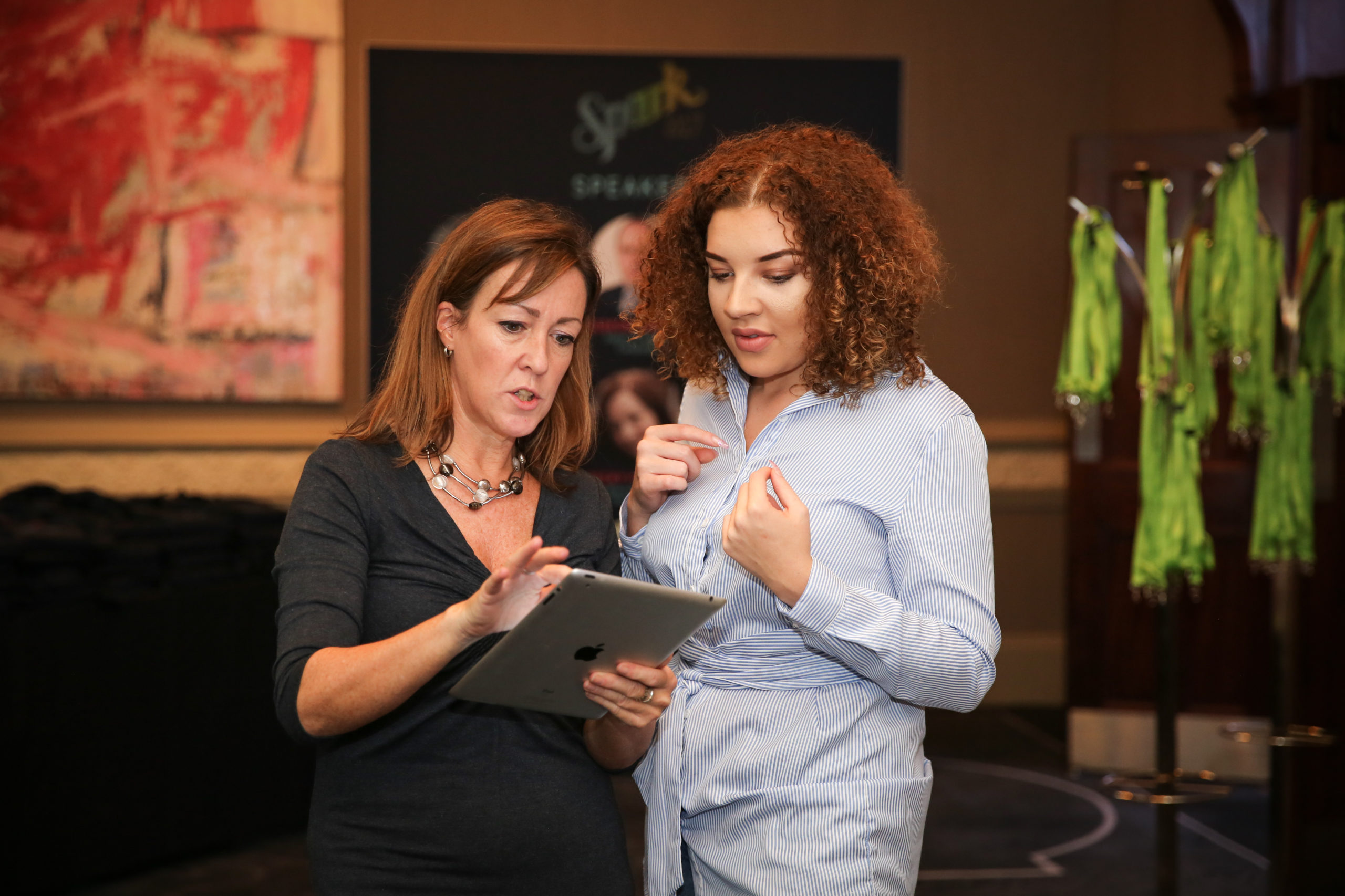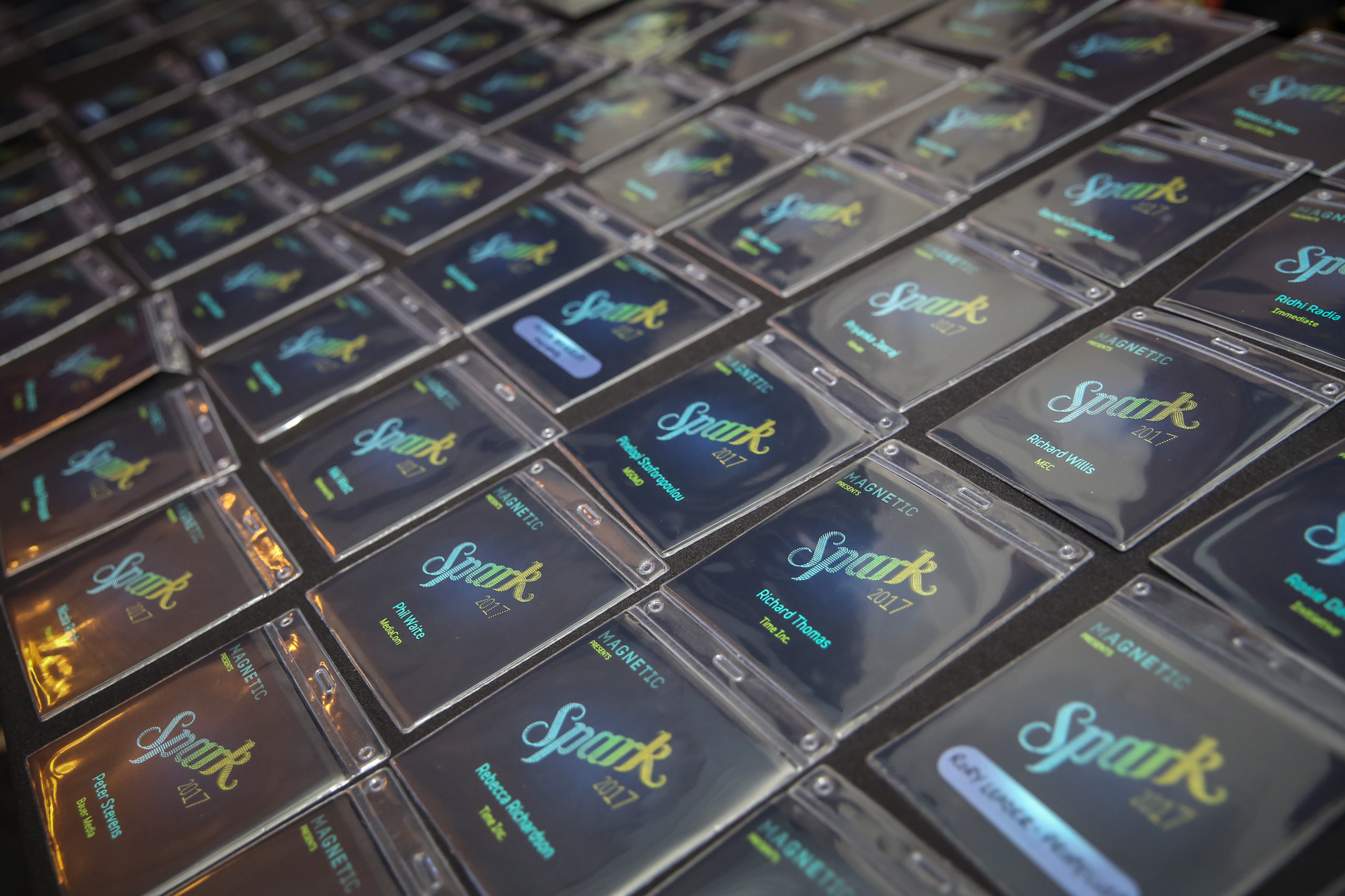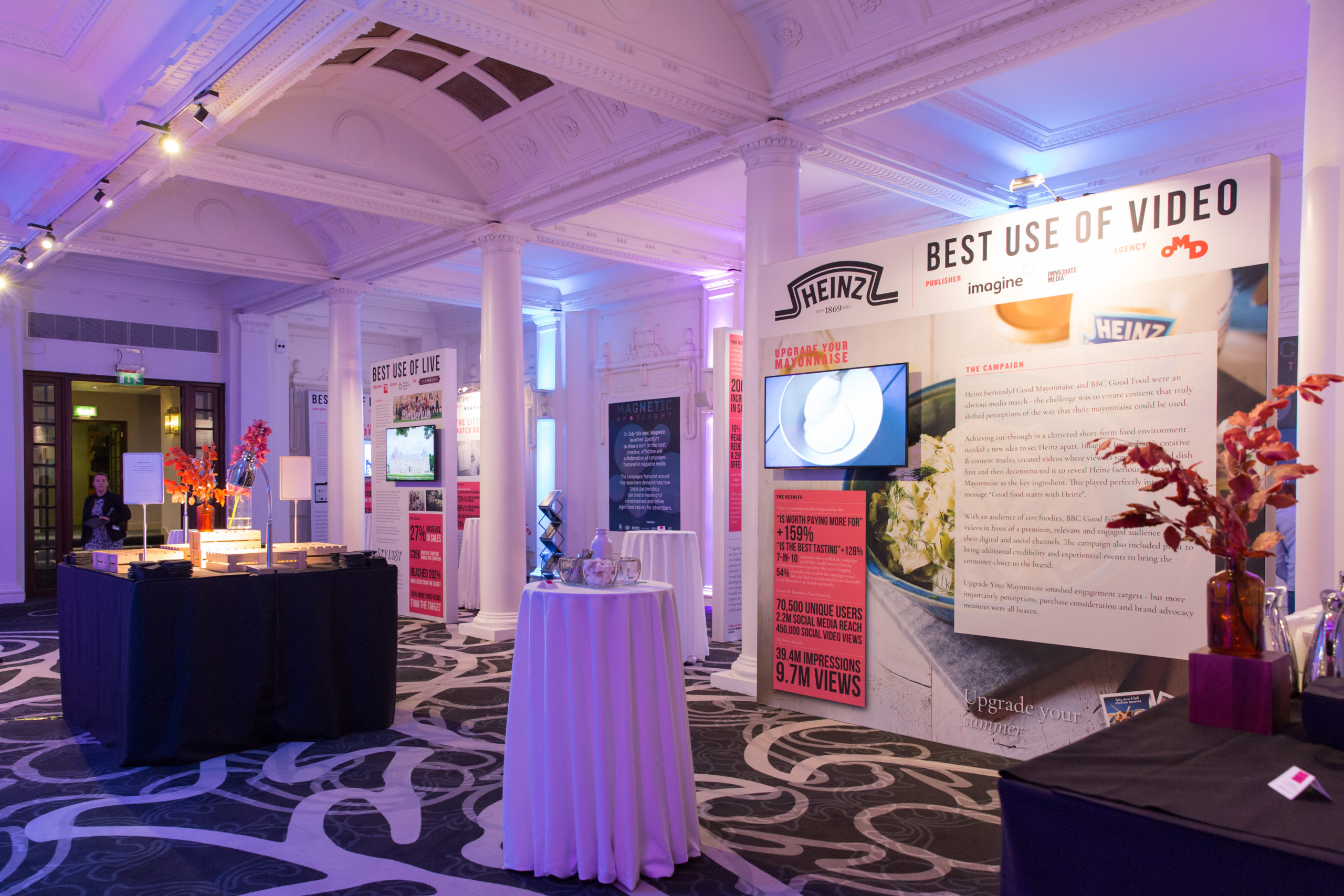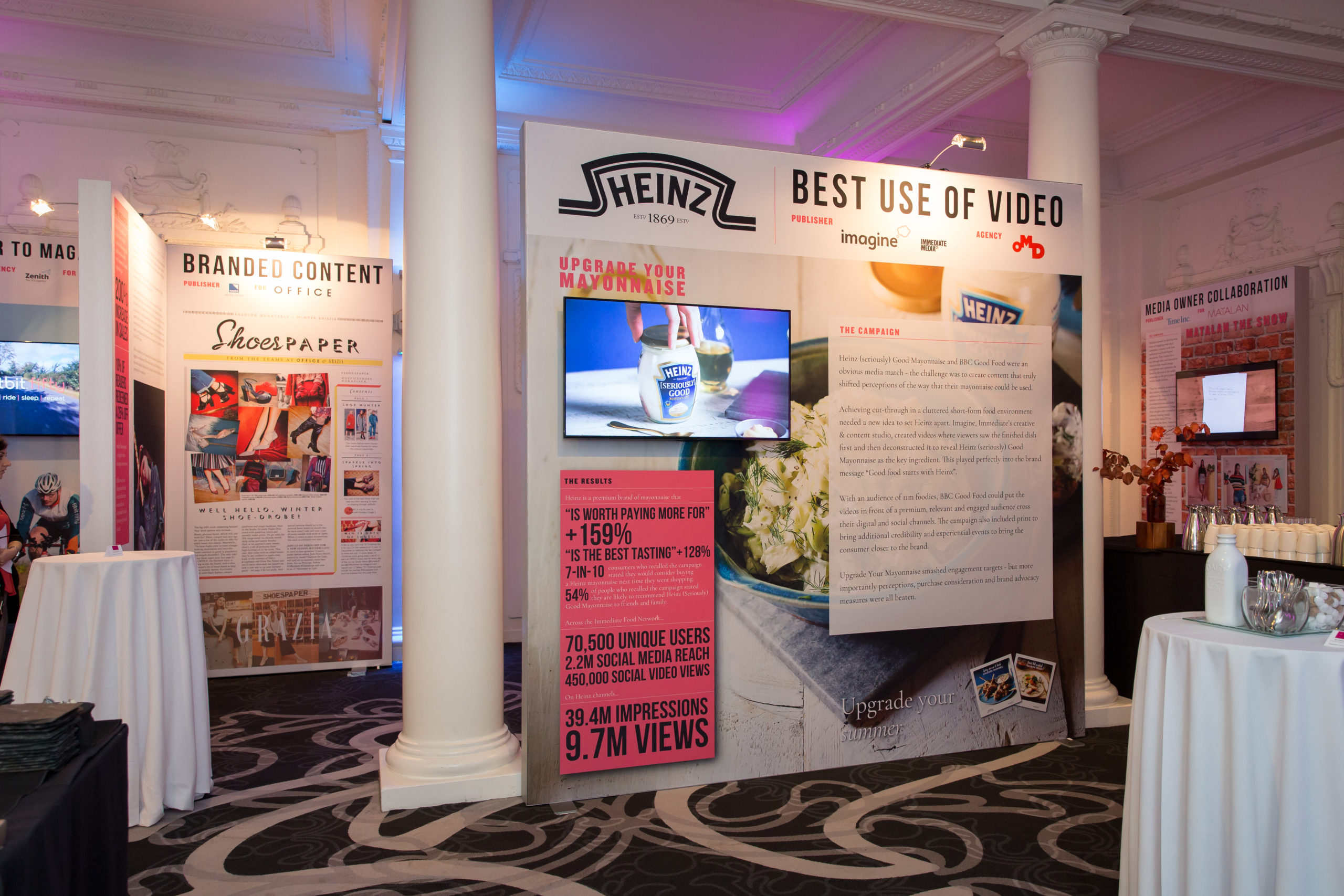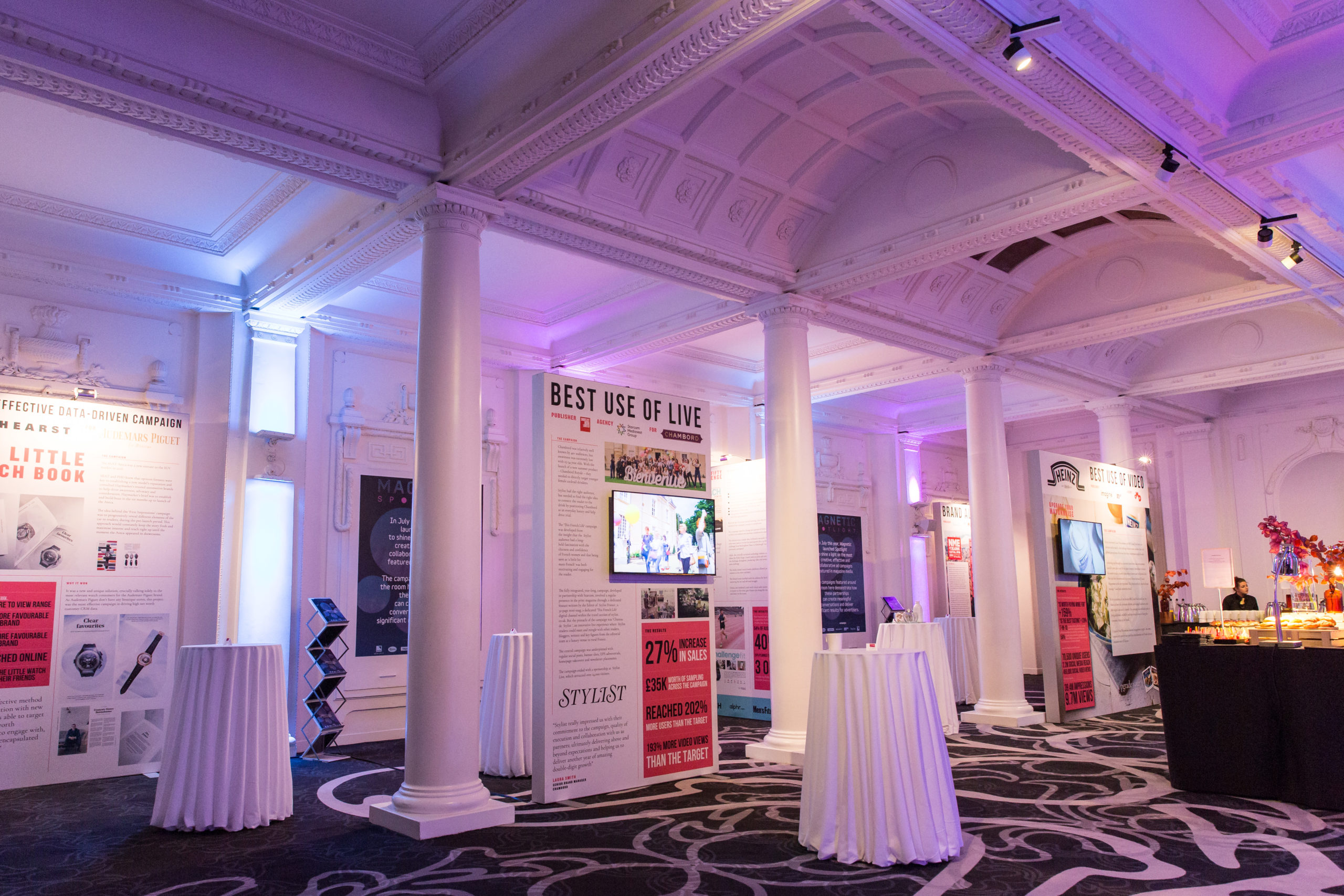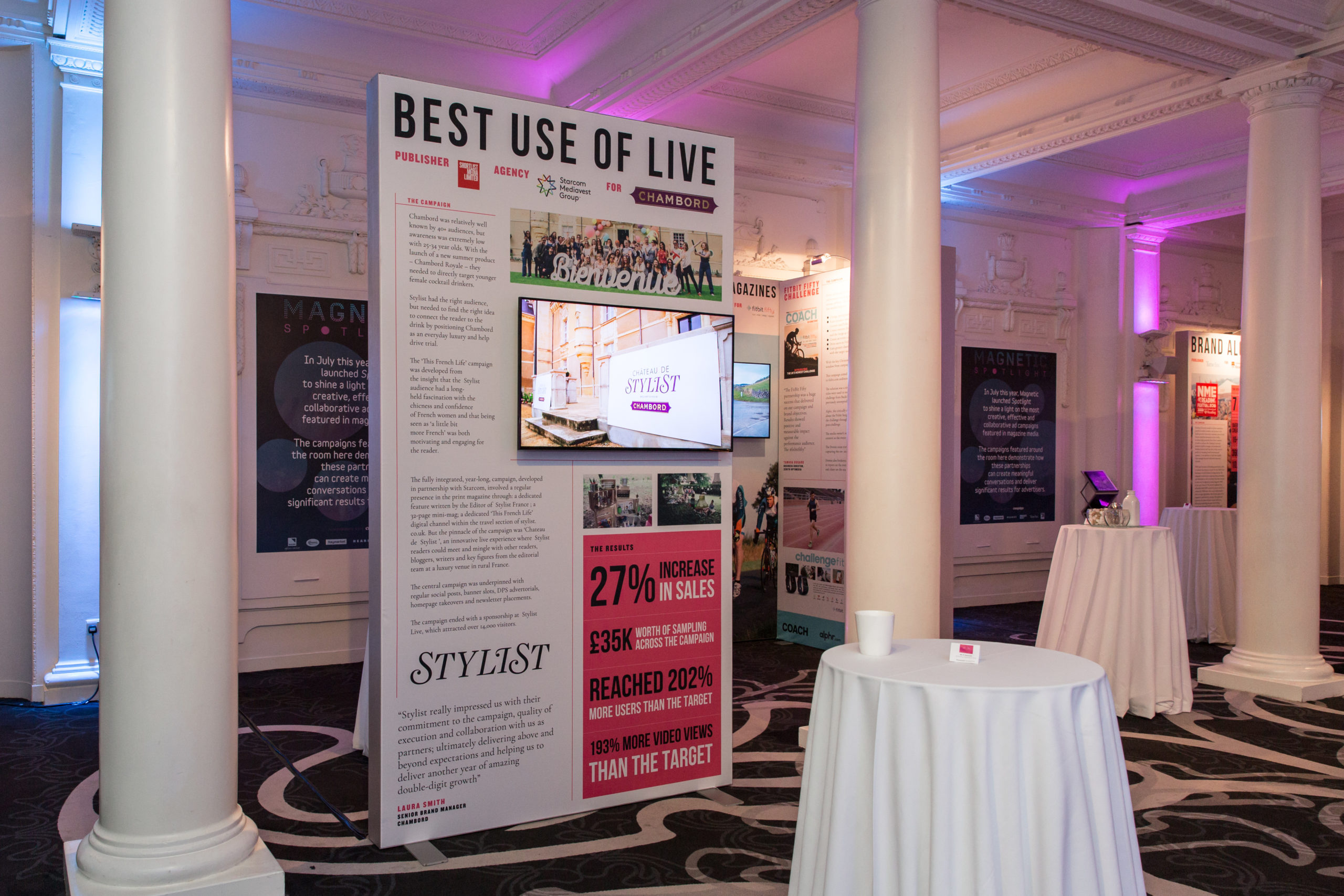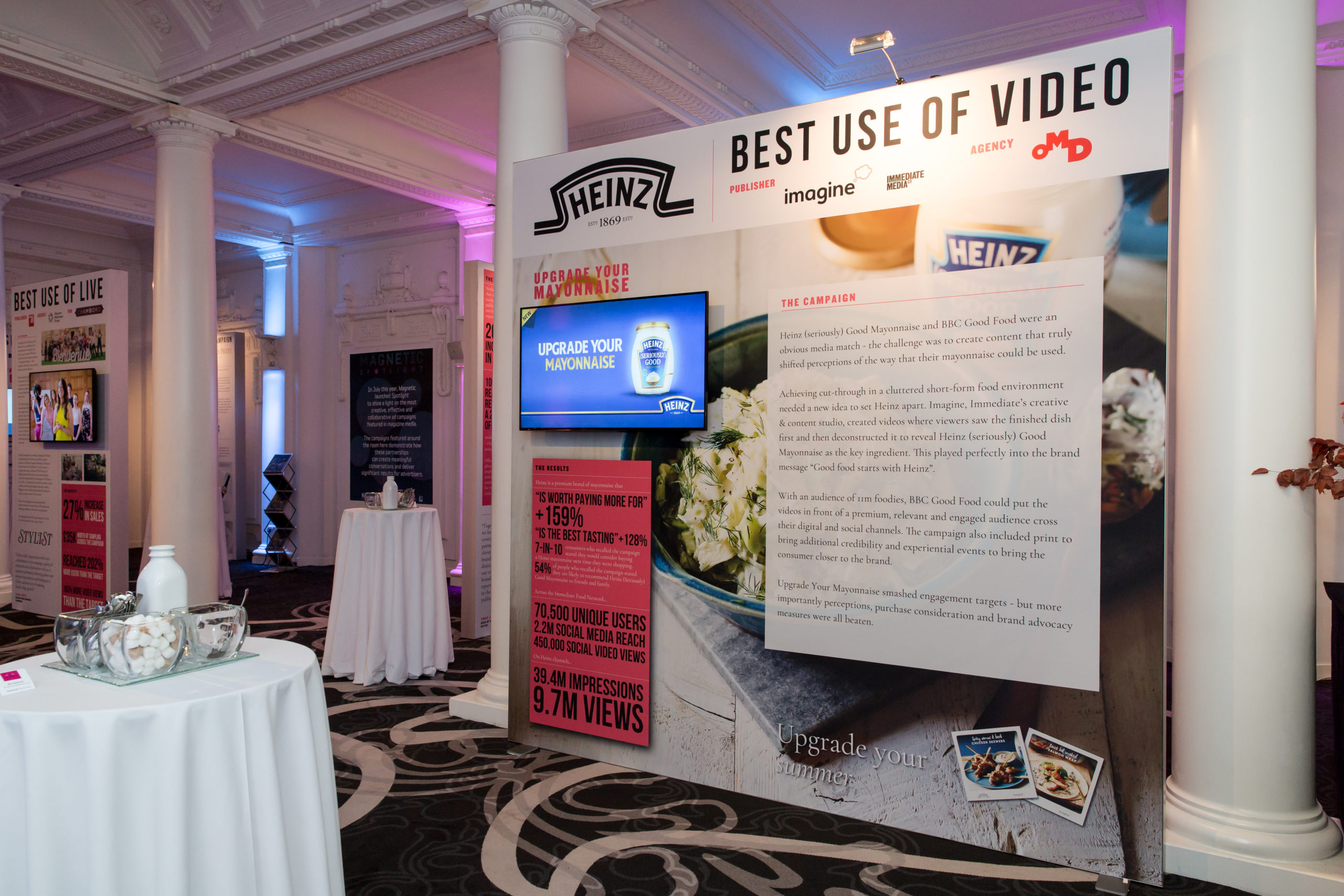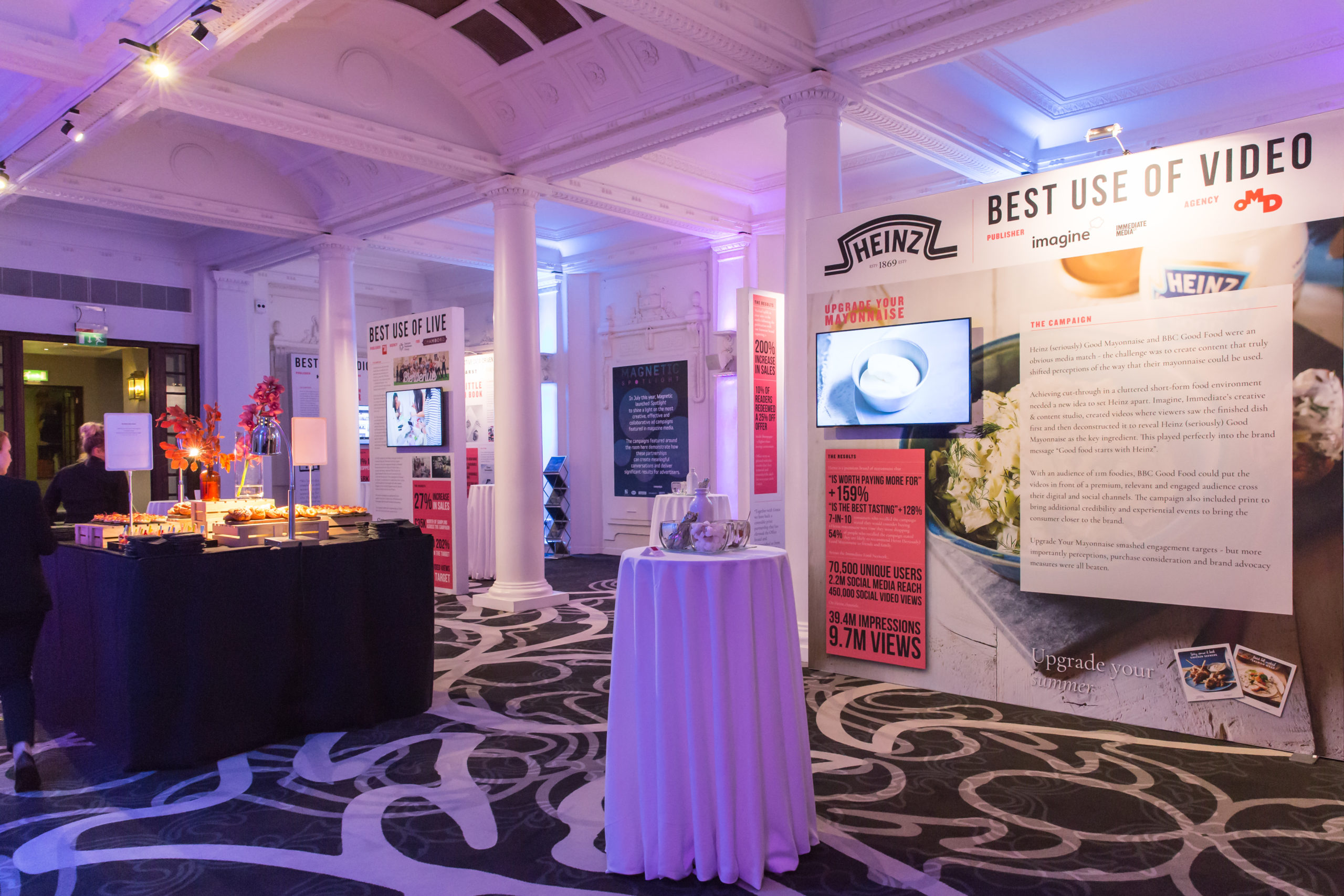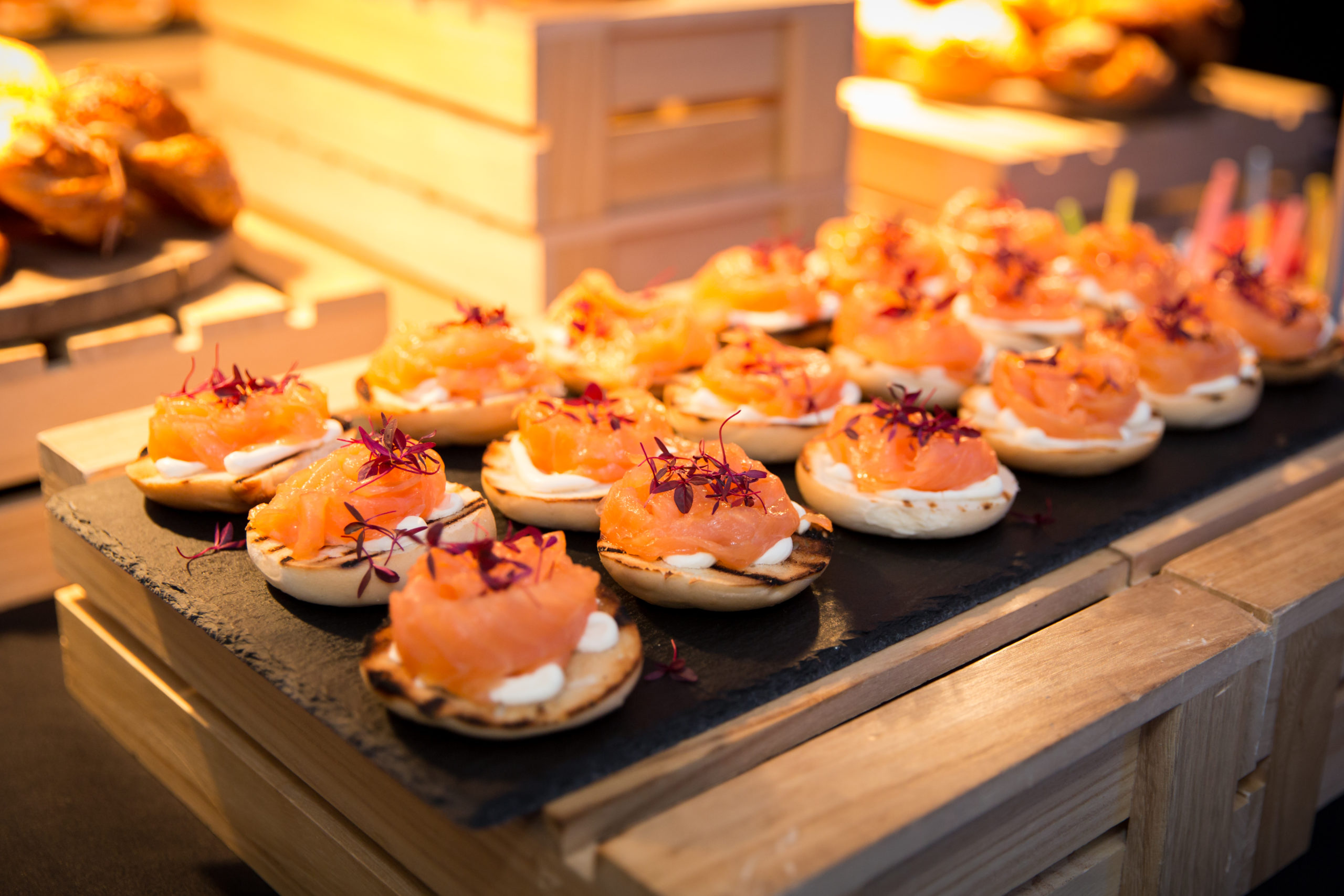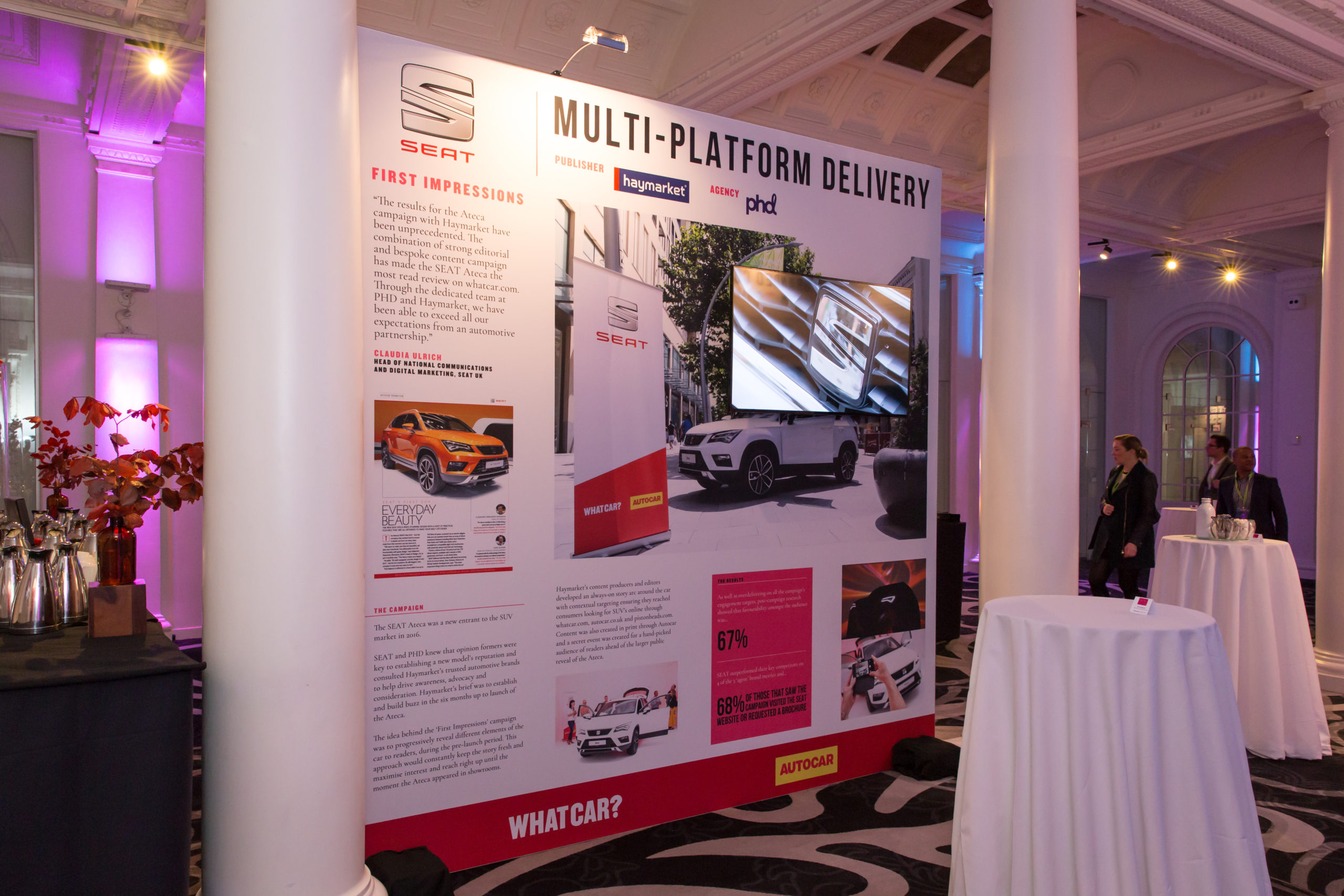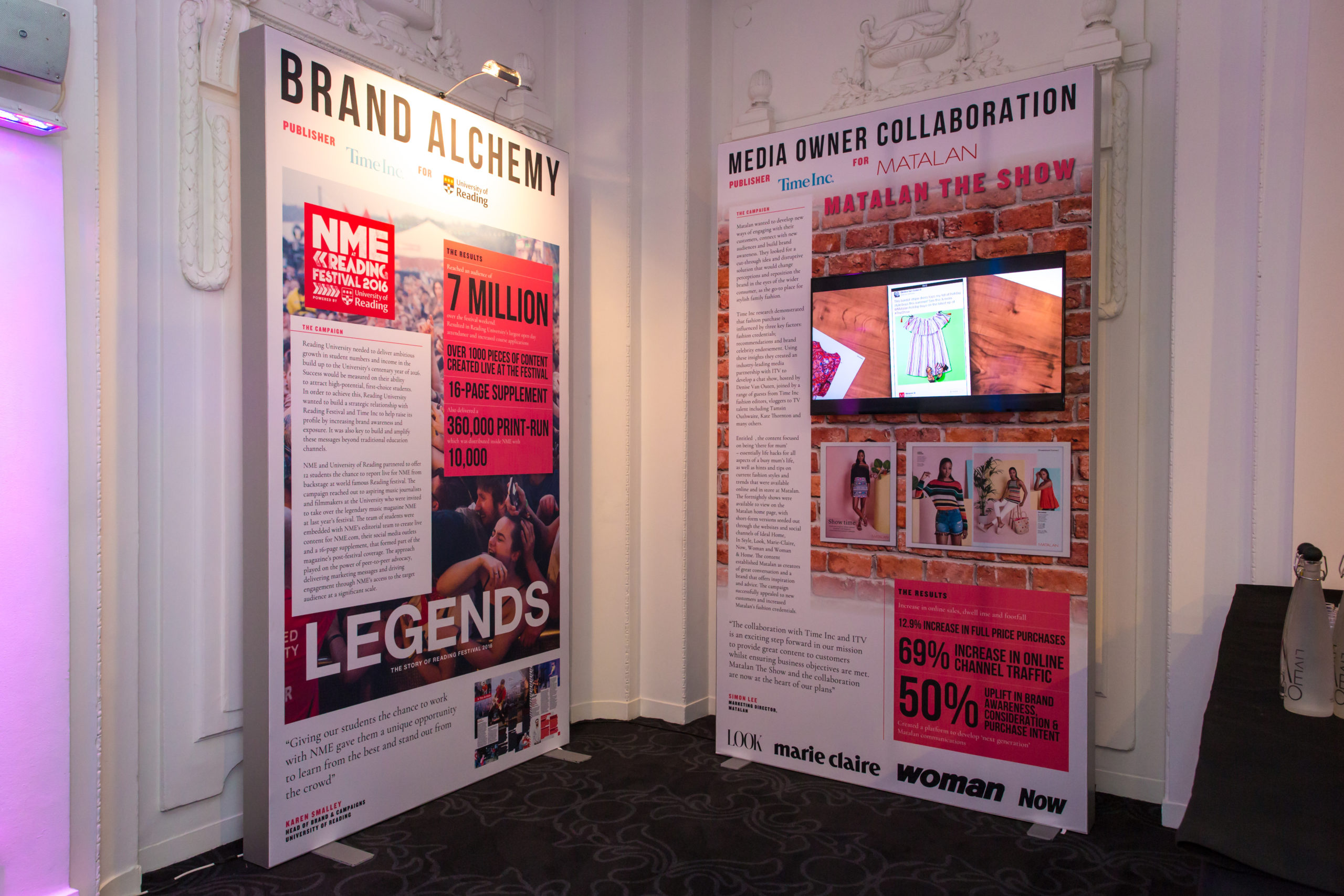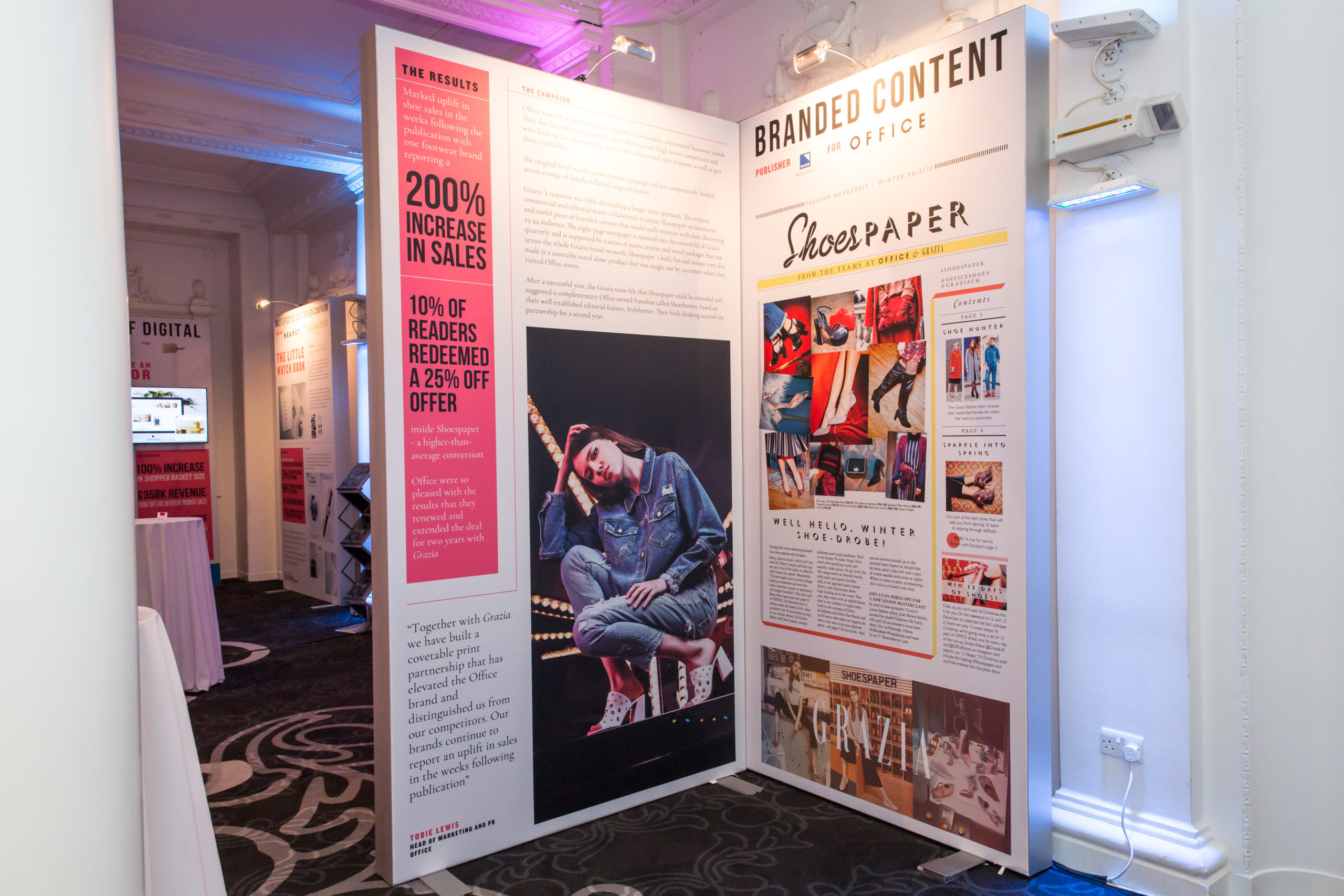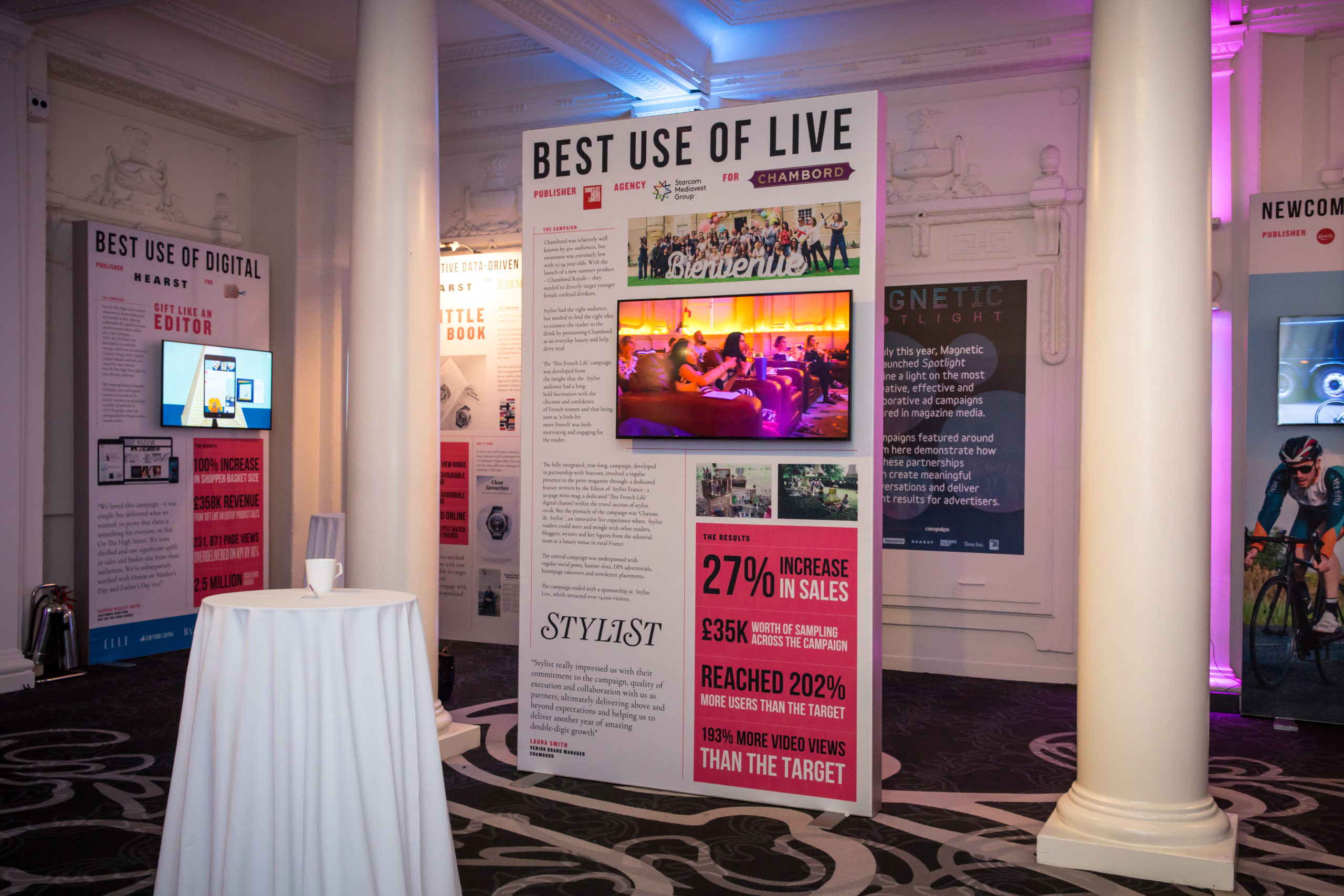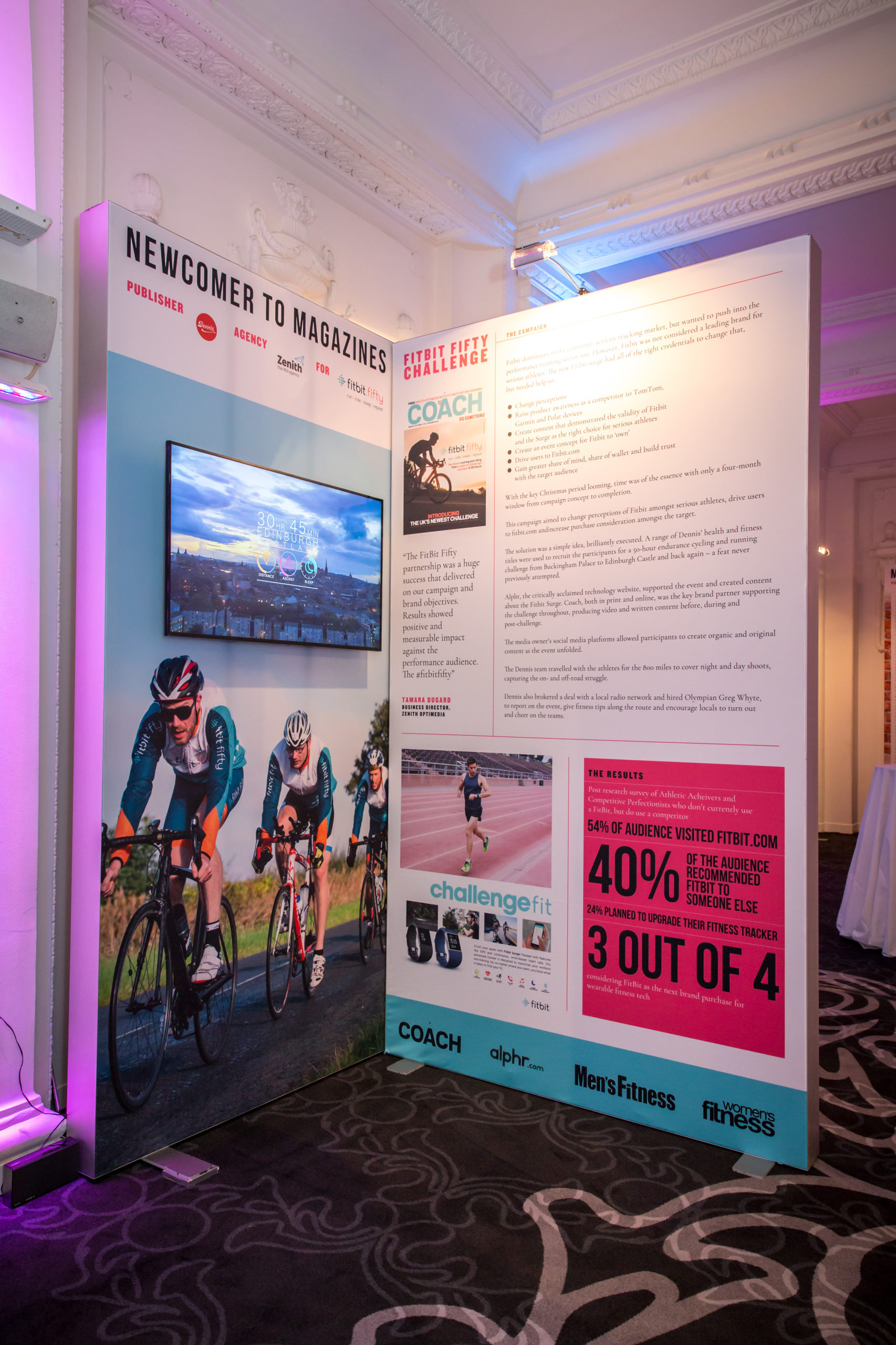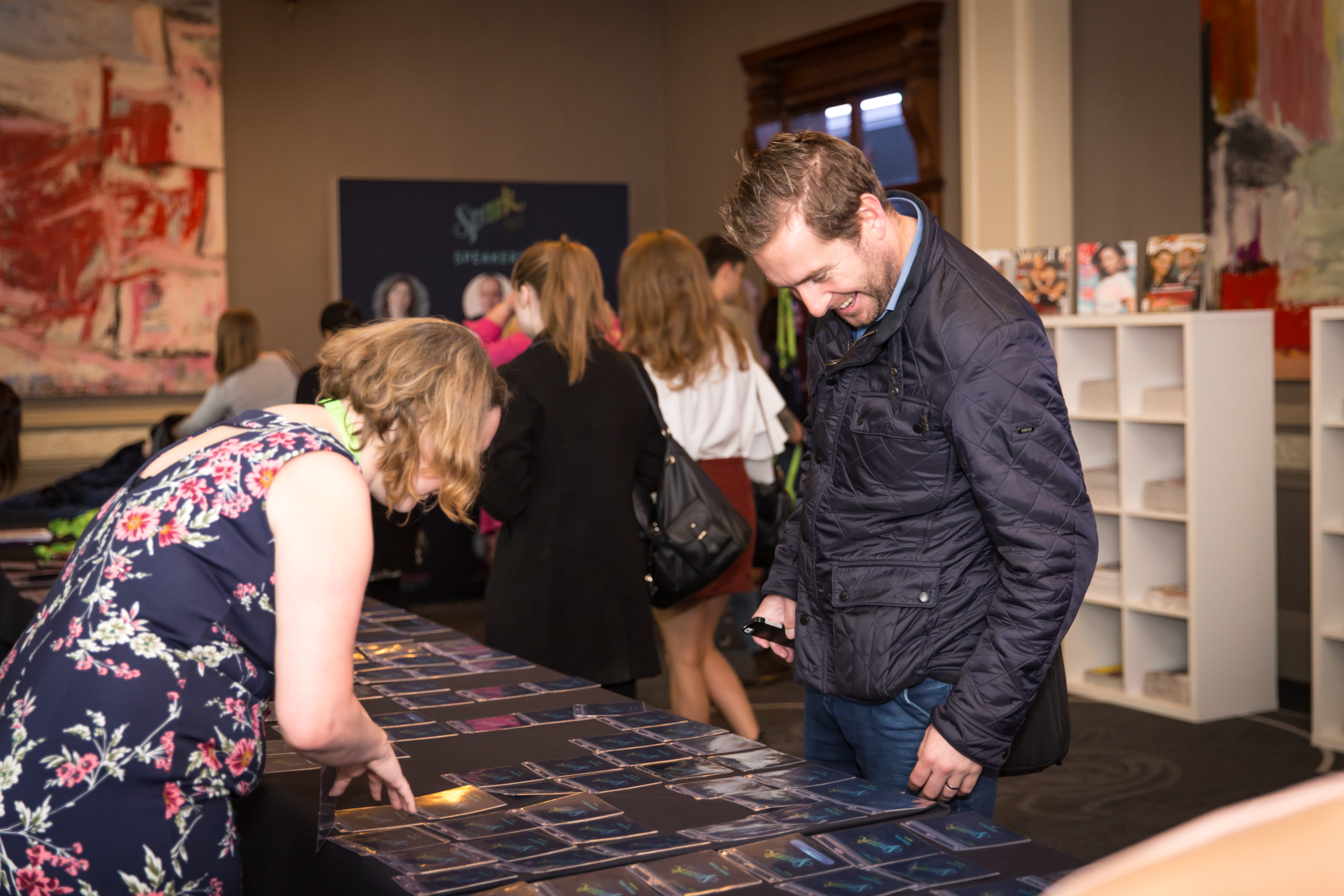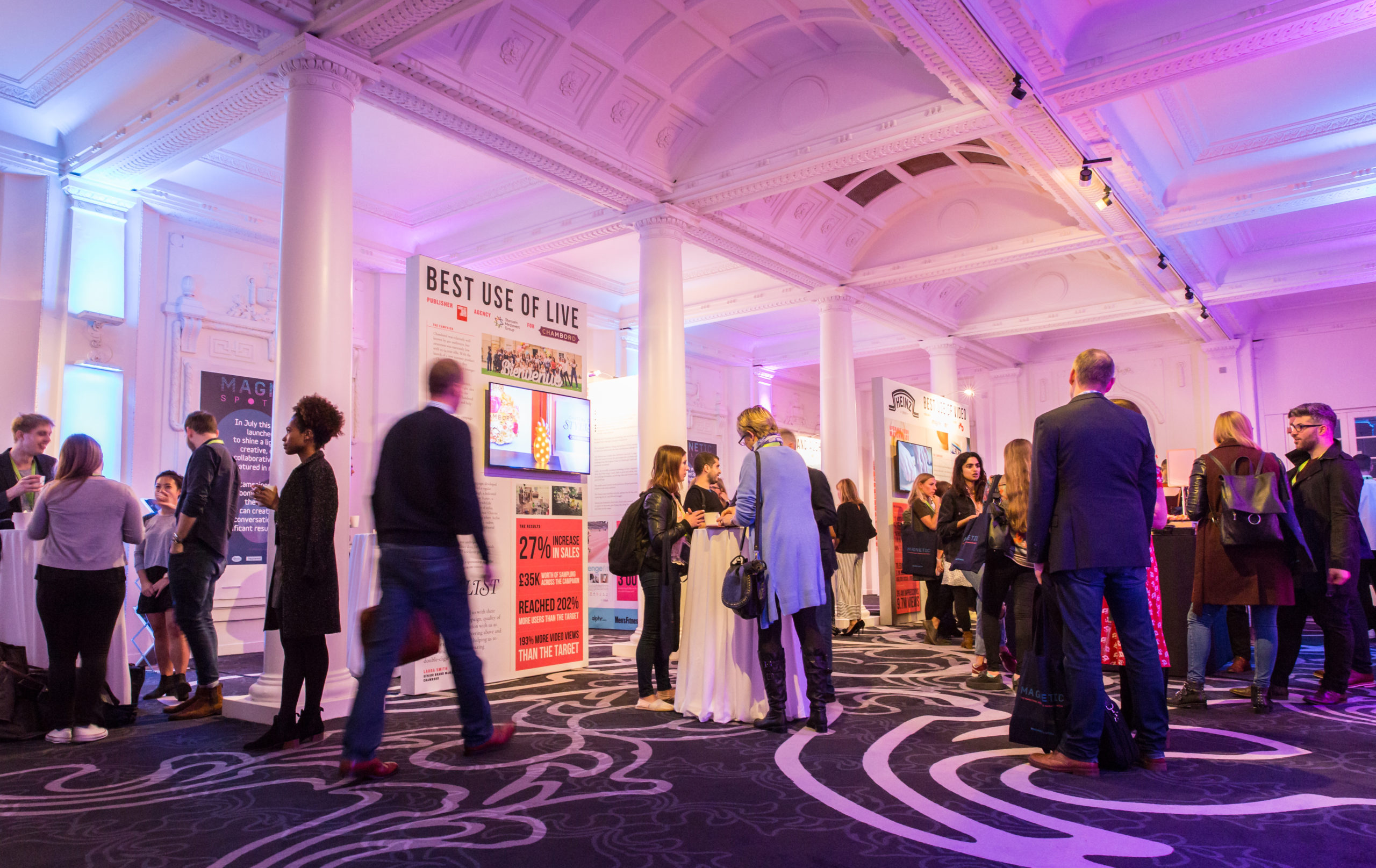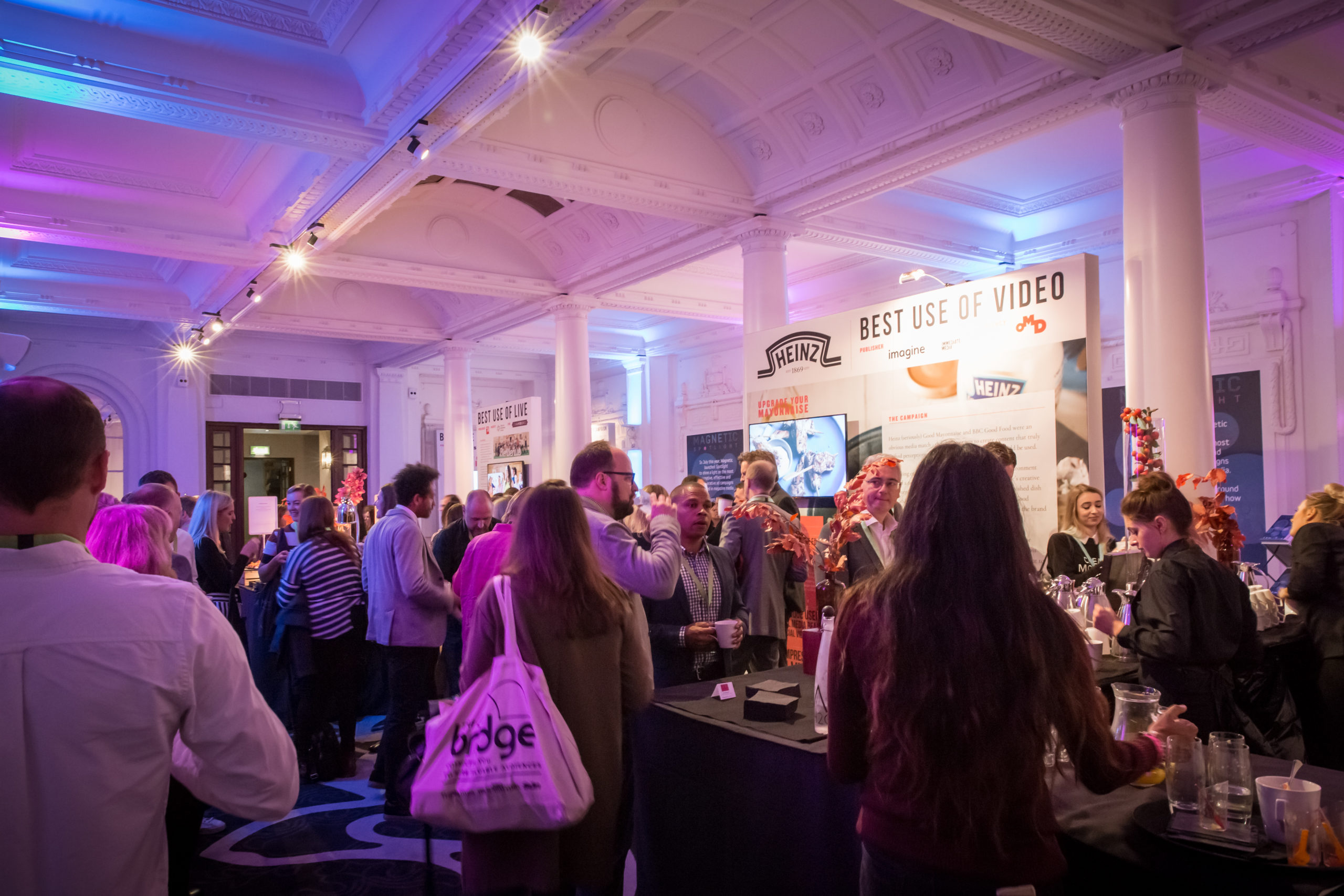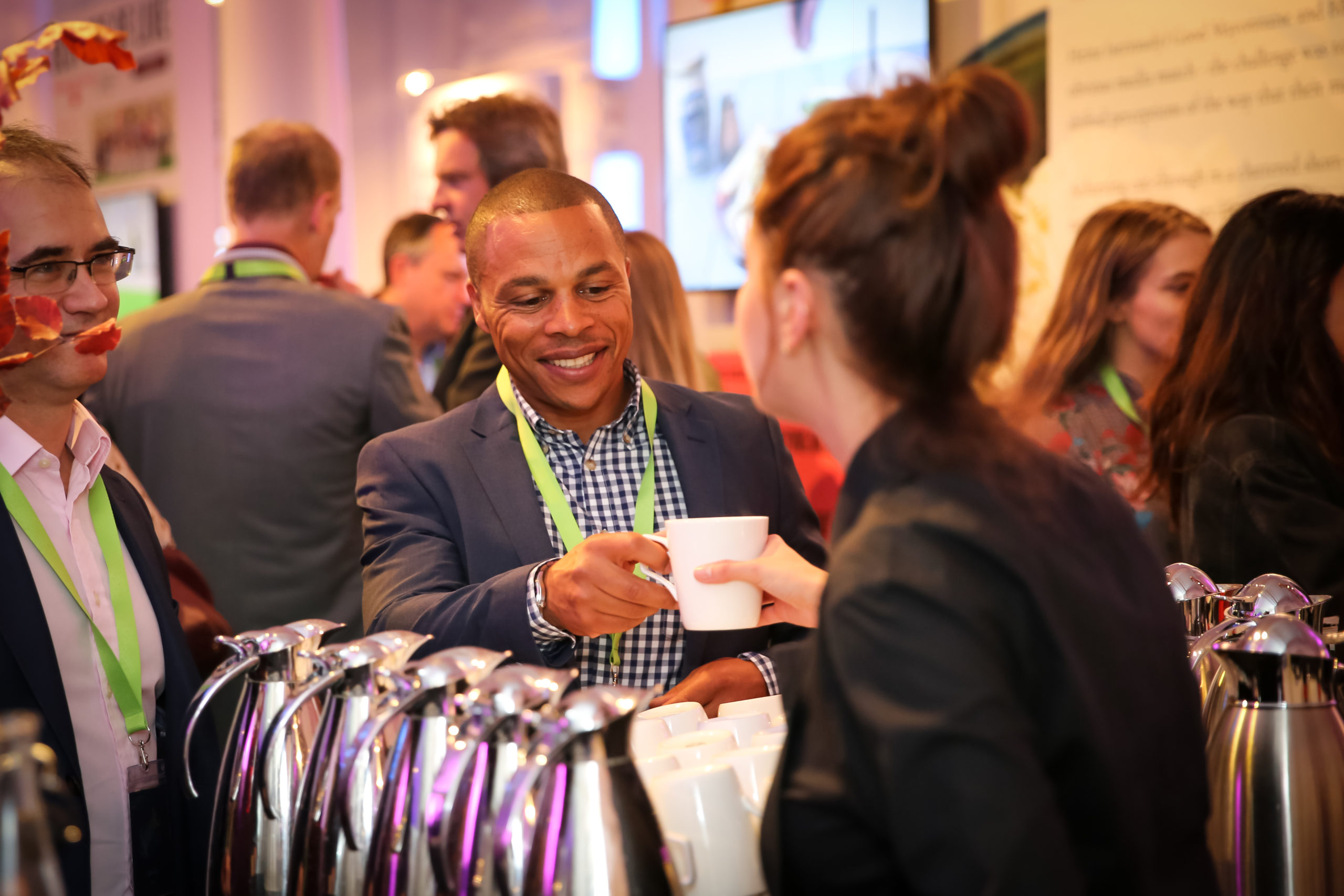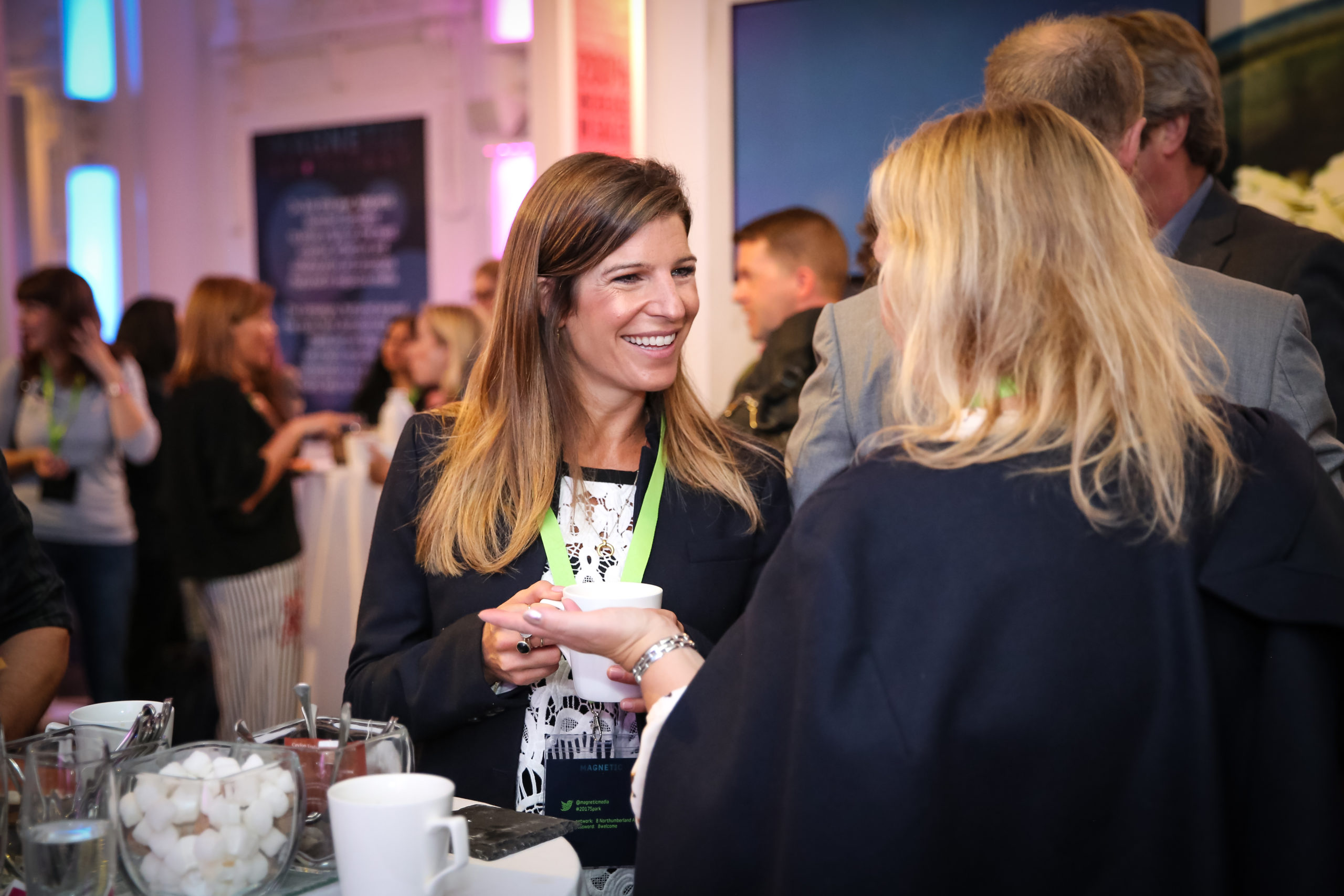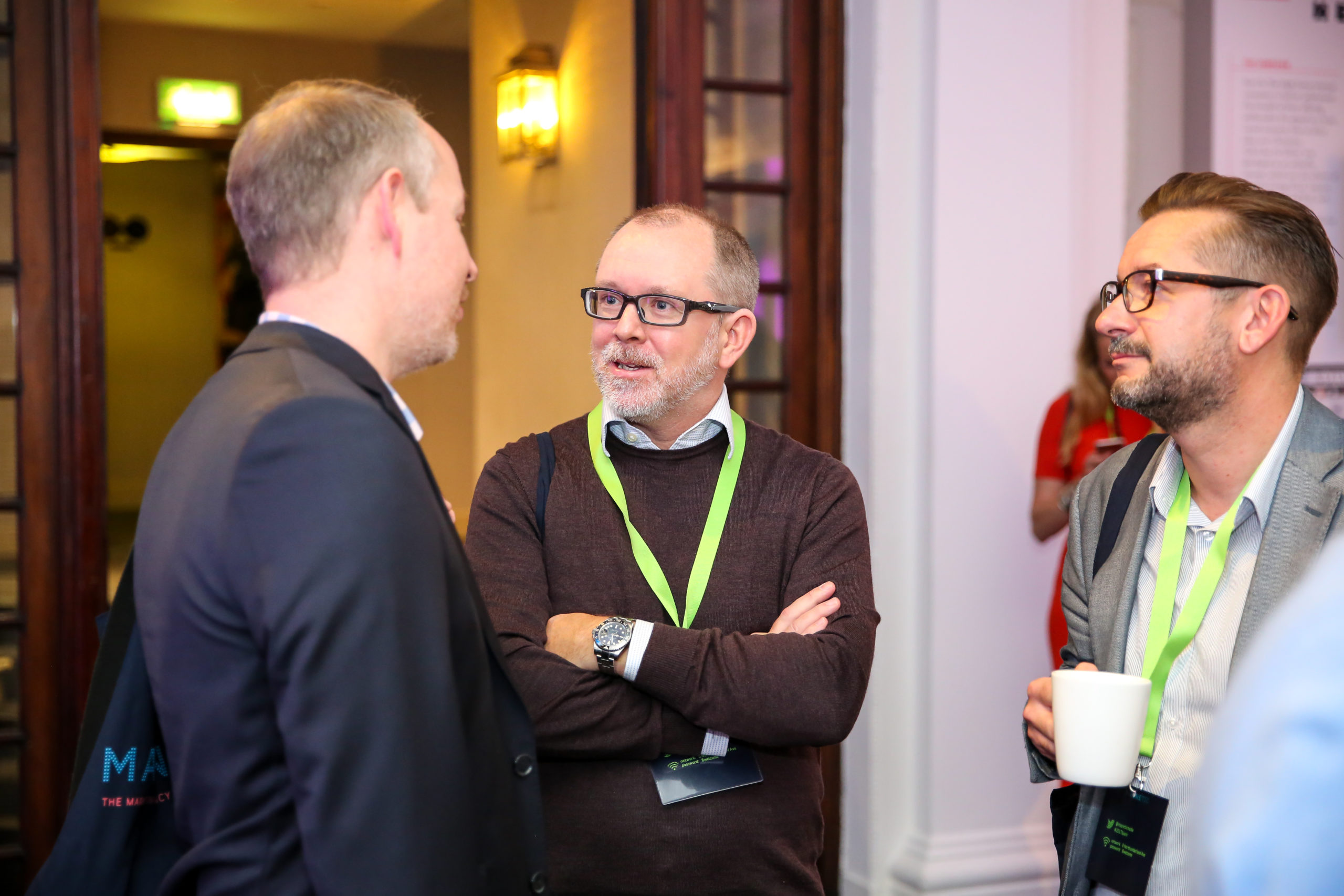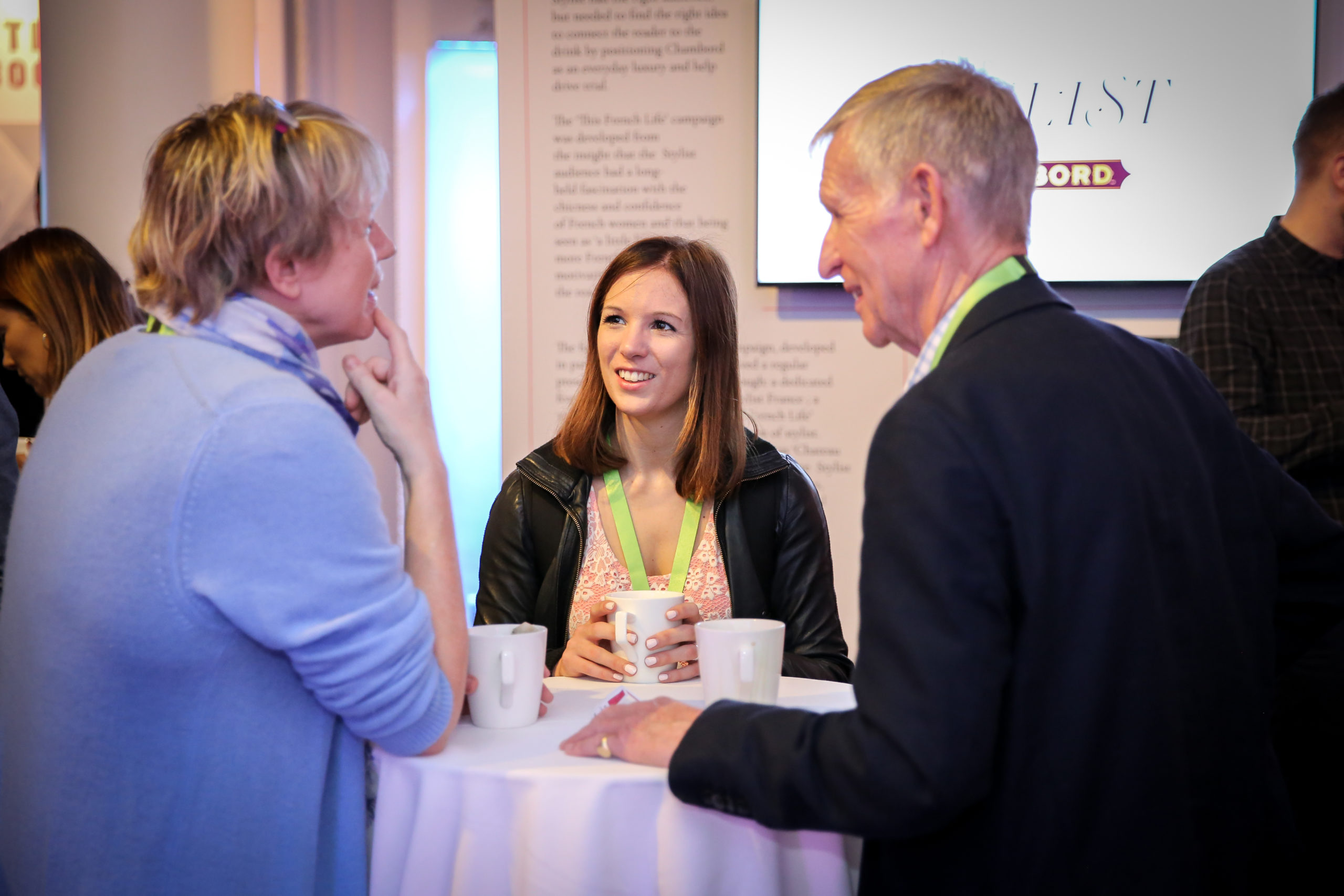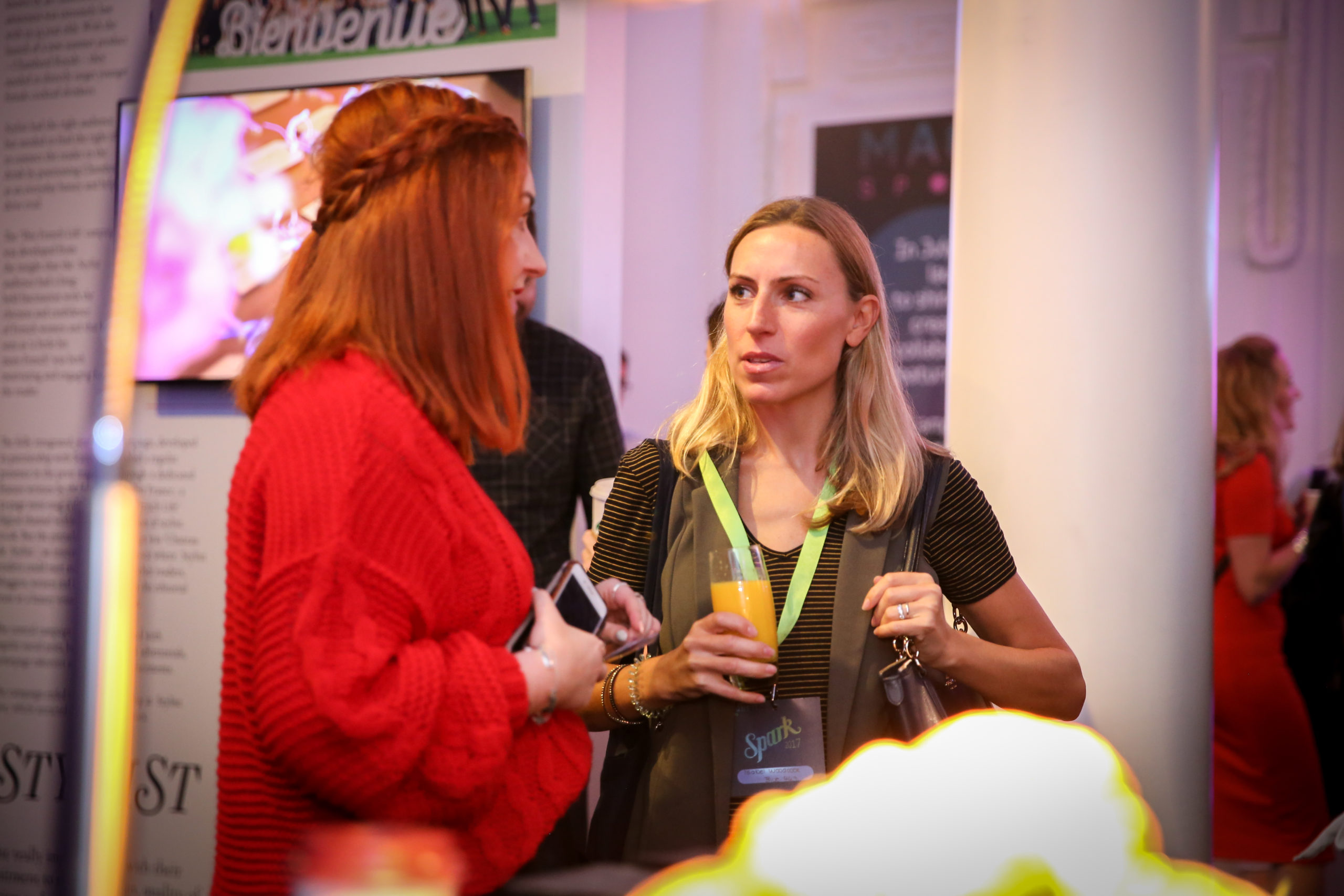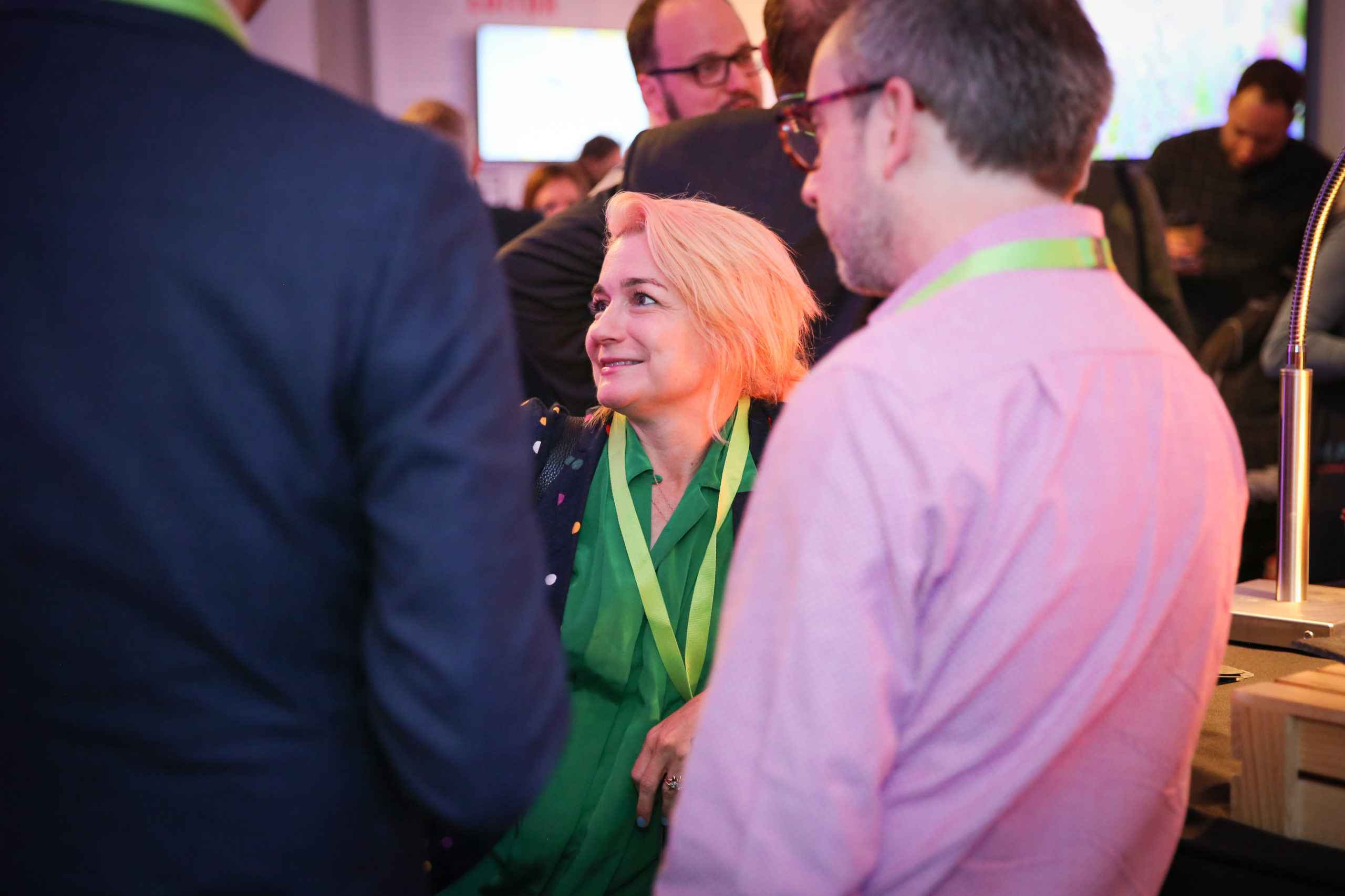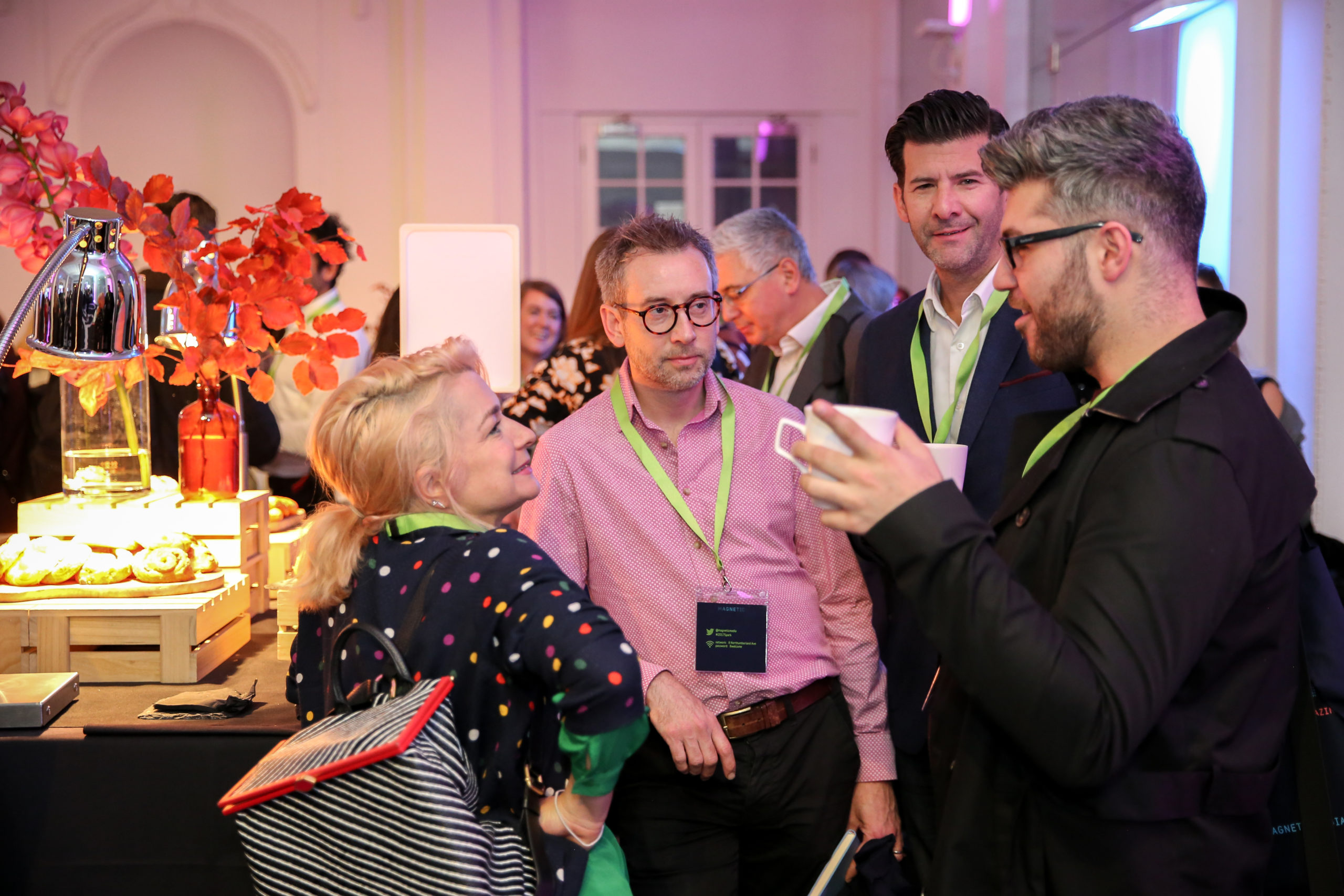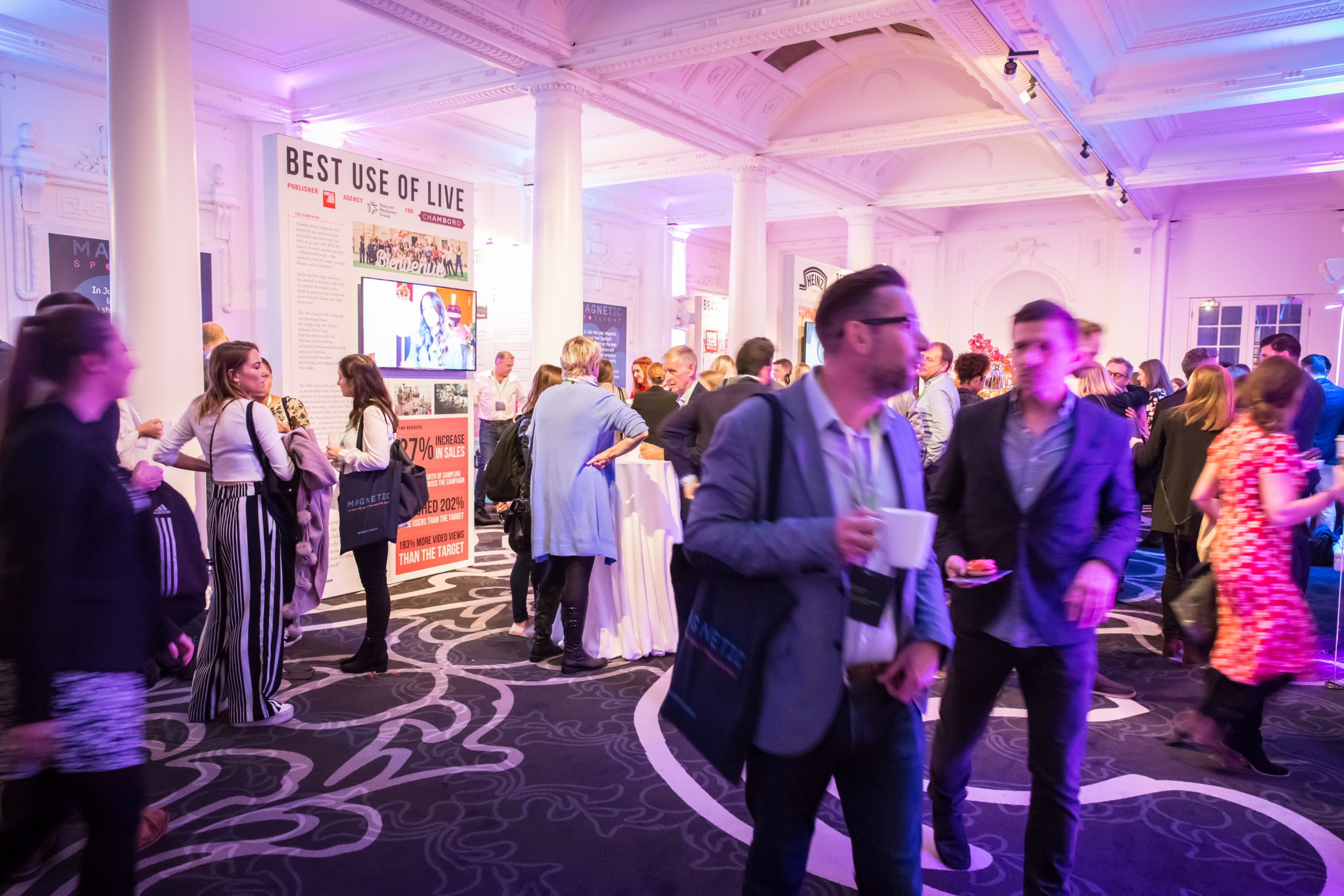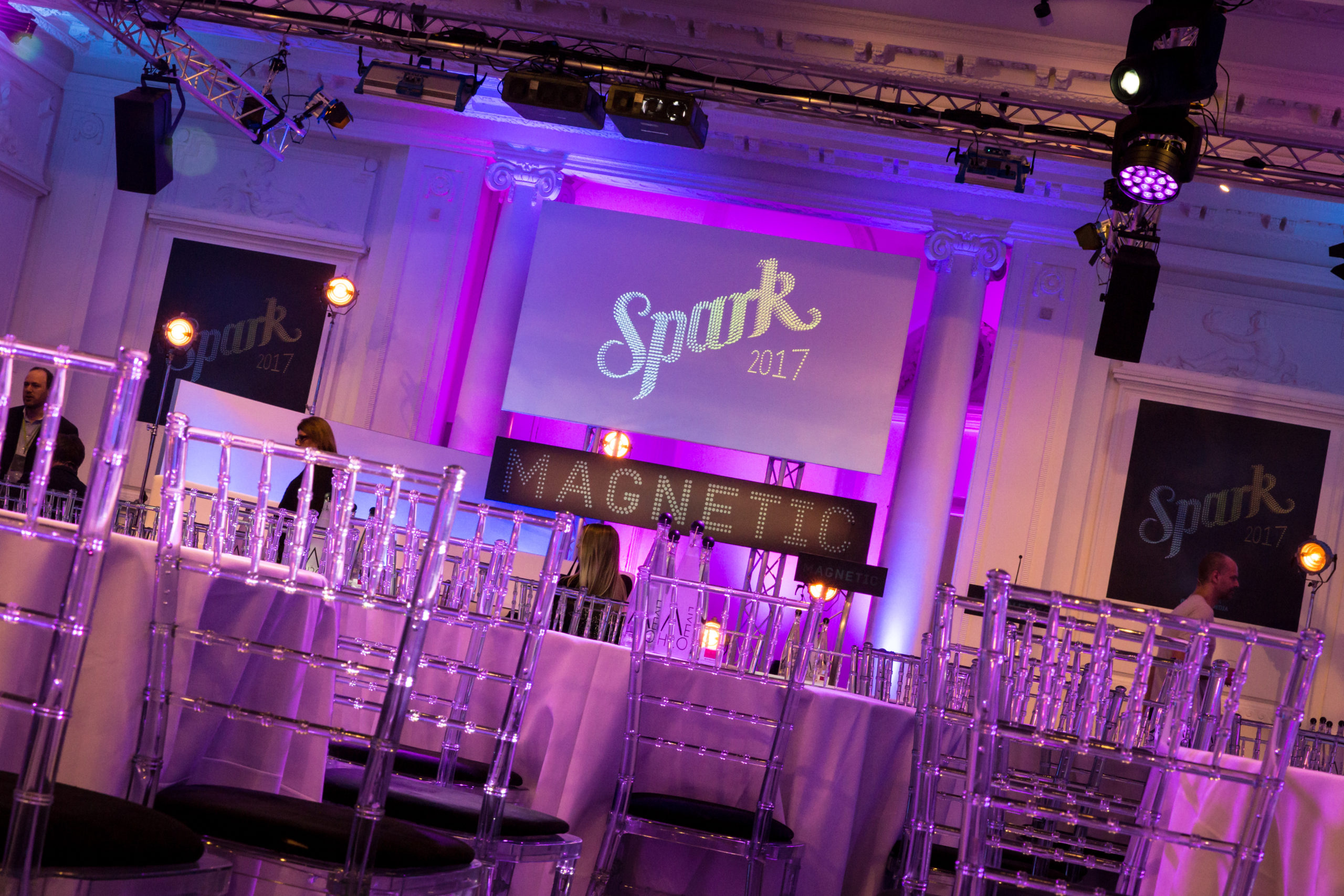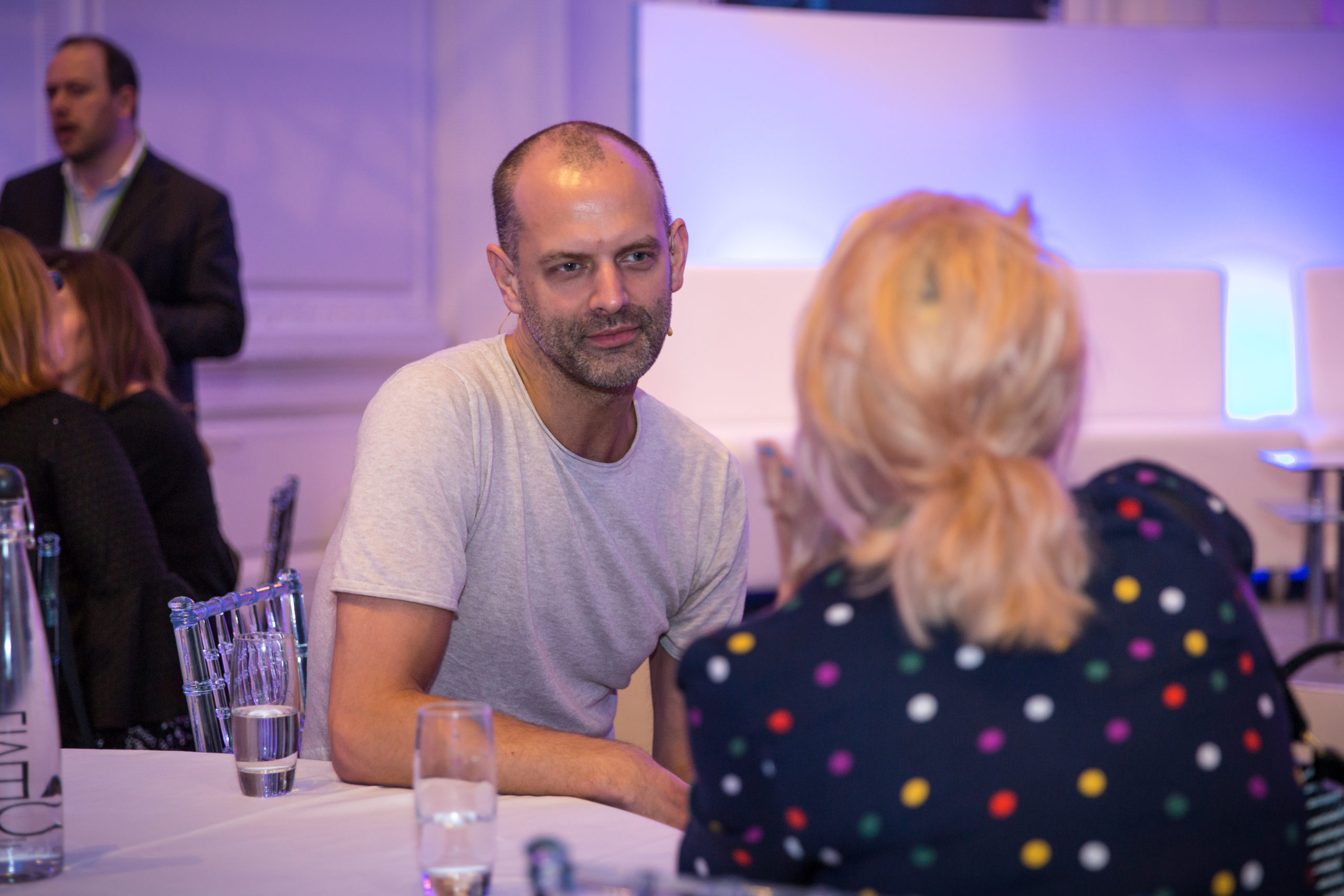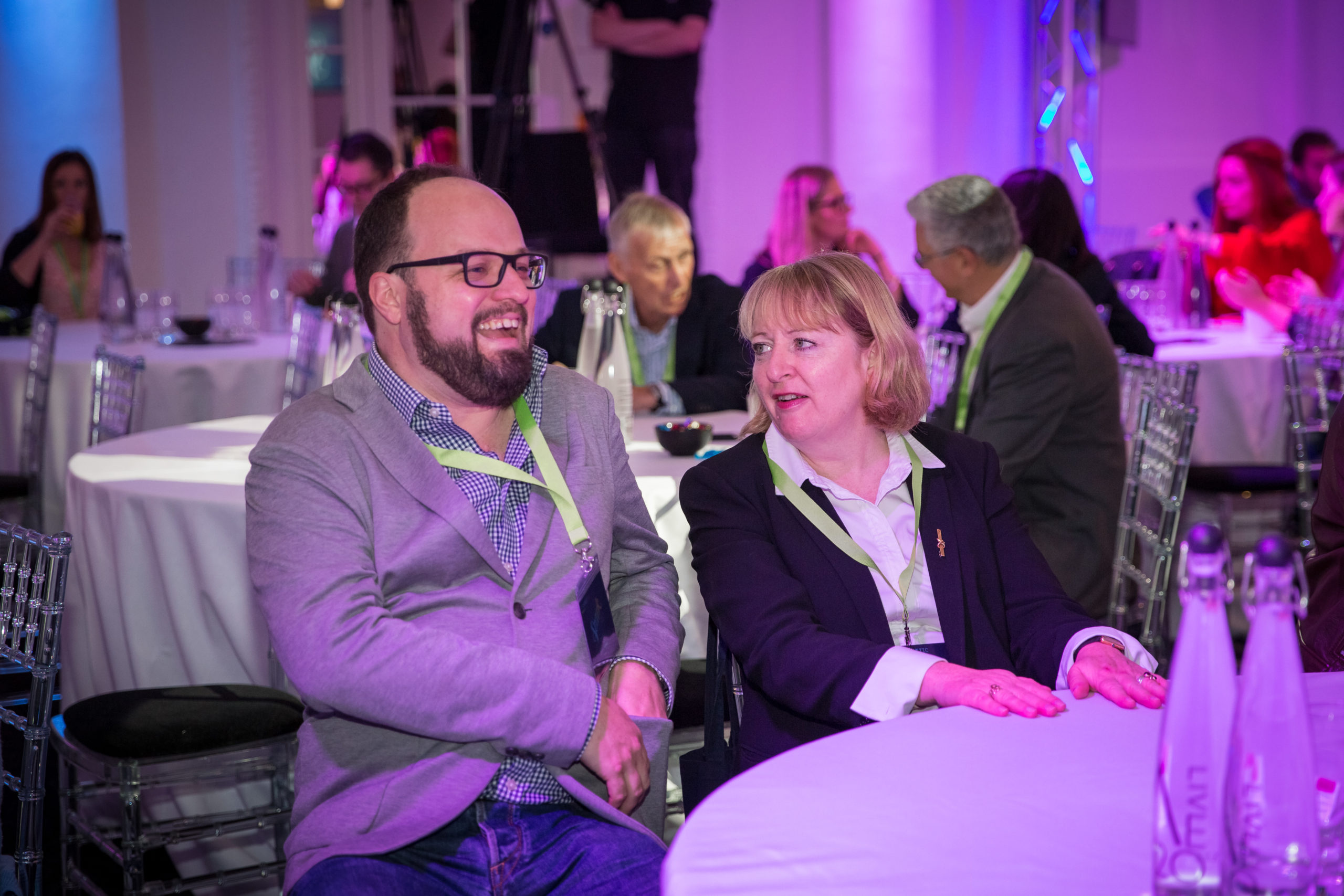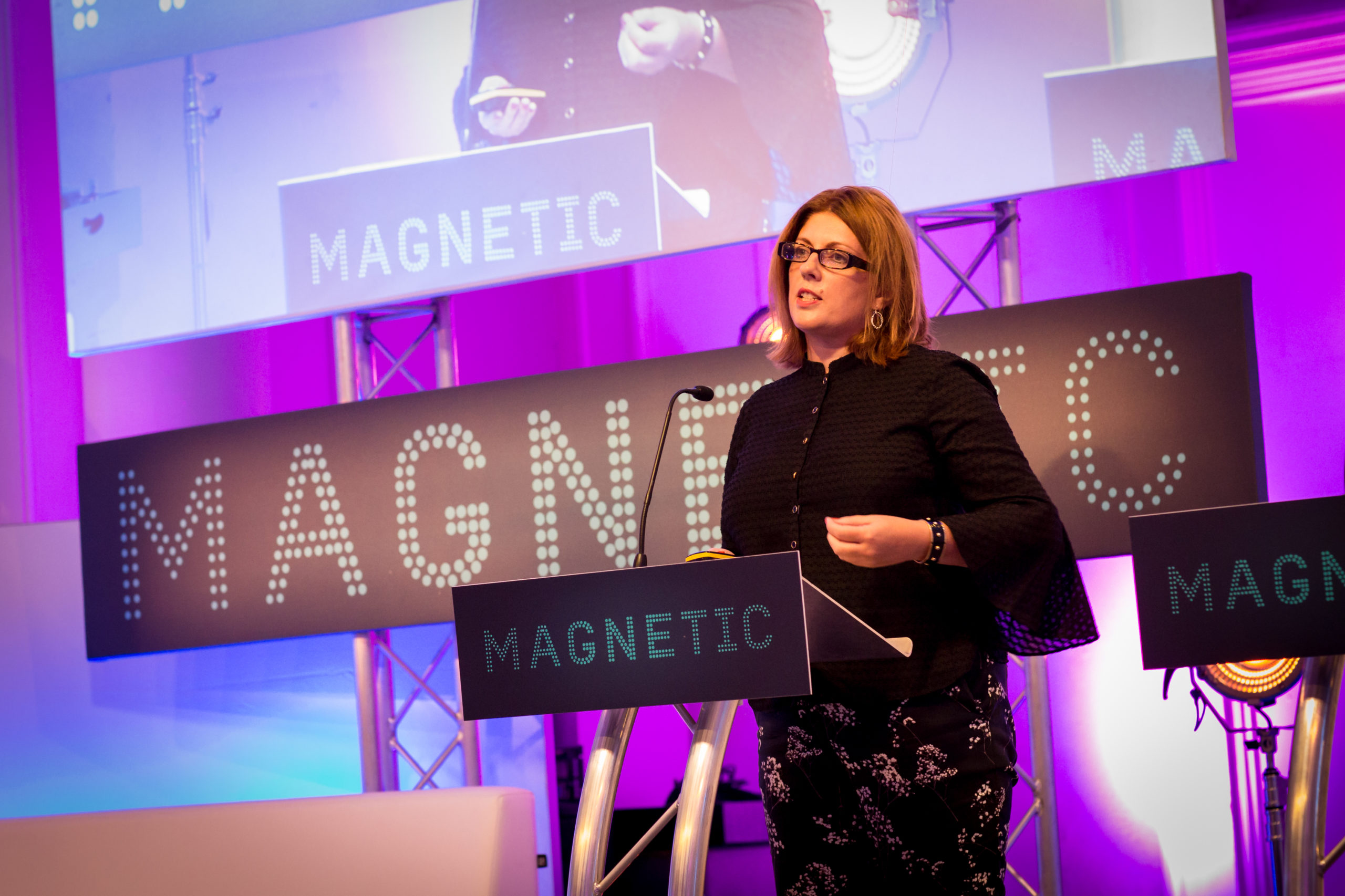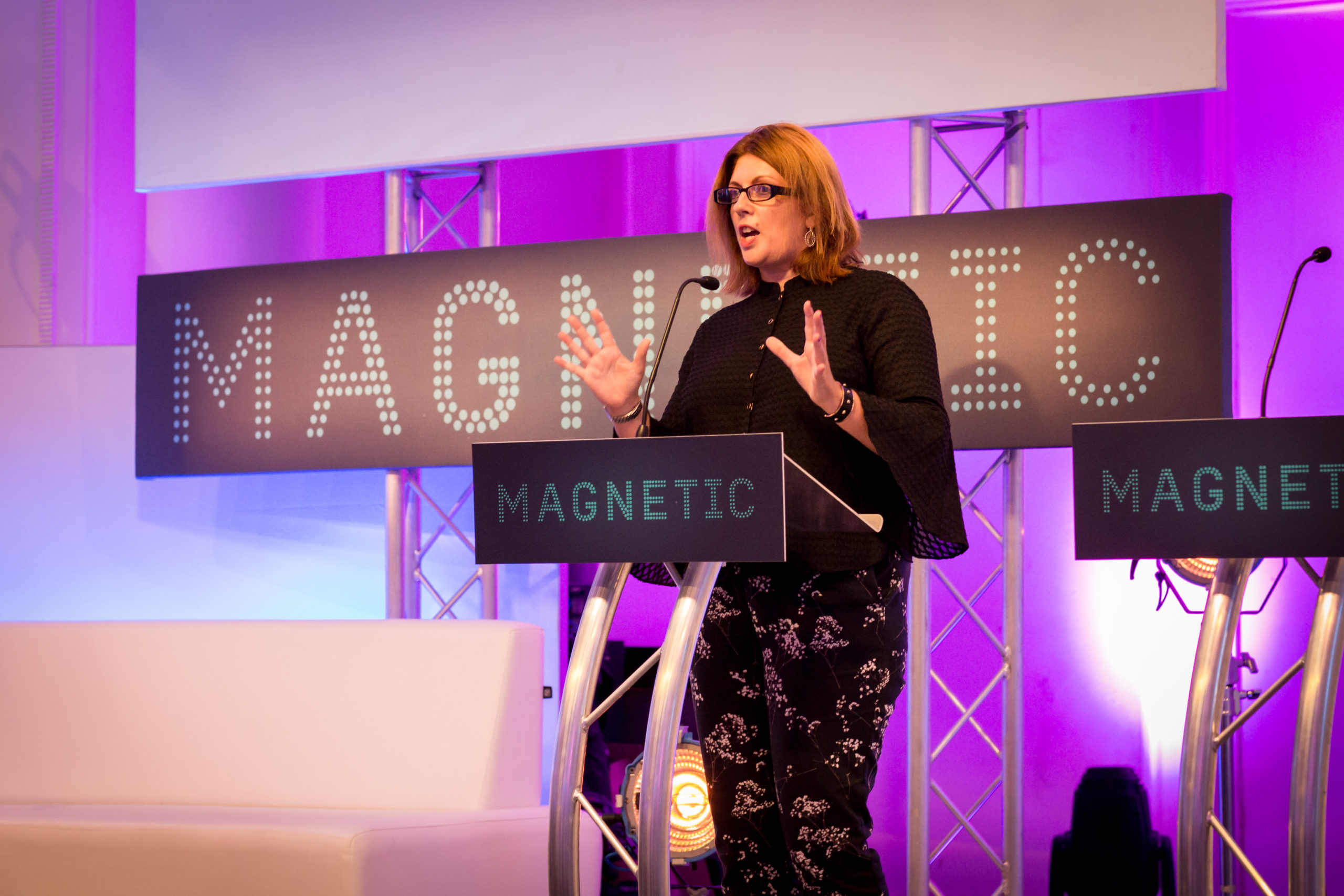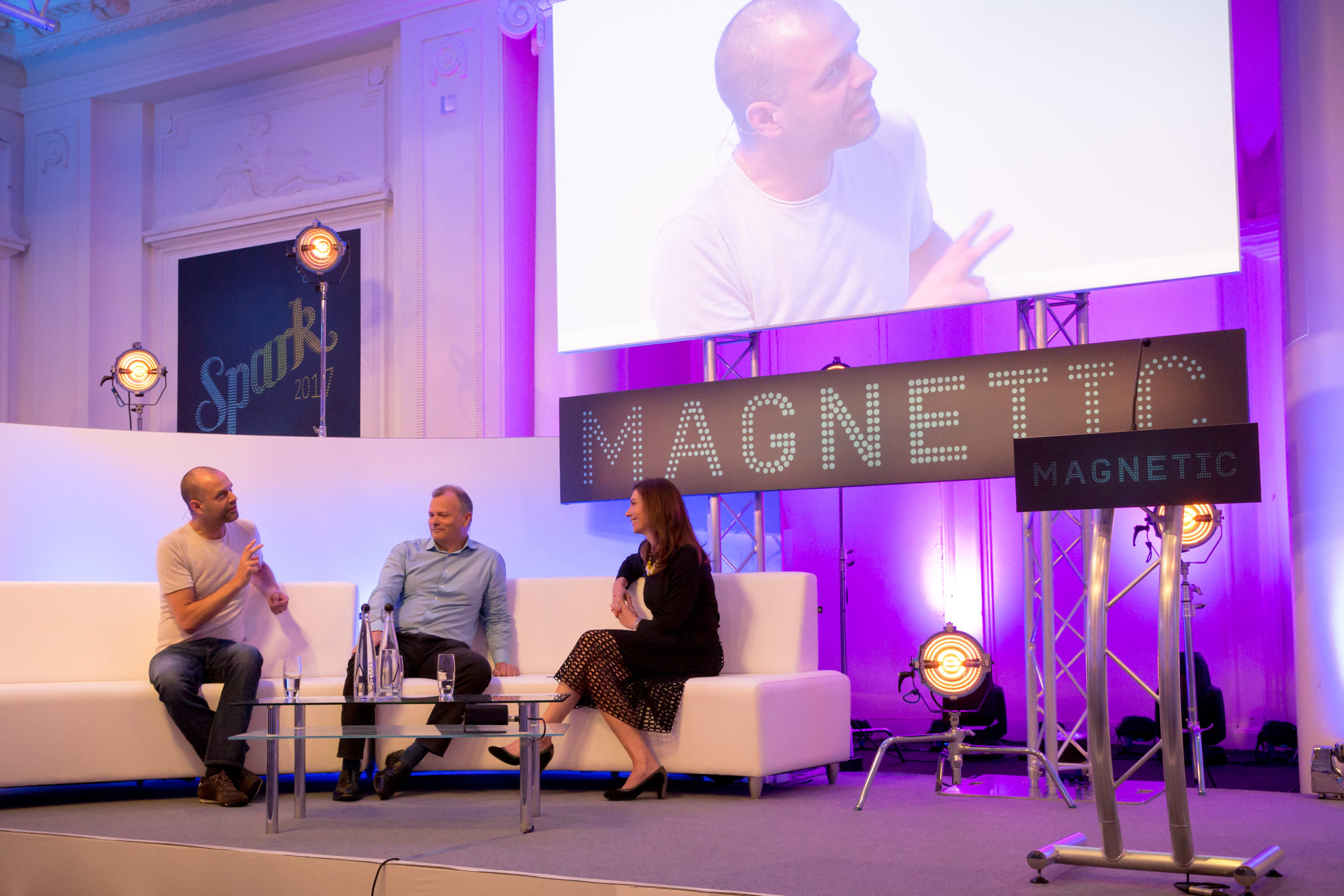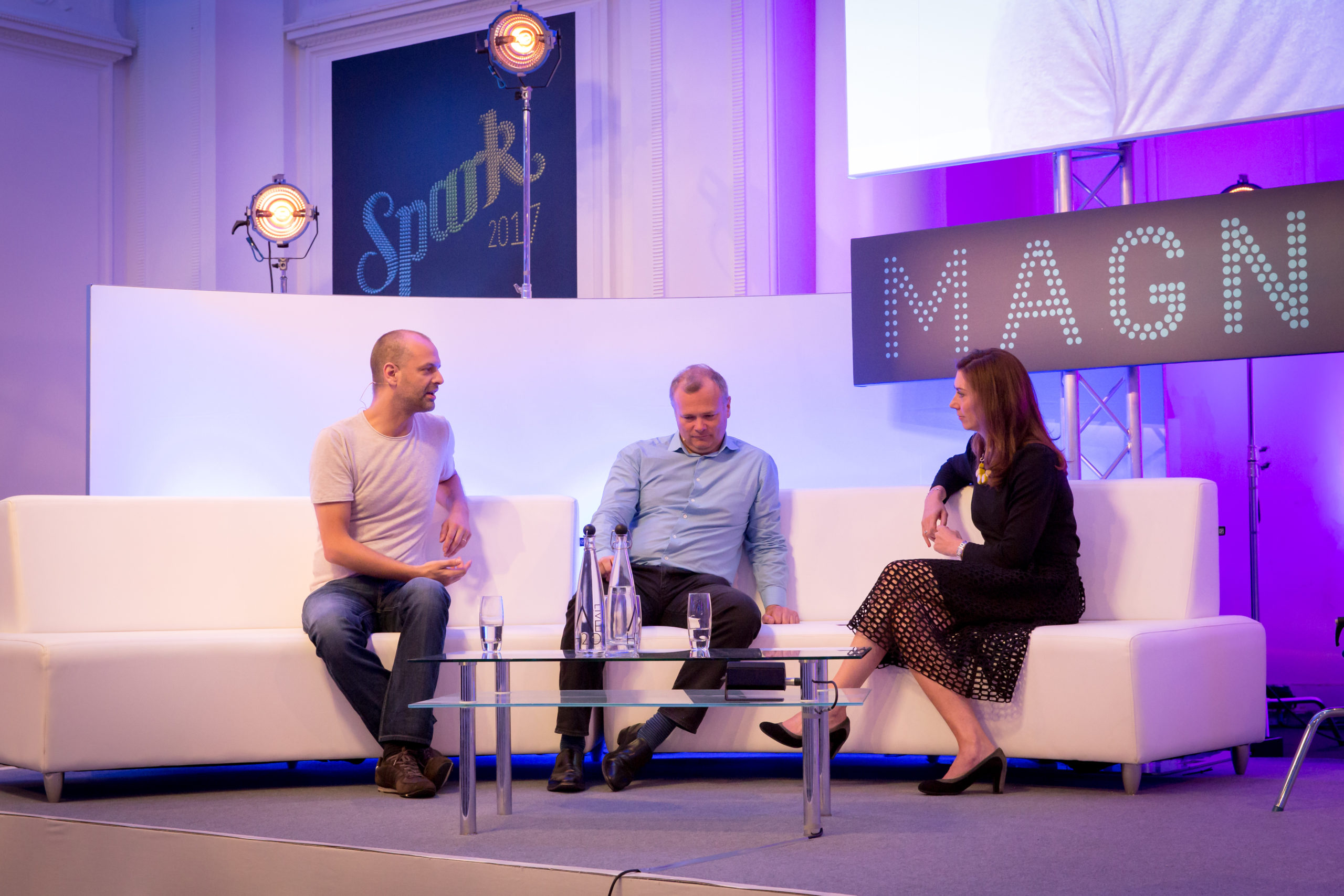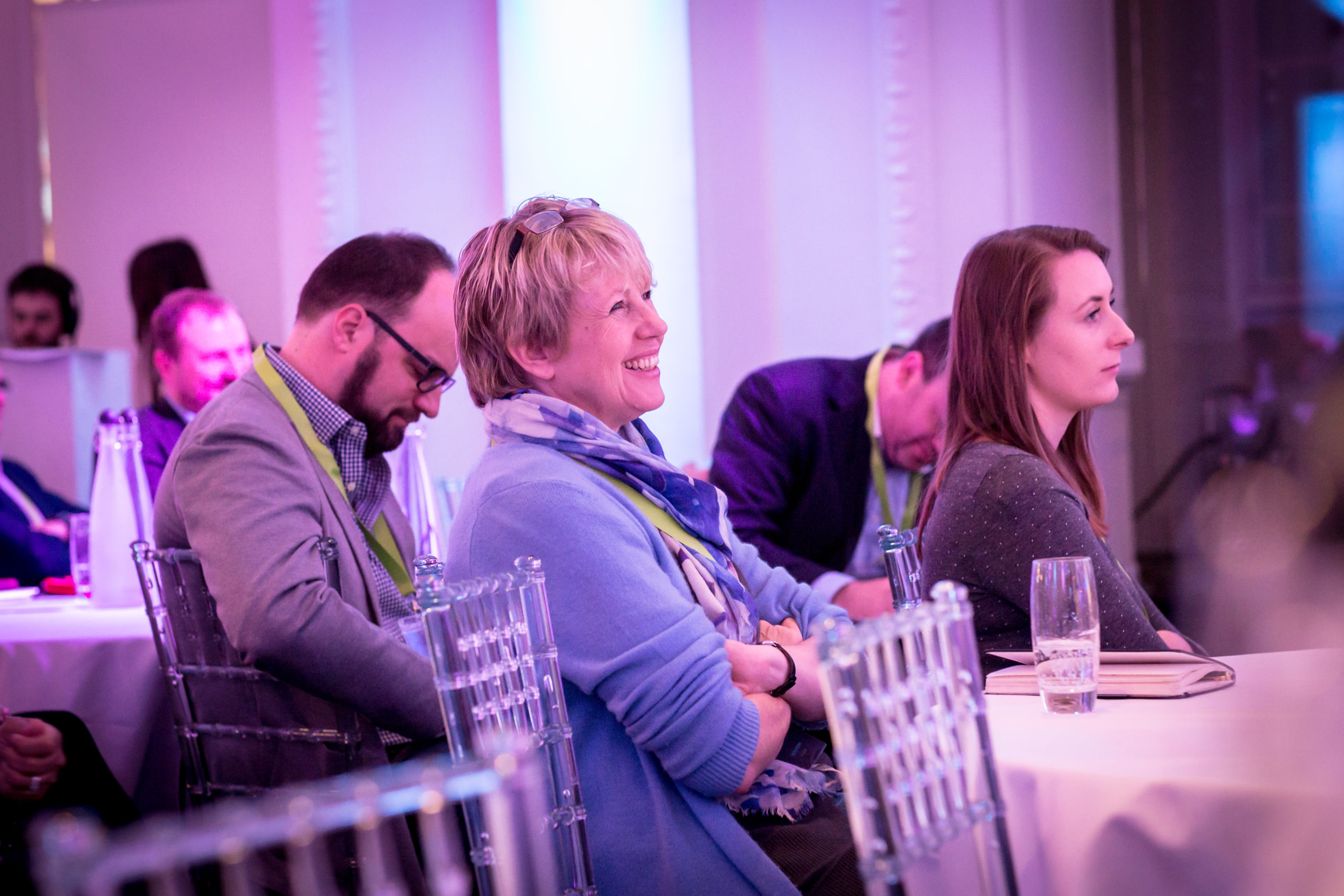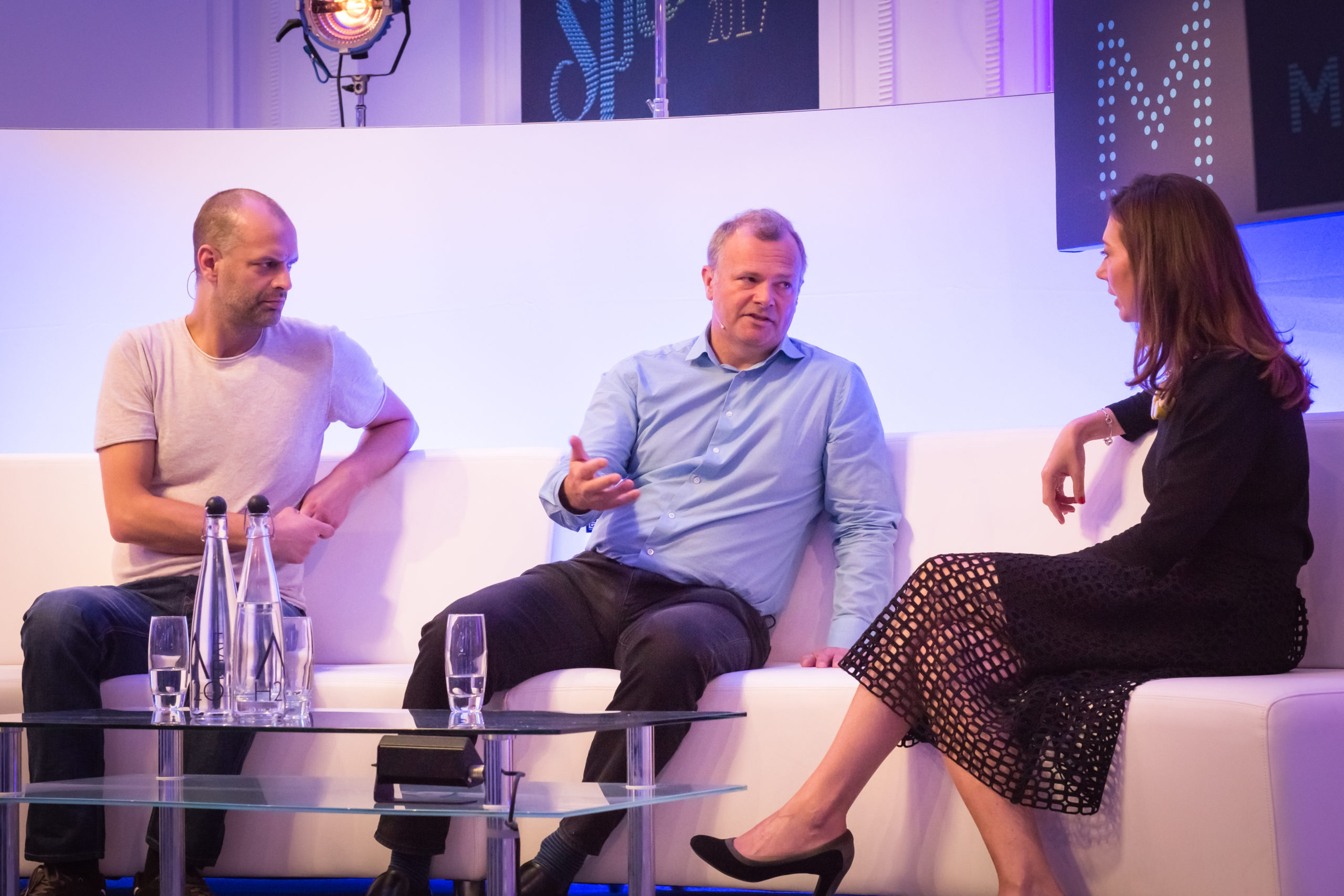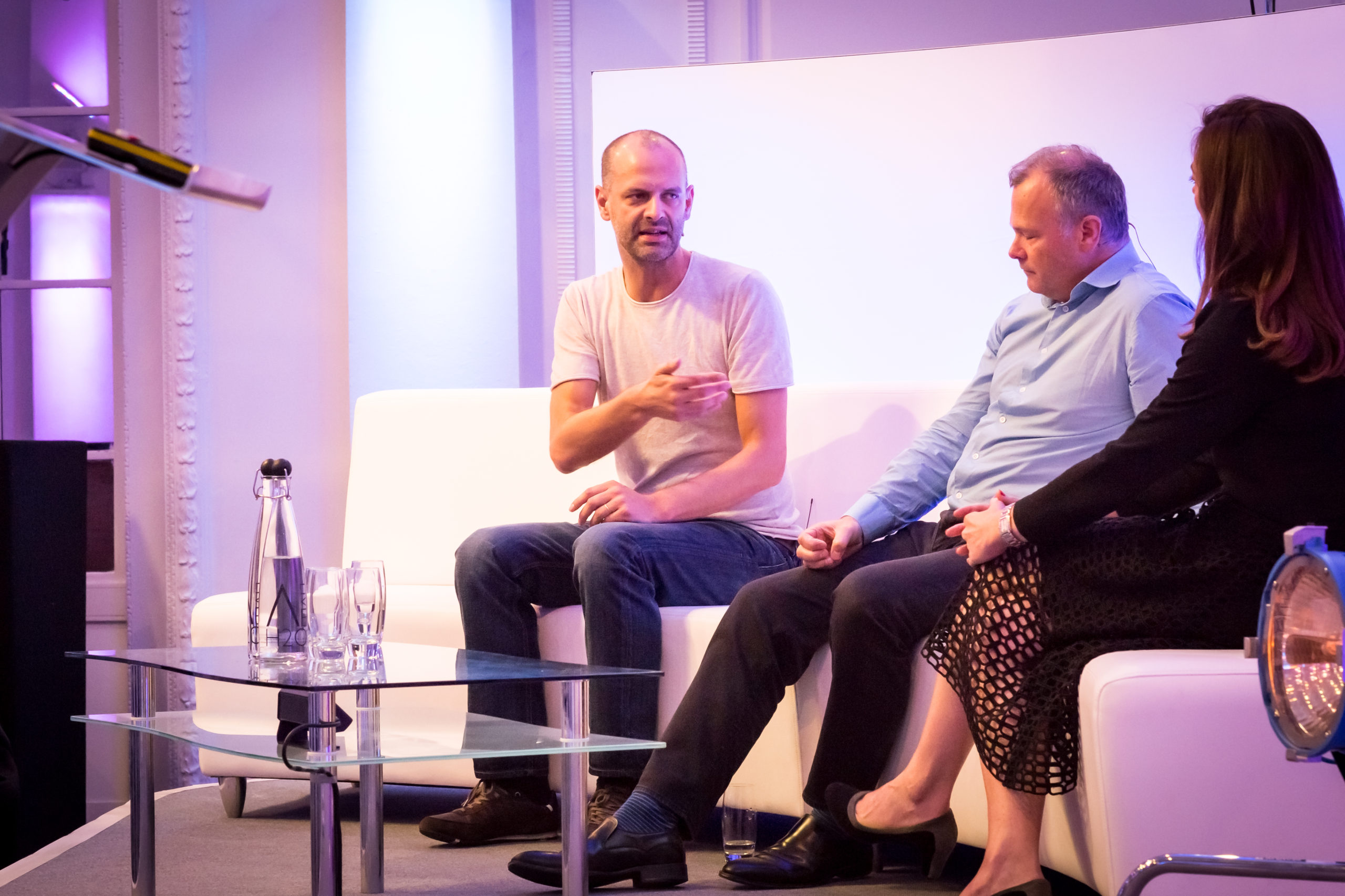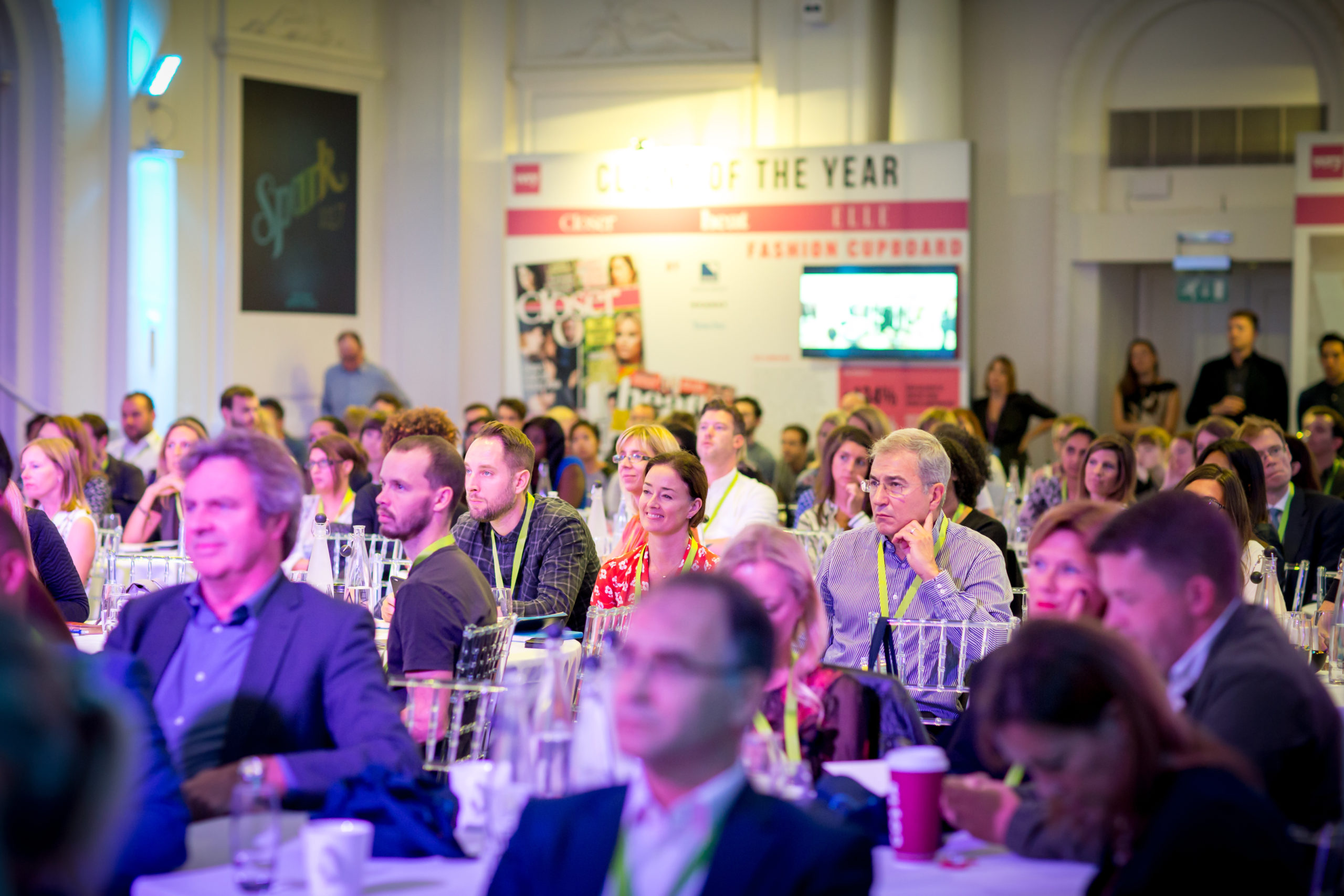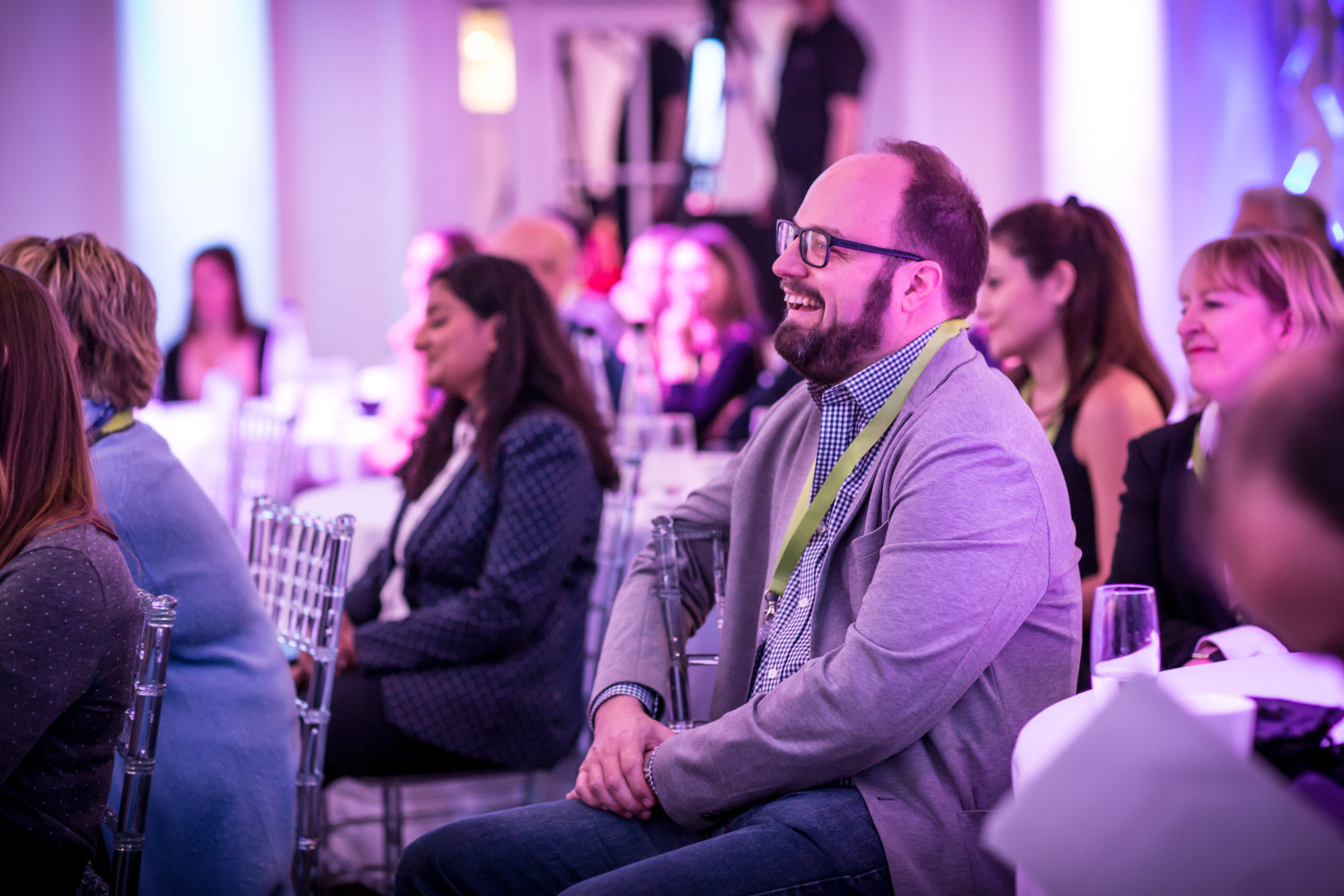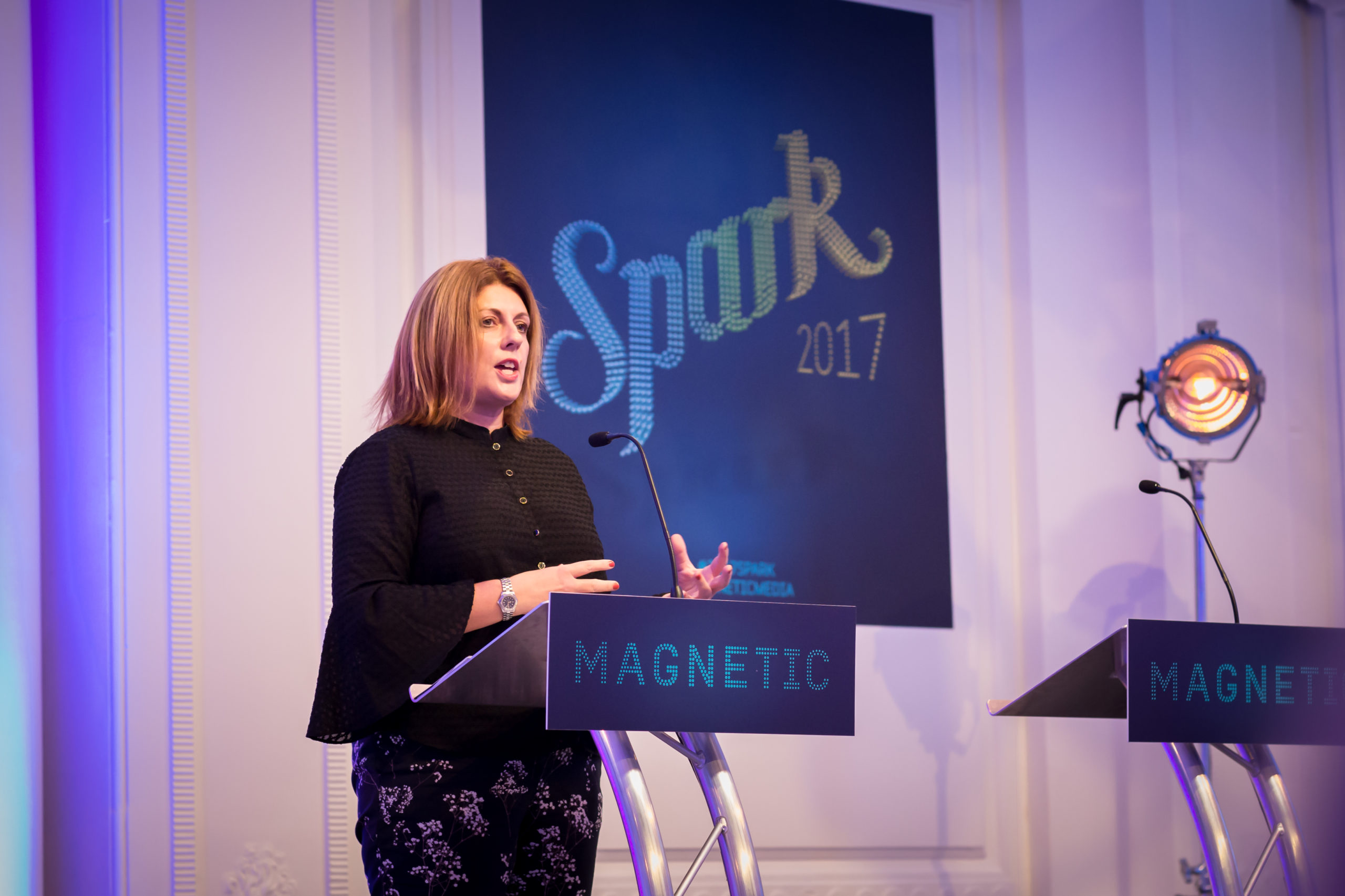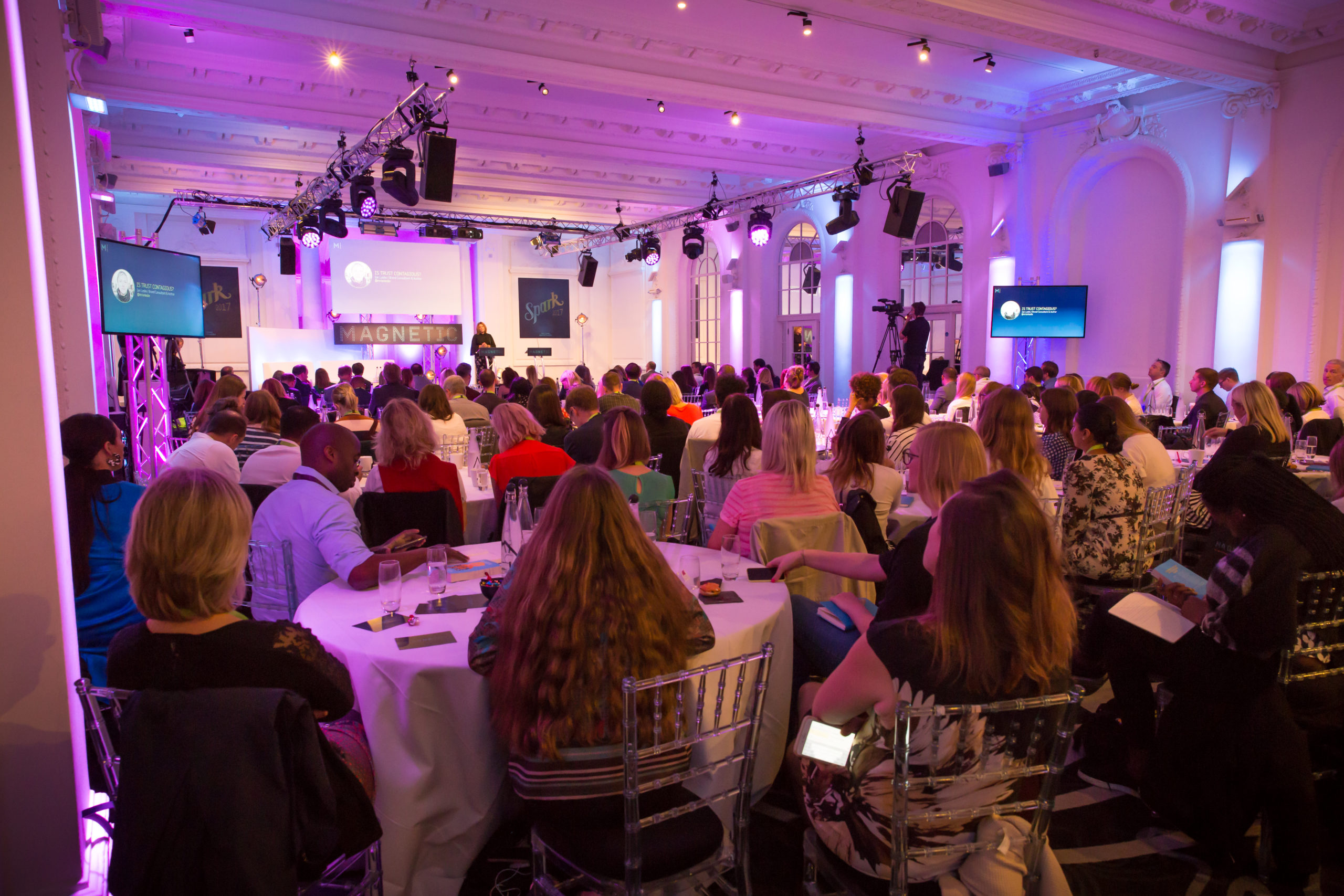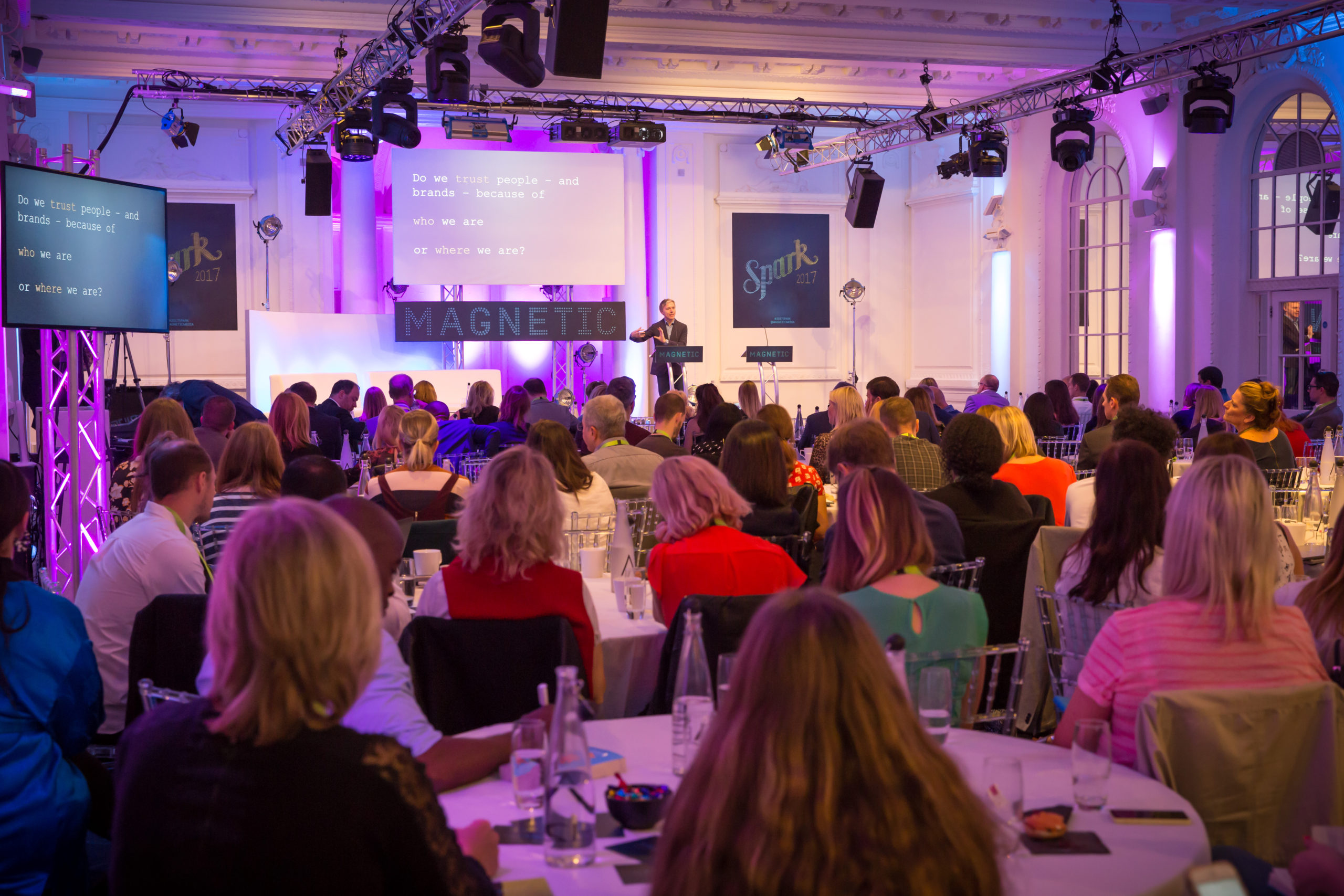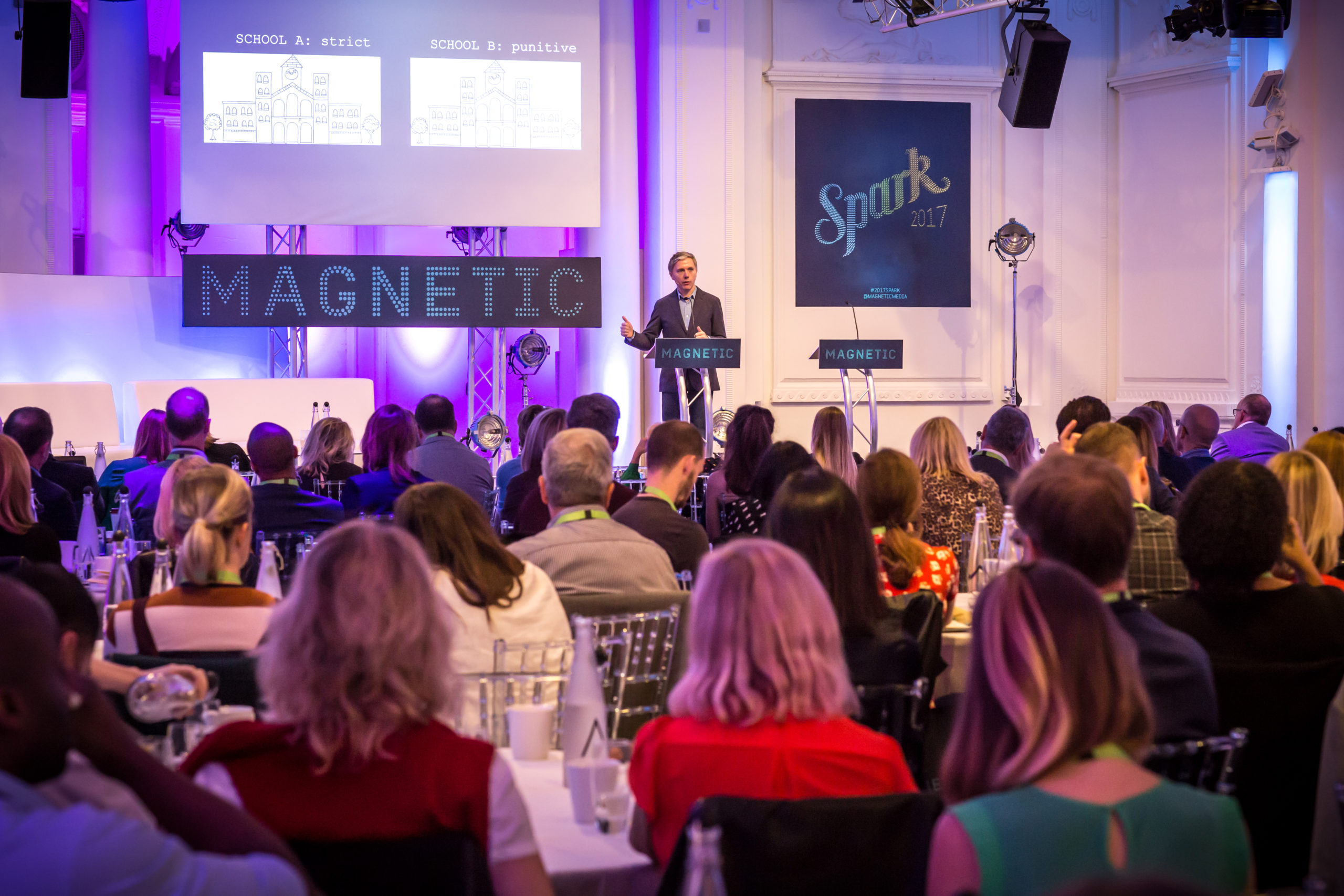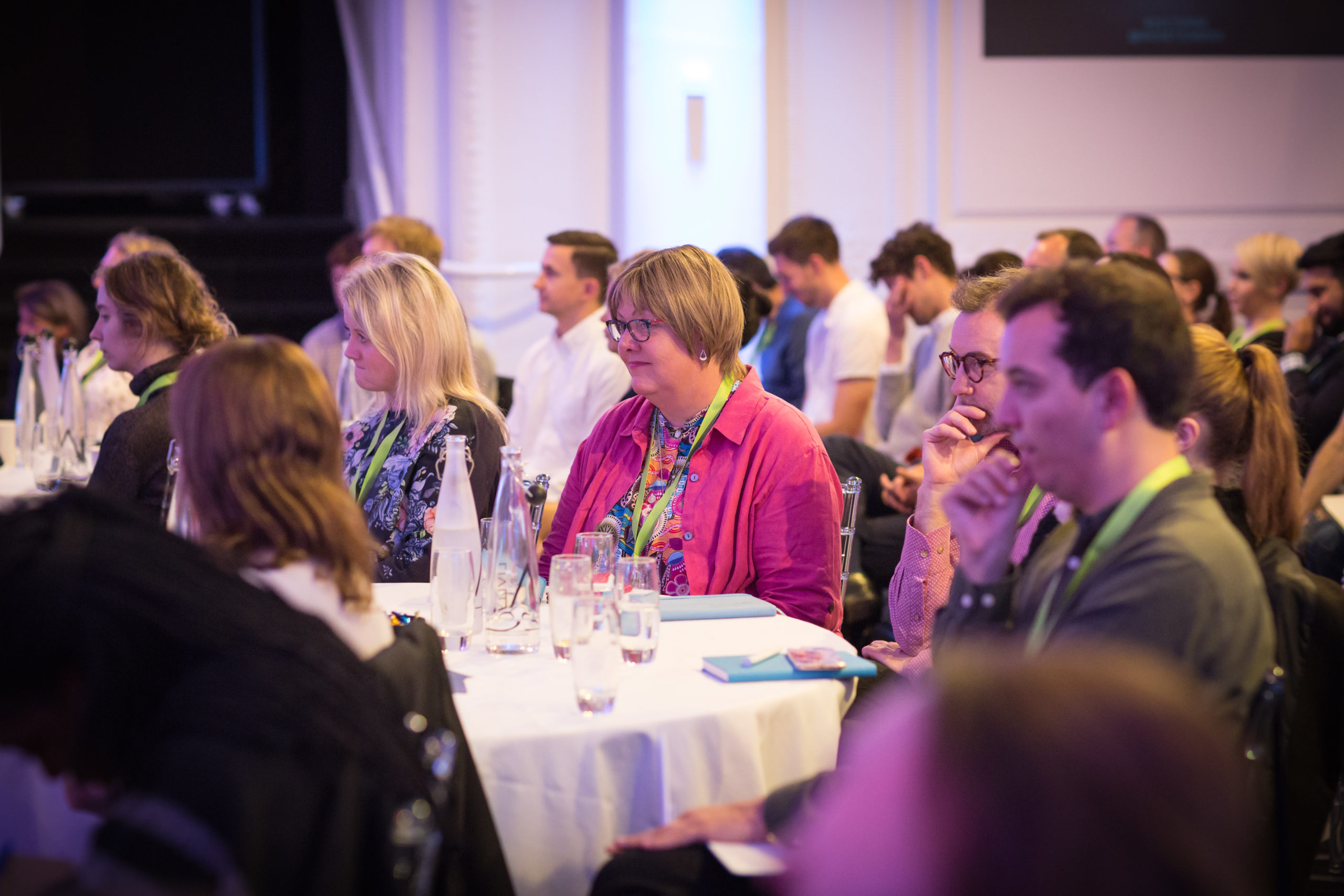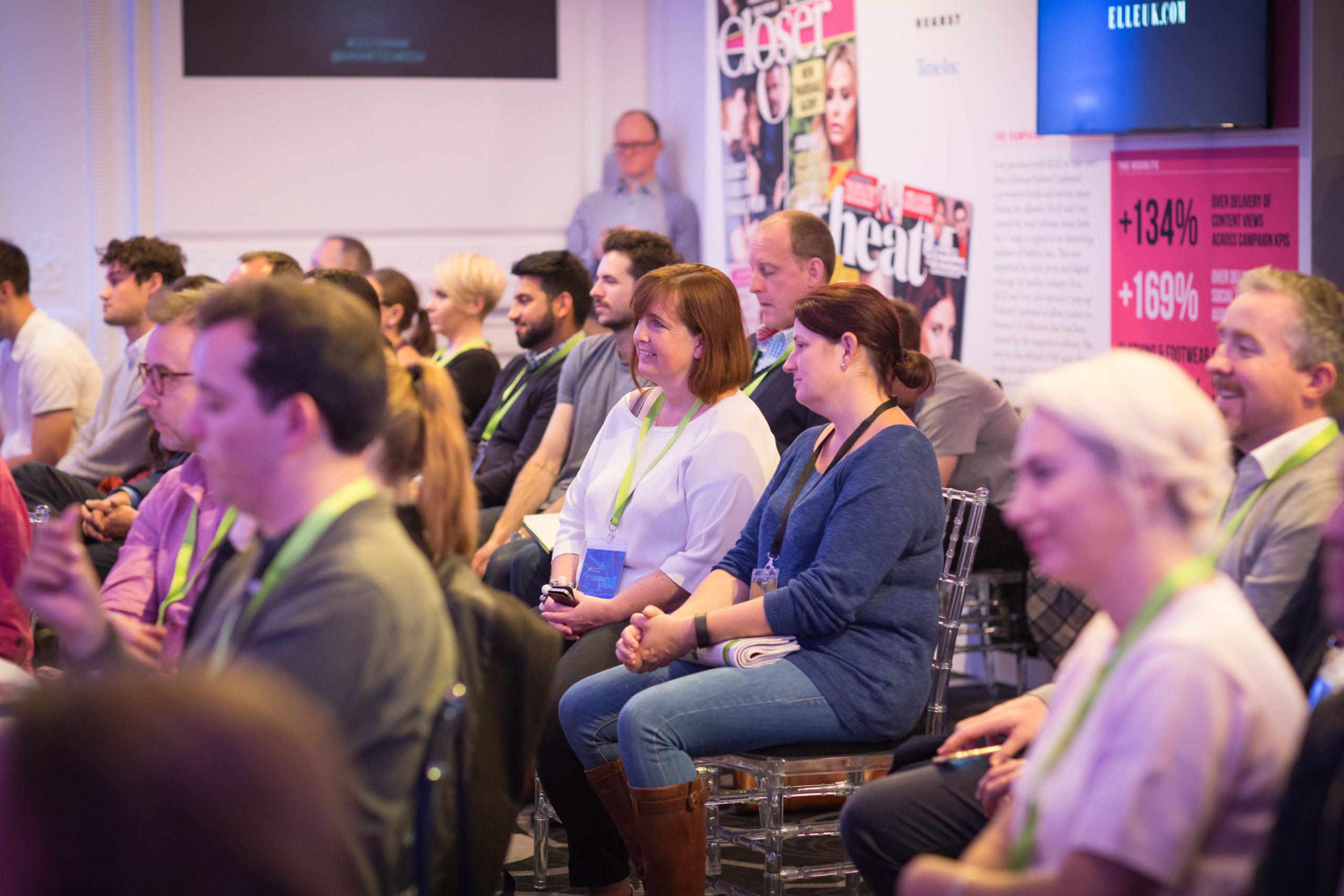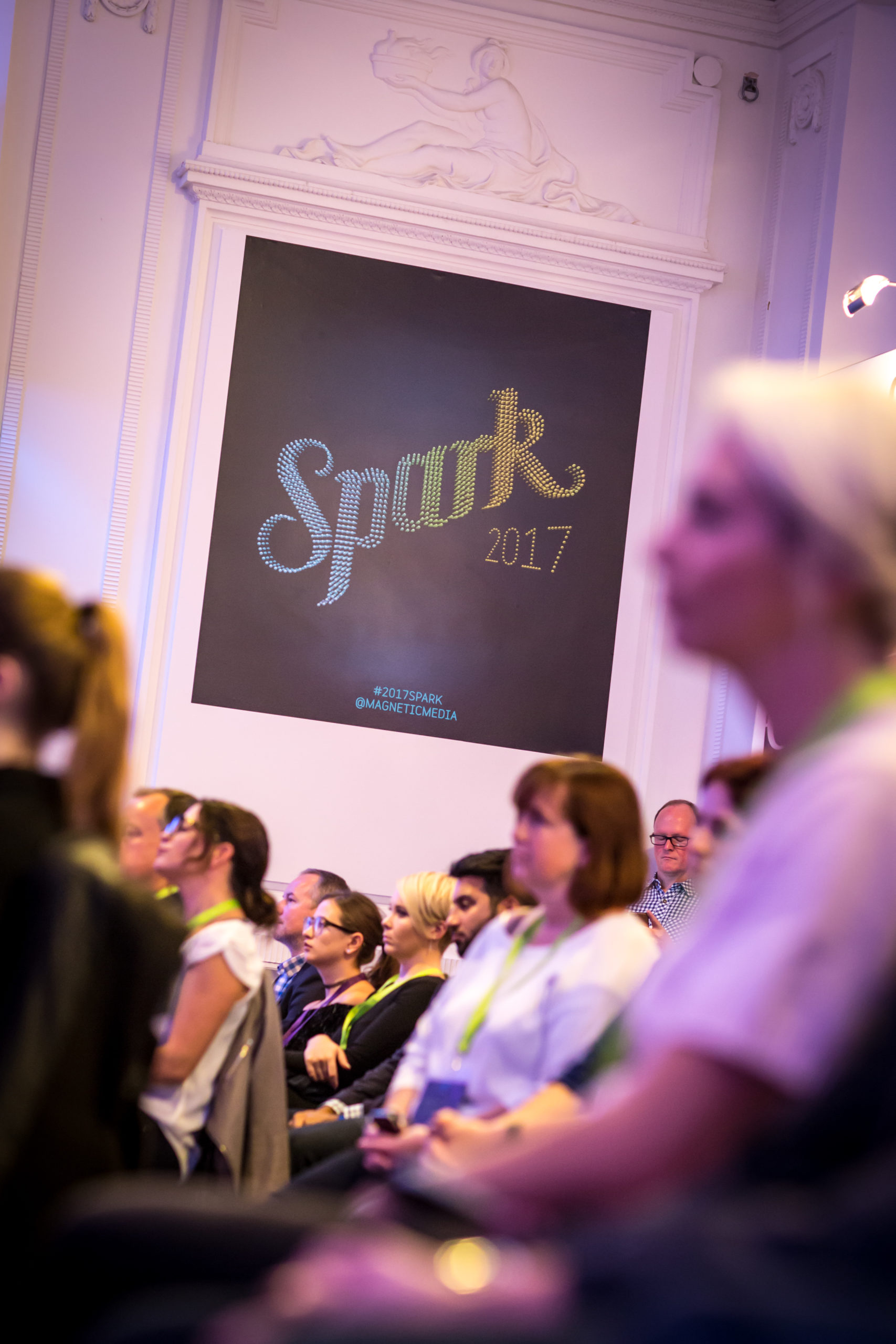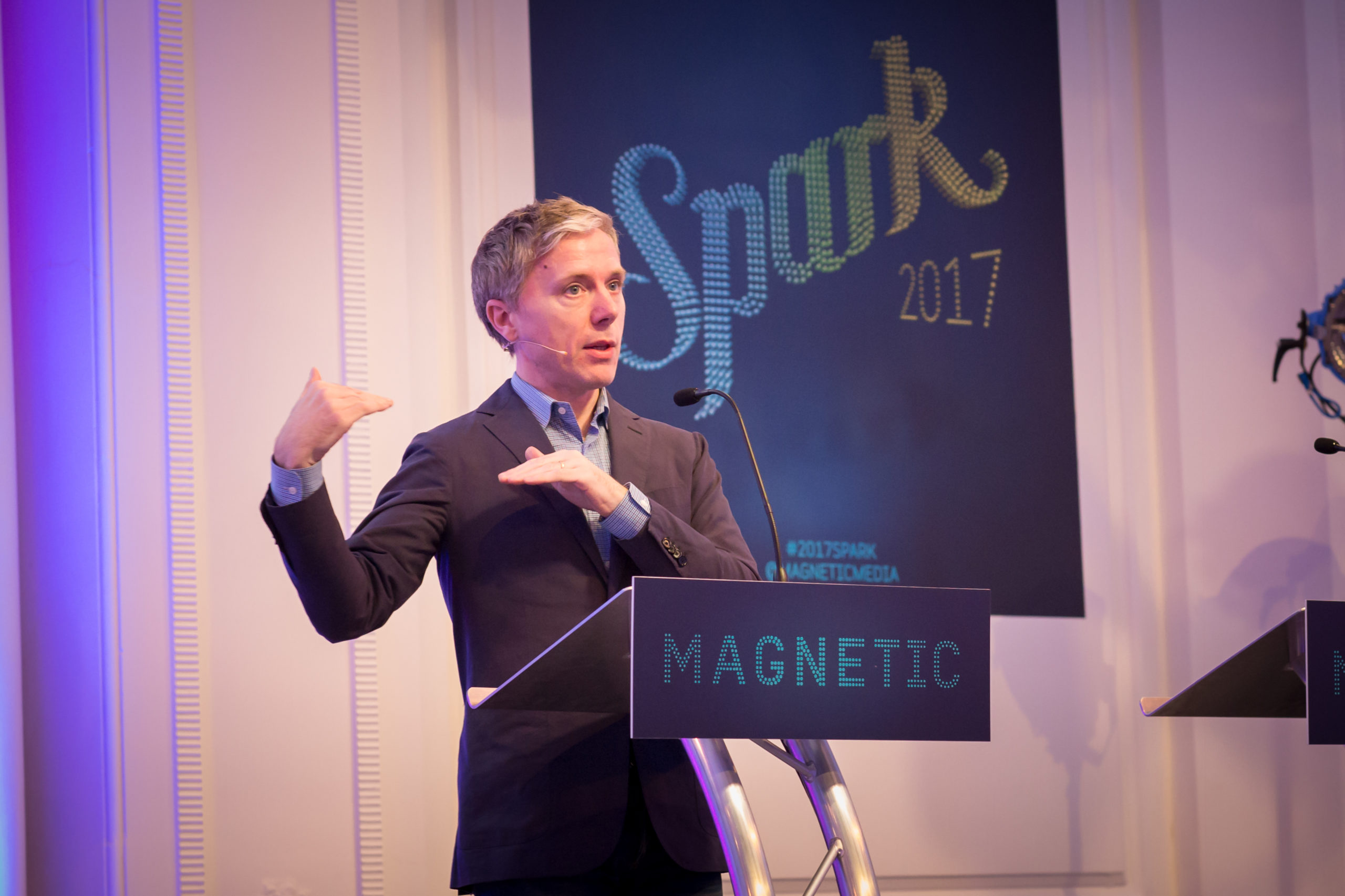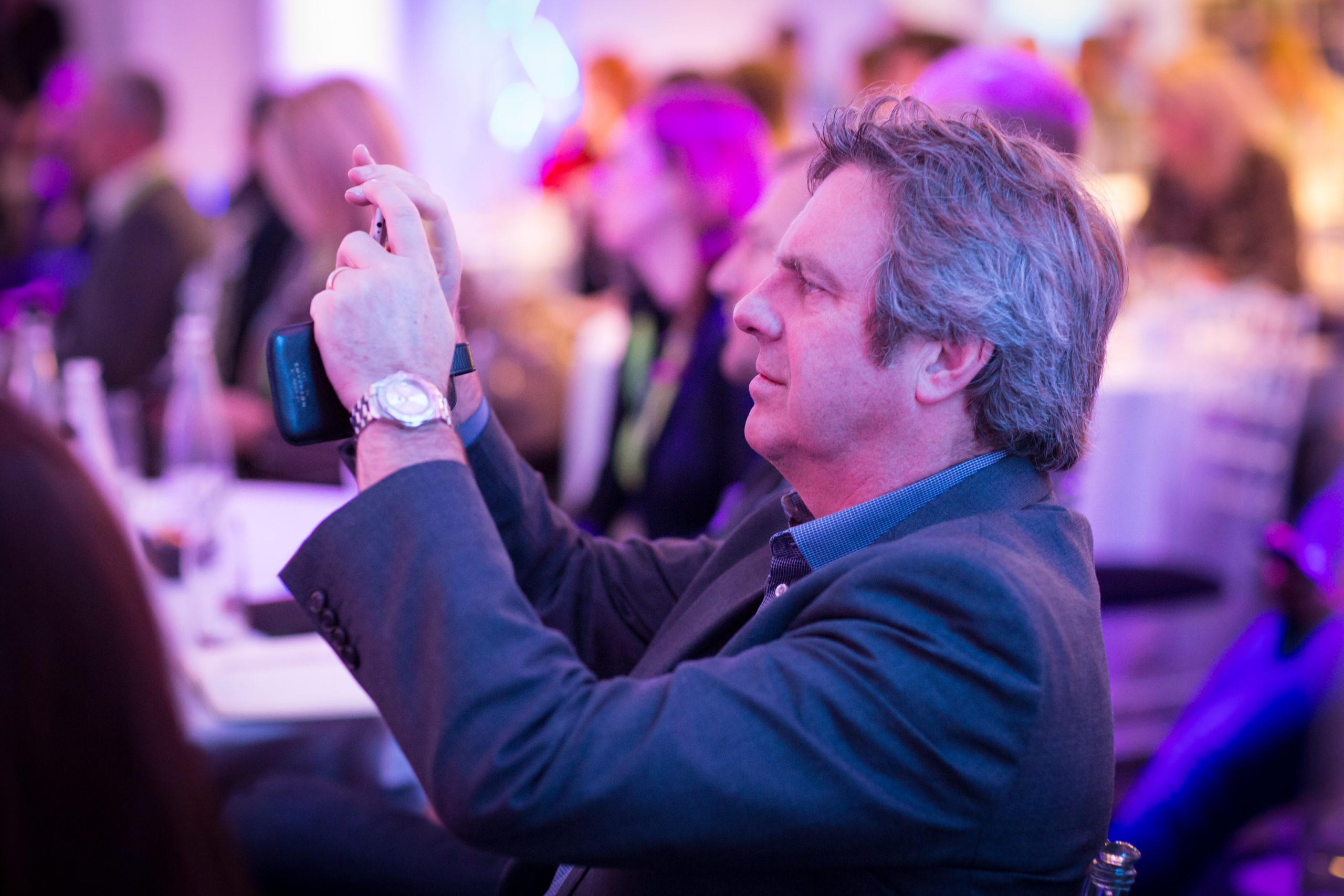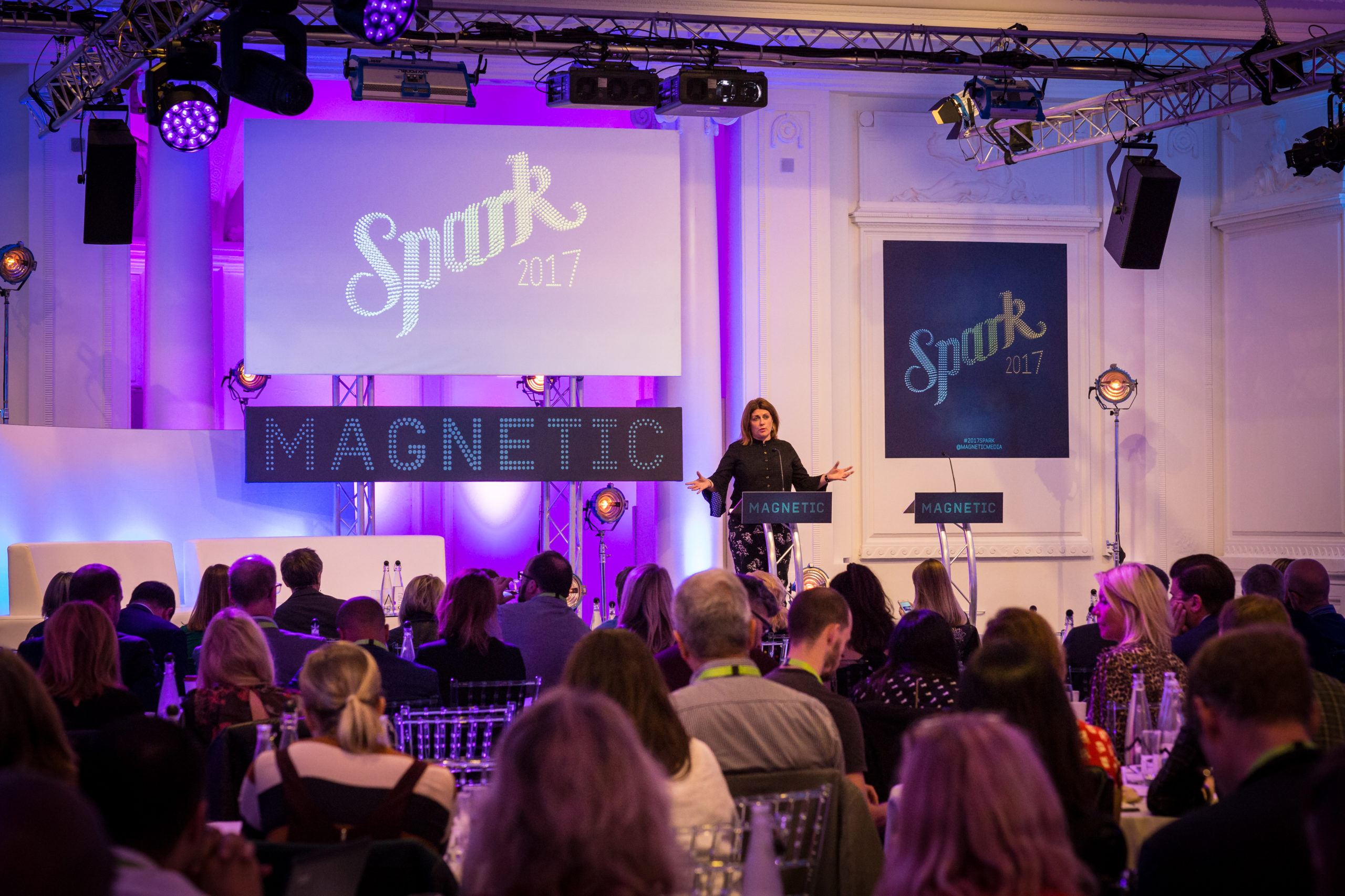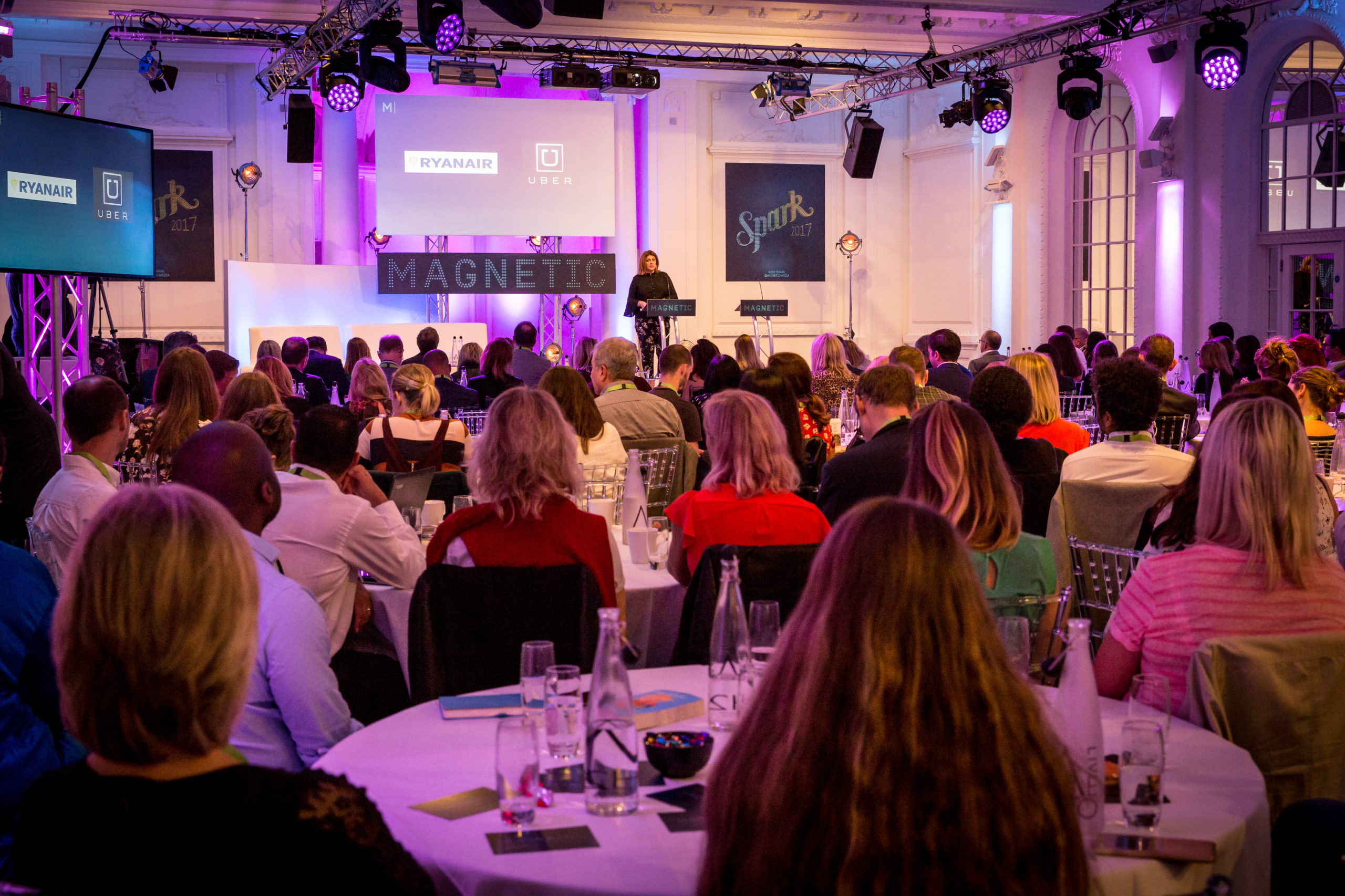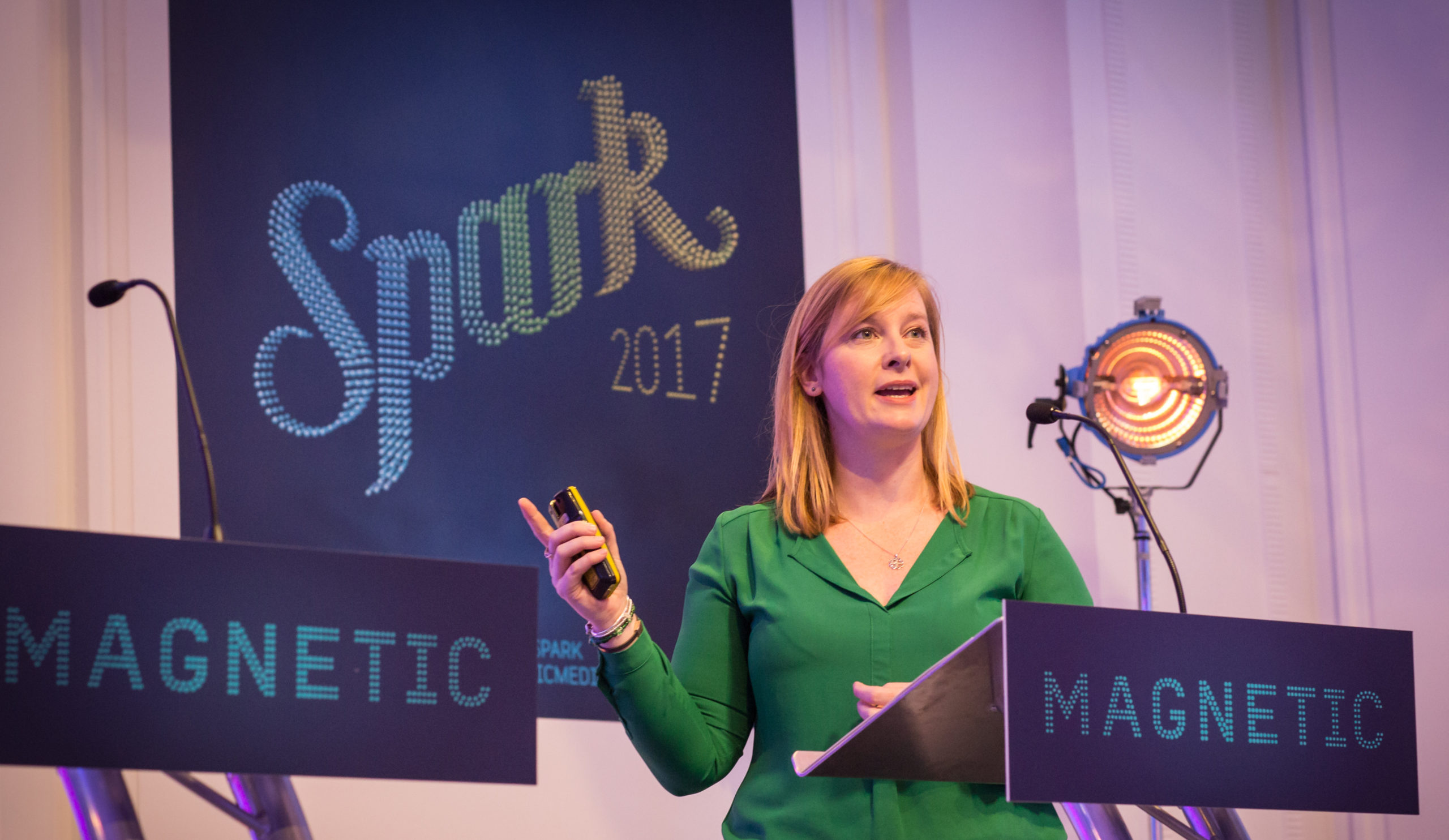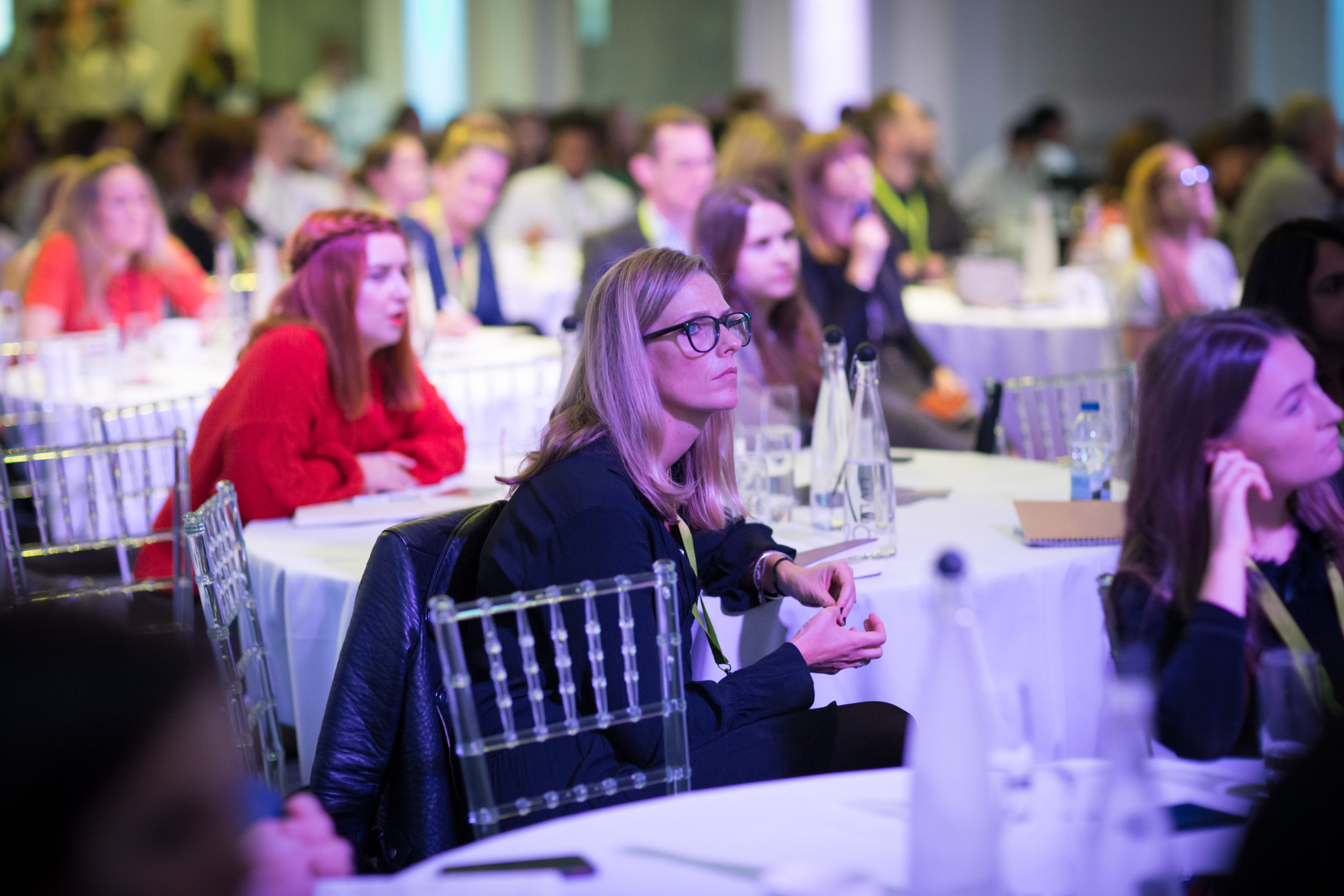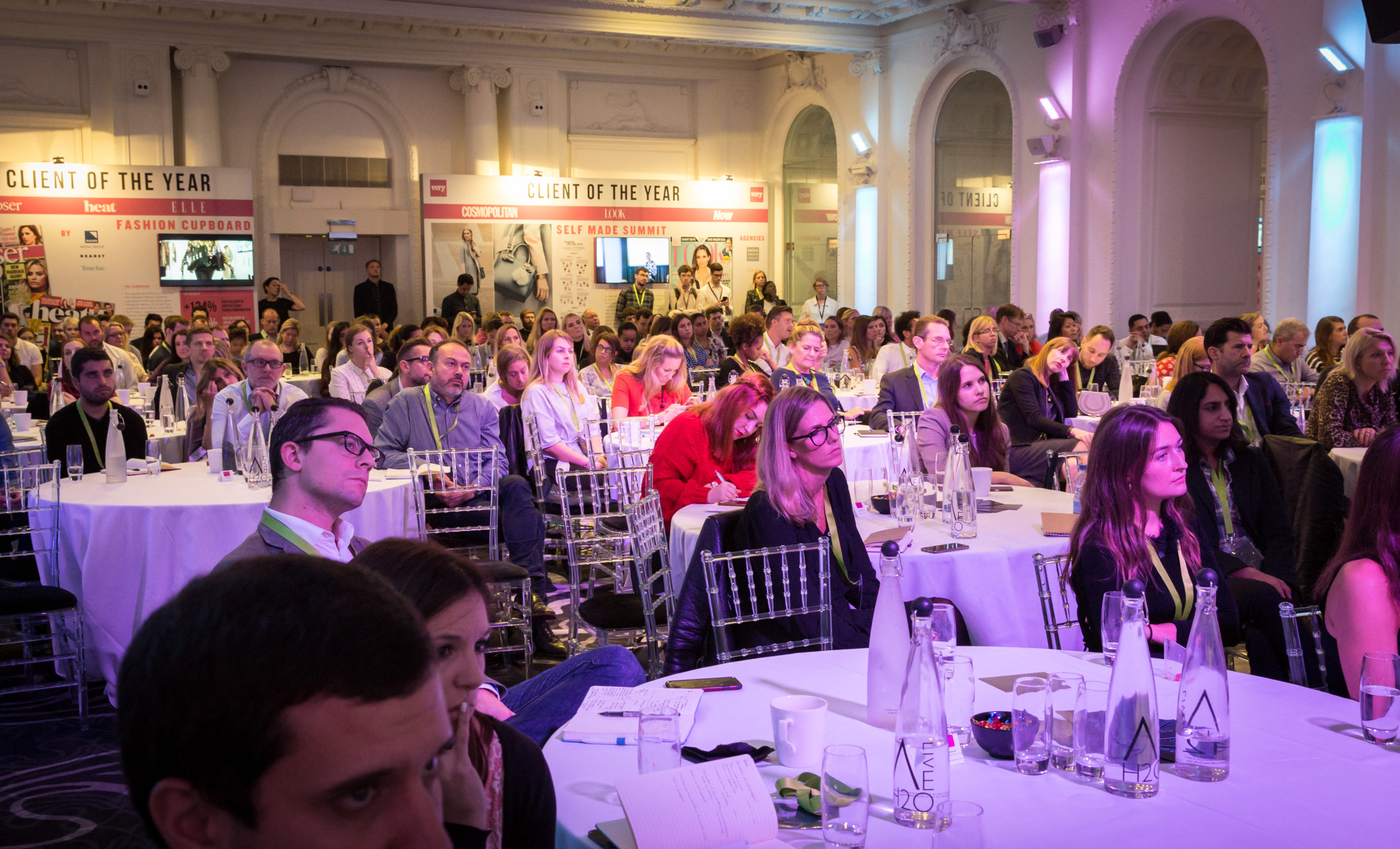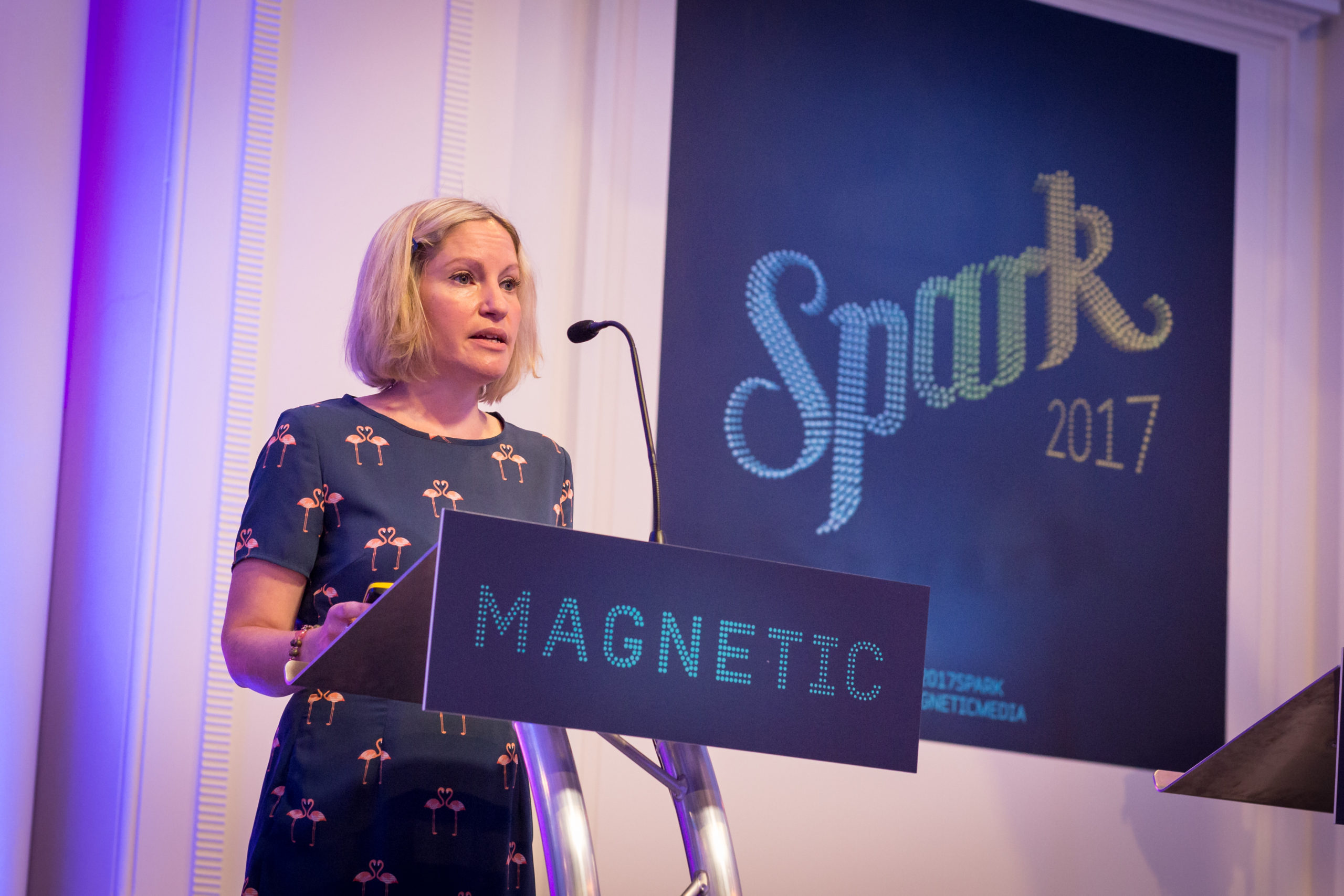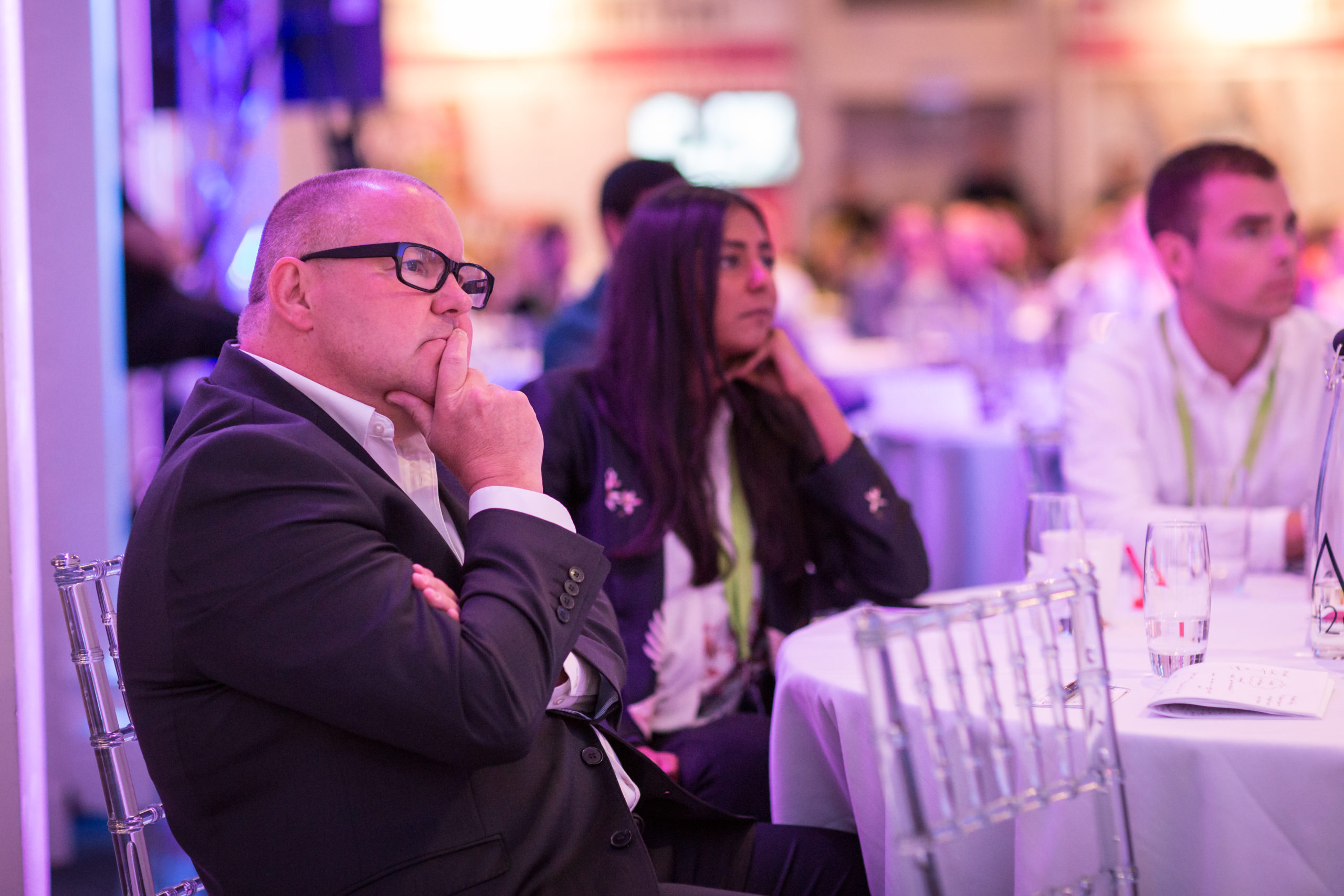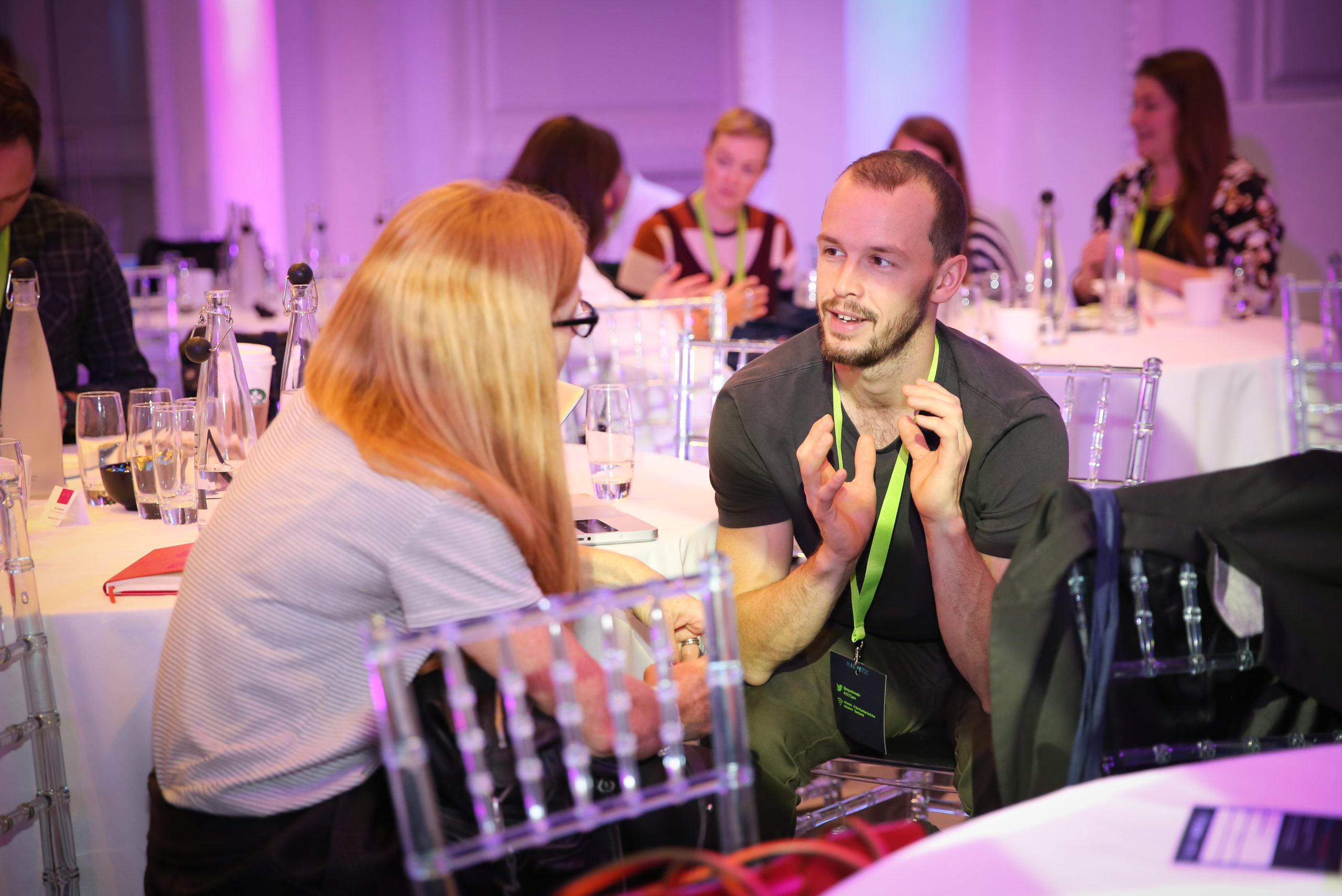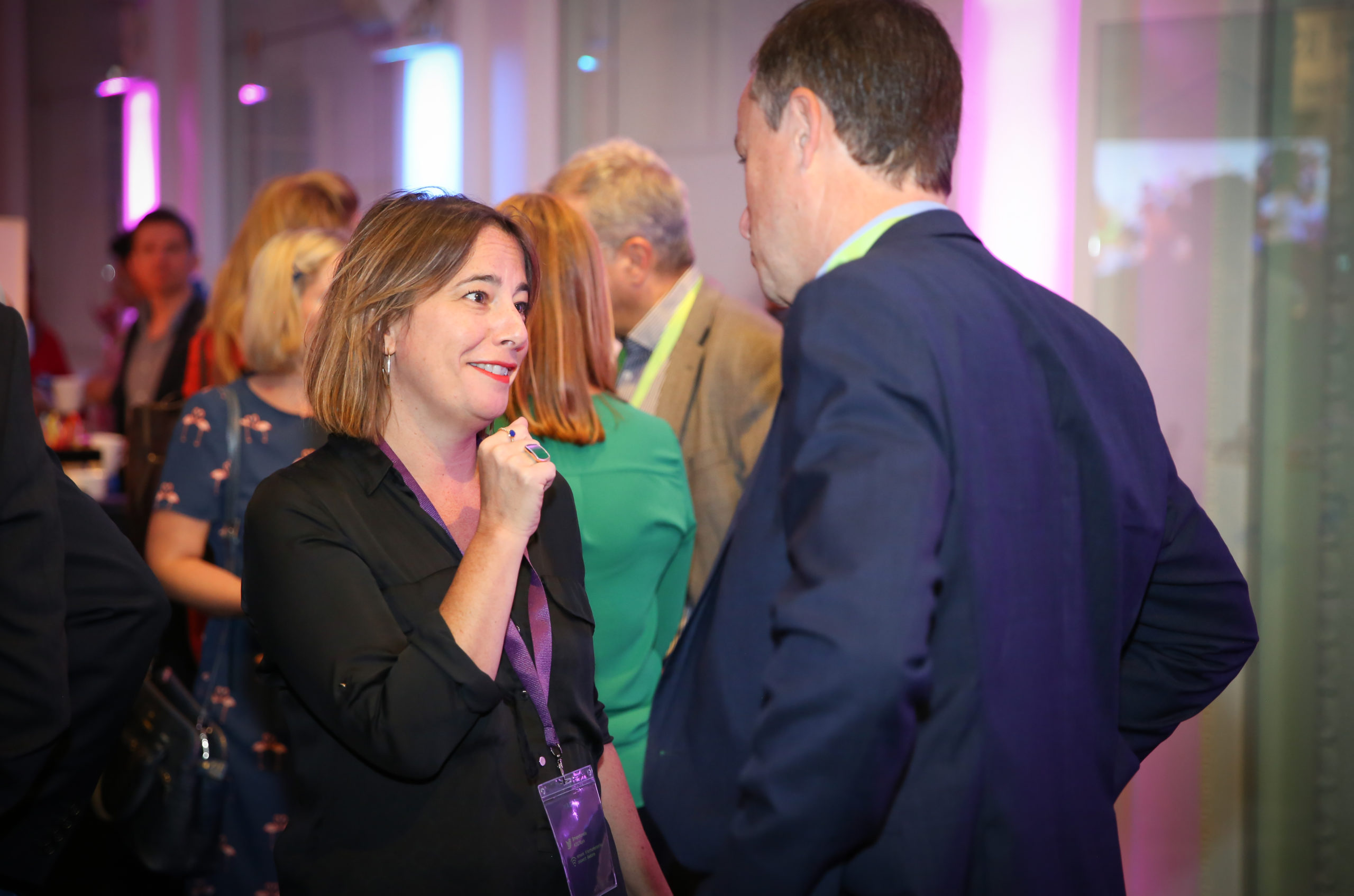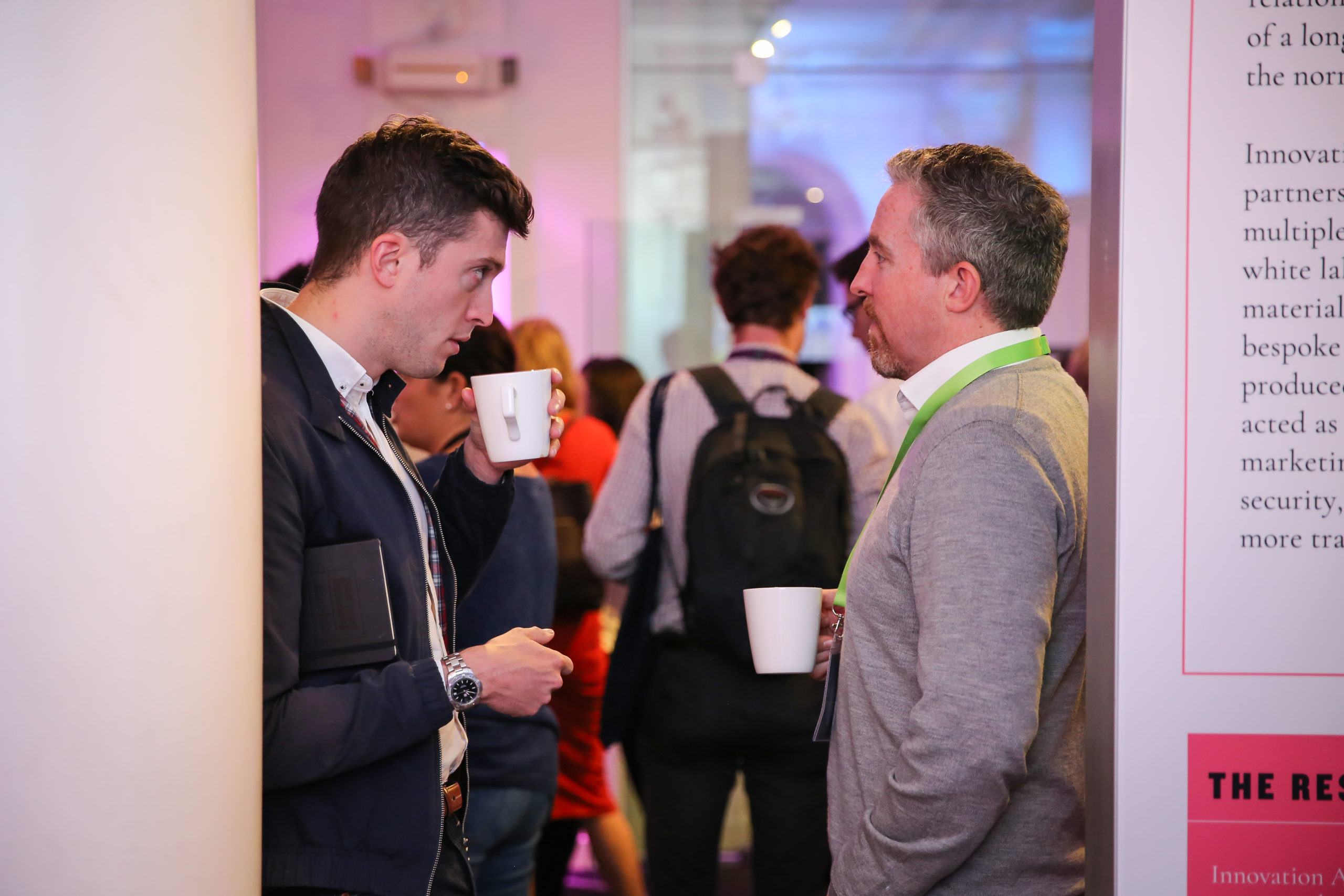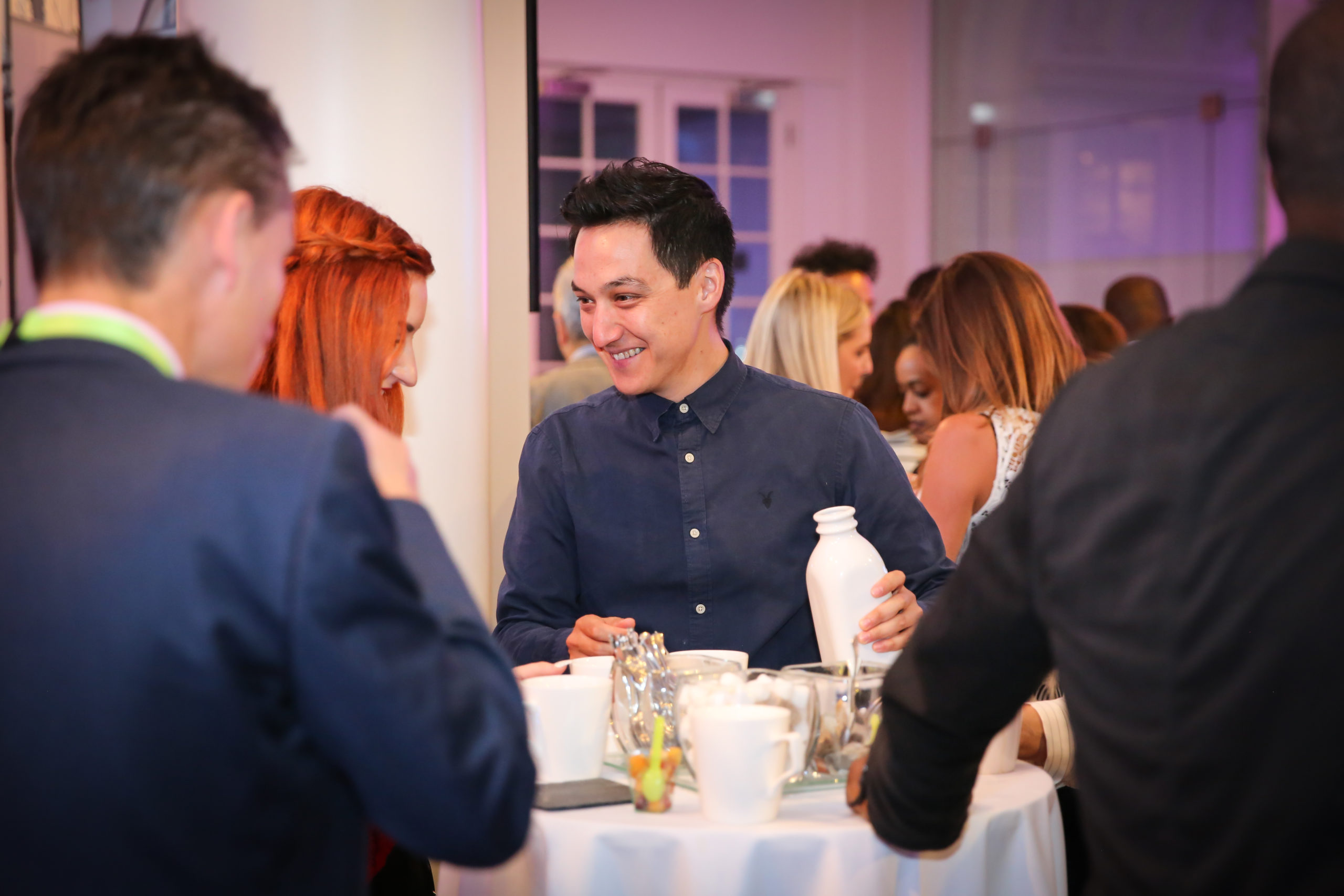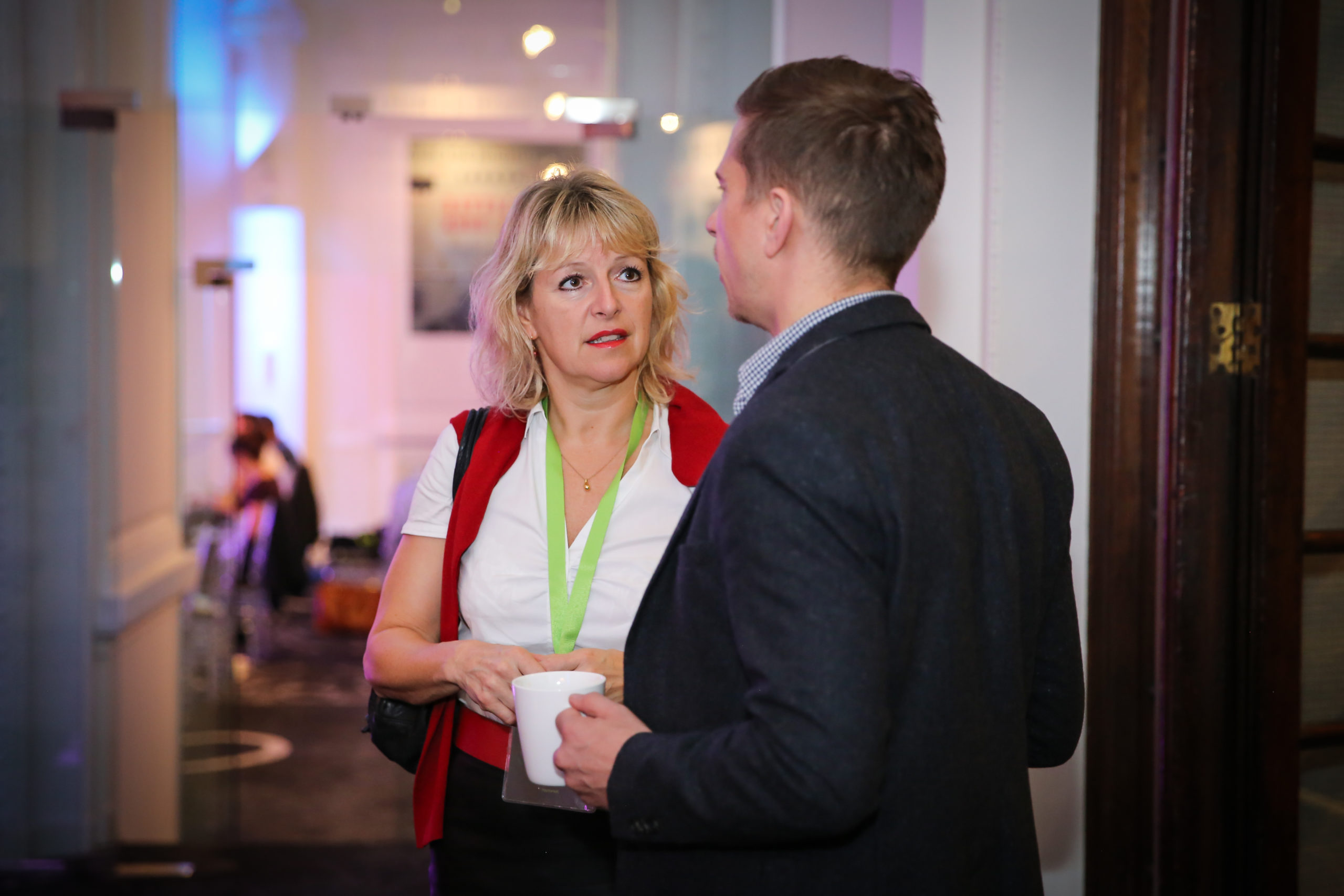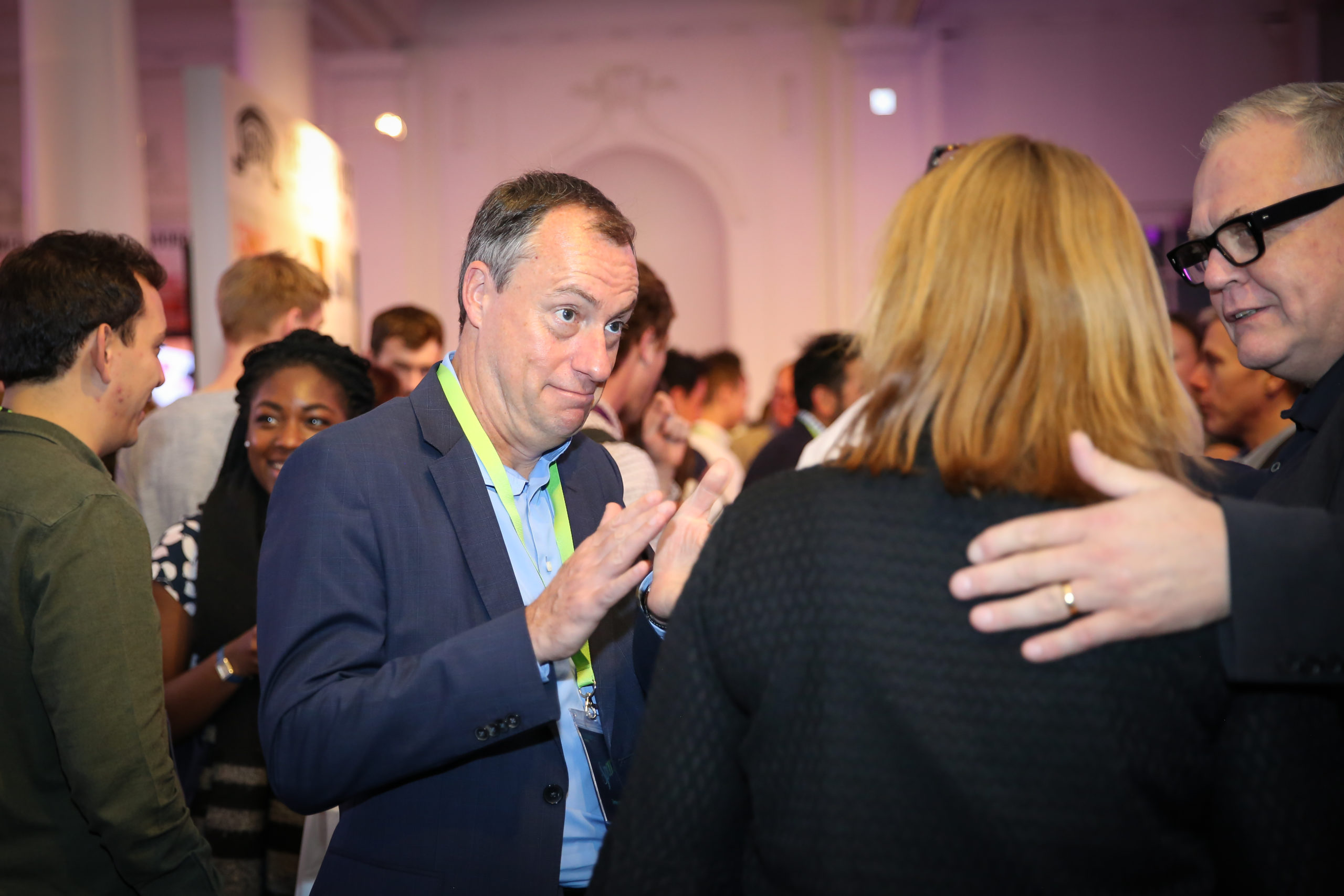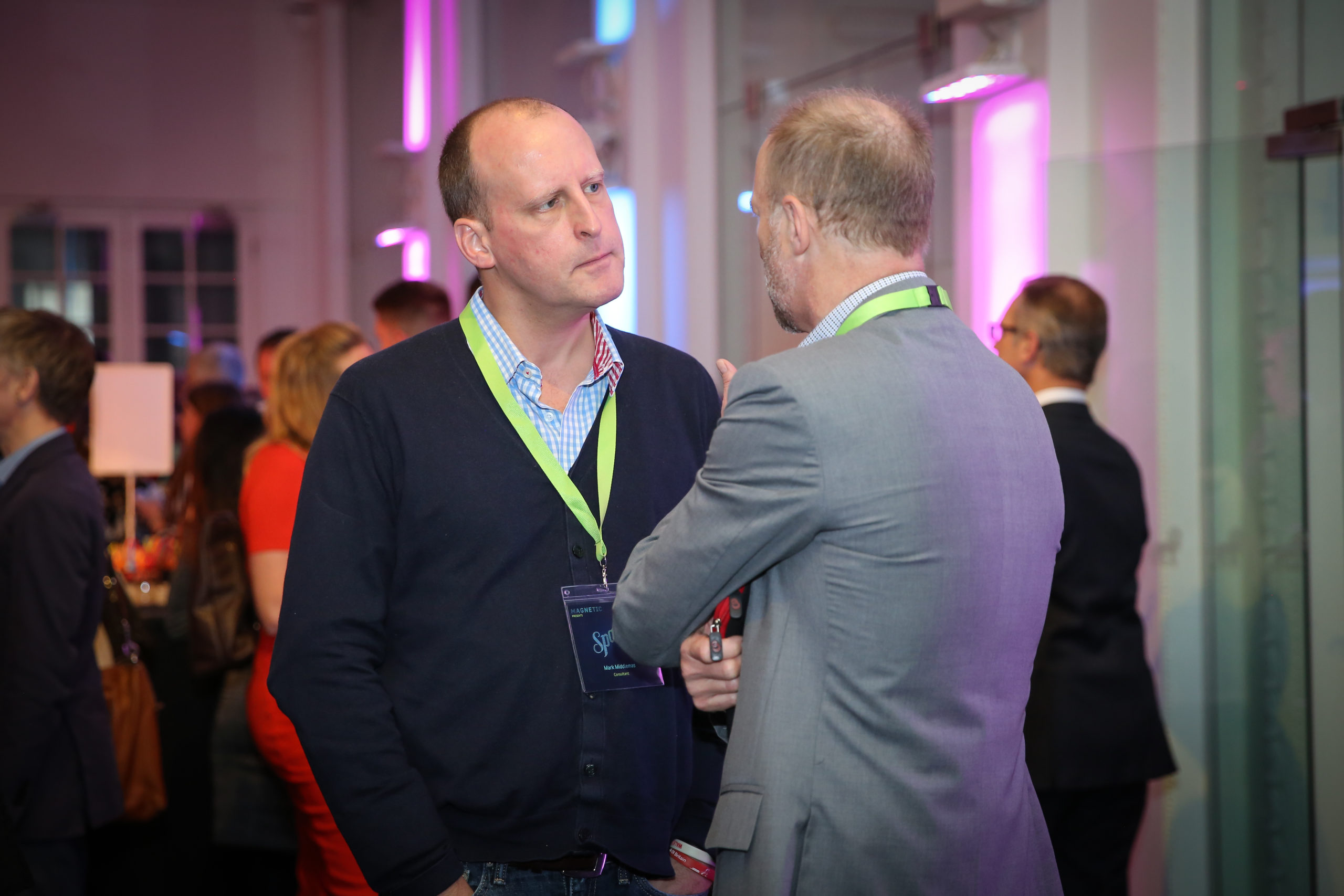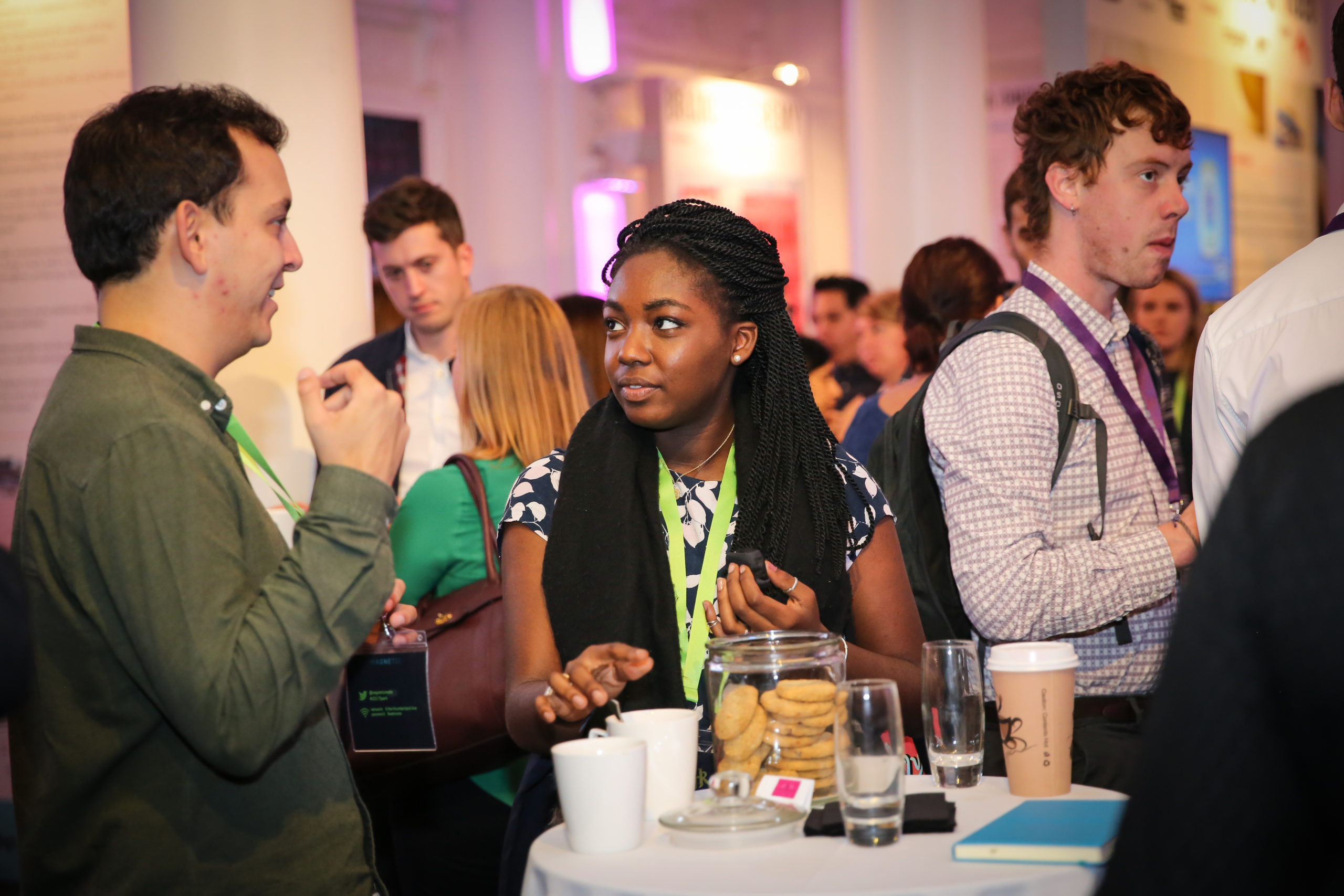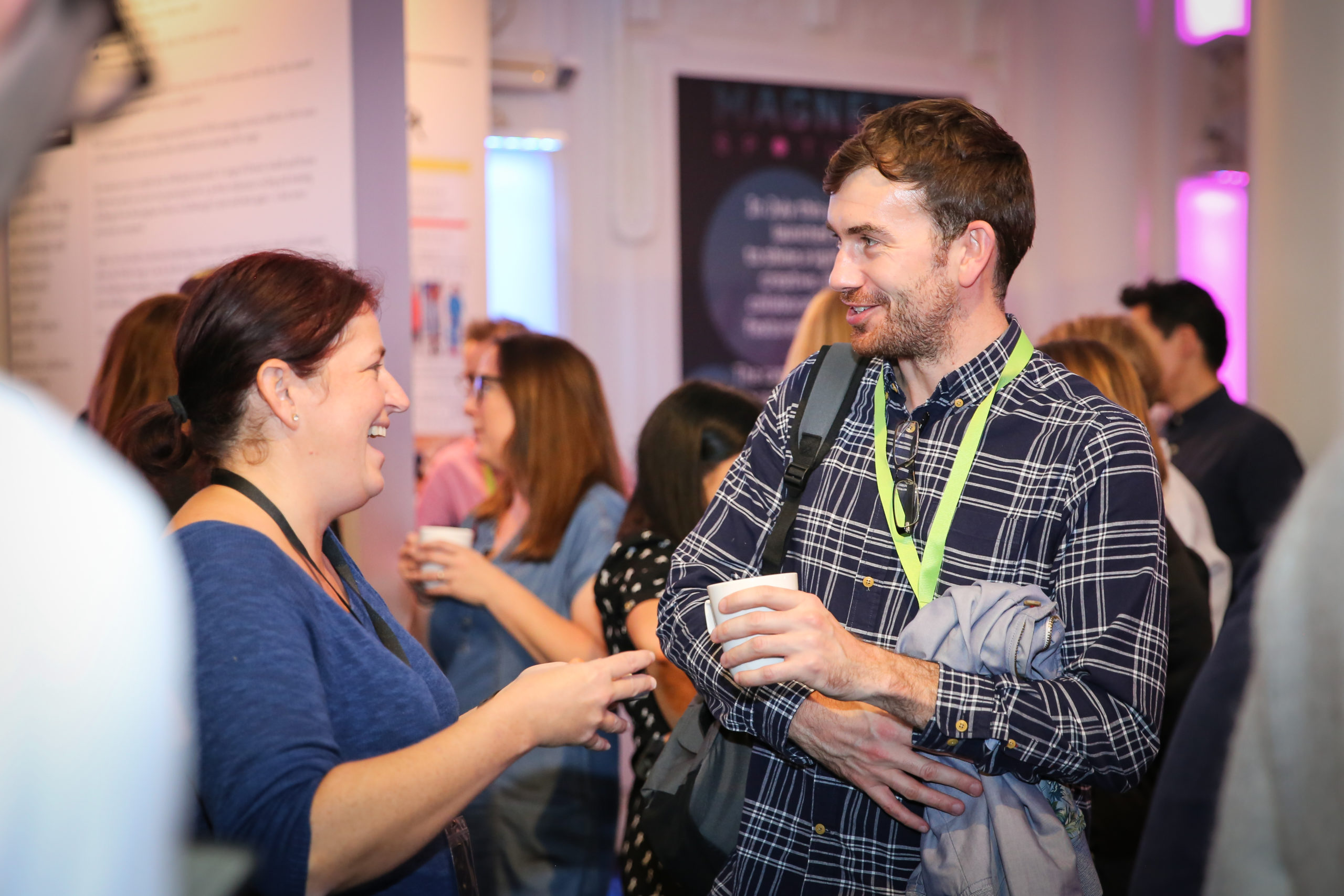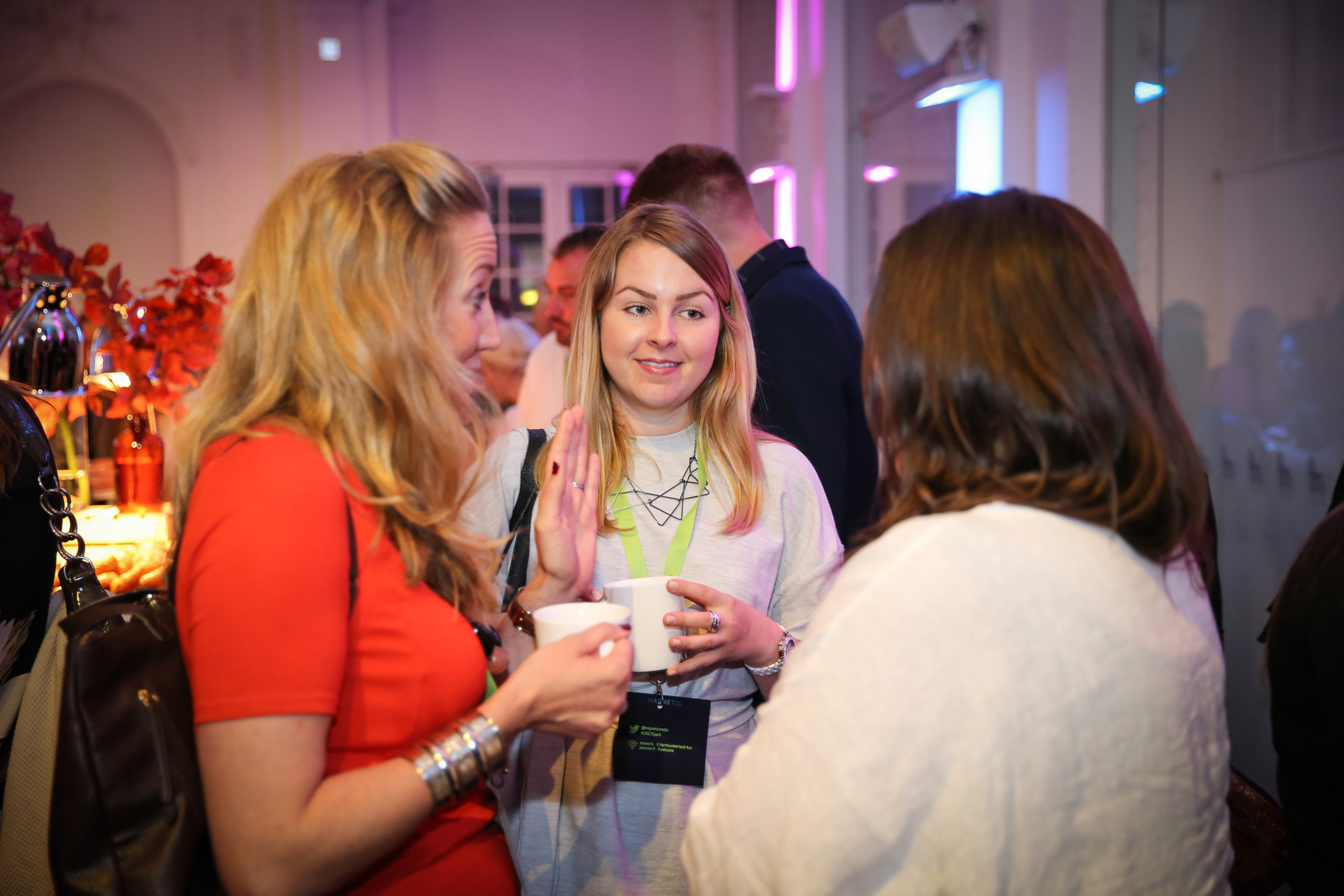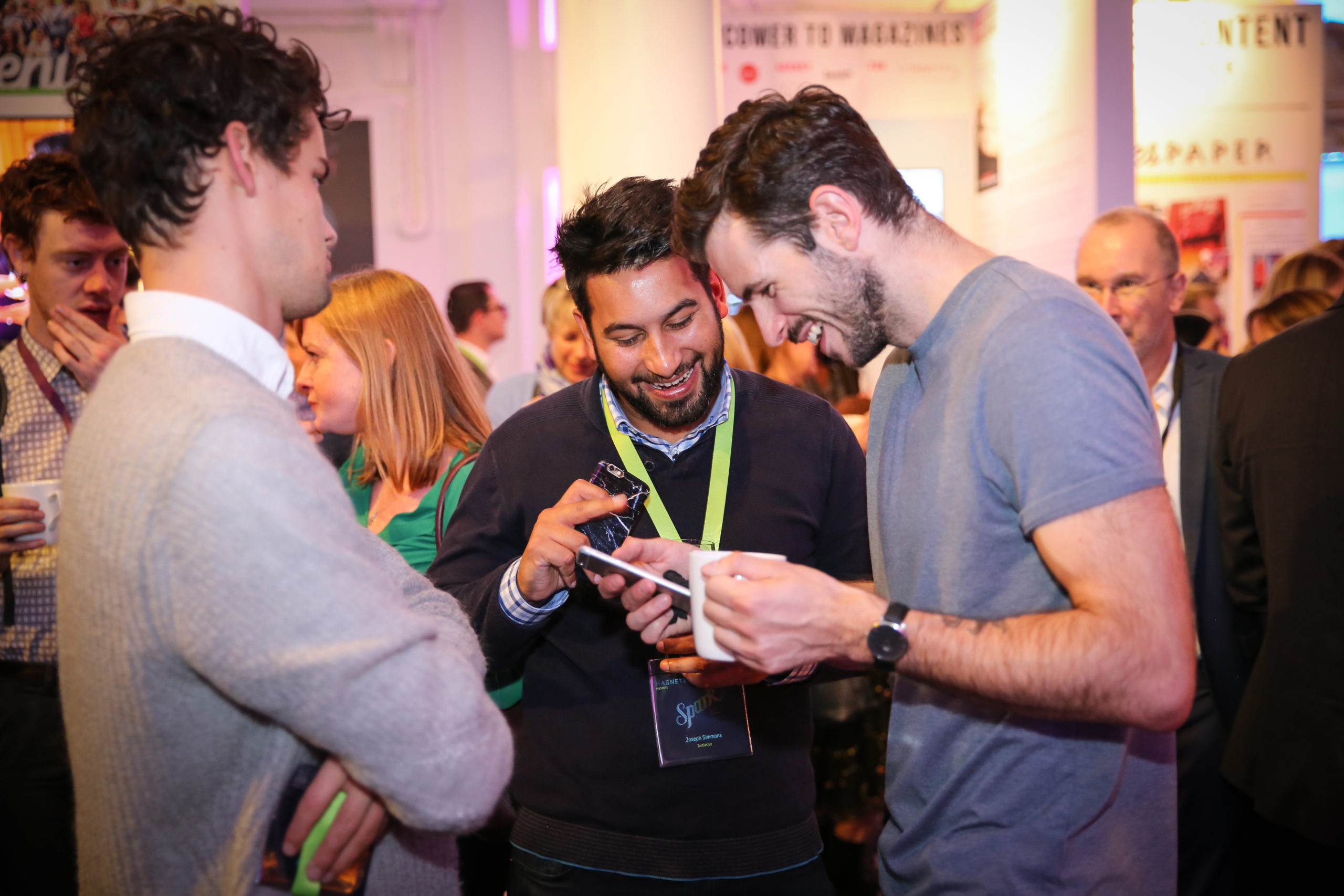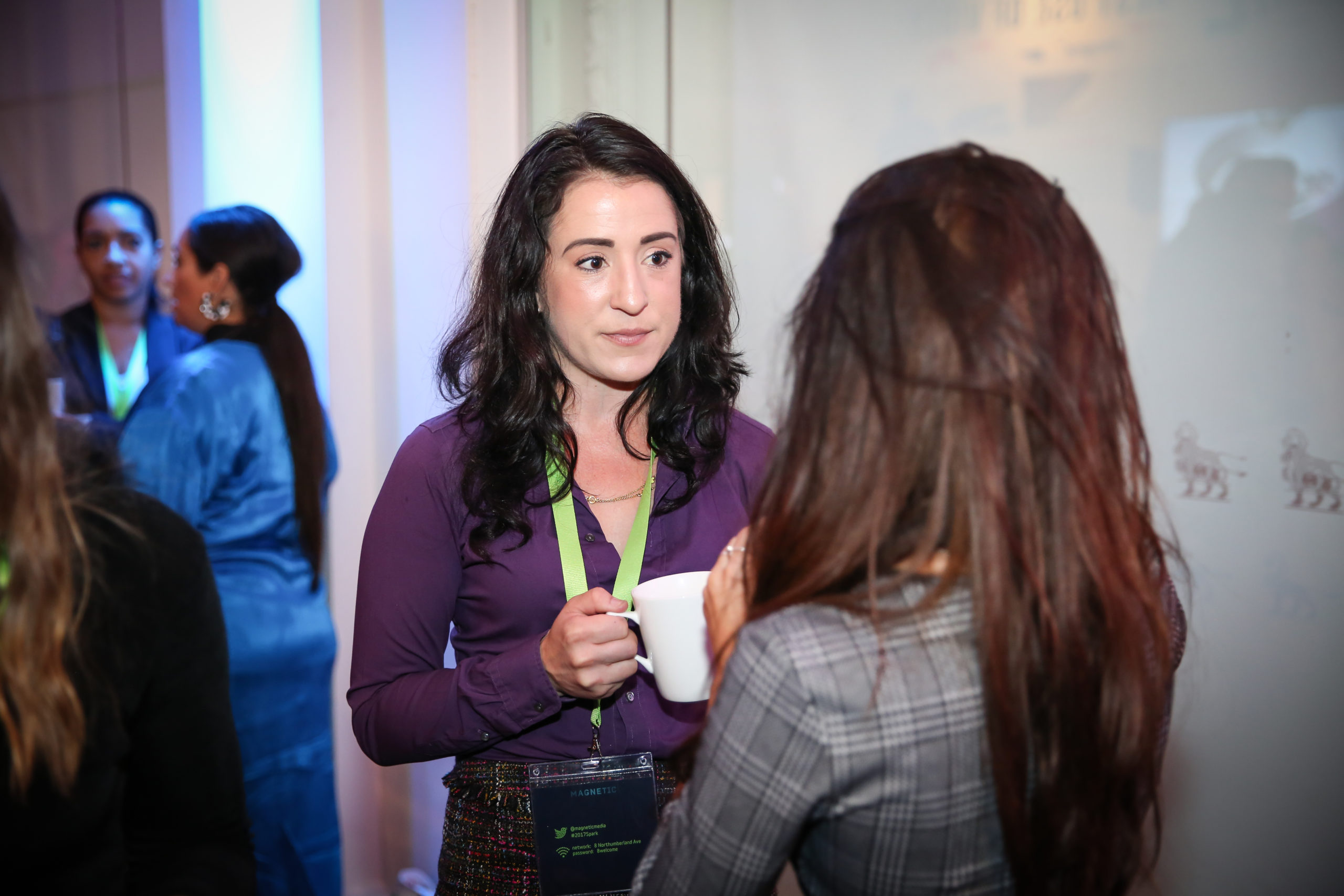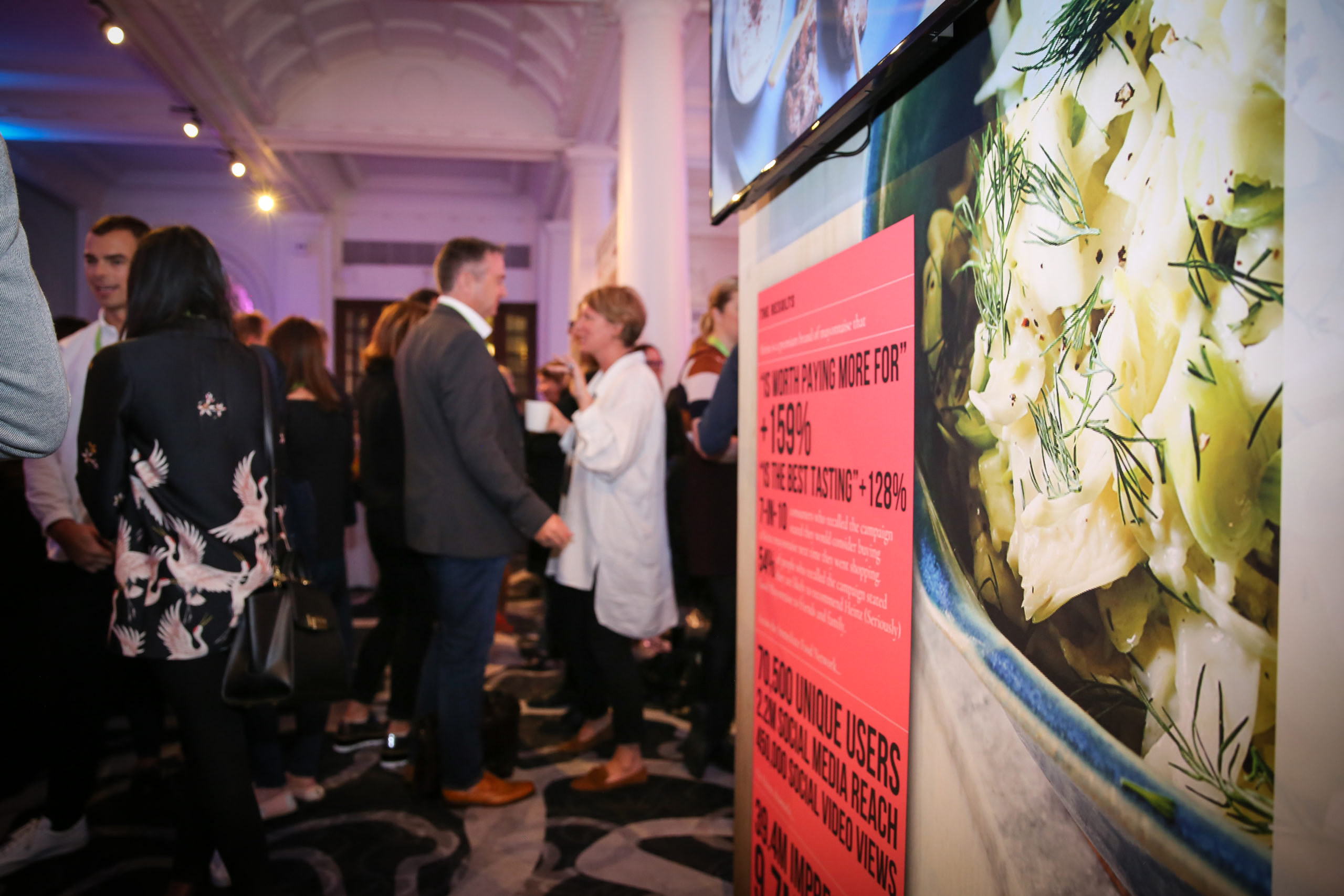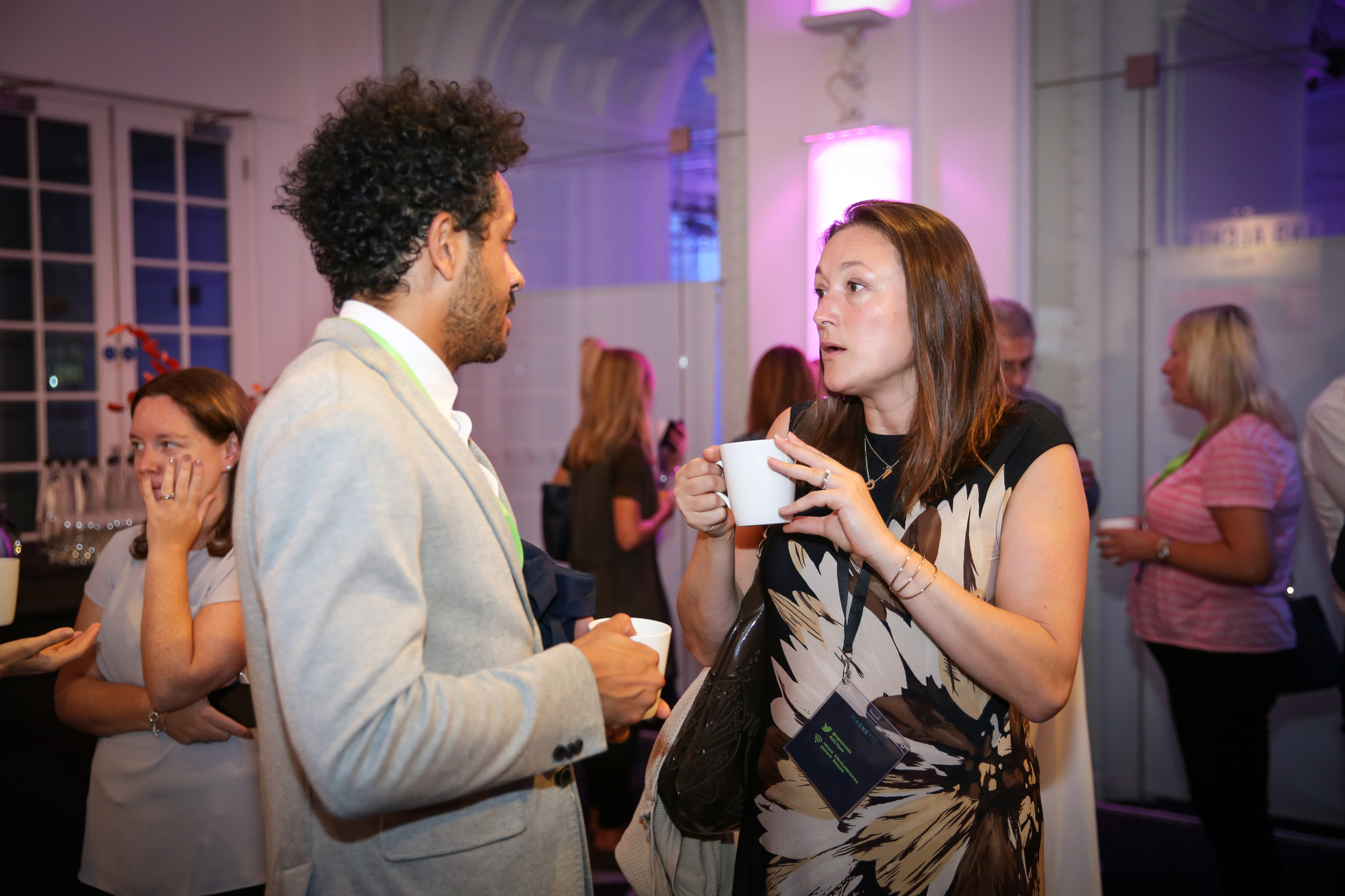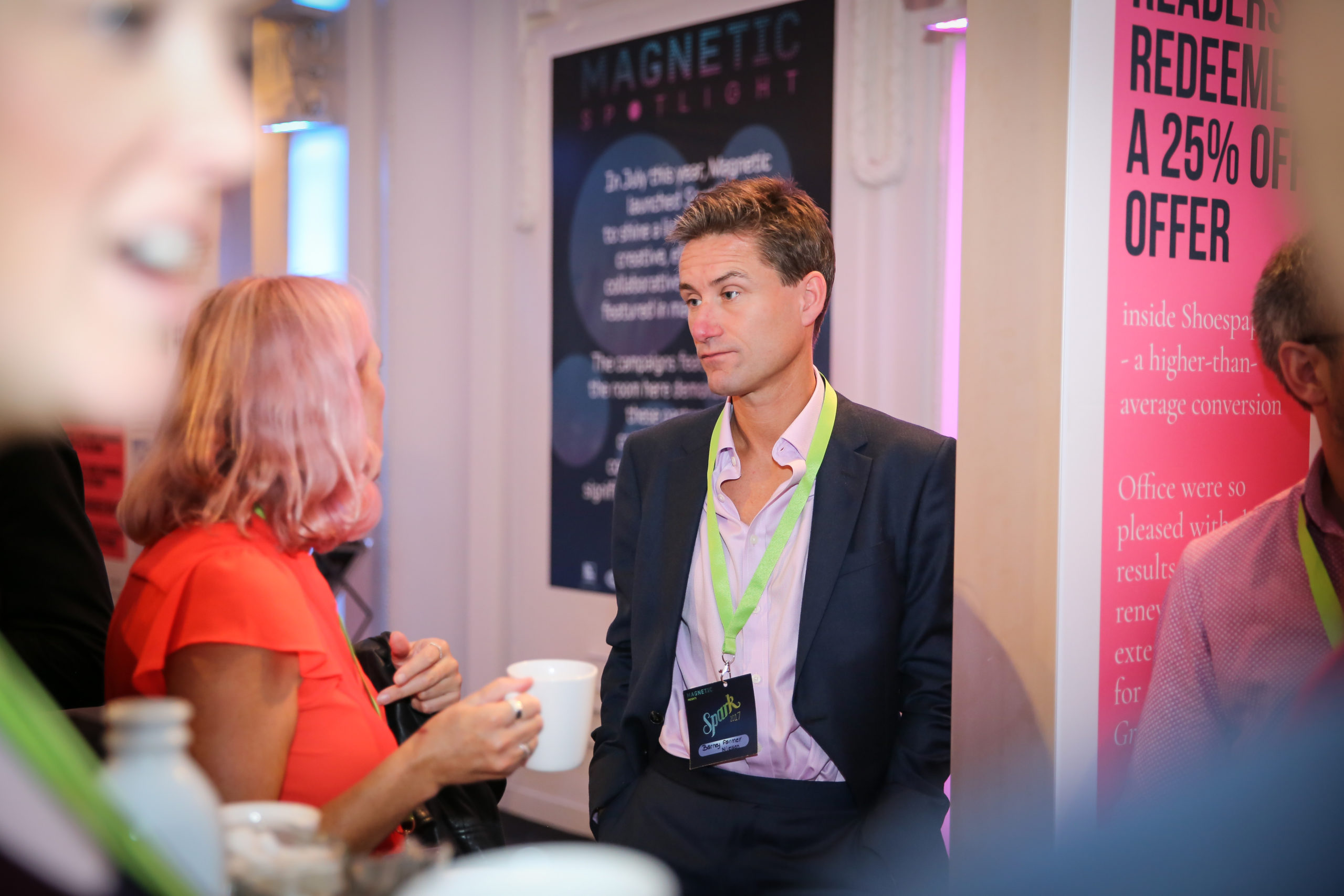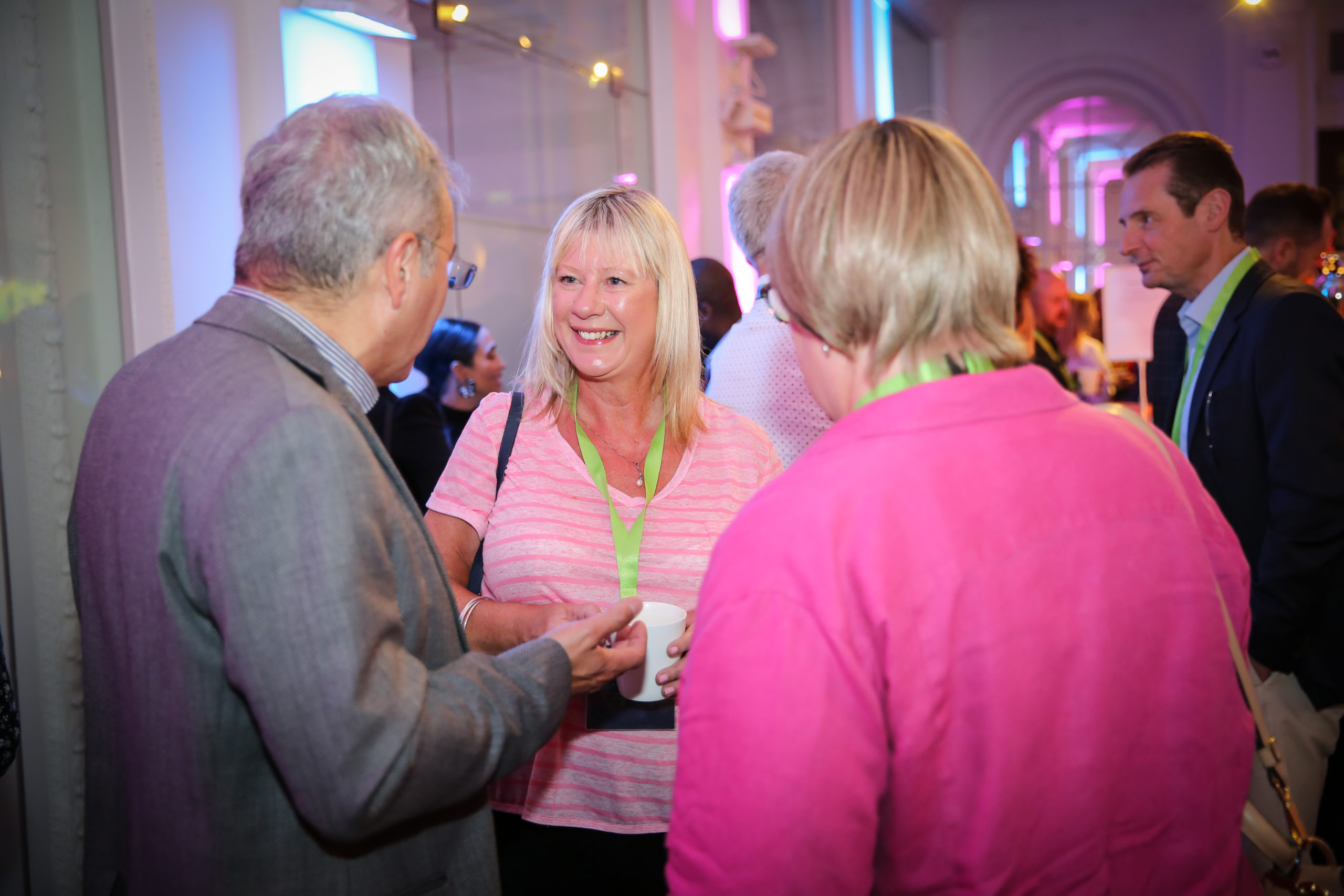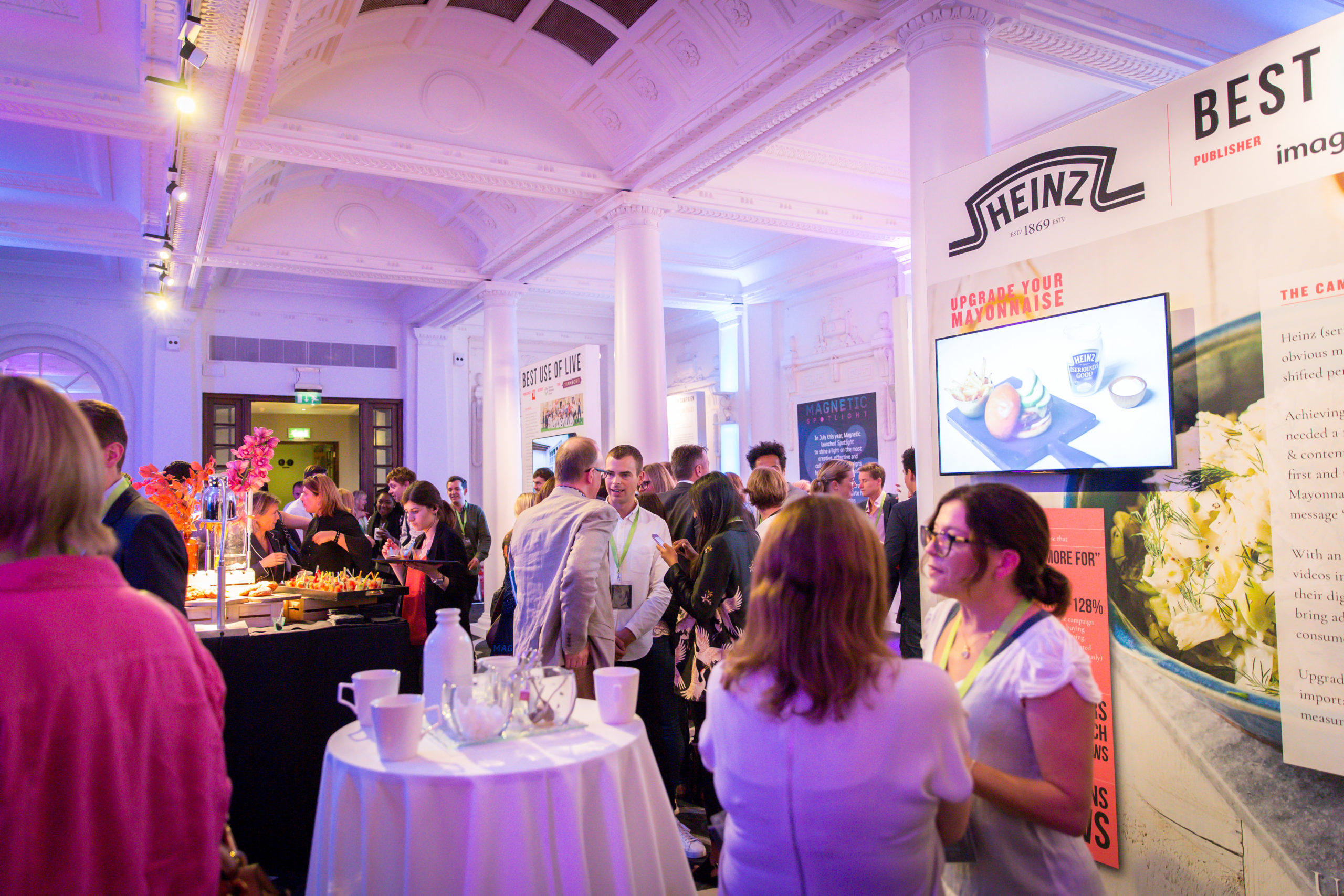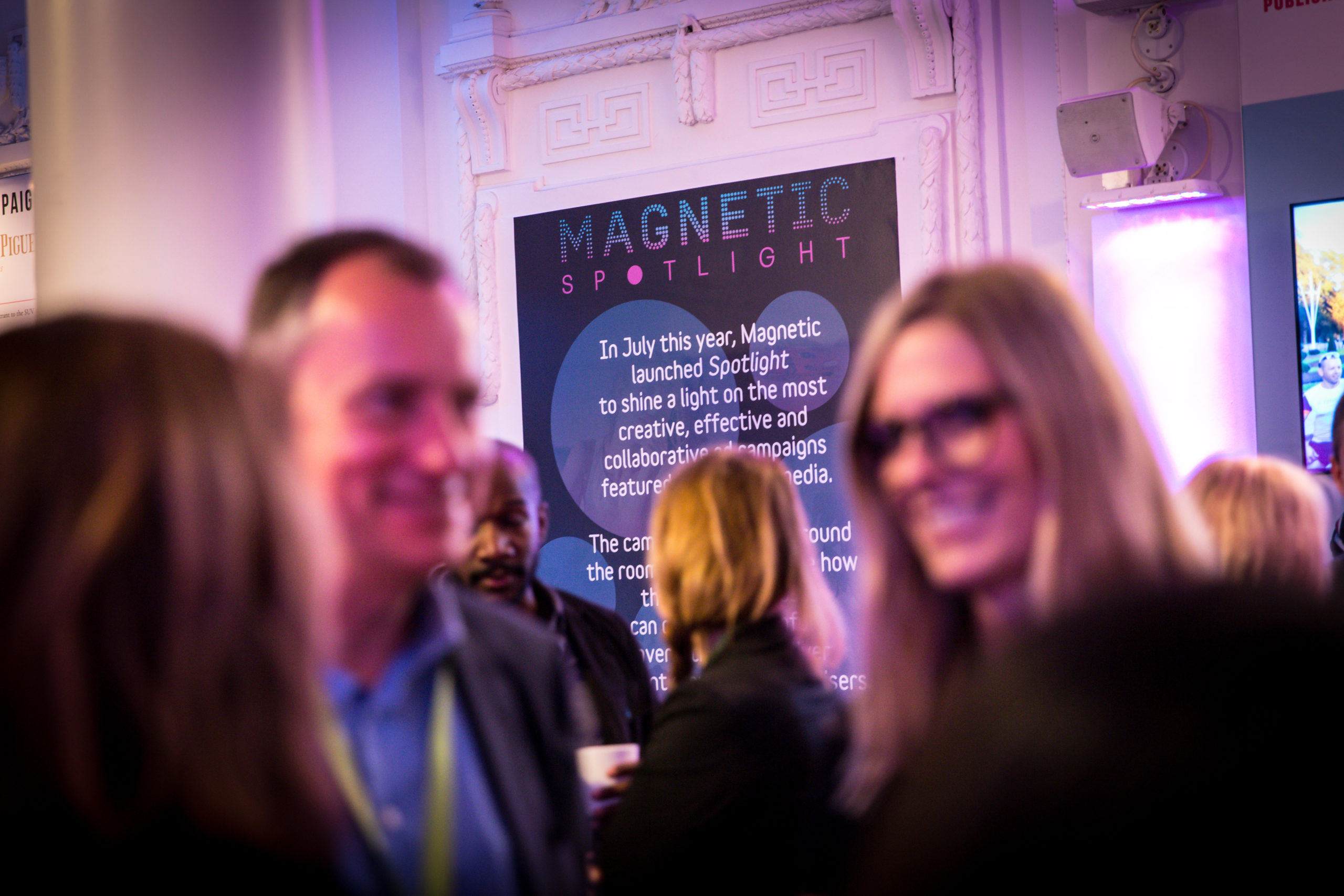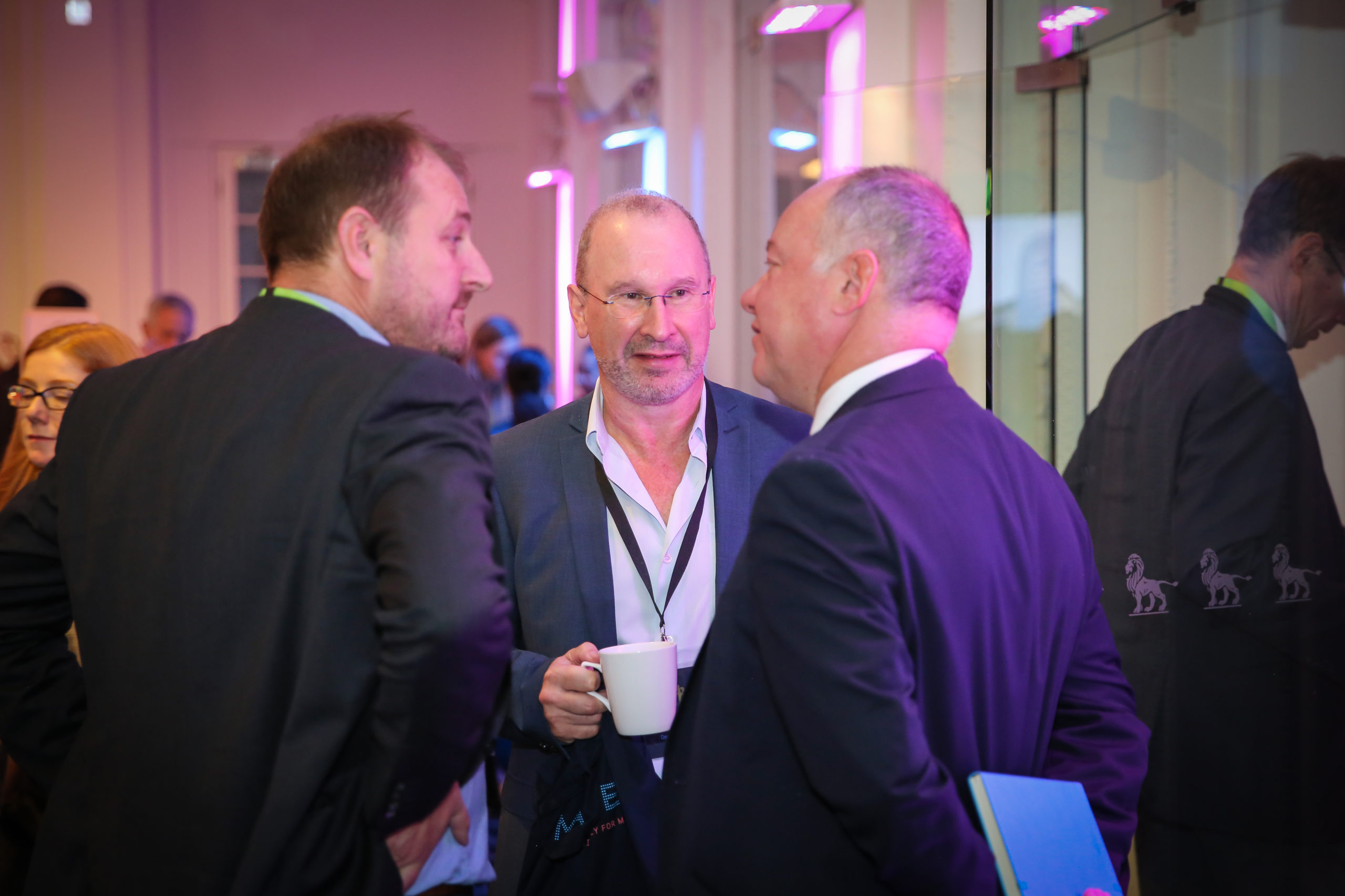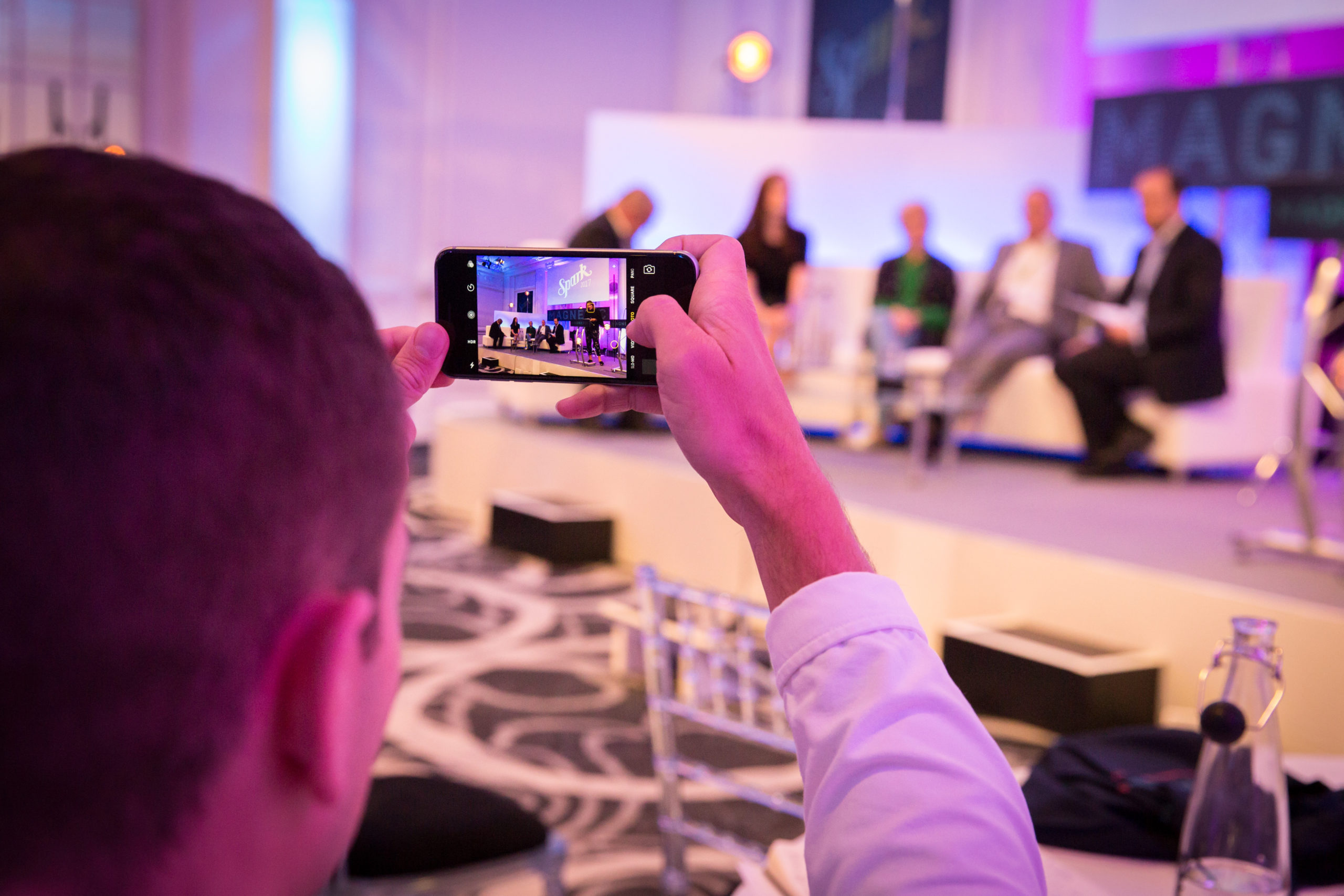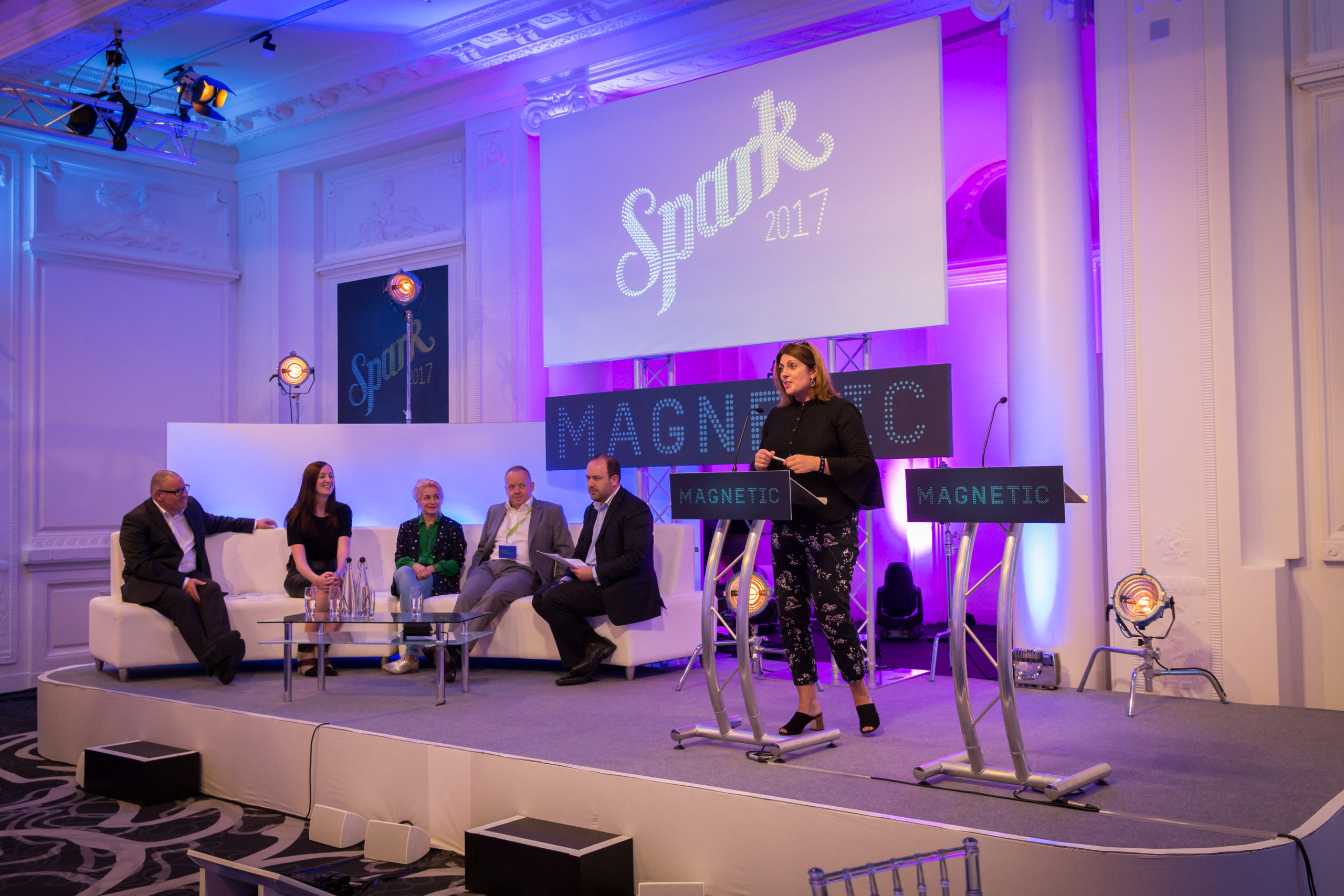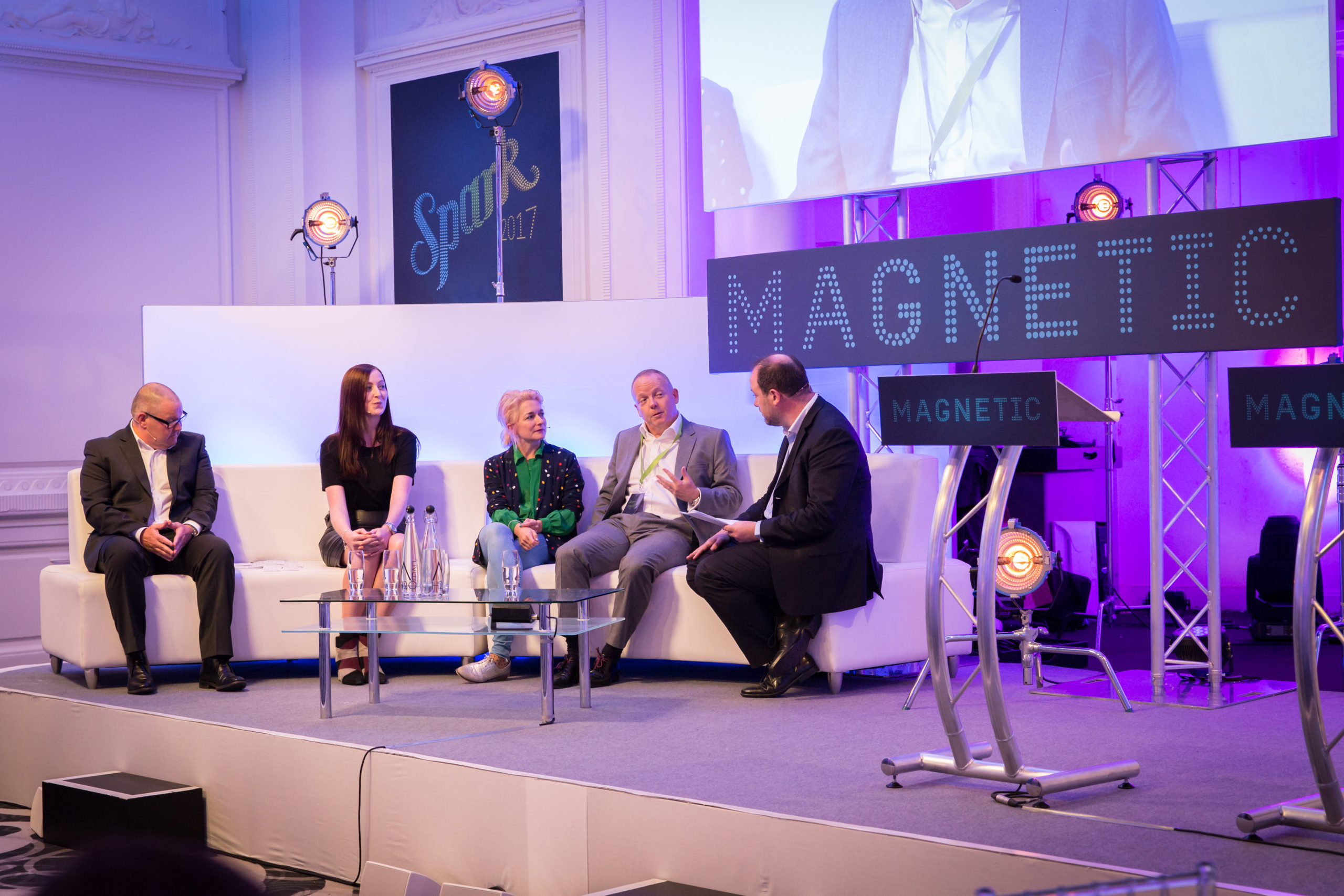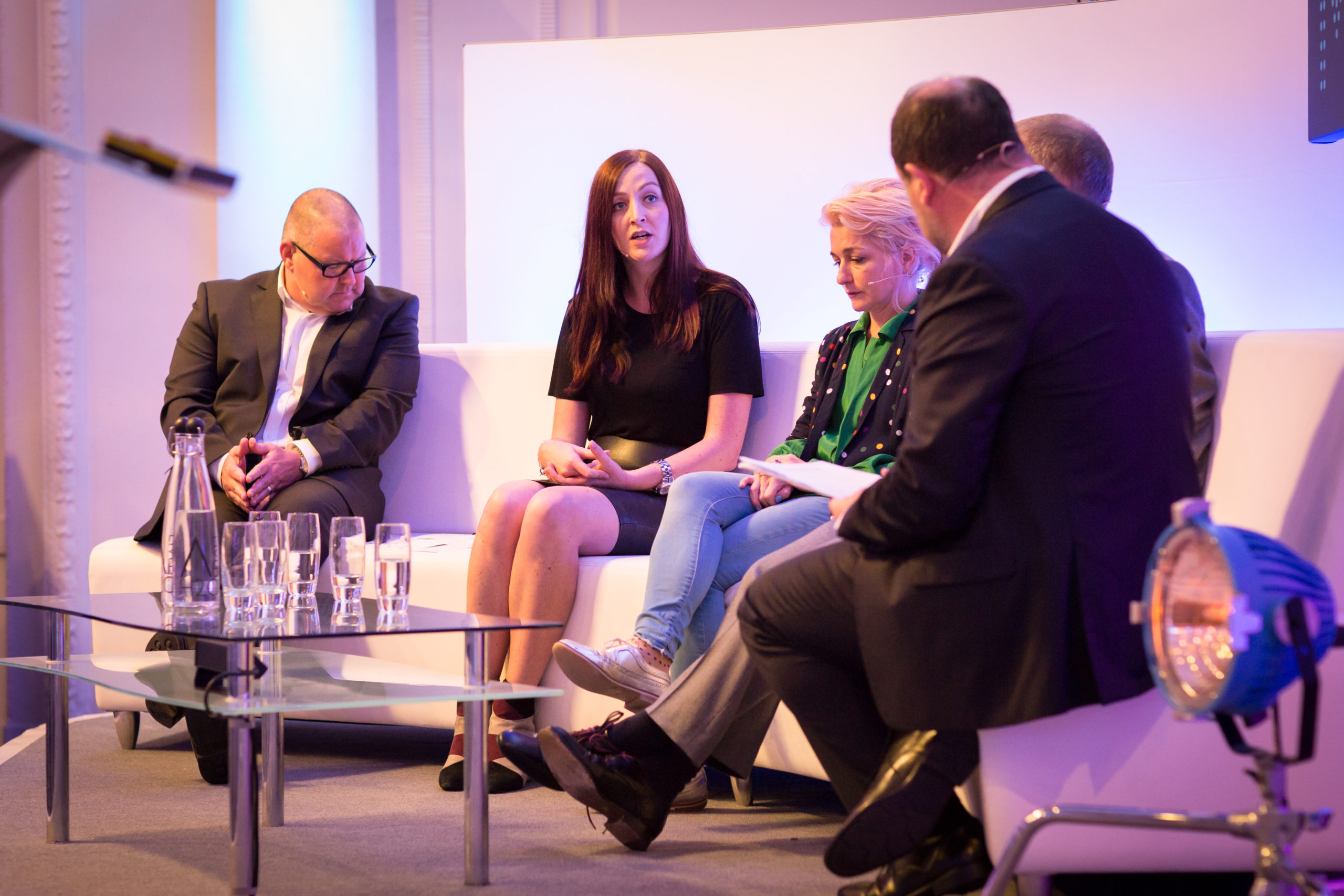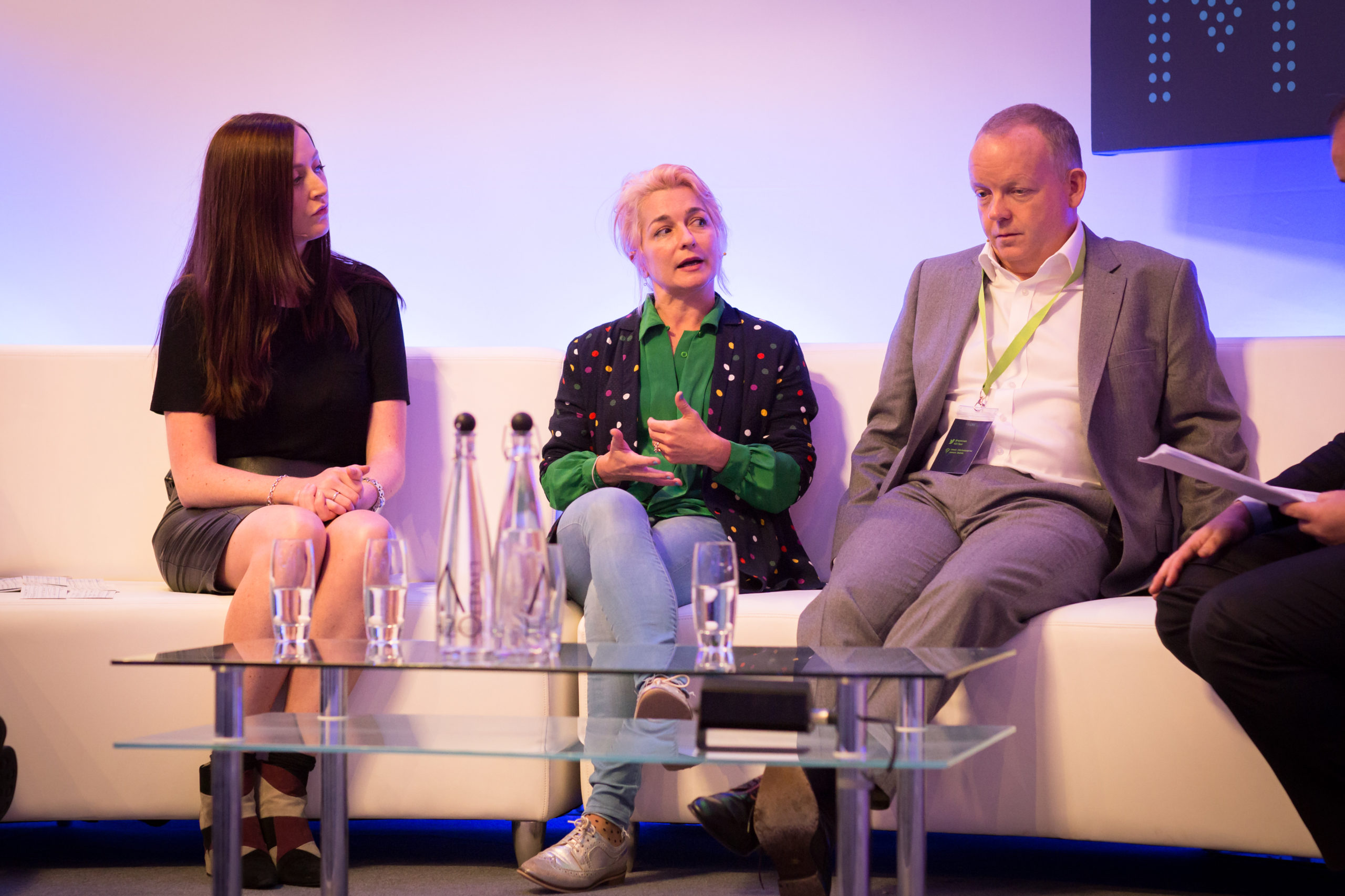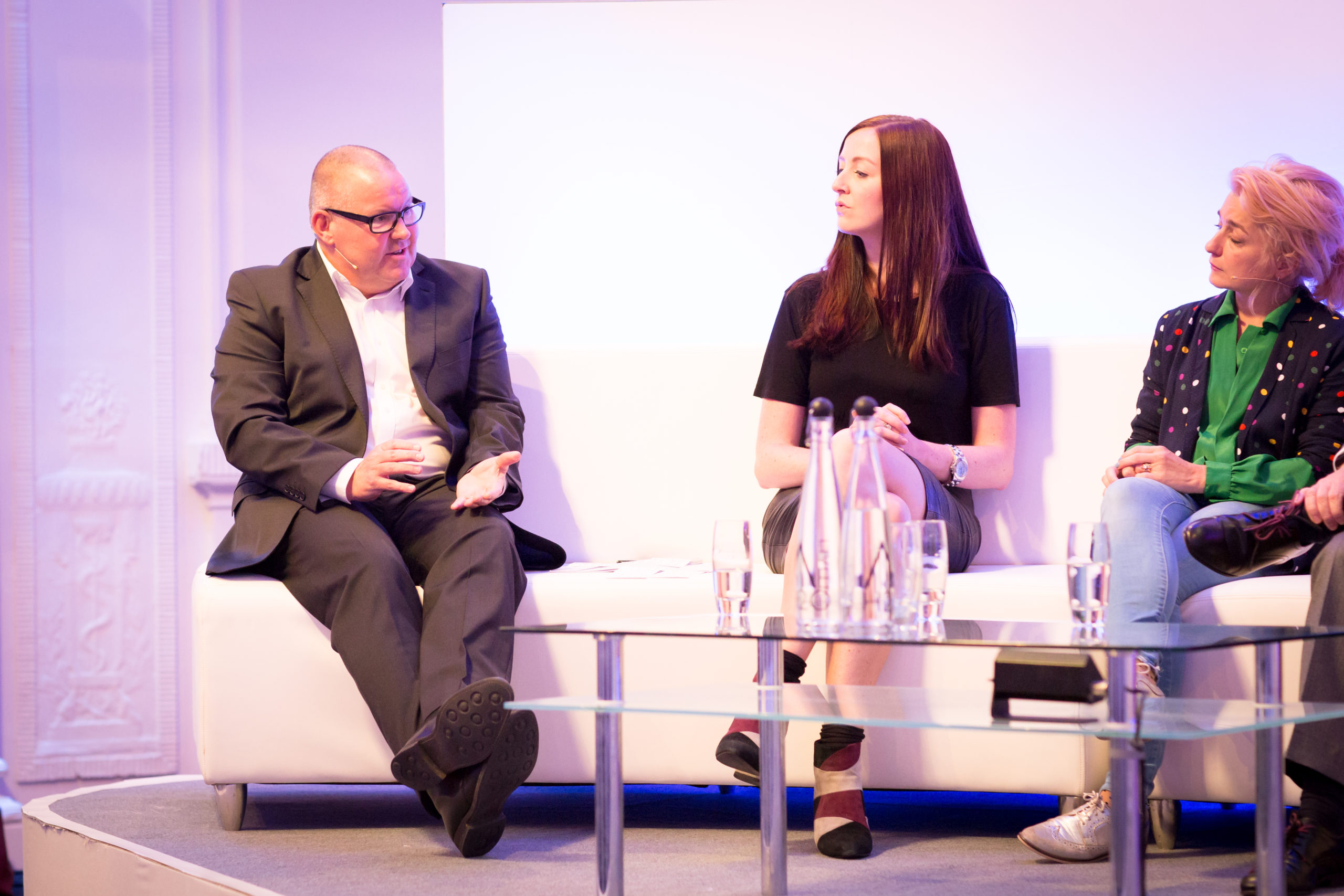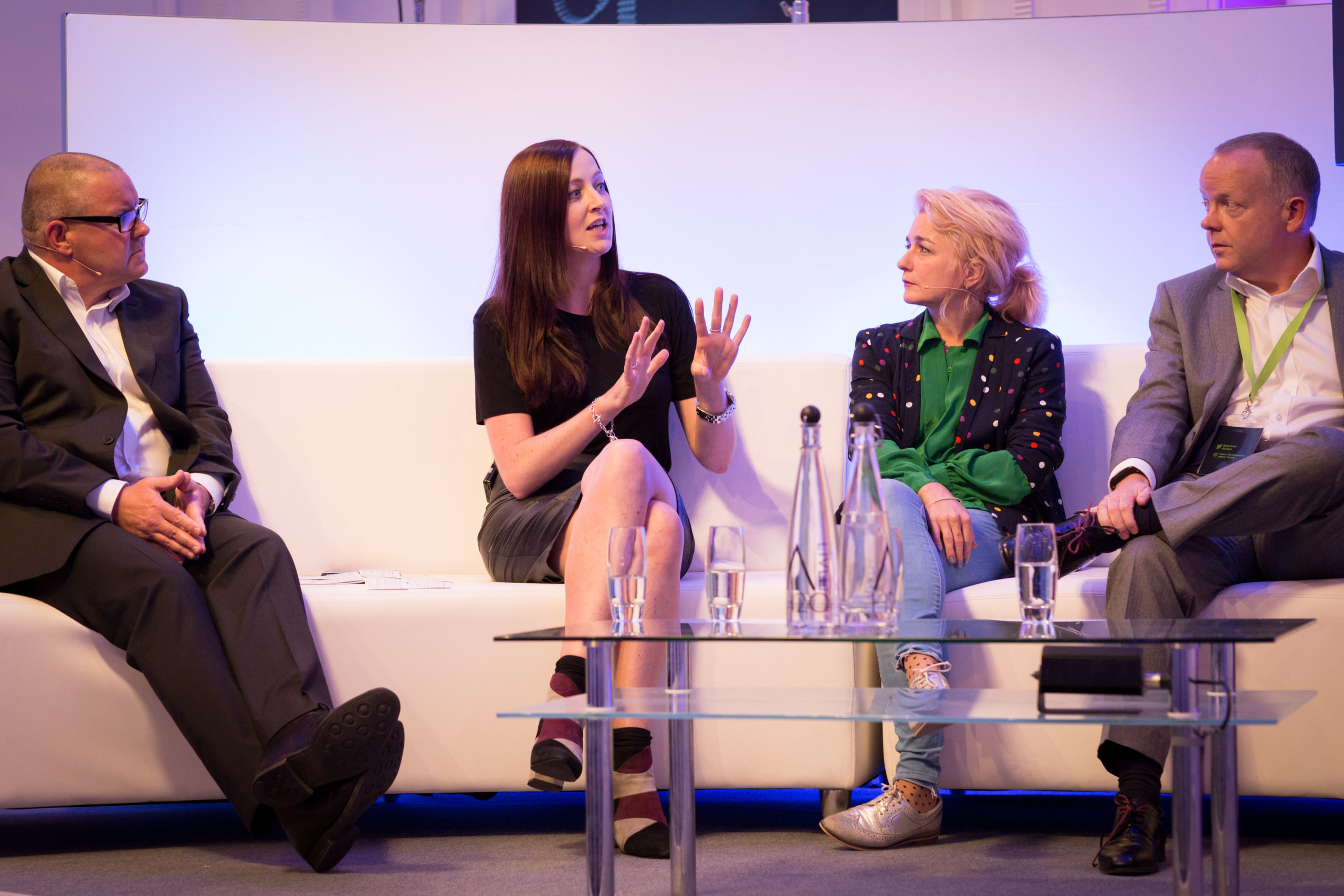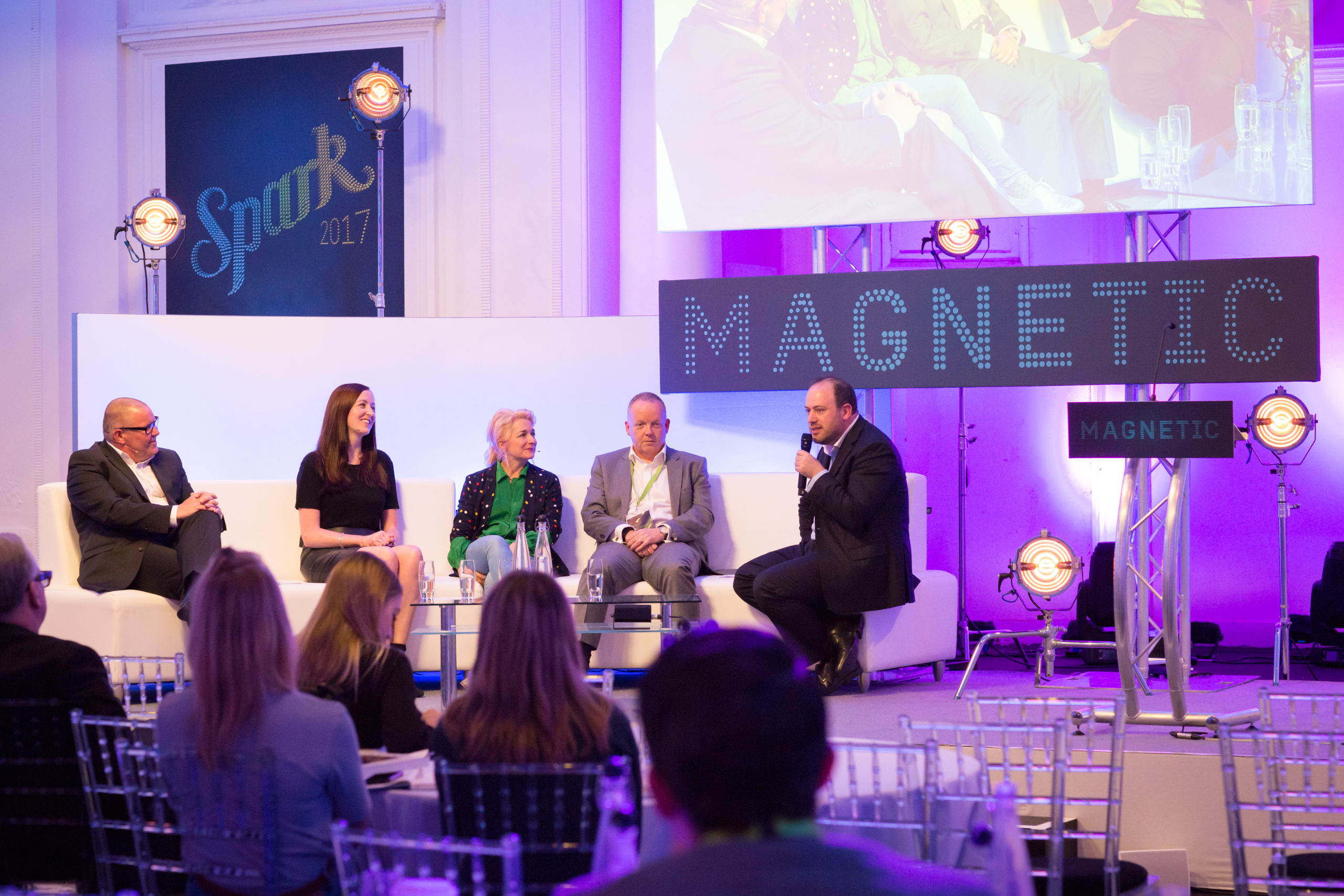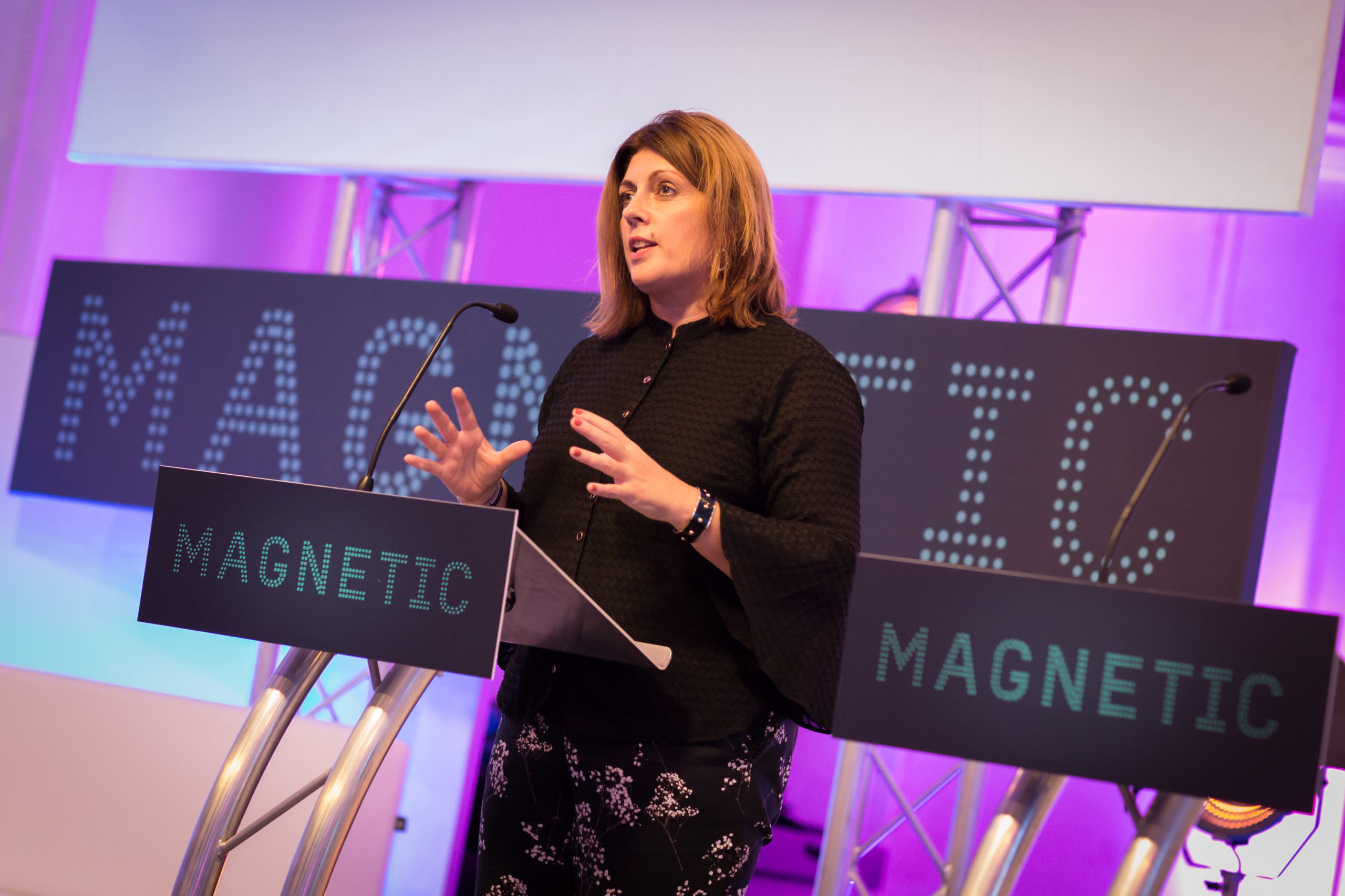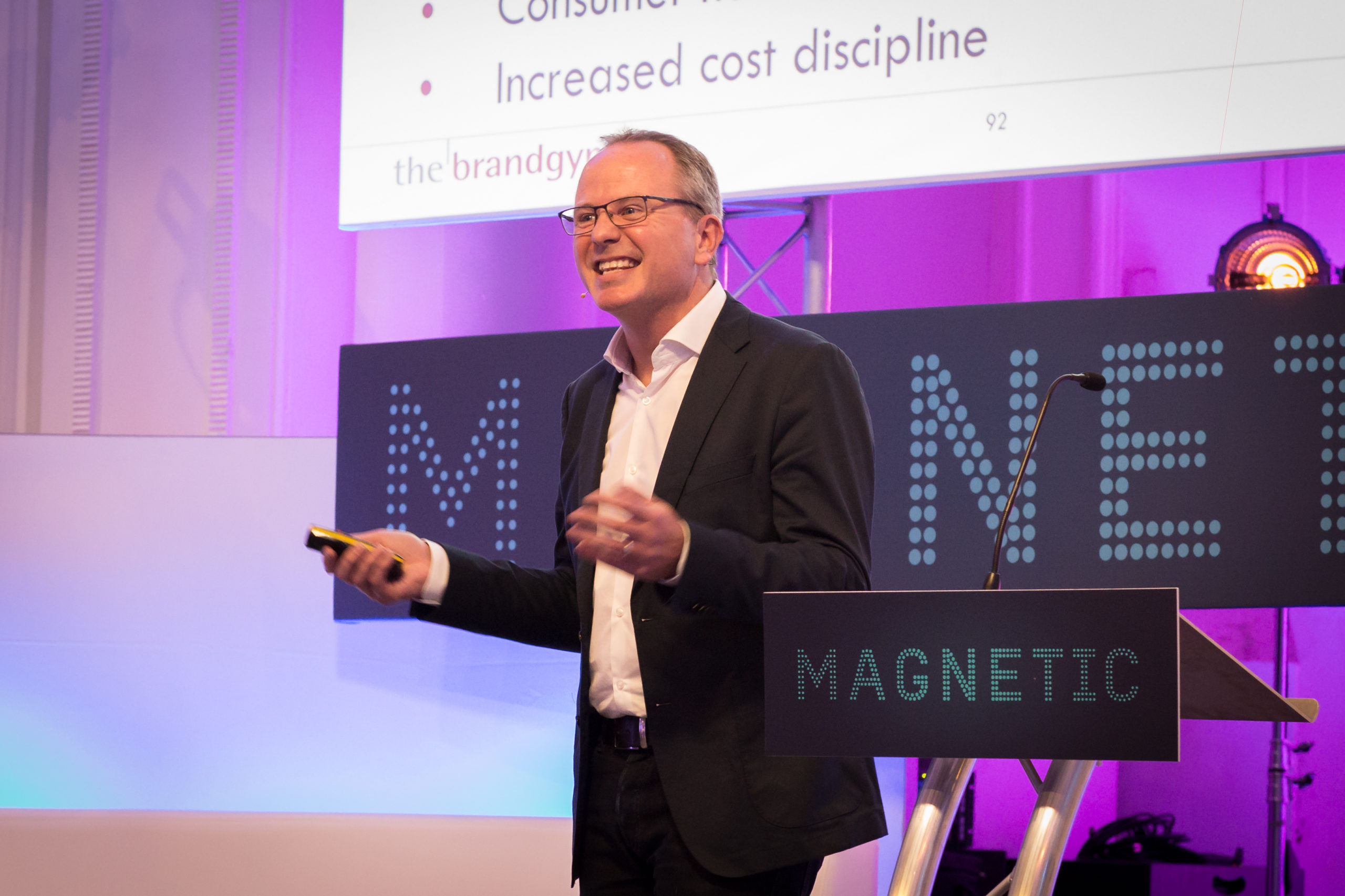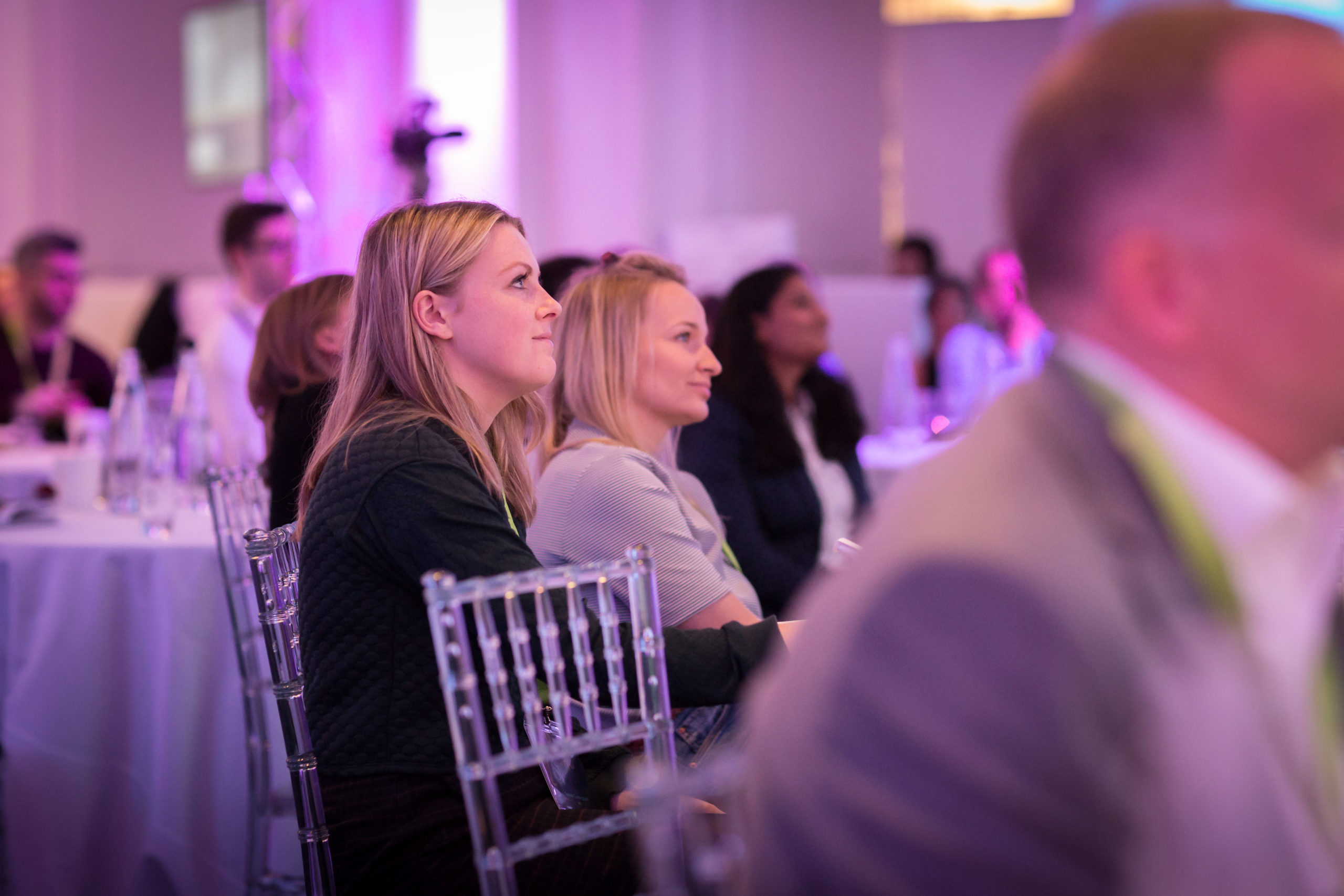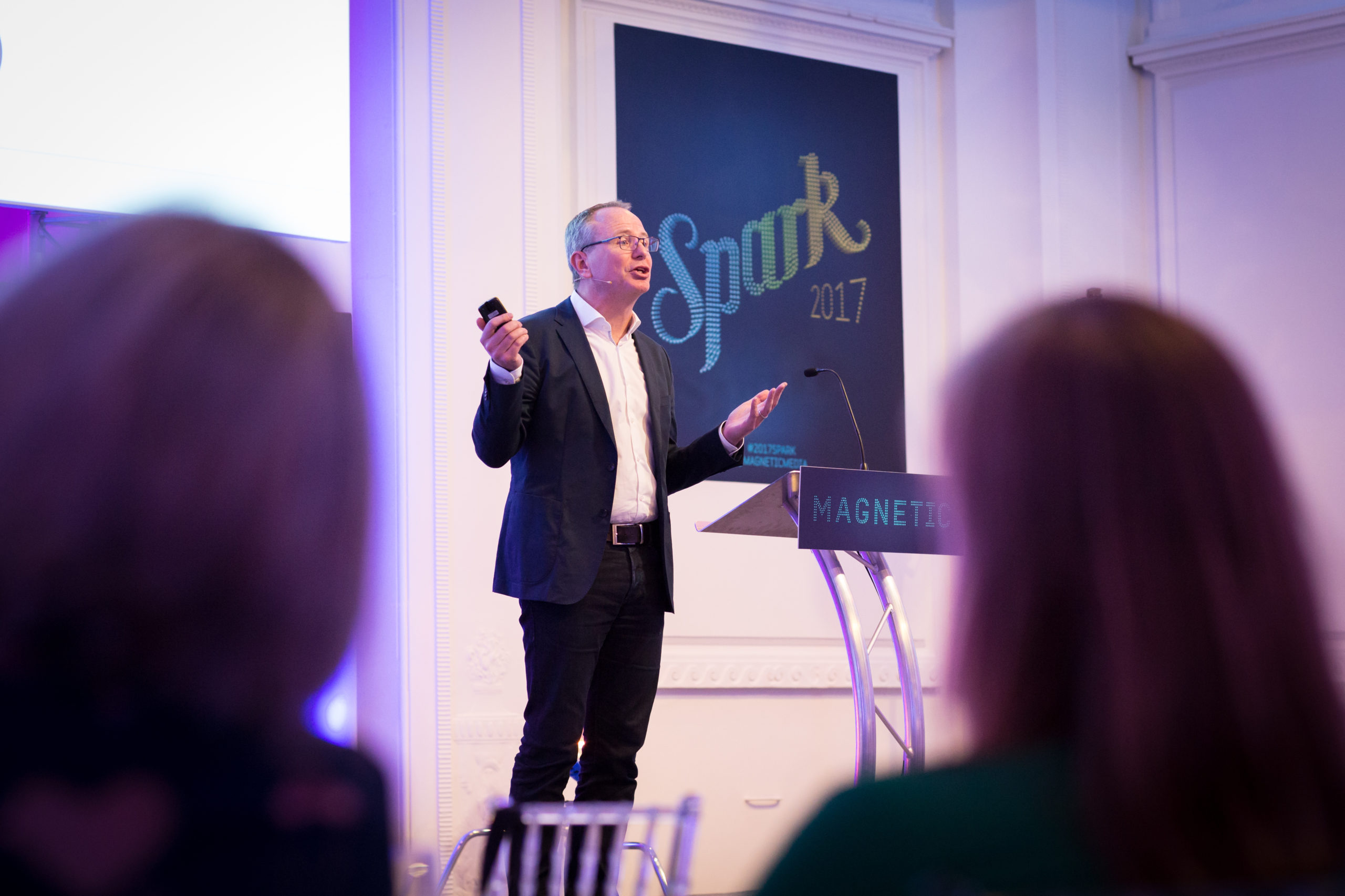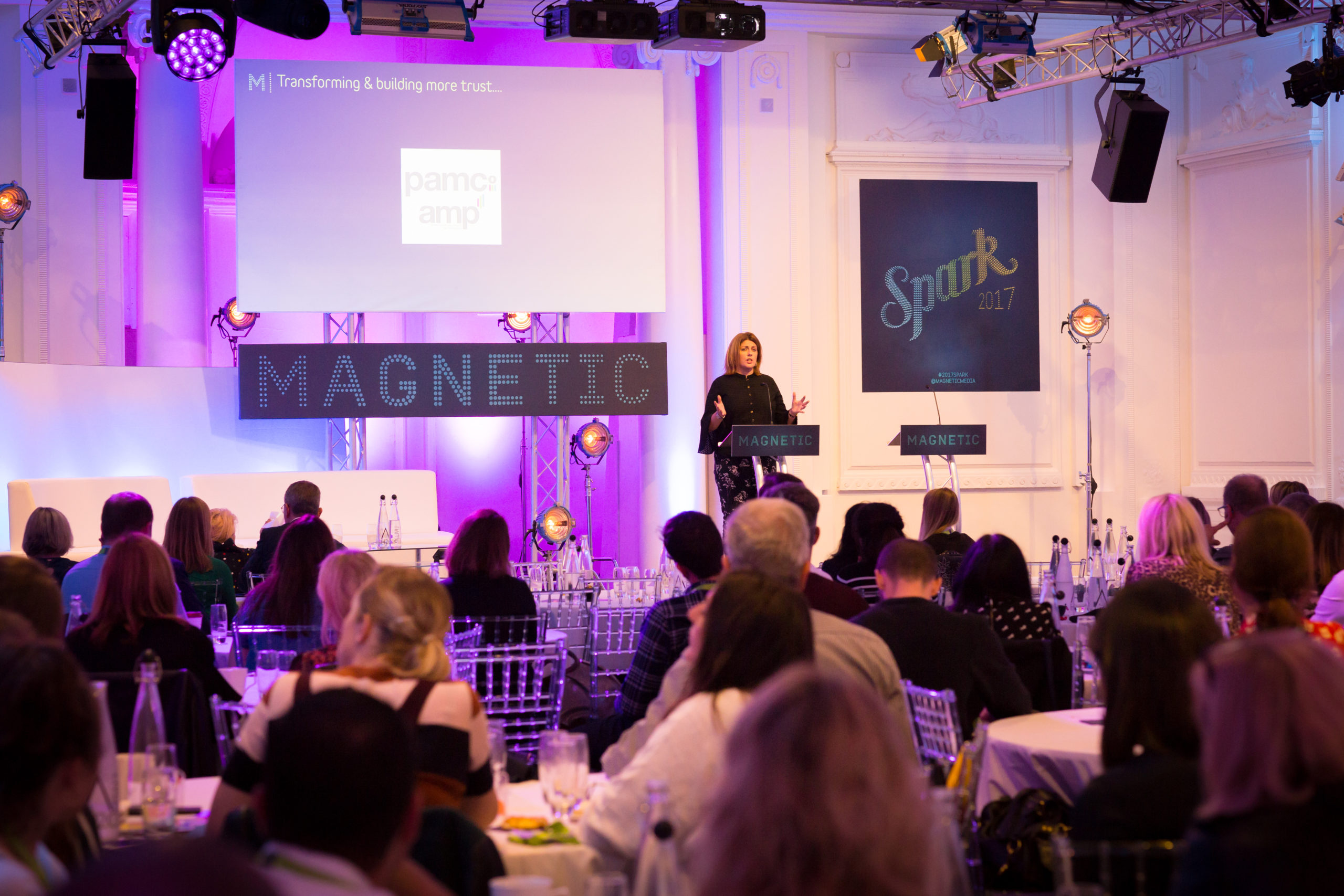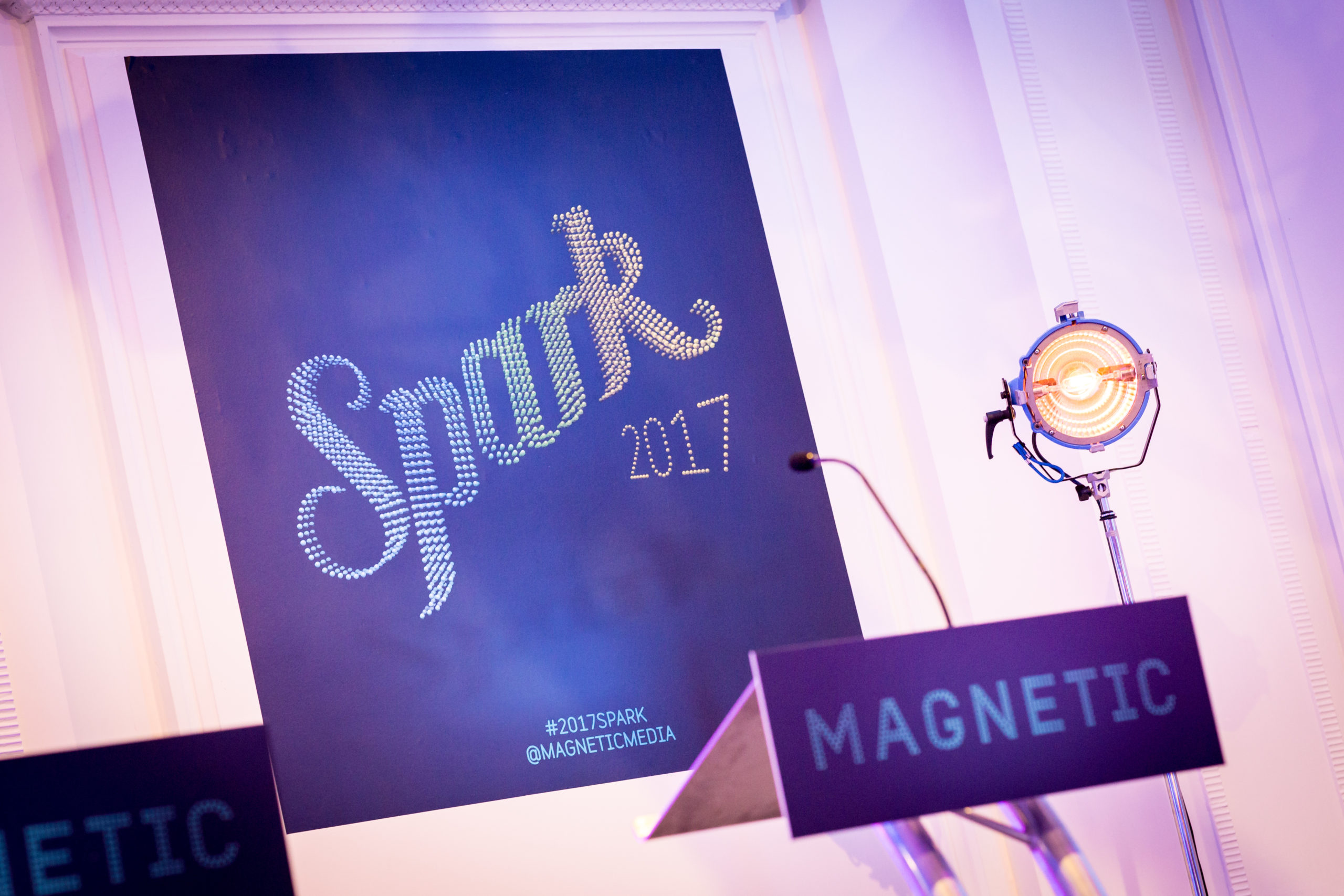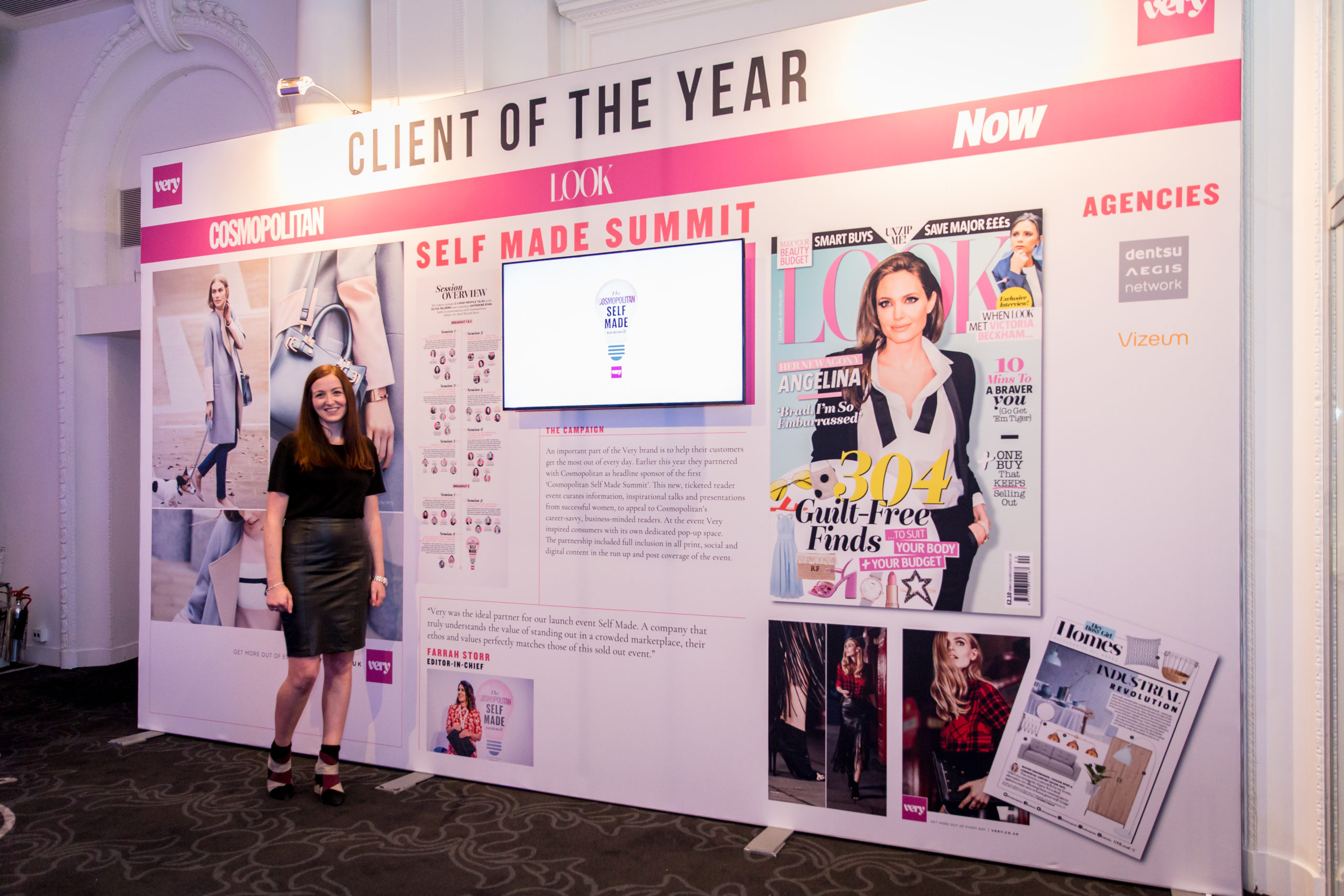 Speakers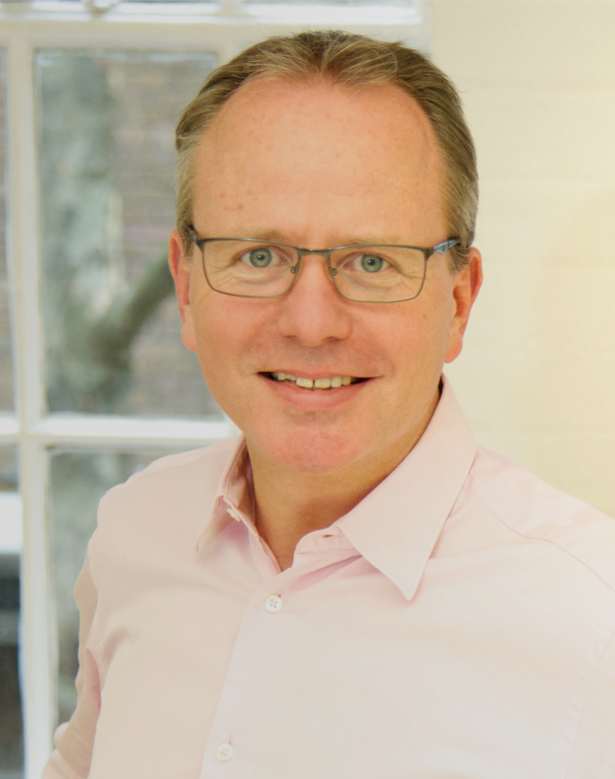 Jon Goldstone
Global Managing Partner
The Brand Gym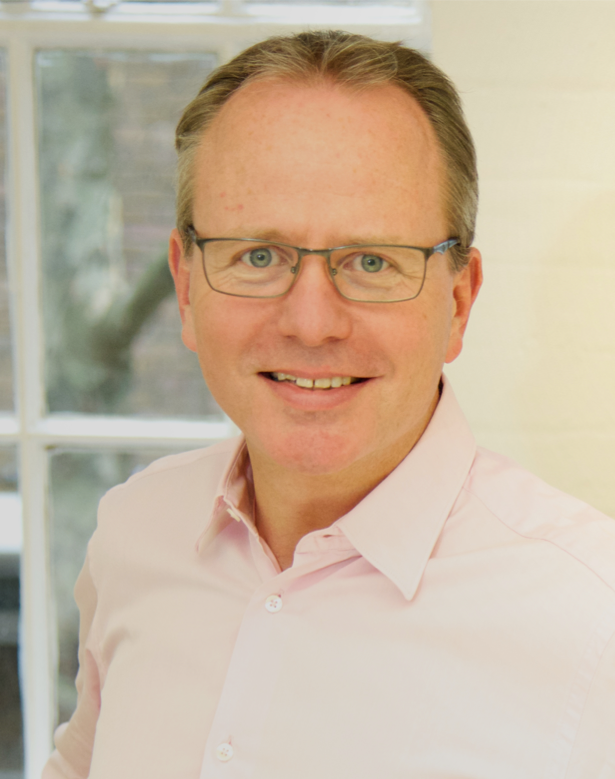 Jon Goldstone
Global Managing Partner
The Brand Gym
Jon joined brandgym from Unilever, where he was UK VP of Marketing then Global Marketing VP for the €3bn Spreads business. An experienced marketer, over the last 25 years he has also worked at Kraft, Coca-Cola and Pepsico.
He's a regular feature in Marketing's "Power 100" of leading marketers, and has won Marketing Week's Brand of the Year, the IPA Effectiveness Grand Prix and the Grocer New Brand of the Year.
He lives close to Reading with Sarah and their four kids, is a keen runner and long-suffering season ticket holder at Wycombe Wanderers FC.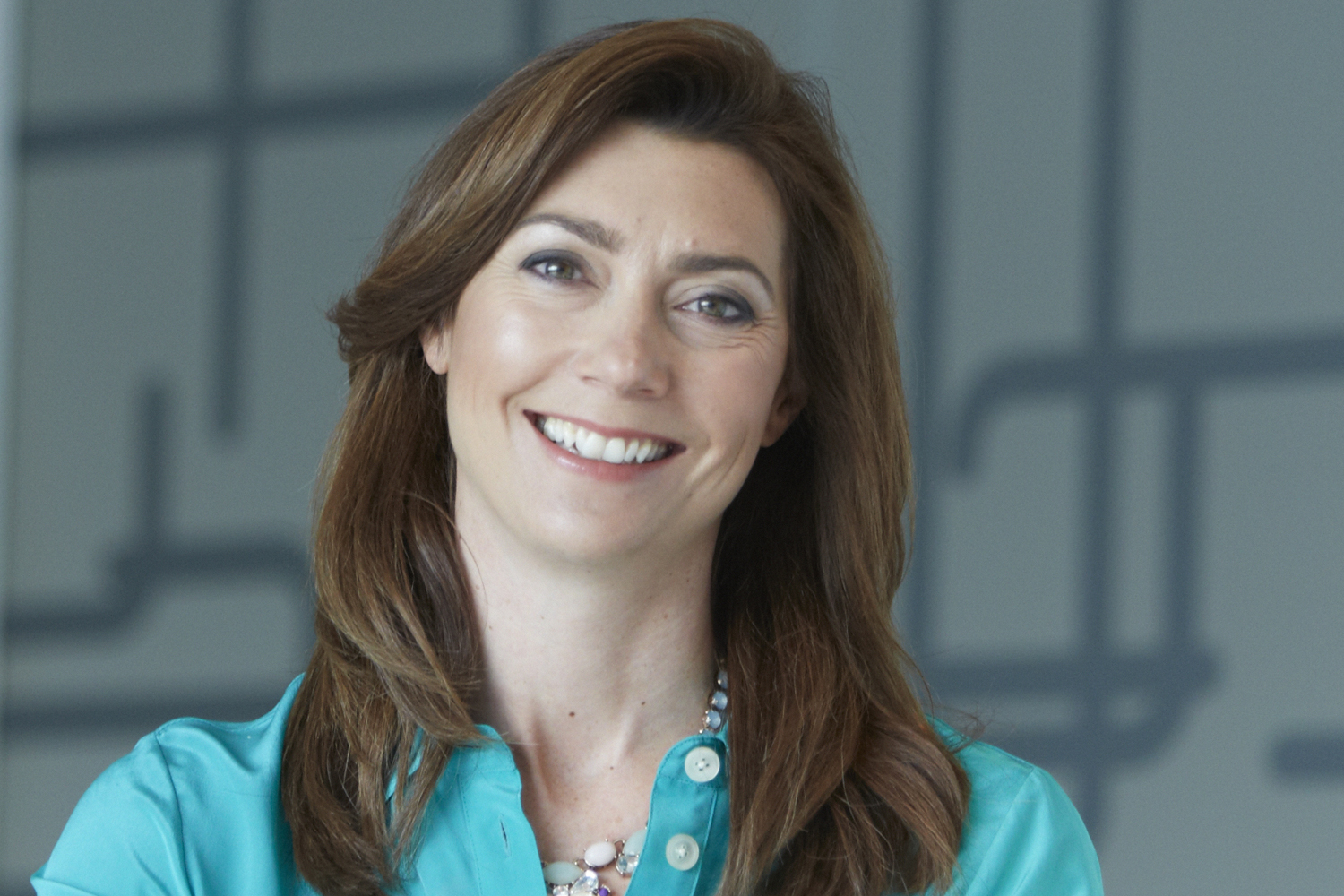 Lindsay Pattison
Chief Transformation Officer
Group M Worldwide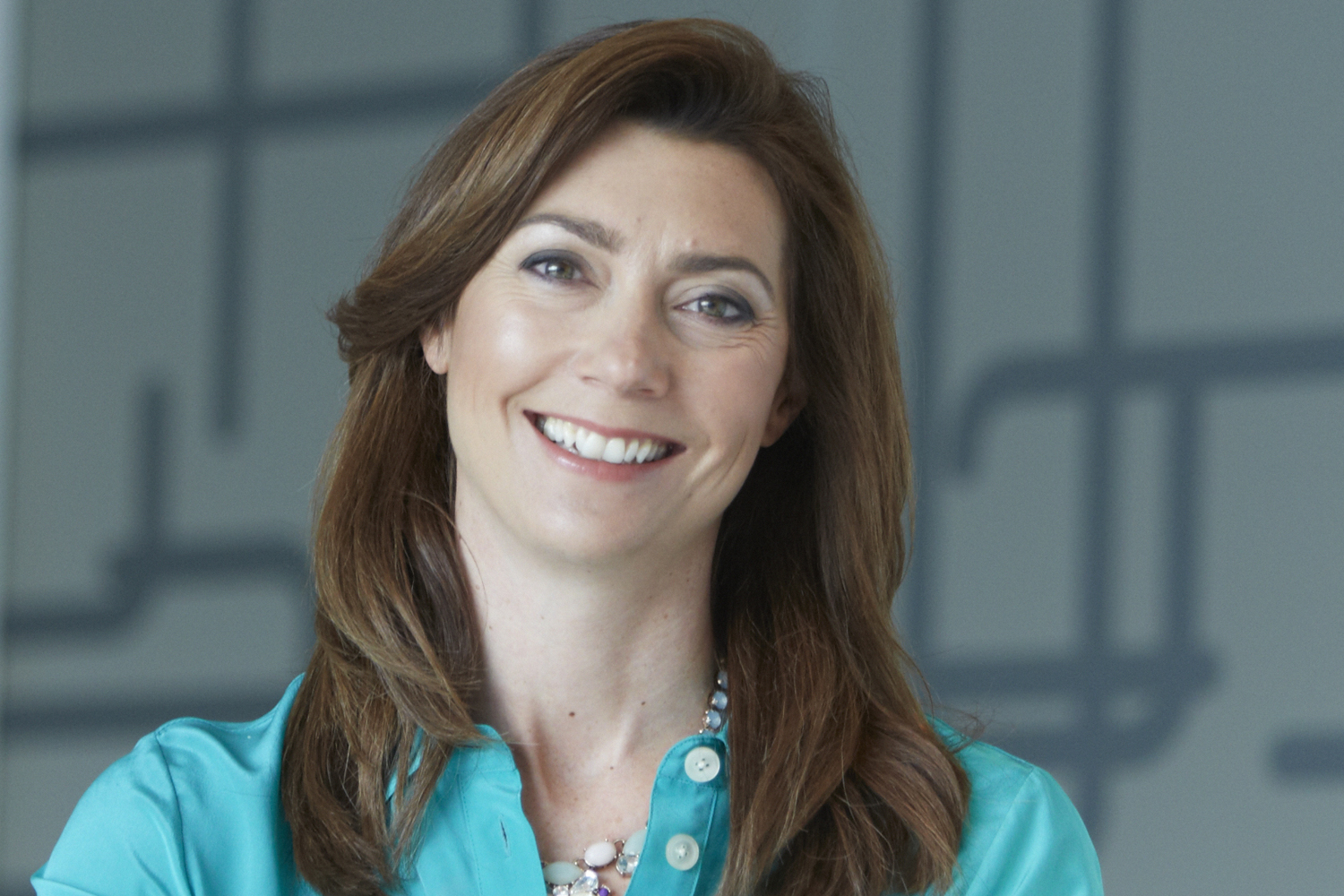 Lindsay Pattison
Chief Transformation Officer
Group M Worldwide
As UK CEO, Lindsay transformed the WPP-owned UK media agency Maxus, growing revenue, staff base and profit sevenfold in just over four years. Lindsay continued her growth within GroupM and in October 2014 was appointed CEO of Maxus Global, which in 2015 enjoyed stellar growth.
Lindsay holds a high profile in the media industry, and is regularly called upon by national and trade media as a commentator on leadership and future media trends. She is the sole female global media leader, and is a passionate advocate for business leaders taking meaningful action to improve gender equality. In 2016 she launched 'Walk the Talk', an initiative to help senior Maxus women reach the highest levels possible.
Lindsay was named one of Cranfield's FTSE Board Report's 100 Women to Watch in 2015 and 2016, and in 2017 was listed for the third time in Britain's top 500 Most Influential People by Debrett's. Lindsay was also recognised by Ad Age as one of their 2015 Women to Watch. She served two terms on the WEF Global Agenda Council on the Future of Media, latterly as co-chair and has twice attended Davos. She has just joined the CBI's Taskforce on the Value of Business as the communication specialist. She is also an ex-President of WACL (Women in Advertising & Communications London), and she continues to mentor on average five mentees annually.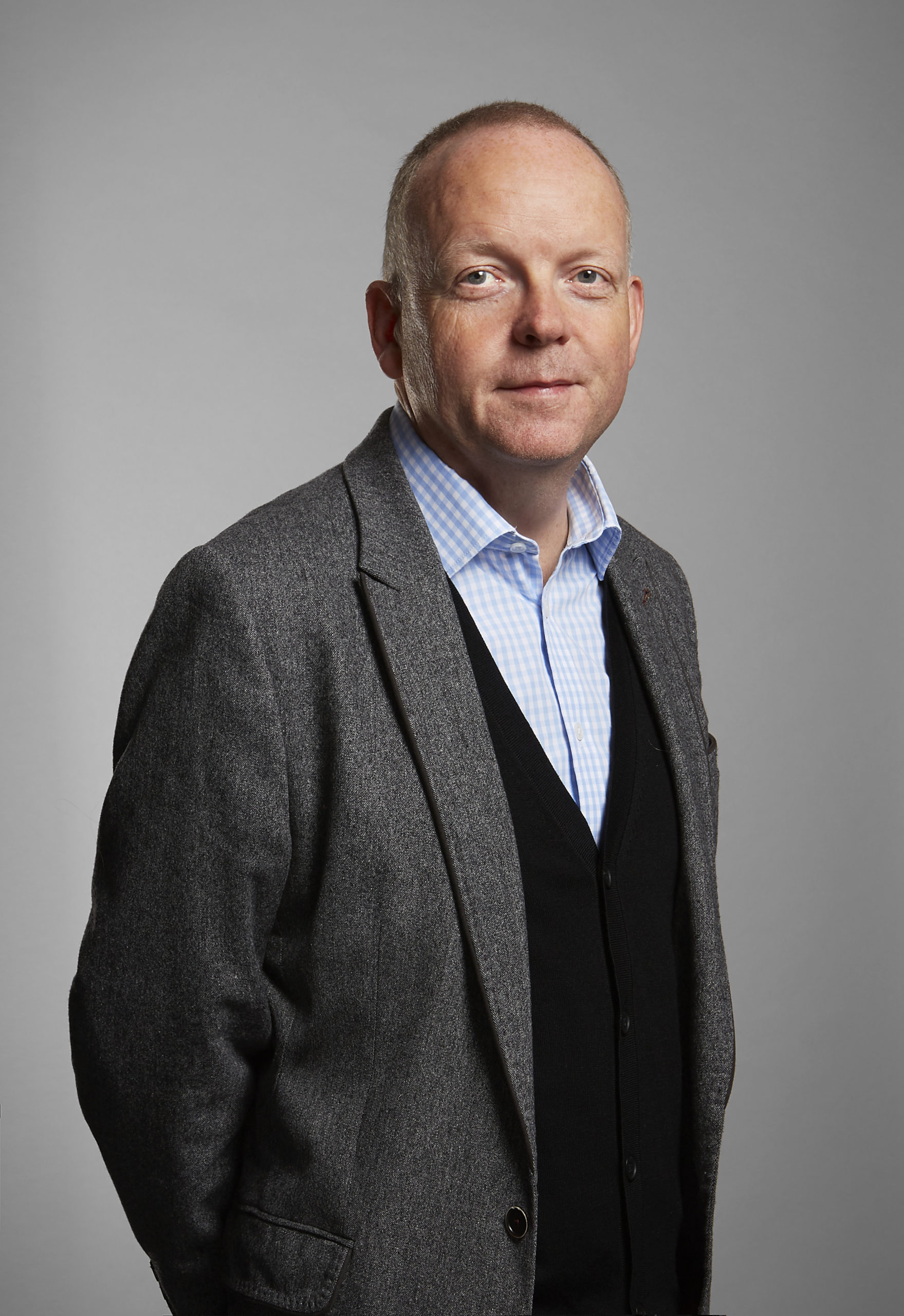 Robert Ffitch
Chief Strategy Officer
Hearst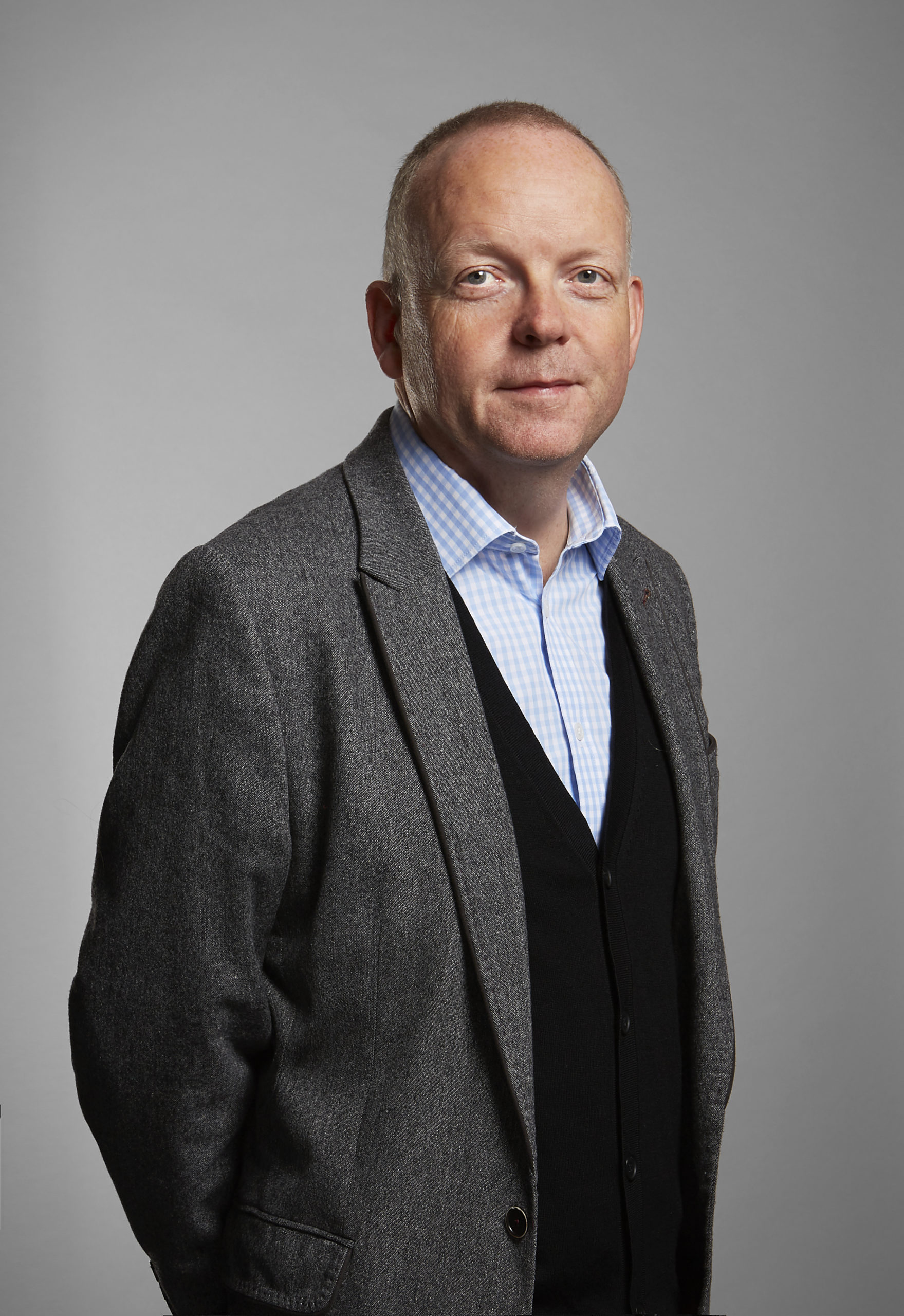 Robert Ffitch
Chief Strategy Officer
Hearst
Robert joined Hearst UK in September 2017 as Chief Strategy Officer. In this newly created role, he will oversee Research & Insight, Data Strategy, B2B Marketing and Commercial Development.
Robert previously ran Manning Gottlieb OMD, where he held both Managing Director and CEO roles. The company was named Media Week's Agency of the Year under his stewardship. Most recently, he was Director of Advertising Revenues at Telegraph Media Group, with responsibility for Display Advertising and Commercial Branded Content across both its print and digital platforms.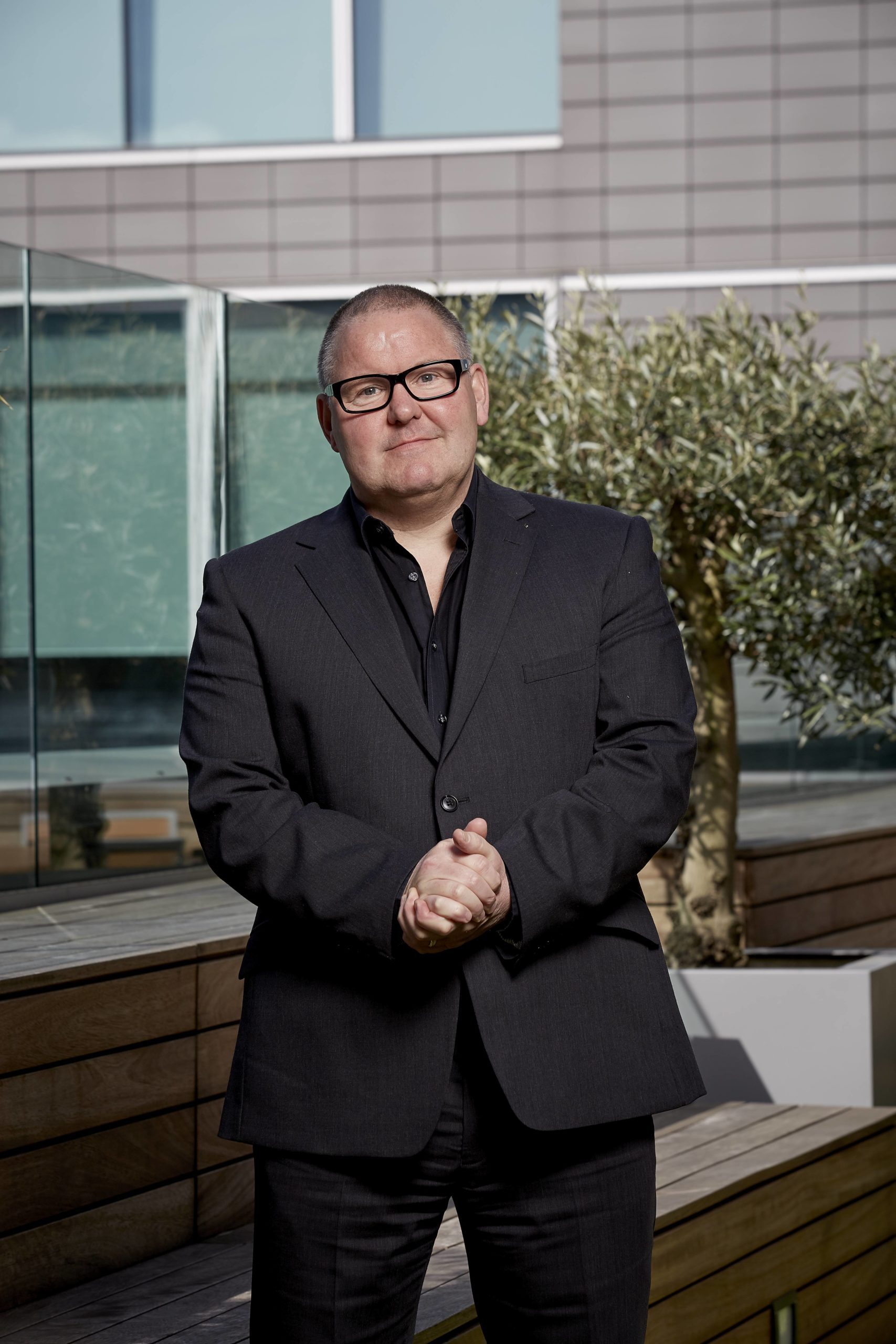 Chris Broadbent
Chief Operating Officer
MediaCom
Chris Broadbent
Chief Operating Officer
MediaCom
A native Yorkshireman he began his career in the full-service agency environment of J Walter Thompson in Manchester back in the 80's when the media department was down the corridor. After stints in McCann Erickson and Carat he moved to the independent Brilliant Media in 2002 and was to oversee that business being acquired by MediaCom in 2011. Appointed as the COO for the MediaCom North Group in 2016, Chris is responsible for the 380 people within the MediaCom business across Manchester, Birmingham and Leeds, reporting into MediaCom UK Chairwoman, Karen Blackett. Chris's role is simply to ensure the best possible experience for all clients by collaboration across our fantastic people to work as a trusted business partner, delivering better business outcomes for all our clients.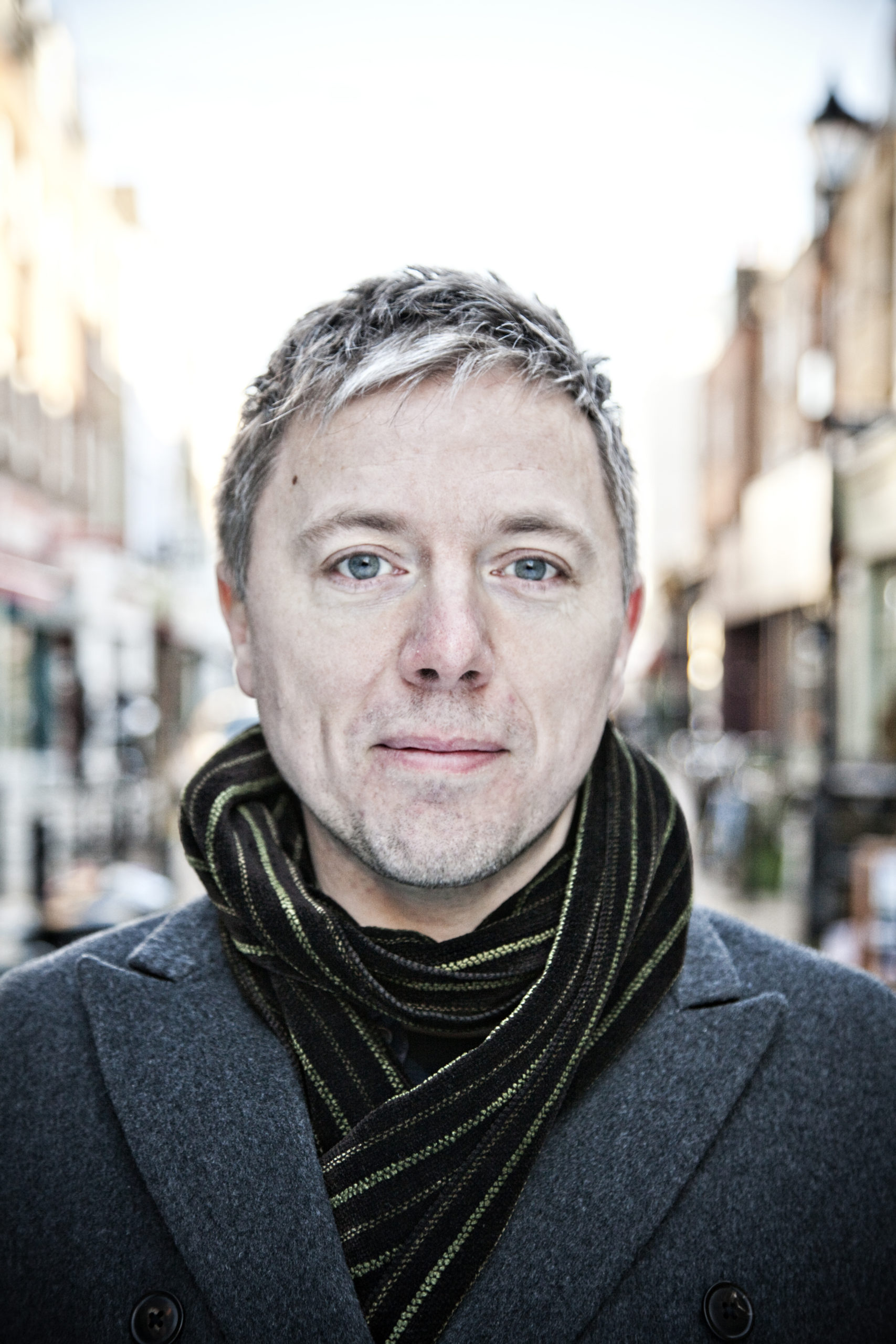 Ian Leslie
Brand Consultant
Writer & Consultant on Brands and Behaviour
Ian Leslie
Brand Consultant
Writer & Consultant on Brands and Behaviour
Ian Leslie is a brand consultant, journalist, and author of critically acclaimed books on human psychology and behaviour, including "Born Liars: Why We Can't Live Without Deceit". He is a regular contributor to the Economist, the Financial Times and the Guardian on technology, science, marketing and business. Ian is currently researching a new book on communication and trust.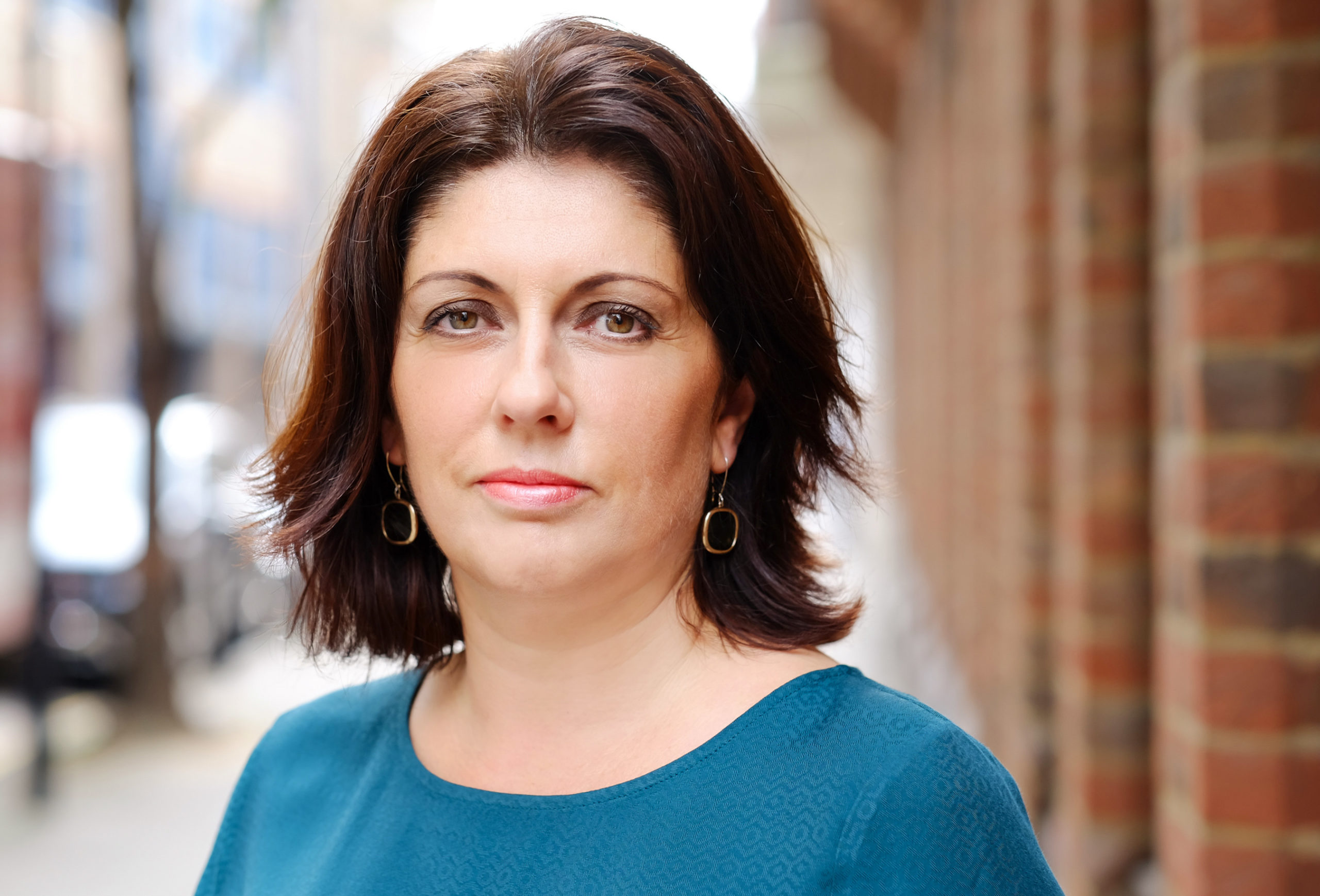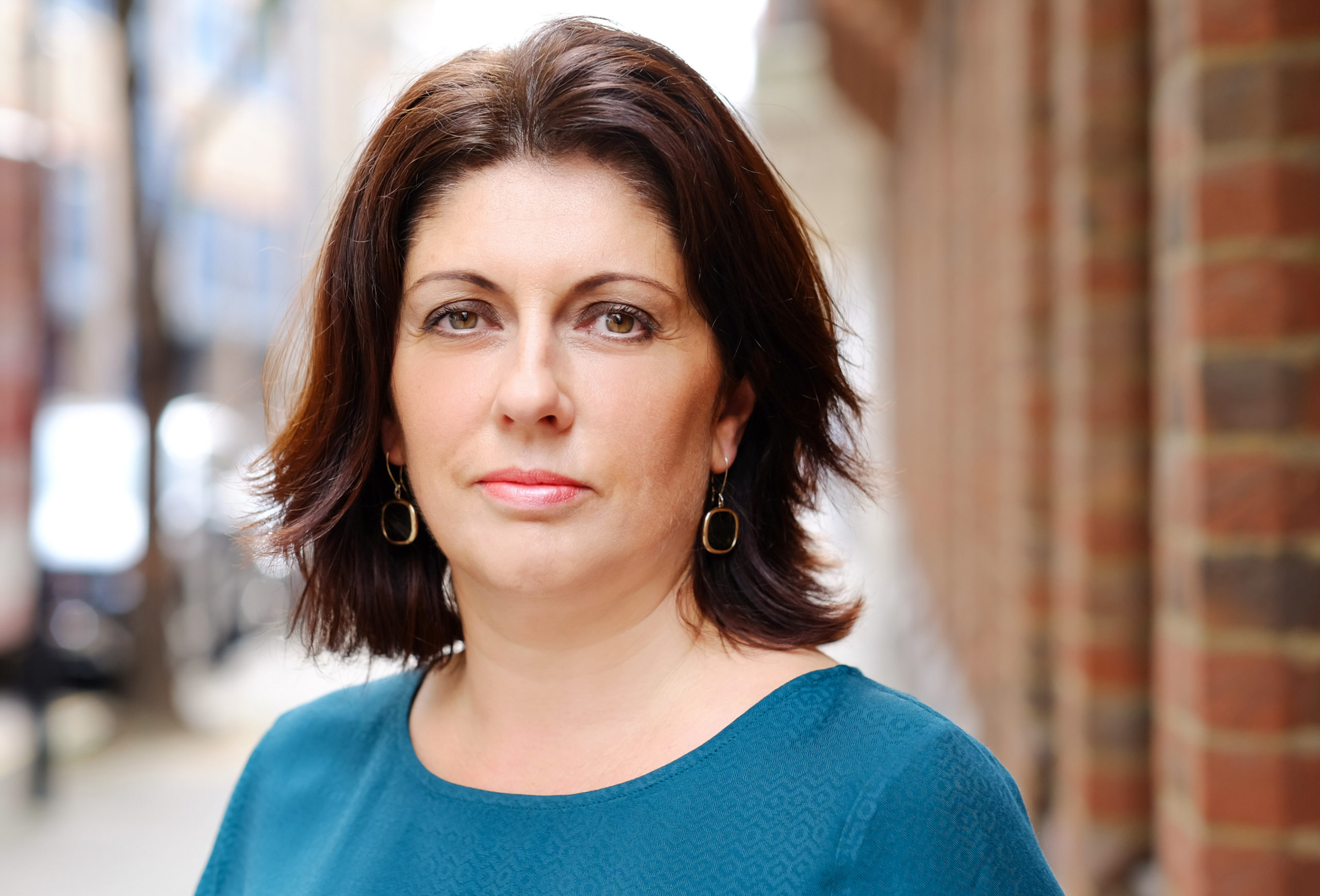 Sue Todd launched Magnetic, the marketing agency for magazine media, in March 2015, to help customers get the very best return from their advertising spend with magazine media. Working with the UK's largest consumer publishers, Sue and the Magnetic team have a remit to champion the power and vitality of magazine media in all its forms to the marketing and advertising community.
Sue began her career at EMAP in the research team, working through the ranks to become Marketing and People & Culture Director. From there she spent two years as Marketing Director at CBS Outdoor (now Global), before running specialist brand and culture consultancy Wonder for seven years, where her clients included Channel 4, Harrods, MEC, Primesight and Grey.
She is a non-exec Director on the board of The Big Issue and in her spare time enjoys the theatre, podcasts, singing and cycling.
@SueTodd2
@magneticmedia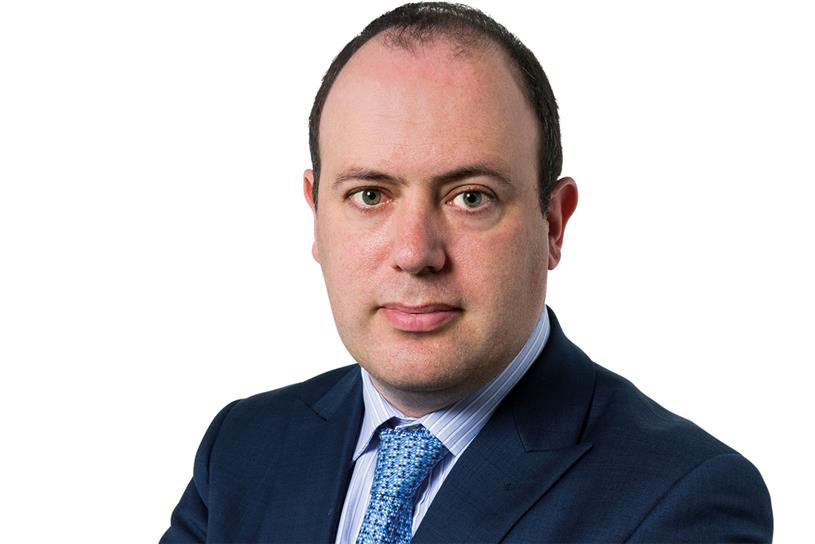 Gideon Spanier
Head of Media
Campaign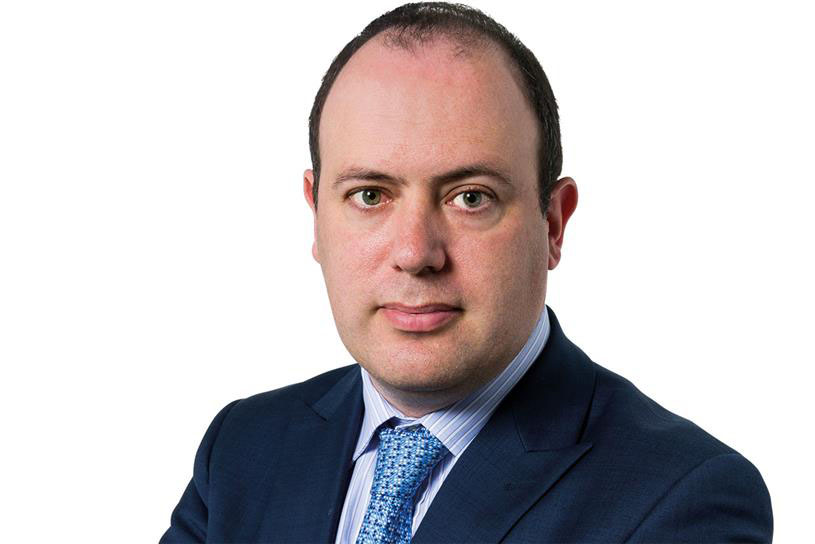 Gideon Spanier
Head of Media
Campaign
Gideon Spanier is head of media at Campaign where he was worked since 2015, covering brands, agencies, media owners and the wider global media industry. He previously worked for the London Evening Standard, where he was media editor, and for The Times and The Independent. He began his career as a TV producer at CNN in London and is a former chairman of the Broadcasting Press Guild, a national association of journalists who write about broadcasting.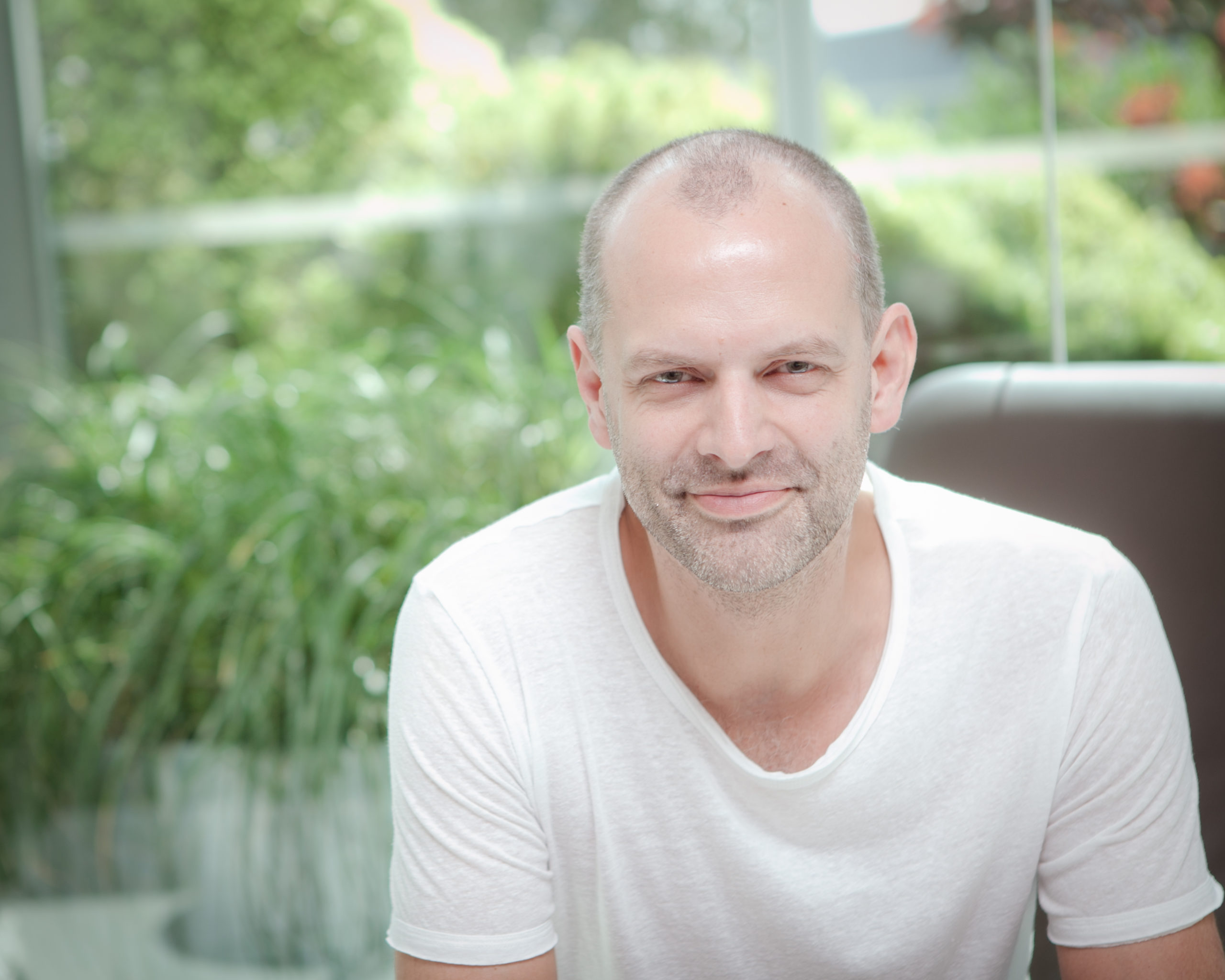 Mark Frith
Editorial Director
Radio Times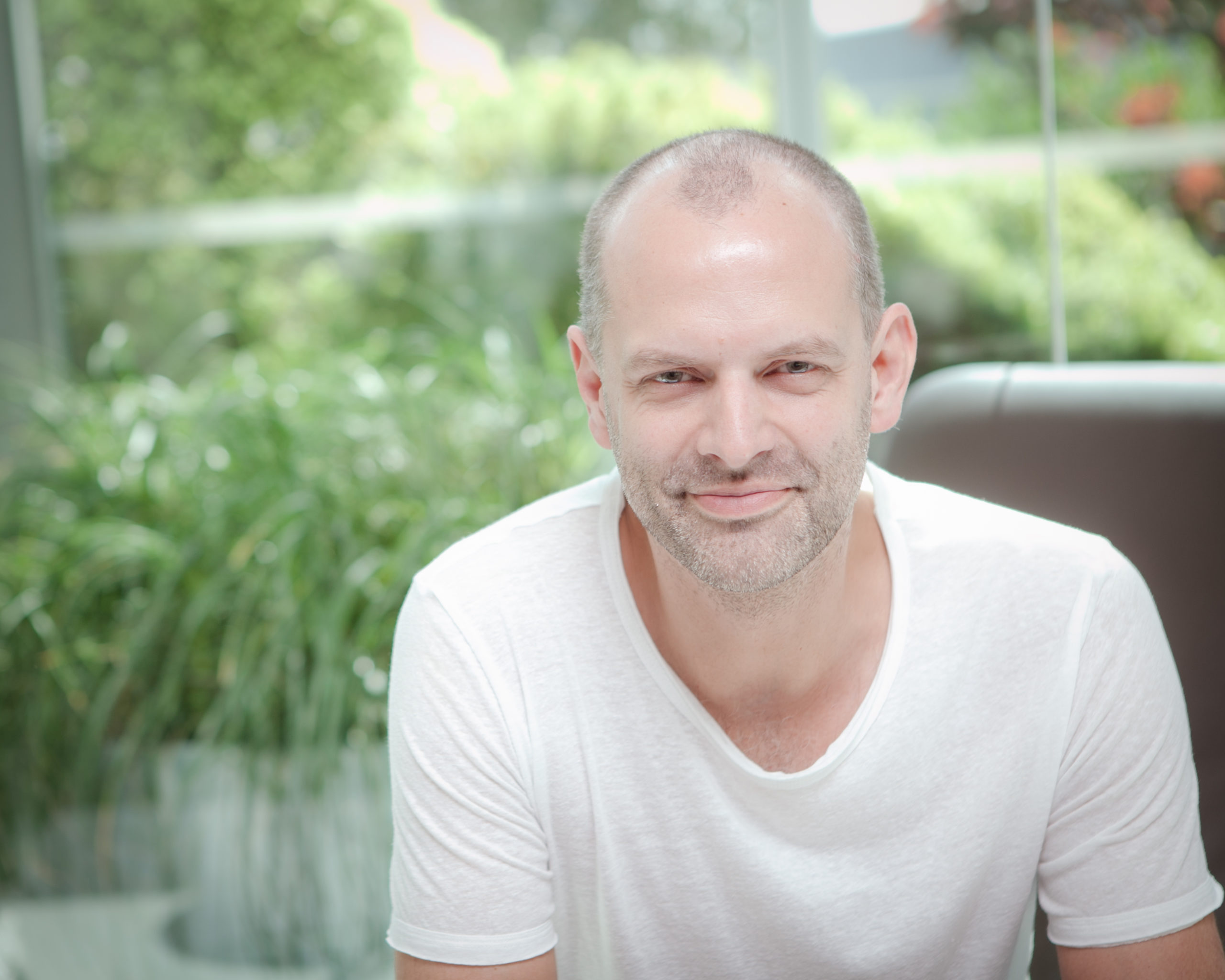 Mark Frith
Editorial Director
Radio Times
Mark Frith is the new Editorial Director of Radio Times.
He began his publishing career editing University of East London's college magazine Overdraft before becoming Editor of Smash Hits magazine in 1994 aged just 23. He has since held a number of senior publishing editorial and consultancy roles, including the Editor-in-Chief of Heat magazine,
Mark is also a Sunday Times bestselling author and a regular media commentator on television and radio.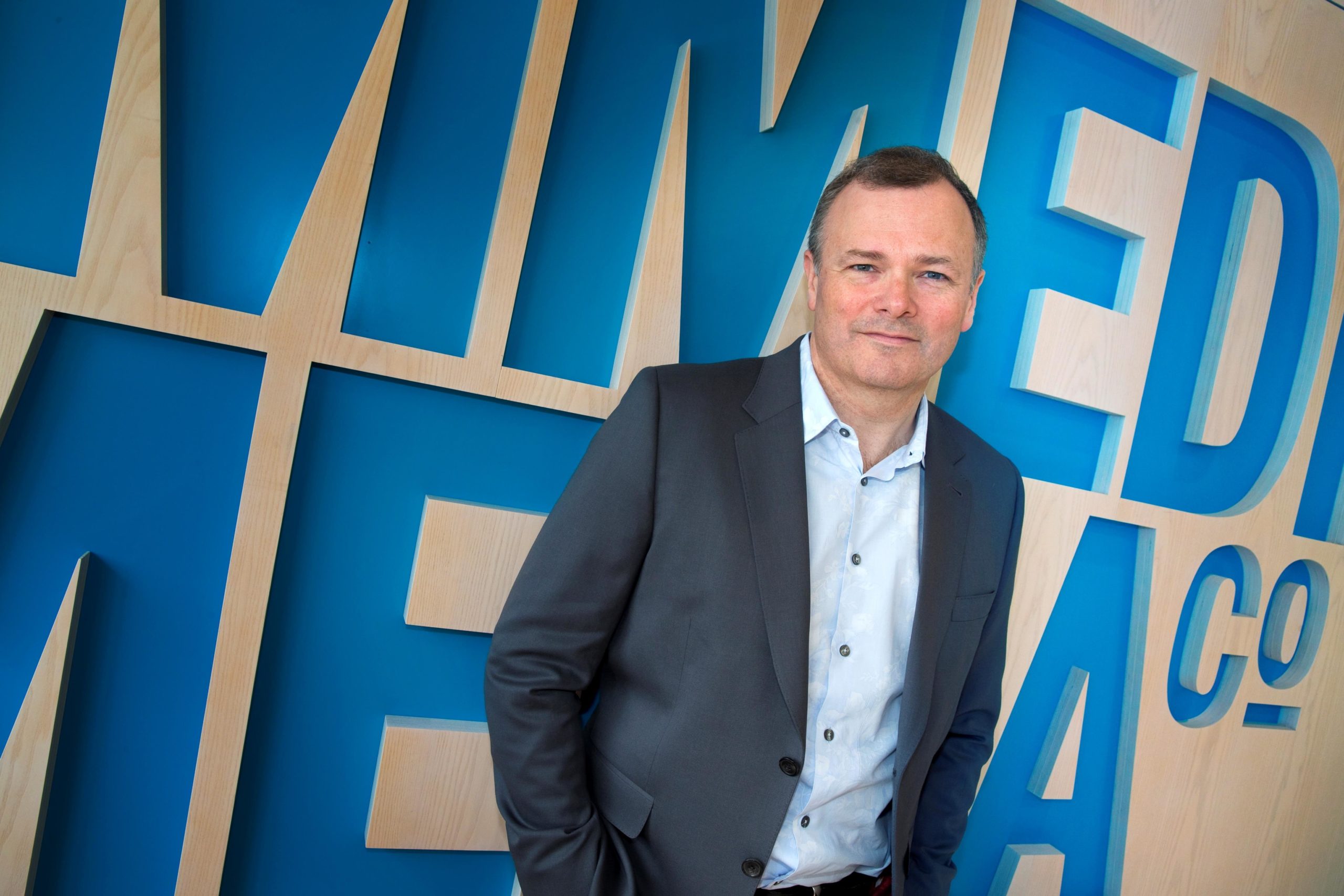 Tom Bureau
CEO
Immediate Media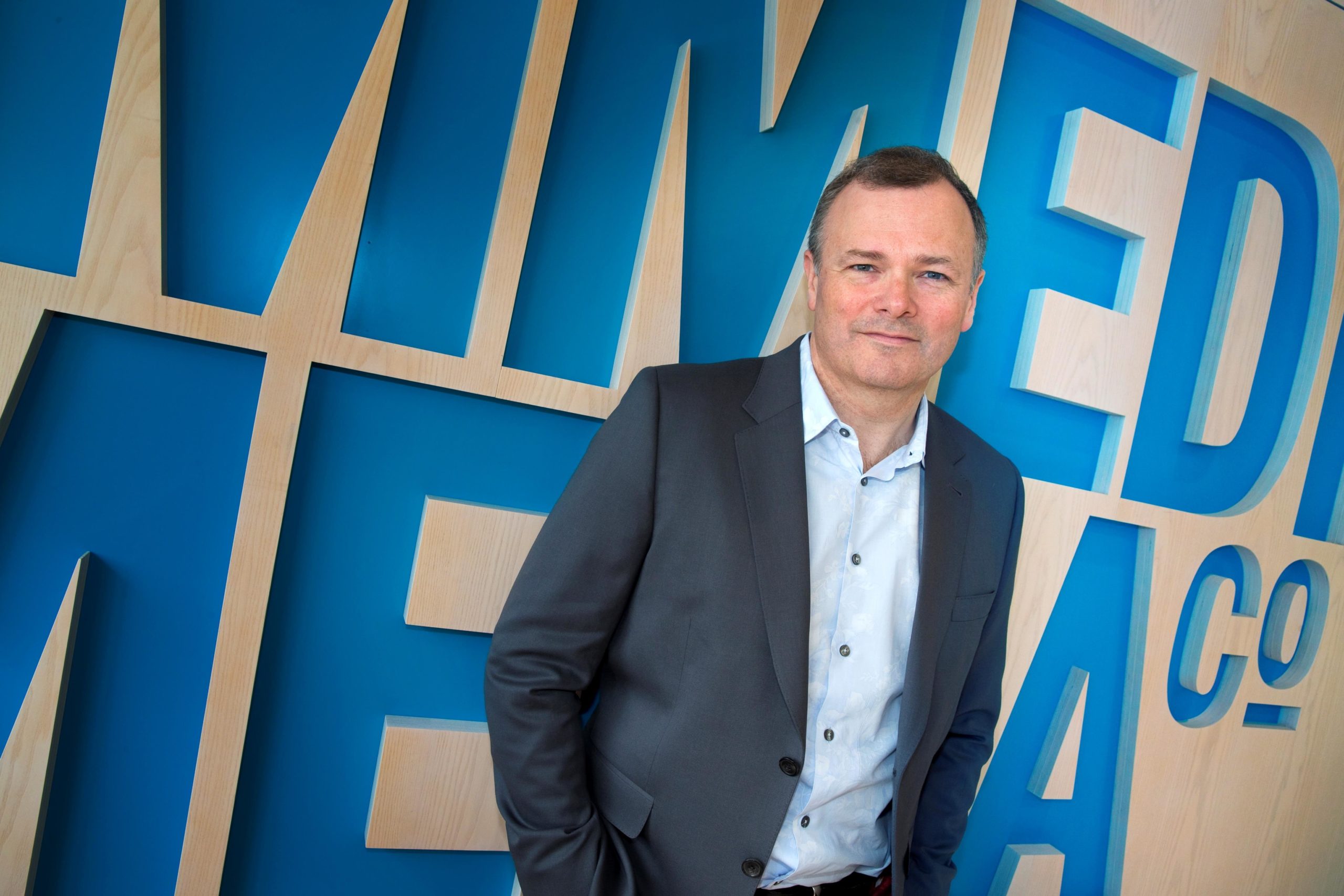 Tom Bureau
CEO
Immediate Media
Tom was Co-Founder and CEO of digital start-up Silicon Media Group from 1998 to 2002. When Silicon.com was acquired by CNET Networks, Tom launched CNET Networks UK as Group MD and VP from 2002 to 2007. By 2007 he had developed the company into the UK's biggest online media publisher, with a reach of 10m unique users, generating significant digital revenues and profits. After a period of consulting with various private equity funds, Tom joined cross-media business Magicalia as CEO in mid-2008, working with Exponent Private Equity, and became CEO of the newly-created Immediate Media Co in 2011.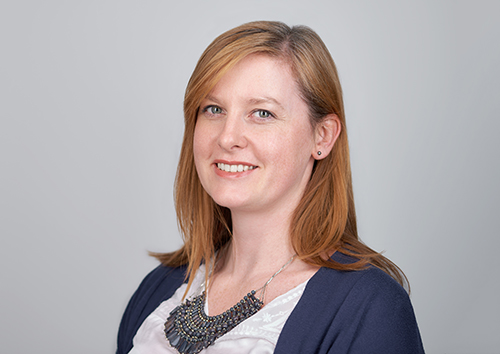 Ffion Turner
Business Science Director
MediaCom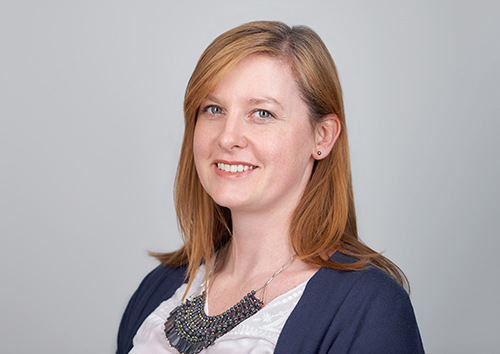 Ffion Turner
Business Science Director
MediaCom
Ffion joined MediaCom in 2004 having graduated with an MSc Economics from University College London and previously a BSc Economics graduate of the University of Leicester. Ffion has worked across an impressive range of sectors in her time including financial services, pharmaceutical, FMCG, retail, charities, technology and gaming. She has previously run a number of very large analytics projects, managing a large team of analysts, co-ordinating cross agency teams, and dealing day to day with senior client stake holders.
Having spent 9 years at MediaCom London, she transferred to MediaCom North Group in 2013 to set up the analytical offering and now oversees projects across Manchester, Leeds and Birmingham. Ffion oversees projects covering the full suite of marketing effectiveness disciplines from tech, data science, statistical modelling (including MMM, Digital Attribution and conjoint) and consumer behavioral understanding through brand tracking and creative testing.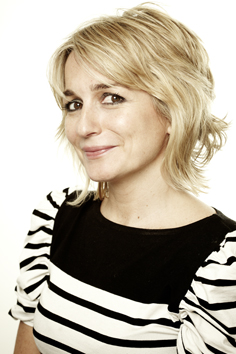 Lucie Cave
Chief Content Officer
Bauer Media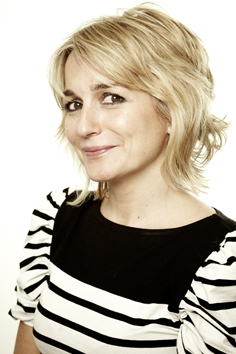 Lucie Cave
Chief Content Officer
Bauer Media
Lucie is an award-winning editor and journalist with over 12 years' experience in the media industry. As Editorial Director for heat, Lucie has grown the iconic title to become a multi-platform brand spanning radio, online and print. As Creative Editorial Director for Bauer Media, she uses audience insight and instinct to drive client solutions across leading brands including Grazia, Empire, Kiss and Absolute Radio and she is the driving force behind Bauer Media's mental health campaign wheresyourheadat.org.
Not just an innovative and talented journalist, Lucie is also an experienced broadcaster. Her first on-screen presenting was on youth channel Trouble and since then has presented and produced for 4music and heatworld.com, as well as hosting her own heat radio show. She is a sought-after media pundit and a regular showbiz correspondent – with slots on This Morning, and NTA's and E! to name a few.
She is famed for her range of exploits – all in the name of heat – such as becoming Simon Cowell's most diminutive bodyguard for the day, appearing in The Only Way is Essex and co-writing an Episode of Hollyoaks. Lucie is also the ghostwriter behind several Sunday Times best-selling autobiographies including Joey Essex's 'being reel' and Charlotte Crosby's 'me me me' and Dani Dyer's 'What Would Dani do?'. She is also an influencer in her own right with over 47K followers on social media.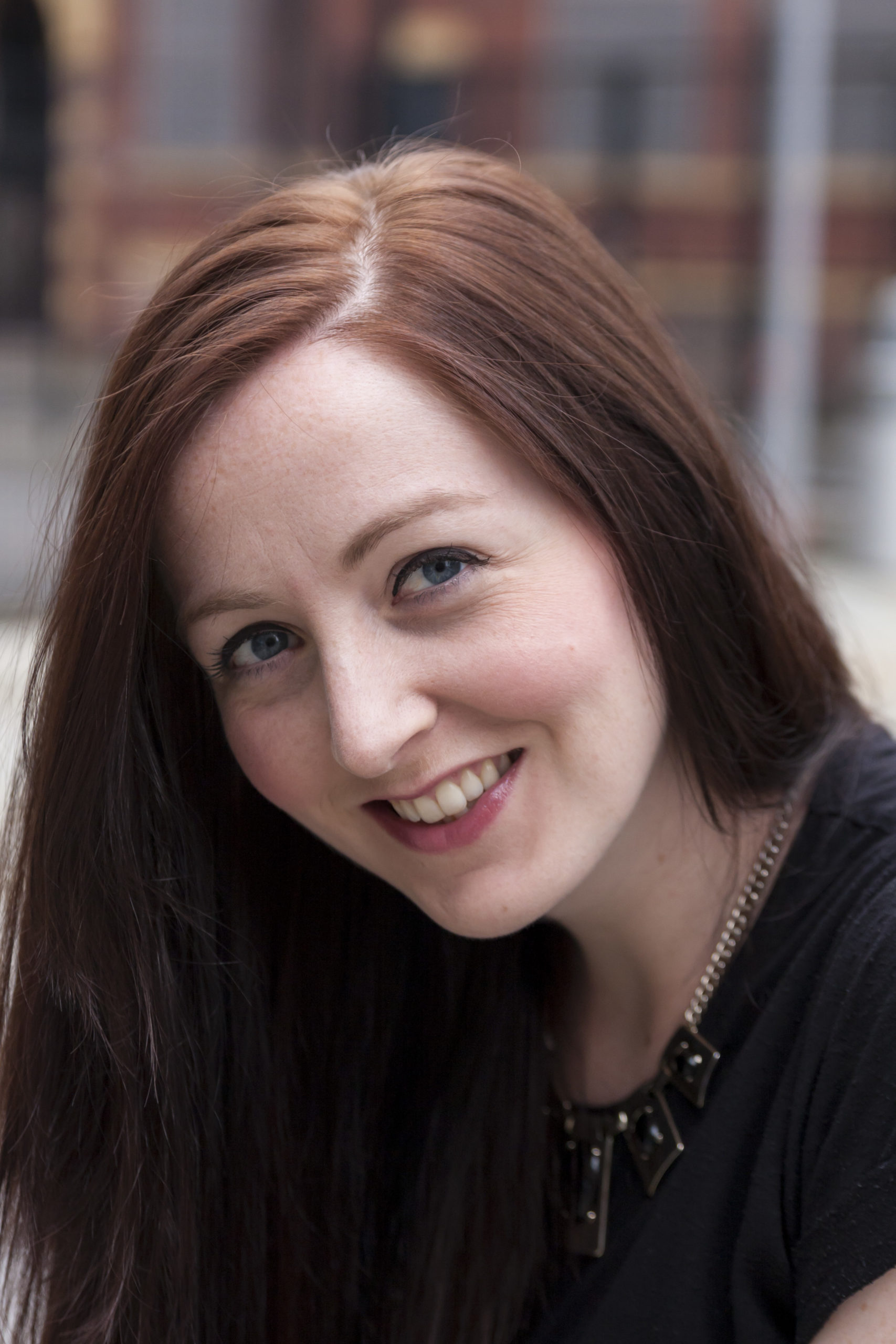 Becky Hardman
Brand Lead - Very Exclusive & Very.co.uk
Shop Direct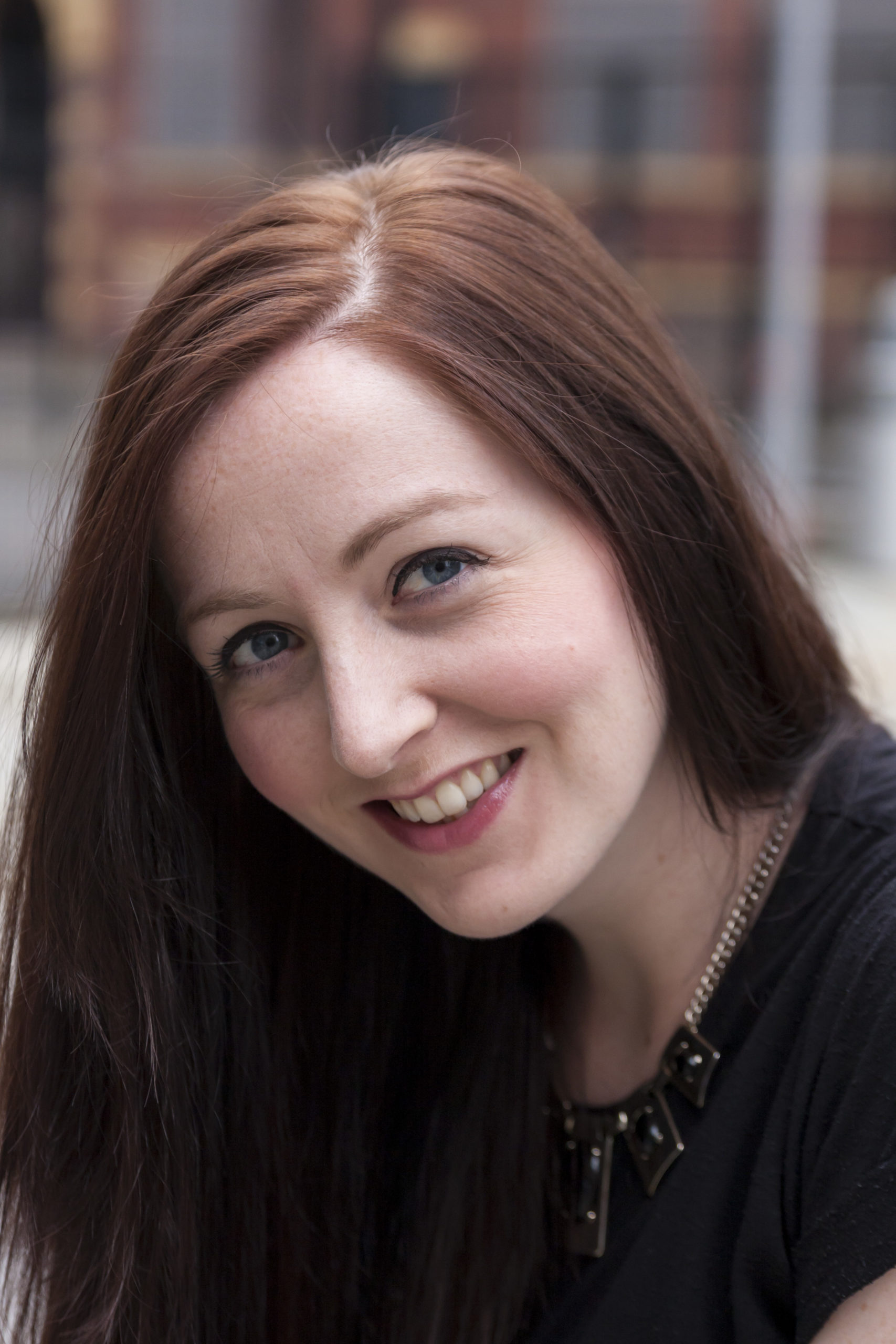 Becky Hardman
Brand Lead - Very Exclusive & Very.co.uk
Shop Direct
Becky Hardman graduated from Leeds University with an International BA in English in 2006 and has spent the past 11 years in various marketing roles in the North West. She spent a couple of years agency side before moving to Shop Direct and has now been there for 8 years.
Becky has held a variety of roles within the brand team at Shop Direct, including responsibility for content and social media. Most recently she was Brand Manager on Shop Direct's newest brand, Very Exclusive. A luxury brand retailer that launched in February 2015. Becky recently moved back into the Very.co.uk team as Campaign Manager for Clothing and Footwear – Responsibility for above the line campaigns across TV, print and outdoor
A proud Northerner and fashion lover!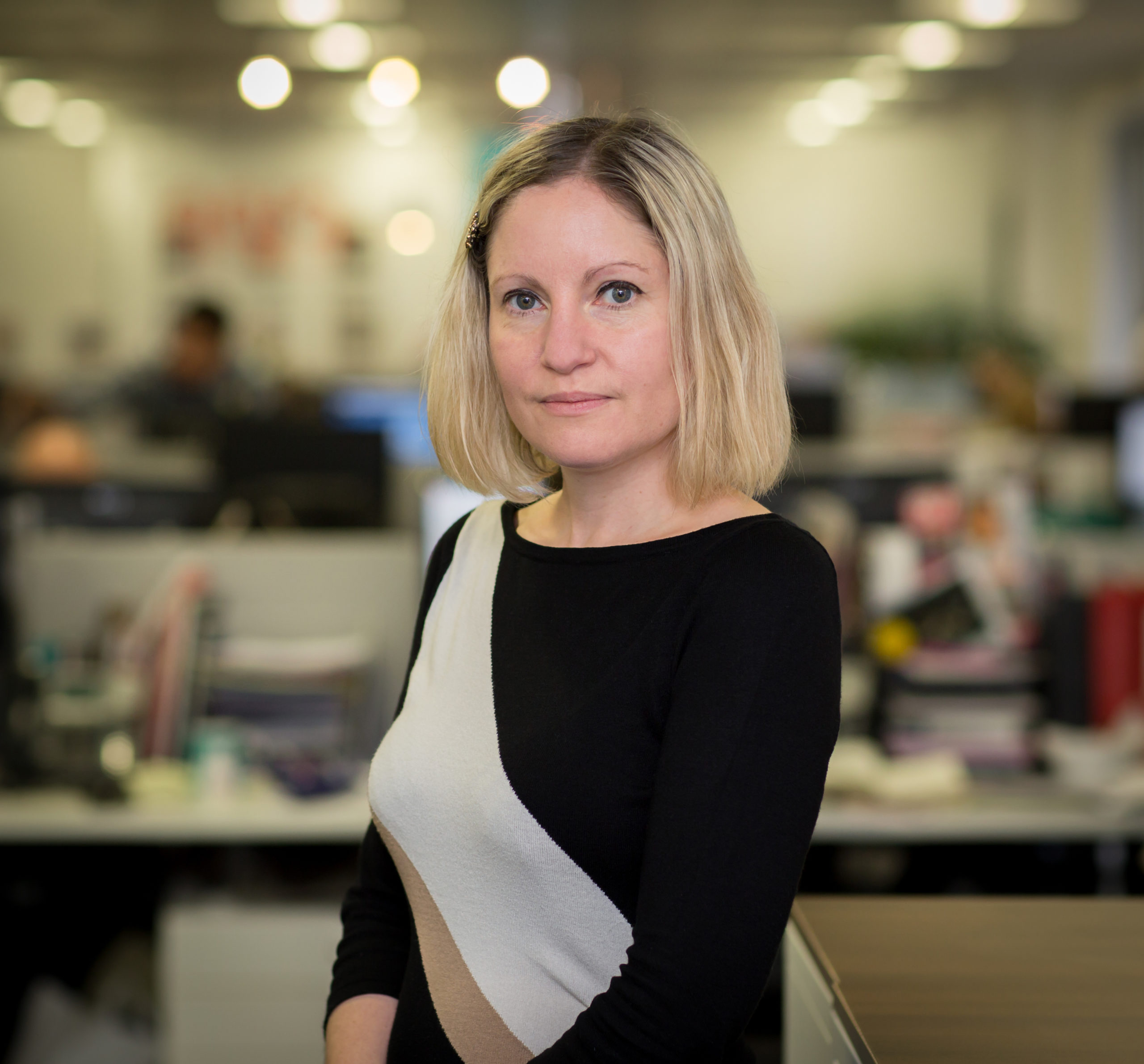 Anna Sampson
Insight & Strategy Director
Magnetic
Anna Sampson
Insight & Strategy Director
Magnetic
An insight practitioner with sixteen years' experience spanning start-ups to big agencies, Anna started out as a research executive at Carat before moving onto Rise Communications and then MediaCom.
She now fronts the insight narrative for Magnetic and prides herself on telling compelling stories with all sorts of research, data and evidence. Anna believes insight starts with curiosity but really delivers when it is successfully applied and observation matches up with opportunity.
@annasampson7