Accelerate: motor insights breakfast
Magazine media's ability to boost people's spend on new cars, the medium's role in accelerating the complicated car-purchasing process, and the burning question of which cars the UK's leading motors magazine editors actually buy with their own money.

Part 1: the research – how magazine brands influence motors purchasing
Key findings:
39% of motors magazine readers increase their budget for a new car
9% – the average increase in this budget
[Click Here for the full report/charts]
of data, much of which is owned by dealerships. Business models are having to evolve and adapt to the reality that car ownership is less aspirational among 'generation rent'."
She explained that the new research from Magnetic and its partners Bauer Media, Dennis, Haymarket, and Immediate Media, is designed to tackle some of these challenges, and address the role of magazines in the automotive customer journey. Anna also raised the broader media industry issue of short-termism, detailed in 2017's Enders Analysis report, and the resulting devaluation in the importance of context in media. She said that the motors research is an attempt to address Enders' calls for the greater integration of long and short-term planning metrics, and for better measurement of the risks and benefits of different media contexts.
Magazines have historically driven brand building in the motor sector, and the research shows that 45% of readers agree magazines impact their brand perceptions of motors.
When it comes to a direct influence on the purchase funnel, motor magazines also have a big role to play. Some 43% agree the magazines help to reduce the number of brands on their shortlist of models, showing that they play a critical role in the consideration stage. And 33% change the car they view as favourite after reading a motors magazine.
Vitally, 39% of readers say that they'd increased their planned budget for a new car after reading a motors magazine, and the average increase in this spend is 9%.
But what about the relationship between editorial and advertising, and the direct impact of the ads in motors magazines? The research shows that relevantly placed magazine display advertising plays a significant role in "securing favourite status" for a model, and shortens the purchase cycle by five months.
Alison concluded: "Magazines play a really active role in helping people decide which car to buy. They shorten purchase cycles, encourage consumers to spend more, and these effects are amplified through display advertising."
Anna Sampson concluded the research presentation with some audience insight around the value of motors magazine audiences, which make up a third of all car buyers, and are responsible for 60% of new car purchases. And, among all media, magazines are the most likely (60%) to inspire trust among those interested in motoring.
"If there's one takeout from today it's that magazine brands shorten purchase cycles and get motoring customers spending more."
Part 2 – the panel
The panel started with some appreciation for the qualities of their rival titles, the audience heard about the high quality of the weekly content created by Auto Express, the amazing consistency of Top Gear, Haymarket's ability to use its strong portfolio to have conversations with a whole range of motoring audiences, and Car's great craft and use of detail in features.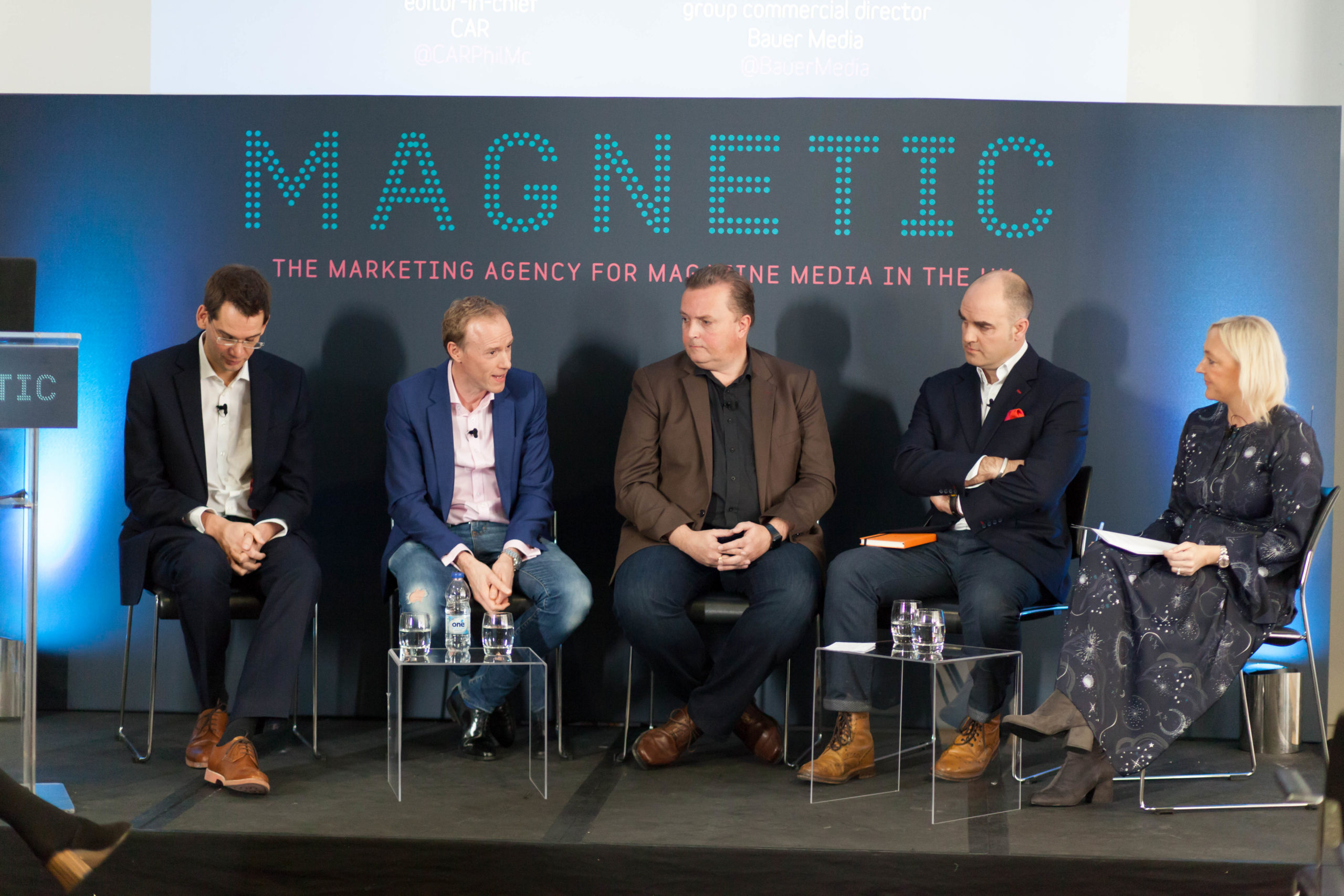 Then the editors moved onto the nitty-gritty of how motor titles influence the buying cycle, and identified campaigns that have worked especially well – including Pirelli's with Top Gear, Mitsubishi's with Bauer, and SEAT's with Dennis.
The panel also discussed the blend of strong editorial insight and expertise, together with data, that provides the magic in a motor magazine before addressing the reasons for the health of print circulations alongside the strength of their digital formats:
I hope there will be a tipping point where magazines continue to grow, because I believe people enjoy having that breathing space and really value the craft that goes into magazines."
Finally, the audience learned from the editors which car models they have bought with their own money. Charlie Turner said a Land Rover Defender "write-off" that had been refurbed by an enthusiast – he paid £5,000 on eBay. Steve Fowler an Audi A2, "in the vague hope it will rise in value". Phil McNamara a Mini Countryman plug-In hybrid, and Jim Holder a Renault ZOE electric.
This was valuable insight, from the ultimate motoring influencers, for the audience to take with them. They also went away with the encouraging news that, when it comes to motors, magazine media encourages people to increase their spend rather than look to drive prices down.
The pictures from the morning can be viewed here and for more information regarding the research please get in touch at insight@magnetic.media