Paramount shrink NME for launch of new film, Downsizing
WINNER – Magnetic Spotlight Awards 2018 for Best Use of Print
& SHORTLISTED for Best Multi-Platform Delivery
"Magazines are such a familiar size and shape, that when we decided we needed to physically shrink something to bring the concept of the film to life, it was a no-brainer to go with a magazine title. The integration with the regular features of NME took this even further and managed to add tangible value to readers. I don't think any other medium could have captured the essence of Downsizing and familiarised a captive audience with the world of Leisureland so perfectly."

Scott Taylor, Head of Marketing, Paramount Pictures
The Challenge
The challenge for Paramount was to generate awareness and box office ticket sales for Downsizing during the busy pre-Oscar film release season. To accomplish this, they were looking for a solution that could embody the miniature world of Downsizing and the luxury life of its characters in the little world of Leisureland. Magazines provided the answer to this.
The Idea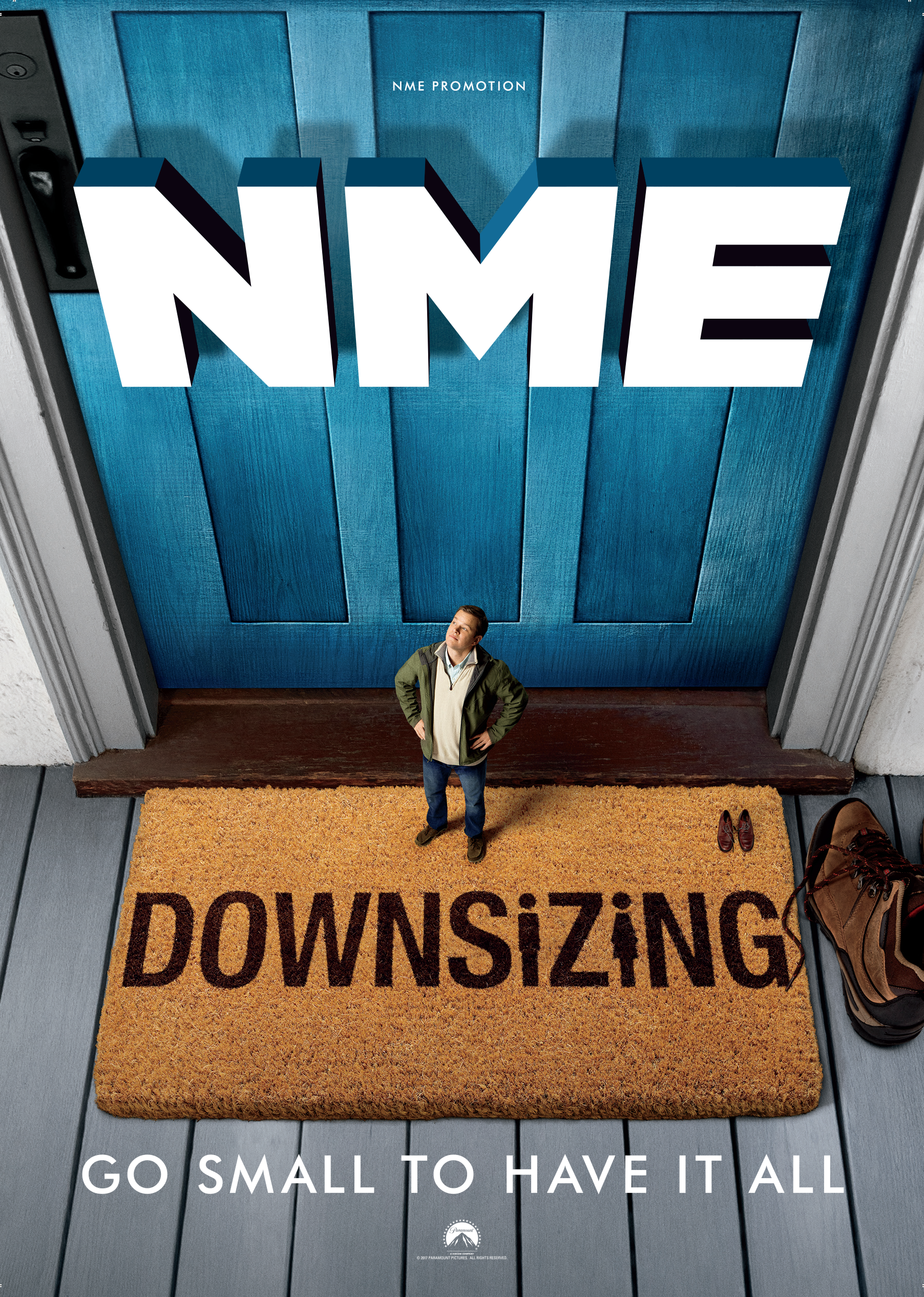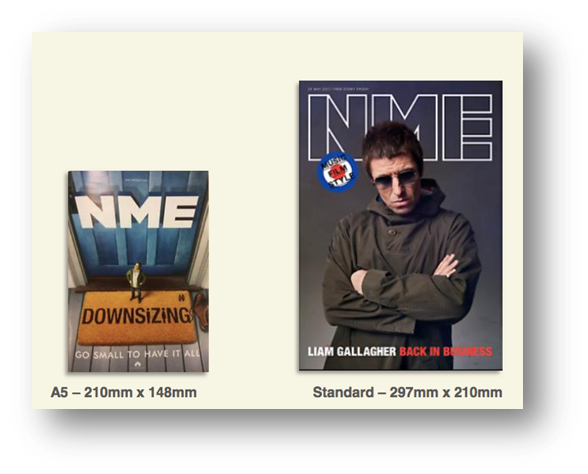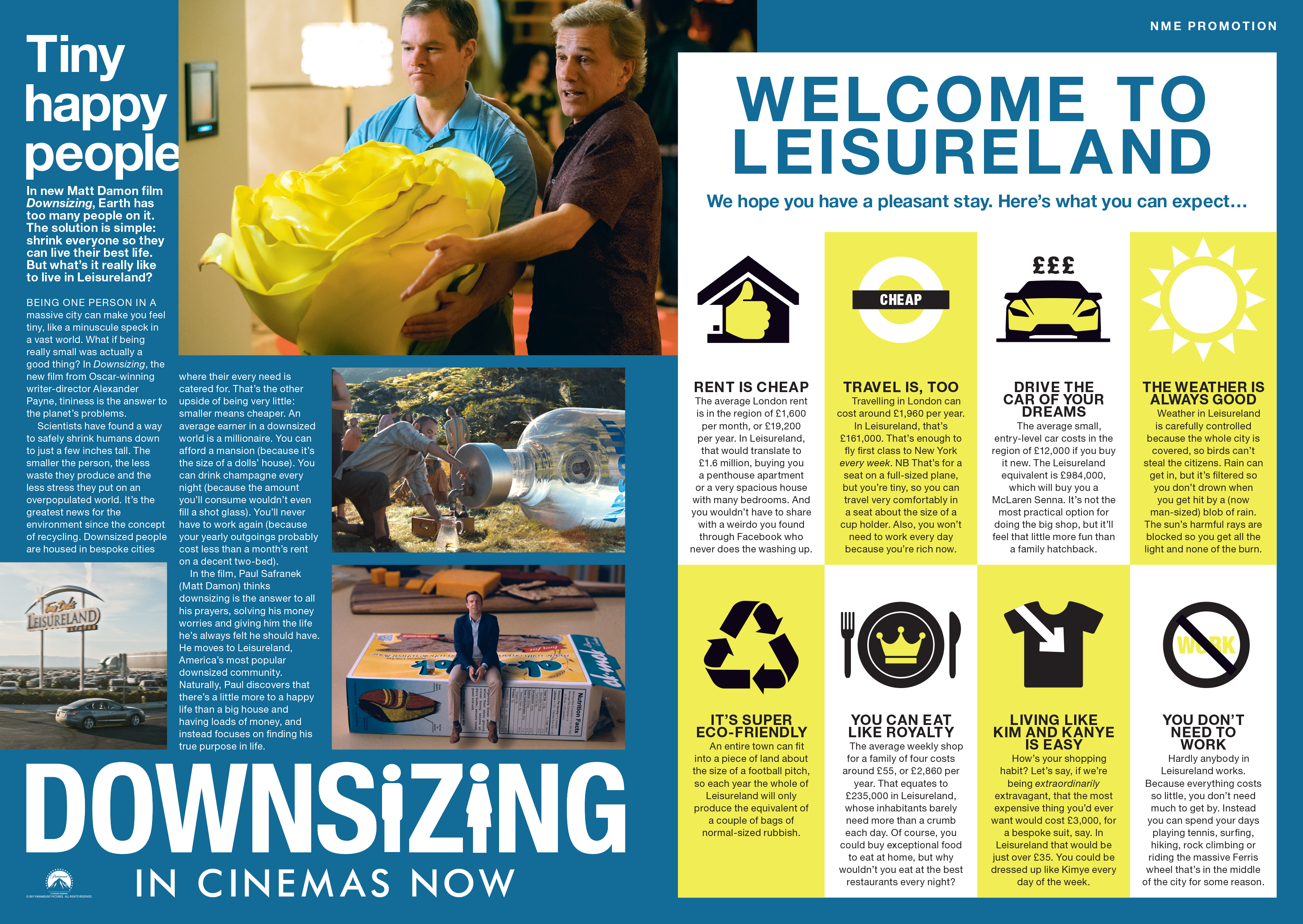 Paramount Pictures' campaign for the launch of Downsizing included a unique and highly creative partnership with NME that involved a complete resizing of the magazine's usual dimensions.
Paramount's partnership with NME led to the idea of 'downsizing' the magazine from A4 to A5 for a special issue to coincide with the film's release in January. The activity wasn't restricted to a few thousand limited edition copies but extended to the whole print run of NME.
The Magnetic Spotlight Awards judges were impressed not only by the cleverness of the idea and the scale of the project but also by the range of supporting content. The special issue was cover-wrapped with artwork for the film, and featured takeovers of regular features in NME. A double-page spread explored the various themes of Downsizing.
Beyond the print circulation of 307,000, Paramount also offered NME's digital audience the chance to find out what their life could be like in Leisureland with a Downsizing calculator to convert their savings into downsized dollars, together with bespoke Downsizing content and social pushes from NME's own accounts.
This was a bold and innovative print collaboration that delivered both strong awareness and sales.
The Results
Action – 19% of those surveyed went on to see Downsizing, 13% as a direct result of seeing the campaign with NME
Strong word of mouth – 21% of people talked to someone else about the miniaturised issue
Stand out – readers were 19% more likely to recall the Downsized issue
Digital content reach one million, dwell time two minutes per piece