Dulux: Dulux Colour Picker
WINNER – Magnetic Spotlight Awards 2020 for Best Content Partnership ( > £100k)
"We believe in the power of colour. We know that consumers love colour too. We wanted to find a way to plant ourselves firmly at the centre of the consumer journey as a brand that brings colour into people's homes and gets people closer to us and our array of colours.

Ideal Home was a strong platform for us to partner with to deliver on our ambitions to connect with consumers. We're really excited about the collaboration with Ideal Home and want to continue this strong route to engaging consumers as they embark on their home interiors improvement journeys."

Rachel Tozer – Marketing Manager Dulux Communications
The Challenge
For 90 years Dulux has been on a mission to add colour to people's lives. For Dulux, brand awareness is not an issue – but getting customers to choose them over competitors is increasingly challenging. The market has become commoditised, and Dulux – a heritage premium brand with scale – must compete with a growing range of niche competitors and direct to consumer brands, consequently category penetration was the lowest for 15 years.
Like many categories the customer journey for paint often starts online and it's here a major sticking point and opportunity was identified – that of colour choice. 285k time-poor 'Reassurance Seekers' and 750k brand-agnostic households in need of guidance were identified.
If Dulux could address this consumer pain point around colour and place their brand at the start of the customer journey, here was an opportunity to increase brand preference.
The Idea
Audiences look online for home décor ideas, and with the identified segments held back by lack of confidence and inability to visualise colours the Dulux Colour Picker Tool was created.
Seamlessly integrating Dulux into trusted sources of inspiration was also key, Ideal Home proved an obvious choice – they had reach, audience affinity and an ability to position Dulux within trusted, relevant editorial content.
Ideal Home readers could use the Tool to discover the colour scheme and match it exactly to the corresponding Dulux shades. They could then explore complimentary colours, save, and share their palettes for later, or purchase a tester pot there and then. Users were also encouraged to use the Dulux Visualiser Tool to bring their chosen colours to life in their own homes
Across 6 months the Colour Picker Tool was integrated within all editorial content and imagery spanning four Ideal Home pillars: Living Room, Bedroom, Kitchen, Bathroom.
To aid awareness, a range of online articles were published at launch to highlight the benefits and capabilities of the Tool to Ideal Home readers and encourage them to investigate. This extended through the brand's social platforms providing inspiration for our Reassurance Seekers in a moment of down time.
Placing the Dulux Colour Picker Tool in credible environments, integrated with helpful and informative content, showcasing the quality colours more often associated with high-end competitors ensured this campaign delivered results.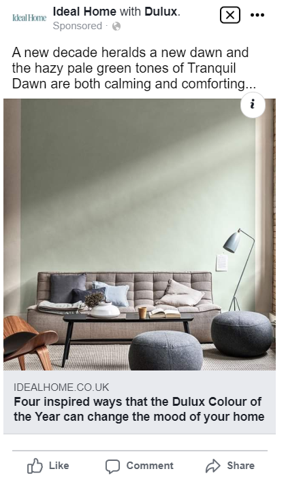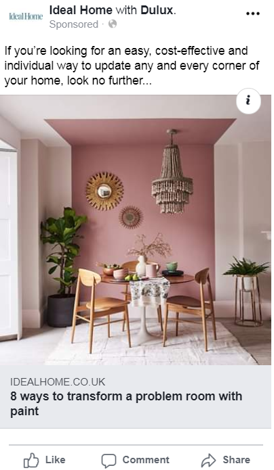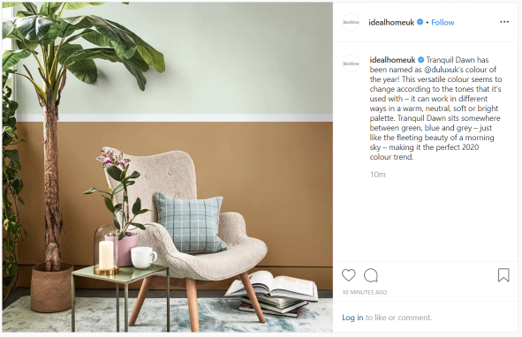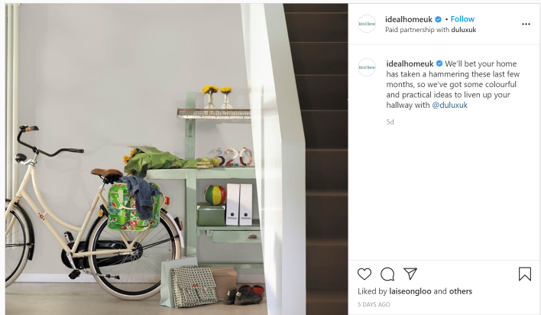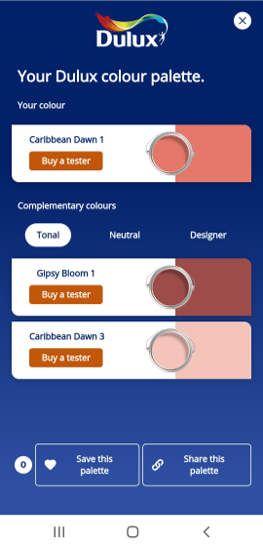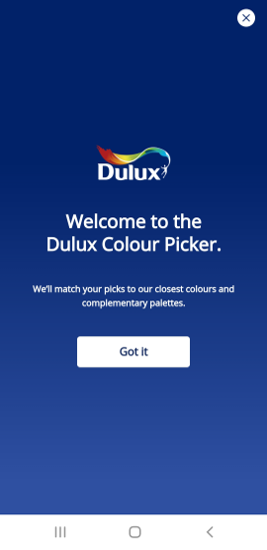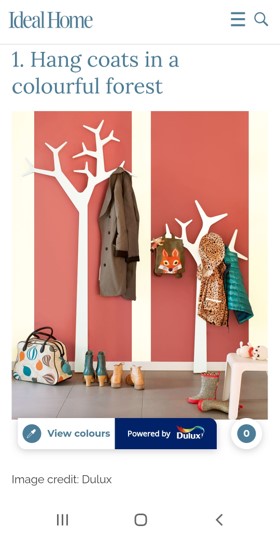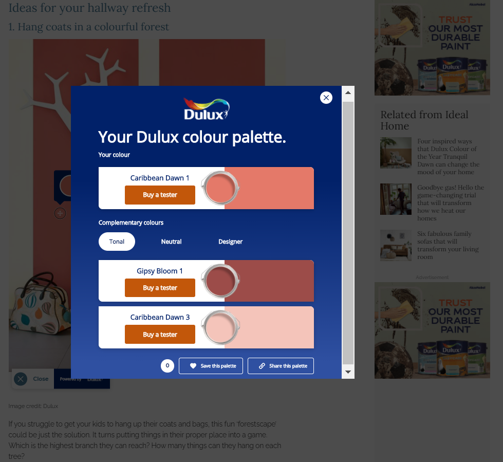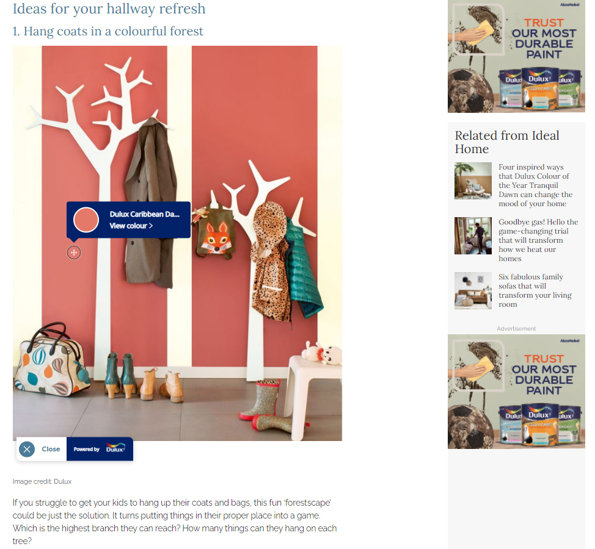 The Results
The campaign exceeded engagement benchmarks putting Dulux front of mind and resulting in high intention to purchase:
'Dulux is a recognised leader in colour' increased by 24% by the end of the campaign (42% pre-campaign)
Ideal Home readers were highly engaged, with an average dwell time of 2:12 (vs. a benchmark of 1:30)
The Colour Picker Tool achieved 205,675 activations across the campaign
84% of users agreed the Colour Picker Tool made Dulux stand out from other brands
'Dulux is worth paying more for' increased by 8% by the end of the campaign (38% pre-campaign)
And the big one – 76% agreed they would be keen to order a paint sample after using the Colour Picker Tool
Such was the success of the partnership, a second phase is running and the Dulux Colour Picker Tool continues to live on Ideal Home.