TI Media delivers A World of Colour for Brintons Carpets
SHORTLISTED – Magnetic Spotlight Awards 2019 for Best Content Partnership (<£100k)
"The partnership with TI Media delivered over and above what standard display advertising for Brintons would have. Working with the editorial and advertising teams helped bring the Brintons brand narrative to life with the World of Colour story anchored on the key campaign objectives and enabled Brintons to achieve the key campaign KPIs. Tailoring content to each title with a single overarching theme also helped focus Brintons' range and appeal to the audience in the most inspirational way."

Reece Lloyd, Senior Account Executive, MediaCom
The Challenge
Brintons Carpets had previously focused on their quality and heritage to stand out vs poor quality providers who 'pile it high and sell it cheap'. The Bring Your Home to Life 2018/2019 campaign extended this theme to showcase their huge variety of products – with multiple colours, patterns and fashion designer exclusive ranges. Brintons don't have their own retail stores and their website is non-transactional. As such, sales of their products happen through a multitude of independent retailers which means brand awareness must be high to help encourage purchase.
TI Media were challenged to get ABC1 interiors enthusiasts more 'hands on' with Brintons through engaging print and digital content to:
1. Increase consumer brand saliency and engagement of the Bring Your Home to Life campaign to potential customers
2. Encourage potential consumers to specifically ask for Brintons by name in independent retailers
3. Create content that Brintons could share with their retail stockists – and help encourage them to upsell their products which are often more expensive than many of their competitors
4. Encourage those who visit the Brintons website to request home samples
The Idea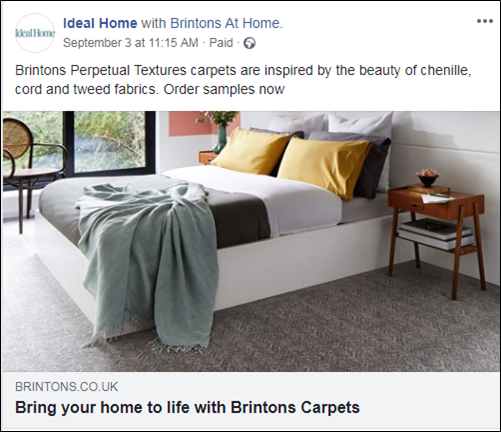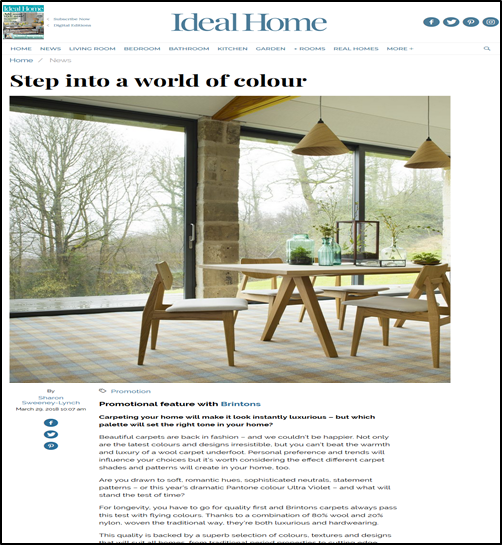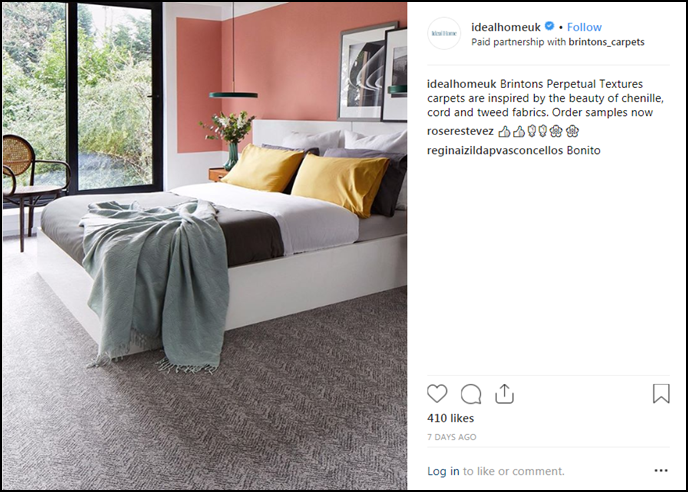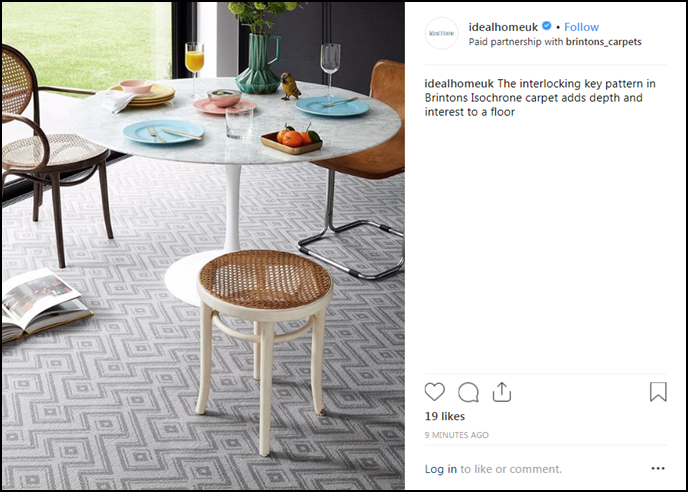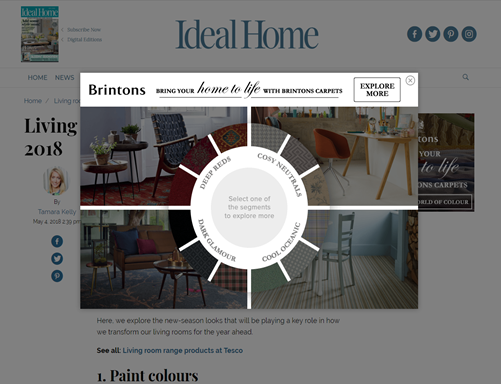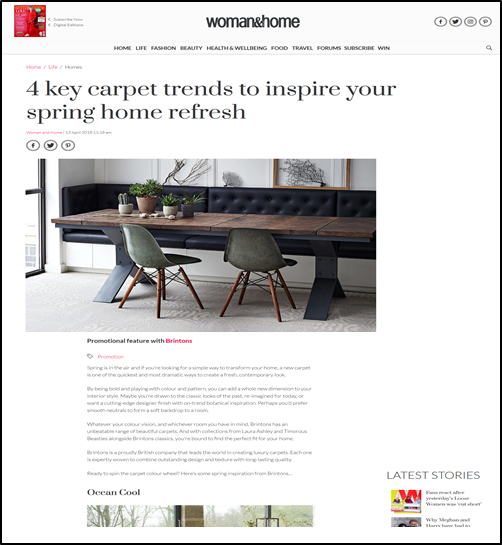 MediaCom brainstormed with the TI Media home portfolio editorial teams and it was apparent that incorporating so many products with clashing colours and patterns into the same activity would require clarity to deliver brand saliency and engagement.
The key was to create inspiring content that focused on Brintons' range and appeal to the audience with a single overarching theme that could be applied across the TI Media homes portfolio. This idea became the Brintons 'World of Colour' – a concept to showcase their huge range in a stylish and easy to read colour wheel narrative that could be used across the TI Media range of homes brands. Whether it was the latest trends, different themes of 'deep reds, cosy neutrals and Cool Oceans', the world of colour campaign was designed to take the reader/user on a journey of discovery by inspiring them with a world of luxurious flooring for their homes. The TI Media Homes Portfolio (Ideal Home, Livingetc, Homes & Gardens and Woman & Home) with their status and authority with homes and interiors enthusiasts represented the ideal brand partners to deliver this message.
Taking experience from previous Brintons campaigns over the last two years, MediaCom created executions which had resonated with audiences and retailers alike. By including swatch type images within the World of Colour 'colour wheel' across all platforms the Brintons range was highlighted as a seamless narrative across TI's homes portfolio.
Print
• Created 4-page bound in projects on heavy stock paper to showcase how Brintons could Bring Your Home to Life with the colour wheel driving the narrative
• Created on paper stock which not only book-marked the activity within the magazine but also made the projects feel premium and as if it was adding value to the users' experience of the magazine
• The bound-in content was also distributed to retailers to help them up-sell Brintons to their customers – feedback being that in previous years some retailers had kept copies of the magazines in order to show to customers in store
Digital
• The print activity was mirrored in bespoke digital content, created by the editorial teams who incorporated numerous product mentions and Brintons advice on bringing your home to life
• Created a truly interactive version of the colour wheel narrative. The TI Studio design rich media solution allowed users to select specific colours within the colour wheel to be shown more images and examples of Brintons Carpets available in those colours to drive inspiration. A click-through allowed users to directly visit the Brintons website and request samples
• Social in feed co-branded integration with Facebook and Instagram across the homes portfolio also enabled them to present editorial endorsement of the Brintons range
The Results
Brintons were delighted with the campaign in connecting with their target consumers and finding outcomes to their business challenge.
Brand Saliency – unprompted awareness of Brintons Carpets grew 26% across the campaign, growing saliency with the brand and its products
Brand Perception – 117% uplift in users who agreed that Brintons Carpets are premium/high-quality and 125% who associated the brand with 'style' – two key client focuses
Consideration – 85% of the audience exposed to the campaign said they would consider Brintons when purchasing a carpet
Action – 92% said they did/intended to do something as a result of seeing the activity including helping to drive order samples from the Brintons site (74% of the audience looked for Brintons online)
Purchase – 35% claimed to have bought a Brintons Carpets product as a result of the campaign
*All figures are from TI Media Campaign Effectiveness Research from a sample of 313 respondents (213 unexposed and 100 exposed)