The Challenge
White Stuff is a British fashion and lifestyle brand that sells women's, men's and kids' clothing. Although awareness of the brand is good (57%), consideration of White Stuff fell short vs. competitors, with a conversion rate of 28% from awareness to consideration (vs 35% for their closest competitor).

The problem was, White Stuff had become too reliant on direct mail and magalogs, which accounted for 92% of media spend in the last four years; they were effectively speaking to the same people that already knew and considered them.

With new branding rolling out and an exciting collection of products underway for Autumn Winter 2021, White Stuff wanted to unshackle themselves from being a brand that attracts (too much) admiration from an older, more traditional shopper. They wanted to use the season as an opportunity to bring in more of the shoppers that they had originally built the brand against – an audience that is independent, free-spirited and adventurous – the Independent Women.

With this in mind, Craft Media's objectives were three fold – change perceptions of White Stuff, increase consideration of White Stuff and translate into sales – all with a laser focus on Independent Women.
The Idea
With an audience focus, Craft Media created a TGI proxy, but it didn't tell them anything new or exciting vs the client's audience segmentation work.

That is, until they found The Golden Question (the question that helps determine whether someone is or isn't an Independent Woman). The statement: "To me being beautiful means asserting my personality, my difference".

If you disagree with this statement your choice of fashion retailer is reflected by physical availability – (i.e. what you can access on your local high street easily). However, if you agree with the statement, something magical happens to where you shop and fashion choices move from 'I buy what is there' to 'I buy what I want'. This statement elevated the competitor set to a more fashion and lifestyle context (less Sea Salt and Fat Face, more H&M & Boden) and gave a clear direction for comms.

White Stuff needed to stop behaving like their current competitor set, and behave more like a fashion brand, adopting a body language in media that would place them alongside the Zara's and & Other Stories of the world.

In other words, they needed to say goodbye to direct mail and magalogs.

Instead, they needed to focus their spend in channels trusted by the fashion crowd (cue magazine brands) and make White Stuff lust worthy again by hero'ing iconic products (think Zara's polka dot dress).

This meant culling the number of products featured in comms in favour of key pieces, and elevating them through a bespoke fashion shoot complete with stylist (as opposed to White Stuff's in-house team).

But they knew that they needed to do more.

In order to shift perceptions, increase consideration and ultimately drive sales, White Stuff needed to lean on the credibility and trust of magazine editors, as the original influencers.
With a strong portfolio of magazine brands, White Stuff partnered with Hearst to deliver a fully integrated partnership across print, online and in store.

The activity focussed on titles with greatest readership against Independent Women, including Red (i212), Good Housekeeping (i170), Prima (i115) and Harper's Bazaar (i485). DPS insertions across these titles reintroduced White Stuff to Independent Women through the lens of their hero products, including full length shots and details close up, to elevate White Stuff's fashion credibility.

Co-branded articles across Red and Good Housekeeping helped readers to style key pieces from the collection. From the "pillowy puffer coat", to the "soft sweater vest", Good Housekeeping's article showcased eight new season pieces that Editors will be wearing all autumn, chosen by Emma Justice (Deputy Director) and Gaby Huddart (Editor in Chief).

Red's article went one step further and showcased Red Editors' new season staples with a bespoke fashion shoot, featuring three Editors in full White Stuff ensembles, chosen and styled by them.

Both articles were packed with quotes and styling tips direct from the Editors, and were framed with White Stuff digital display to facilitate a seamless user experience to purchase.

Beyond Hearst's pages, a Red accreditation package identified top 10 items from the collection, as selected by Red's Fashion Director – Oonagh Brennan.

A Red Editor's Pick roundel and quote allowed Craft Media to sign post these items for added credibility and endorsement across all comms, inside and outside of Hearst's ecosystem. This included White Stuff's 120 shop windows, swing tags, email newsletters and socials, with the "Red Edits" highlighted on website product pages, a dedicated landing page and in-shop POS.

This was further supported with digital display and pre roll video featuring the same iconic products, to dial up frequency and move the target audience from awareness, to consideration and purchase.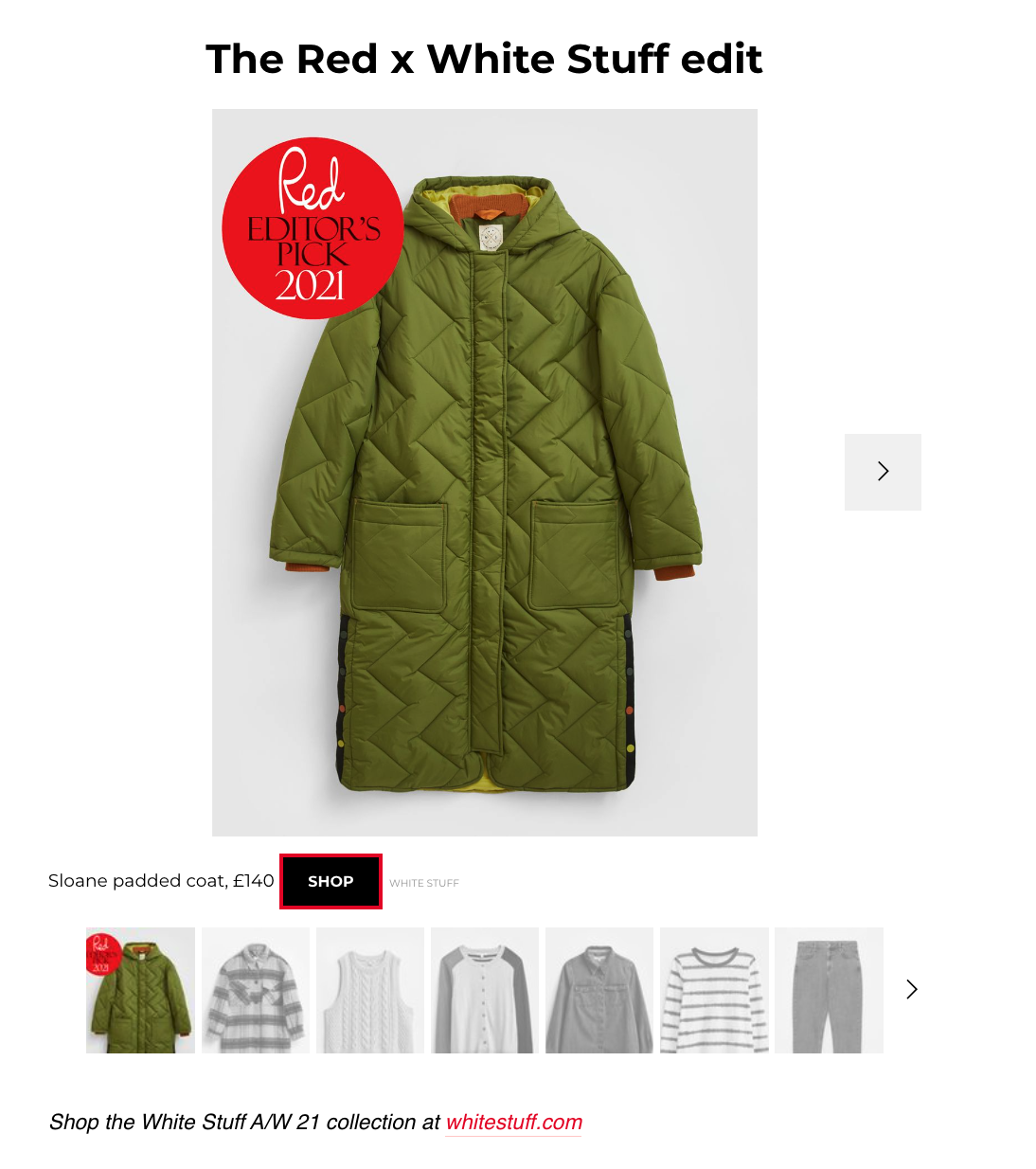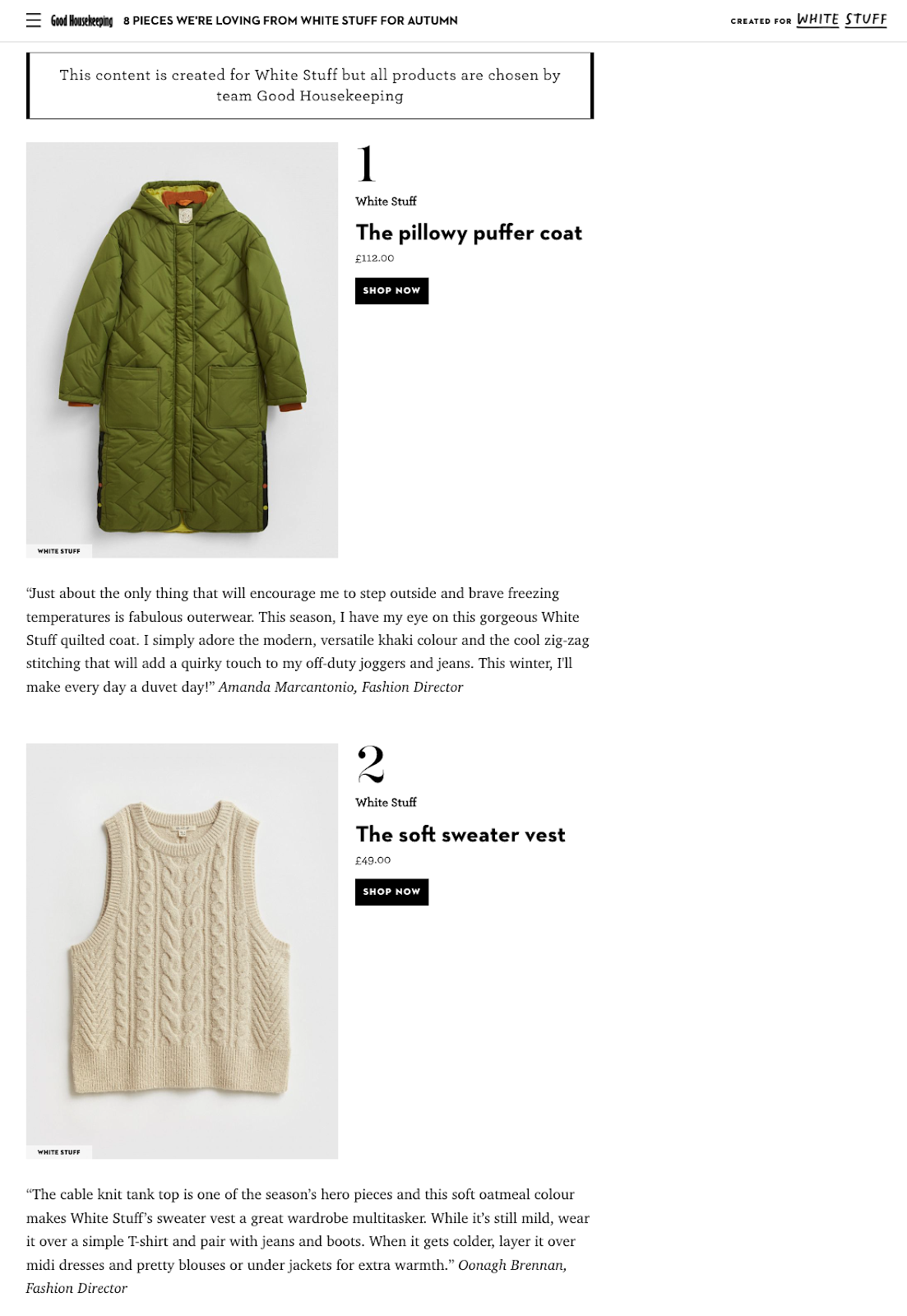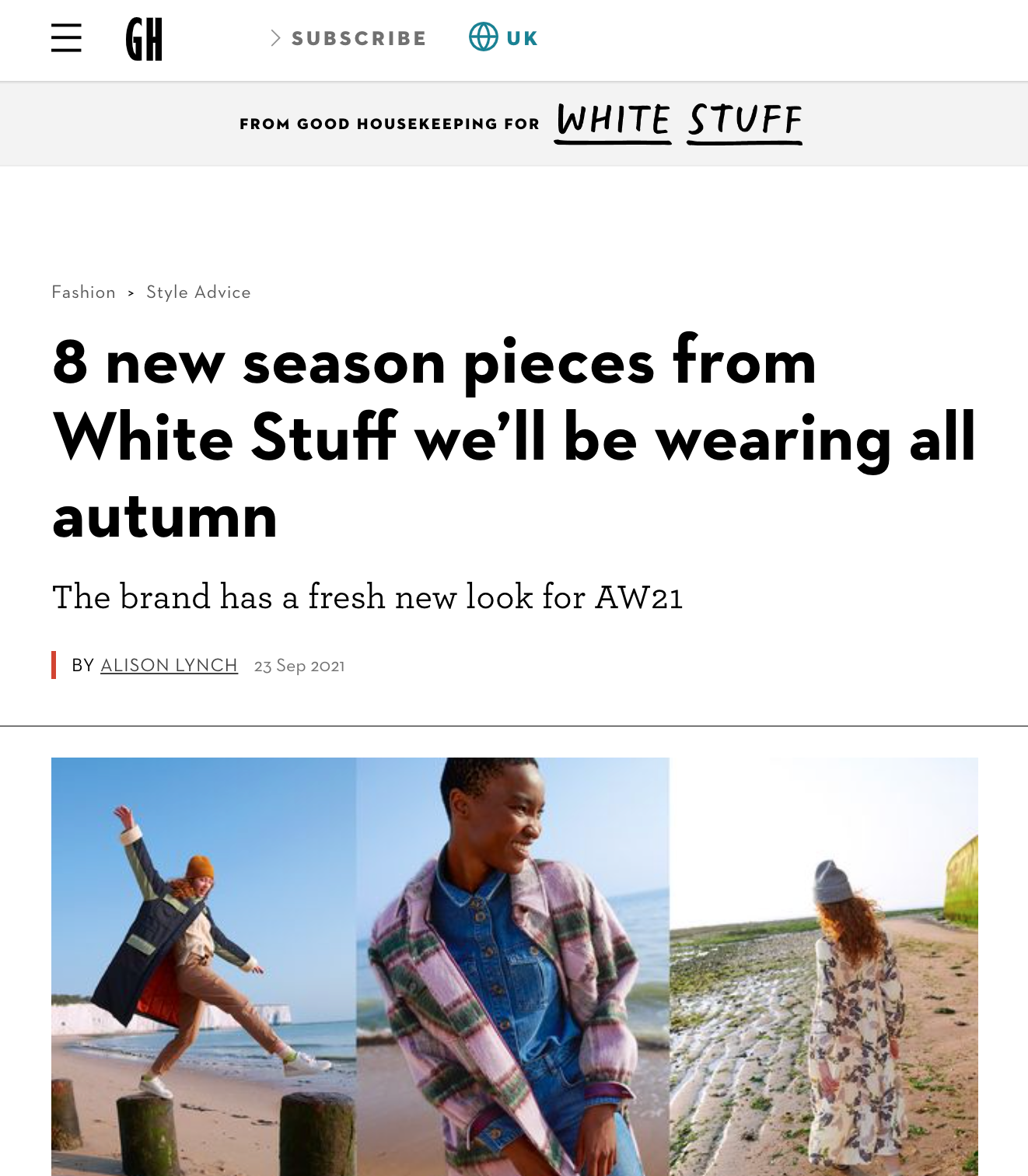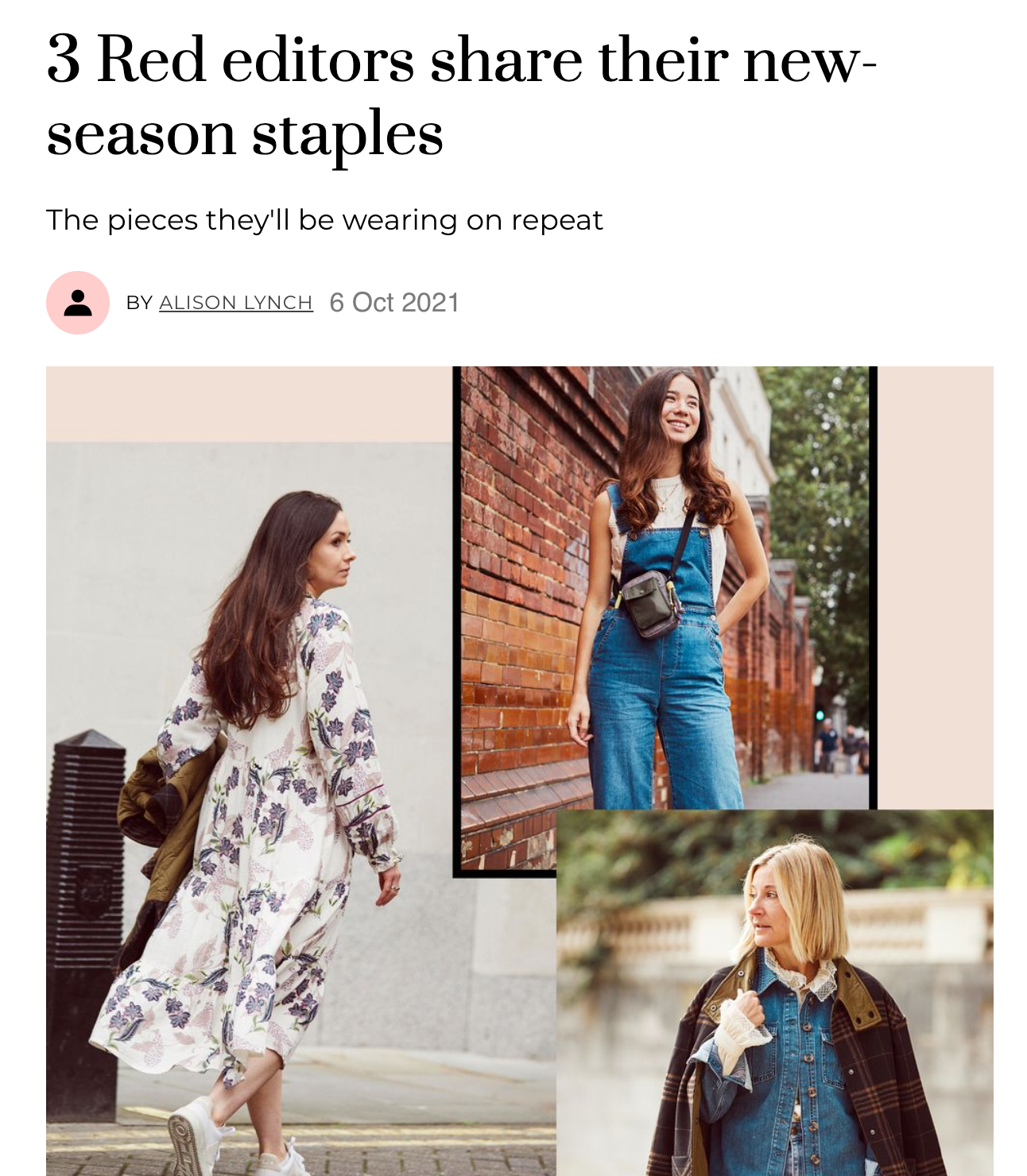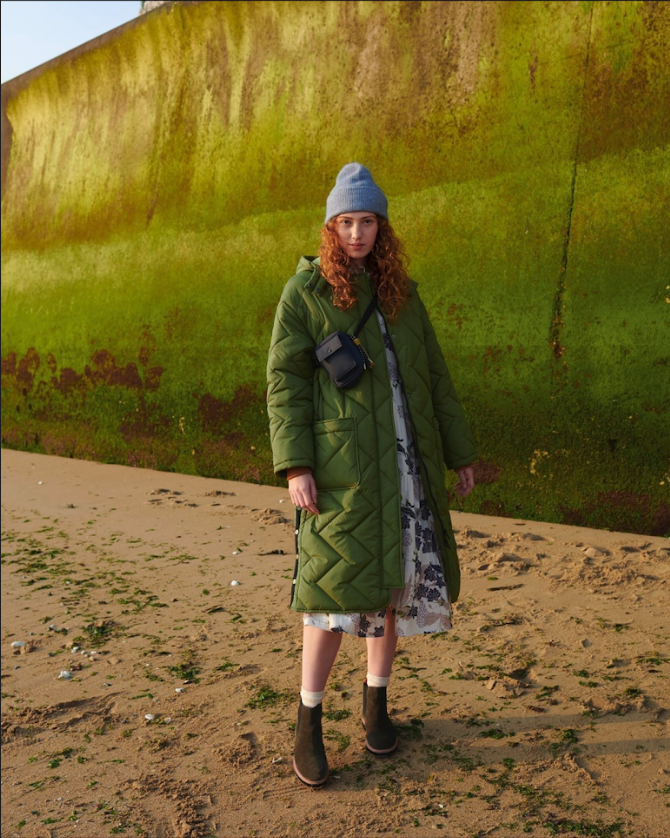 Results
This integrated approach demonstrated the power of partnerships to not just reach a desired audience, but to lean into Editors as the original influencers as a means of changing perceptions, increasing consideration and driving purchase.

Products featured in the partnership sold out. The Sloane coat (featured across all aspects of the partnership, including accreditation, advertorials and display), sold out within 4 weeks and received 10 x the number of views vs. coats not featured.

To isolate the impact of the campaign (some products were featured in media activity outside of the partnership), Craft Media ran post campaign research using a control vs. exposed methodology (sample size of 501).

Research results demonstrated an uplift in purchase intent, with 52% of those exposed agreeing they are likely to buy from the brand (vs. 45% unexposed).

Research also demonstrated positive perception change, indicated through positive shifts in brand image statements, including "White Stuff has moved on its clothing/product ranges" (+7% pts), "White Stuff is a brand for me" (+9% pts.) and "White Stuff has clothes/products that I want to buy" (+7% pts). This led to an overall uplift in consideration of +20% pts (55% exposed vs 35% unexposed).

Benchmark beating performance also demonstrated that Independent Women were receptive to the messaging, with co-branded digital articles achieving dwell times of 2min 9secs and 1min 54 secs on Red and Good Housekeeping respectively (vs. 1min 30sec benchmark).

Those who readthe articles also showed greater interest to find out more about the products, with in article digital display achieving CTRs of 1.08% and 0.57% respectively (well above the benchmark of 0.08%).

Outside of the core articles, Digital Display and Video Pre roll also beat benchmarks – with 0.17% CTR (vs 0.10% benchmark) and 81% VCR (vs. 63% benchmark).