Matalan raises its popularity rankings with Holiday Shop campaign with Bauer Media
SHORTLISTED – Magnetic Spotlight Awards 2019 for Best Content Partnership (<£100k)
"Our Holiday Shop campaign with Bauer Media felt perfect for Matalan due to their strong female reach across multiple touch points. We were able to support a key customer moment for Matalan shoppers driving strong reach across radio, print and digital channels and tie everything together with a consistent competition mechanic to drive engagement. This was a media first and provided the opportunity to create something truly innovative to make us stand out in a crowded market. Most importantly, we were able to showcase lots of product across all categories and really position Matalan as the 'One Stop Holiday Shop for the Family'".

Michaela Dehal, National Advertising Strategy Manager, Matalan
The Challenge
The focus of this partnership was primarily to increase consideration and ultimately purchase of Matalan's family holiday clothing range, making Matalan the primary destination for summer clothing for the whole family. One of the key challenges for Matalan was converting consideration into actual visits to store. The hypothesis was that, once people had visited, the conversion to purchase would be high and they would be more likely to become repeat purchasers. With Matalan stores often being in out of town destinations, Matalan needed to raise awareness as a fashion destination, playing on the core values of good quality at a good price for the whole family. Consideration needed to be given to how the partnership would address these challenges and allow for in store support. Matalan had seen a shift over the last 2 years in brand perception and enjoyed an elevated brand status. However this had also led to a dilution of the outstanding price and value messaging which was at the heart of their ethos.
The Idea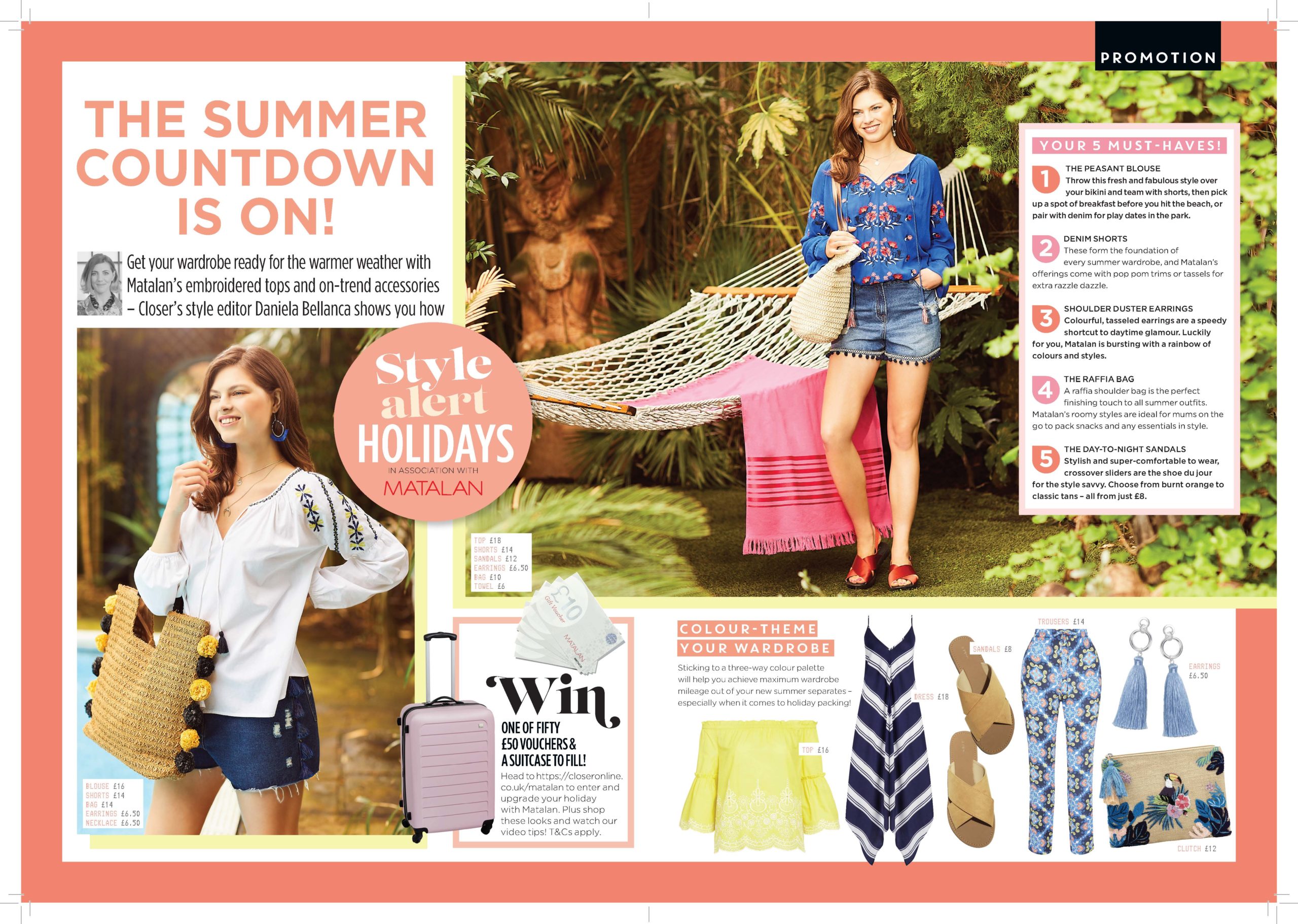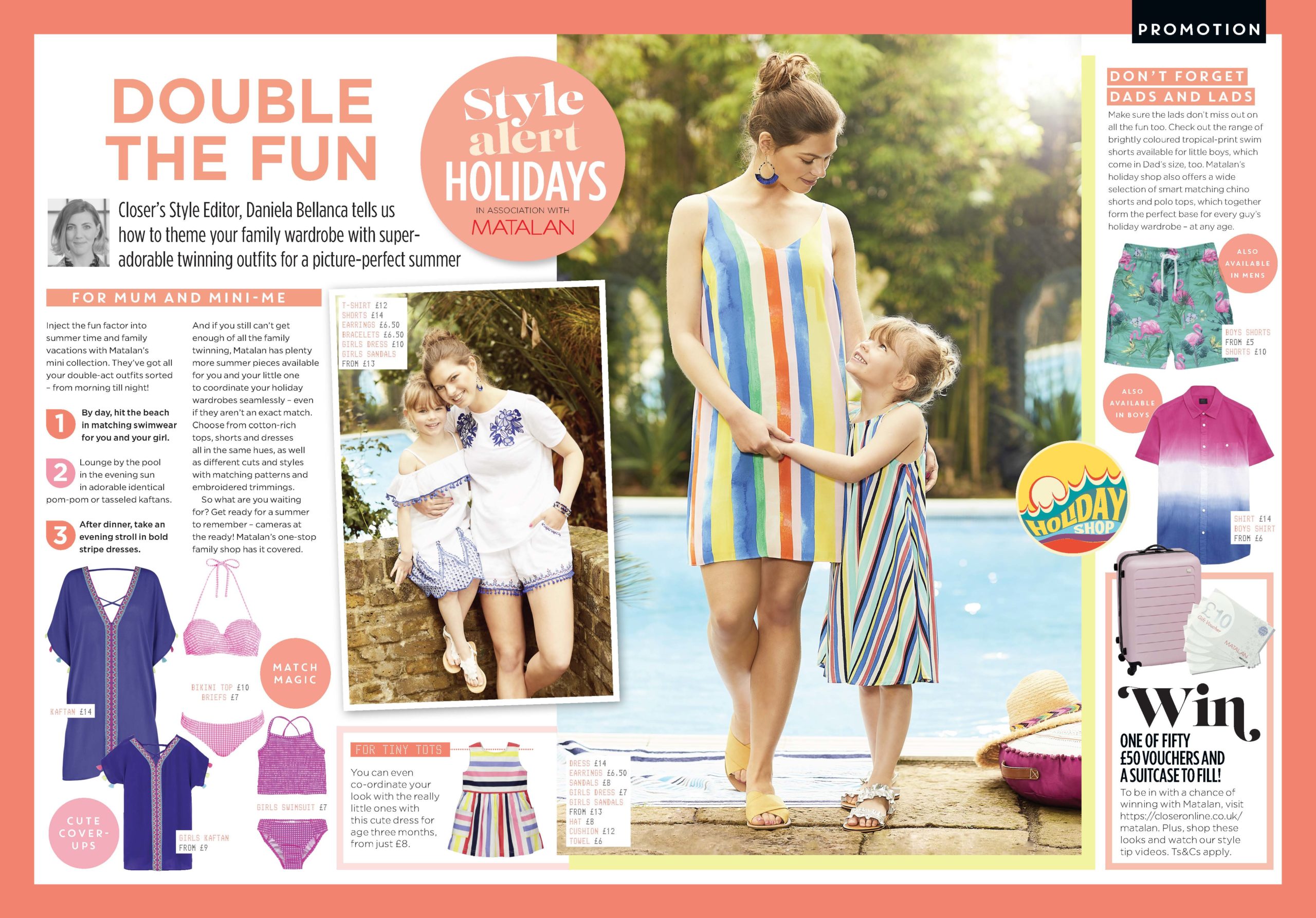 Matalan's vision was to become the most trusted retailer of family value, putting the spotlight on special customer moments such as family holidays. Budgets can be tight for families particularly over the summer so the campaign needed to appeal to this audience. This led to an initial creative concept of being able to fill your suitcase for £50, working in tandem with a publisher partner to lend the fashion credentials of their editorial teams to the campaign.
Matalan teamed up with Bauer Media's Closer magazine as the print partner for the campaign. Closer's audience and content is tailored towards 30-45 year old females with children which worked perfectly with the audience that Matalan needed to convert.
Working closely with the team in order to get editorial buy-in meant that a 'media first' response for Matalan could be adopted that placed them at the heart of Closer's editorial fashion content. A four-part fashion franchise was created based on Closer's "Style Alert" section and called "Style Alert Holidays". The "Style Alert" logo was used throughout the content as well as in store and on email communications to give a real sense of editorial endorsement and partnership.
Closer's fashion editor Daniela Bellanca became an influencer and ambassador for the campaign. Daniela's input appeared both in-mag and in the form of video and audio content which was seeded out across targeted social channels and sites as well as relevant radio stations.
To further encourage engagement the audience was given 50 chances to win a Matalan suitcase plus £50 to spend in store.
The Results
The campaign objectives were:
To improve consideration for Matalan as well as increase the perception of quality
To maintain Matalan's fashion credentials
Demonstrate engagement and response for digital / competition elements
Econometric modelling showed a £6 ROI for the campaign overall
Pre + post campaign research against this campaign showed an uplift in unprompted recall of Matalan being the "one stop holiday shop" of 40%
There was an uplift in awareness from people who had seen / heard Matalan campaigns – this rose by 83% vs pre campaign.
In terms of consideration of where to shop for holiday clothes, Matalan went from the 4th most popular retailer to the 3rd during the campaign, overtaking Next. It also went from 4th to 3rd most visited retailer in terms of footfall into stores by people seeking holiday clothing
Among people who were positive about the Style Alert campaign, we saw a 22% increase in those who saw Matalan as a good place to shop for quality clothing
Among people who thought the Style Alert campaign was a good fit for Matalan, there was a 21% increase in people agreeing that Matalan was a destination for stylish clothing
Engagement and response against Matalan's competition elements was high, delivering 23,239 entries to the competition against a benchmark of 20,000. The opt-in rate of 28% was also higher than the benchmark of 18%