Transporting the nation to the 90s for the launch of Derry Girls season 3
"Smash Hits and Derry Girls is a match made in 90s heaven – both icons of their time, wildly popular and with an incorrigible urge to say what they think (even when it gets them into trouble). We have absolutely loved bringing this campaign to life; giving the Derry Girls (and the wee English fella) the full pop star treatment and working with Bauer Media and Lisa McGee to give fans even more of Erin and the gang before school's out for good."

Lynsey Atkin, Executive Creative Director at 4Creative
The Challenge
Channel 4 is a cultural powerhouse. As a public service broadcaster, its role is uniquely placed to create change through entertainment. Altogether Different is its MO, running through the brand's DNA. Derry Girls reflects this, with its frank and funny look at teenage life, set against a backdrop of the Troubles – one of the darkest moments in British history.
With the announcement of its third and final series, the goals became clear, OMD needed to galvanise the show's existing fanbase to elevate it into the beating teenage heart of pop culture. And as previous series were streaming on Netflix, the agency wanted to capitalise on this halo effect, growing Derry Girls' audience and further cementing All4 and C4 as a destination for fresh comedy.
The Idea
OMD's proprietary insight tool, Q, showed nostalgic trends cutting through, no surprise given the recent resurgence of all things 90s. This cemented their approach: celebrate the past, without being stuck in it.
The show's demographic were women 18-35. OMD uncovered that the heat audience were in that exact bracket and wanted to target them in an imaginative way.
Like the four Derry Girls…and boy, the heat reader had grown up in the 90s, reading the quintessential teen magazine, Smash Hits. To tap into the shows' nostalgia, OMD re-commissioned the iconic 90's magazine Smash Hits to create a one-off, Derry Girls, special edition.
With its trailblazing interviews and famously memorable front covers, Smash Hits paved the way for the teen and lifestyle sector. It's cheeky tone and nostalgic feel aligned perfectly with the series.
Clare and Michelle took on the famous biscuit tin, Grandpa Joe offered music reviews and Sister Michael shared her divine opinion in our advice column. Readers also found lyrics, popstar fashion and pull-out posters.
Bringing the whole thing into the 21st century OMD ran a social media content hub featuring digital articles, trailers and a filter allowing fans to be on the magazine's front cover. In nationwide OOH, the magazine's pull-out poster was supersized onto a 90s-bedroom wall.
No 90s experience would be complete without a mixtape; so OMD partnered with a music streaming service to create one. Fans could add tracks, customise with stickers and share with friends.
Every inch of the 28-page magazine was carefully curated, offering readers original content that seamlessly weaved the shows' themes into classic Smash Hits features. To ensure that content was exactly as audiences remembered from their childhoods, Bauer even managed to bring on board the magazine's original Editor, Jordan Paramor.
In no mean feat, over 150,000 copies of the magazine were distributed for free across key city locations – London, Manchester, Leeds, Bristol, Glasgow, Belfast and, of course, Derry. For audiences who couldn't grab a copy on the day, it was also bagged up with that week's heat and Closer.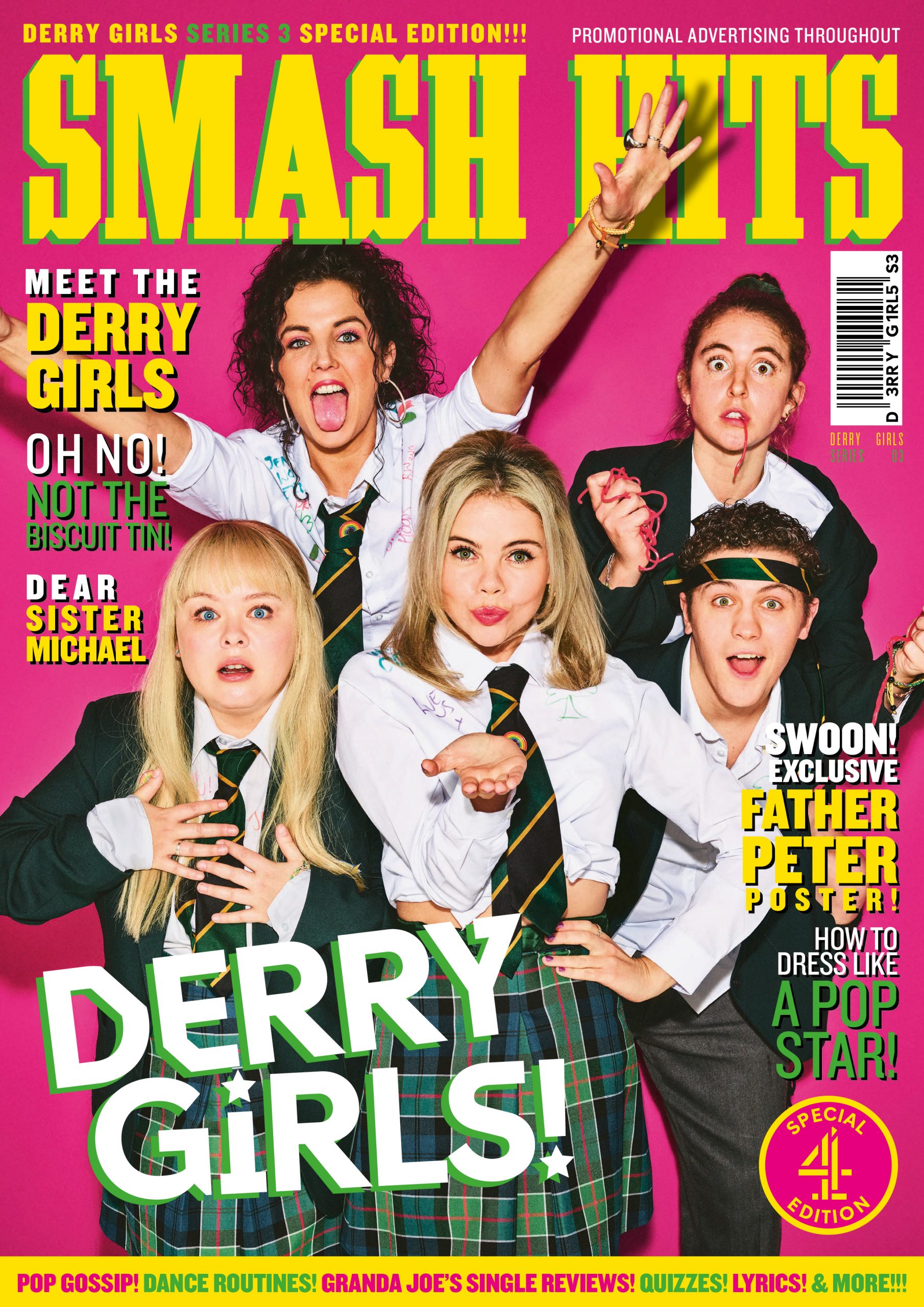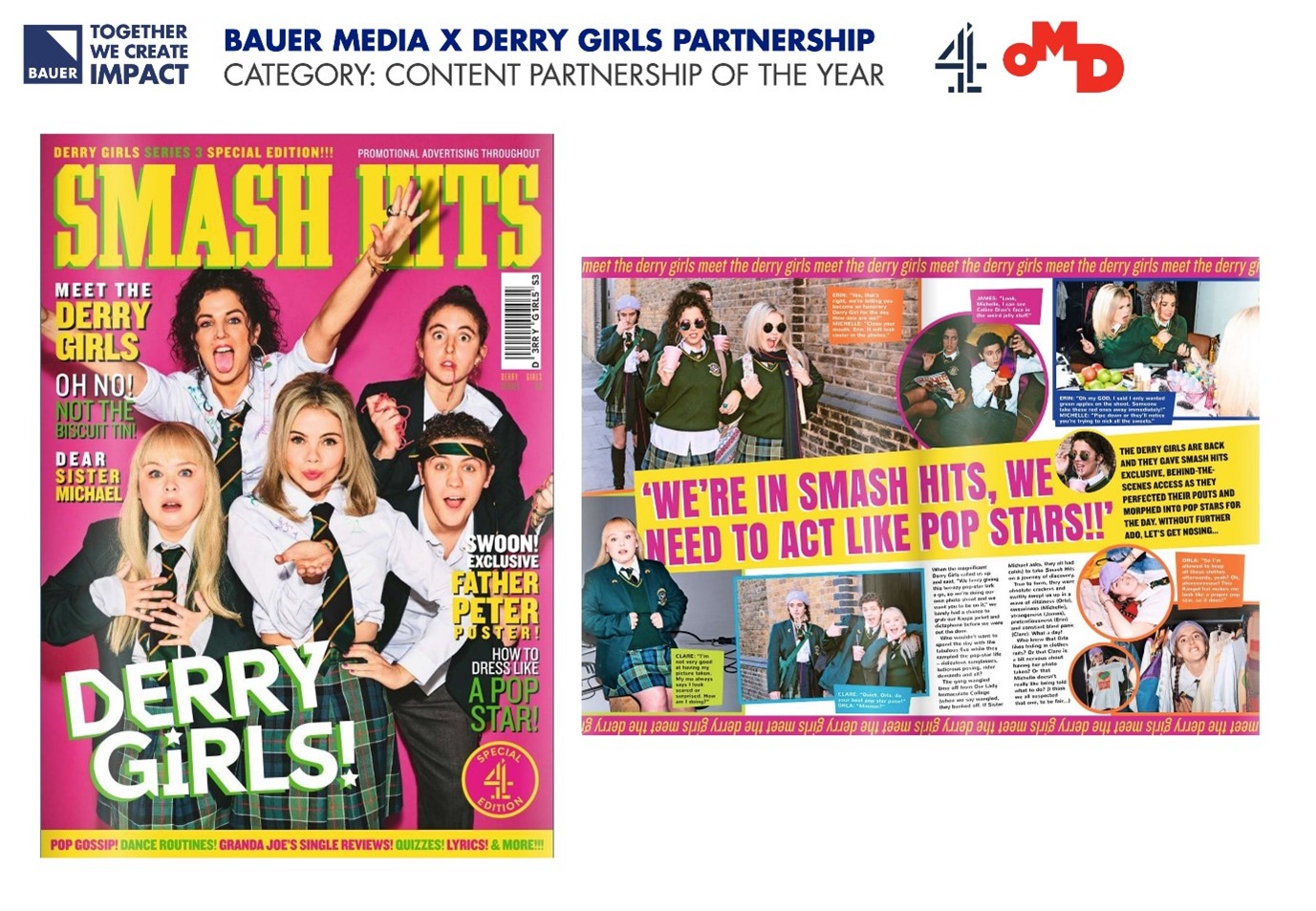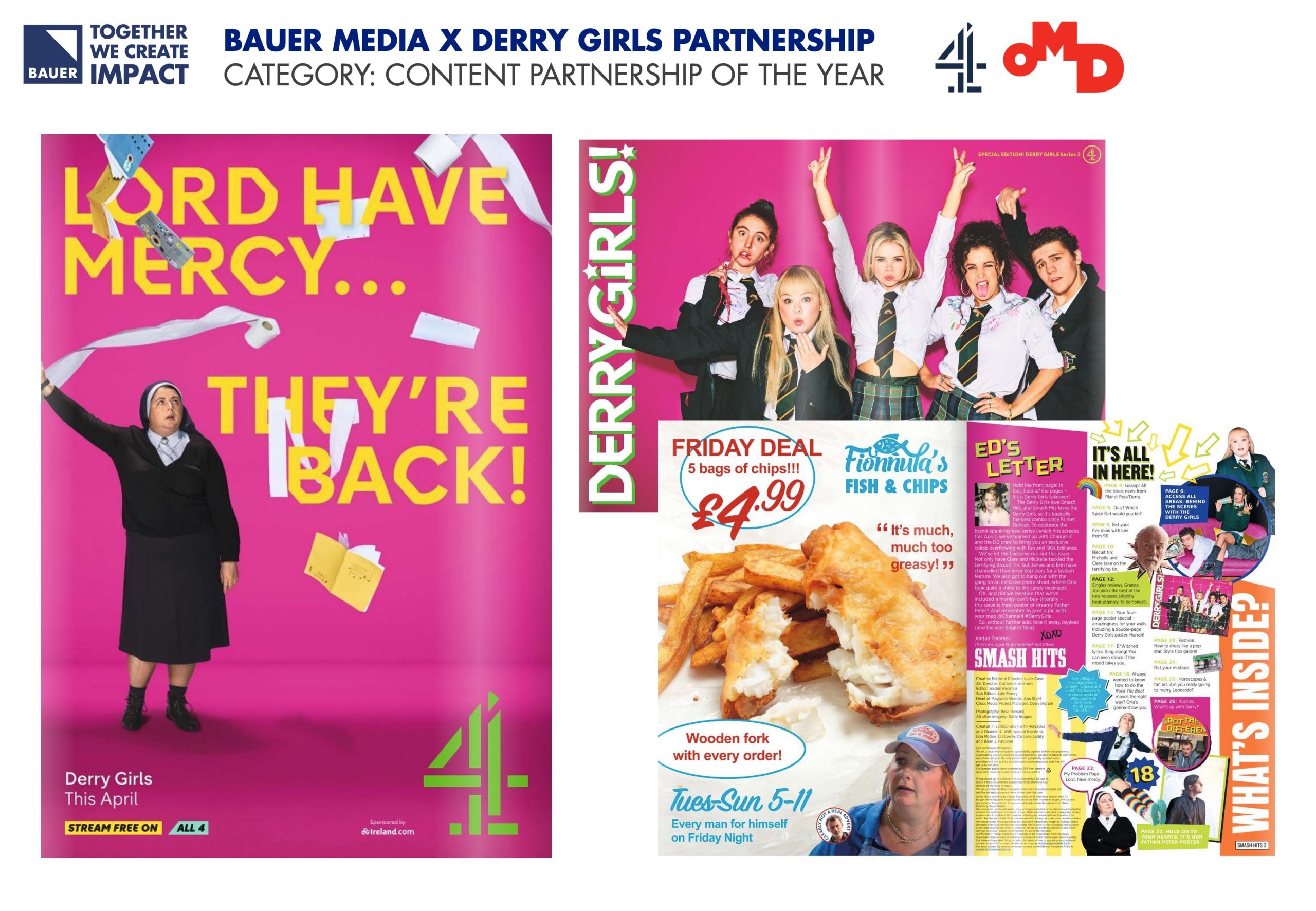 Results
The campaign achieved results bouncier than Michelle's perm: Channel 4's biggest comedy overnight in over a decade; 16-34 share more than triple the slot average and Episode 1 became the second biggest comedy episode ever on All 4.
Derry Girls S3 consolidated with an average audience of 2.9m: up +55% versus the slot average for 000s and +54% for share.
The 16-34 share (29.1%) is the best of any series; up +39% on series 2 and +28% on series 1.
On the day of TX 69% of people were aware of Derry Girls, well above the norm for a returning series. Correct channel attribution was at an impressive 61% (vs. Netflix 2%).
The excitement around the limited edition issue was an absolute Smash Hit. Fans shared their adoration for the magazine, with international fans even asking for copies to be sent to them.
The campaign achieved significant PR coverage from The Daily Star to the Belfast Telegraph, and the mag was even featured on TV's Lorraine, when cast member Dylan Llewellyn appeared on the show.
Not bad for four girls (and the wee fella) from Derry.