Audi: Black Edition Paint it Black
Black Edition success to shape Audi's campaigns going forward
SHORTLISTED – Magnetic Spotlight Awards 2019 for Most Creative Use of Print
"It's well-known we do very good above-the-line campaigns, but we looked at our tactical work and thought, hand on heart, could we say we were defying category conventions? No, we couldn't. And so we were really excited and pleased with the Black Edition campaign, not only for the end results it yielded for the business, but for the dynamic framework that was pulled together in response to this brief that will help to shape all Audi campaigns going forward. The Black Edition campaign was a strong example of the standard you would expect from the Audi brand experience, regardless of what stage in your car purchasing journey you are."

Anna Russell, National Brand and Retail Marketing Lead, Audi UK
The Challenge
In 2018, Audi's priority was to increase the volume of cars being sold through their retail network, which meant driving desire for all cars at all different stages of their lifecycle, not just new launches. To build their order bank and create a strong start to 2019, Audi launched a suite of highly desirable and competitively priced 'Black Edition' models. Historically a campaign of this nature would fall into 'tactical comms', focusing on cost-efficient delivery of KPIs and leads. To help accelerate volume, PHD's tactical comms needed to transform, based on business, brand and model priorities.
The Idea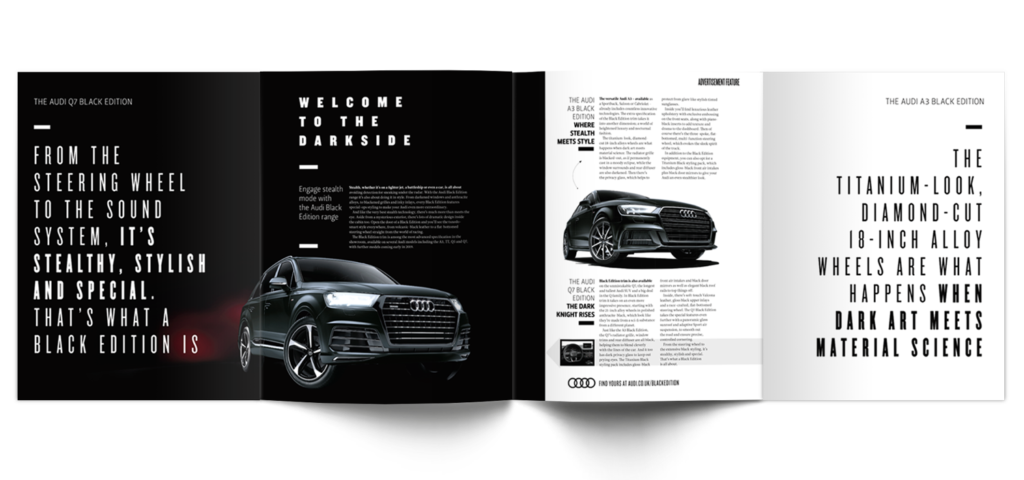 PHD created a bespoke framework/guiding set of principles which catered to business challenges not just for Black Editions, but for ANY model challenge Audi came to them with. As Audi hadn't previously Invested heavily into print, PHD made the case and established that they could utilise magazines in a standout way that delivered against objectives, raising awareness and desire of the Black Edition models that made people pay attention.
Research from Google Gearshift and Autotrader Car Buyers Report honed in on the ever changing consumer journey and said that people are undecided at the start: 'At the beginning of the process 3 out of 4 potential buyers haven't even decided between new or used and are actively considering both'. People are overwhelmed during the information gathering phase as there have never been so many sources to draw from. The average car buying journey involves 900+ digital touchpoints and people are influenced by a complex mix of rationality and emotion. PHD's approach was to influence customers at key moments by reducing the amount of choice they face. They did this by keeping Audi present throughout the journey, surfacing the most engaging and useful content at each stage in a standout way.
As part of the new framework, PHD identified a set of behaviours for how they wanted media to behave; they needed our print activity to drive desire and deliver standout of the Black Edition range. PHD uses rhythms planning, putting the audience at the heart of media planning, using different data sources to identify key cultural, opportune moments to talk to the target audience, making them pay disproportionate attention.
The All Blacks were playing England for the first time in four years so PHD convinced Audi, using PHD rhythms planning, to make bespoke rugby creative to run in specialist magazine publications like Rugby Magazine and within sport sections within the national print titles. The witty creative described the Audi Q7 as tall, dark and extra handsome, much like a rugby player.
The rhythms planning approach identified Black Friday as another key calendar moment to leverage. Typically, you see retail companies shouting about their obscenely discounted products, but it's not the behaviour you'd usually see for cars – especially not premium cars. This was used as an opportunity to talk about Audi's competitively priced models in a charming way and cut through.
In addition, PHD challenged in market-leading auto titles to 'paint It black' with media firsts – taking over their titles and key sections within their magazine to showcase the Black Edition range. In a media first, Audi partnered with Top Gear to wrap their magazine in a matt black finish, a first for TopGear, truly 'painting it black'.
The coverwrap 'welcomed people to the dark side' with an advertorial on the inside of the actual cover showcasing the style credentials of the Black Edition models in a way that would truly engage the target audience.
The Results
PHD outperformed KPIs for this campaign and saw a 136% increase in people using Audi's car configuration tool for these models and and achieved Audi's key objective for this campaign by doubling its order bank.