DBIS rely on Immediate Media to encourage the conversation about Shared Parental Leave

SHORTLISTED – Magnetic Spotlight Awards 2019 for Best Content Partnership (<£100k)
The Challenge
The option for parents in England to share childcare in their baby's first year has been in place since 2015. But with awareness and take-up as low as 2%, MG OMD needed to create a campaign which championed all eligible parents to be aware, consider, and take up Shared Parental Leave (SPL). They had to clearly demonstrate what the policy is and promote its benefits to both women and men. With emotional barriers being an obstacle in the adoption of SPL, discussion of the emotional benefits between like-minded others and experts would be key to breaking these barriers and increase consideration overall.
To do this three core objectives were identified:
Improve understanding that parental leave is flexible and can be shared between partners in the first year
Increase the number of conversations between partners regarding SPL, initiated by both mothers and fathers
Increase intention to take up SPL

The Idea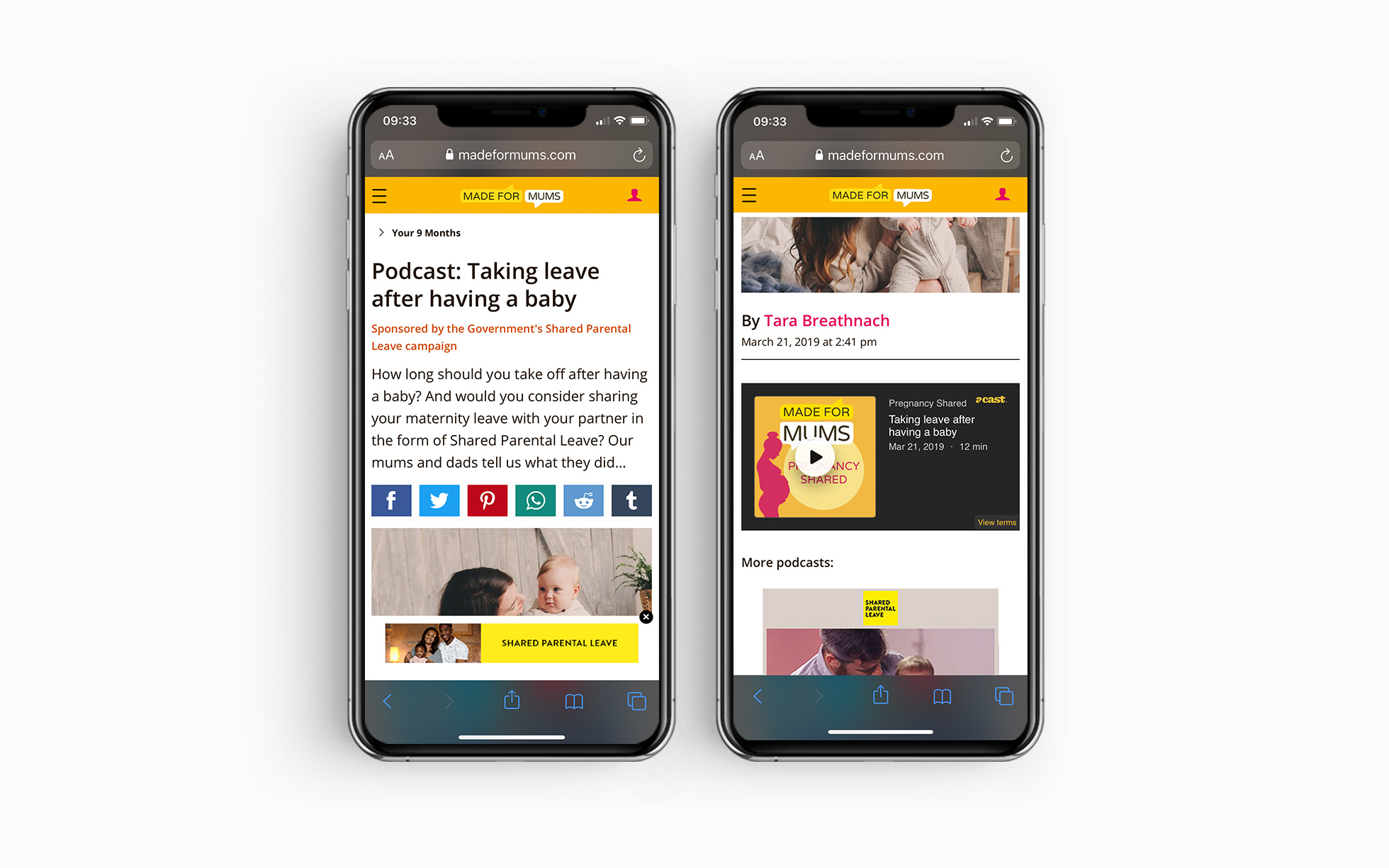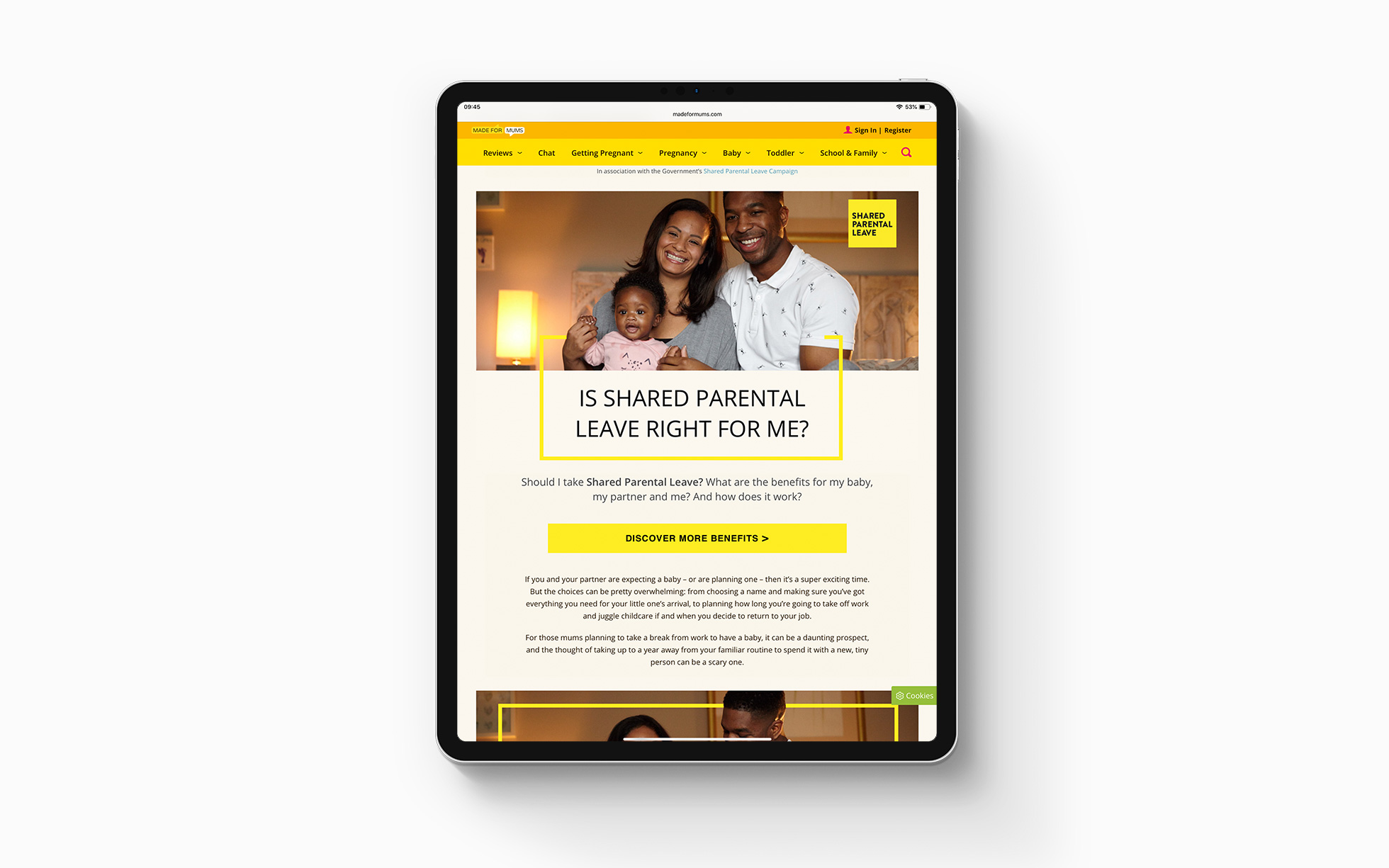 Research indicates that the likelihood of adopting SPL is more prevalent among those who are pregnant as it is too late to influence those with children under 1. Therefore, the audience was men and women expecting a child in the next 12 months, who work more than 8 hours a week, are not self-employed and are not single.
Evidence suggests that conversations regarding Shared Parental Leave, when they do happen, are focused on rational factors like finance, which the DBIS cannot win against. However, there are still many social and emotional barriers to overcome. Mums are the biggest challenge; due to loss aversion they are reluctant to give up any of their time off. Men are more supportive but think it should be up to the mother to decide how much time she wants to take off work to care for her child.
To align the campaign with the core objectives it was essential that DBIS partnered with a trusted brand, which the audience was able to resonate with and relate to. They needed more than just a simple advertising message, it needed to be richer in content, integrated and run across an engaging platform. The approach needed to encourage conversation and therefore, a forum in which both men and women felt comfortable to talk was vital. The campaign needed to educate the audience on:
The benefits of Shared Parental Leave
How it works
Some of the things they should consider
What their entitlement is
Based on previous campaigns MG OMD knew that context was king and brand endorsement had a positive impact on campaign results. Therefore, the plan was simple; with a campaign entitled 'Share the Joy', they would use compelling true stories told by real-life advocates, to increase awareness and encourage expectant parents that Shared Parental Leave is something to consider.
Partnering with Immediate Media, with a key focus on MadeforMums, they were able to directly talk to the audience in a contextual, trusted environment. The MadeForMums community uses the site for trusted reviews and advice. The site reaches 830,000 expectant parents in the UK every month (readers are 250% more likely to be expectant parents than average). According to a poll 81% of Immediate Media's audience agree with the sentiment "It's perfectly acceptable for men to be stay-at-home parents these days."
*With a social reach of 1.2million, MadeForMums and the Immediate Network were a great fit from an audience and engagement perspective. Editorial integration early on made for a true partnership; enabling the client to develop trust, drive conversation and encourage take-up. Retargeting across the wider Immediate Network allowed the campaign to reach an audience who had researched topics related to pregnancy and parenting.
The campaign included:
Advertorials
Influencer activity
Native articles
Long- and short-form video
Sponsored podcast series
Sponsored discussion (MadeForMums)
Bespoke display
Display and social traffic drivers
To start the campaign, case studies for the native articles were sourced using the MadeForMums audience panel. Authenticity was key, so a close relationship with the editorial team delivered relatable, diverse case studies, compelling native articles covering the benefits of SPL and a sponsorship of the editorial 'Pregnancy Shared' podcast. A sponsored discussion appeared on the site, furthering conversation around SPL. Long-form case study videos ran within digital advertorials and short-form video ran within social posts, forming the basis of bespoke digital units, targeted at new parents and parents-to-be across the network. MG OMD recruited a team of influencers to share experiences and thoughts on SPL and provoke discussion. MadeForMums sat at the heart of the campaign, with all traffic drivers and social activity driving to the site.
*Source: GB TGI Clickstream 2017 Q4 (April 2017 – June 2018)
The Results
The campaign was a huge success – testament to the integration between brand and publisher. Conversation through sponsored discussions and social amplification showcased how much interest the audience had in SPL, encouraging support and advice between like-minded individuals.
Social posts encouraged 711 comments, 261 shares and 1,700 reactions
The sponsored discussion delivered 9,000 views; the highest Immediate Media has ever seen for a live board.
The campaign over-delivered on all digital inventory and video completes
Performance was above benchmark on most elements, delivering an overall reach of 5.57m (not de-duped). Men and women engaged with the content and they saw higher dwell times from men against native articles (8.22mins vs 7.25mins and 13.29mins vs 10.41mins)
Looking at performance of each element, the results shone through:
85k views of native and advertorial content (6% over KPI)
Average dwell time of 5.56mins on advertorial content (6x above benchmark)
7.16mins and 10.52mins dwell time on native content (7x above benchmark and 10.5x above benchmark, retrospectively)
1.9m video views (15% above KPI) and 848k video completes (147% above KPI)
Additionally, there have been clear results from a consideration, awareness and understanding perspective, which links directly back to the campaign objectives.
Post Campaign Ad Awareness Immediate Media research showed that awareness of SPL is up +14%, understanding is up +42% and consideration up +29%
Key successes of the partnership:
Native articles performed better than the advertorial (58k v 12k), showing that the MadeForMums audience trust the platform. The native article SPL – One Dad's Experience – had a dwell time of 11mins 15 secs and was the best performing content on the site for three weeks. The audience was 85% female.
Paid influencers shared their experiences, amplifying SPL content to their followers. Many followers gave their own personal experiences of SPL.
Short-form case study videos performed well and had 848k completed views
The partnership allowed them to access peer-to-peer platforms where SPL could be discussed. The sponsored discussion had 9k views, which shows a high engagement level.