The Byline with… Becky Meloy, PHD
How long have you been in your current role?
I've been at PHD for three years.
Which clients/sectors do you work on?
Sainsbury's, Argos + Habitat (Home Retail Group)
What's your favourite magazine partnership from the last 12 months that you worked on?
Tu Clothing has been a real standout for me over not only the last 12 months, but the last two years, having recently been awarded Magnetic, Client of the Year 2020.
Our most recent Autumn Brand campaign saw their first magazine presence post-lockdown and reminded me why I love working on the brand so much.
The TU Brand platform and tagline, 'Be You', has continued to evolve, continually depicting a realistic view of women across all comms, in particular promoting diversity and empowerment and re-establishing the new norms in the workplace.
Magazines provided a unique audience who share similar passions, beliefs and ideals and the titles they read reflect this.
Along with these shared values, magazines also provided high levels of engagement and quality attention, creating a unique distinction between print and other channels.
To ensure the 'Be You' messaging was communicated to core audiences, we recommended a range of creative and impactful formats across several key titles.
Standout formats such as Coverwraps, IFC Gatefolds and DPS' saw Tu, once again, celebrating a diverse mix of women, whilst also featuring their inspiring and empowering brand manifesto.

Share a great magazine campaign that caught your attention this month: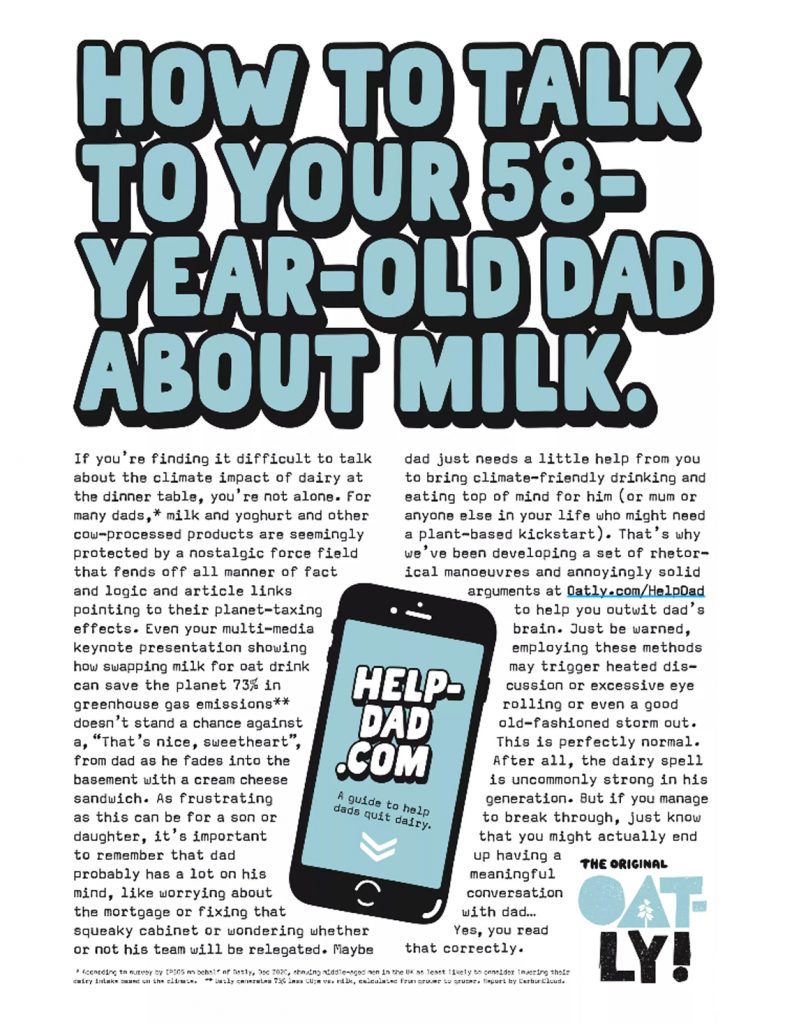 Oatly are a challenger brand that continue to defy sector norms. They recently ran a campaign called 'Help Dad', which encouraged children to talk to their dads and educate them on plant-based milk alternatives.
The campaign broke down traditional family dynamics, making the child the teacher. It tackled generational norms, whilst educating older audiences, who are more hesitant or unaware of plant-based diets, around the benefits of plant milk, focusing on topics from the environment to health benefits.
Media ranged from DPS print display to a Guardian partnership (as well as other ATL channels), which saw three bespoke supplements tackling topics such as climate emergency. A 24-page feature also ran as a guide to 'Parenting your Parents'.
The campaign really stood out to me as we have recently seen environment/climate become the focus of so many advertisers, yet Oatly tackled it in a unique and interesting way, creating a new angle on the topic.
Which magazine titles / features have helped you navigate the pandemic months?
Like many people, my interest in cooking has increased. Already an avid baker, I've found myself baking more over lockdown (no banana bread over here, sadly!). Sites and magazines such as Olive and BBC Good Food have helped me find inspiration when I've back lacking!
Do you have a particular passion and is there a magazine title that you look to for tips or inspiration?
Stylist has always been a great source for all thing's lifestyle, travel, and culture for me, turning to them for inspiration often. I relate to their title on many levels and love the way they have used their brand to leverage new brand verticals, such as Strong Women. I am huge fan of fitness and love the way that Stylist empower women and give them the confidence to embrace not only physical fitness, but also mental strength, in a simplified and relatable way.
What is it about magazine media that consumers will always identify with?
The inspiration that magazine media can offer consumers has stood the test of time, with growth across passion point titles, such as Food, Interiors and Gardening, during the pandemic. This shows how inspired consumers are by magazine media, turning to these trusted titles during the peak of lockdown to grow their knowledge and skillsets.
The titles I consume have evolved as I have grown up, but the constant is that I still turn to magazine media for inspiration and will do so for many years to come.
And finally… What are you most looking forward to as restrictions are lifted?
I think like most people I would love some time away in a hot and sunny place! Cocktail in hand on the beach and getting a tan!
I also can't wait to enjoy summer with friends, fingers crossed for festivals and some more normality!