The Growth of Magazine Media: 2016 Sees Expanding Reach and Diversity of Platforms
Much like finely crafted Italian shoes, one size does not fit all when it comes to connecting people with their passions. Magazine media continued to grow it's footprint this year with a consumer-centric, platform-specific approach to creating high quality original content. This requires that each piece of content is hand-picked and edited to compliment the distinct user experience offered by each platform. It is this attention to detail in making each connection with our content meaningful that is helping our total reach grow.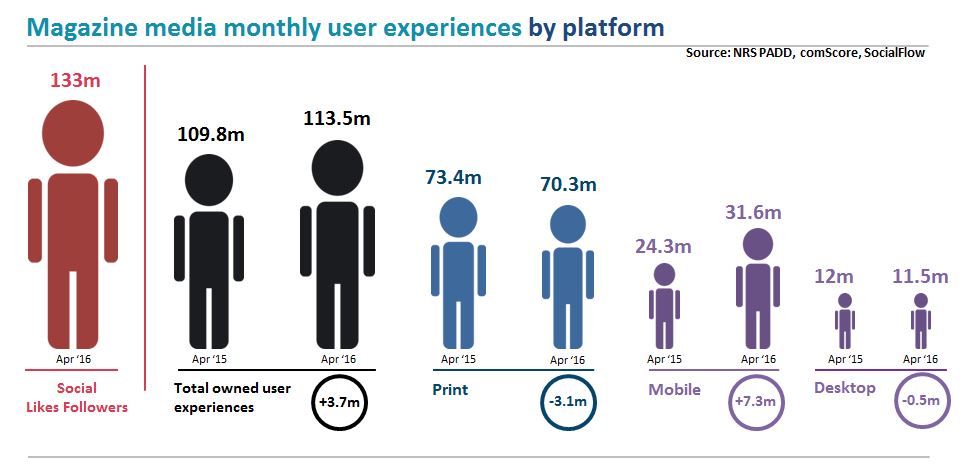 Magazine media's consumer centric approach to content has helped the industry grow the number of monthly user experiences to levels which would have been inconceivable for print alone. Spanning mobile, desktop, social media, events such as Empire Live, and Fabled, the new shopping experience by Marie Claire, consumers now have a vast array of magazine media options to connect with their passions.
AMP the new cross-platform audience measurement system due to the be launched by PAMCo in 2018 will soon give us an indication and new planning tool to truly understand and utilise the full spectrum of our audience reach across all platforms. In April this year, however, Magnetic set out to understand the scale of magazine media.
With print, mobile and desktop each providing a unique user experience, we calculated the total number of monthly user experiences (unduplicated) our members' magazine brands delivered across platforms that month.
Using NRS, comScore to compile the data, we found that that magazine media delivered 114 million user experiences across all owned platforms that month, which is a 3.7million increase year-on-year.
Additional work with SocialFlow showed that magazine media also enjoyed huge traction on social media recording 133 million followers or likes across five key social media platforms. On Twitter alone, our members had 21 million followers, three times more than national daily newspapers combined.