Bauer launches new Planet Rock magazine
The first issue of Planet Rock magazine will hit newsstands on Friday, 12 May featuring a mirrored and embossed motorhead collectors' cover
The brand new 132-page perfect-bound glossy magazine is a collaboration between the teams behind MOJO Magazine and Planet Rock Radio.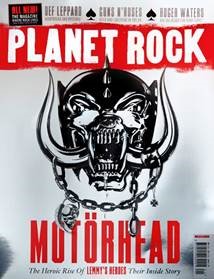 Planet Rock magazine has been designed to reflect the station's on-air programming and add context to the music championed by the Planet Rock brand.
Created by fans for fans, the magazine will reflect the passion of the station's million-plus listeners. Every section has been created with the purpose of delivering genuine insight and entertainment, while capturing the conversation of the audience itelf.
Editor-in-Chief, Phil Alexander commented:"The combination of the station, a magazine and the Planet Rock brand's extensive online and social media presence will create new promotional opportunities for artists, labels and advertisers alike – establishing an unparalleled reach and scale in the process."
Issue 1 features an exclusive interview with 'Fast' Eddie Clarke and Aerosmith's Steven Tyler in which he re-lives the rise and near-collapse of his band in a rapid-fire, no holds-barred seven-page interview, plus, a 10-page feature celebrating the 30th anniversary of Def Leppard's classic album Hysteria.
The launch issue is overseen by Ric Blaxill (Music & Content Director, Planet Rock Radio) and Phil Alexander (Editor-In-Chief, MOJO & Q) along with launch editor Mark Blake (former Deputy Editor of Q and best-selling author of books on Pink Floyd, The Who & Queen) and Art Editor, Russell Moorcroft (Deputy Art Editor of the multiple-award winning MOJO team).