"A 10-year partnership is almost unheard of, but the Bauer team's willingness to innovate means every year is like a first-date. We are proud to continue this partnership, finessing the fundamental building blocks while constantly innovating and pushing the boundaries of what a media partnership can achieve."

Shelley Allison, Wickes Head of Marketing
The Challenge
In 2021, Bauer Media and Wickes celebrated a decade of their partnership together, yet it has never been so integrated, creative, brave and effective. Having demonstrated that Bauer could help Wickes find the right tone of voice when the pandemic hit, it was perfectly placed to help celebrate a newfound or rediscovered love of home improvement during the pandemic. Wickes' target audience had also evolved, with younger, female DIYers becoming even more engaged in the sector.

Working with agencies The Story Lab and Carat, the campaign for this year had three new objectives: to drive brand consideration, change perceptions and increase conversion. These new objectives provided the perfect opportunity to add another key Bauer brand to the partnership…Grazia.
The Big Idea
As Wickes' target audience had evolved, with younger, female DIYers becoming even more engaged in the sector and with Bauer Insiders research finding that 43% of Bauer's 16-35 audience had planned to do more DIY in the future, Bauer saw a creative opportunity to extend the brand's presence across more of Bauer's radio and publishing portfolio.

Having worked together for decade, Wickes instantly trusted Bauer's new approach and were on board with the plan. Therefore, Grazia became a new outlet for exploration of a new audience.

Together Grazia and Wickes would provide new editorial inspiration for our fashion and aesthetic loving readers, who wanted to make their homes and home offices as chic as their wardrobes.

The singer, presenter and TV personality member, Kimberly Walsh had joined Wickes as a brand ambassador. The former Girls Aloud member was a keen DIY enthusiast and fit Grazia's demographic perfectly. As a business woman, mother and style enthusiast, she was a woman who resonated with the Grazia reader. Driven by this Bauer and Grazia would utilise Kimberly and her unique style throughout their content.
Utilising Grazia's expertise of producing aspirational content which resonates, the magazine launched a glossy suite of content pieces covering Wickes' kitchens, bathrooms and small DIY projects.

With working from home and the video calls that came with it a new daily occurrence, many were seeing inside their colleagues homes for the first time. Insight uncovered that individuals were feeling the pressure to make their videocall set up look chic. From this the editorial series 'Story of a Corner' was born. This feature demonstrated how a few small tips and tricks could turn a tired unloved part of the home into the perfect place to sit for a video call. This was supported by online and social content, with co-created Pinterest boards showing Wickes in a new light, giving our readers inspiration and practical advice, whilst simultaneously changing perceptions that Wickes was solely a brand for tradesmen.

Grazia's Interiors Editor Rachel Loos was also commissioned to write a piece for the Wickes Paint Brochure, distributed in every store in the UK – the first time a partner had ever contributed to an instore brochure. Unlike your typical instore brochure, Grazia positioned the paints as trends, echoing that of Grazia's fashion content. Paints were grouped into aesthetics, echoing popular fashion styles – from boho-chic, to scandi neutrals and laid back luxe to cosy naturals. The brochure featured elegantly shot rooms, for visual inspiration that would resonate. To drive footfall into stores, inside Grazia magazine, online and on socials the brochure was promoted and teased, directing readers to go grab a copy from their local Wickes.

See it here: https://www.wickes.co.uk/paint-trends

To promote Kimberly Walsh's new position as a brand ambassador Grazia interviewed the star to uncover her DIY top tips for our readers, to help them too transform their homes with Wickes. For relatability, Kimberly candidly shared where her love for DIY came from: 'My mum was a single mum, and we didn't have a lot of money. So, when it came to the house my mum did everything herself… I would help my mum paint and tile bathrooms. From that point on, it was quite obvious that I enjoyed it.' The article drew from Kimberly's love of DIY and relatable nature, resonating deeply with the Grazia reader.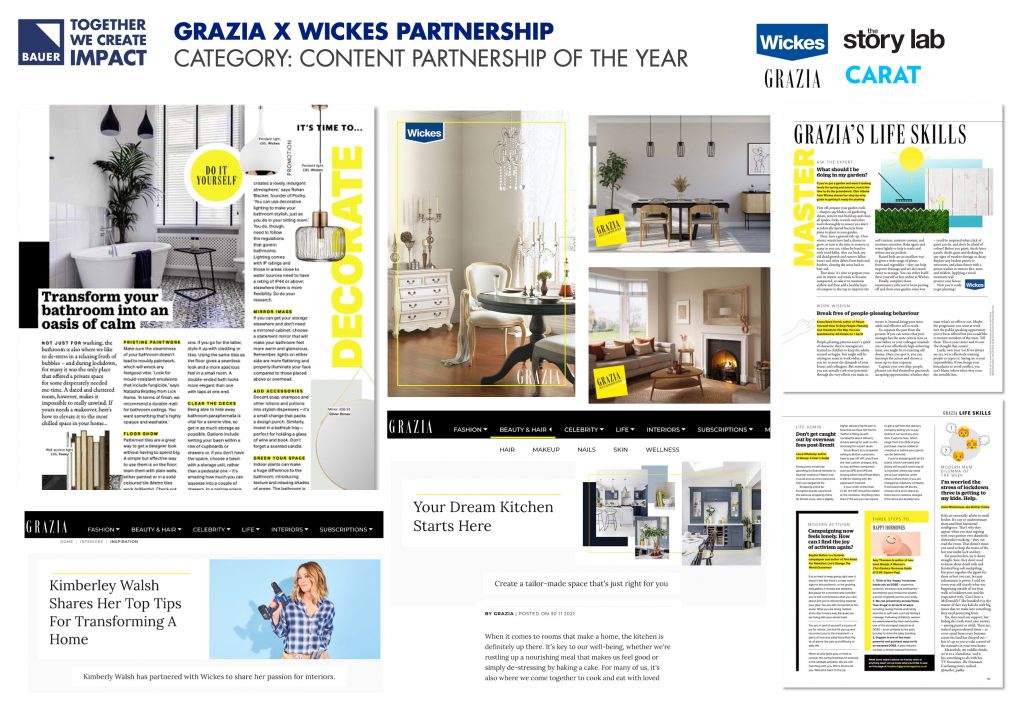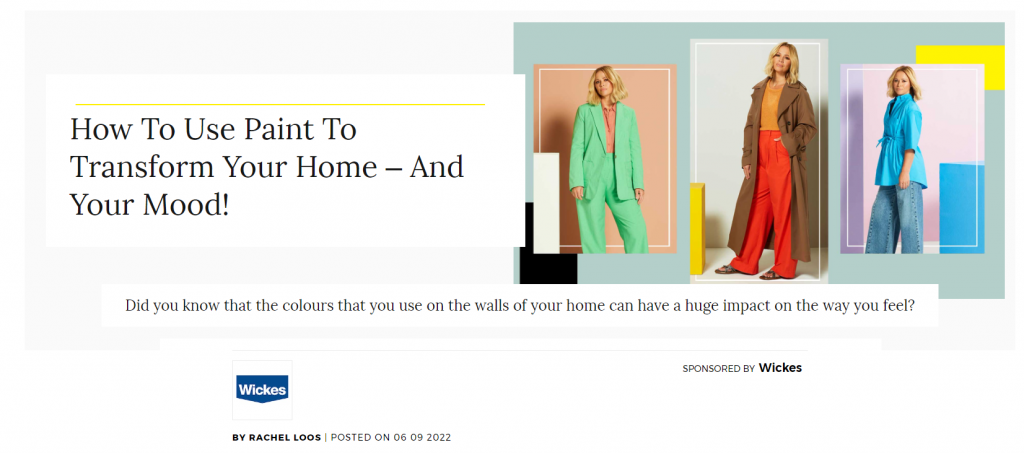 Results
The partnership hit all objectives, leading to Wickes' first multi-year renewal of 18 months with increased investment. Research (showing most recent YOY growth) conducted by Carat found that the campaign:

Drove brand consideration
• Consideration within Grazia readers grew by 8 pts, with 70% now considering Wickes for DIY projects

Changed perceptions
• 74% of Grazia readers said the partnership made them feel more positive about Wickes

91% of ABC1 Grazia readers liked the sponsorship, 90% of ABC1 Grazia readers would recommend Wickes to family/friends

Readers reported enjoying the partnership, finding the articles to be informative and giving women confidence to undertake DIY projects.