Mini Community Maximum Impact
"We were delighted with the partnership with Haymarket, it was a crucial part of our plans for the first half of the year and really delivered great results for us. What was particularly great about the partnership with Haymarket was that it allowed us to very effectively cover a number of critical touchpoints in one integrated campaign. We particularly liked what the two brands, WhatCar? and Autocar were able to do with the existing content we had and really wanted use, their creative and editorial expertise made it work seamlessly across their platforms and that greatly helped grab readers attention, which really came through in the post campaign measurement study."
The Challenge
The global pandemic impacted every imaginable aspect of our lives, but the impact on the automotive industry was as significant as any. We've seen build times for new cars and consequently wait times for customers get longer and longer, and this is a huge challenge for manufacturers to navigate. Coupled with the wider world events of Q1 2022, it is safe to say it had been a very tumultuous year so far and Wavemaker needed to be more reactive than ever before,

Getting a fast start in the year is critical for automotive brands. With the wider market and world context in mind, and in an incredibly cluttered and competitive marketplace, securing interest to sustain MINI's retail partners throughout the whole year as early as possible was a must.

The MINI Electric has been available to buy since it launched in March 2020 and the electric car market has evolved and progressed significantly in that time. Competitors have invested huge sums of money both in terms of product development and marketing campaigns. We've seen the range of competitor cars increase by 150 miles, the charging infrastructure continue to grow and the choice of brands and models available increase almost exponentially in that time. All of this has led to the fiercest and most competitive environment in all of automotive, with all brands vying for their share of the pie in order to hit their emission goals.

Coming into its third year in 2022, and with bigger sales targets than ever before, Wavemaker knew they had to think differently about how they communicated the features and benefits of MINI's flagship electric vehicle. With less budget than most of their competitors and a smaller product portfolio to draw on, the agency needed to fight against the norm to beat out the competition.
The Idea
Wavemaker's proprietary purchase journey research identified that the purchase journey for electric vehicles is 33% longer, involves more touchpoints and is generally more complicated and noisier than for petrol or diesel cars. This highlights a very clear need to rethink how the category is currently servicing this newer type of car and purchase journey in terms of how research is conducted and information is surfaced. Whilst there is lots of information available about electric cars – range, charging infrastructure, battery life – it is often very functional and overly rational, and ultimately takes the joy out of what should be a moment of real excitement. Making the switch to an electric car from a petrol or diesel vehicle that you've driven for your whole life is as much of an emotional decision as it is rational – people want to know how it will fit into their life.

One of the best things about MINI is the ownership community. There is a genuine warmth, openness and positivity that is shared by those that consider themselves to be part of the club. This is particularly true of those that own MINI electrics – they are an incredibly vocal and helpful bunch and this is exemplified in the MINI electric UK Facebook group – a community of over two thousand owners who post daily about all things MINI electric!

Wavemaker realised that we were already sitting on the best asset for potential new MINI electric customers – MINI's wonderful community of owners! The people that had been living with the car had all of the practical information that customers needed, alongside the thing MINI really wanted to inject into their MINI electric communications – a human touch. Mini were so confident about their product, and who better to sell it than our existing owners?
WhatCar? and Autocar were the perfect partners, trusted by car-enthusiasts and intenders seeking helpful, expert advice. A consistent presence at every stage of the purchase journey (from early research, right through to test drive).

Once Wavemaker decided on the partner it was on to designing how the idea would be delivered. It was critical that they used the content they'd developed with their community, and WhatCar? and Autocar did an incredible job of integrating that seamlessly into all elements of the partnership.
Native. Authenticity was paramount and so Wavemaker created branded MINI Electric Switched-On content hubs within the editorial habitat in the style of both What Car? and Autocar. These hubs housed the content they'd created with the MINI community and included product information, ownership tips and recommended road trips. A fantastic plus from this is reduced production costs which in turn maximised media investment as well as lowering the campaign carbon footprint!
Social. The second pillar was social amplification as Wavemaker knew it was vital to increase the reach of the campaign. This involved a wealth of assets distributed across WhatCar? and Autocars social accounts, allowing the agency to tap into their audience in a different way. They also ran a MINI Electric 'Quiz' and two editorial newsletter promotions.
Acquisition. The third pillar was to drive leads by running a VIP competition for a 7-day test drive, collaborating with Driftrock to generate these. This is a particular strength of WhatCar? and Autocar given the nature of the people on their platforms.
Display Advertising. A mix of bespoke, high impact, rich media creative targeted across the partner sites. Wavemaker employed focused targeting to those with a higher propensity to consider both the brand, electric vehicles generally as well as going after MINI's competitors.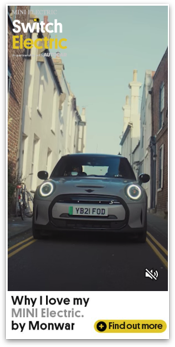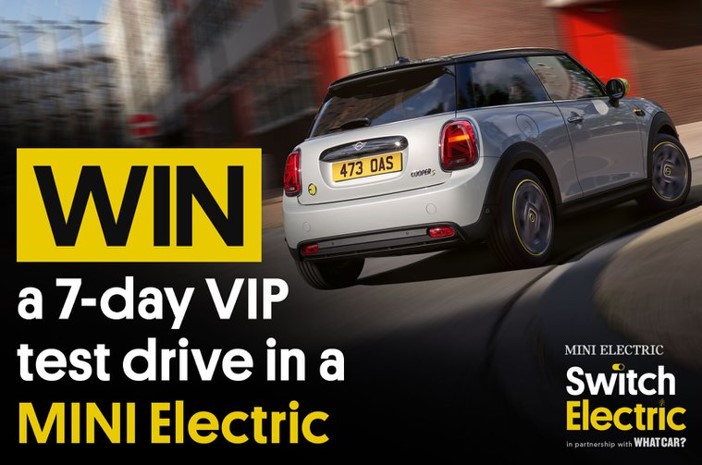 Results
One of the key reasons Wavemaker wanted to work with Haymarket is that they allowed them to tap into an audience that are actively-considering their next car purchase, reaching them at every stage of the purchase journey. The purchase journey is not a straight line and so a consistent, a focused presence was vital.

To measure and evaluate the partnership effectively, KPIs were put in place that were appropriate for each of these points.

In the early research and information phase of the journey, it was important that the campaign was reaching a high volume of people and that they were spending a significant amount of time with the content.

The campaign delivered a reach of 8.3m impressions across WhatCar? and Autocar. A benchmark for dwell time was set at 1 minute 47 seconds. The campaign absolutely smashed that delivering a whopping 2 minutes and 21 seconds!

As people move through the journey, collecting the information they need, Wavemaker wanted to make it as easy as possible for them to take the next step and book a test drive. The benchmark for test drives was 240 – the campaign delivered 261!

The agency also undertook a research study to understand the effectiveness of the partnership on several key longer-term metrics.

1 in 4 of those exposed to the campaign felt more positively about MINI Electric.

1 in 5 of those exposed to the campaign said they were more likely to consider purchasing a MINI Electric.

As well as smashing the targets across all elements of the plan, The campaign also delivered outstanding value. Across the partnership, Wavemaker delivered an additional 40% worth of media value!