My Media Week: Sue Todd, Magnetic
Sue Todd, chief executive of Magnetic, talks to Campaign about her "week of two halves" in Blackfriars and Cannes (but doesn't go on a single yacht).
Monday
Of all the weeks to be asked to write this, it's Cannes. Not your typical media week.
It does however mean I am able to cram in multiple catch-ups that back in London might take four months to schedule and get a sense of the big conversations that are driving our industry.
But first a day in the office to move forward some key projects for the next few months, including a catch up with stakeholders about our Spotlight event that's happening in July in partnership with Campaign.
We're hosting an evening to showcase some of the best partnership work in magazine brands over the past 12 months. I have just learned that Cannes Lions will be joining us to share some of the winning work from the festival, so I'm looking forward to heading to the South of France even more and seeing who the winners are.
Quick dash to Gatwick to meet our comms director Jo Tomlin who is still hoping to land the perfect hot weather smart dress, but not sure she'll find that in WHSmiths. Instead we scoop up some reading material for the plane. I grab Grazia and The Week.
Jo is getting unnecessarily excited over this month's Modern Gardens – a new launch from Bauer at the end of last year – and a brilliant example of opportunity and growth in publishing with the right idea and product.
We're delayed, so it's a mad race to the AirBnB to drop our things and head straight out to meet Immediate Media's Duncan Tickell and Jason Talley for a catch up on the day's chat from the Palais and a bite of dinner.
They have had a strong start to the year, with a number of new titles launching and an exciting ownership change. We talk about how their video and content studio Imagine is thriving and I try to find out who the new Radio Times editor is going to be – to no avail.
We end the night trying to get in to see Stevie Nicks (who is, for anyone under 40 years old, a legend) but fail, so head home to do some late night emails and get some respite from the heat.
Tuesday
Woken by an unfortunate combo of noisy aircon and blazing sunshine due to no curtains in our apartment, but head down to the front for breakfast with Adam Bullock and Moz Dee from Contented, followed by a coffee with a journalist from an new independent magazine called Pitch, about creativity in the sector.
As a side line to our conversation about up and coming creative talent, she mentions that she has a young son so is interested to hear about The Week Junior. By the end of the meeting we have another subscriber on our hands. The political turmoil of the past 12 months has made The Week and other trusted magazine news brands even more essential and it's a great success story for Dennis Publishing.
I've been invited to lunch by the Lighthouse Company and Twitter, so get the opportunity to chat to Gemma Greaves from the Marketing Society about their recent Marketing Excellence awards before heading off to a session with Jack Dorsey at the Twitter beach, which is fascinating.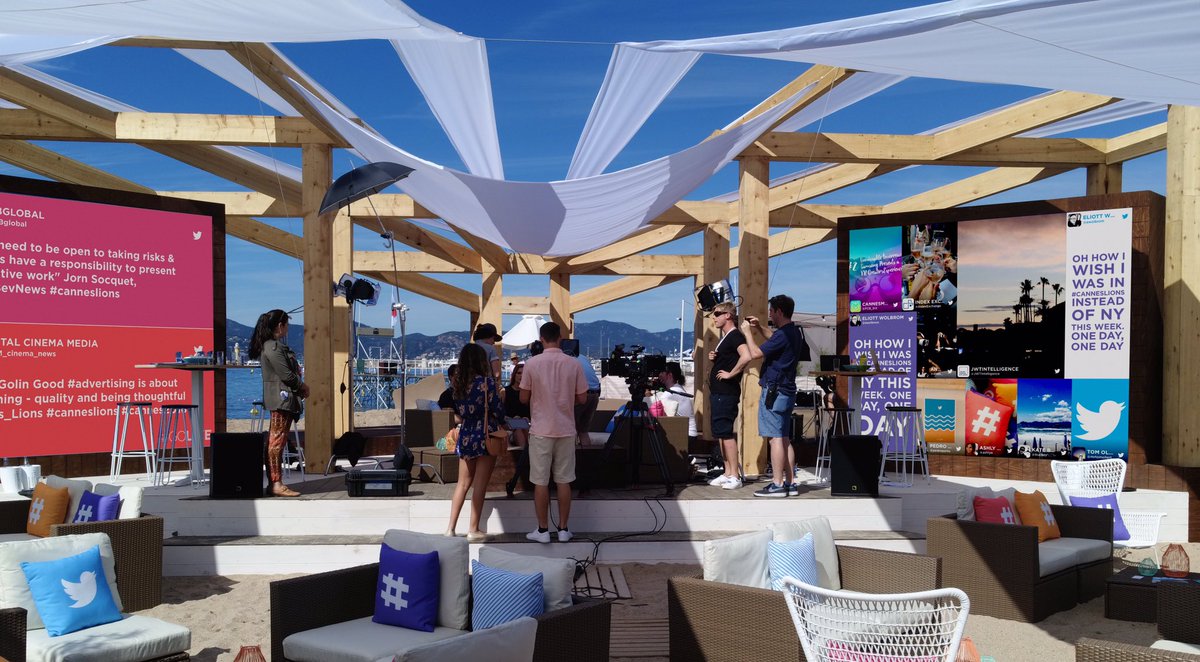 As impressive as he is, I also get excited by the little fan they have given me that operates when plugged into your phone. Genius. Thank you Twitter.
Collect Jo from a journalist catch up, grab a quick pizza and head back to the apartment as there's lots happening tomorrow.
Wednesday
Early aircon alarm call, which is good as I need to spend the morning on the phone to the team in London and draft a deck for an event this week about the dangers of short-termism for brands based on the recent report that Enders Analysis produced for us.
As many other commentators, including the IPA, have highlighted there are some real issues at stake in terms of long term effectiveness with some of the current practices and we are keen to understand them fully. The report has many important pieces of evidence and conclusions, including the recommendation for everyone to do more work and invest in quantifying and valuing the context in which brands communicate.
Our magazine cousins from Northern & Shell have invited us for a catch up over lunch. Sarah Perry and Toby Morris are great hosts and we talk at length about the great work that the brilliant duo of Simon Redican and Jan Gooding are doing as the leaders of PAMCo on our behalf.
We are all looking forward to our new currency AMP next year and being able to see how published media performs across all platforms. I know agencies are excited about this too.
The main event of the evening is the annual Campaign A List drinks. To save column inches, just refer to the A List booklet and you'll see who was there. CEO of Haymarket Kevin Costello is the first person I bump into, swiftly followed by James Wildman, CEO at Hearst. It's nice to see magazine media out in force.
I join the queue of people congratulating Cilla Snowball on her Damehood which I think along with Karen Blackett's OBE a few years back are two of the most cheered decisions the Queen has made in the honours lists.
The lovely Karen Stacey of DCM invites us to her Campaign after-party drinks. Afterwards I head back to meet Jo who is wearing a JWT t-shirt campaigning for female equality, given to her by their head of comms, Noel Bussey. Go Jo.
Thursday
Back at Magnetic HQ it is The Lab part two. This is where we send rising stars from media agencies to spend a morning with some of our titles to understand the inner workings of how a modern magazine brand is put together.
Today a small group is being hosted by Olive magazine and the team sends photos of the agency planners in the Olive kitchen having a go at recreating this month's cover.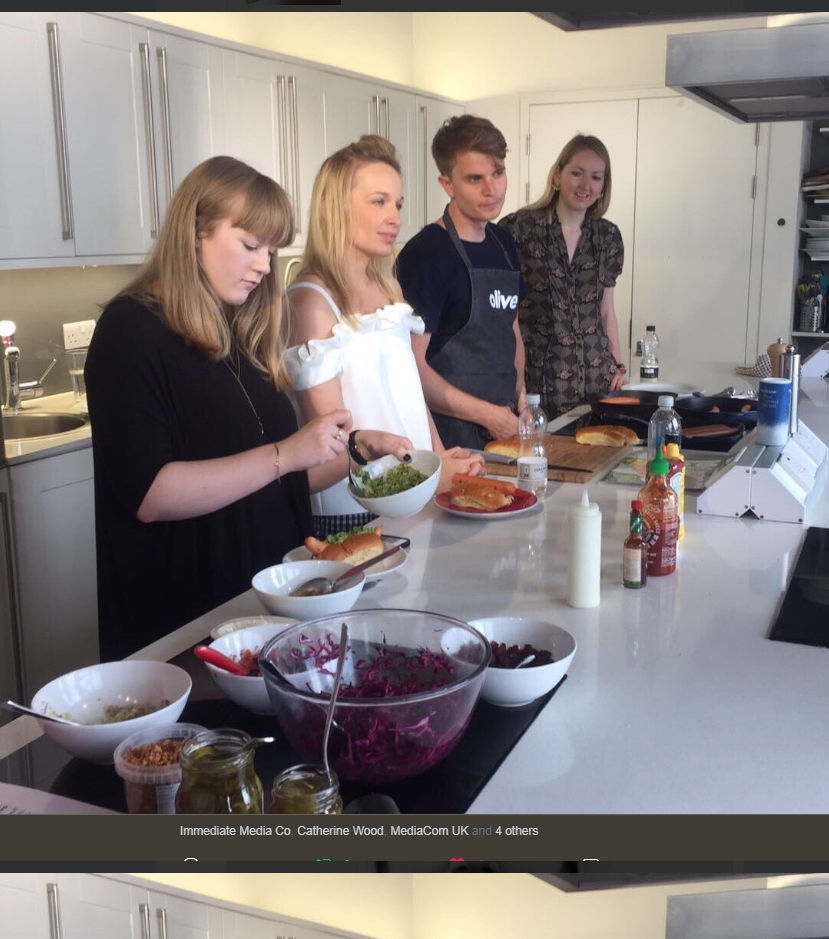 Next up is Glamour, shortly followed by NME and Grazia.
The insight that the editorial teams offer about how content decisions are made for the various channels is incredibly insightful and valuable to our agency and client partners, so we are keen to do as much of this as possible as a sector. We have over 45 planners involved this year on the programme and hope to enlarge it again next year.
Meanwhile in Cannes it's time to head home, but not before a final coffee and croissant to see us on our way.
We watch a cavalcade of limos and outriders pass by and wonder who its occupant might be. We later discover it was the president of Colombia.
We debate a quick trip to the Snapchat wheel but frankly it is so hot, I fear we would end up like some sort of media rotisserie chicken, so we give it a miss and head to the airport.
Cannes has been really interesting, if somewhat controversial this year. It seems some change might be in the air for next year but for me the couple of days spent away from the day-to-day, meeting and hearing from some of the most inspirational people in our industry, has definite value.
Friday
Having been out of the office for a couple of days it's a catch-up day with the team.
They have been busy with the Spotlight event and it's looking really good. If you don't get along, you will get a chance to see the work in a special brochure in Campaign at the end of July.
I also spend time hearing about some of the external speaker ideas for Spark, our Autumn conference, and get a debrief on some new research we are doing with Mediacom North around trust.
I end Friday on admin. Signing invoices and deciding how I will download some of the ideas and conversations from Cannes to the team.
I end the day doing Glastonbury from the comfort of my sofa. Perfect.
The Lowdown
Age: Put it this way, I know who Stevie Nicks is
Favourite media: Far too much Netflix and Twitter but the Guardian, Grazia and The Week Junior too
My biggest inspiration: I am still a sucker for a Ted talk – now on their podcast
Dream job: Film editor

Not a lot of people know this about me… I am awesome at darts
*This article was first published in Campaign