Universal: Download and Keep
Universal Download and Keep grabs attention with Radio Times
SHORTLISTED – Magnetic Spotlight Awards 2019 for Most Creative Use of Print
"We've been really impressed with the creativity and solutions that Immediate came back with and its audience is perfect. Having presented several times internally, the Darkest Hour Radio Times cover has been a standout and has garnered a lot of attention across Universal marketing departments around the world."

Gareth Lowrie, Marketing Director for New Media (EMEA), NBC Universal
The Challenge
How do you persuade film fans to download and keep classic movies in the age of streaming? Universal and Mediacom challenged Immediate Media to raise awareness of the benefits of its Electronic Sell Through (EST) range of movies among a target audience of film fans aged 45+. Primarily, the goals were to:
Raise awareness of the EST/Download and Keep movies education message among the target audience
Educate the target audience on the benefits of EST/Download and Keep movies
Drive purchase intent of movie and format of purchase

The Idea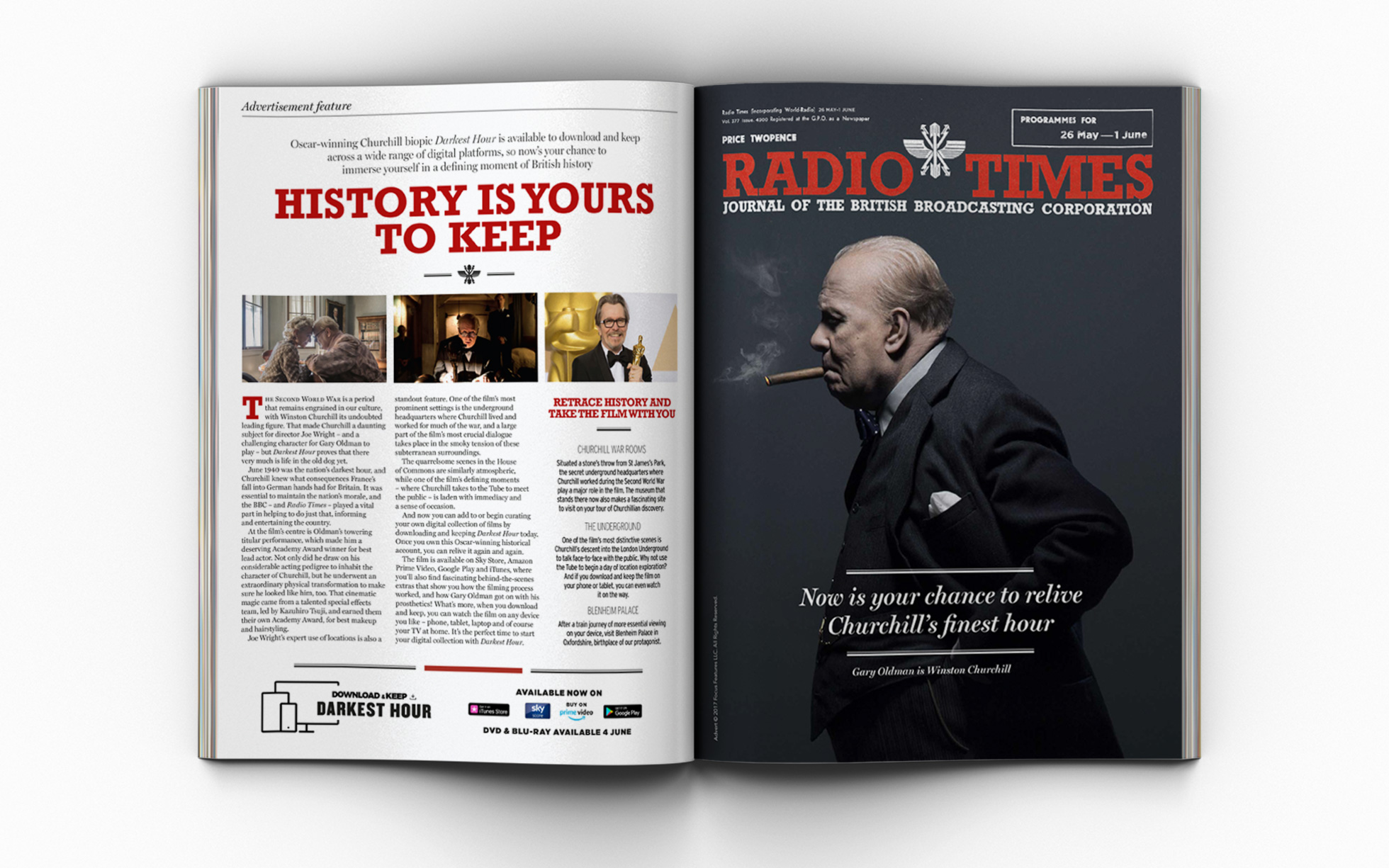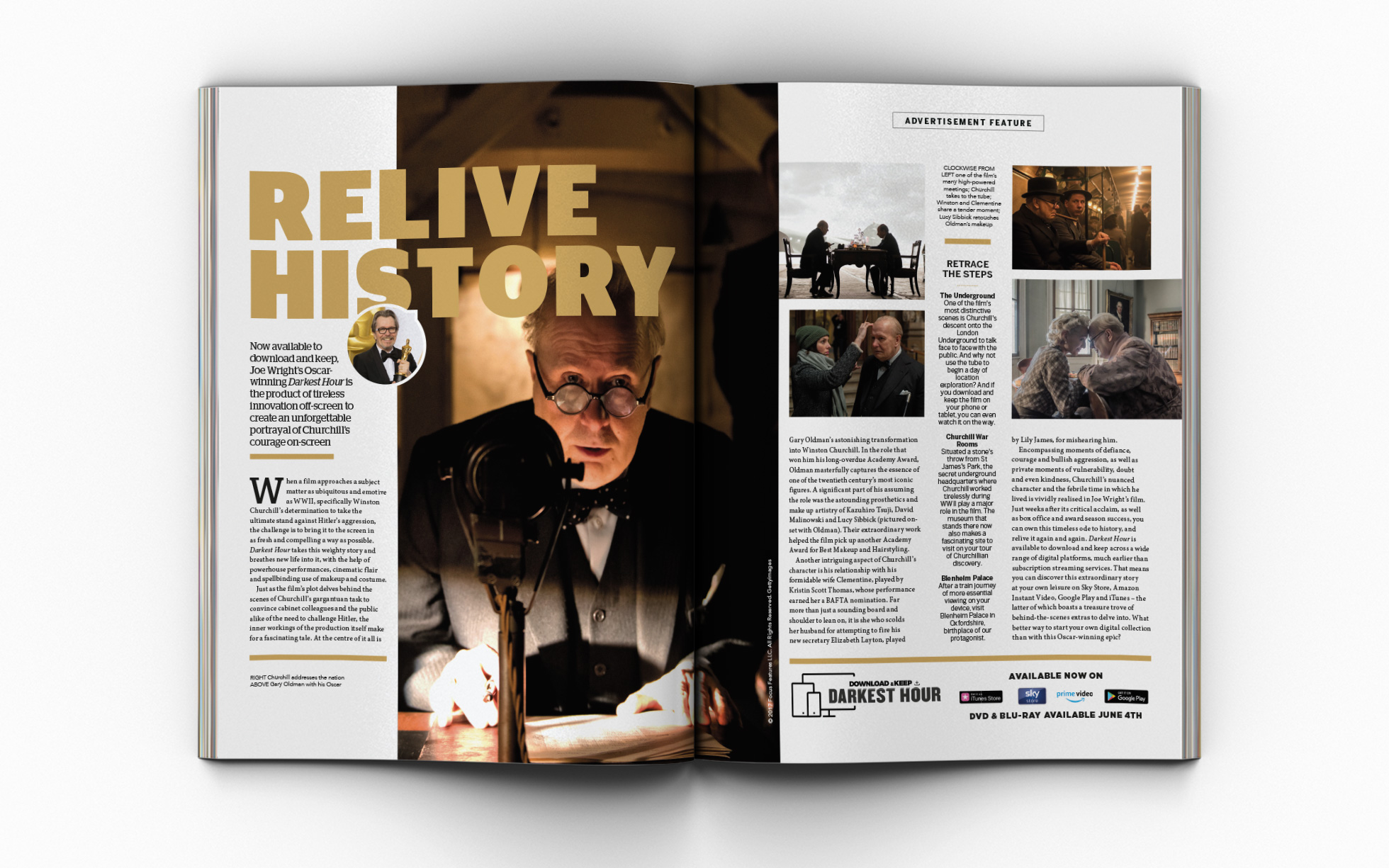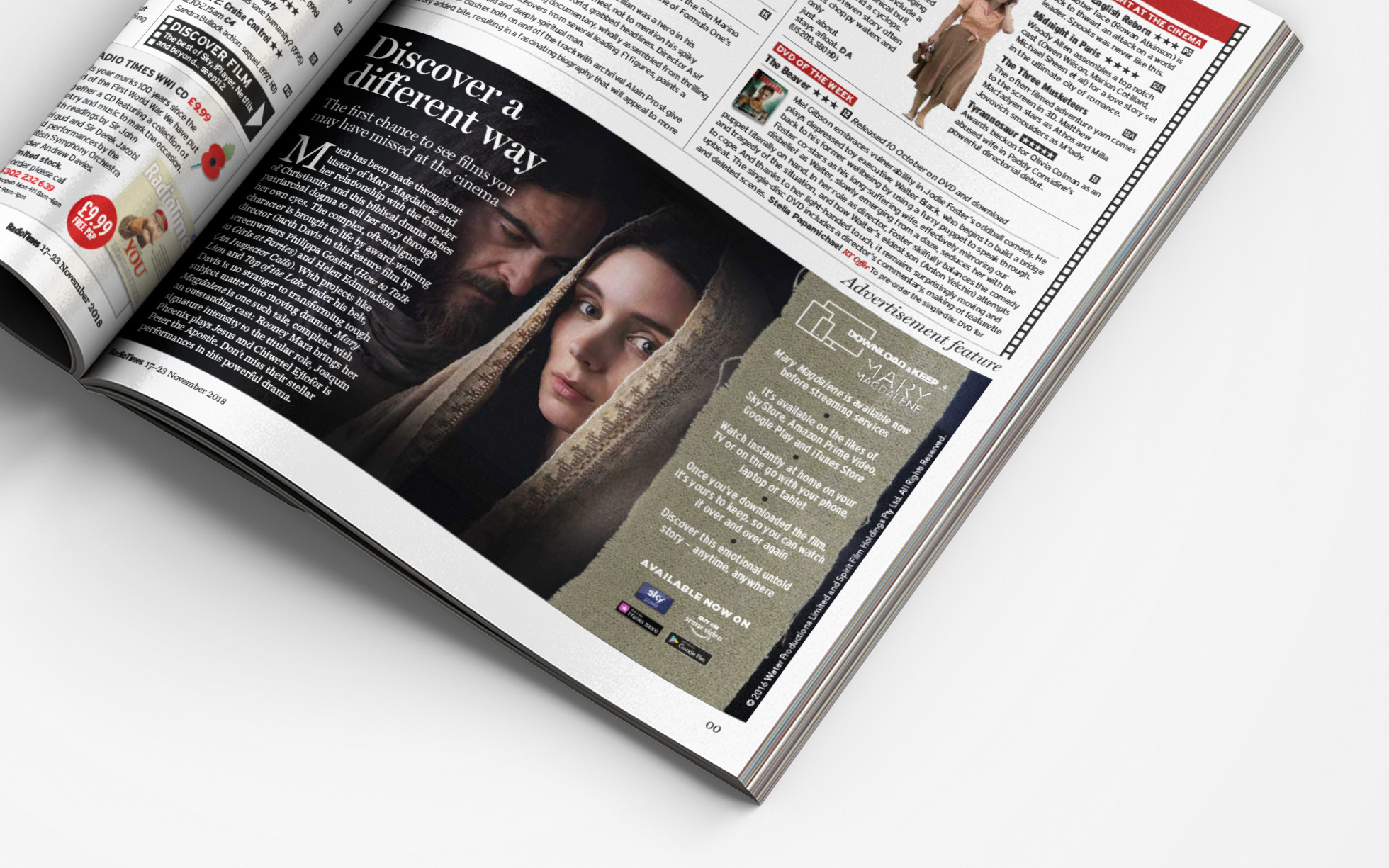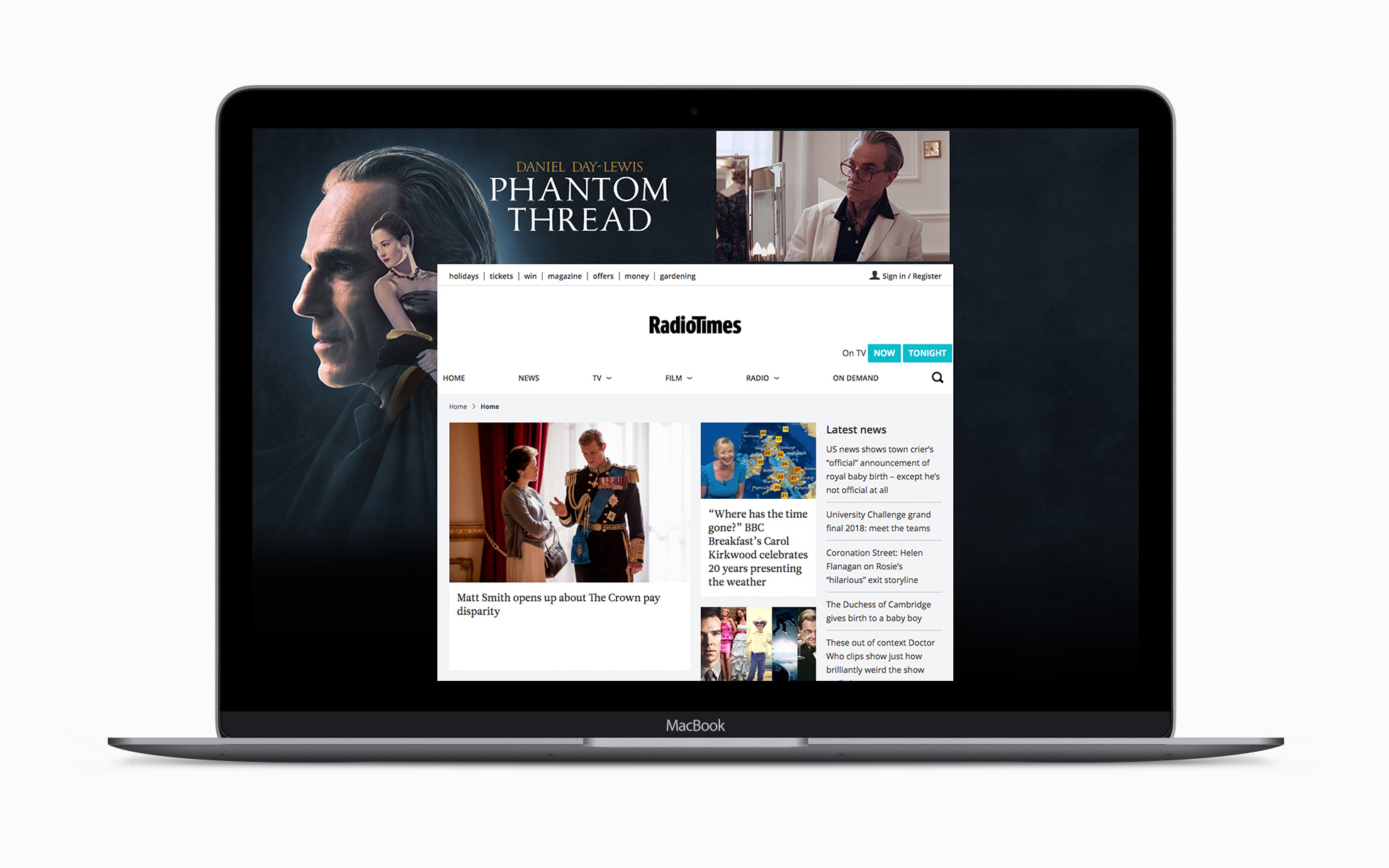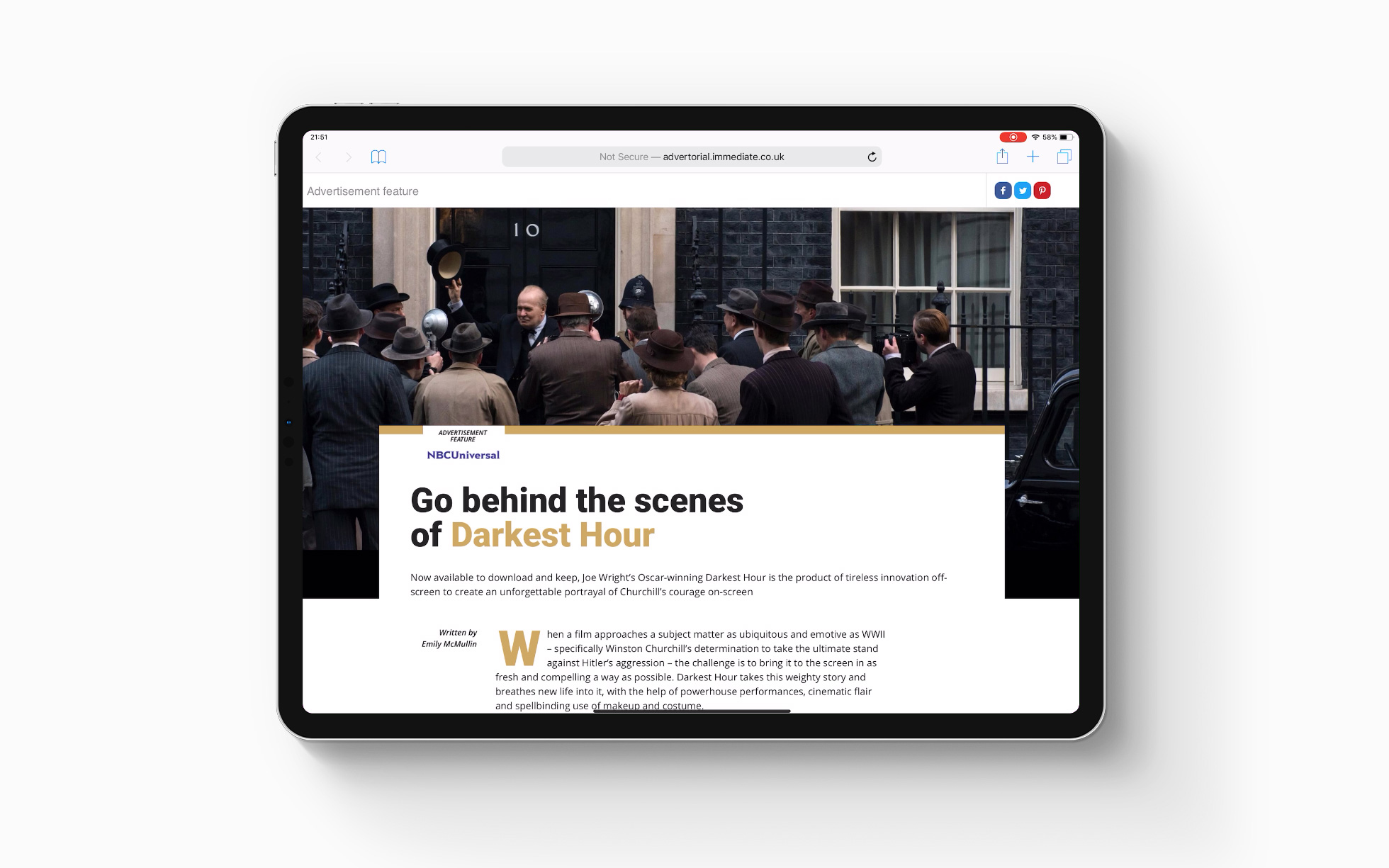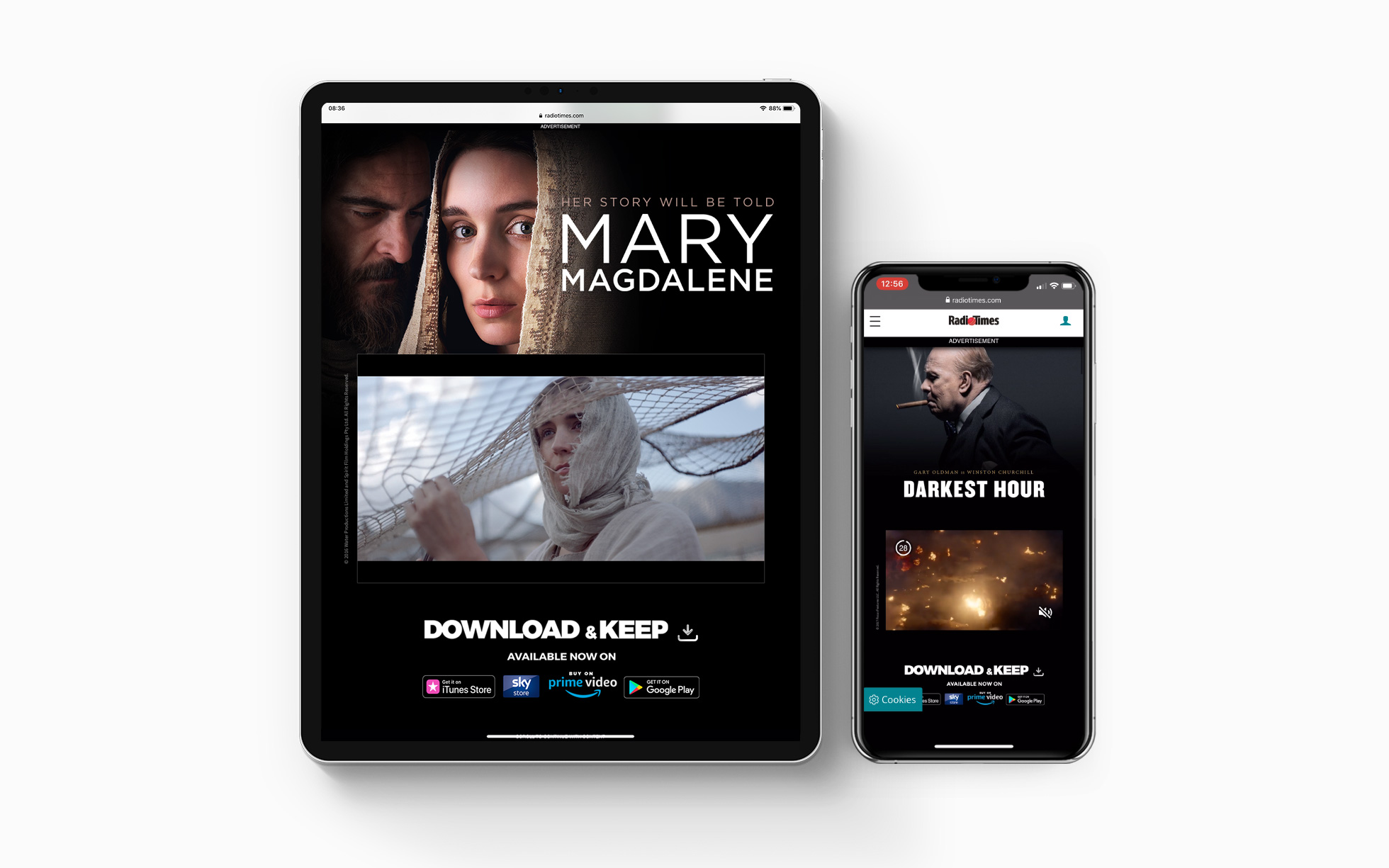 A key offering within the EST catalogue was the release of Winston Churchill biopic Darkest Hour. When considering how best to promote the film, Imagine, Immediate Media's content studio, took inspiration from 95 years of Radio Times archives – specifically drawing on the magazine's coverage of Winston Churchill and the Second World War. Universal was keen to target an older audience for this film and at this stage in the EST marketing cycle, and Radio Times and BBC History delivered the right demographic, combined with the perfect editorial environments for a historical film.
Radio Times readers are incredibly trusting of the brand. The challenge was to create something that did not undermine the title's heritage and reader trust, but rather used its history to celebrate the film's release. Drawing on original Radio Times covers from 1940, Imagine recreated a first of its kind: a vintage Radio Times cover featuring Gary Oldman in the role of Winston Churchill.
The creative process went through many iterations as Imagine worked to find the perfect balance. The project required close collaboration with Radio Times' editorial team and senior stakeholders within the business.
The resulting creative formed part of stunning inside front cover DPS within Radio Times. Imagine also created a series of half-page advertorials to promote some of Universal's biggest film titles.
In total Immediate ran three months of sustained front-half advertorial activity within Radio Times magazine – with a reach of 3.5million, 2million of which were over 50s. Imagine created an advertorial feature in BBC History magazine that took a deeper dive into key aspects of Darkest Hour – the perfect content for history fans. The DPS reached 314,000 readers, of which half were in the 45+ target age group.
The campaign also furthered its reach with sponsorship of the BBC History Extra podcast. RadioTimes.com's digital TV listings are a key destination for fans of TV and bring in a high proportion of the site's traffic. Immediate targeted visitors to these pages with contextually relevant film recommendations. This alone led to 4.1million impressions and 8,300 clicks (0.2%).
Meanwhile, Imagine created a suite of digital assets to promote various 'unmissable' Universal releases available to download and keep. They targeted genre-specific editorial content for each set of film creatives. In total, 2.5million impressions were delivered, with 4,600 clicks (.2%).
The Results
There were uplifts across each of the core campaign objectives

Objective 1: Raise awareness of the EST/Downloading and Keeping movies 43% of those who recalled the campaign said they are more aware of the ability to download and keep films. The campaign also increased awareness of the platforms available for download and keep
Objective 2: Educate the target audience on the benefits of EST/Downloading and Keeping movies
31% said they had a better understanding about downloading and keeping their films. Over a fifth of those (22%) who recalled the campaign said they were likely to recommend downloading and keeping films to friends and family (up +29% from the pre-campaign research)
Objective 3: Drive purchase intent of movie and format of purchase
During the research, consideration of downloading and keeping films increased to 24% of those who recalled the campaign stating they would consider downloading and keeping a film the next time they are looking to watch a film (+33% uplift from pre). 1 in 4 of those who recalled the campaign claimed they have or plan to download a film on their TV/device using one of Sky Store, Amazon Prime Video, Google Play or iTunes.
The campaign achieved an overall reach of 9.1m, with a huge digital delivery and number of video completes
Immediate's post-campaign research demonstrated that the targeted campaign had increased the likelihood of consumers talking about and recommending the ability to download and keep films