Sleek MakeUP launch digital campaign with Hearst UK with 'My Face, My Rules'
WINNER – Magnetic Spotlight Awards 2018 for Best Use of Digital
"The reach of Cosmopolitan's audience allowed us to connect with 16-24 year-olds in environments they spend a lot of time in, and talk to them with relevance and authority. The seamlessness of the partnership was also highlighted by the organic editorial support from the Cosmo team."

Claire Boulton, Marketing Manager for Cosmetics and Accessories (UK & ROI), Walgreens Boots Alliance
The Challenge
Sleek MakeUP is a smaller cosmetics brand in comparison with competitors such as Rimmel and Maybelline, but few advertisers are as bold and honest in empowering young adults to define their own identity without boundaries.
'My Face, My Rules' was Sleek MakeUP's response to the rise of 'makeup shaming', a campaign that made the brand's feminist and diversity credentials more visible while improving perceptions of its values.
The Idea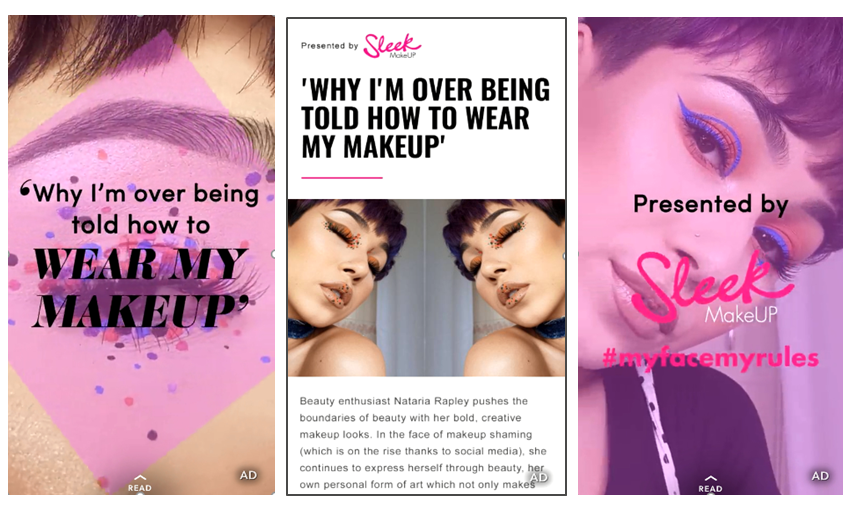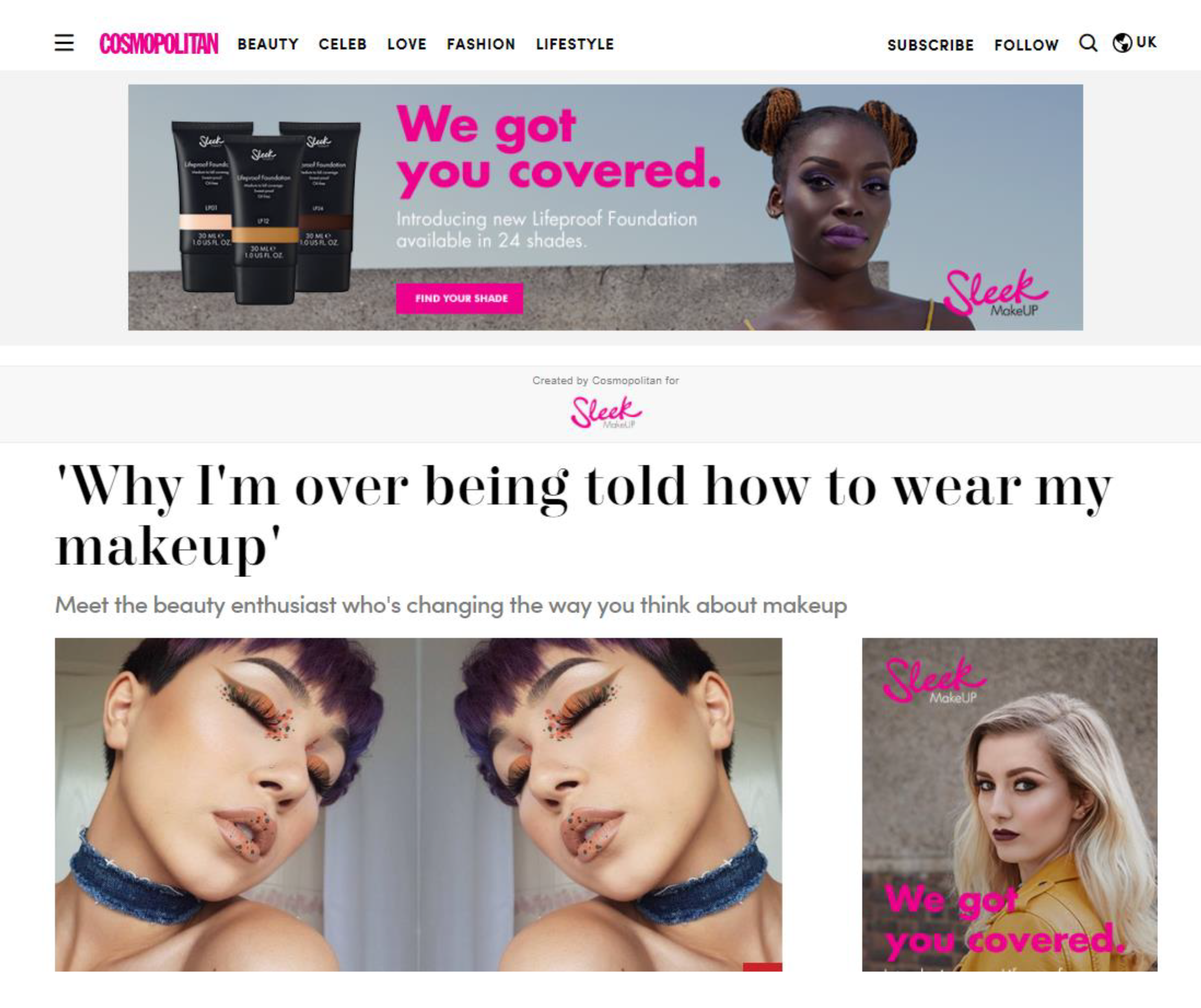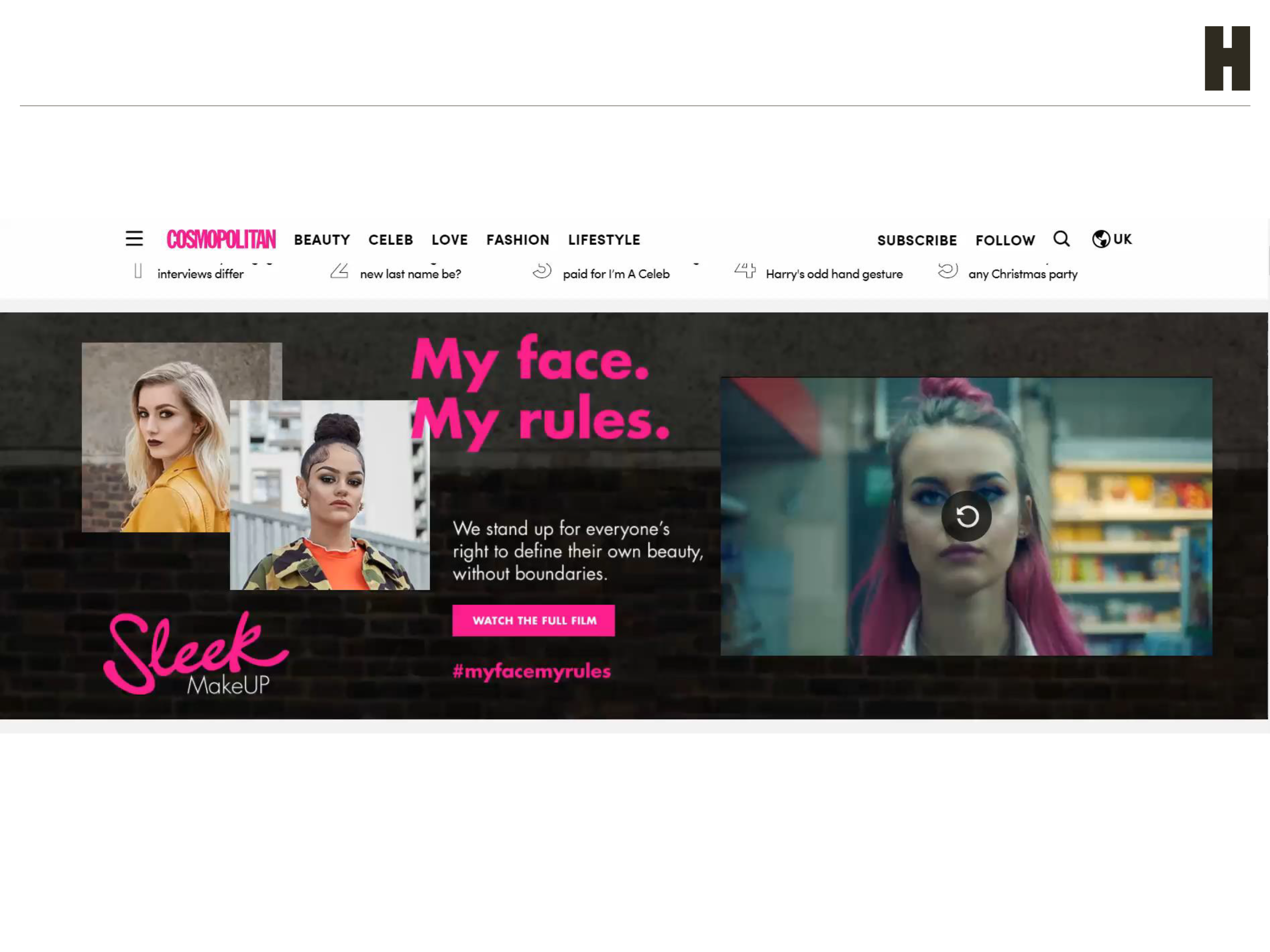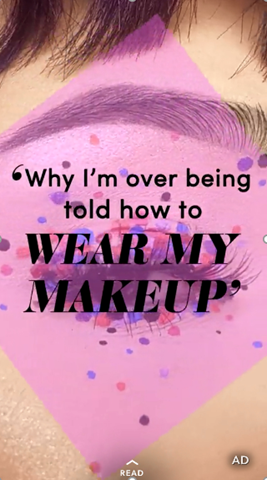 Sleek MakeUP wanted to call out the judgement many people face for their beauty choices, the negative stereotypes that come with a full face of makeup, or a bright red lip, or a bold brow, for example. Cosmopolitan was chosen as the perfect partner for the campaign due to its reputation for empowering women and embracing the diversity of life.
The 'My Face, My Rules' philosophy was delivered within a series of editorially-led content pieces across Cosmopolitan's platforms, and short videos that built engagement with the product range by capturing how various people use the Sleek MakeUP to create their own unique look.
Cosmopolitan used a variety of contextually relevant platforms to deliver a strong campaign made up of social ignition posts, co-branded articles and display, to encourage the use of makeup for personal self-expression and enjoyment. The social element featured Instagram and Facebook videos, and Snapchat takeovers, and focused on individuals that encompassed the spirit of 'My Face, My Rules'.
The Magnetic Spotlight Awards judges were impressed with the range and relevance of the campaign, and its expression of the Sleek MakeUP brand values while being able to tackle a serious issue on digital platforms that were relevant for the audience.
The Results
Brand favourability of 74% among those who saw the campaign, versus 53% who didn't
Purchase intent of 34%, versus 13% who didn't see the campaign
Instagram and video click through 30%, versus 17% benchmark
19,929 video engagements on Facebook (96% positive)