Cosmopolitan boost brand awareness for Glamglow encouraging the audience to 'Start the Night Right'
SHORTLISTED – Magnetic Spotlight Awards 2018 for New Magazine Advertiser of the Year and Best Use of Digital
"We saw great engagement from the GlamGlow and Cosmopolitan partnership. We always enjoy working with Cosmopolitan: they are highly collaborative and understand our brand personality"

Audrey Sebille, Marketing Manager, GlamGlow
The Challenge
GlamGlow's key KPI was to increase the brand's UK social media following to recruit a new and broader audience within the digital space with a target of being the number one prestige skin mask in the UK. They wanted to increase their Instagram following and increase brand awareness in the UK; the ambition was to grow this awareness as much as possible in the UK market and put the GlamGlow brand to the forefront of consumer's minds within a key gifting period.
The Idea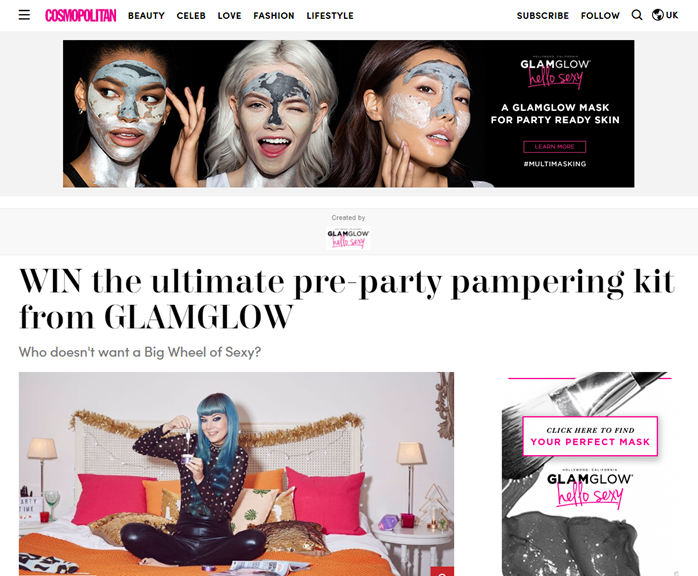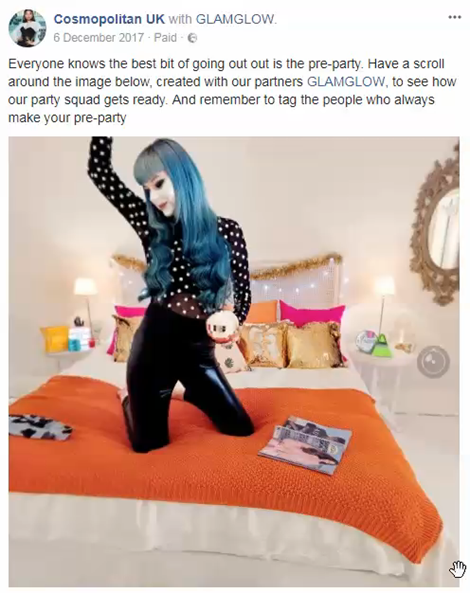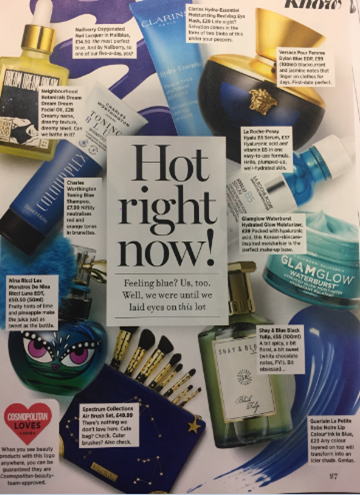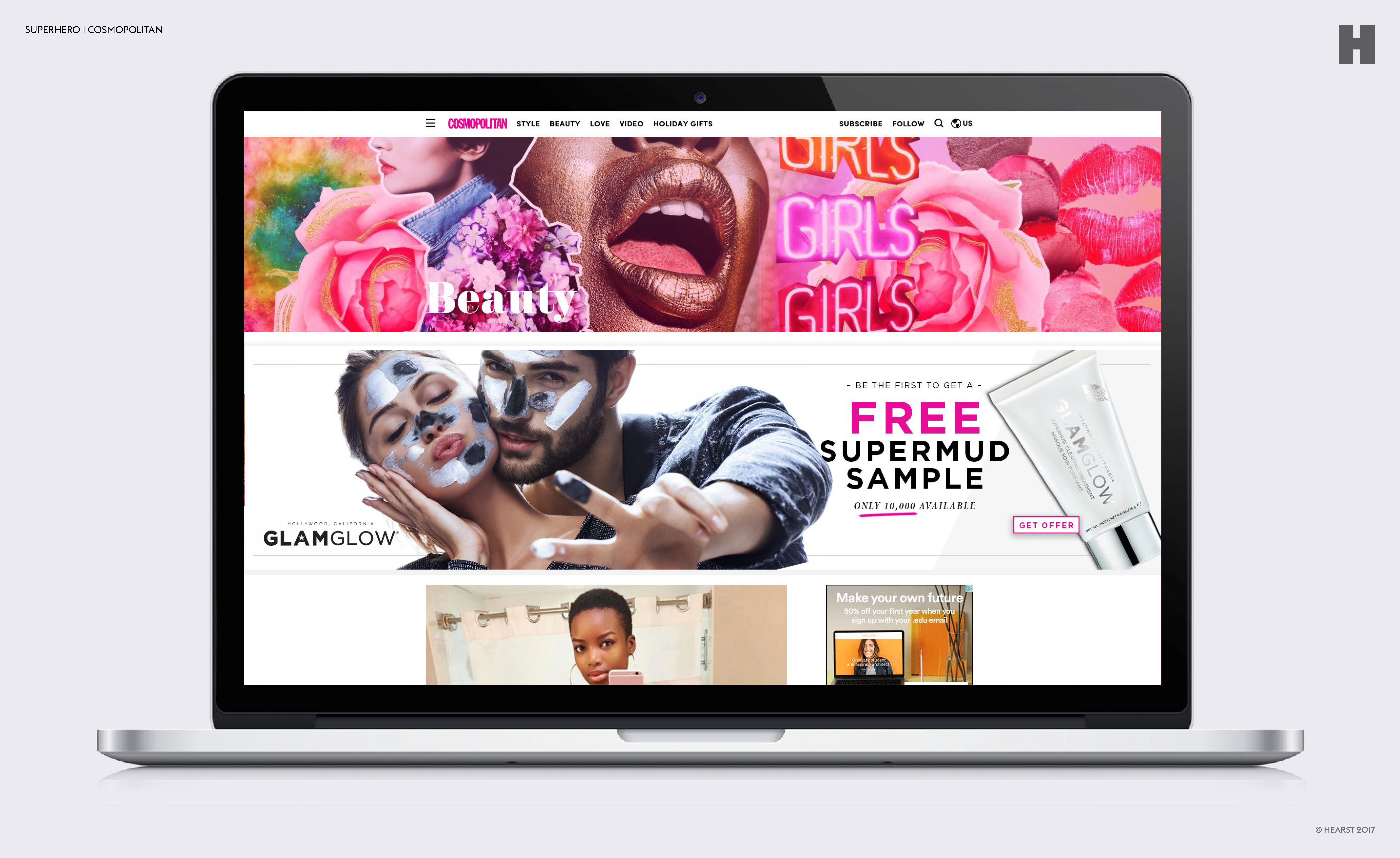 The key focus was on the core skin mask range with the SUPERMUD mask being the hero product. GlamGlow wanted to shout about their core mask range in a way that would feel natural to the consumer. It was important to reach the core audience at a time when they were most likely to desire camera-ready skin.
Audience insight found that 44% of women like the process of getting ready for a girl's night out as much as the night out itself (Source: Telegraph). The identified core audience were found to be women aged 16-35 who work hard, play hard and are always the first to share a must-have with their peer group on social media, making her a micro influencer.
GlamGlow needed a cross-channel approach to reach the audience in a party season when they are most likely to celebrate the process of getting ready and share content. The right partner was needed to engage with them on a national scale, whilst capturing the brands ethos across a range of channels.
Taking inspiration from Christmas Season Editorial, a partnership with Cosmopolitan was born to tap into the 'getting ready' moment, target the core audience during a key gifting period and create brand awareness among micro-influencers when they were most likely to be sharing content – aiming to convert influence into action by encouraging the audience to 'Start the Night Right'.
The partnership included a range of innovative, engaging elements, all of which were inspired by the vibrant personality of GlamGlow and Cosmopolitan. This included:
Co-branded article on Cosmopolitan.co.uk
A hero co-branded article showcasing all the must-haves for the perfect pre-party which included a 360 image featuring bloggers and YouTubers, along with a playful editorial style article '6 ingredients you need for the perfect pre-party'.

'Big Wheel of Sexy' Competition
A 'Treasure Hunt' competition ran on a separate article page to create excitement around the 360 image and improve product recognition. The competition asked readers to explore the image and count all of the brightly coloured GlamGlow mask products. (Two lucky winners received a GLAMGLOW Big Wheel of Sexy)

​Snapchat Takeover
A takeover of Cosmopolitan's Discover channel with three branded ad slots to accompany their 'Beauty' themed content. The takeover featured a swipe up to the repurposed content article, a swipe up to take a quiz and a GIF of the influencers from the day of the shoot
The Results
GlamGlow became the #1 Prestige Mask in under a year
​GlamGlow UK now has 65k followers on Instagram. The UK page increased by 15% in December 2017 when the Cosmopolitan activity ran
The co-branded article was one of the top 10 articles on Cosmopolitan during the campaign. High dwell time of 3min 7sec vs the 1min 30sec benchmark
The competition was one of Cosmopolitan's most popular competitions of 2017 with 2,314 total entries
28,344 engagements: Likes and reactions (721), shares (70), comments (38) and 360 photo interactions (27,515)
Out of all of the social engagements, 530 were reactions and 100% were positive in sentiment, demonstrating people's interest in the brand and the execution
Snapchat Takeover:

612,114 impressions delivered (4k over-delivered)
GIF style video had the highest average view time at 3.3 seconds
On swiping up to engage further with content, users spent an average of 46 seconds within the quiz