NOW TV taps into consumers' passion points with Hearst's brand portfolio
SHORTLISTED – Magnetic Spotlight Awards 2018 for Best Branded Content
The Challenge
NOW TV needed to unpack their complex product in an ever-growing 'on-demand' marketplace to drive deeper engagement with their entertainment titles.
The challenge was to capture people's attention at the right place, at the right time to tell them about the vast and exciting range of content in interesting ways. Unmissable shows, exclusive sports offering, the best kids TV and a host of the biggest blockbusters, making NOW TV part of the conversation.
The Idea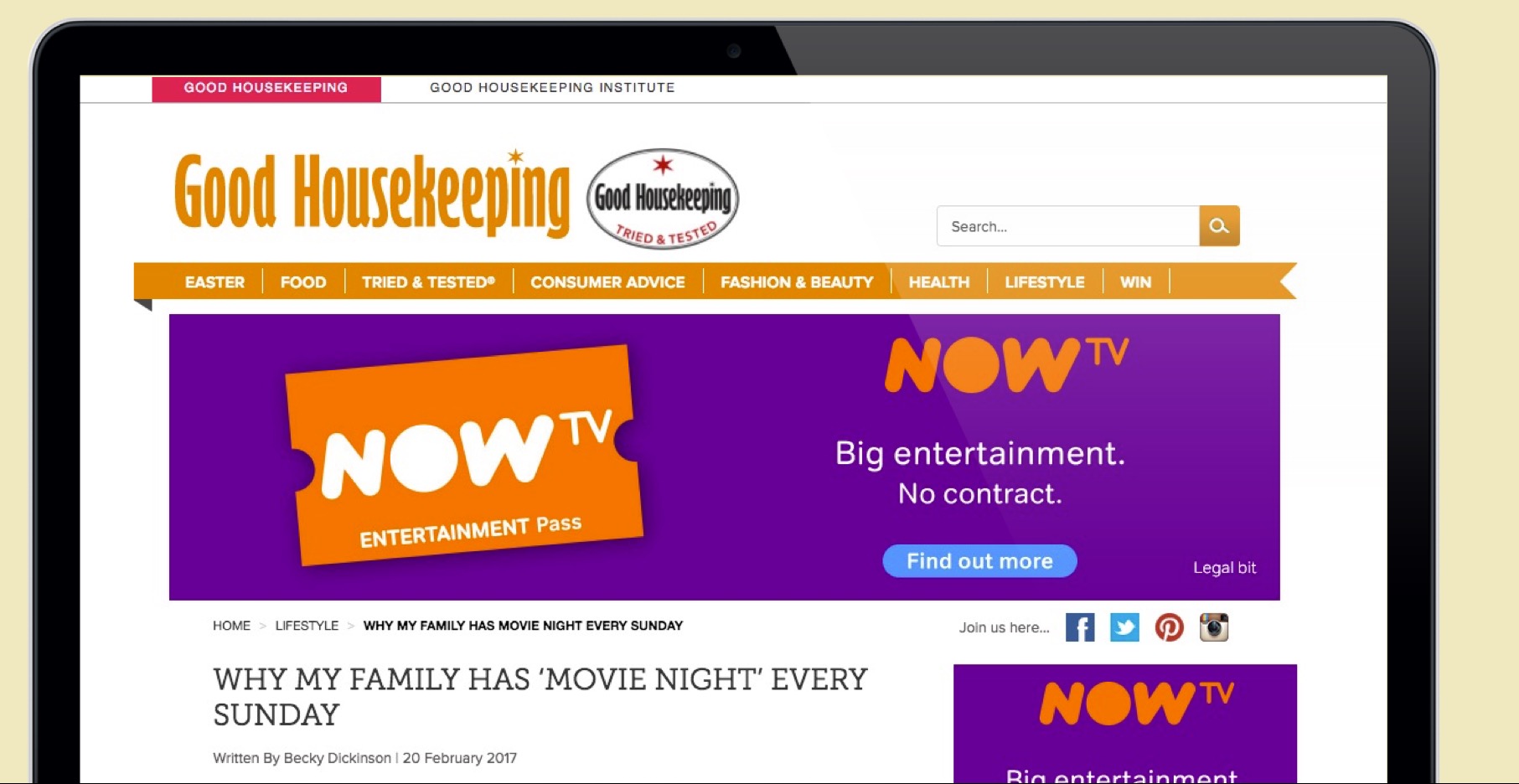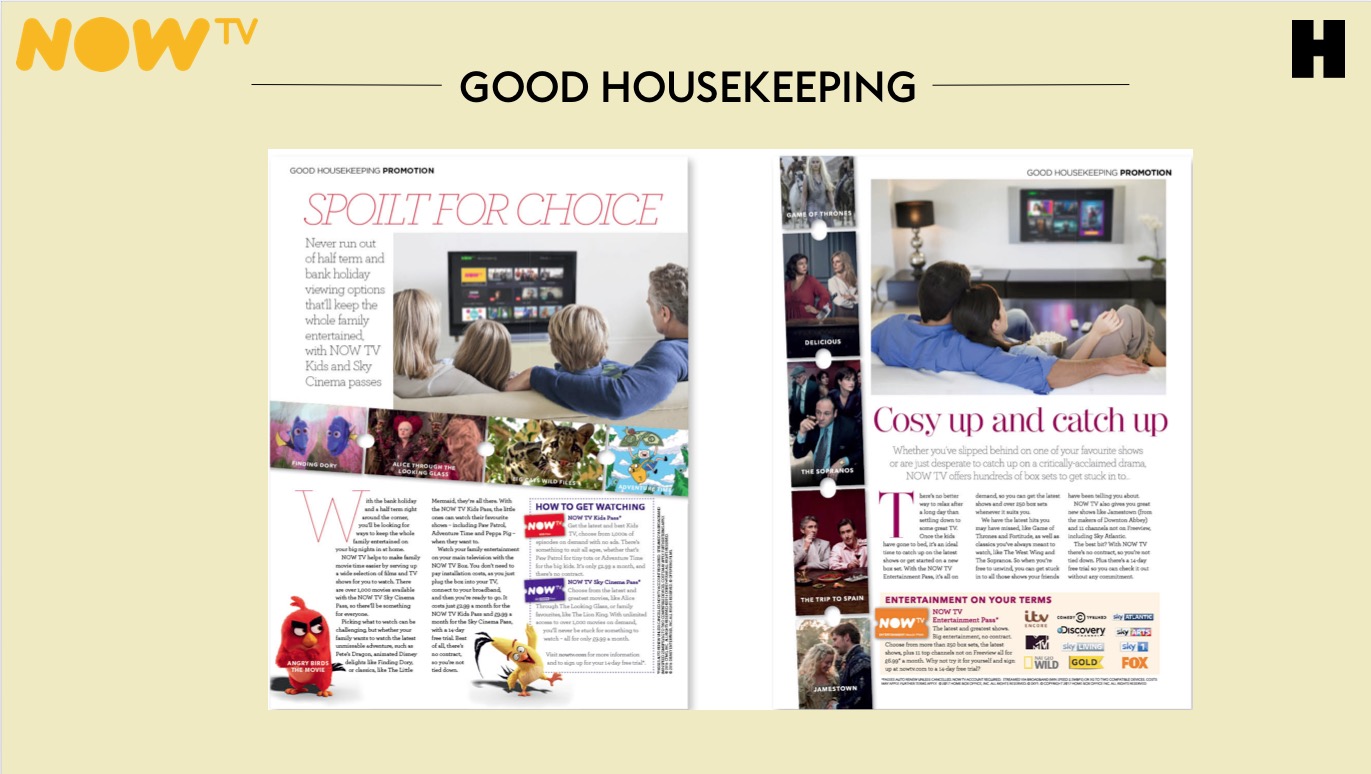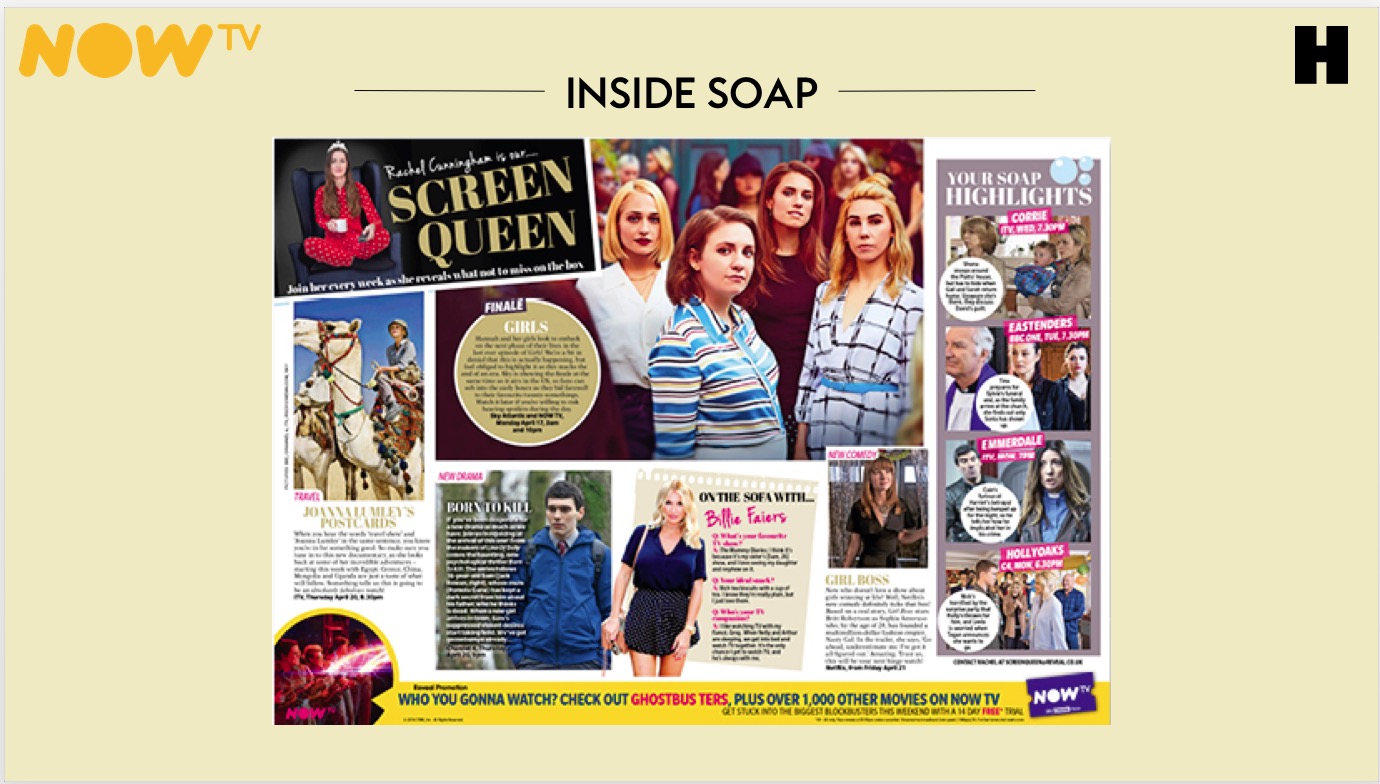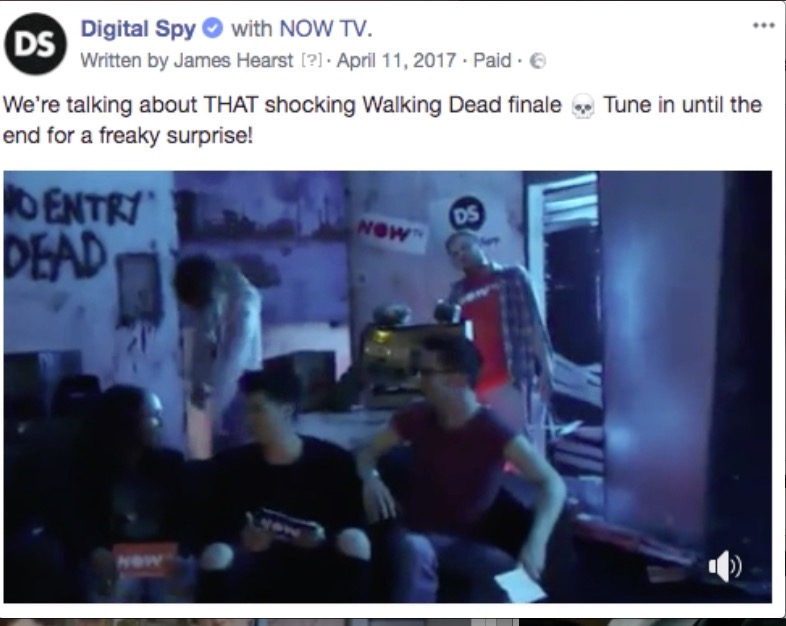 The content had to feel true and original to the Hearst brands editorial tone. A brand identity had to be created for NOW TV to create standout against competitors. With this in mind, Hearst devised a core theme: 'Insider Secrets' which would be the heartbeat of the content created. The concept was to allow the consumer to get closer to their favourite shows – to delve deeper, seek behind the scene facts, character knowledge and become that 'in the know' person.
Hearst's creative team set upon creating infographics, memes and engagement posts to generate positive engagement and reach new audiences across a spectrum of demographics. As well as tapping into Hearst's power brands such as Cosmopolitan and Digital Spy, the campaign was also backed by the wider Hearst network, including CTA's to NOW TV and promotions of the broad range of TV shows and films. This spanned more than 80 articles, alongside social activations, print insertions, takeovers and videos.
As well as producing articles that tapped into the 'Insider Secrets' theme, Hearst worked on creating methods of igniting audiences' love around NOW TV's offering of more well-known movies and shows that were already being widely discussed online, such as Game of Thrones and also Sex and the City with 'The 5 Best Sex and the City Quotes' video. The campaign was equally about harnessing Hearst's deep relationship with their audiences to seed interest in some of the smaller shows with specific target audiences such as Digital Spy and their audience of entertainment gurus and fans.
The content Hearst produced not only placed NOW TV's content offering at the forefront of the target market on various touch points, ranging from Cosmopolitan's Snapchat Discover channel to Good Housekeeping, Reveal and Inside Soap print and digital channels; it also built a brand personality and tapped into consumers' passion points through authentic conversation.
The Results
NOW TV have since re-booked with Hearst five times. Hearst have created 87 articles, 16 videos, five memes and two Snapchat takeovers, delivering 124% of the KPI for unique users and 104% of the KPI for video views, with 99.8% positive social media reactions.
Some of the highlights:
The 5 Best Sex and the City Quotes video had their highest VTR of the year with 38% completion
The Game of Thrones dictionary article on Digital Spy had a dwell time of 5mins 42secs
A Digital Spy article about Game of Thrones' set secrets was so engaging, it was picked up by the editorial teams of four other Hearst titles – ELLE, Esquire, Cosmopolitan and Harper's. They all syndicated and shared organically
A Cosmopolitan article about SAS show Strike Back was picked up by MailOnline, showing its credibility as a standout piece of editorially-led content
Page Views – booked 904,260 – delivered 1,254,019 – 139%
Video views – booked 785,000 – delivered 1,195,150 – 152%
Impressions – booked 17 mil – delivered 40m – 235%
Print – sponsorship of 15 print sections