Use of audience insight and editorial instinct delivered true business results for No7
SHORTLISTED – Magnetic Spotlight Awards 2019 for Best Use of Digital
"The No7 partnership with Grazia truly allowed us to communicate with their beauty obsessed audience whilst placing the brand and its key USPs at the heart of the conversation. The close collaboration of all stakeholders throughout the campaign enabled us to deliver the content seamlessly and swiftly within our tight timeframe whilst also providing a platform to share insight and knowledge as well as react to real time data trends. Most importantly, the campaign delivered on all 3 key objectives highlighted via the post campaign research proving the success of this partnership."

Candice Wilson, Associate Director, Mediacom
The Challenge
Boots No7 had 3 clear objectives when launching their new product; Custom Blend Foundation Drops:
To educate and engage consumers about the new product in a highly competitive category
To improve No7 brand awareness and credibility with their key 25-45 female audience
To encourage trial
For 'Wear It Your Way', The Grazia ABC1, 25-45 year old females, offer a perfect audience fit. Indeed readers' top online search is for 'best foundations'. Editorial insight showed that Grazia's readers are most engaged with expert tutorials as well as authentic content with real people. Boots No7, Mediacom and Grazia worked together to showcase a range of real women using the product of the season – Custom Blend Foundation Drops. Each woman was free to use and interpret the product to create their own look in their own unique way, matching perfectly to their makeup needs that moment and on that day. Women make beauty choices every day – whether that's dependent on their style, mood, occasion or even what they are wearing – there is such a diversity of beauty expression that creating your own story is what's most important. With Grazia's authority and strong heritage in beauty, Boots utilised this platform of authenticity to create an engaging 360 degree campaign to educate the audience on the product and all the ways in which it could be used day to day, across a wide range of skin tones and offering scalable coverage. One product. Endless possibilities.
The Idea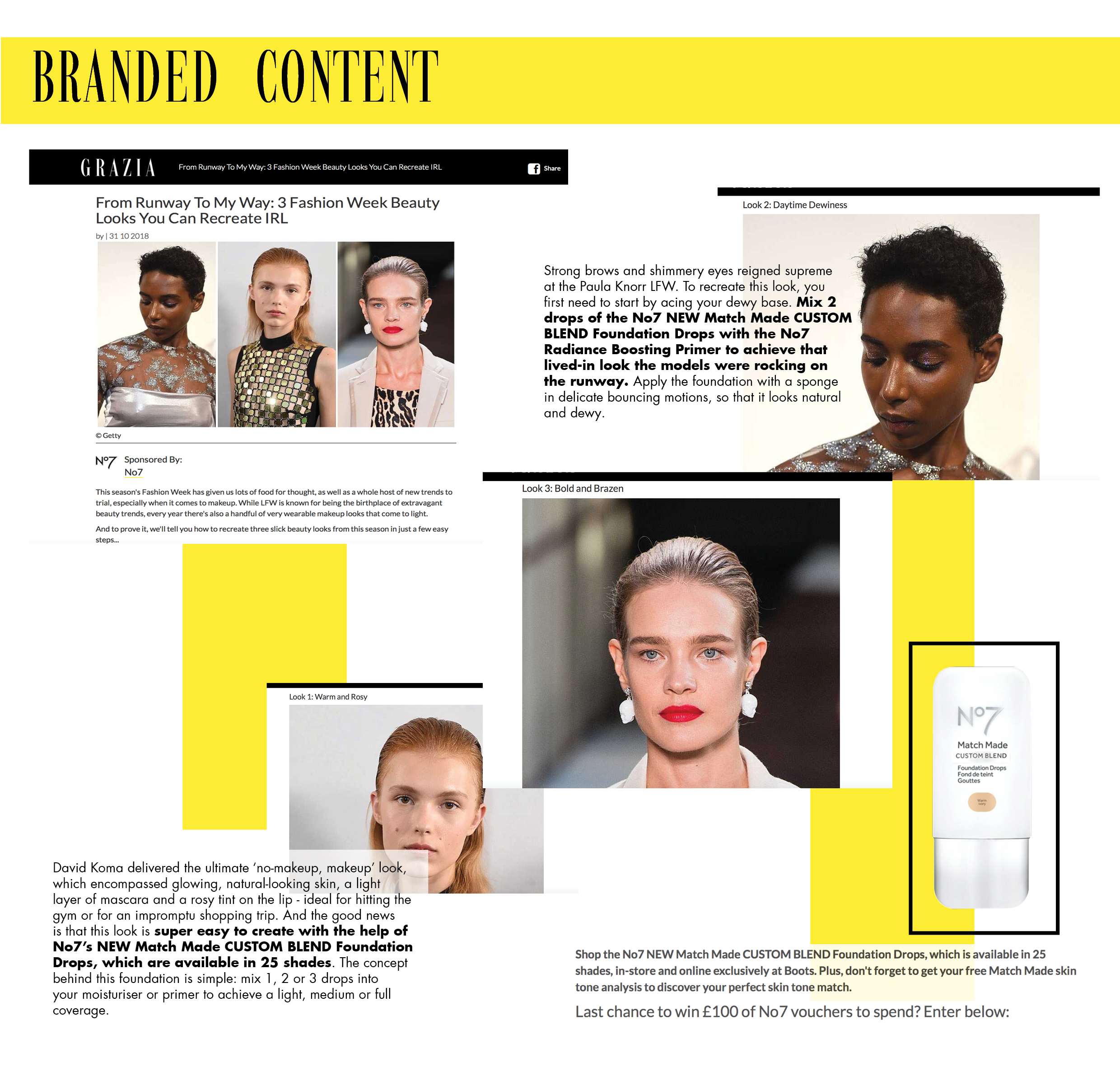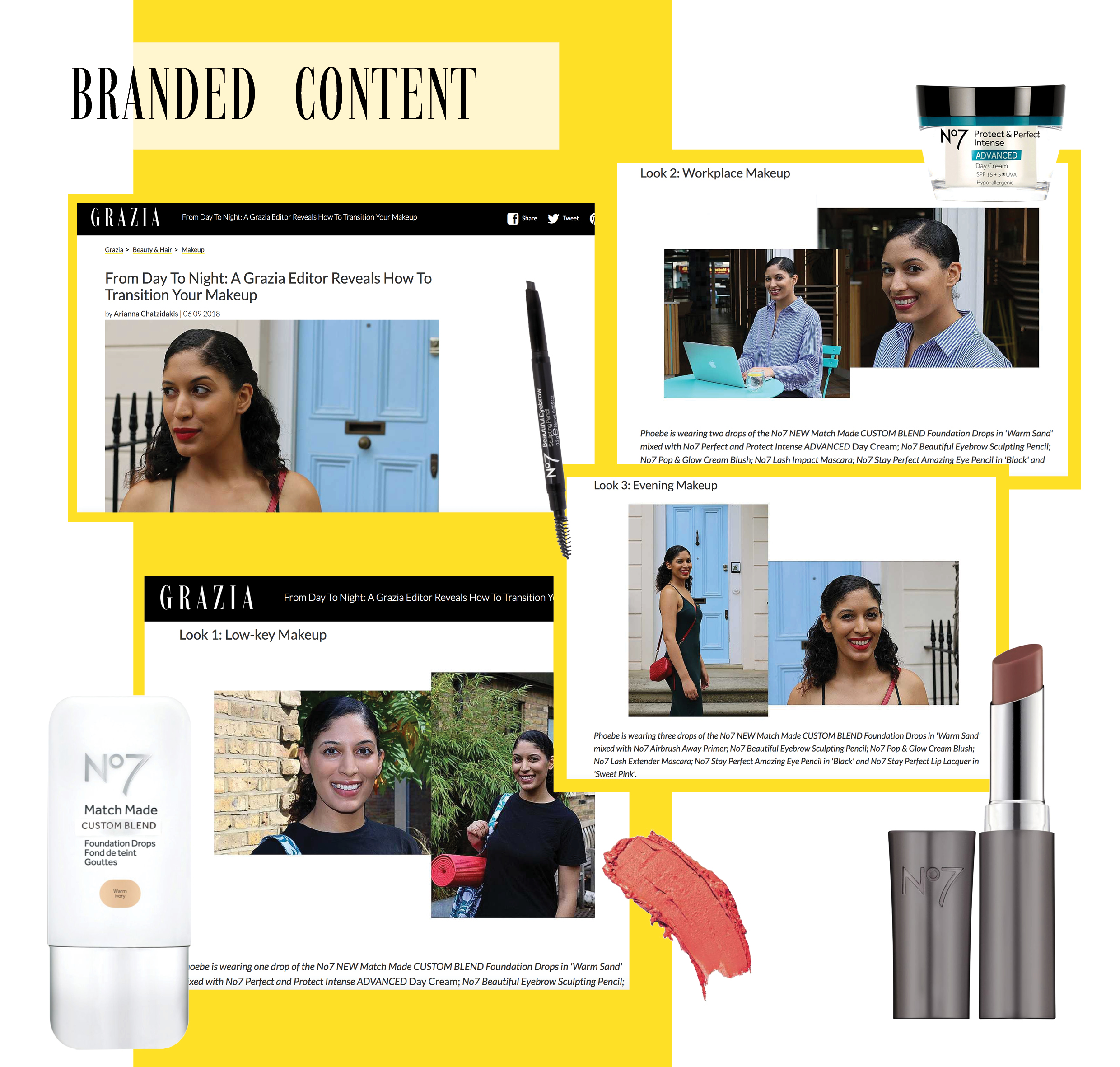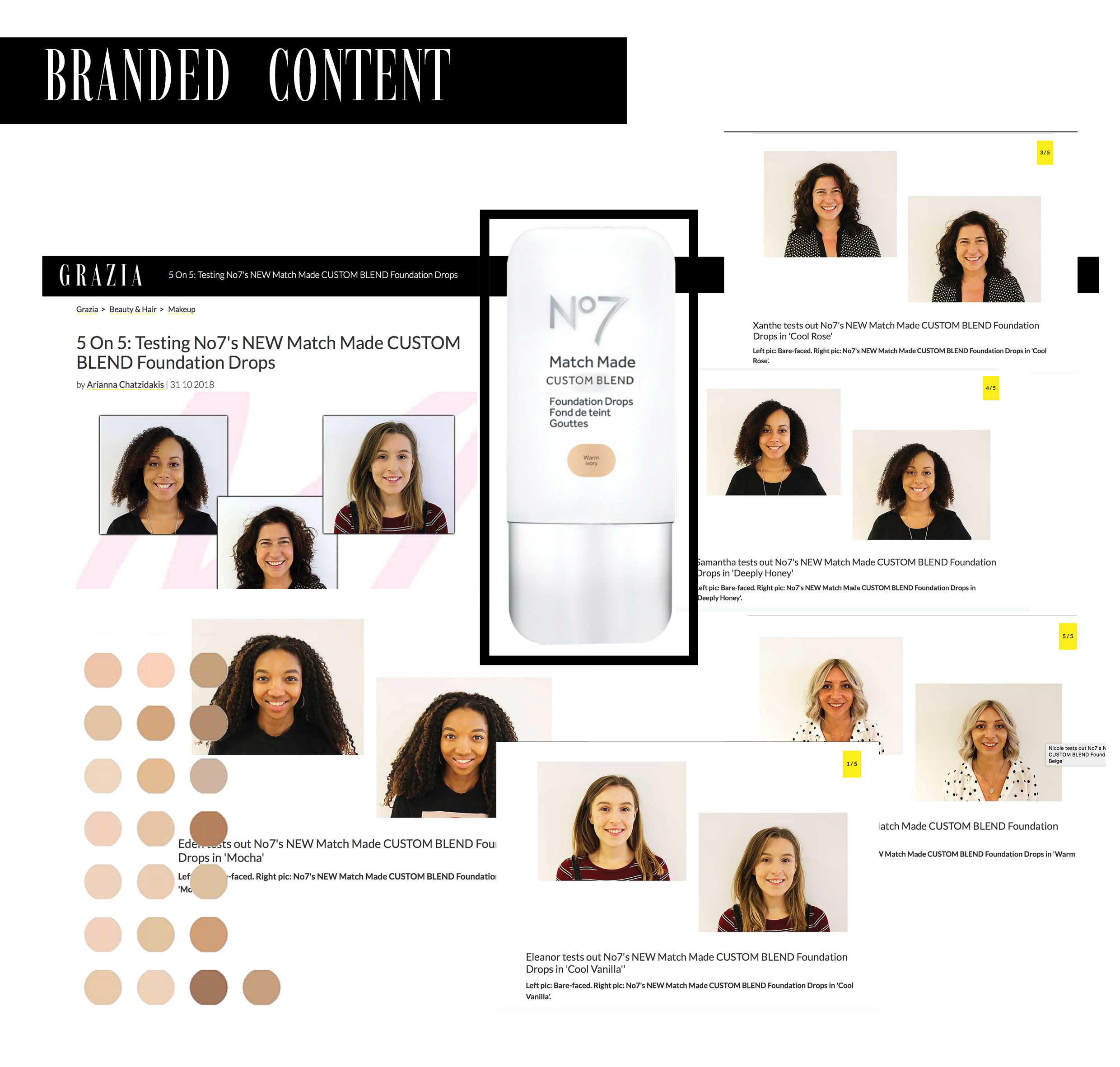 MediaCom translated the objectives into three key pillars:
Drive credibility for No7 as a brand, leveraging it within an authoritative fashion and beauty space
Extend the overarching 'Wear it Your Way' campaign driving brand awareness and sales
Educate and inspire our audience on the product
A multi-channel approach of how-to videos and tutorials from both real women and established Grazia editorial talent educated the audience and drove credibility for the product. Editorial experts recognised by readers – such as Beauty Editor Joely Walker – created authentic, useful content using the product. Three real women were given a tutorial to demonstrate the three different ways to use the product, and the resulting video delivered a 70% view through rate; significantly higher than the benchmark for editorial content.
Data was at the heart of this campaign, MediaCom listened to audiences in real time, answering questions as they were posed. Application of foundation, desire for product reviews and beauty tutorials were translated into a digital video series. A range of real women were cast representing both the No7 and Grazia consumers in a hero video with more educational exploration in its mini video series with Grazia's beauty editor.
All assets were optimised and tailored for platform specific distribution. Existing successful editorial franchises were woven into the campaign to drive authentic conversation. Podcast integration gave No7 a voice within an intimate listening environment placing them alongside influential female icons resonant to its audience. Competitions drove incredible engagement with bespoke prizes relating to the product's 3 step coverage system.
The Results
Use of audience insight and editorial instinct delivered true business results for No7. Success was achieved against all 3 objectives:
Educate and Engage: Readers were spending an average of 2.4mins with the No7 content, versus an average of 1.09min for Grazia's own editorial content; proving that the campaign delivered engagement. Those exposed to the campaign were asked if they understood the new product and qualitative research proved that they understood the unique way the foundation is used
Improve No7 brand awareness and credibility: 4% increase in brand awareness for No7 (from 91%-95%) against their competitive set. Moving the dial by 4% in just 6 weeks when awareness is already at 95% is a real achievement that they were all proud of. Brand affinity increased by 13%, with 23% of respondents saying that No7 was a 'brand for me'
Encourage Trial: This campaign really drove action; 27% of those exposed to the campaign went to the Boots No7 website and 18% went on to purchase the product